12 Best Day Trips from Newcastle for 2023
There are loads of day trips from Newcastle you can take to explore the north east of England. Here are our favourite Newcastle day trips to keep life spicy!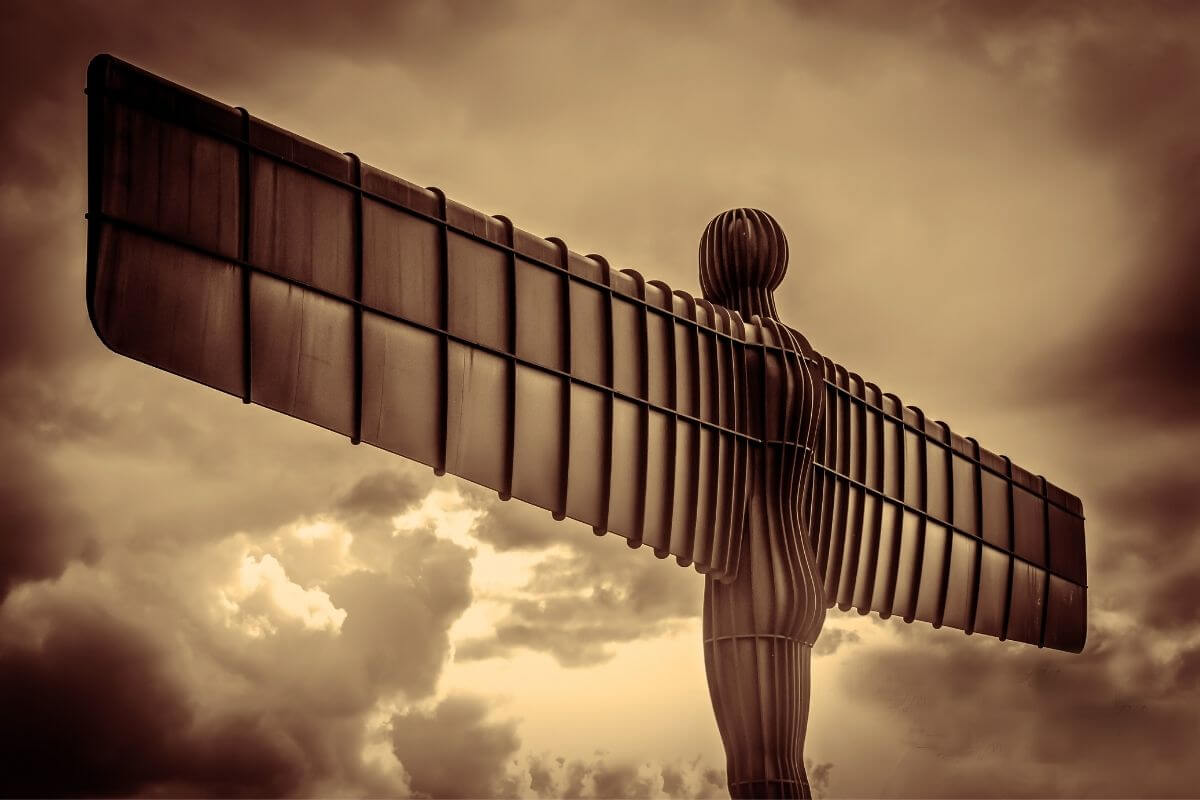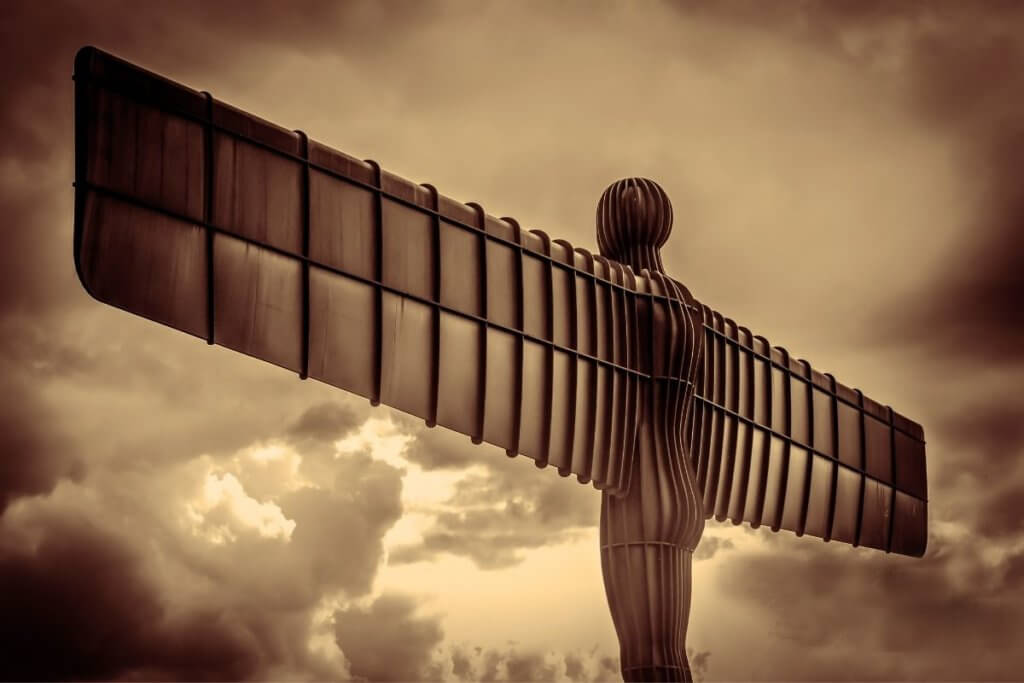 The northern English city of Newcastle is packed full of attractions, with highlights including Newcastle Castle, the Millennium Bridge and The Biscuit Factory art gallery, to name just a few. It's also home to one of England's most famous football stadiums and a host of fabulous museums. But perhaps you've been there done that and you're looking to get out of the city for a few hours?
In this article, we'll show you 10 of the best day trips from Newcastle, making sure you're back in time for dinner. We've also put the distances from Newcastle city centre in miles, to give you an idea of journey times by car – but remember the train might be quicker!
Newcastle is in the beautiful county of Tyne and Wear.
Fun Days Out from Newcastle
We've rounded up the best day trips from Newcastle to help you plan your time off. Use us as your ticklist!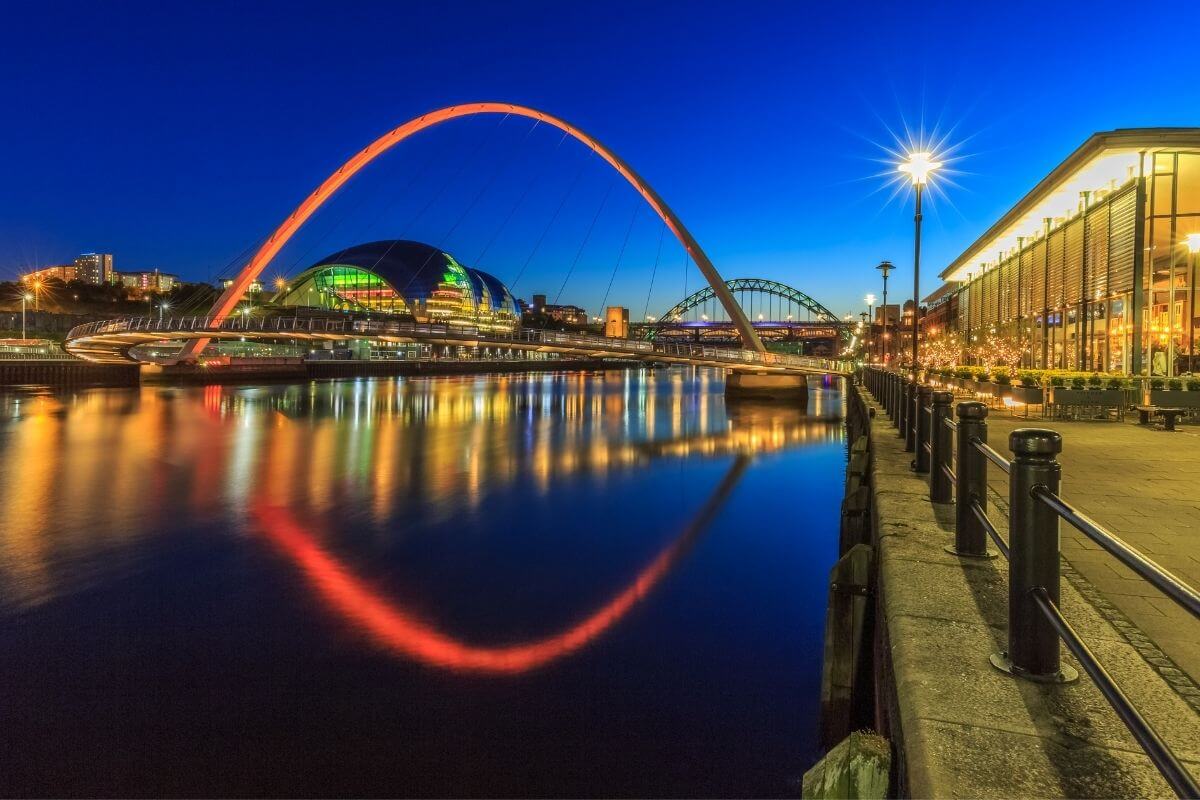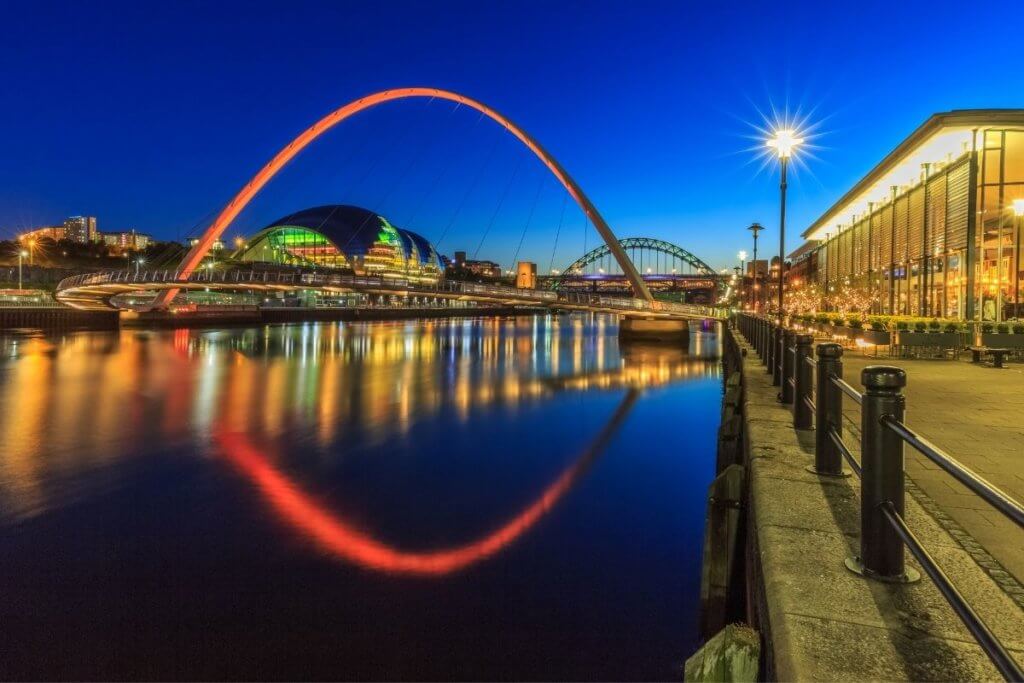 ---
1. Durham and its UNESCO castle and pretty river walks
Approximate distance from Newcastle: 19 miles
Easily reached by train from Newcastle, Durham is one of northern England's most popular tourist destinations. Some of the city's most important sites are protected by UNESCO, such as the Norman Durham Castle and the Cathedral, which also features prominently in the Harry Potter film series. It is one of only 21 UNESCO World Heritage sites in England.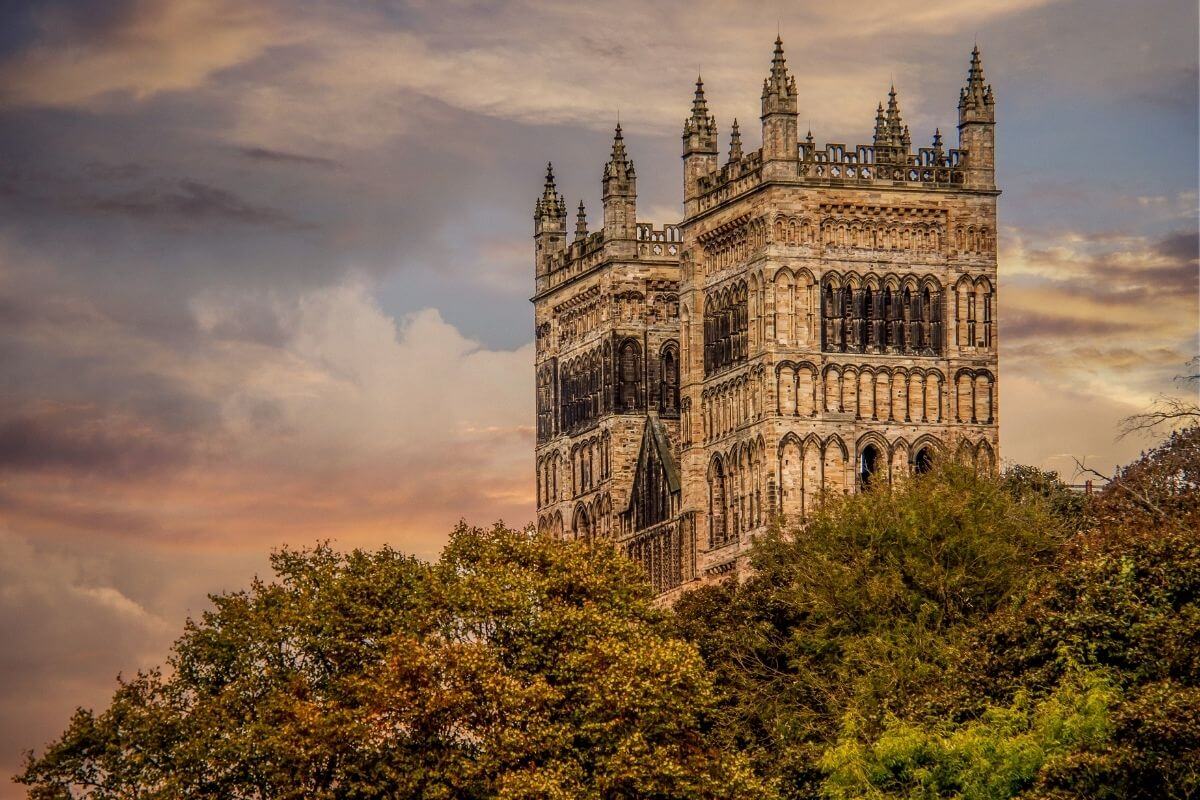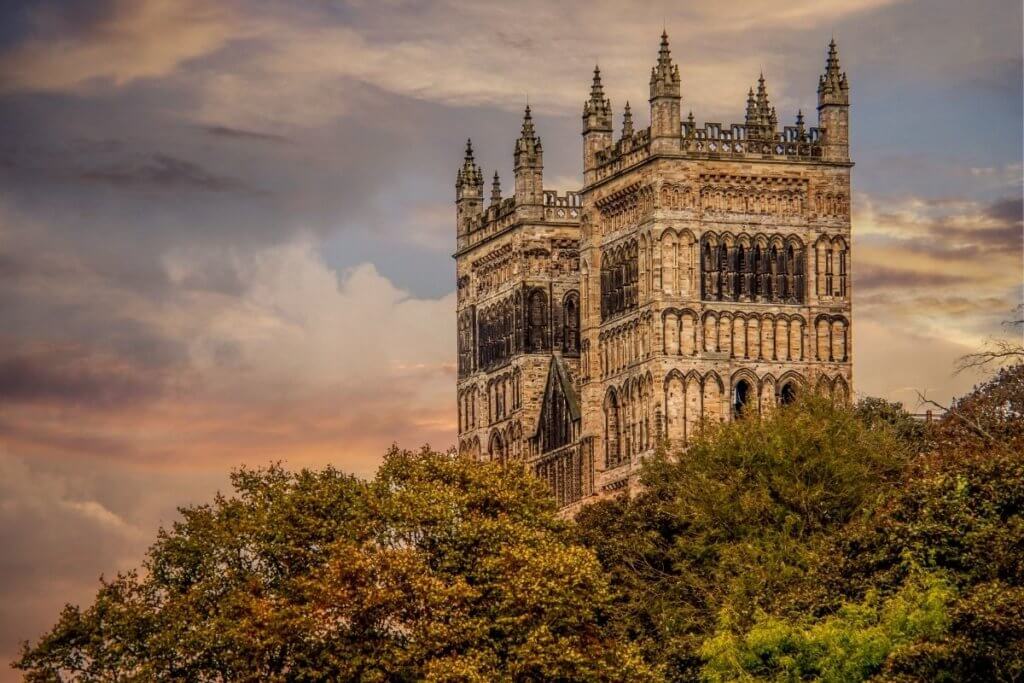 Durham Castle is also surrounded on three sides by the River Wear, making it a truly attractive place to visit and spend a few hours. Other places you'll want to explore during your Durham day trip include the lush Botanic Garden and the Beamish Living Museum. This fascinating attraction will take you back in time to the Industrial Revolution in a fun and interactive manner that the entire family is sure to enjoy.
If you have no specific sites in mind then simply stroll along the river. Durham is an incredibly attractive city, and you're sure to stumble across a lovely independent restaurant for lunch, or a quaint shop to do some window shopping in.
The easiest way to see all the city's highlights, including the UNESCO-listed cathedral, is to book a 3.5-hour guided tour of Durham – the perfect tour to fit into a day out from Newcastle.
READ MORE: The Best Days Out in County Durham
---
2. York and its medieval history and kids attractions
Approximate distance from Newcastle: 89 miles
Another historic English settlement that is easily reached from Newcastle on a day trip is York. Much of the city's medieval history remains intact, whilst the Viking influence is clear to see throughout. The York Minster is probably the most recognisable landmark in the city. It's burnt down several times throughout its centuries long history, but the current Gothic version is incredibly impressive, and serves as the seat of the Archbishop of York.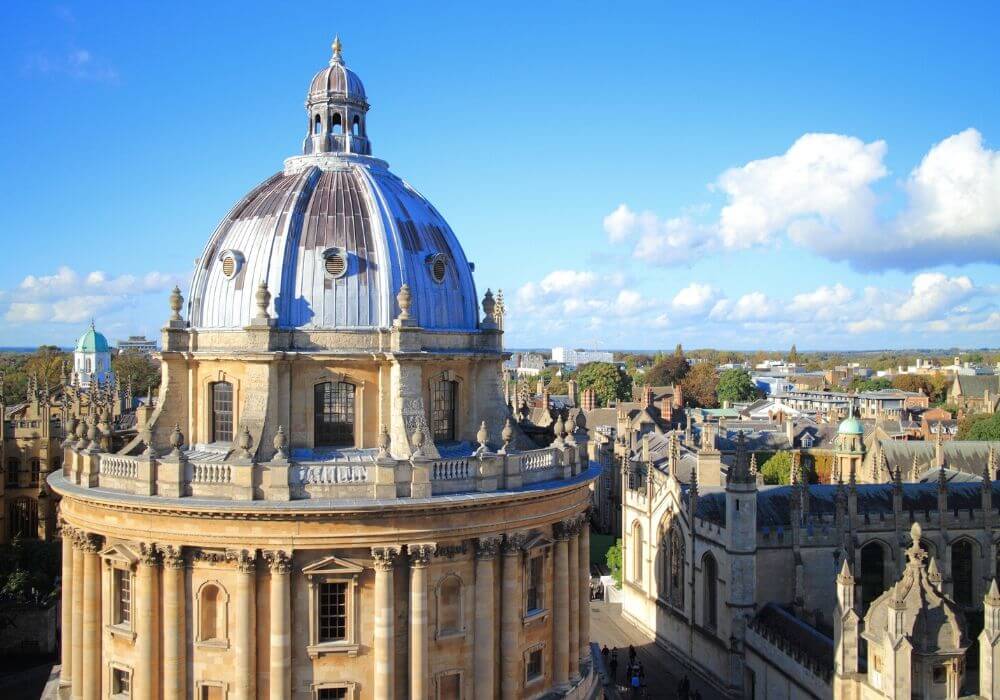 Similarly to Durham with the Wear, York benefits from the River Ouse, which winds through the city – one of the most impressive rivers in England. This provides plenty of river walks and many of the city's main sights can be seen from the banks, including the Millennium Bridge and Clifford's Tower. There are also plenty of local operators running river cruises, which are sure to be popular with the kids.
If you want to delve into York's rich history on your day trips from Newcastle then your best bets are the ancient Roman Walls, the Jorvik Viking Centre, and the eerie York Dungeon. This attraction is sure to get your heart racing with its interactive look at the grislier parts of the city's history.
---
3. The Angel of the North up on the hill
Approximate distance from Newcastle: 7 miles
As one of England's most iconic landmarks, recognised around the world, it would be a shame not to pay a visit to the Angel of the North if you're spending some time in this part of the country. Designed by Antony Gormley, the famous sculpture was completed in 1998, and has spent the years since perched on a hill overlooking Tyne and Wear. It symbolises the transition from the industrial to the information age and is visited by more than 150,000 people every year.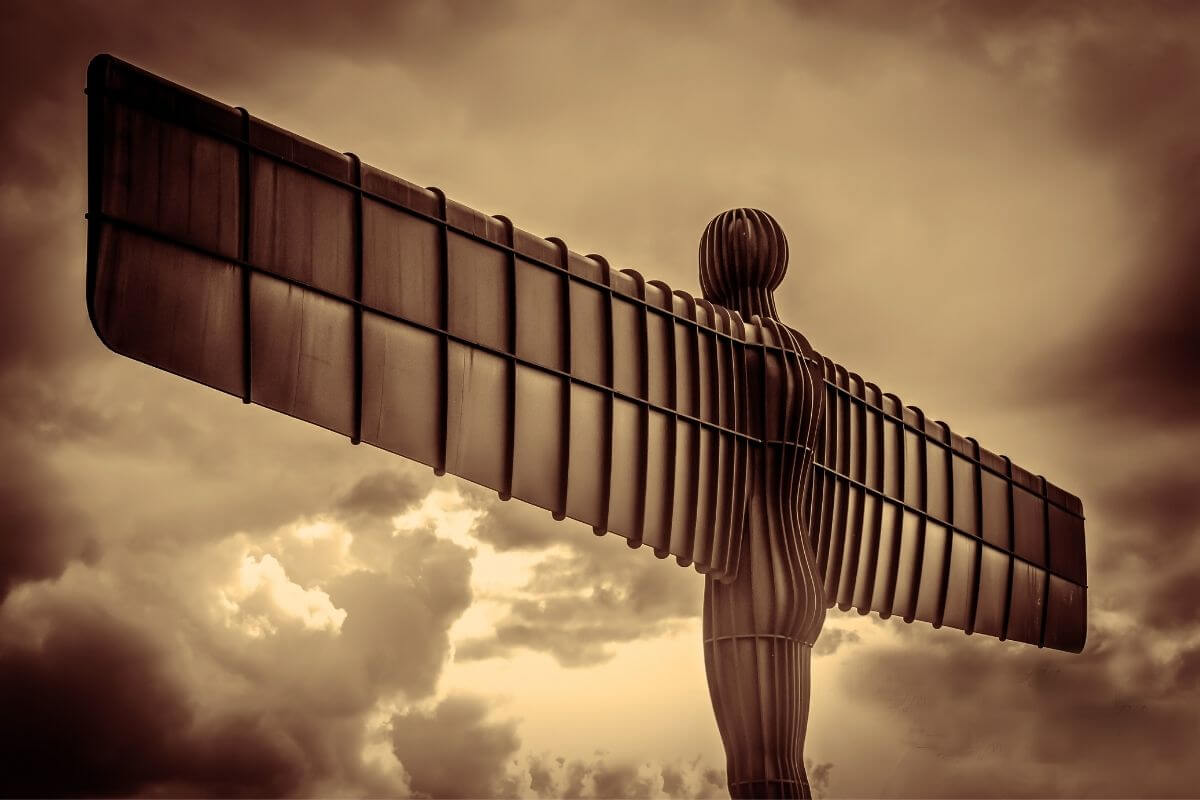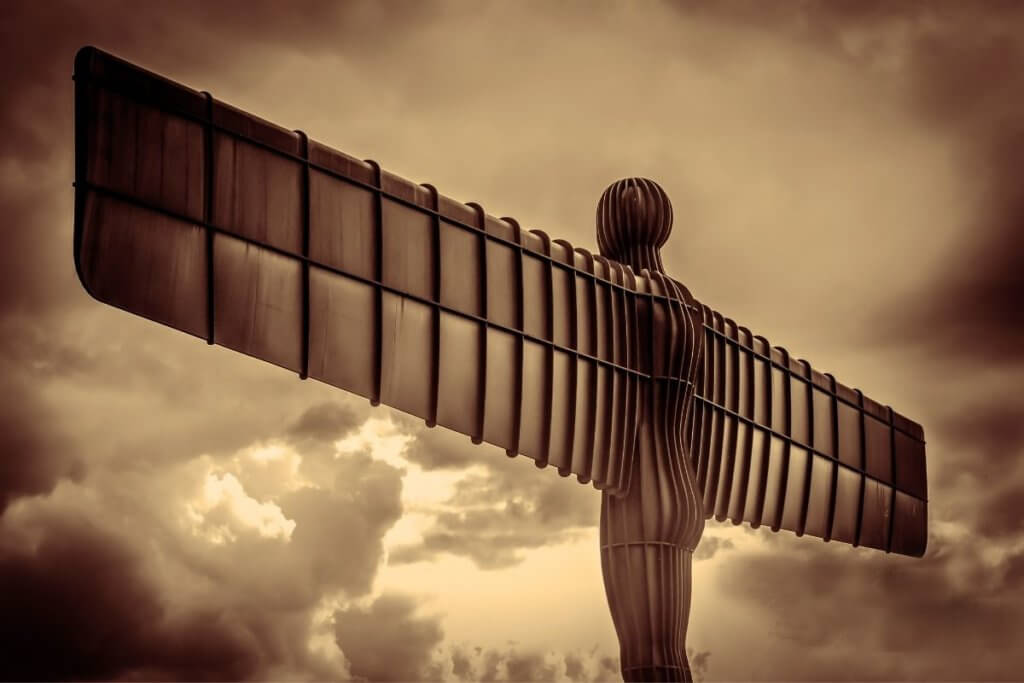 In truth, although mightily impressive, the Angel of the North does not require a full day to visit. Apart from the sculpture itself, there is not much else to see, so once you've had a good look and taken some photographs, you may want to continue on your way. If you decide to drive to Durham rather than take the train, you'll most likely pass the Angel of the North en route, so it's easily combined with a visit to the city.
---
4. Walk some of Hadrian's Wall
Approximate distance from Newcastle: 45 miles
With construction having started in AD 122, UNESCO-listed Hadrian's Wall is both one of the oldest and most important historical sights to be found anywhere in England. It marked the most northern frontier of the colossal Roman Empire, used to keep out the wild Ancient Britons and Picts from northern England and Scotland. The wall stretched for more than 70 miles across the breadth of the country and took 15,000 men more than six years to complete. It was manned with troops and there were forts, towers, turrets, and barracks along its length. Thanks to its incredible history it's one of the most important landmarks in England.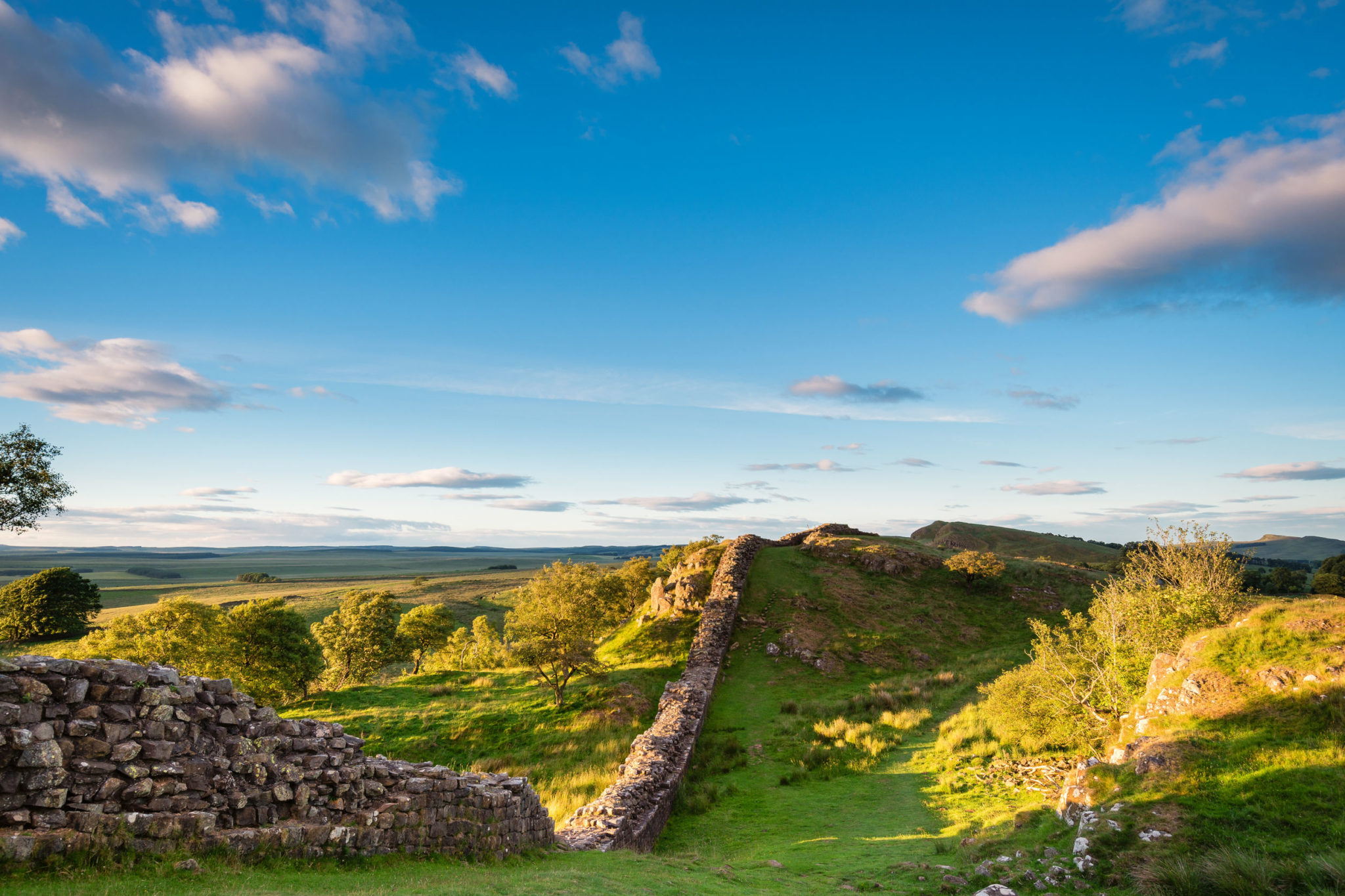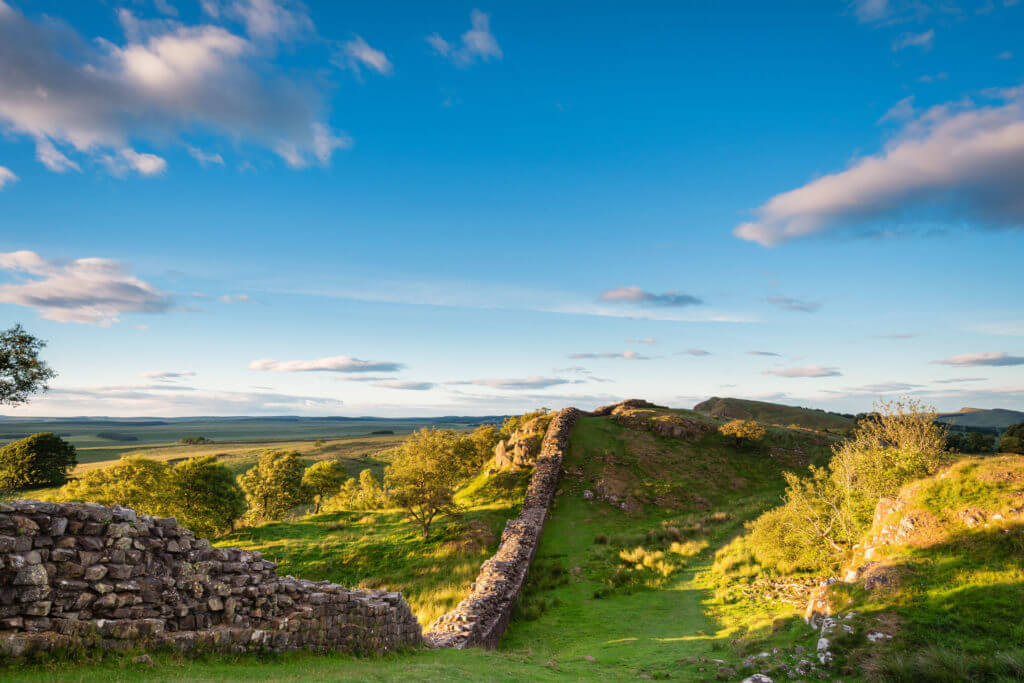 Much of this ancient history remains standing, with large sections of the wall still intact and ruined forts including Houseteads and Birdoswald still visible along the length of the wall. For visitors, the best way to explore the wall is to hike a section of it on foot. There are numerous marked trails to follow, which ensure you get the best view of this fascinating piece of Roman history.
If your search for day trips from Newcastle is for the great outdoors mixed with a bit of history, then this is the one for you.
---
5. Explore Kielder Forest Park
Approximate distance from Newcastle: 51 miles
If you've finished exploring Newcastle and want to spend a day immersing yourself in nature then visit Kielder Forest, one of the largest expanses of unbroken nature in England. There's a huge man-made lake with sailing, water skiing and canoeing opportunities. There are also plenty of attractive picnic spots for a summers day.
If you've got a large enough car, you could even bring some bicycles along, there are plenty of marked walking and cycling trails to help you explore as much of the forest as possible. If you stay until dusk then you're sure to get some great stargazing opportunities as well, Kielder Forest has some of the lowest levels of light pollution in the whole of the UK.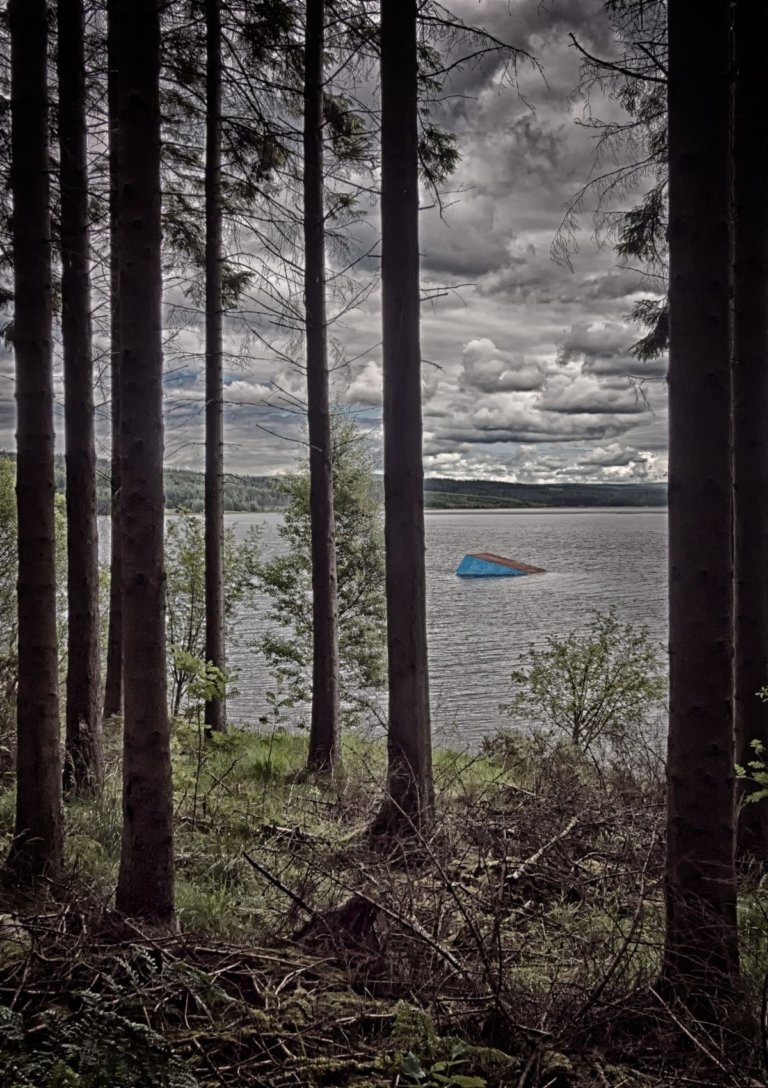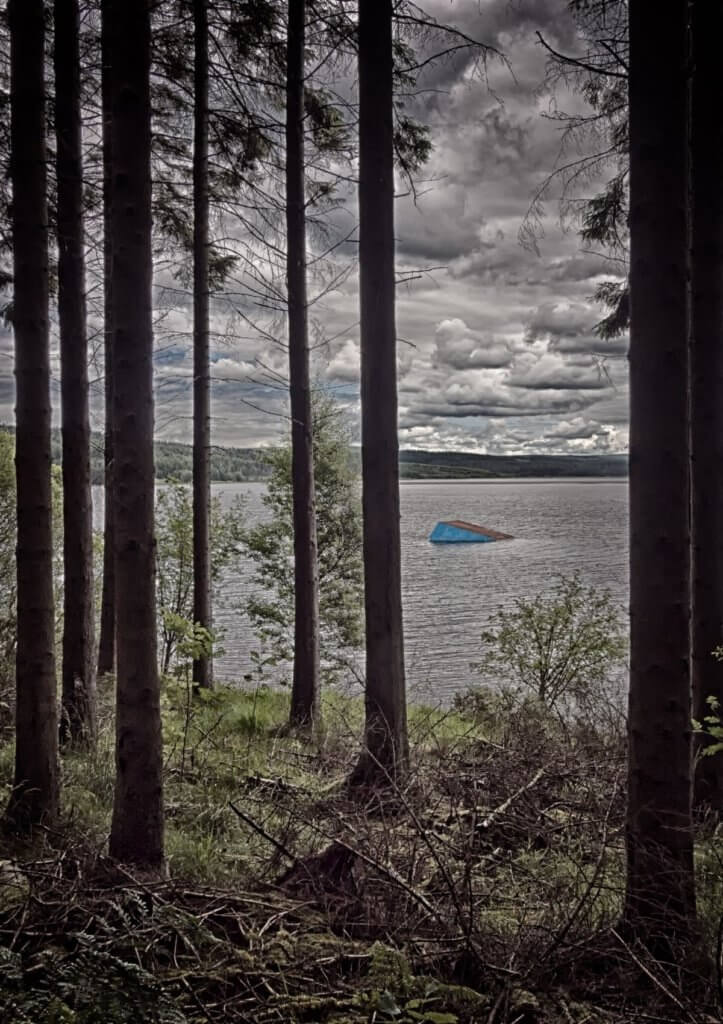 The forest is home to a plethora of England's rarest wildlife too, with red squirrels, otters, salmon, and ospreys living in good numbers across the ecosystem. Interestingly, Kielder Forest has been selected by the Lynx UK Trust as the perfect place to reintroduce this formerly native feline predator to the UK. The plan is still in its early stages but who knows, in a few years' time you may even catch a glimpse of this secretive predator stalking deer through the forest.
Kielder Forest is one of the best day trips from Newcastle if you've got active kids with a sense of adventure.
---
6. Visit the island of Lindisfarne
Approximate distance from Newcastle: 60 miles
A few miles south of Berwick on Tweed lies the island of Lindisfarne, known locally as Holy Island. A smaller neighbouring island forms part of the Lindisfarne National Nature Reserve, a critically important wetland habitat which is important for a range of migratory geese and seabirds, as well as the resident grey seals, which can be seen lazing on the shore.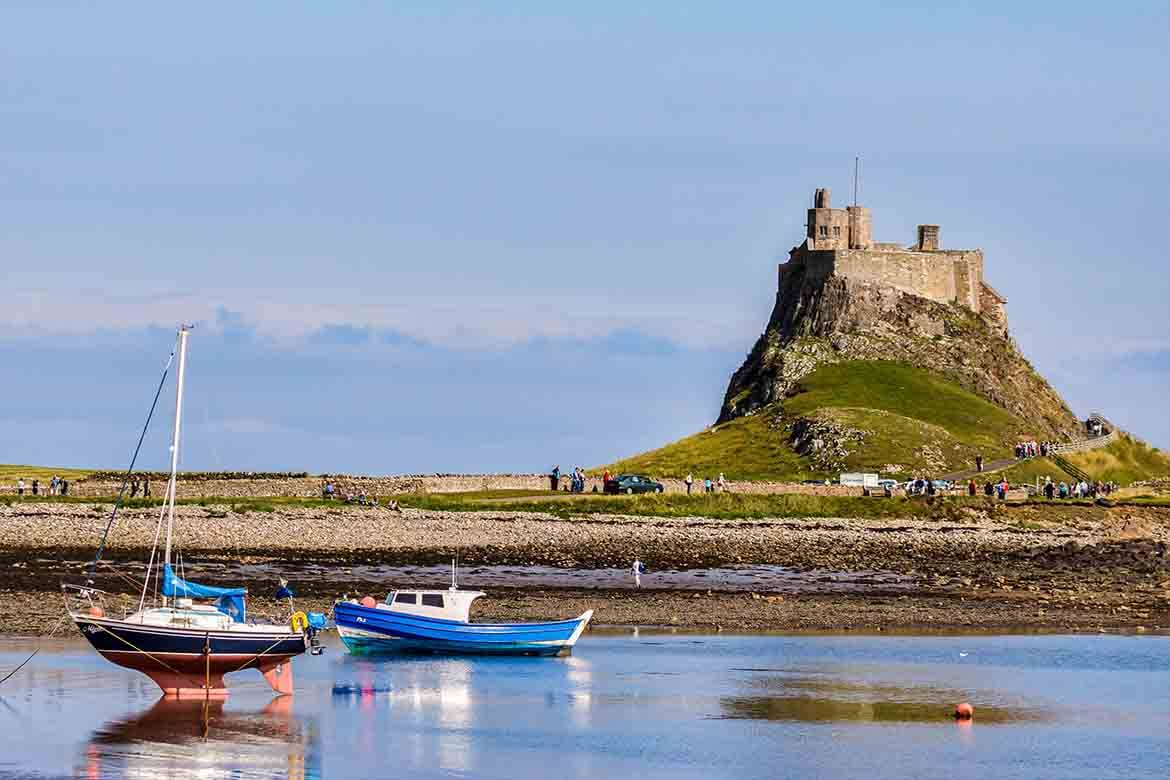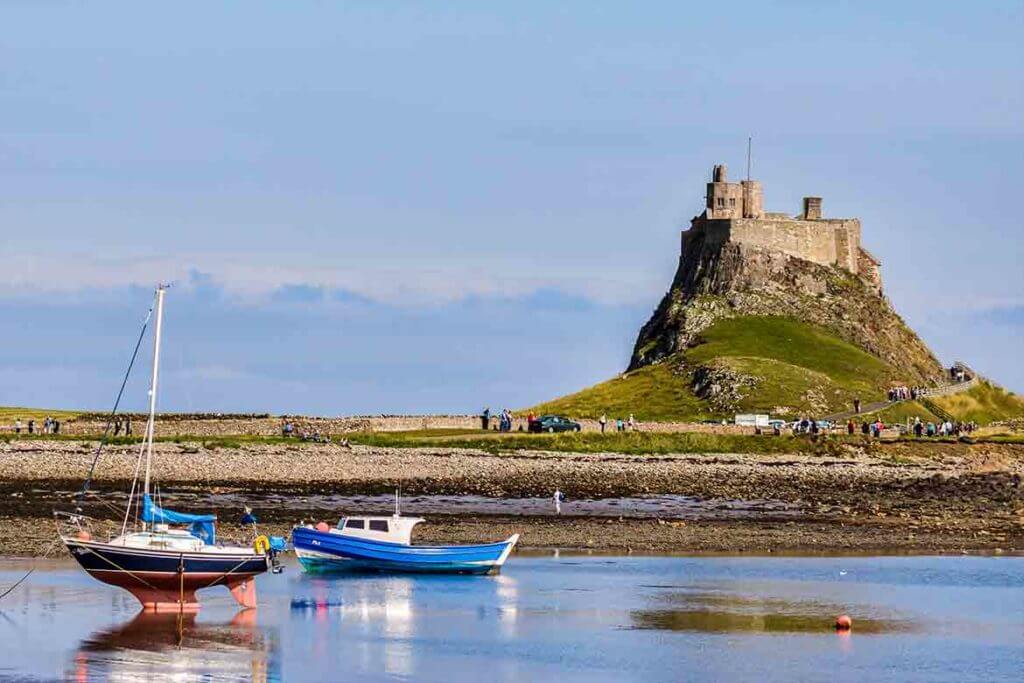 Lindisfarne itself is a picturesque tidal island, which can only be reached at low tide, by crossing an impressive causeway which was built by monks more than 1,400 years ago. Make sure you know the tide times before you attempt to cross, as it can be extremely dangerous if you get caught out by the tide.
Once you've arrived on the island you'll want to stroll around the ancient Priory and Lindisfarne Castle, which date back to the 12th and 14th centuries respectively. The island was ravaged by a Viking invasion in 793 AD and there's a fascinating exhibit on the island, as well as a café or two where you can sit back with a coffee and enjoy the beauty of your island surroundings before heading back to Newcastle.
Lindisfarne is one of the most impressive days out in Northumberland.
---
7. Admire the seaside town of Whitby
Approximate distance from Newcastle: 73 miles
The seaside town of Whitby is located on the edge of the North York Moors, offering visitors a choice between exploring this gigantic expanse of wilderness or the quaint town itself, a slightly more upmarket cousin of nearby Scarborough. Whitby is packed to the gunnels with fancy wine bars and independent bistros, which are sure to provide you with a top quality meal and give you one of the top day trips from Newcastle.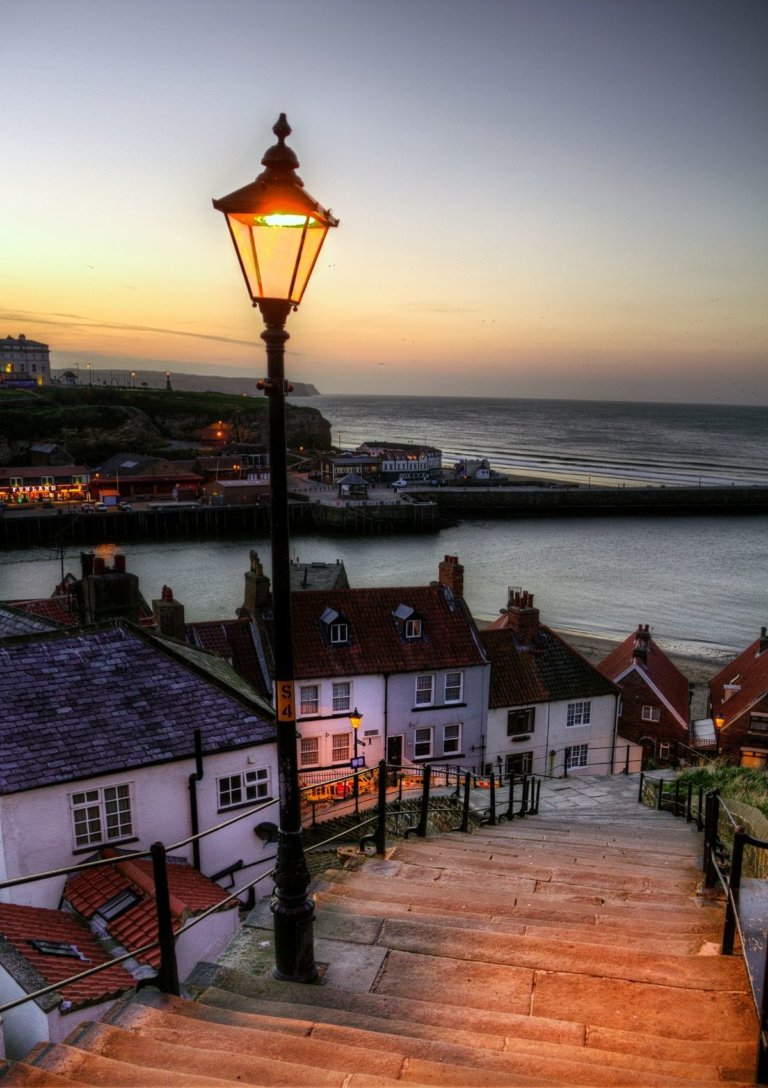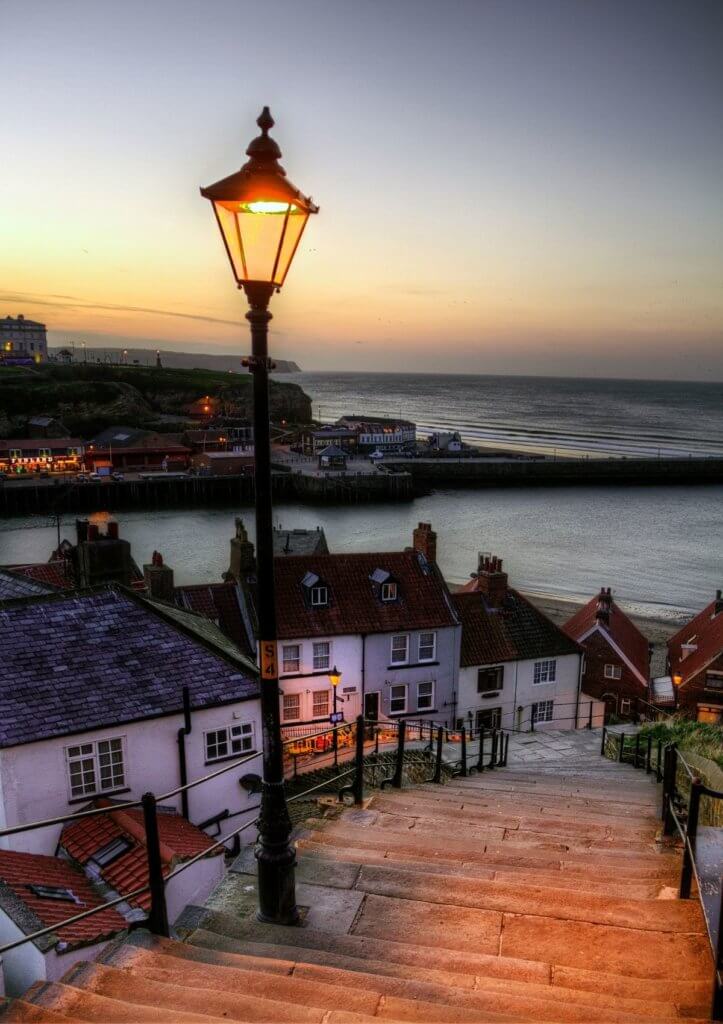 If you're travelling with the kids then you'll find plenty to keep them busy in Whitby. Aside from the obvious appeals of the beach, there's a small funfair and a Dracula experience. There are plenty of fishing shops where you can buy the equipment needed for crabbing and kids will love counting the 199 steps up to Whitby Abbey, perhaps with an ice cream or cone of fresh chips to reward them at the top.
It might be one of the top days out in North Yorkshire, the next county along, but Whitby is totally doable as a day trip from Newcastle.
---
8. Chill out at the beaches of Tynemouth
Approximate distance from Newcastle: 10 miles
Another beachside destination but this time much closer to home, Tynemouth can make a welcome change from the hustle and bustle of Newcastle. The Blue Flag certified Longsands beach is especially appealing on a summers day and is a great place to try out watersports such as surfing and bodyboarding, with decent but not overly large waves. The North Pier is also a charming place to visit, jutting out into the sea and crowned with a stone lighthouse.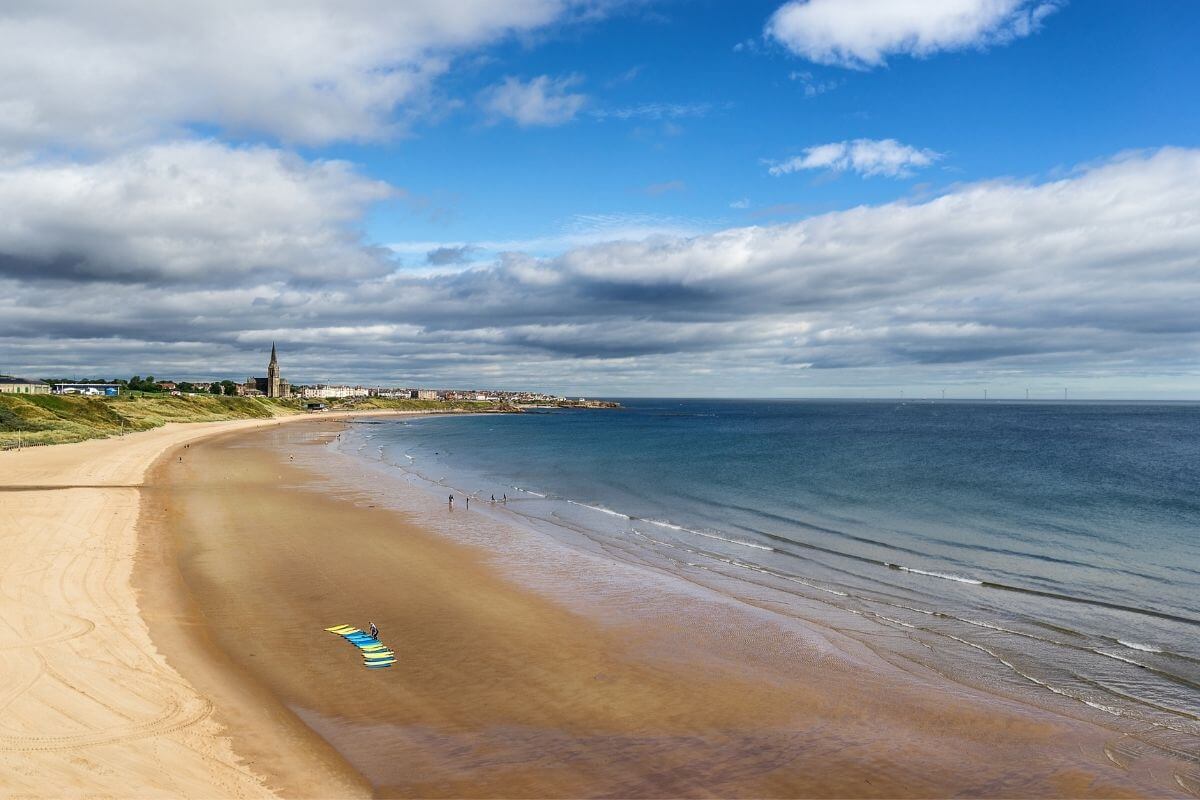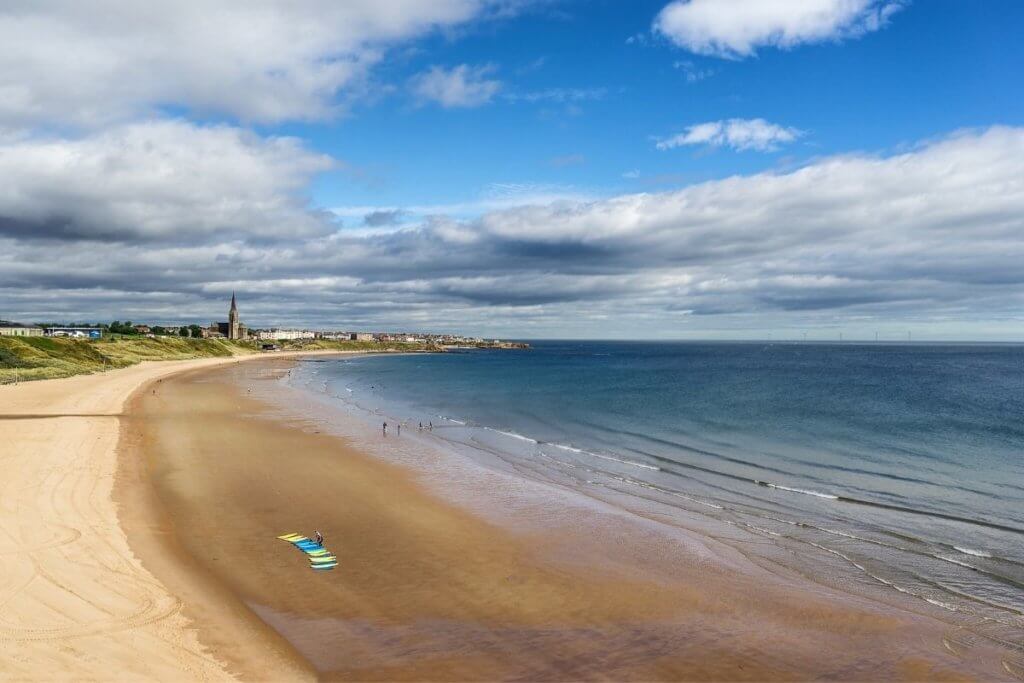 The ruins of Tynemouth Priory and Castle will be of interest to history buffs, with it's fully restored gun battery and cannons. Tynemouth Aquarium is also well worth a visit if you've got the little ones with you and the undercover markets are open most days, selling a variety of street food, clothing, and vintage items such as books.
---
9. See the animals at Northumberland Country Zoo
Approximate distance from Newcastle: 24 miles
Zoos and wildlife parks have always made good days out and Northumberland Country Zoo is no different. It isn't massive and doesn't boast some of the iconic species of the larger zoos in England, but it does house a wonderful collection of cute and often rare species, sure to delight visitors both young and old.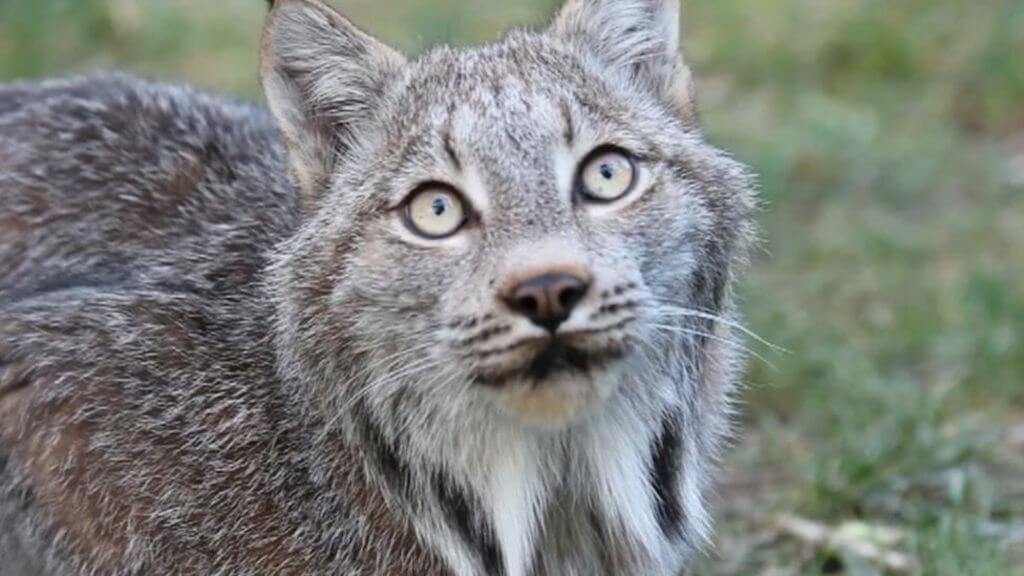 Some of the zoo's animals include the Canadian lynx, armadillo, Arctic fox and Asian short-clawed otter. But two of the institution's most interesting species are also ones in which Northumberland Country Zoo is involved in the conservation of. They house a pair of Scottish Wildcats, which number just 300 in the wild, making them Britain's most endangered mammal.
The zoo hopes to eventually breed wildcats and release some youngsters back into the wild. Northumberland Country Zoo is also home to two female snow leopards and works to raise money for the Snow Leopard Trust, which helps to protect this vulnerable cat in the wild. One of the best days out from Newcastle if you want to support the animals too.
---
10. Go all Harry Potter at Alnwick Castle
Approximate distance from Newcastle: 35 miles
Just an hour or so's drive from Newcastle, Alnwick Castle and Garden make a fantastic day out for the whole family. While many English castles are preserved simply as historic ruins to be admired, Alnwick has much more to see and do. It is still inhabited today by the Duke of Northumberland, and much of the castle interior is open to the public.


Kids can enjoy broomstick training and hunt for dragons on a Dragon Quest. There's also archery training and a number of medieval interactive tours, taking guests round various parts of the castle. Keep an eye on the events calendar for Harry Potter mentions – it was used as a Harry Potter filming location after all!
Adults will love Alnwick Garden, home to majestic water sculptures and a range of native and exotic plants. There's a Poison Garden, a bamboozling Bamboo Labyrinth and one of the largest treehouses anywhere in the world.
---
11. Visit Bamburgh Castle
Approximate distance from Newcastle: 51 miles
Bamburgh Castle is a grade 1 listed building located on the Northeast Coast of England, which looks over Bamburgh, and offers incredible views of the surrounding area. The history of the castle dates back as far as the 11th century – it makes for a great day out from Newcastle at just over an hour away.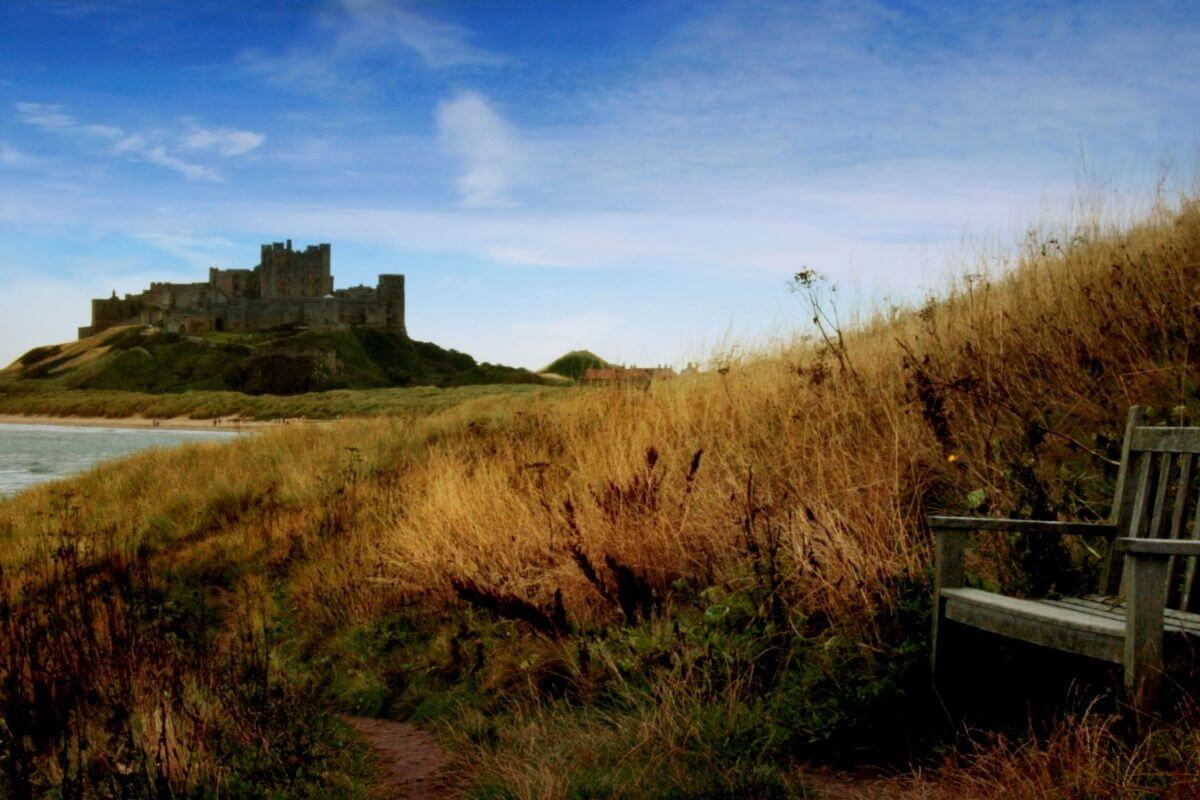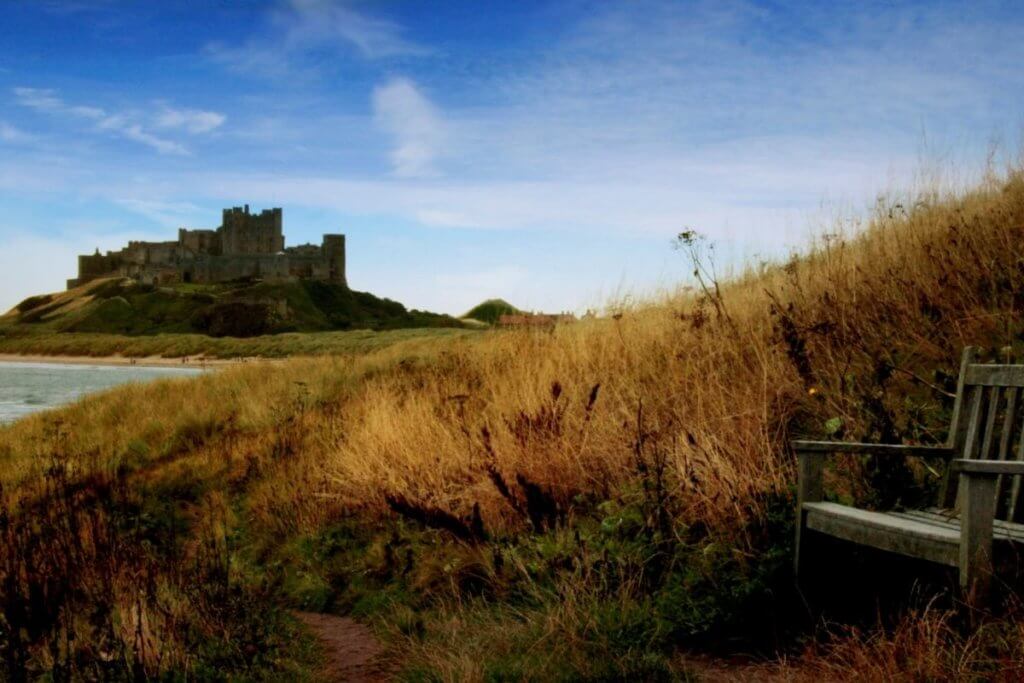 Visitors love the incredible architecture, which was designed over 1,400 years ago. The castle was home to the monarchy for centuries, with many kings and queens staying there. And it even played a massive part in the War of the Roses, when the castle was home to King Henry VI of Lancaster – after years of standing firm, the castle became the first castle in England to be demolished by gunfire. However, it still stands strong today and remains one of England's largest inhabited castles. It also stands on the beautiful Bamburgh Beach.
12. Visit one of these Northumberland spas
These spas in Northumberland make for a great day out from Newcastle – the difficulty will be picking one!
---
Day trips from Newcastle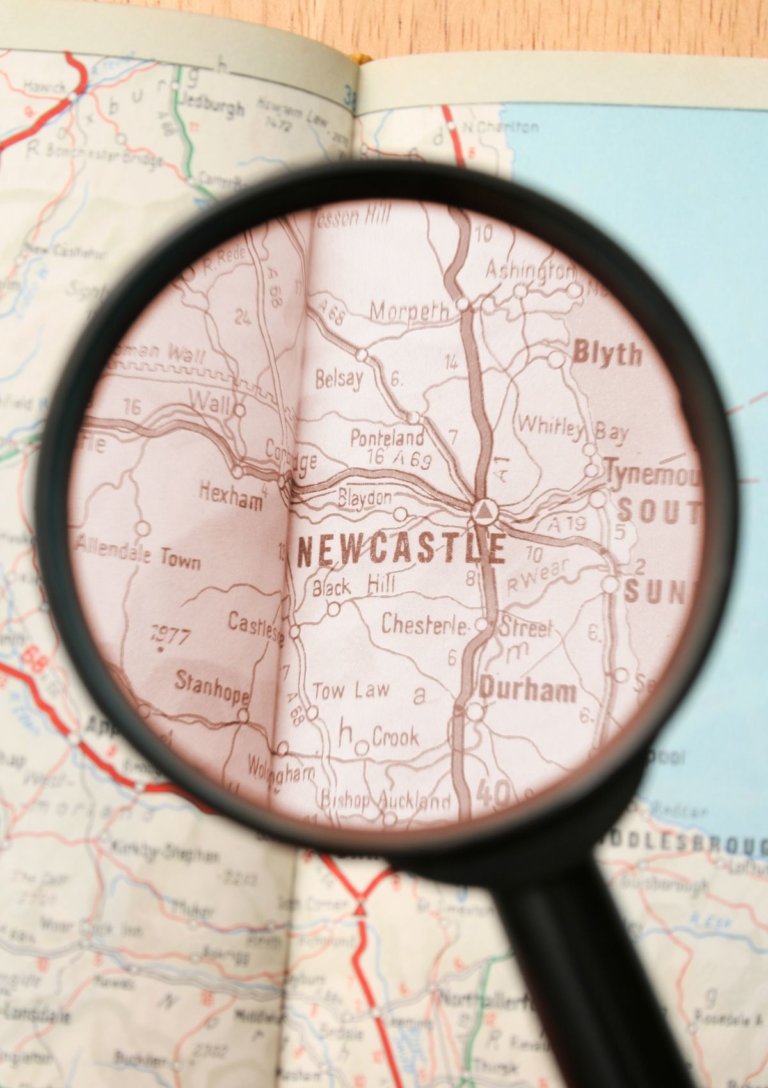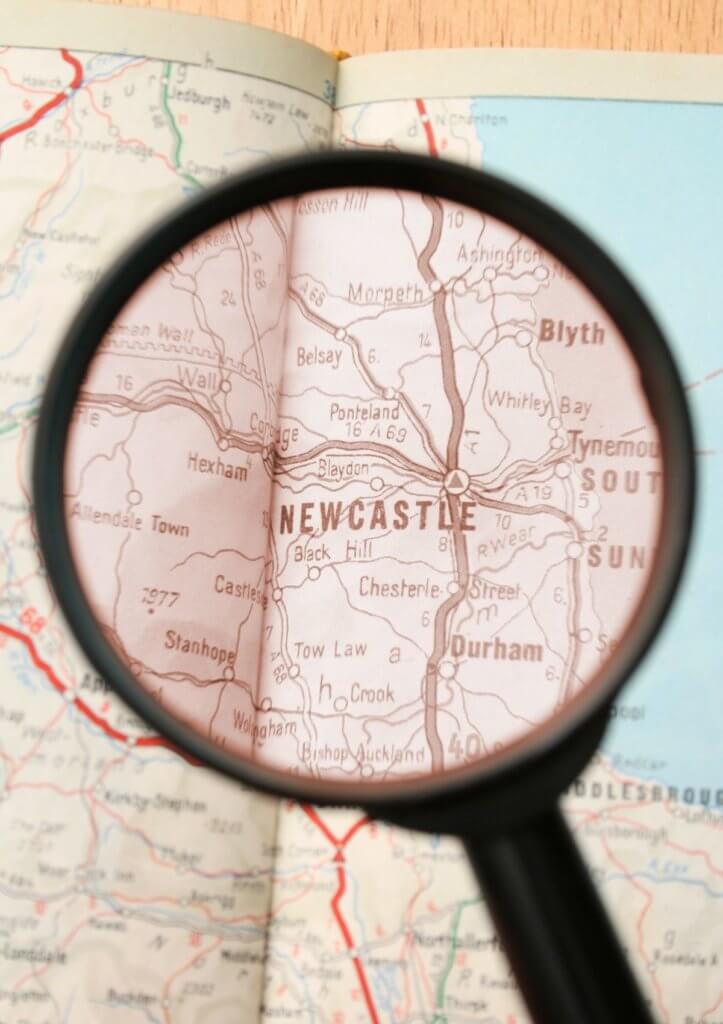 While there's plenty to be getting on with in Newcastle itself, you may wish to travel further afield during your stay in the city with these great Newcastle day trips. There are a host of fascinating historic sites, wild natural gems and charming seaside settlements which offer something a bit different to the city.
Whether you've got the kids with you or it's an adults only day out we hope there's something on this list to take your fancy!
---
Quicklist: best days out from Newcastle
1. Durham and its UNESCO castle and pretty river walks
2. York and its medieval history and kids attractions
3. The Angel of the North up on the hill
4. Walk some of Hadrian's Wall
5. Explore Kielder Forest Park
6. Visit the island of Lindisfarne
7. Admire the seaside town of Whitby
8. Chill out at the beaches of Tynemouth
9. See the animals at Northumberland Country Zoo
10. Go all Harry Potter at Alnwick Castle
11. Visit Bamburgh Castle
---