Let us show you some of the best days out from Liverpool to get out in the fresh air for an adventure with the family and keep you busy.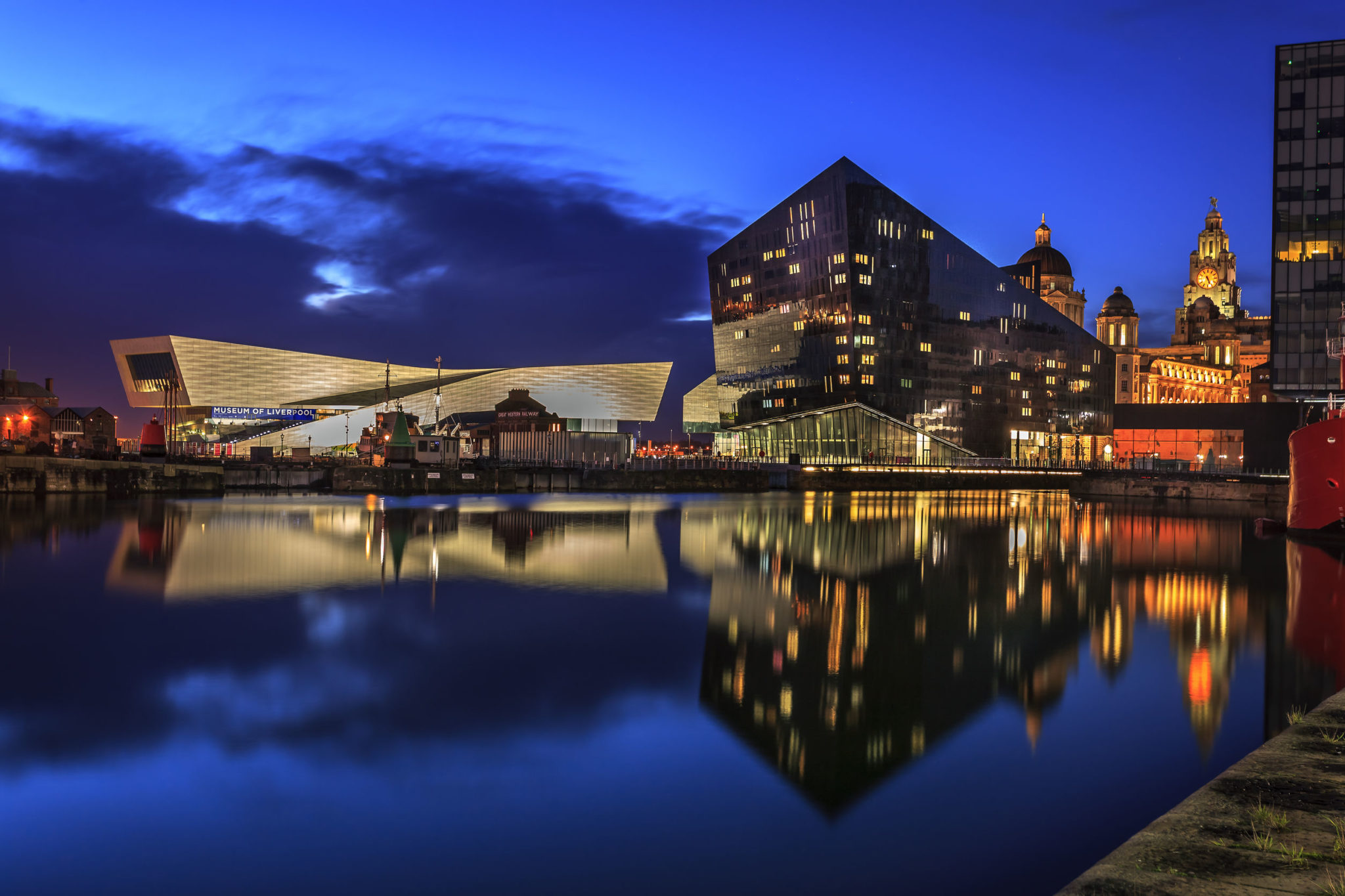 You already know that Liverpool is pretty good at putting on a remarkable show. People come for the Beatles and stay for the culture, football, cuisine, and nightlife in this lively port city. Yet despite the magnificent houses, mighty castles, stunning coastline, and dramatic landscapes, sometimes you just need to get out of the city.
​​If you're looking for day trips near Liverpool, these are some of the best to make the most of the city's surrounding gems. With great links to the northwest of England and beyond, there's plenty of day trips from Liverpool to enjoy. From quick train journeys out of town to exhilarating trips to the countryside, here are a few inspiring ideas for your next day trip from Liverpool.
The Best Days Out from Liverpool
Here are the best day trips from Liverpool we'd recommend you enjoy!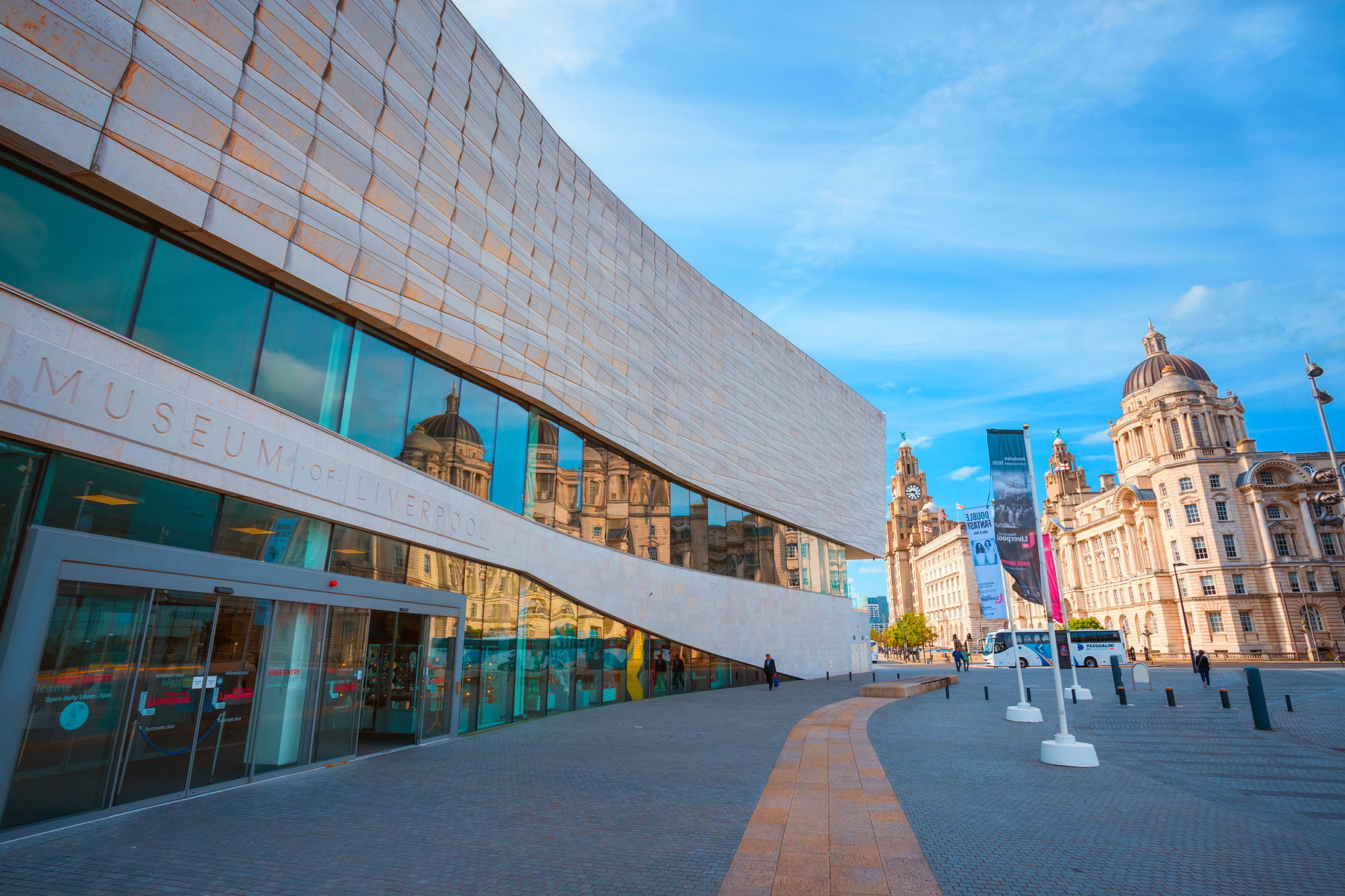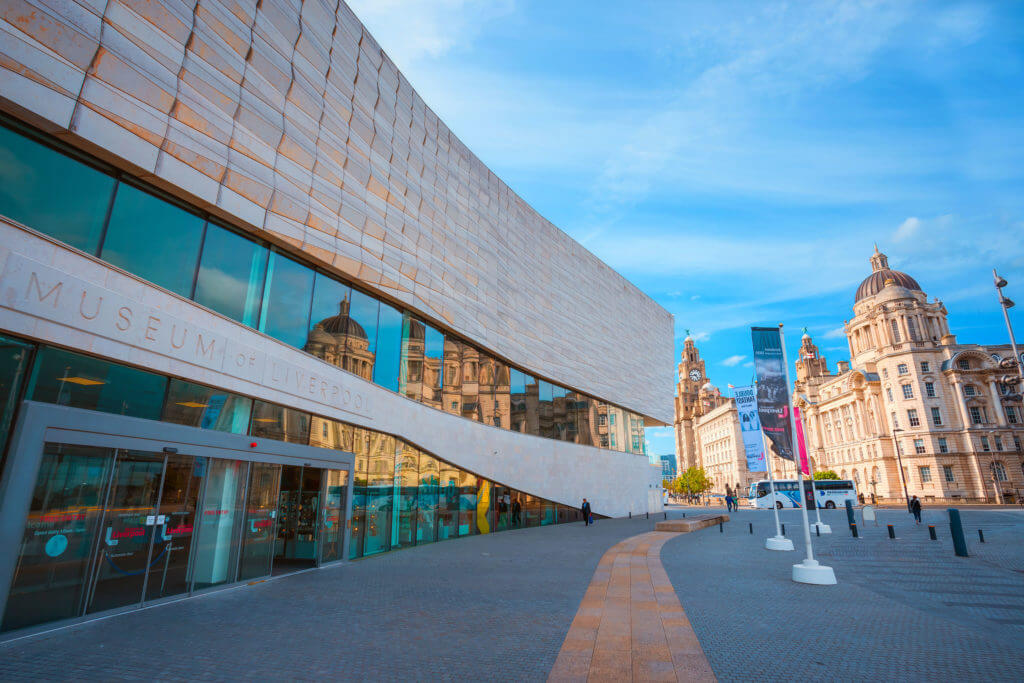 ---
1. Day trip to Chester
​​Chester has a similar vibe to York, with charming Tudor-style houses and Roman heritage. Start your visit by exploring the ancient 1,000-year-old Chester Cathedral and climbing its tower for great views of the city. Once you've climbed the stairs and admired the views, head over to Chester Town Hall and note the missing clock face on the town hall tower. The legend of the clock face goes back to the feuds and general dislike between England and Wales, where the saying goes that the clock face is missing because the English couldn't give the Welsh the time of day.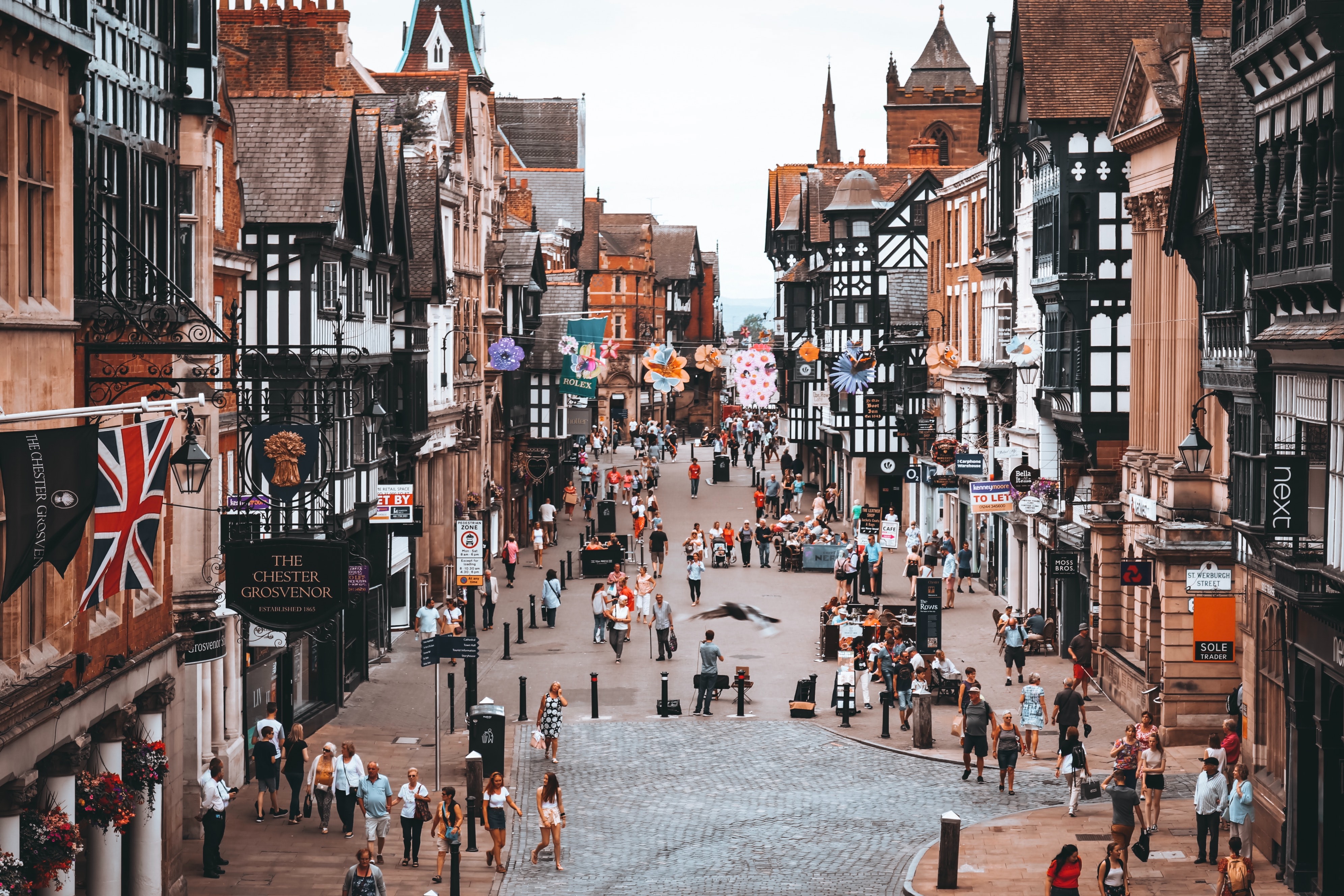 The city of Chester has so much to offer, with journeys from Liverpool taking around 40 minutes by car or approximately an hour by public transport. You can easily spend a day here and still have plenty of reasons to return. Once you've worked up an appetite wandering the parade of modern shops, enjoy afternoon tea at popular spots – the Chester Grosvenor or the Mad Hatters Tea Room. It makes for a great day out in Cheshire.
Visiting with children? Then the UK's most visited zoo, Chester Zoo is a must! Chester Zoo is home to more than 500 different species of animals across a 125-acre site, including rhinos, giraffes, elephants, cheetahs, and sloths. Chester Zoo is one of the best zoos in England and makes for a great day trip from Liverpool.
If you want to delve into the city's ancient history, you might want to join a tour of Chester's Roman Fort and Museum, where you can see a remaining section of the world-famous Hadrian's Wall. Looking to fit as many of the city's highlights as possible into a day out? Chester cycle tours are an ideal option (and a great workout).
---
READ MORE: How to Have the Best Day Out in Liverpool
---
2. Day trip out at Moel Famau
As you looked at the missing clock face in Chester you might have noticed a large hill in the distance? The hill, although it looks very mountainous, is called Moel Famau and can be found in Wales. It's one of the best outdoorsy days out from Liverpool you can go on, and, you get to see another country!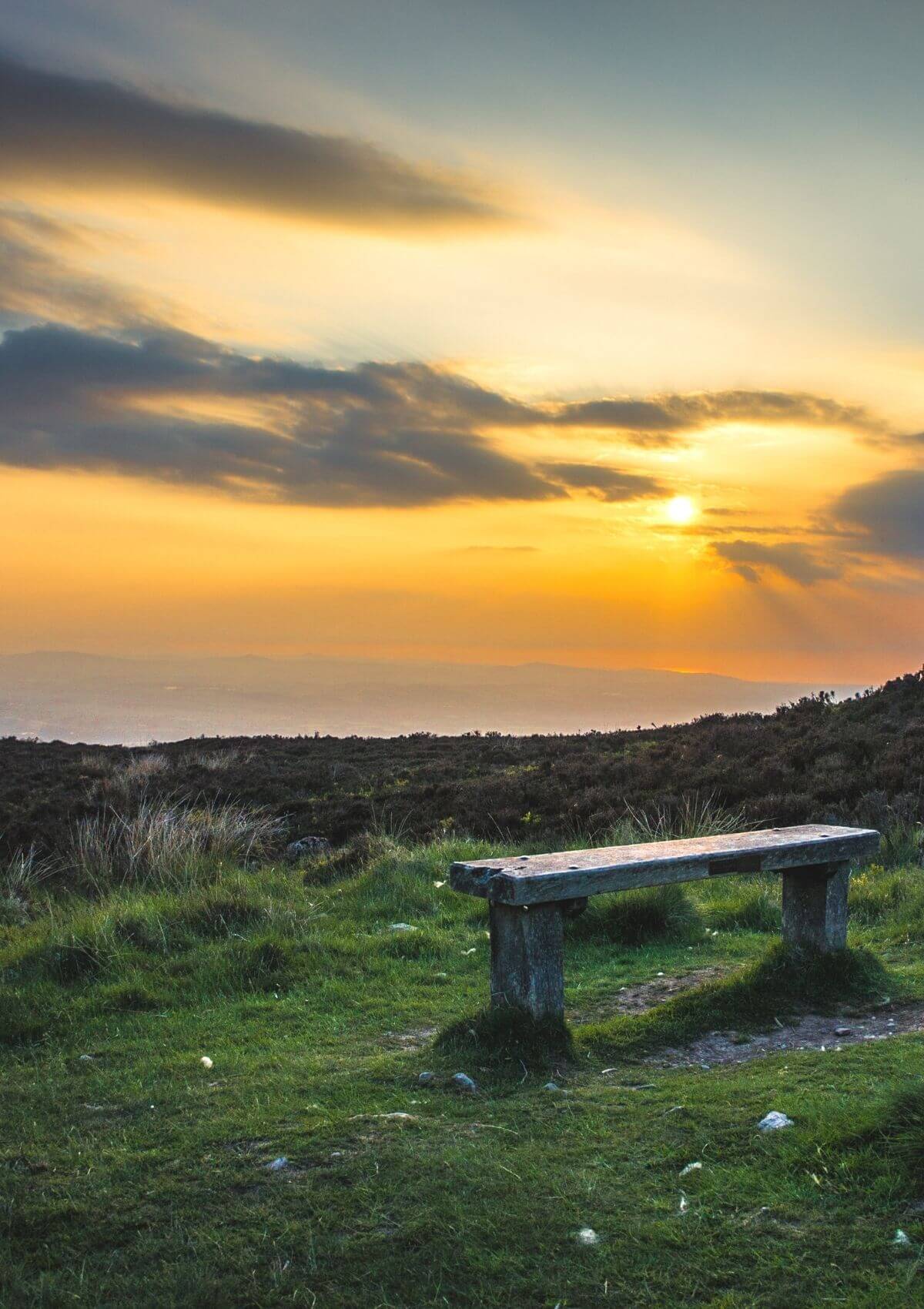 Clocking in at a manageable 562m in height, Moel Famau is popular with everyone from families to couples because of its fairly isolated location and breathtaking views of the countryside.
Moel Famau is more suitable as a day trip from Liverpool by car rather than train. You'll find parking at the base of the hill and also be aware that there is little to no mobile signal out there. On the way up, aim for the path that doesn't go through the forest as this is a gentler climb at the end. Head through the forest on your way down though as it's a pretty walk.
3. Day out in the Lake District & Peak District National Parks
It would be impossible to mention day trips from Liverpool without discussing the nearest National Parks. Escape the bright lights of the city on a day trip from Liverpool to the Lake District, and head to green pastures. England's largest National Park is now a World Heritage Site, home to Scafell Pike – its highest mountain, Wastwater – its deepest lake, and thriving communities like Keswick and Bowness-on-Windermere. Drenched in natural beauty and mountainous ranges, there are some 583,747 acres to conquer.
There are so many adventurous things to do in the Lake District you can have a great day out, and some pretty Lake District towns and villages too.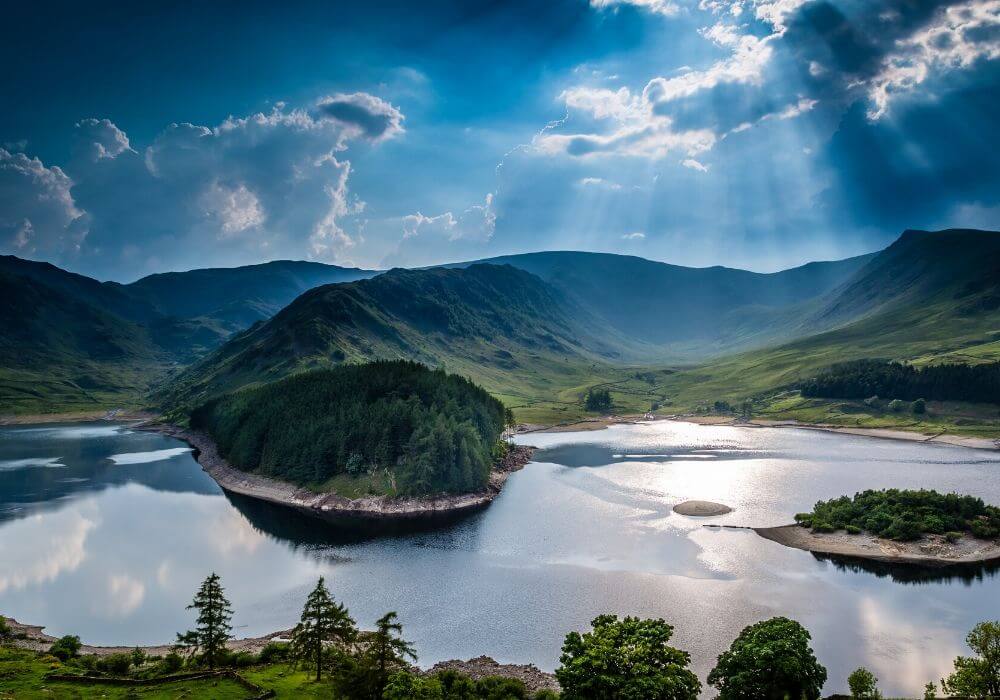 Make a beeline for Lake Windermere, one of the most popular destinations and largest of all the lakes. It's the perfect spot for walking, boating, or simply enjoying a picnic. You'll also find attractions such as The World of Beatrix Potter and the Lake District Boat Club. Pack your walking boots and all-weather gear for its demanding terrain.
If you fancy joining a guided tour from Liverpool to the Lake District, BusyBus has lots of sightseeing trips, tours and excursions to the countryside – you can book tickets here.
Another wonderful National Park close to Liverpool is the almighty Peak District. Perfect for hiking, cycling, and taking in the stunning surroundings around you, this huge National Park is fantastic. The Peak District is about a 75-minute drive from Liverpool but we're certain you'll be amazed by its beauty.
4. Day trip to Manchester
Friendly rivals in football and music, a day trip from Liverpool to Manchester is a must for anyone with a love of either. The city is also a foodie heaven and a clubbers' paradise where you'll discover hidden treasures, intriguing history, and spectacular architecture.
Enjoy a guided tour of Manchester with a local to uncover the city's story, whilst enjoying some of the best food and drink on offer, delve into the past with the daily Discover Manchester Walking Tour, or ​​there's a new way to indulge in a foodie experience that visitors have enjoyed in Manchester since 1904.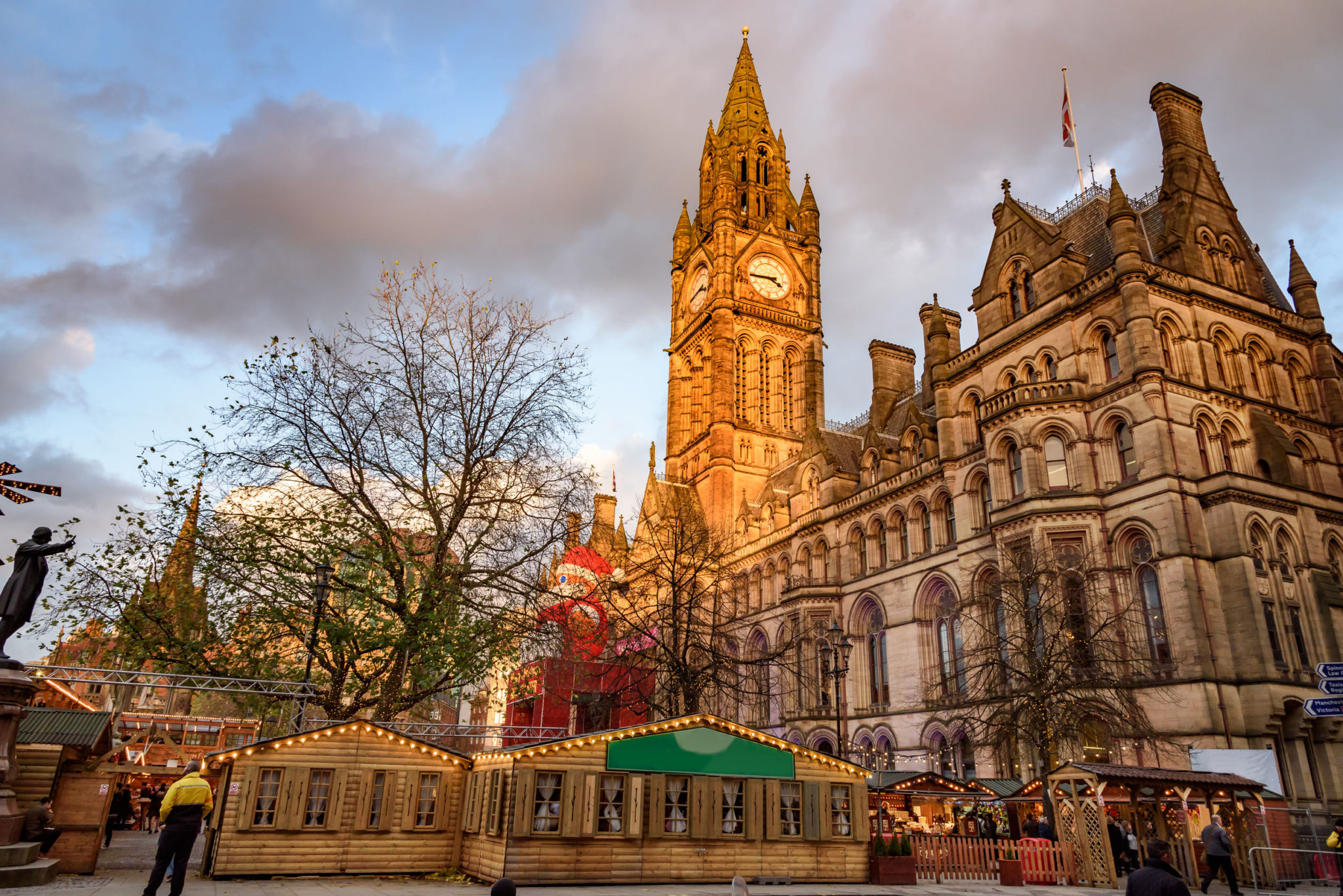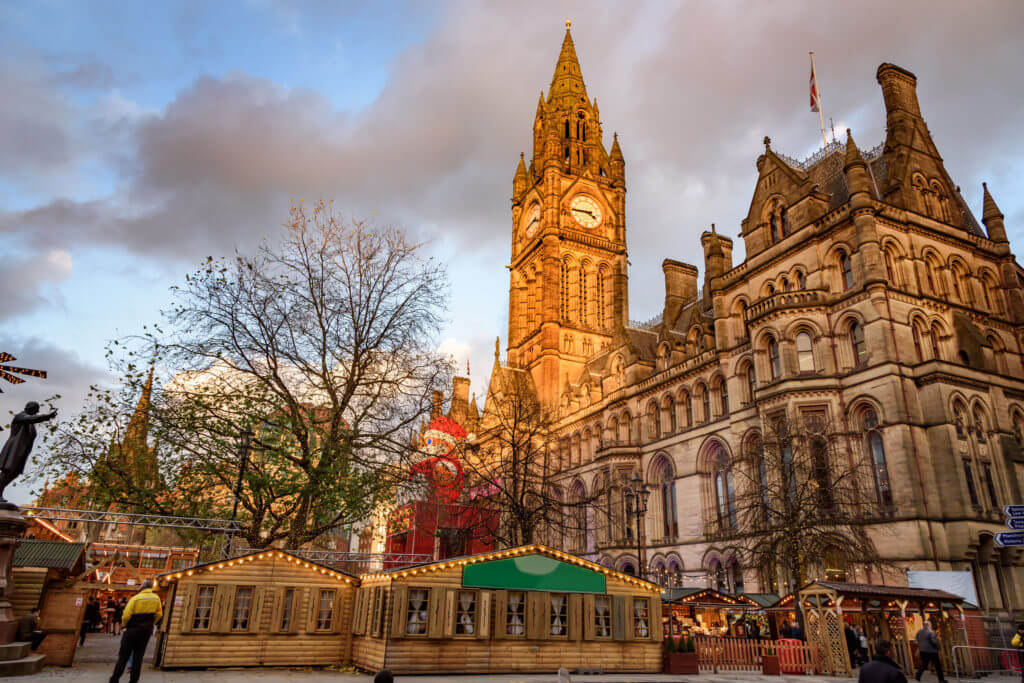 Manchester Taxi Tours has launched an Afternoon Tea Taxi Tour, so visitors like you can see the sights of the city from the back of a black cab with a little added indulgence.
Alternatively, football fans can delve into the city's sporting heritage exploring locations significant to the history of Manchester United Football Club, not forgetting a visit to Old Trafford of course.
5.

D

ay trip to Southport Pleasureland
While the city centre of Southport is pretty, especially Lord Street which transports you to the 19th century (they have a lawnmower museum), the main draw is the seaside. This day out from Liverpool is what childhood memories are made of!
Choose a sunny day to have some family fun, pack sandwiches, a camera, and take a nostalgic trip back in time. There are fairground rides, water slides, and plenty of dining options, offering traditional British seaside fun at its greatest. It's one of the best day trips from Liverpool for family fun. Make sure you book tickets online before visiting. If you fancy something a bit more lowkey you can play games in the arcade, eat fish and chips whilst walking on the seabed at low tide, walk the pier, or ride an old-fashioned carousel. If that's not enough, you can also paddle on the lake in a giant pink flamingo.
6. Day out to Gretna Green
If you've got longer than a day, or love getting up early and back late – a trip to Gretna Green in Dumfries and Galloway, Scotland will surely be one to remember. The average journey time by train between Liverpool Lime Street and Gretna Green is 3 hours and 6 minutes. Famous for its quick and easy weddings for over 260 years, many go to get married, renew their vows, as well as handfasting blessings and informal ceremonies. But if romance isn't in the air, there's still plenty to discover.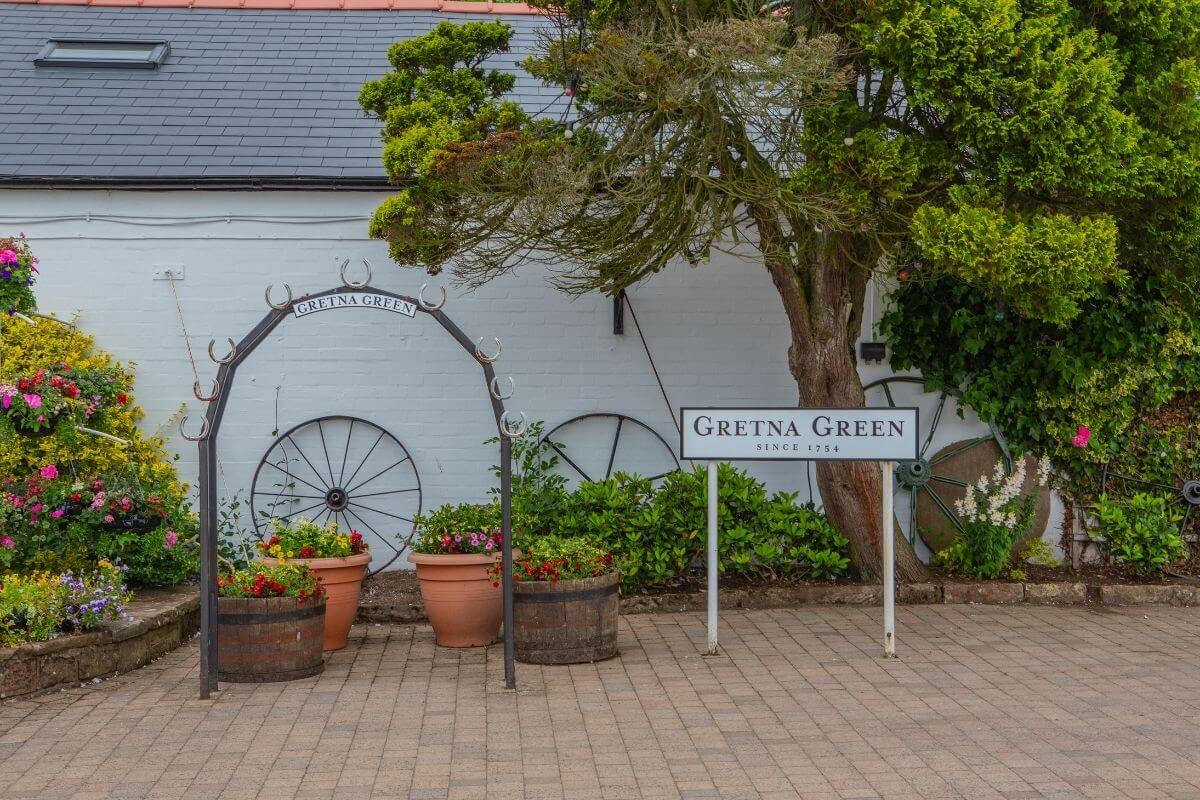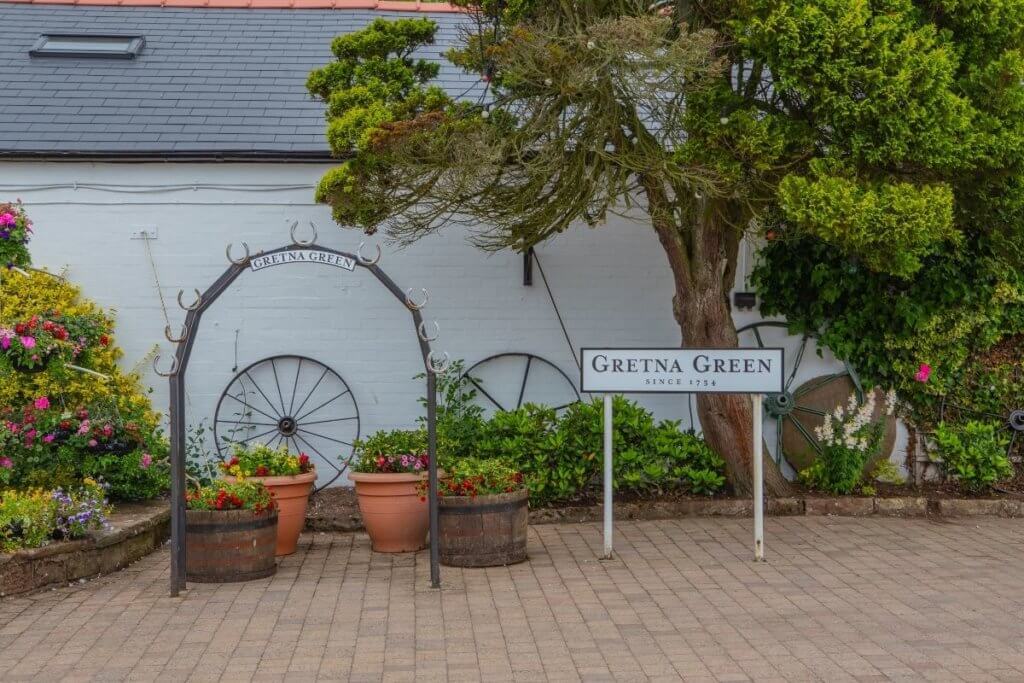 Check out the famous Blacksmiths Shop which is what made Gretna Green famous in the first place and it's an intrinsic part of the village heritage and history. Built-in 1713 in the heart of the village, then take a leisurely walk through the village to enjoy some local Scottish produce. You're going to want a few kitsch novelty gifts to bring back home and the 'Wee Big Shop' is the perfect spot.
Finally, a day trip from Liverpool to Gretna Green should include a visit to The Devil's Porridge Museum, for a fascinating look back at wartime living on one of the most interesting days out from Liverpool.
7. Day trip to Formby
When the sun is shining, the coastal village of Formby is the place to be on a day out from Liverpool. This sandy beach, complete with dunes, is a sight to behold and a fun adventure to explore, with trails and pathways carved out for walkers.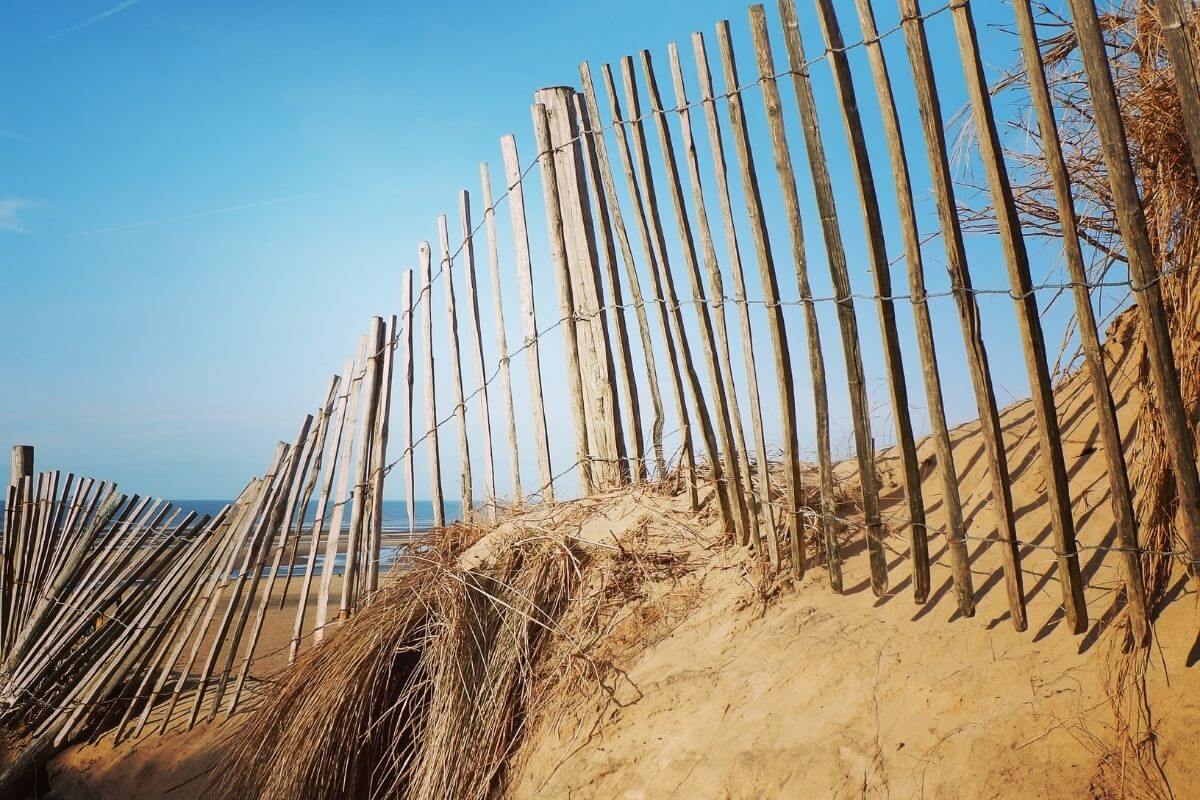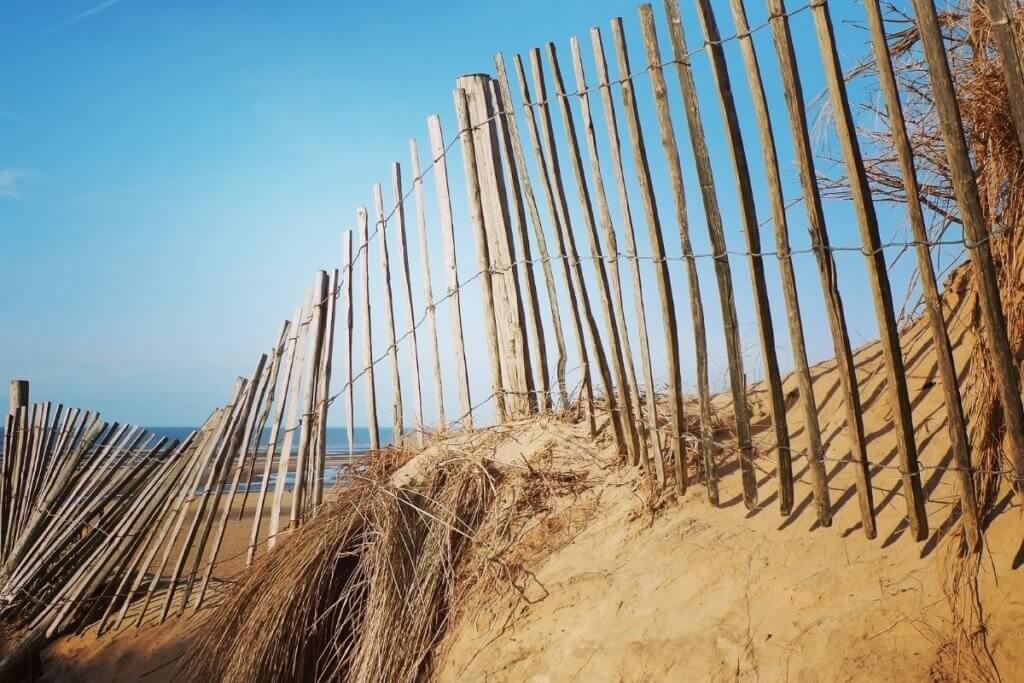 As a National Trust reserve area, it's also home to plenty of wildlife including its famous red squirrels, a variety of birds, and the occasional Natterjack Toad and Sand Lizard. Pitch up with your picnic, or head into Formby village to enjoy great local cuisine, from gastro-pub food to fish and chips – best around!
8. Day out in Bradford
For a day full of surprises, take a day trip from Liverpool to Bradford. This welcoming Yorkshire city has a proud manufacturing past that is preserved for posterity where the fresh air and natural beauty will invigorate you, while the heritage and culture will fascinate you.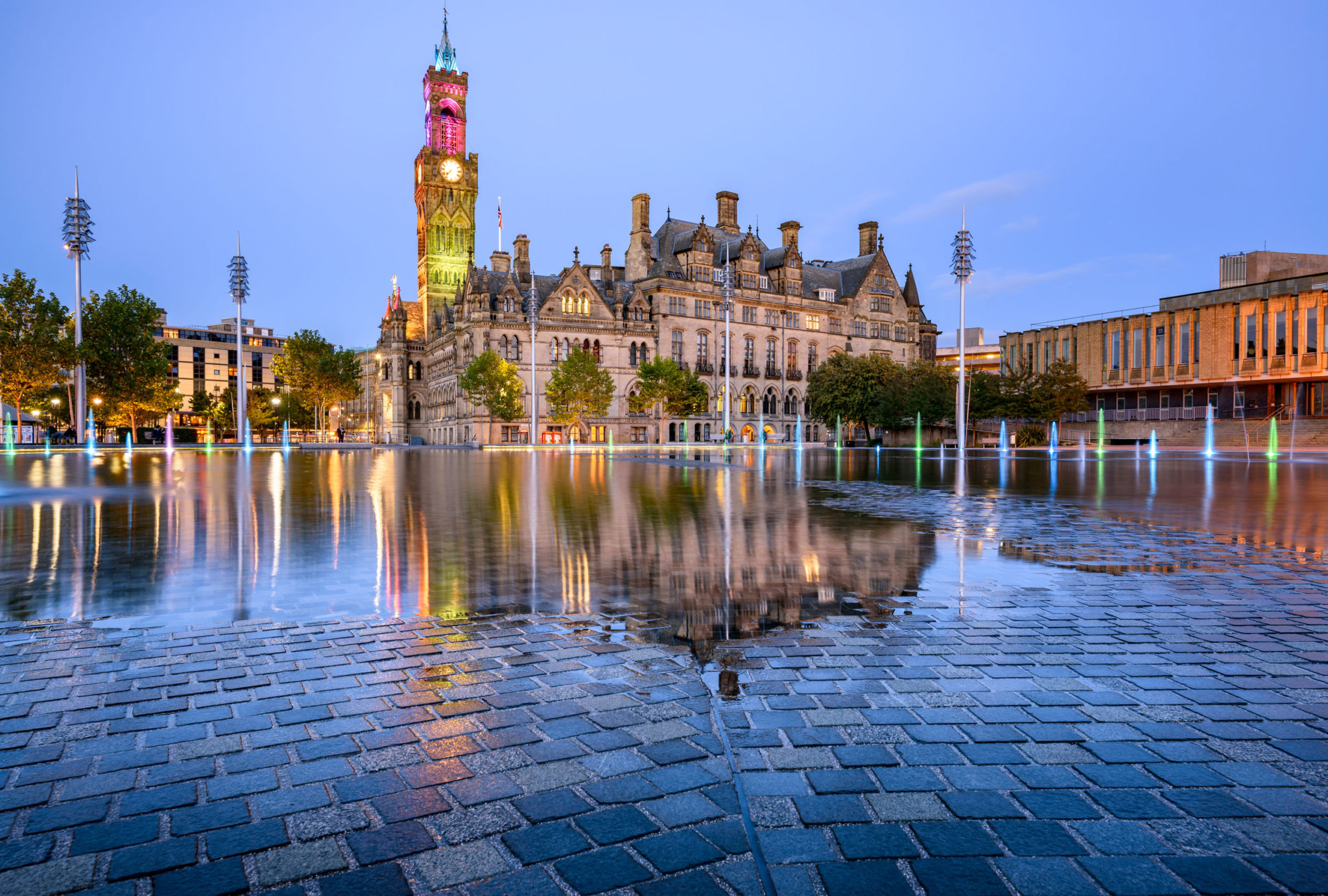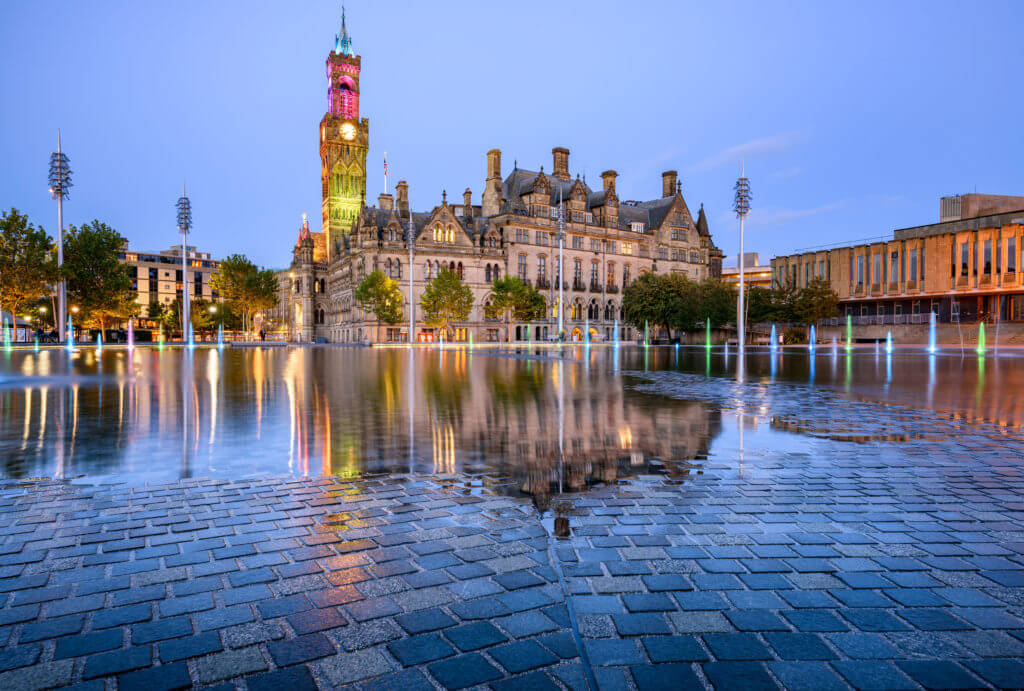 In Bradford you'll get to enjoy two UNESCO sites, amazing countryside, combined with the former home of literary greats, alongside a city full of a rich and varied mix of cultures. Many museums and galleries are open to the public, but two that are worth a visit (and are also free) include the National Science and Media Museum and Cartwright Hall Art Gallery, home to work of its famous son – David Hockney.
It would also be amazing if you plan your trip around the time of the Bradford Festival. Be transported to a Nordic wonderland by Borealis, a mesmerising artwork created by artist Dan Acher, which brings the magic of the Northern Lights to Bradford in an incredible display that will light up the night sky.
Bradford is one of the best days out in West Yorkshire.
9. Full-day Yorkshire sightseeing adventure
Get a taste of Yorkshire to the fullest on a full-day minibus tour from Liverpool. Explore the county's history and cuisine, admire feats of Victorian engineering, and see the picturesque Hardraw Force Waterfall.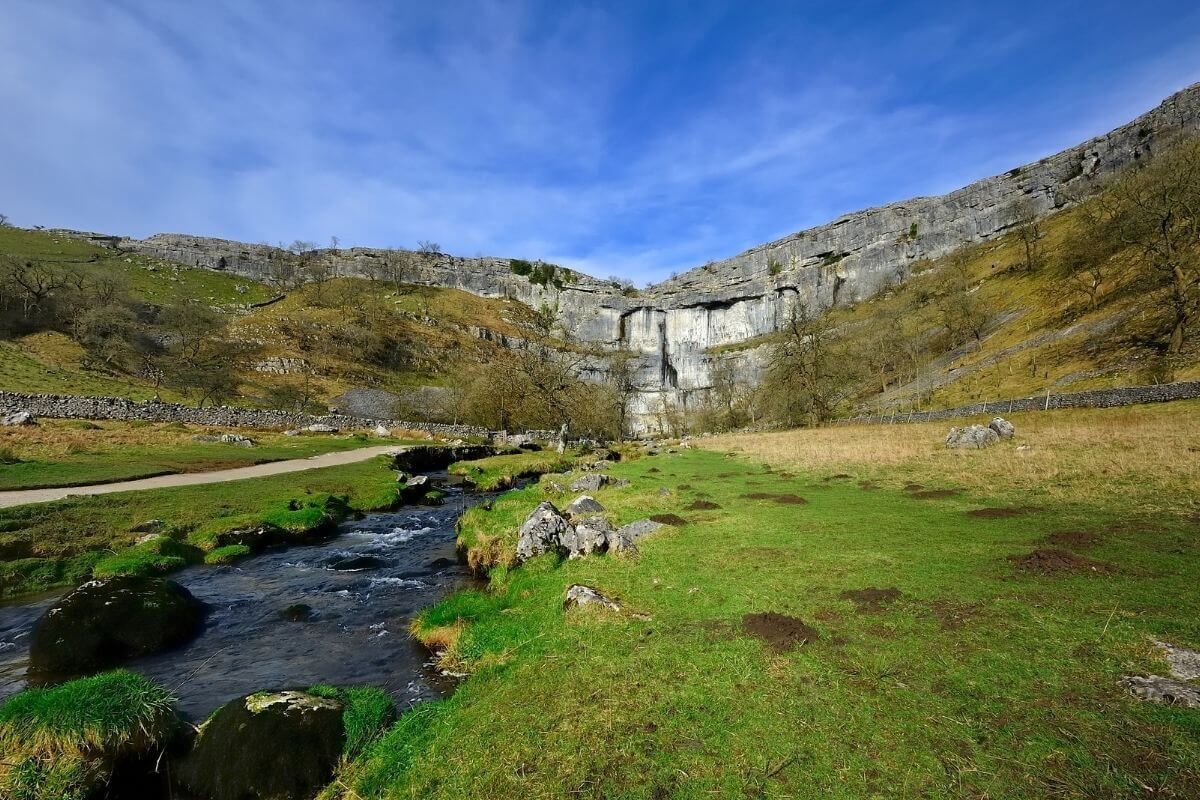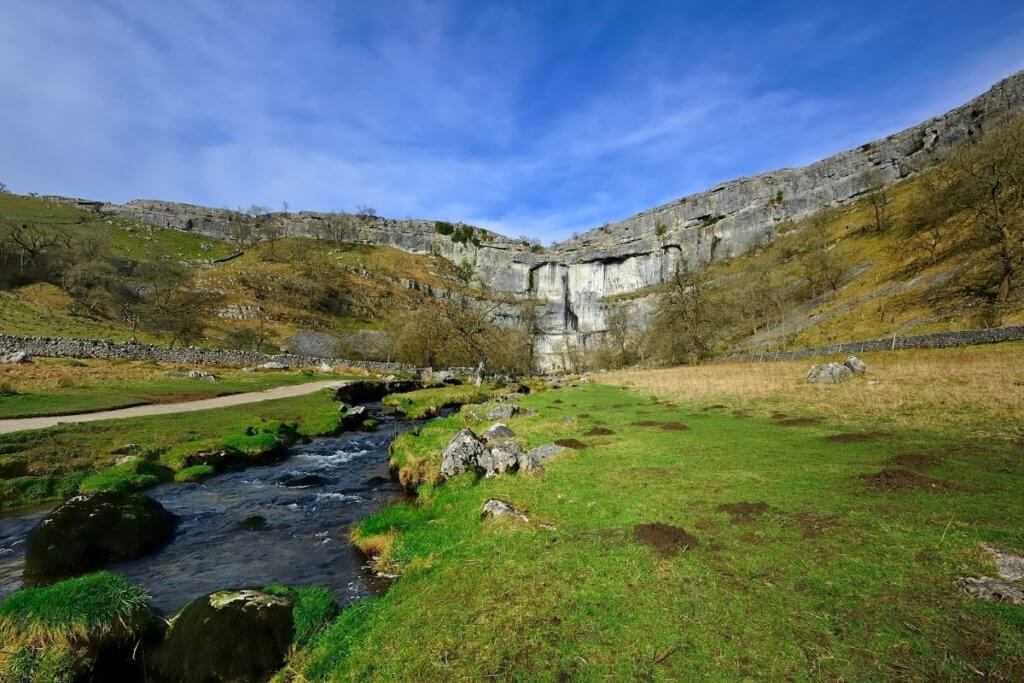 After a partially-narrated 2-hour journey, Haworth awaits you to discover the stories of the Bronte Sisters — Anne, Charlotte, and Emily. From there, head to the stunning limestone feature of Malham Cove, formed by melt-water from glaciers over 12,000 years ago. You can see the impressive Ribblehead Viaduct, a masterpiece of 19th-century engineering, and take a stroll to get a closer look at its 1.5 million bricks.
Wensleydale Creamery is a must-visit to sample some of its famous cheeses, made originally by Cistercian Monks. Next, visit the pretty village of Hawes, a honeypot boasting shops, cafes, pubs, and locals sipping John Smith's while munching a Yorkshire Pudding – one of the most important foods in England.
READ MORE: Have a go at the BIG Yorkshire Quiz or check out these fascinating Yorkshire facts!
10. Martin Mere Nature Reserve
Nature lovers who have never visited Martin Mere are missing so many treats and potential adventures – its attractions include an otter enclosure, eco-garden, and pond dipping zone, while visitors have the chance to get close to around 100 species of water-birds as they swim, feed and wander in wetlands designed to mimic their natural homes.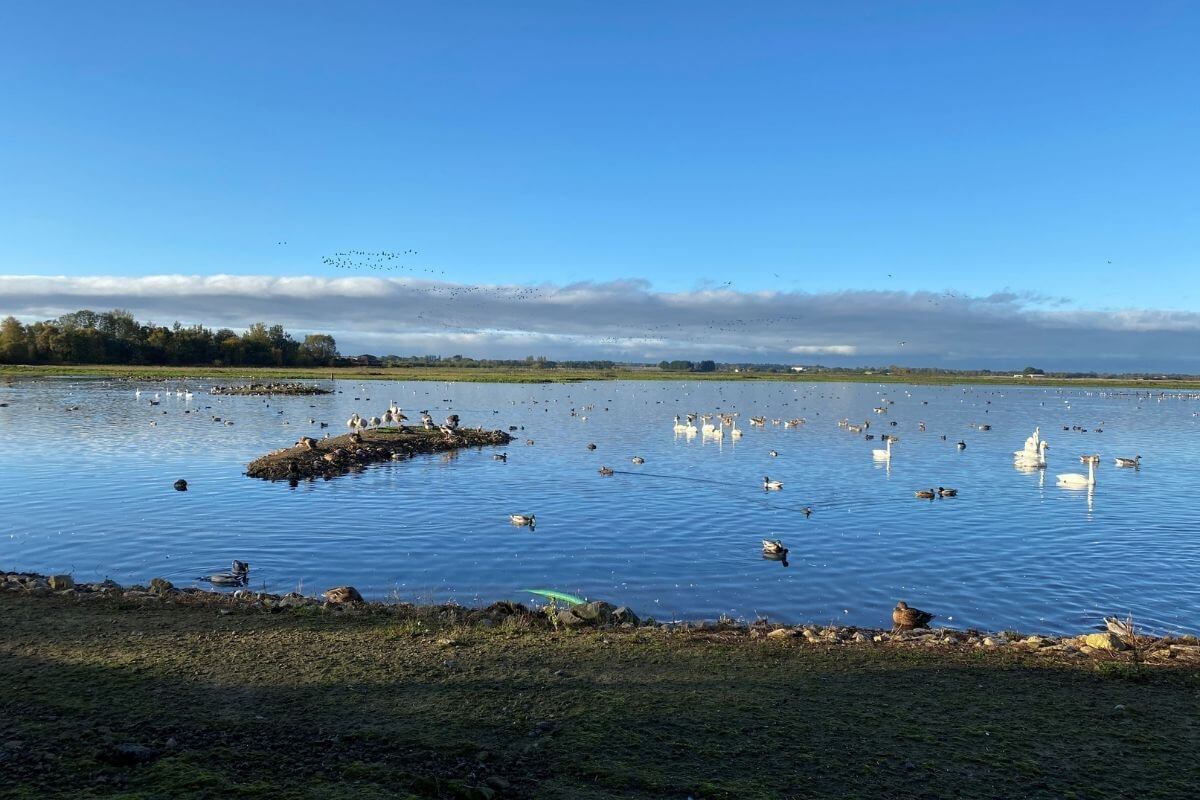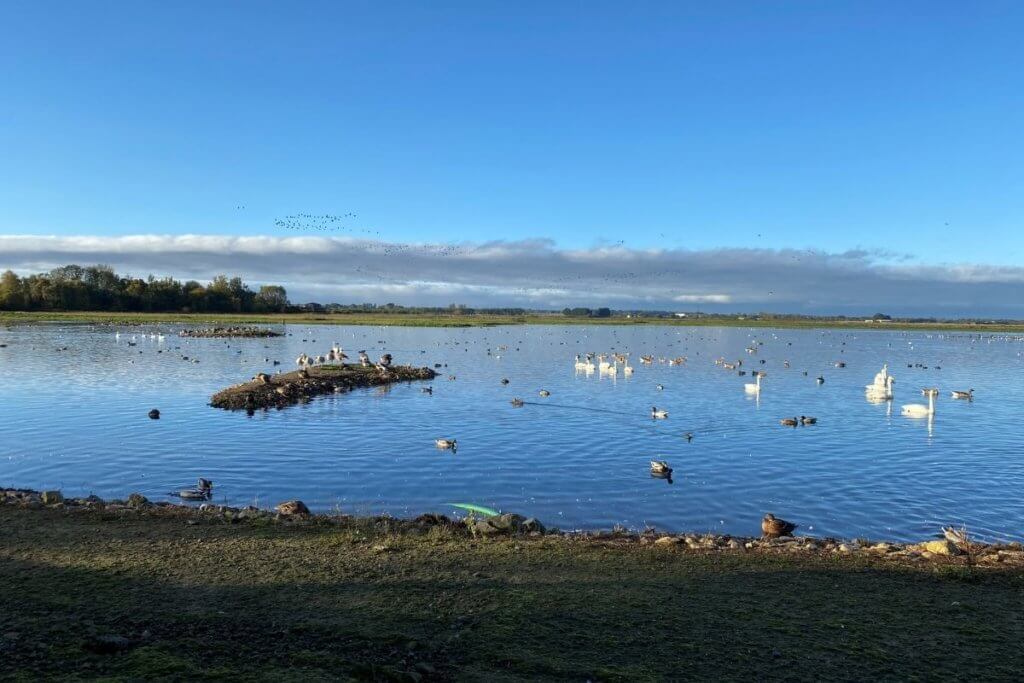 There are so many spectacular sights at Martin Mere, courtesy of the migrant flocks of pink-footed geese, wigeon, and whooper swans together with the wild ducks, geese, and waders.
A survey revealed more than 2,000 different species of birds, mammals, insects, fish, amphibians, reptiles and minibeasts live in and around the mere – also a haven for many traditional Lancashire plants, including the endangered whorled caraway, golden dock, tubular water dropwort, and early marsh orchids.
If you're an animal lover check out our top animal experiences in England, our awesome wildlife quiz, and our dedication to England's national animals too.
Days out from Liverpool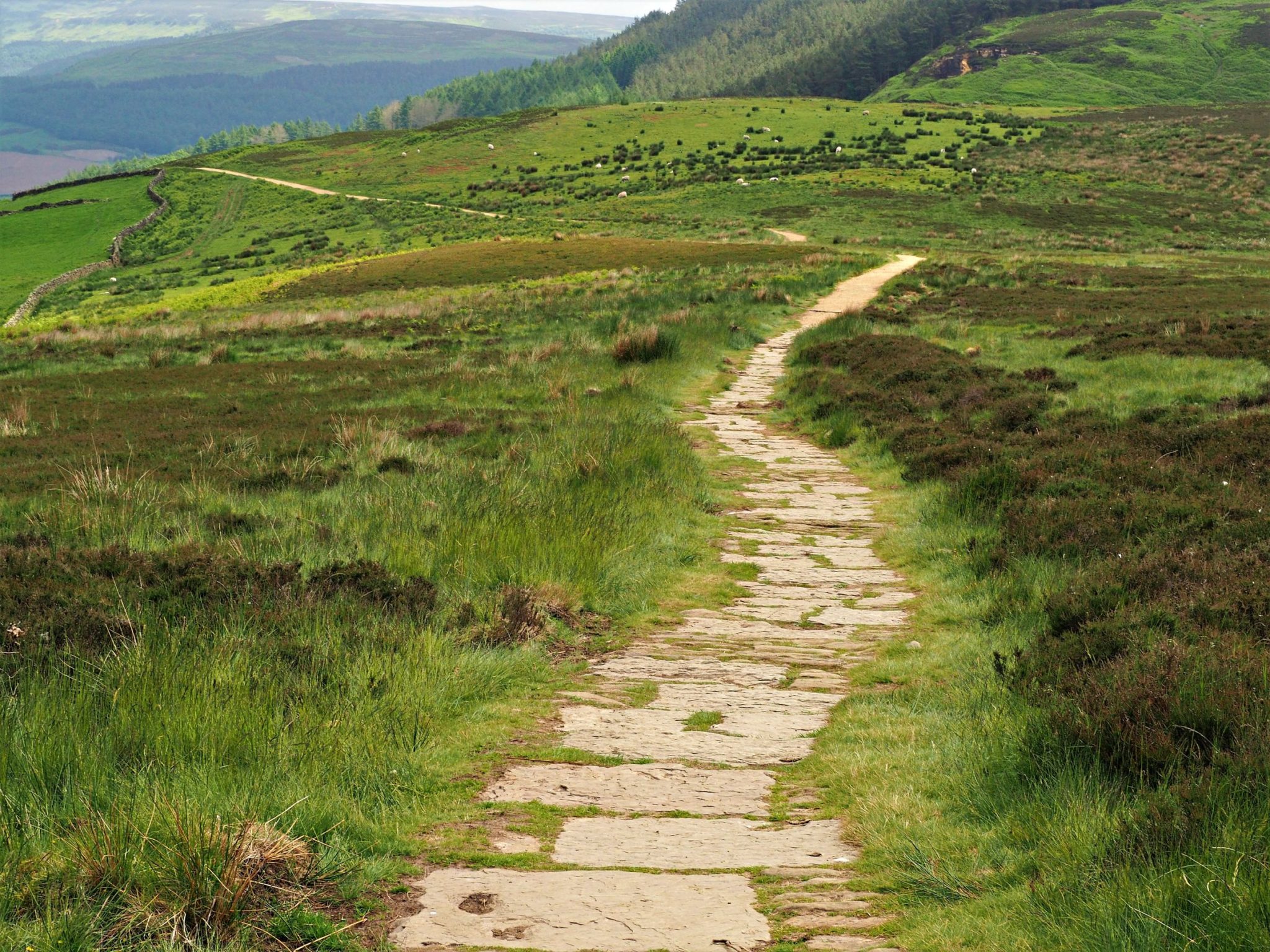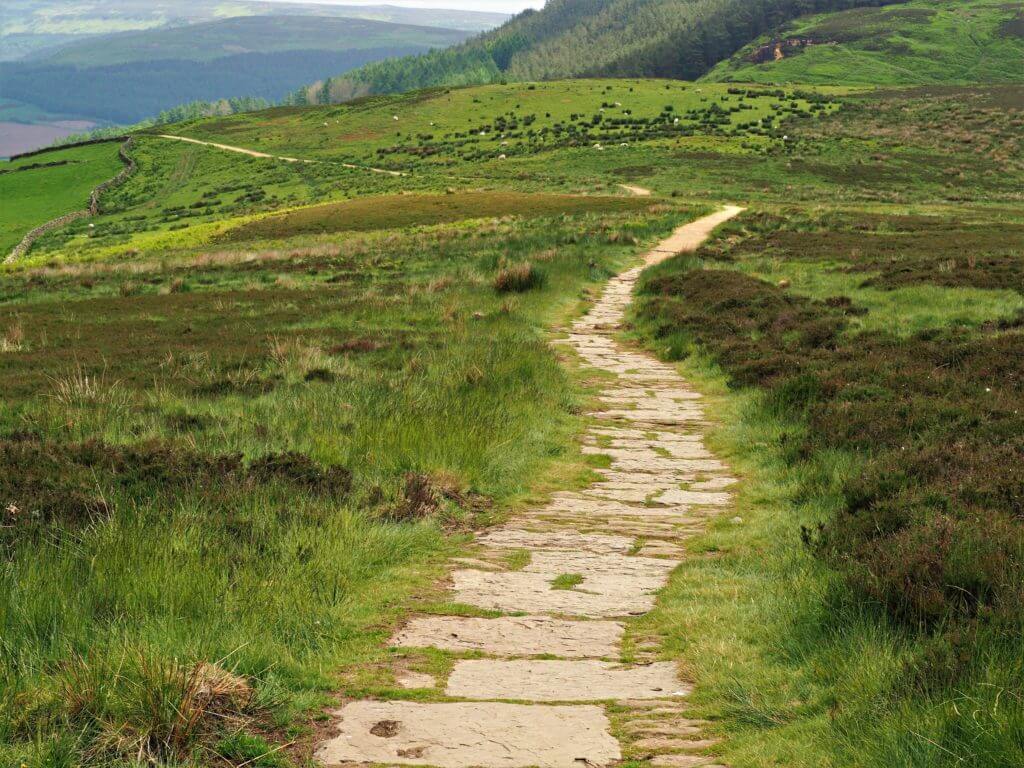 With Liverpool being so close to several beaches and popular northern attractions, there's no time like the present to use the waterside city as a base for your next outing. Which one of these 10 day trips, from forests to historical landmarks do you think you should plan to visit first on your day out from Liverpool?
---
Quicklist of the best days out from Liverpool
1. Day trip to Chester
2. Day trip out at Moel Famau
3. Day out in the Lake District & Peak District National Parks
4. Day trip to Manchester
5. Day trip to Southport Pleasureland
6. Day out to Gretna Green
7. Day trip to Formby
8. Day out in Bradford
9. Full-day Yorkshire sightseeing adventure
10. Martin Mere Nature Reserve
---