Here are some great facts about food in England you need to know. British cuisine is wonderful, and it'll be even better when you know some trivia behind it.
Thought I'd share some British food facts for you to share at your next meal, to impress the guests.
It's sad that England isn't particularly known for its cuisine, because I for one, think it's great. I've travelled to over 70 countries in my life, but I always look forward to coming home to some good English food.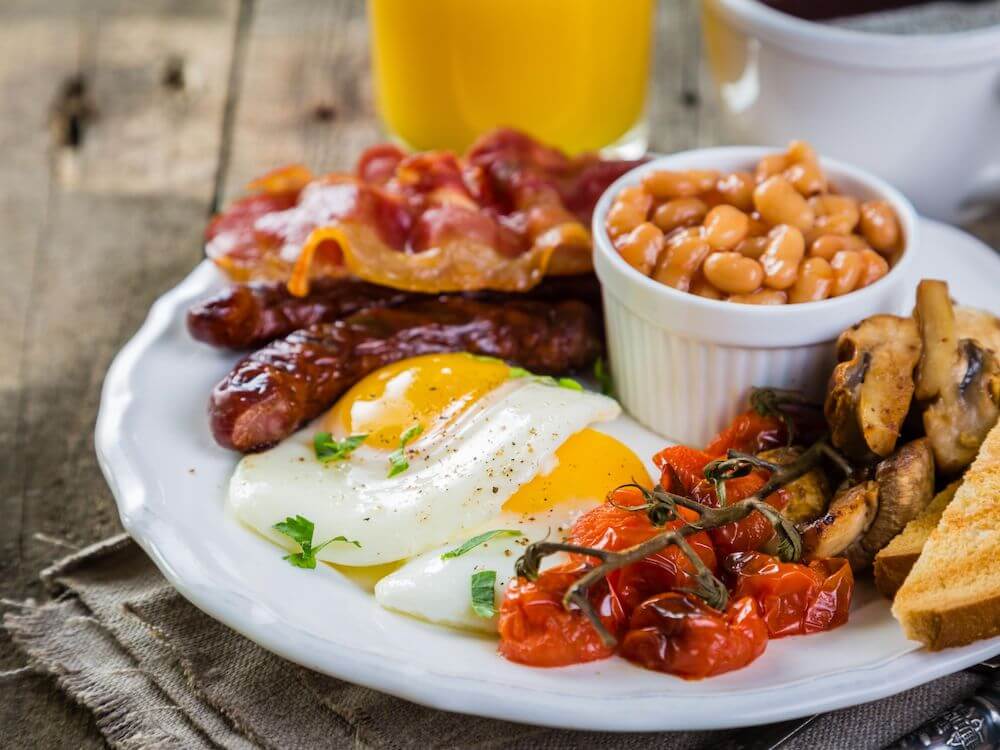 This trivia about UK food will open your eyes to the wonderful food we have in England, for breakfast, lunch and dinner. In fact, fancy doing a quiz about English food? After you've read these fun facts about England food, you'll be an expert!
We have a great variety, and yeah – sure, sure – it might not be the healthiest, but, it's surely the tastiest. It's one of the many reasons people like to visit England.
Food in England is hearty, best enjoyed with family and friends, and will give you the energy and oomph to get out there and explore the country while you're here.
Fun Facts about Food in England
These England food facts will get you reaching for the pork scratchings and beans on toast!
1. Fish and chips were served in newspapers until the 1980s
Nothing beats proper fish and chips from a proper fish and chip shop in England. Preferably from a fish and chip shop on the coast. Try some fish and chips on a day out in Portsmouth, or Brighton, or Newquay and you won't regret it.
Funny fact about England food though: fish and chips were served in newspapers until the 80s. As in, old manky newspapers from the newsagents. Sounds gross now, but, it happened!
Health and safety soon put an end to that.
English fish and chips are made up of a piece of fish – usually cod or haddock – fried in a deep fryer, with some fresh cut deep fried potatoes on the side. It's one of the unarguable facts about England food that as soon as someone mentions having fish and chips, you have to go and eat them.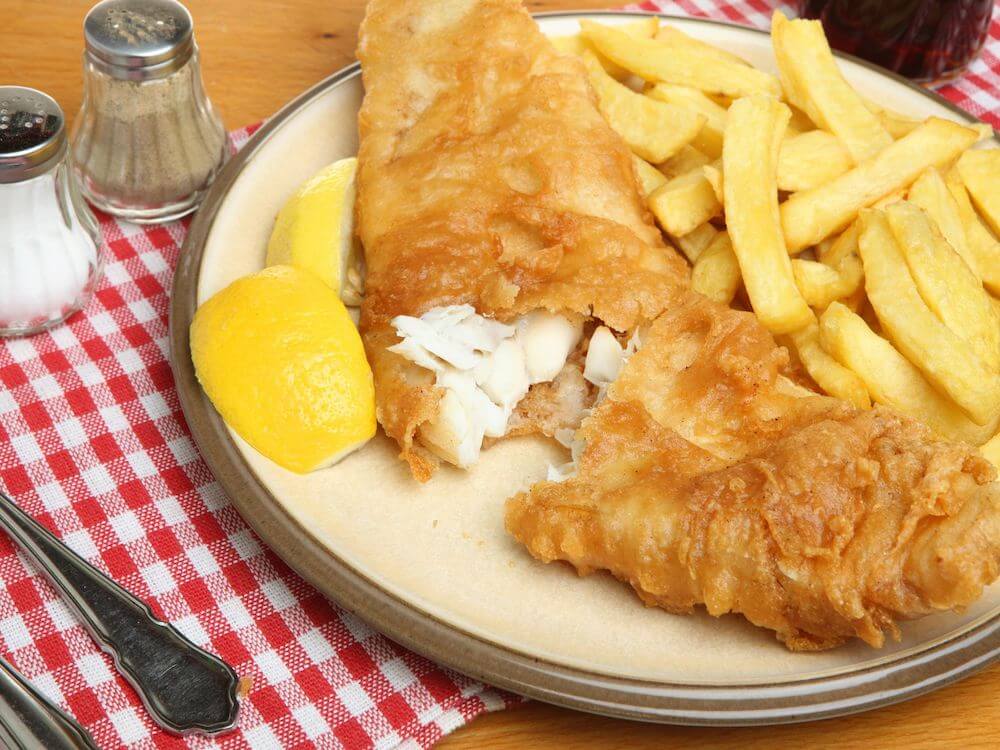 You'll find that each area in England does this dish differently. Up north it's served with gravy, mushy peas and bread and butter. Down south, they like curry sauce. Wherever you are in England fish and chips has to be served with plenty of salt and vinegar. Vinegar first, of course, to give the salt something to stick to.
Traditionally fish and chips are served with a cup of tea, although, if you're eating them in the evening a pint of cider will get them down easily.
2. Over 970 million dozen eggs are laid every year in the UK
We love our eggs in England. Whether they're beaten, fried, baked, scrambled or poached – we just cannot get enough of them. In fact when I was single they formed the basis of most dinners, it was great.
Also, you can't beat a Full English breakfast in England.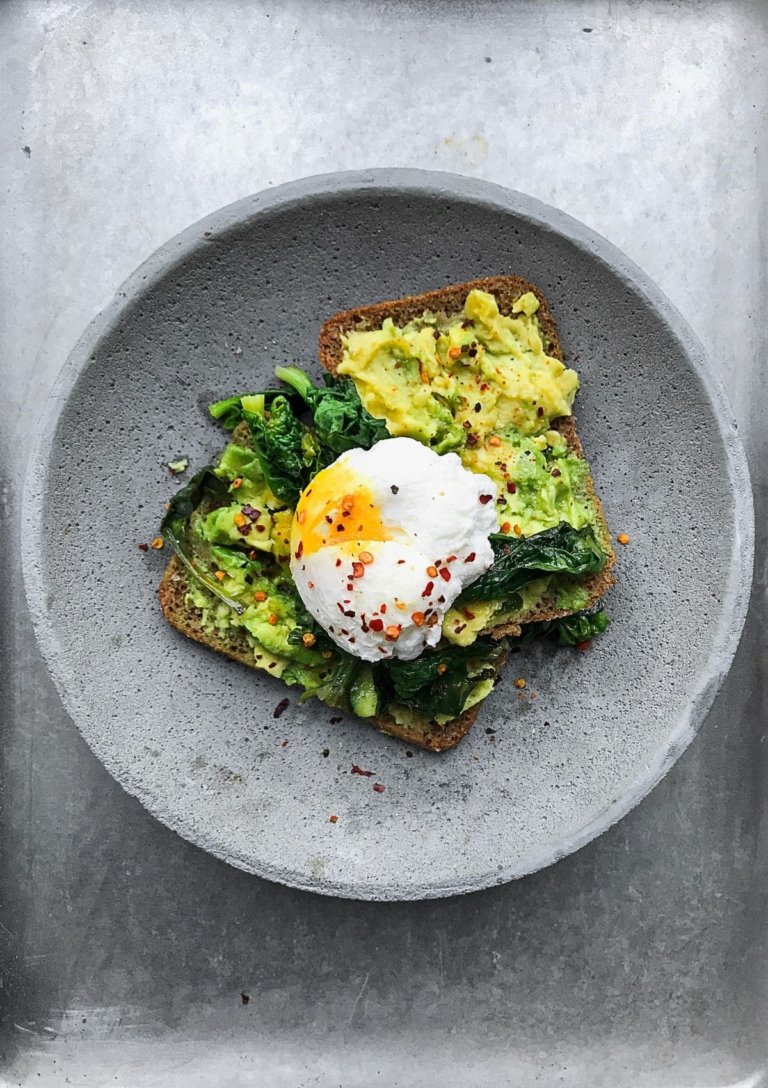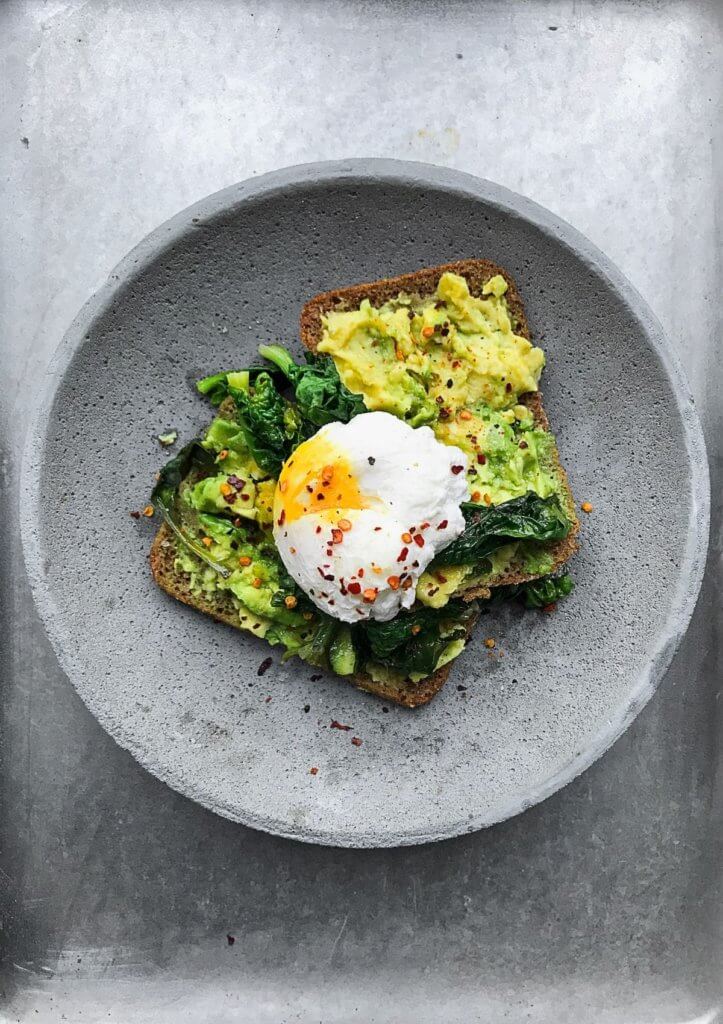 It's a well known English food fact that the best Full English breakfasts come from greasy spoons (cafes). You can pay a few quid and get a full plate of sausages, bacon, eggs (usually TWO), beans and sometimes chips, served with a side of tomatoes, toast and mushrooms. With a tea to wash it all down.
We also need all the eggs for the amazing cakes we're known for in England.
3. Bangers and Mash are so called as they used to 'bang'
Yes, during the war they used to be filled with so much random meat and water (and other things) that they'd explode in the pan. Nowadays they're made of a better quality of meat, and are a staple on England's pub grub menus.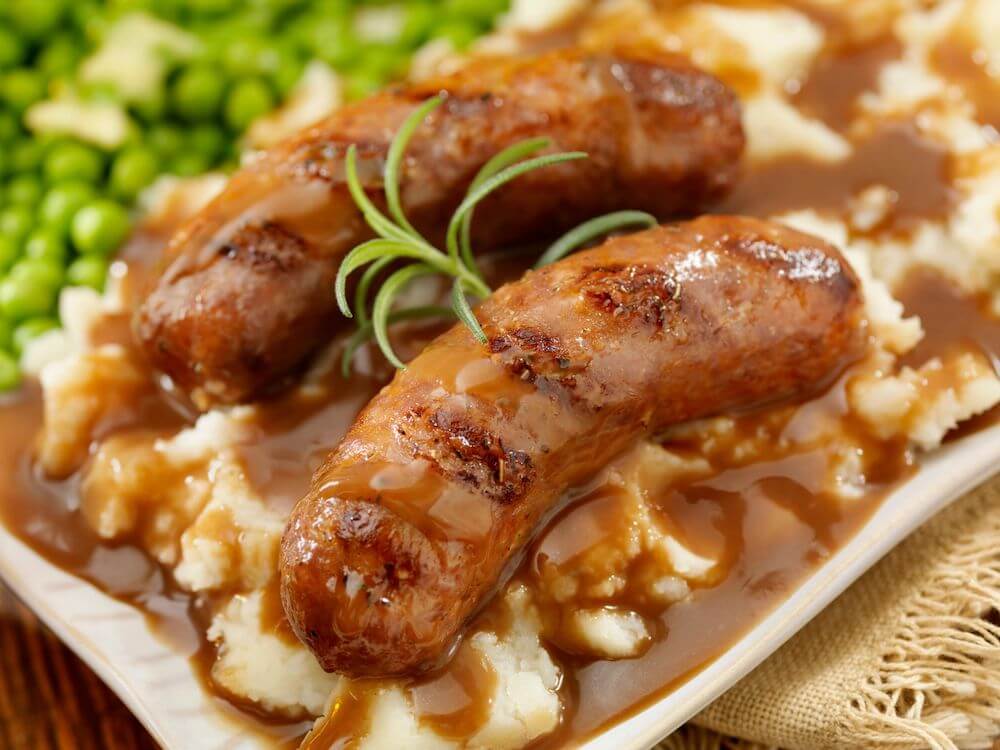 As any Brit knows, they're easy to make at home.
You just need to cook up a minimum of three sausages per person, rustle up some mashed potato with cheese and butter for ultimate creaminess, and then cook some onion gravy on the side – as thick as possible. Serve with a few greens et voila.
English food perfection.
4. English people consume more tea per capita than anybody else in the world
In England we drink 2.5 times more tea than the Japanese, and 22 times more than the Americans or French – that's a LOT!
Americans would like to think this is all drunk in the form of a cream tea, with little sandwiches and cakes too. But, in reality, it's just a strong brew in a mug – maybe a little biscuit on the side.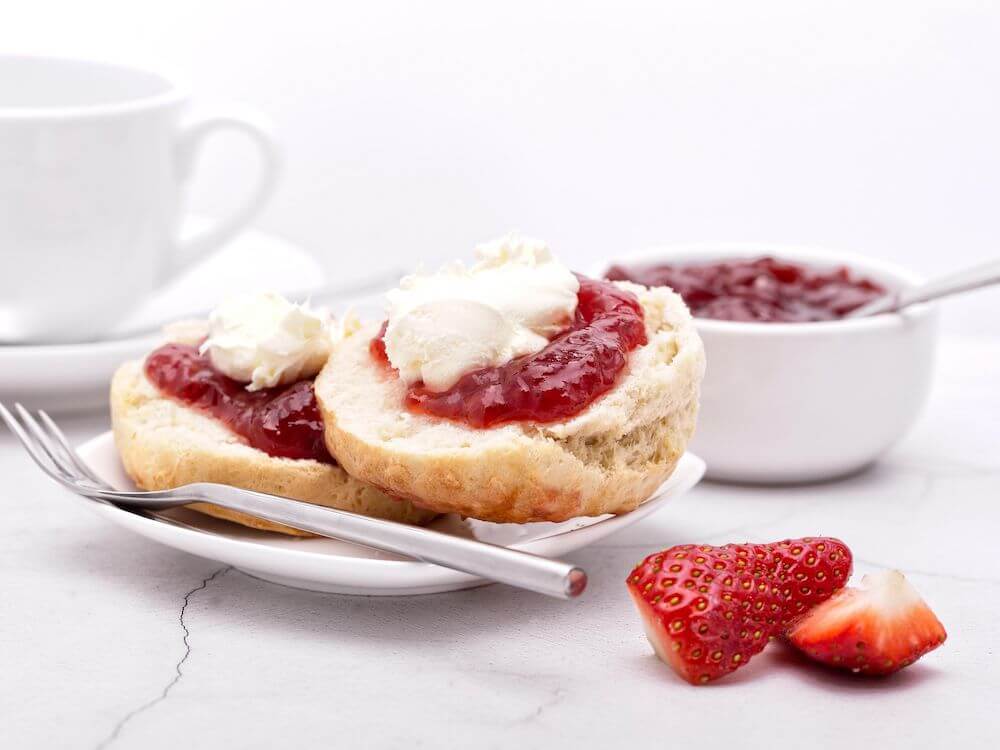 Visit Stately Homes in England, forests and countryside areas in England and you'll be able to find a cream tea being served. There's a whole controversy in England about whether you're meant to put the jam on first, or the cream.
A Devonshire Cream Tea is cream then jam, and a Cornish Cream Tea is jam then cream. You'll just have to experiment to see which side of the debate you stand on, although to be honest, I'm with the Cornish.
If you find a cream tea doesn't fill you up, then of course you can upgrade to an Afternoon Tea. Afternoon Teas will have all kinds of sandwiches as well, and maybe some cakes. Also, the best kind has a glass of Champers on the side.
Most Brits are just happy with a brew in a mug though – which tastes even better if someone else makes it for you.
5. Our most expensive slice of meat pie was sold for over $1,700 a slice
Once upon a time in Lancashire they created a Shepherds Pie worth over $1,700 a slice!
It was made with Japanese wagyu beef filet, priceless Chinese matsutake mushrooms, Winter Black truffles, French Bluefoot mushrooms, and gravy made from made two bottles of vintage 1982 Chateau Mouton Rothschild wine.
All garnished with edible gold leaf it became a Guinness World Record for the most expensive Shepherd's Pie ever.
The difference between Shepherds Pie and Cottage Pie you ask?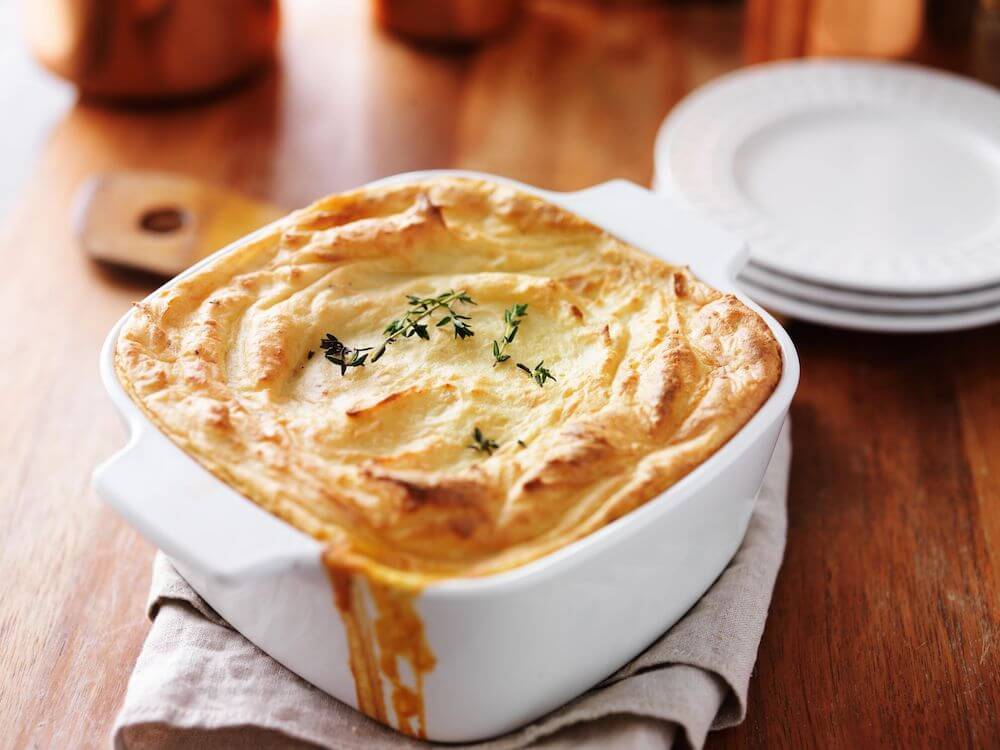 Shepherds Pie is made with lamb, and Cottage Pie is made with beef. Otherwise, they're the same. All you need to do to to make Shepherds Pie and Cottage Pie is to fry up some mince and veg, add the spices and stock and simmer. Then, you need to make mash.
Just put the mince in an ovenproof dish, add the mash to the top, and some cheese, and bake. I've totally oversimplified it there, but you can find a good recipe on BBC Good Food.
Serve up Shepherds Pie to a Brit and they'll love you forever. A truly hearty dish that will warm you from the inside. Great for the winter!
6. Sunday roasts are a tradition from the church
Some denominations, like Roman Catholics and Anglicans refrained from eating meat on Fridays and Saturdays and so this was their chance to eat meat again. We originally had it for lunch, as this would be done after we'd been to church.
Sunday Roasts feature some sort of meat – usually chicken, lamb, beef or ham – with veg on the side, and potatoes too.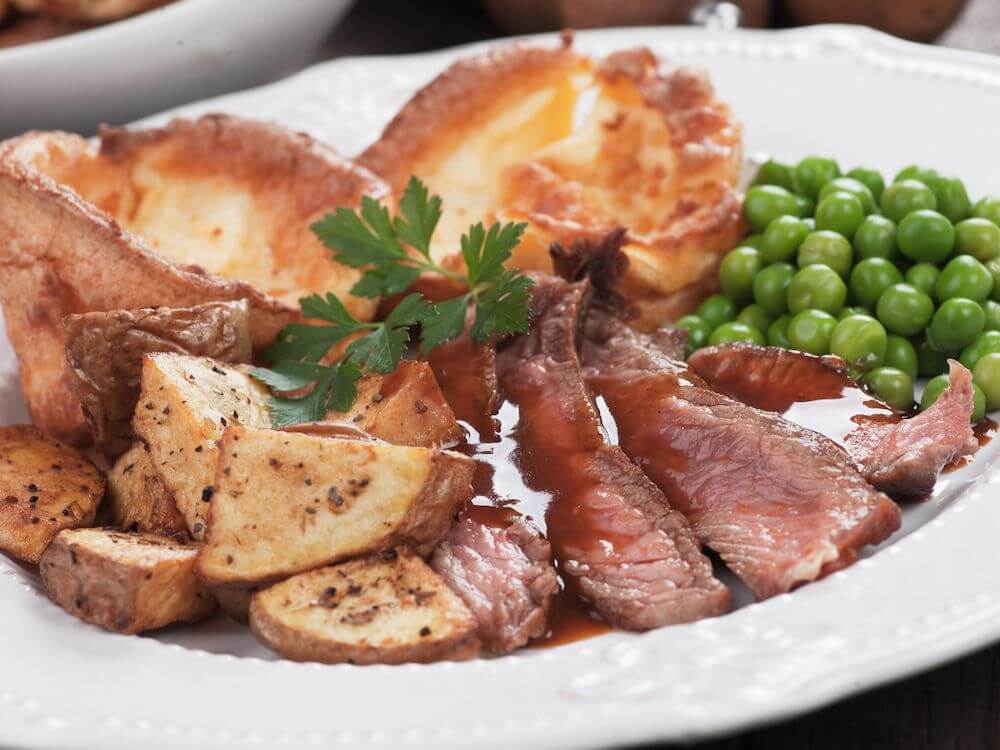 Accompaniments are almost as important as the main event when it comes to a Sunday Roast. We have mint with lamb, cranberries with turkey, horseradish with beef and stewed apples with pork.
Also, gravy. Essential facts about England food state that this needs to be thick enough to feel and taste, but not too thick to overpower.
As you can tell, cooking a good roast dinner is a mastery in timings to have it all ready at the same time.
Good stuffing is an absolute essential when it comes to a Sunday Roast, drowned in gravy it's pretty much the best thing.
READ MORE: All the Best English Sweets For You!
7. Chicken Tikka Masala has become the national dish of England
Fun food fact about England – we LOVE a chicken tikka masala.
It apparently became so popular in England thanks to a British Pakistani chef, Ali Ahmed Aslam. He was the proprietor of the Shish Mahal restaurant in the west end of Glasgow, and invented chicken tikka masala by improvising a sauce made from yogurt, cream, and spices.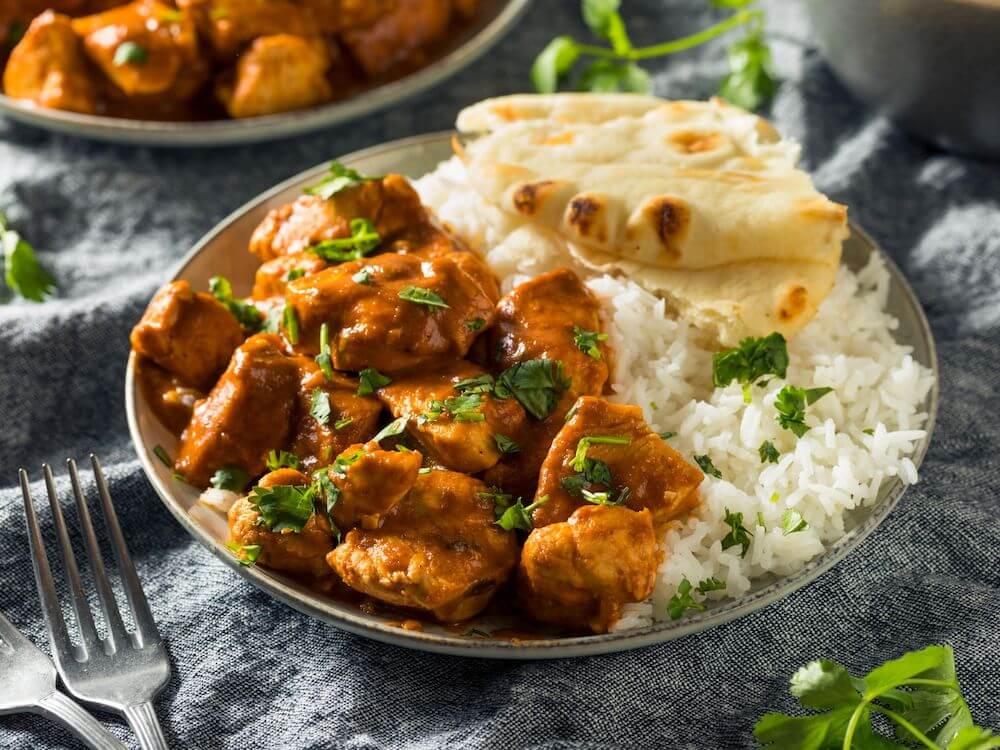 Apparently Chicken Tikka Masala isn't actually even a thing in Pakistan, but England has adopted the delicious flavours to become one of the most popular English foods on the menu.
If you want to know a few more things that have become English over the years, check out this list of the best British insults we have.
8. Eton Mess was invented at Eton College in the tuck shop
The story goes that in the 1930s Eton Mess was served in the tuck shop at Eton College, to the hungry rich boys. As they went home for summer word of the Eton Mess spread mother to mother, and so the legend was born.
Eton Mess is an absolute classic English dessert. Tasty and good looking, it's an essential in summer in England. Eton Mess is made from tasty pavlova – but you need to actually make it, not buy it – and cream and fruit all mashed together. Serve with another strawberry or raspberry on top for flair.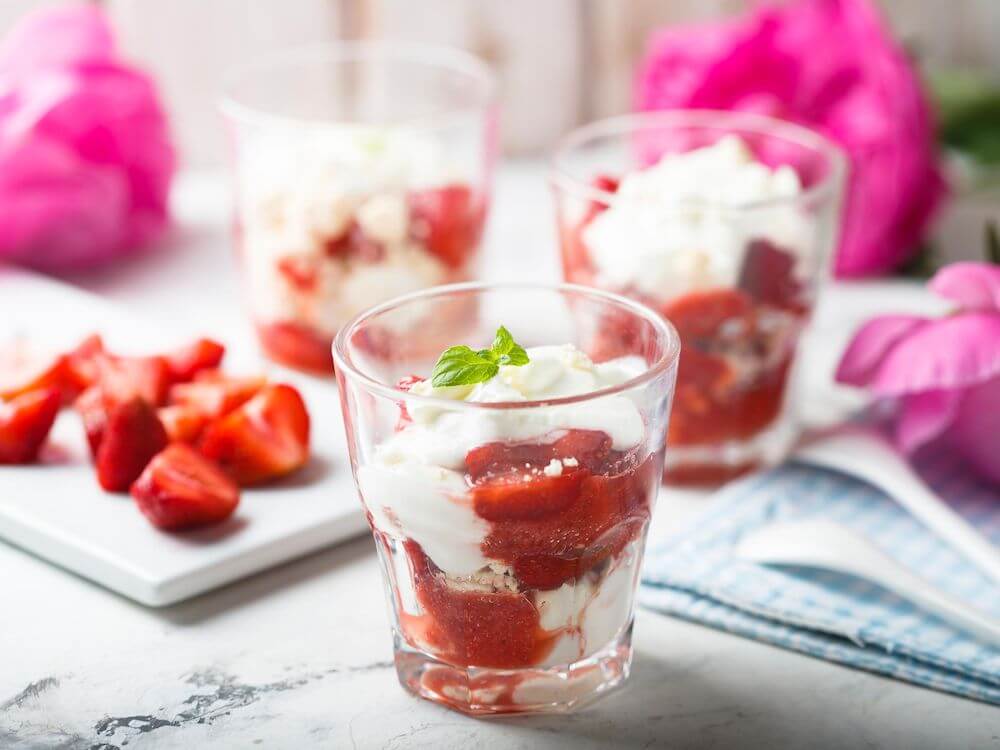 It's traditionally served with strawberries, but you can also make it with lemon, raspberries, ginger, pineapple or whatever your heart desires to keep things exciting. Fresh, tart and tasty, I haven't met anyone in England who doesn't like an Eton Mess.
In fact, it's my all time favourite dessert – and I've tried a lot of desserts!
9. Our love of trifles dates back to Tudor times
The humble strawberry trifle dates way, way back to the times of the Tudors. Where other popular Tudor time foods have fallen by the wayside, the trifle is still popular – especially at the English Christmas dinner table.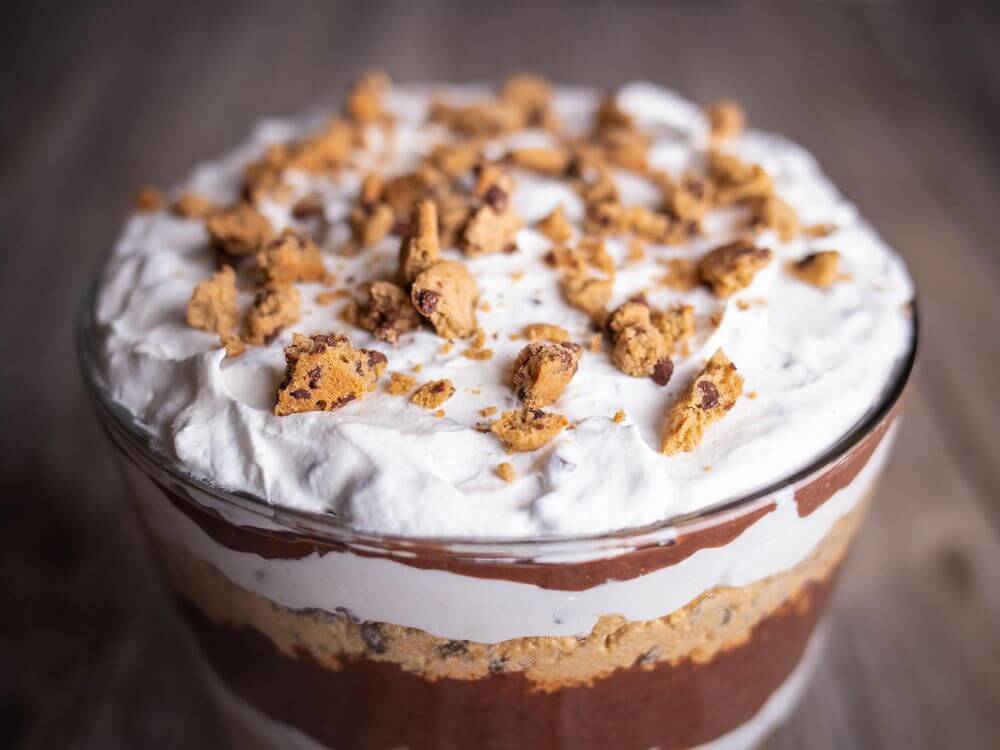 A classic English trifle is made up of fruit, sugar, madeira cake, ladyfinger biscuits, cream and custard. And you definitely need to add a few nuts and flake a flake chocolate bar on top too.
A trifle needs to be served in a glass bowl, so you can see the layers. The first bite is in the presentation after all!
10. Greggs sells 2.5 million sausage rolls a WEEK
Sausage rolls are a big deal in England. Our pastry chain Greggs reports sails of 2.5 million sausage rolls a week, which is just incredible. Their vegan offering helped to boost profits by over 13.5% the year they were introduced.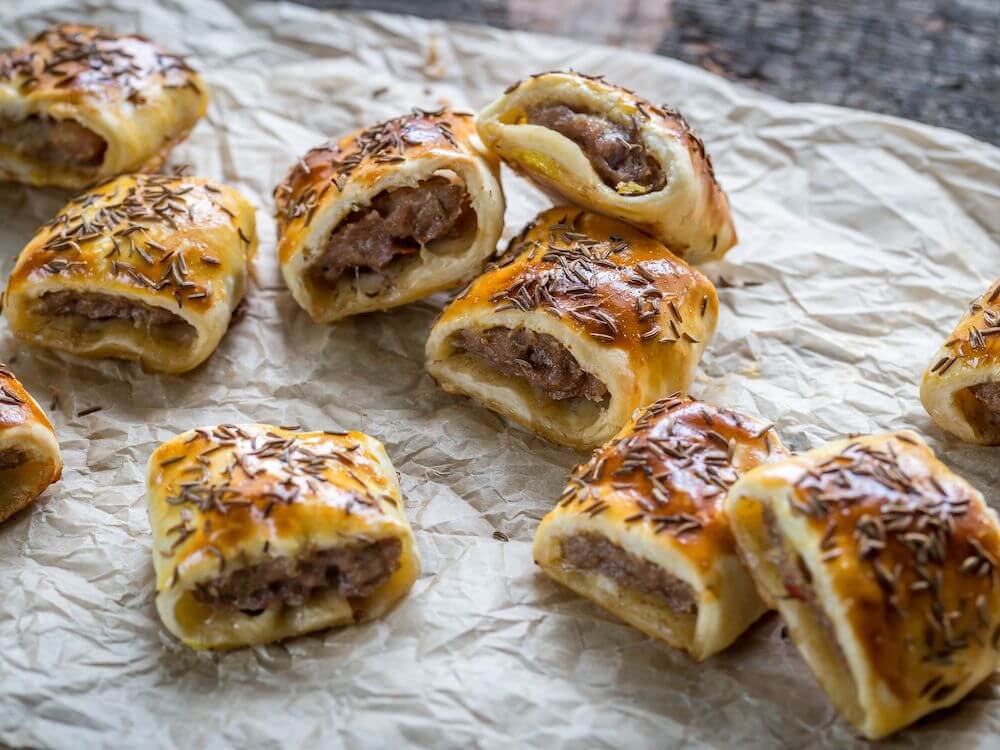 Any self respecting deli in England will serve their own version of a sausage roll, made from home mixed sausage meat, their own blend of herbs and spices and some tasty pastry. Serve with a bit of chutney, or mustard, to really bring out the flavours.
We LOVE sausage rolls in England – so versatile!
11. Pork pies were invented thanks to the fox hunt
Melton Mowbray is a town in Leicestershire famous for having the best pork pies in all the land. They got the accolade thanks to the fox hunts that used to take place there. The hunters would go out with these pies in their pockets ready for hunger to strike.
Word got around about the delicacy and so the legend of the Melton Mowbray pork pie was born.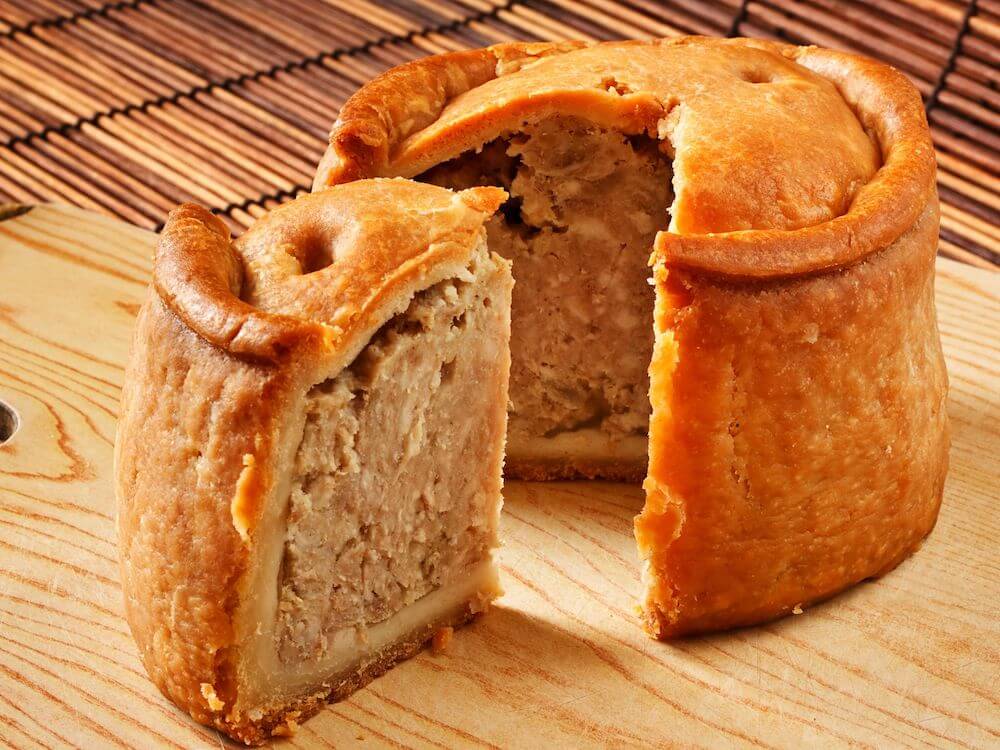 You can get little generic ones in the supermarkets, but a pork pie aficionado will tell you that you need a special deli one, with meat from a butcher and a good layer of fat jelly inside to be considered a proper one.
Serve with a chutney or pickle to get those flavours just right in your mouth at your picnic.
12. Cornish Pasties have to have 20 crimps to be a 'pasty'
Finally, for today, let me tell you about the humble Cornish pasty. First invented as a way for miners to have their meat in a nice little package, the Cornish pasty has become an iconic food from the region.
Your fun England food fact for this point though, is that for a Cornish pasty to be deemed truly Cornish, it needs to have 20 crimps along the outer edge.
You can get your Cornish pasty with almost anything inside – including cheese and onion, lamb and mint, traditional and even a full English breakfast. Then it will be sealed in pastry and closed up, so you can burn your mouth on the insides when you bite it open.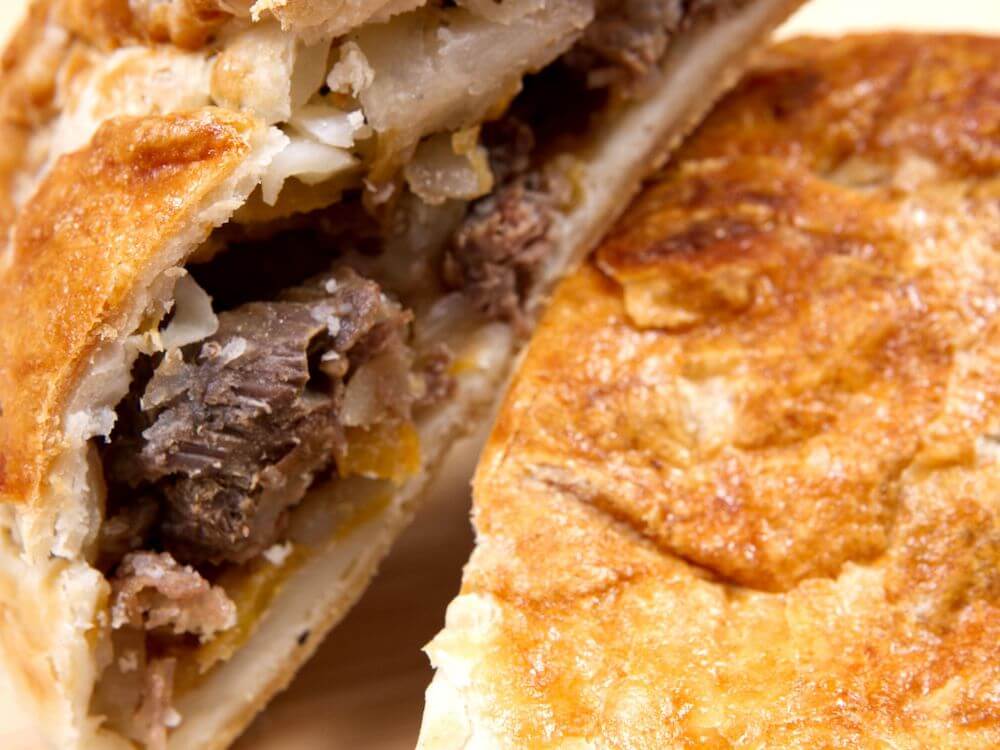 Nowadays you don't have to go all the way to Cornwall for a pasty, you can pick them up in bakeries all over the country. In fact, we have the West Cornwall Pasty Company in all good train stations, although of course pasty connoisseurs would dismiss these as just fast food. I'd say they were delicious! 
Tips for finding great food in England
If you want to make sure you're getting the very best food and dishes England has to offer, it's best to:
Look up restaurant reviews before you go to see if they have what you want to try on the menu, and what other people have said about it. You may find some reviews from the locals on there who can confirm whether this is the best option to go for.
Ask the locals in any pub for their recommendations. If you want to meet locals, the pub is the place to be, and if you strike up a conversation with someone who lives in the area, chances are they can give you at least a couple of great examples nearby of places to try the cuisine.
If you can, travel to the place where the dish originates from. For example, if you'd like to eat the best Lancashire hotpot, you've got to go to Lancashire. Similarly, get your pasties from Cornwall so you have the best chance of finding a great one.
If you're keen to save money on your food, don't forget to look online for vouchers and offers before you go in case they do deals on certain days. It's always worth checking! Here are some more ways to save money on days out in England.
Fun facts about England food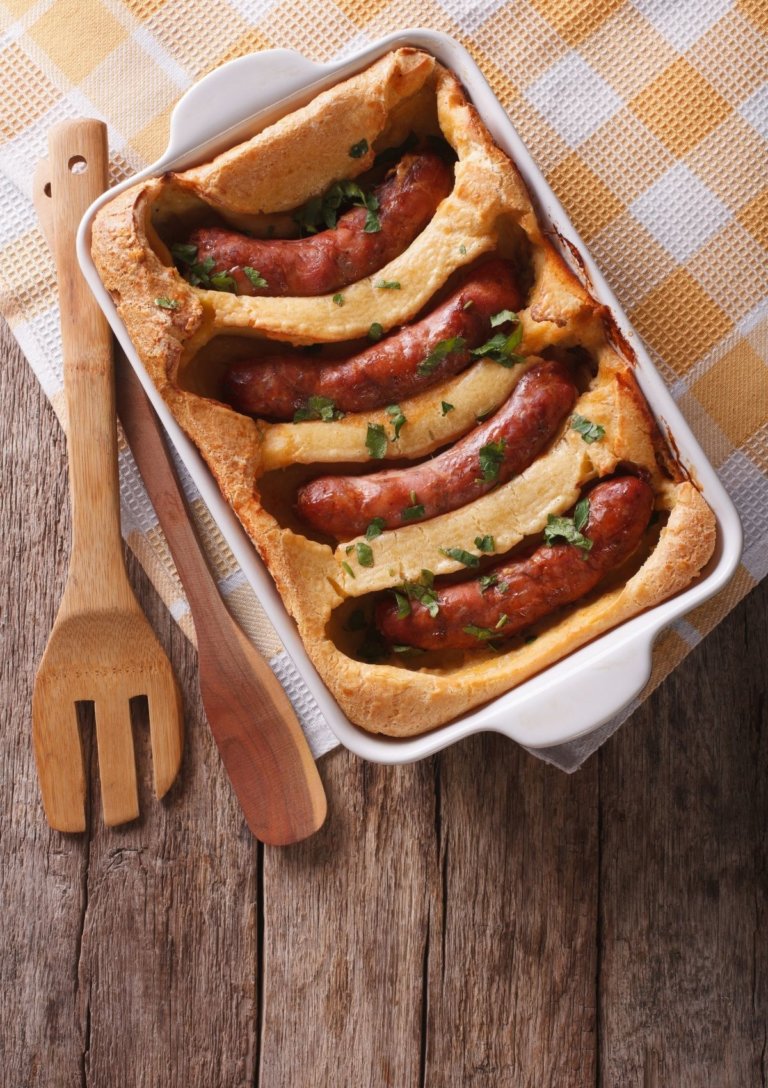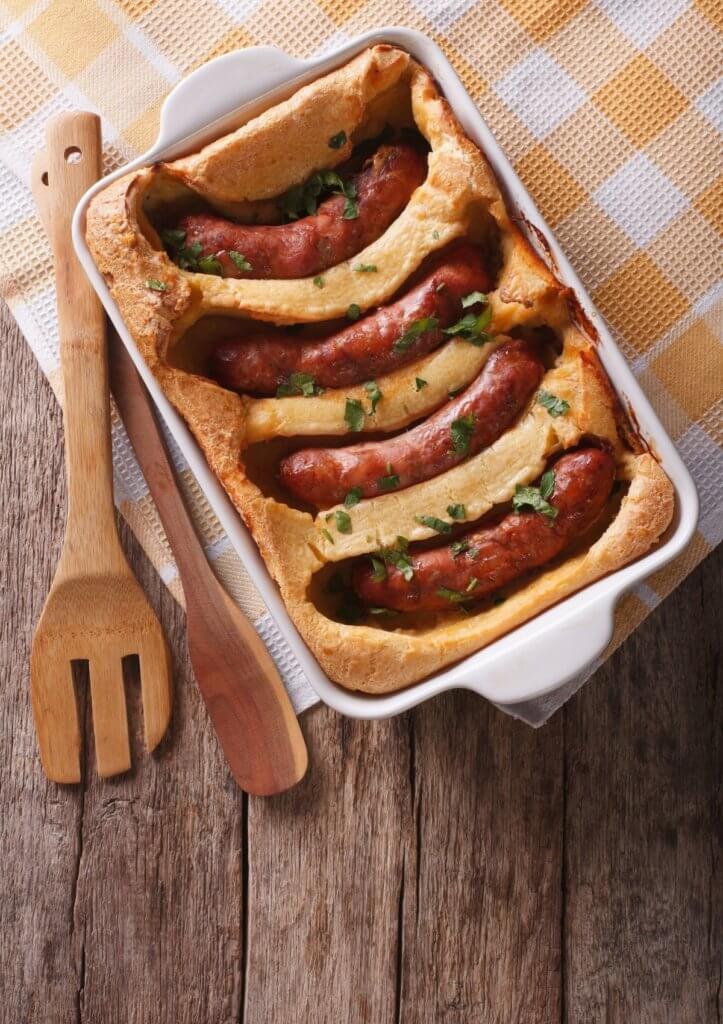 These are just a few fun facts about England food to get you thinking. There's so much to know about English food, I've lived here 36 years and haven't even touched the surface.
Each county of England has its own variations and its own style of food for us to enjoy, and savour.
Have a day out in England and you can enjoy a whole host of traditional and modern cuisine. You definitely won't go hungry!
---
PIN THESE Facts About England Food for LATER