7 Best Indoor Ski Slopes in England (+ Great Dry Slopes Too!)
Indoor skiing is a great way to learn or hone your skills ready for the real slopes abroad. These indoor ski slopes in England are also a great way to get the practice in year round, and to get some exercise!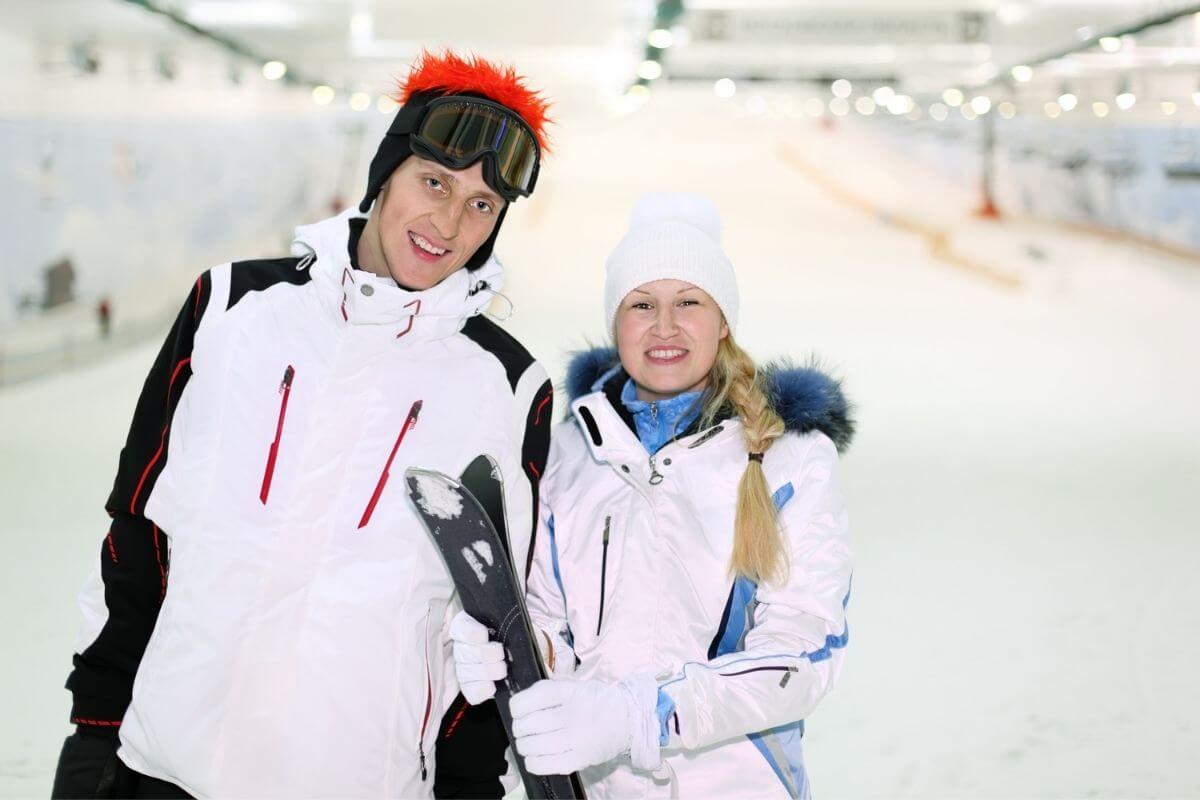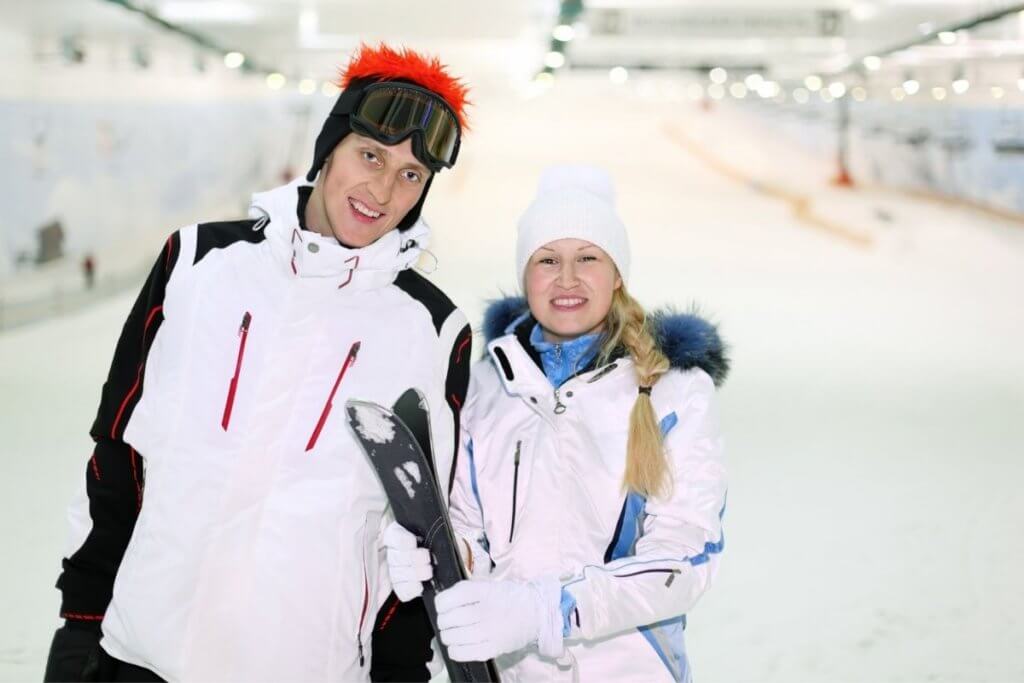 Across England, there are several ski slopes indoors for tourists and locals to experience the adventure of skiing in a super safe environment. Regardless of your skill level, the costs for skiing can be affordable – if you're flexible with when you go.
If you're a skier, or interested in bettering your skills, and are looking for a place to ski, then this list of the best indoor ski slopes in England is an excellent place to start.
---
The best indoor ski slopes in England
Here are the top places for indoor skiing in England. From north to south, here's everywhere you need to go to get enough white stuff for some downhill ski. Unfortunately we don't have any ski resorts in England, but, we do have plenty of ski slopes in England to keep up your practice.
---
1. Chill Factore, Manchester
Chill Factore is one of the longest dry ski slopes in England, at about 180 metres. Whether you're young or old, amateur or pro, the indoor slope has something for you.
You can sign up for well-priced skiing and snowboarding lessons to help improve your skills or learn skills to ensure you enjoy yourself on real and man-made slopes. Families will enjoy the many facilities in the activity area, which include a space for snow play, tubing, an ice slide, and a climbing wall.
The indoor ski slope has also partnered with Disability Snowsport UK to provide skiing to people with disability issues. The provision of adaptive skiing is a testament to the all-inclusive services offered at Chill Factore.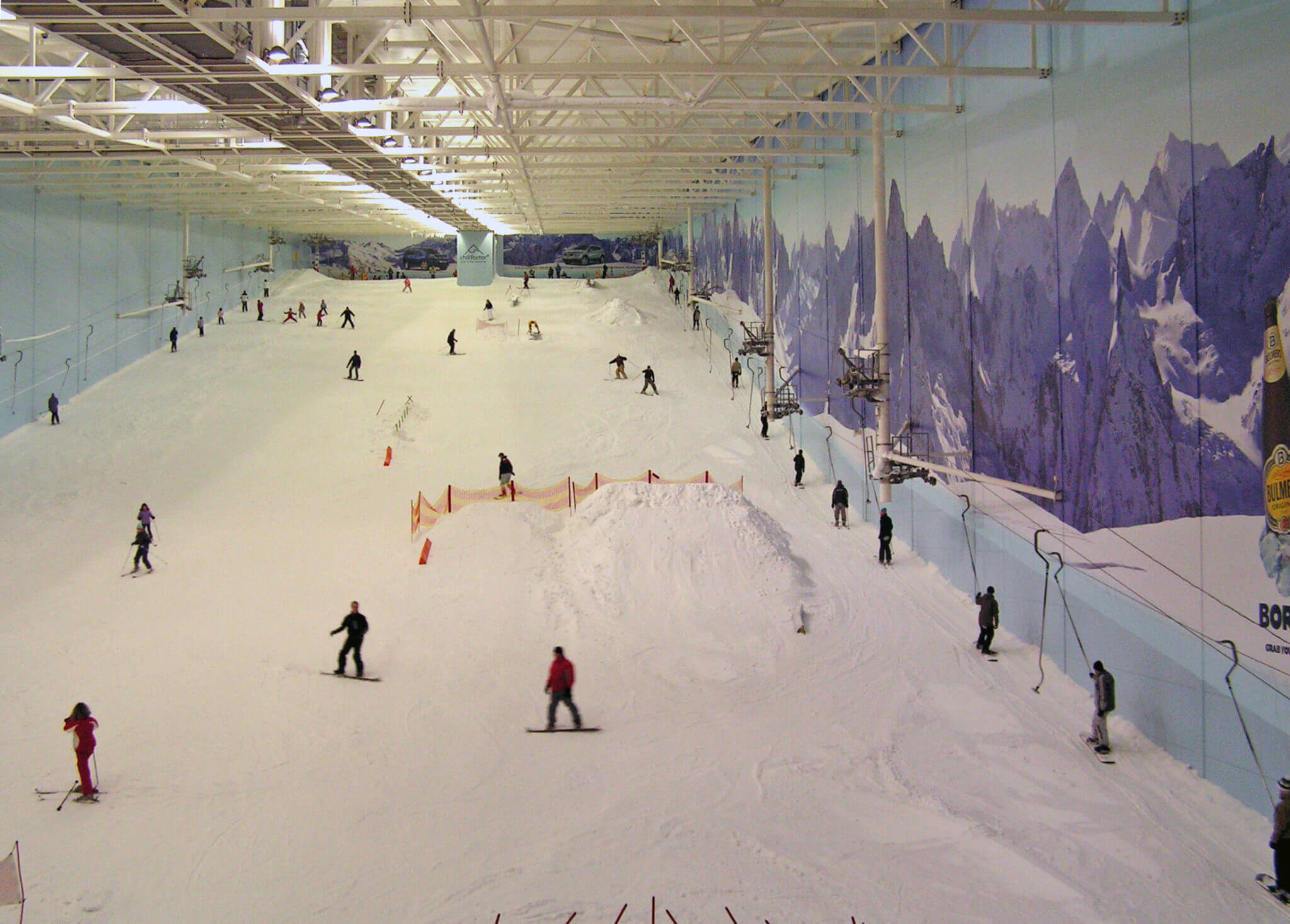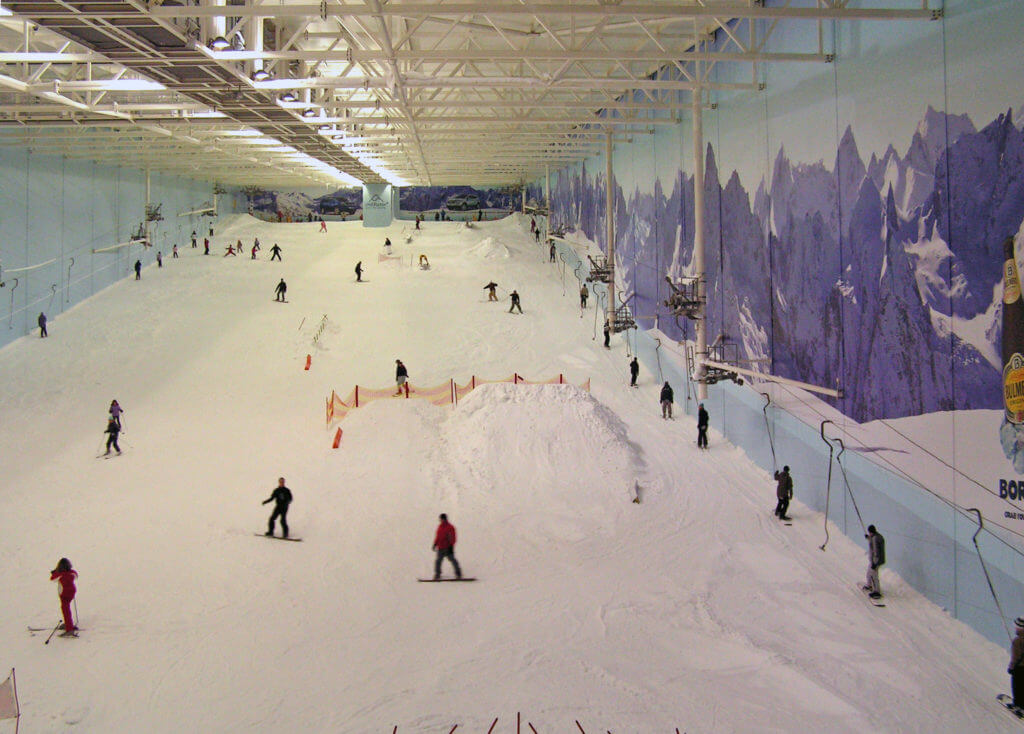 If you've got some cash to spend, Chill Factore makes for a great family day out. This is where I learnt to snowboard with the indoor snowboarding, and IMHO is the best indoor ski slope in England.
It's also right next to the Trafford Centre – one of England's biggest shopping centres. The two of them make for a great day out from Manchester and one of the best days out in Greater Manchester too.
CHILL FACTORE ADDRESS
Chill Factore, Beyond, 7 Trafford Way, Trafford City, Manchester M41 7JA
---
2. Skizone, Basingstoke
Located within a sports centre, Skizone is a premium dry slope for kids and adults looking to have fun. The whole area is quite a bit smaller than Chill Factore, but it will help you with posture and style, before you go big. This is where you can get your balance and technique.
Skizone's revolving and flexible ski slopes make it popular with people who want to learn new skiing tricks or start their professional skier's journey. The indoor slope is open to people of all ages and abilities that want to have fun on the perfectly set slopes. If you're looking for a wintry day out in Hampshire – Skizone is a great idea.
At Skizone, you get coached in skiing and snowboarding at your own pace. Indoor skiing lessons are provided by qualified instructors that walk with you until you gain the confidence to test out the slope alone. A mirror has also been installed at the foot of the slope to watch your technique and get instant feedback on areas that need improvement. 
SKIZONE ADDRESS
Basingstoke Leisure Park, Euskirchen Way, RG22 6PG
---
3. SnowDome, Tamworth
SnowDome in Tamworth is the ideal ski slope for skiers looking for a luxury experience in an exciting environment. A top choice for individuals and families seeking to have fun, the main slope is 170 meters long and there are Snow Academy areas to learn in too.
Different areas are expressly set aside for teaching skiing or snowboarding, and are 25 and 30 metres long. This is another one that could be classed as the best indoor ski slope in the UK, depends what kind of vibe you prefer.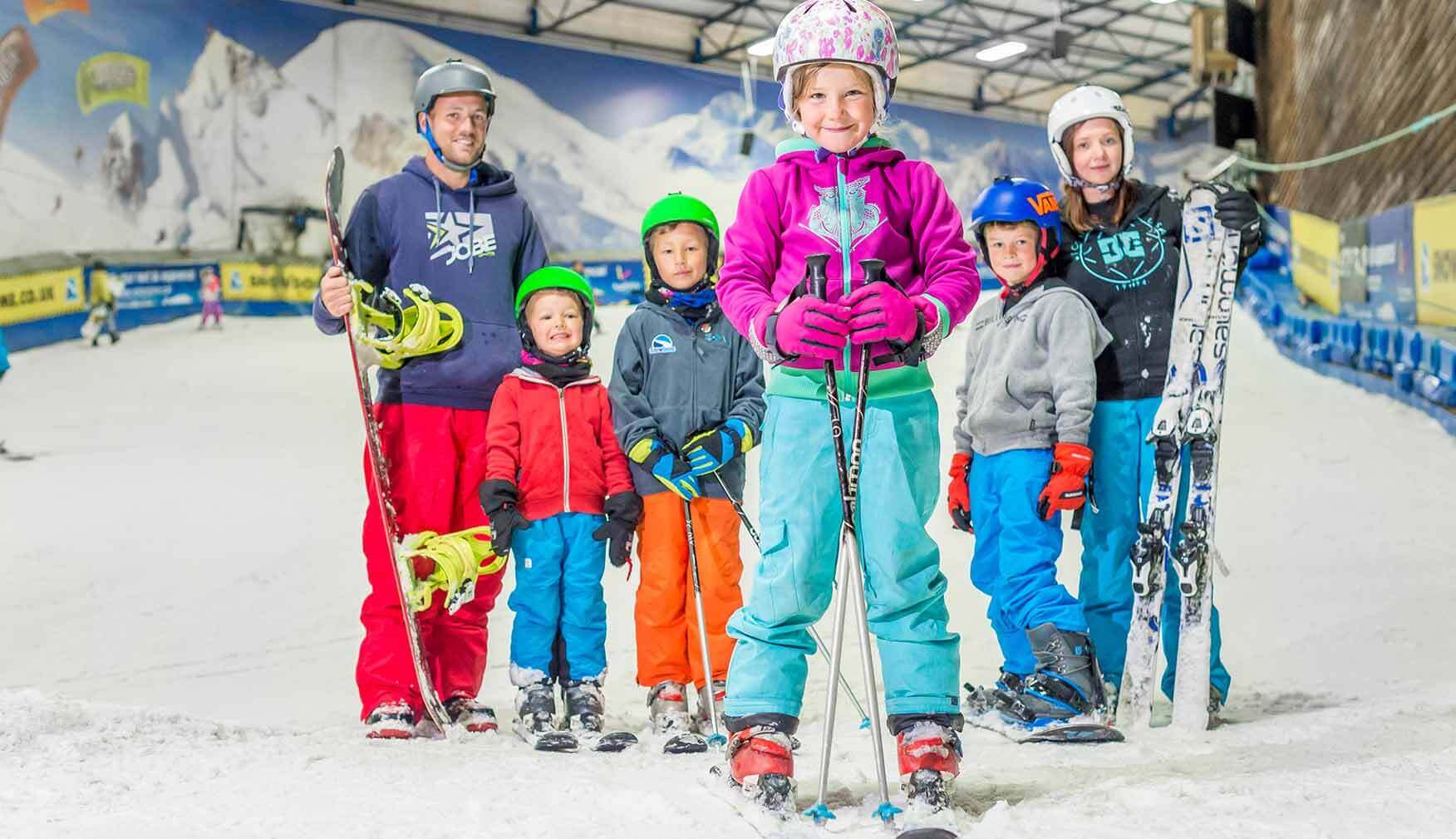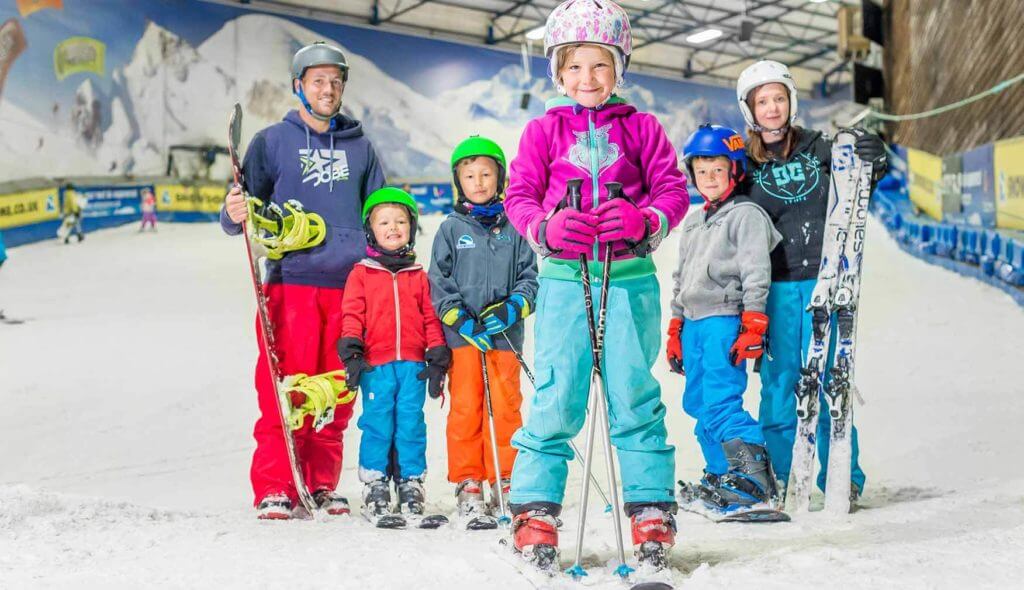 Professional instructors are available on request to train you on the surface of real snow whenever you at the indoor ski area.
Other activities available for beginners and pros include snow play, ice skating, sledging, and swimming.
SNOWDOME ADDRESS
Leisure Island, River Drive, Tamworth, Staffordshire B79 7ND
---
4. Snow Zone, Castleford & Milton Keynes
Snowzone is known for its authentic indoor skiing experience that takes place on real snow. It is a popular spot for skiers and snowboarders in Castleford and Milton Keynes and has been since 2000.
Whether you're using skis for the first time or have previous experience, your time at Snowzone will be awesome. It also has several indoor activities for people of all ages and abilities – you can try indoor snowboarding too. Give a new snowsport a go!
Skiers seeking to brush up on their skills on impeccable snow slopes will find Snowzone the perfect place to go. The friendly and experienced instructors here can help you get ready for the outdoors by improving your confidence and technique.
Freestyle coaching in private or as a group is also available for both abled and disabled guests to easily access the indoor facility.
SNOZONE ADDRESS
SNOZONE MILTON KEYNES
602 Marlborough Gate, Milton Keynes MK9 3XS
SNOZONE CASTLEFORD
Colorado Way, Glasshoughton, Castleford WF10 4TA
---
5. SkiEasy, Dukes Meadows, London
SkiEasy is new generation indoor skiing at its best! If you're looking for indoor skiing in London SkiEasy is a great idea.
It has a revolving ski track that allows guests to enjoy conditions that come as close as possible to a real slope. The track has unique capabilities that ensure the skiing environment and speed are well controlled. The slope's gradient is just perfect for those seeking to try out their skills or be taught the best ways to ski.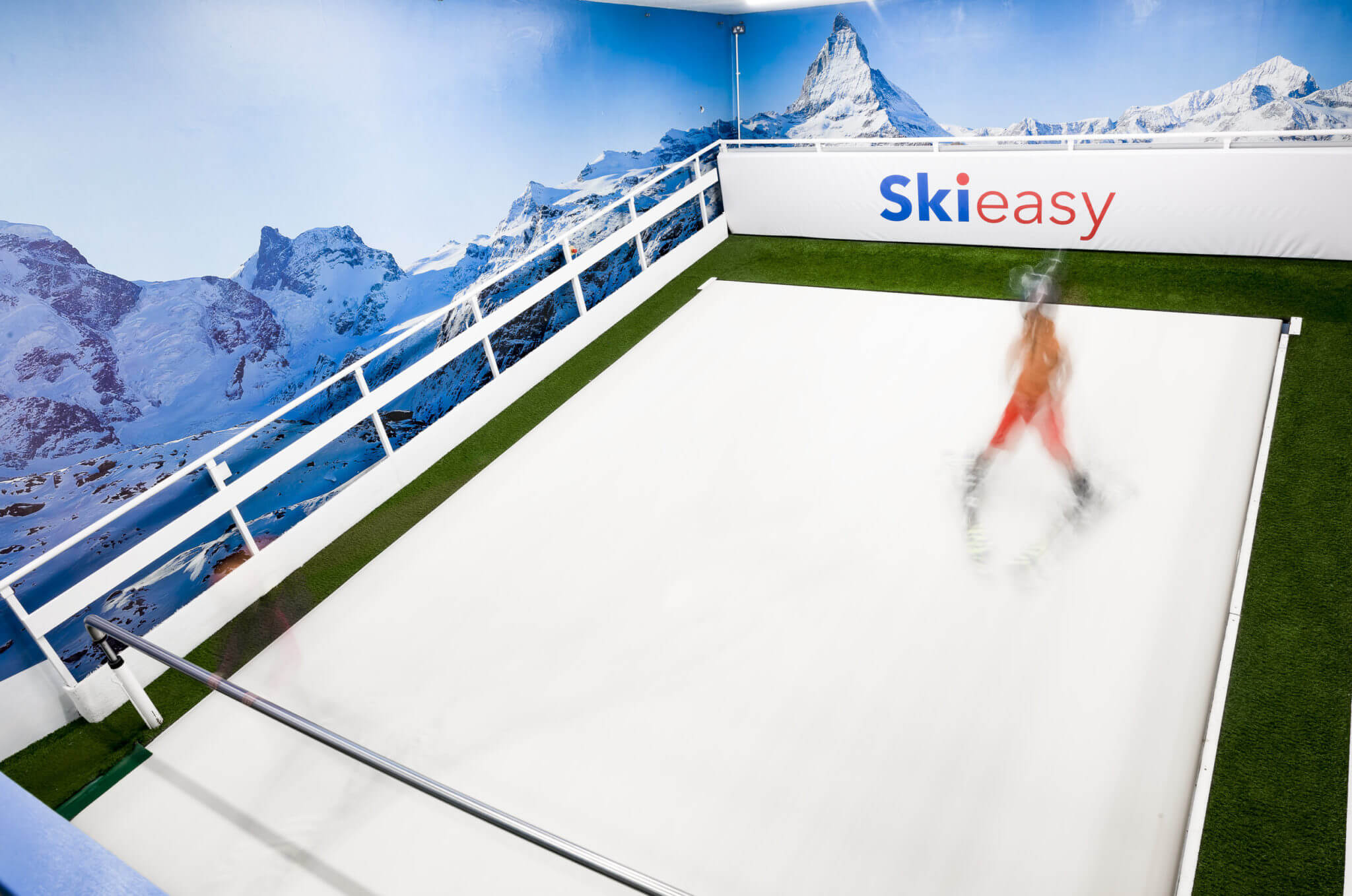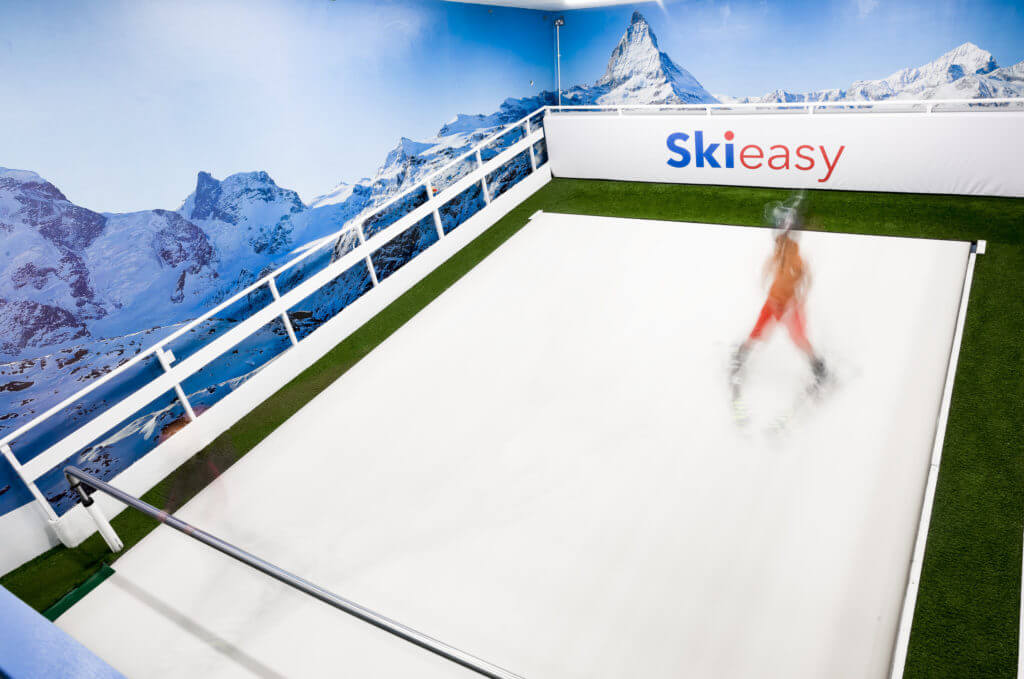 This London indoor ski slope also comes with snow-sports instructors qualified to offer training if you want to learn new techniques. Private ski lessons are also available upon request and include both theory and practical programs.
SkiEasy is a great day out in and around London, especially if you want to feel like you're outside on a rainy day. If you're looking for indoor skiing in London or dry slope skiing in London, this is the one for you.
SKI EASY ADDRESS
Dukes Meadows Golf and Tennis
Dan Mason Drive
London, W4 2SH
---
READ MORE: Where to Go Skydiving in England
12 Ideas for Adventurous Days Out in England
---
6. The Snow Centre, Hemel Hempstead
The Snow Centre in north-west London is your ideal spot for an indoor skiing experience. Its main slope is perfect for both beginner and expert skiers that want to have fun and improve their skills.
The slope, which is 160m in length and 30m wide, delivers alpine conditions powered by snow cannon technology. Whether you are a skier or snowboarder, be assured of an unspoiled snow surface that meets your needs.
Ski lessons suitable for your skill level are available through the on-site school. It has accredited instructors that offer lessons on the slopes to allow you to master them and eventually conquer them. Whether you need a refresher course or want to learn freestyle tricks, this is the perfect place.
SNOW CENTRE ADDRESS
St Albans Hill, Hemel Hempstead HP3 9NH
---
7. Snowtrax, Dorset
Ok it might not be an indoor ski slope, but it's a dry ski slope, so it counts.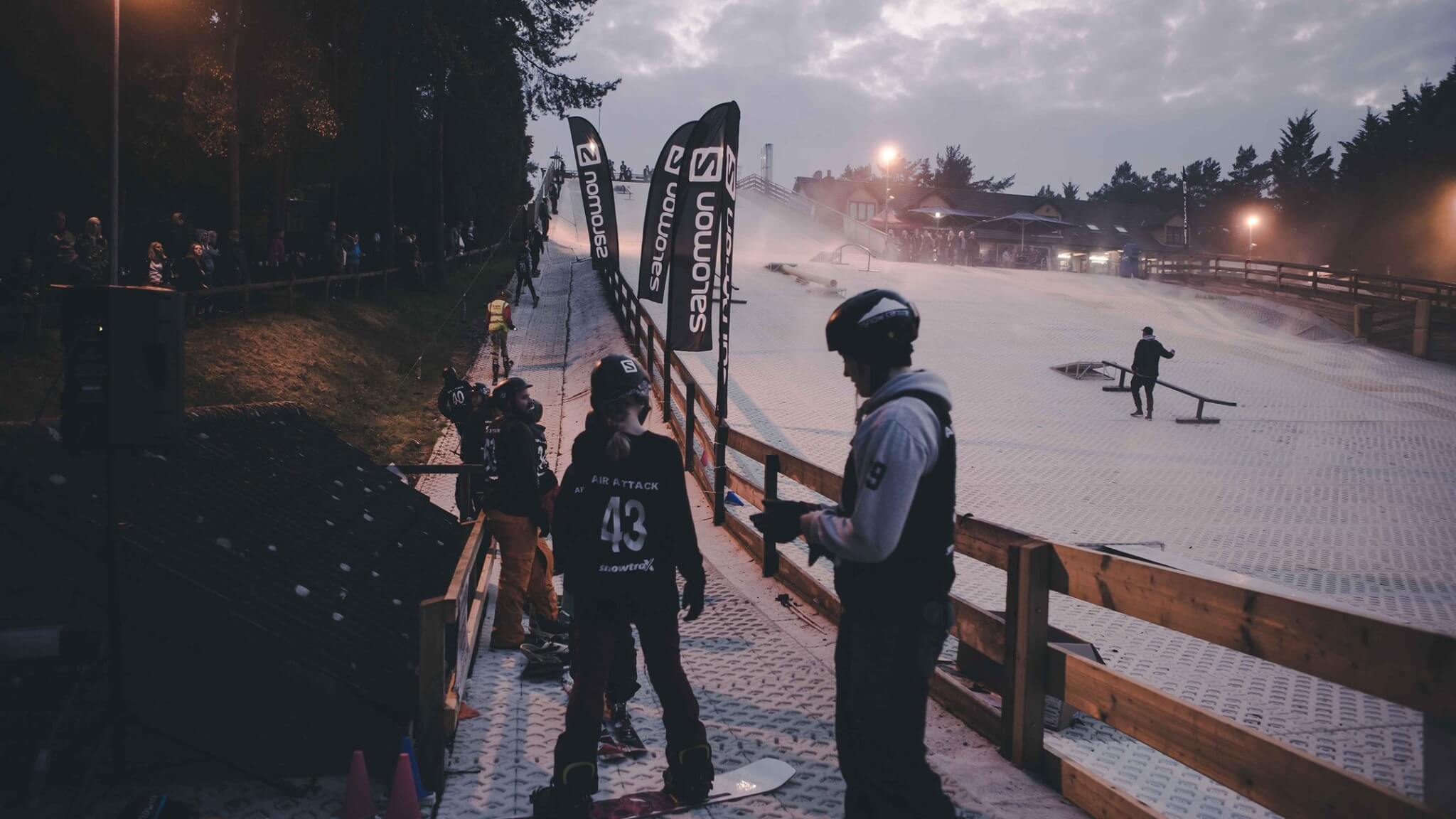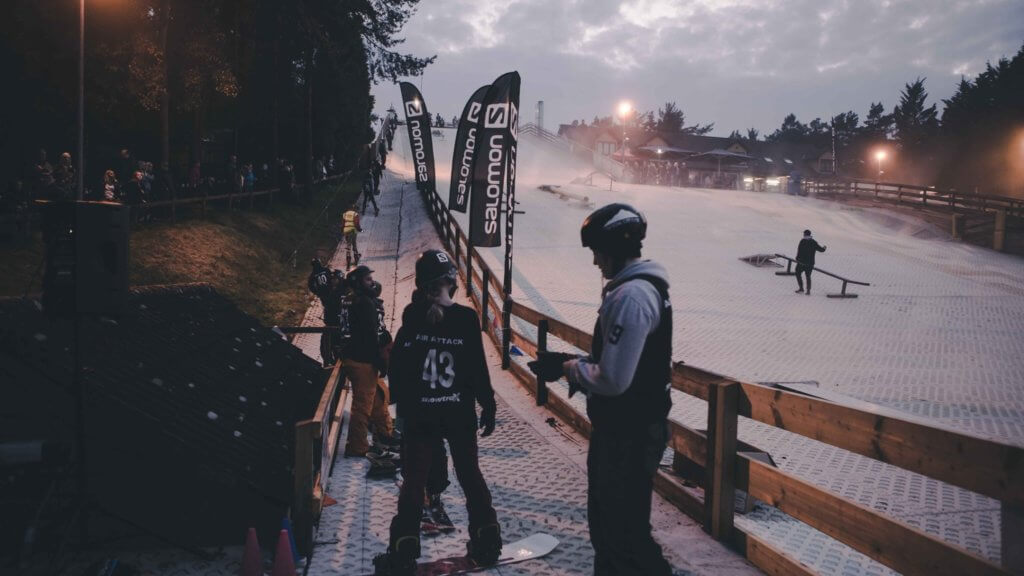 If you're looking for some dry snowboarding and ski action on the south coast of England, then Snowtrax in Dorset is your best bet. Whether you want to brush up on your skills for that elusive holiday abroad, or you just want a great day out in Dorset, then you'll enjoy the skiing and snowboarding possibilities at Snowtrax.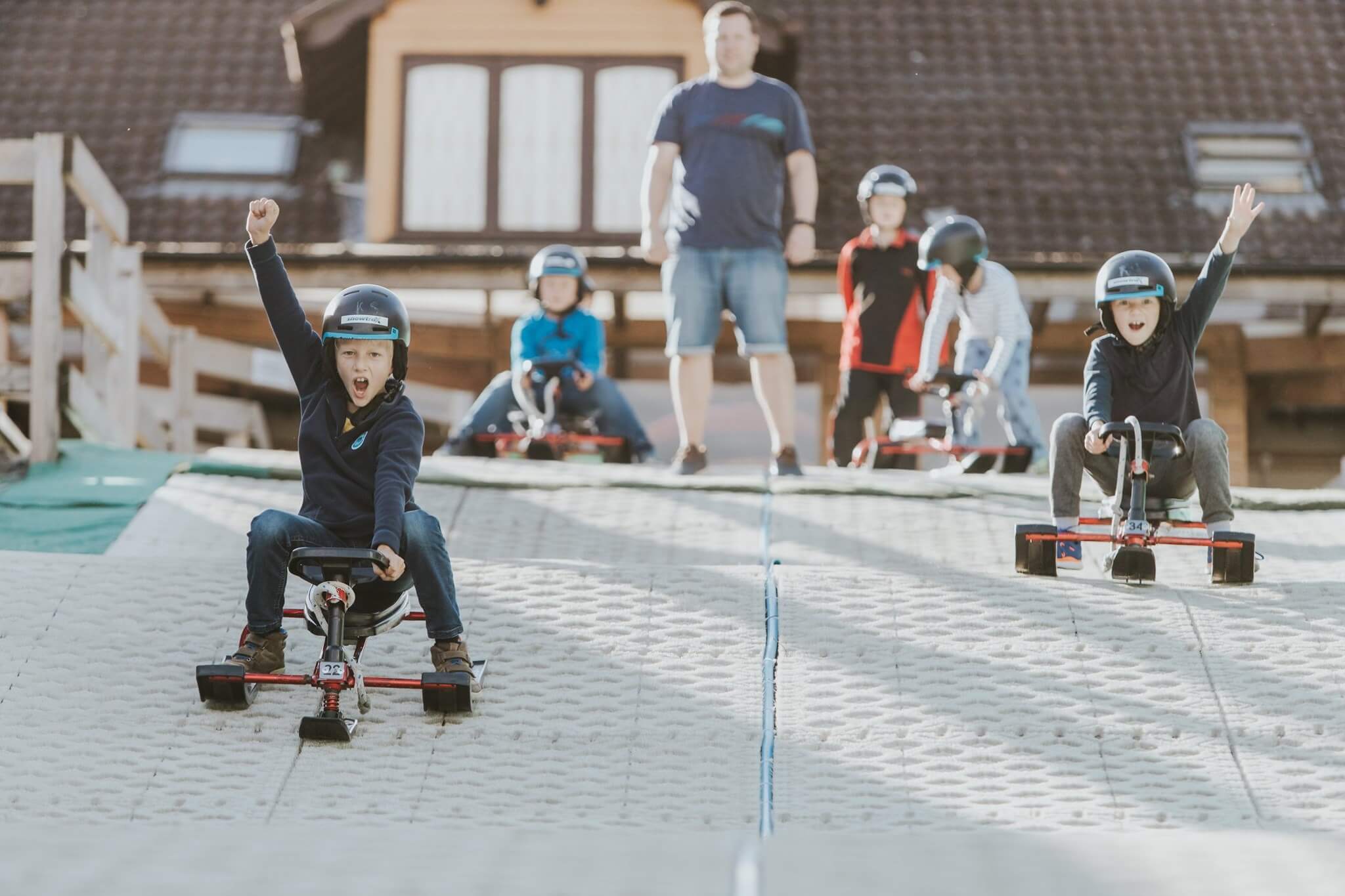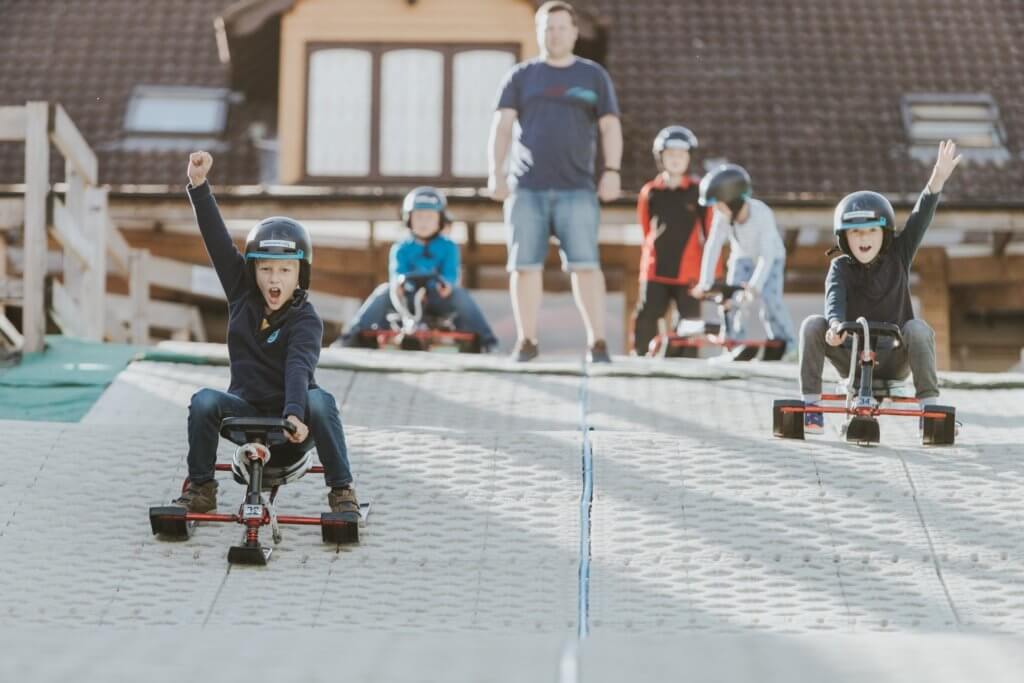 Snowtrax is aesthetically pleasing too, with a miniature lake, endless pine trees and an alpine adventure park too. You'll also find the UK's largest independent ski and snowboard retail store here.
If you're not into dry snowboarding and skiing, but still want the day out, check out the ski bobbing and tubing facilities there. You can even have birthday parties there!
SNOTRAX DORSET ADDRESS
Matchams Ln, Christchurch BH23 6AW
---
Best indoor ski slopes in England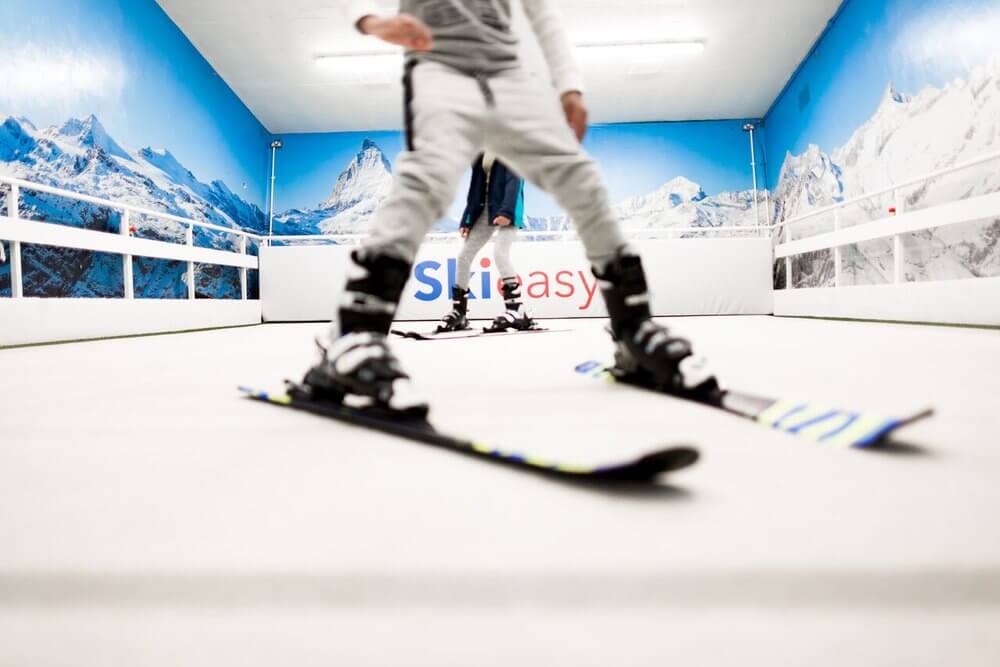 Visiting the best indoor ski slopes in England is a great way to spend a day out. If you're craving that winter setting, and the thrill of a downhill, then these indoor ski slopes are your best bet.
Let us know if you think we've missed any great indoor skiing opportunities out, or if you have a favourite ski slope in England too!
---
PIN THESE INDOOR SKI SLOPES FOR LATER