The coastline is not the only water feature worth visiting in Cornwall – there are also plenty of awe-inspiring Cornish waterfalls cascading down cliffs and along steep ancient woodland rivers to explore. Here are nine of the most impressive waterfalls in Cornwall, and how to find them…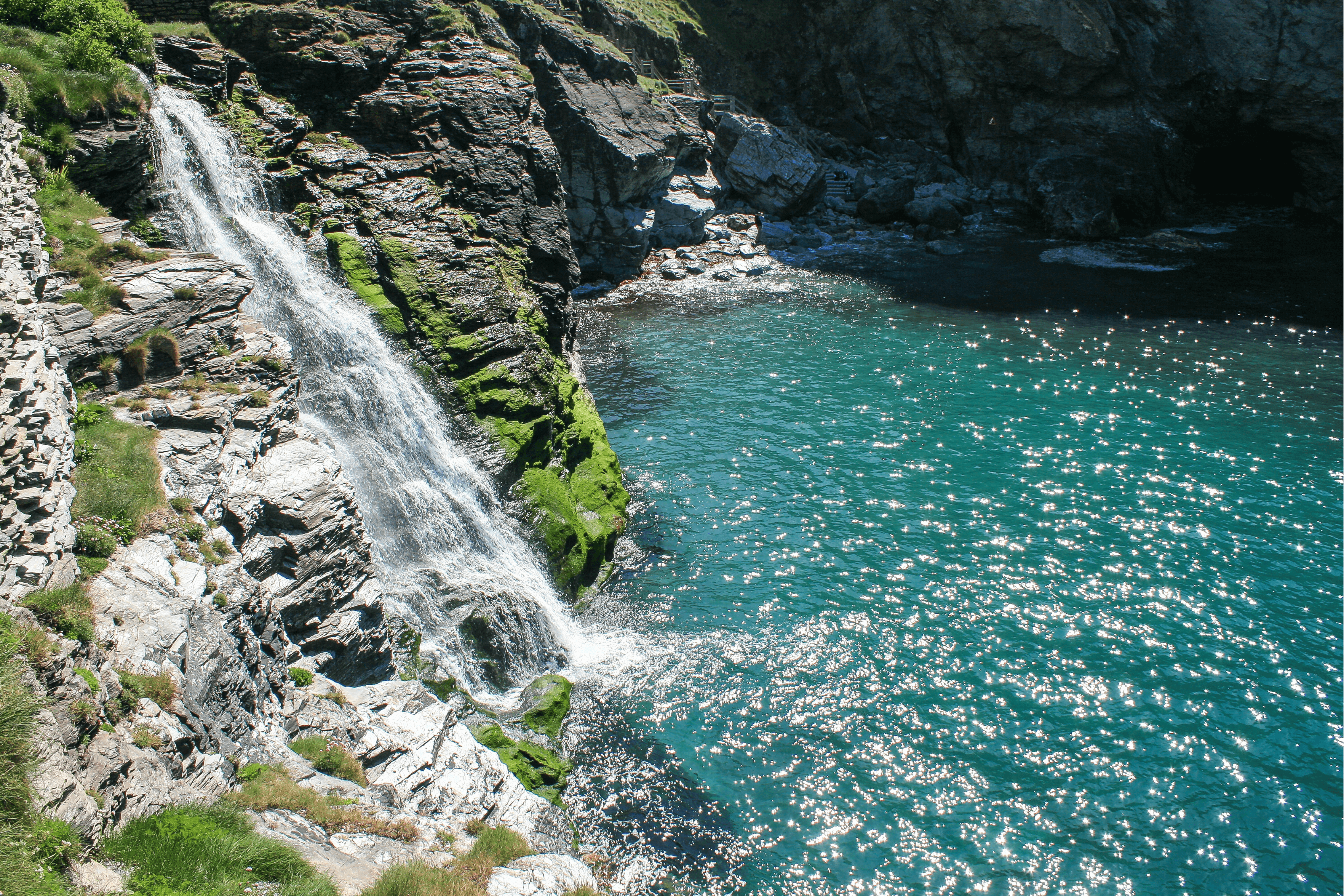 Waterfalls are steeped in ancient magic and myths and – in Cornwall's case, piskies. Most are off the beaten track and difficult to find – or even know about unless you are a well-versed local. But most sit in areas of outstanding natural beauty and history so there is plenty of treasure to find in the flora, fauna and woodlands surrounding them.
Most require a fairly long trek and have no facilities nearby, so take a blanket and a picnic so you can sit and enjoy the water. Bring your camera and you're sure to get incredible images – and many boast plunge pools perfect for wild swimming.
9 of the most impressive waterfalls in Cornwall
All you need to know to visit the most impressive waterfalls in Cornwall…
1. Giddy heights: Pentargon Waterfall
Cornwall's highest waterfall at Pentargon Cove is an impressive 36 metres (118ft) where water soars down from the end of Beeny Cliffs, near Boscastle.
The waterfall inspired the Thomas Hardy poem 'Under the Waterfall', and in the past over 100 seals have even been spotted there, which gives the pool below the name Seals' Hole. It's well worth a visit if you want to see one of the most impressive waterfalls in Cornwall, and enjoy a lovely day out in the area.
How to get there: Parking at PL35 0HE.
2. Myth and magic: St Nectan's Kieve
The only waterfall boasting its own website, St Nectan's plunges 18 metres (60 feet) into a basin-shaped rock and then flows through the eroded rock to a plunge pool. One of Cornwall's best-known water features, it sits near Tintagel Castle and is steeped in sacred mythology (there is evidence it was once a holy well) as well as folklore (it was once home to playful Cornish piskies).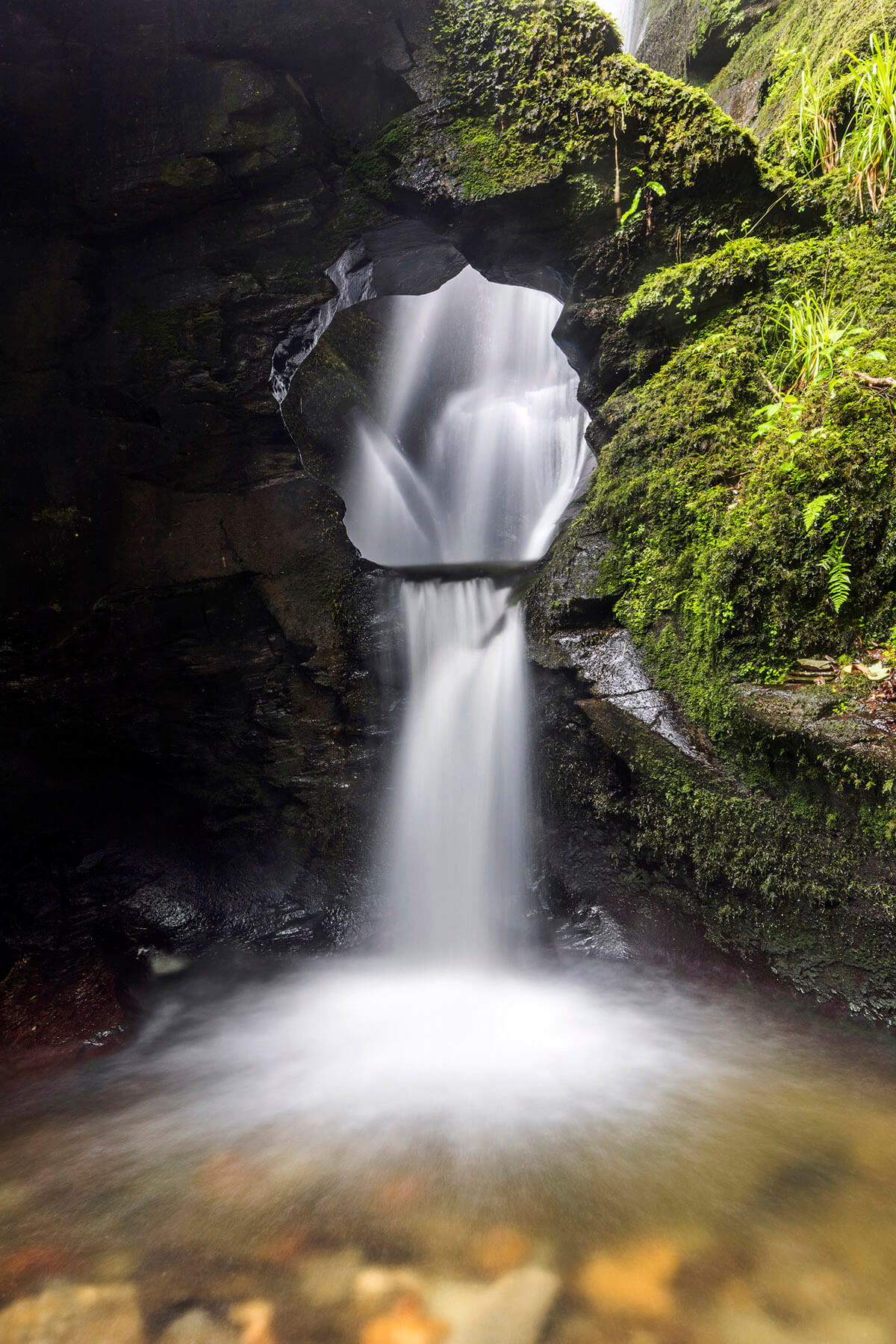 The Kieve (which means a vat or basin) sits within an Area of Outstanding Natural Beauty along the River Trevillet, and there is a second waterfall that takes the water to the valley's lower level.
Since the 5th century, it's been a place of pilgrimage and is still thought to be a very spiritual and magical place to many residents of Tintagel.
There's a pay and display car park on-site. From here, you can take the woodland walk (around a mile long) to reach the waterfall.
How to get there: The closest postcode is PL340BE.
3. A group affair: Luxulyan Valley
There are a number of waterfalls hidden around this location that are well worth finding, but the best one plunges directly down from a wheel pit.
Luxulyan Valley is full of waterfalls and brilliant for woodland and industrial archaeology. Depending on how much you want to explore, the walk will be between three and six miles.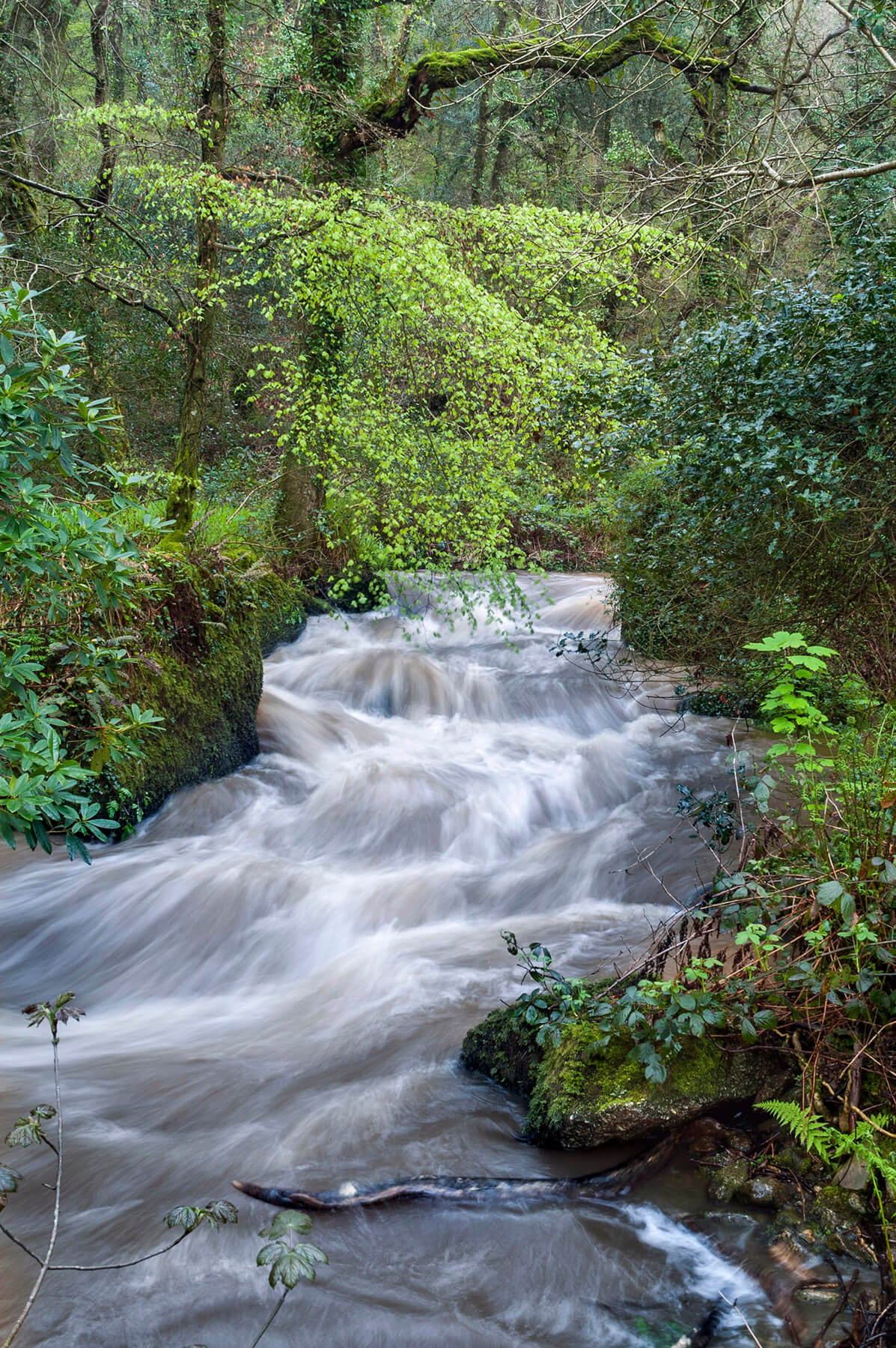 Believed to be a route taken by early Celtic Christian saints, you can tramp through boggy marshes and heathland offering an ever-changing scenery throughout the seasons.
How to get there: There are several walking trails to enjoy that range from three to six miles. Postcode: PL26 8YE.
4. Mythical Cornwall Waterfall: Tregardock Beach
The beach catches the cascade of water from the cliffs above, obscuring the mouth of a shallow cave. The beach is hidden at high tide and with a long trek to get there, it is one of the quietest beaches in North Cornwall despite sitting between the tourist hubs of Tintagel and Port Isaac.
Check tide times, to ensure you enjoy the full spectacle.
How to get there: The beach is located on the South West Coast Path public footpath, nearby parking at by Tregardock Beach is restricted, with space for just a few cars. Postcode: PL33 9ED.
5. Ancient Cornwall Waterfall: Golitha Falls
The Golitha Falls is Cornwall's most famous and well-visited waterfall that's not really a waterfall. Instead there are a series of spectacular cascades along the River Fowey through the ancient oak woodland of Draynes Wood. Few parts of England can boast such atmosphere.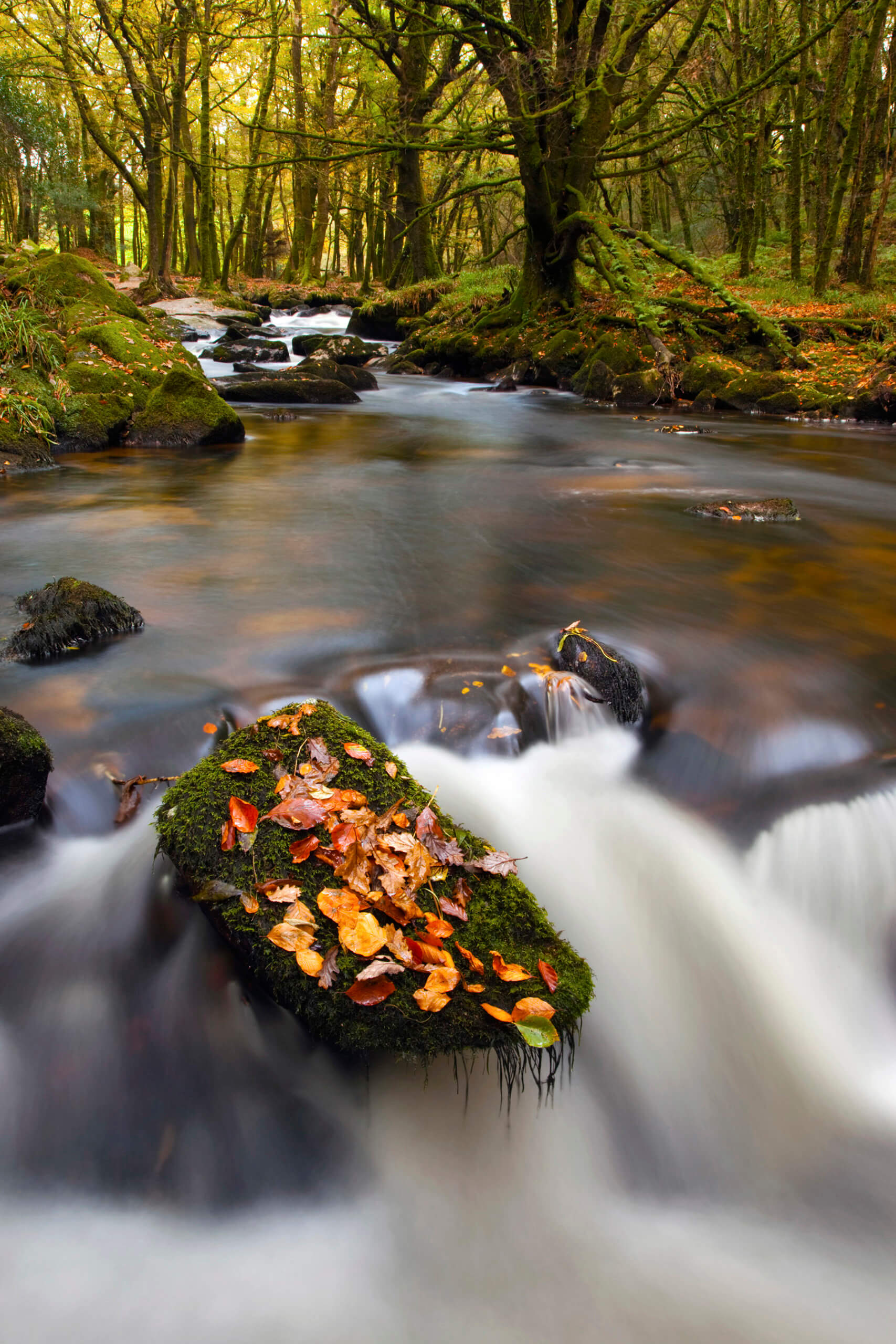 The river descends 90 metres (nearly 300ft) and is at its best after heavy rain on the moors when the water runs fast and noisily on its journey down river.
Managed by English Nature, the falls and the woods surrounding it are recognised as a Site of Special Scientific Interest due to a temperate rainforest. There are bluebell displays in spring and a (sometimes slippery) plunge pool at the bottom which is ideal for (very) experienced wild swimmers.
You can park at nearby Draynes Bridge and walk up and down the river – there's usually a trailer serving food and drink too.
How to get there: Postcode: PL146RX.
6. Shipwrecks and drama: Culm Coast
Culm is home to two impressive waterfalls that are well worth a visit. The first bubbles up from a brook before dramatically plunging down 30 metres (100ft). But that's just for starters: follow the water to a second, larger water feature at Speke's Mill Mouth. The waters come falling down from a narrow cliff opening, dropping to the pebbly beach below and out to sea.
You can climb down to see the waterfall from the beach. It's a popular spot for rock climbers thanks to its rock formations and is famous for its shipwrecks, waterfalls and river valleys.
History-lovers can explore the remains of ramparts at the Iron Age fort on Embury Beacon and stop off at Hawker's Hut at Morwenstow, which was the refuge of 19th century poet Reverend Robert Hawker, who wrote the Cornish anthem Trelawney.
The hut was built from timbers of shipwrecks and has been restored by the National Trust.
How to get there: This is a challenging part of the South West Coast Path, sitting between Bude and Hartland. Postcode (Hartland): EX39 6AA.
7. Family-friendly: Tintagel Haven Waterfall
Forming a natural part of your visit to Tintagel Castle, you can enjoy the sight of this cliff waterfall and feed your family's imagination with a visit to the beach which boasts the so-called Merlin's Cave.
With the imagination sated by stories of King Arthur, head to Tintagel Castle's café. The English Heritage-run attraction has a full range of visitor facilities, including parking.
How to get there: Follow the route to Tintagel Castle. Postcode: PL34 0HE.
8. Rock and Roll: Rocky Valley
Also part of the Trevillet River, Rocky Valley is a dramatic descent that travels from the craggy river into a plunge pool by the Atlantic. This Cornwall Waterfall is definitely one of the most impressive.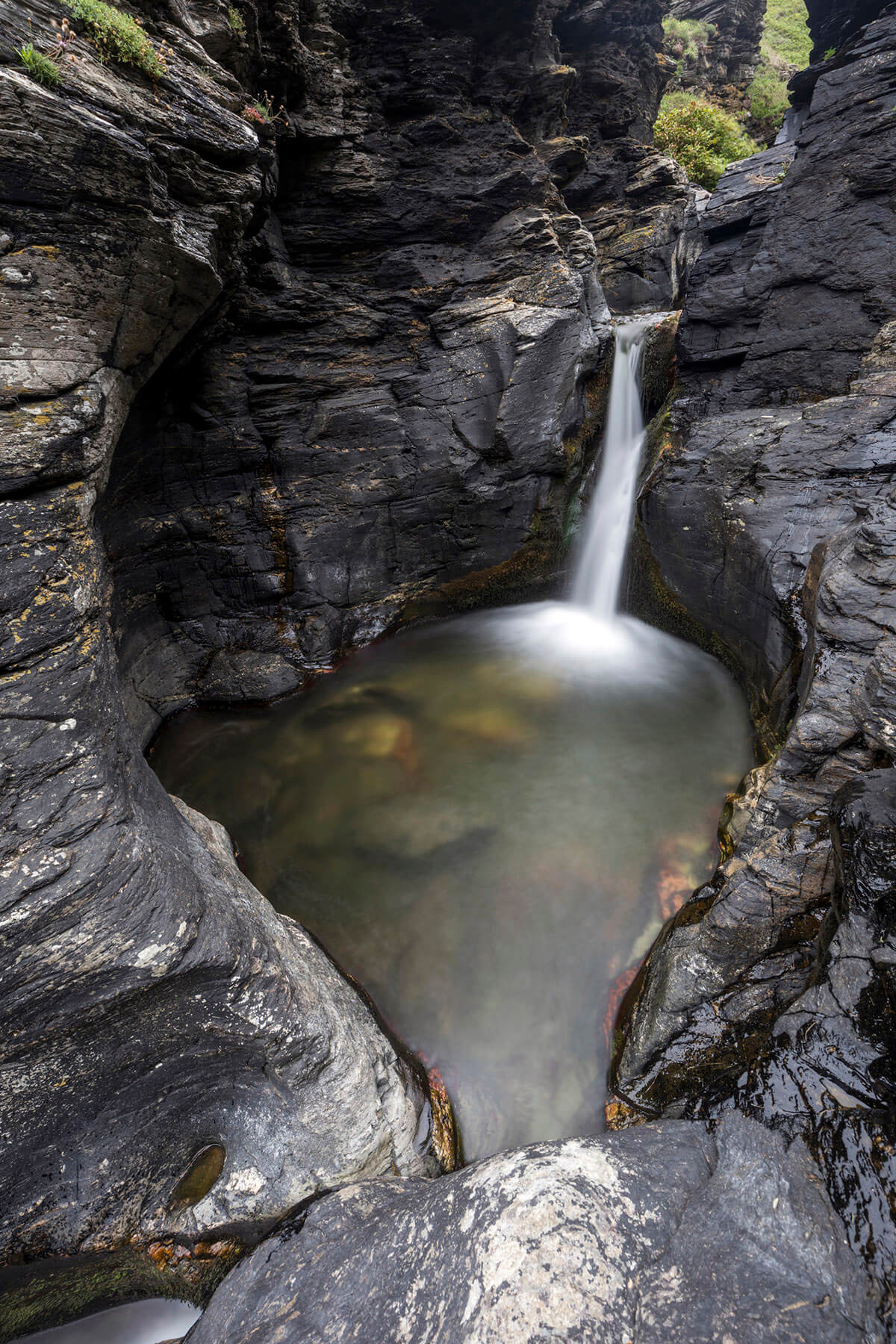 How to get there: Sitting on the South West Coast Path, Rocky Valley is about a 45-minute walk to Tintagel Castle. You can also park in a layby on the B3263. Postcode: PL34 0BB.
9. An industrial past: Lansallos Waterfall
Lansallos Beach is a small sheltered sand and shingle beach reached by a half-mile walk from the Lansallos village.
Lansallos Waterfall is otherwise known as Reed Water and sits on a beautiful south-facing beach right by Polperro near Lantic Bay.
Dramatic cliffs lead to golden sands, and Reed Water sits at the west part of the beach, where this small waterfall was once used to power a nearby water mill.
How to get there: It is situated between Polruan and Polperro about 5 miles (8 km) east of Fowey. There aren't any facilities, but you can park in Lantivet Bay, where there are facilities, and then walk 1.6 miles/2.5km to Lansallos Beach. Postcode: PL13 2PX.
9 Most Impressive Waterfalls in Cornwall
Beware! Waterfalls by their nature can be dangerous. Take care and consider if they are suitable for children or dogs.
If you're heading to Cornwall, you may also be interested in the 12 prettiest villages and best towns in Cornwall for a day trip, or the 4 best beaches in Cornwall.
Quick List: 9 of the Most Impressive Waterfalls in Cornwall
Giddy heights: Pentargon Waterfall
Myth and magic: St Nectan's Kieve
A group affair: Luxulyan Valley
Mythical: Tregardock Beach
Ancient: Golitha Falls
Shipwrecks and drama: Culm Coast
Family-friendly: Tintagel Haven Waterfall
Rock and Roll: Rocky Valley
An industrial past: Lansallos Waterfall
---