We've got the best itinerary for a day out in Plymouth, so you can forget about the planning, and get on with the exploring! Here's what to do when you visit Plymouth for the day.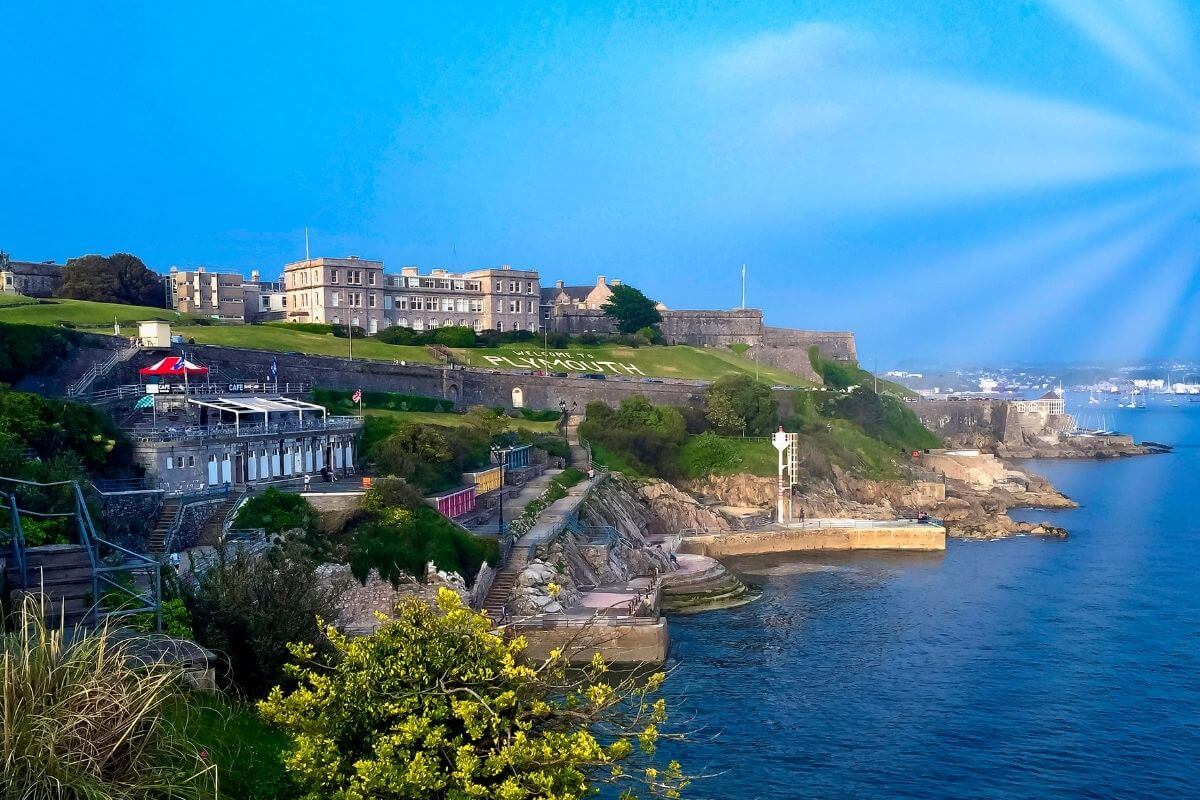 Are you planning a visit to Plymouth? Looking for ideas on how to spend a day out in Britain's Ocean City?
Well, you're in luck!
Plymouth is a gorgeous waterfront city in the south-west of England, in Devon. It's the perfect destination if you're heading to Devon, while also being near enough to Cornwall to explore two counties in one trip.
Home to the Mayflower Steps (where the Pilgrim Fathers left for the New World), Smeaton's Tower, and Plymouth Gin, this is a city with so much to offer.
Of course, with so much to see and do, it's hard to know where to start. But don't worry, we've got you covered.
Here's our best itinerary for a day out in Plymouth.
How to spend a day out in Plymouth
Here's how you can have the best day trip to Plymouth ever!
---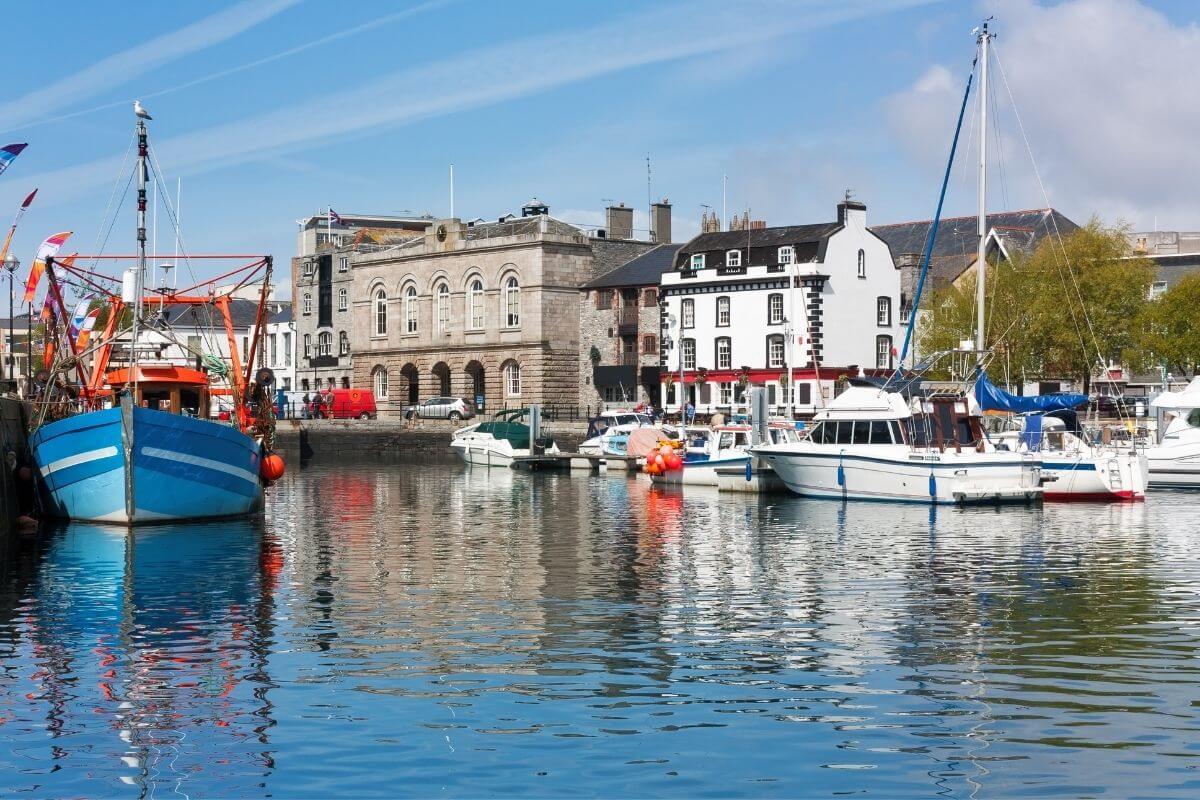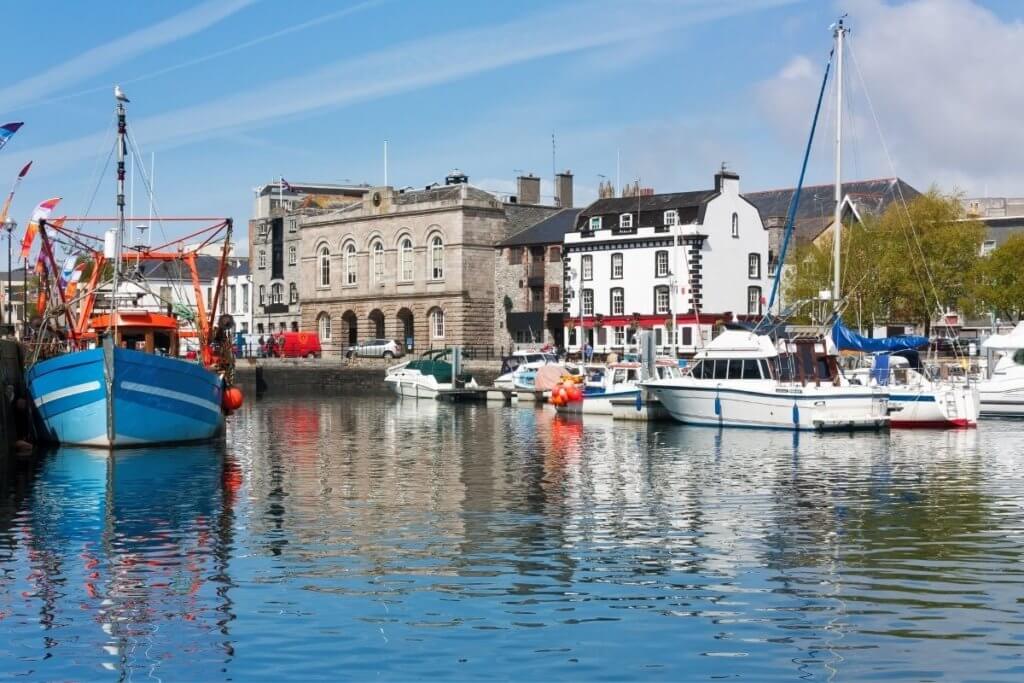 9am: Breakfast on Plymouth waterfront
There's no better way to start your day in Plymouth than with a yummy breakfast and a gorgeous view. Plymouth has so many amazing breakfast spots, so it's hard to pick just one.
But since you're in Britain's Ocean City, it makes sense to start somewhere where you can appreciate Plymouth's beautiful waterfront.
Begin your day trip to Plymouth by heading to Plymouth Hoe. You can even do some sightseeing on your way to breakfast, since Hoe Park is home to one of the South West's most well-known attractions: Smeaton's Tower.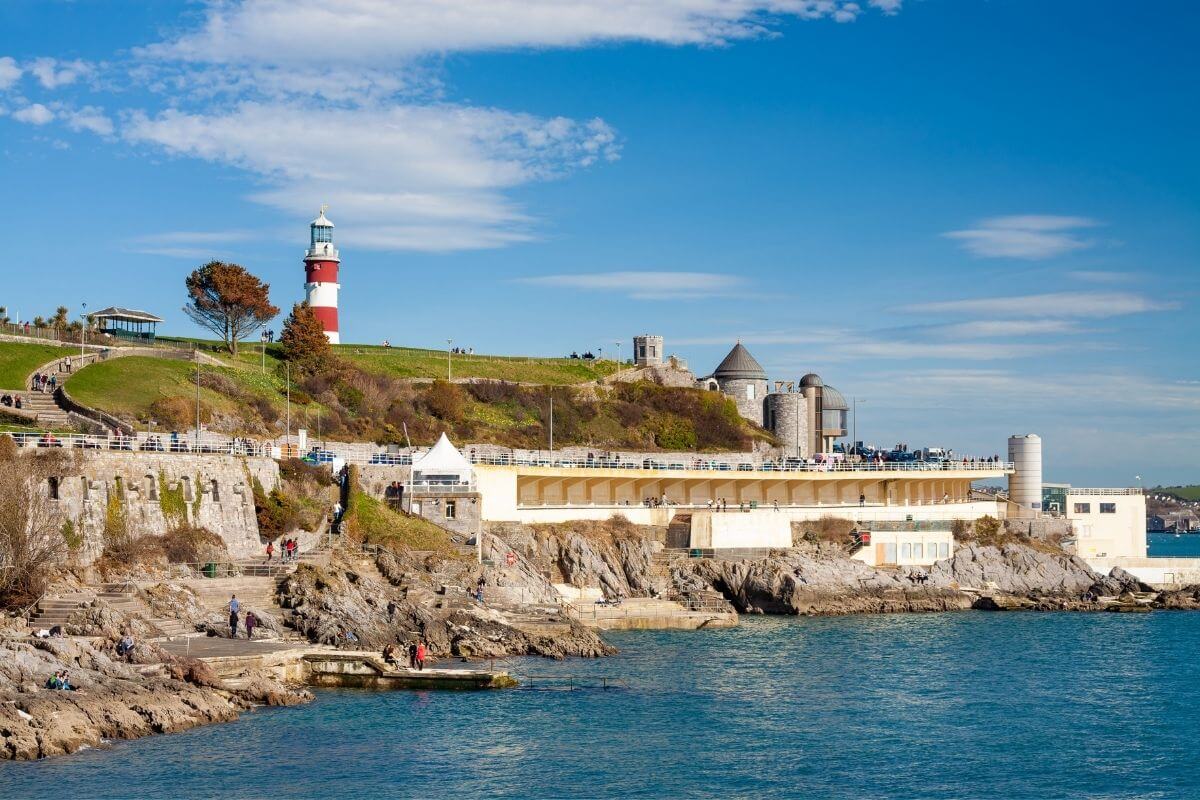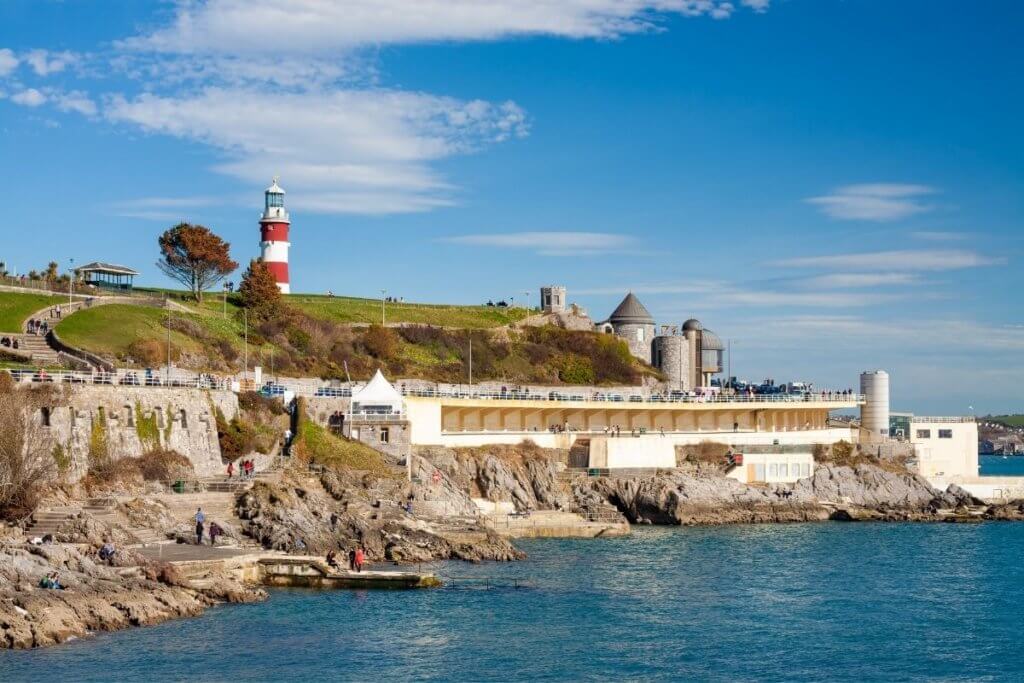 Once you've had a chance to get some pictures next to this iconic landmark, walk to to Grand Parade.
From here, you'll have a choice of a few amazing breakfast spots, all overlooking the stunning Plymouth Sound. Our personal favourites are Pier Master's House, The Waterfront, and The Boathouse Cafe!
10am: Stroll along the Barbican in Plymouth
After a filling breakfast, you'll have all the energy you need to start exploring.
Plymouth Barbican is just a short walk from Hoe Park and is a must-see for anyone visiting the city. What's more, if you're looking to dive into the history of Plymouth, this is the perfect place to start.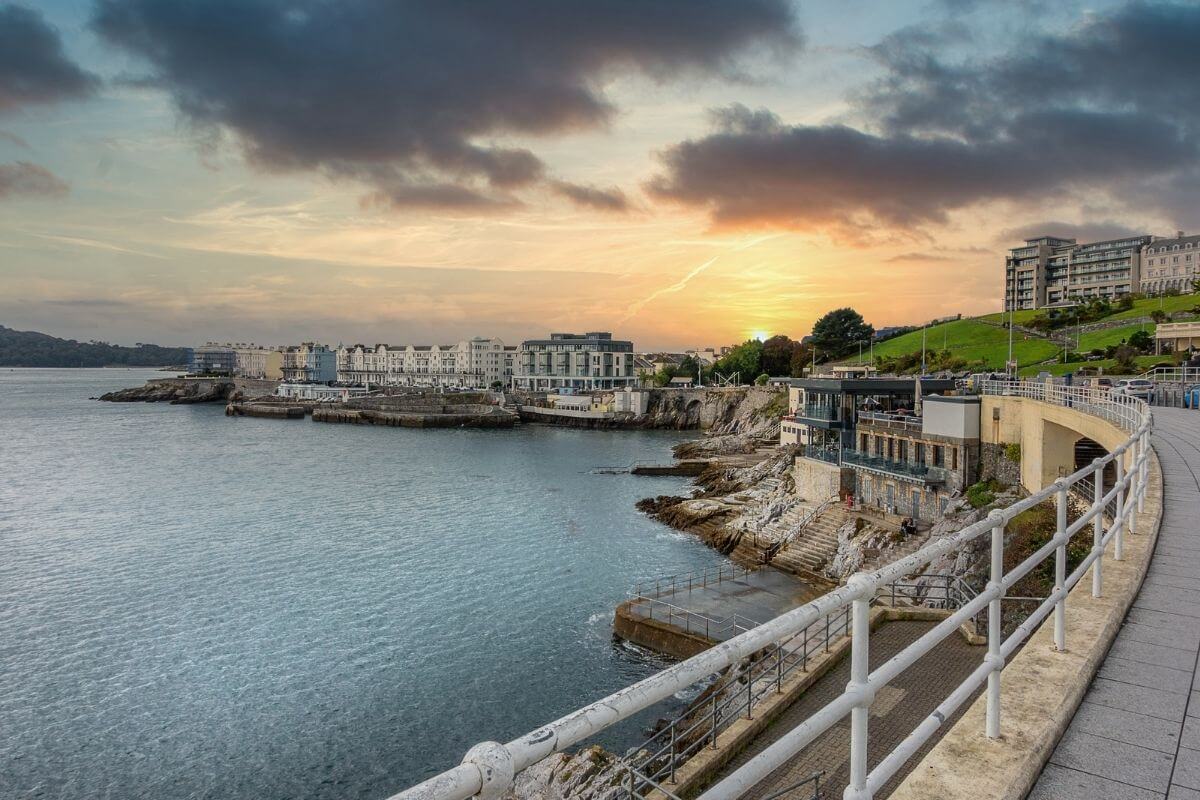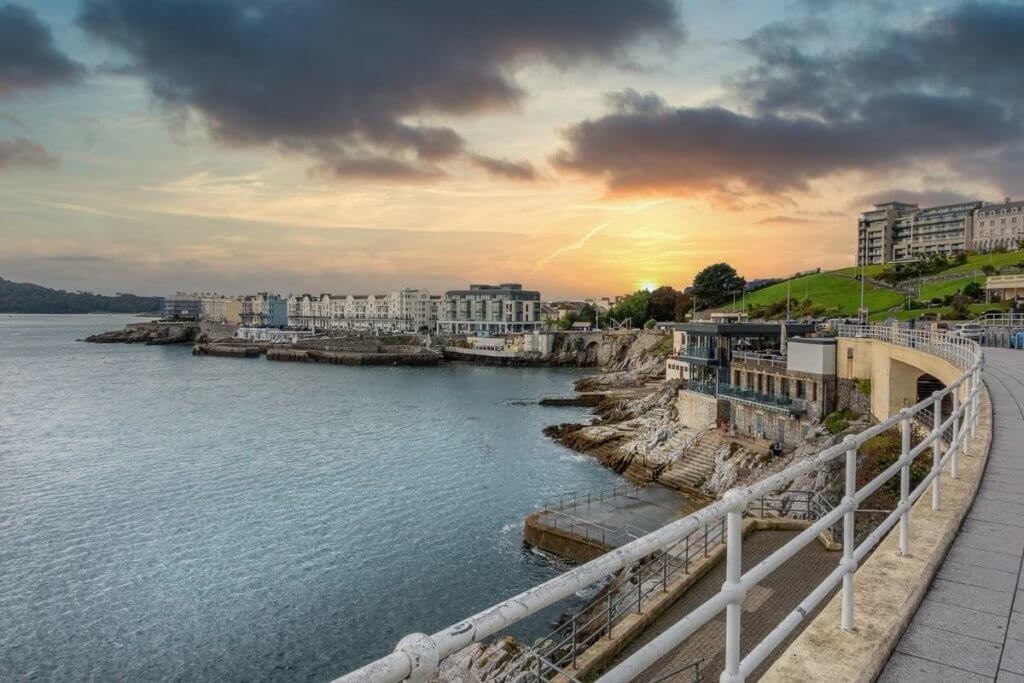 Home to the Mayflower Steps, the National Marine Aquarium (one of the best aquariums in England), Plymouth Gin Distillery, and an array of independent shops and cafes, the Barbican is absolutely packed with things to see and do.
And, as Plymouth's old port, it's full of gorgeous architecture and beautiful cobbled streets. So grab an ice cream and go and explore everything that this stunning area of Plymouth has to offer!
11:30am: Take a Plymouth boat trip or harbour cruise
If you're looking to explore a bit more of Plymouth Sound, there's no better way than getting out on the water itself.
Plymouth Boat Trips have boats and ferries departing every day from the Mayflower Steps on the Barbican. They run a variety of sightseeing tours, giving you the chance to see and explore some of the areas surrounding Plymouth.
From a scenic one hour harbour cruise, to a ferry trip that takes you to the nearby villages of Cawsand and Kingsand in Cornwall, there really are some great trips on offer.
It's a good idea to book these trips in advance to make sure they have the time and dates you want, so check out their website before you head to Plymouth.
Or, if you'd rather get in the water, why not take a dip in Tinside Lido instead? This stunning salt water pool overlooks Plymouth Sound and is a beautiful spot to relax on a summer's day.
1:30pm: Eat at the Harbourside
Feeling a bit peckish?
Well, you're in the right place!
Once you've returned from your boat trip, you'll be spoilt for choice when it comes to lunch spots.
The Boathouse is a lovely independent café on Commercial Wharf (right next to where the ferries depart from). They have some delicious sandwiches and a range of seafood dishes on offer, so it's a great place to stop for lunch.
Or, why not grab some traditional fish and chips?
Harbourside Fish and Chips on the Barbican is award winning — and for good reason!
3:30pm: Visit The Box in Plymouth
Now that you've explored everything that Plymouth's waterfront has to offer, it's time to head a bit more into the centre.
And if there's one attraction that's worth visiting in Plymouth's city centre, it's definitely The Box Museum.
The Box only opened its doors in 2020, but it's already made its mark on the city. And as one of the biggest museums and art galleries in South-West England, this really is a must-see for anyone having a day out in Plymouth.
From art to archaeology, and nature to maritime history, The Box is a cultural centre like no other.
And the best part? Entry is free!
5pm: Drinks at The Treasury Bar
Before you head for dinner, why not have a few relaxing drinks in one of Plymouth's most sophisticated bars?
We personally love The Treasury Bar, Café & Restaurant, and it's a great spot if you're looking for somewhere not too far from The Box (just a ten-minute walk, in fact!)
The Treasury is a stunning 19th century city treasury building, converted into a lively and atmospheric bar in the centre of the city.
It's the perfect place for a few sophisticated cocktails in the evening!
6pm: Dinner on Royal Parade
After all that exploring, it's time to eat!
Plymouth has so many great options when it comes to dining out. If you're on the hunt for a delicious meal but don't know where to start, we've got a few personal favourites.
If you'd prefer something familiar and comforting, there are plenty of big restaurant chains in Plymouth's city centre. Head to the Barcode on Royal Parade for everything from Nando's to Zizzi's.
Or, if you're keen to try something new, Plymouth has a whole host of fantastic independent restaurants. Here are some of our top recommendations:
Bonne Sante: fresh food restaurant with a focus on serving dishes that are truly good for you (and also taste amazing!) Offers a warm, welcoming, and lively atmosphere.
Salumi Bar and Eatery: high quality and tasty dishes. Offers 'globally-inspired' mains, and an incredible Sunday roast!
The Chancel: cosy restaurant and wine bar with a delicious menu. Offers a great atmosphere for relaxing and unwinding.
Barbican Pasta Bar: popular and welcoming restaurant specialising in pasta and pizza. Offers everything a pasta-lover could want!
7:30pm: Evening at the Theatre Royal, the Pavilions, or the Barbican
You won't be short of choice when it comes to evening entertainment in Plymouth on your day trip.
And what better way to finish your Plymouth day out than with some live music, theatre, or comedy?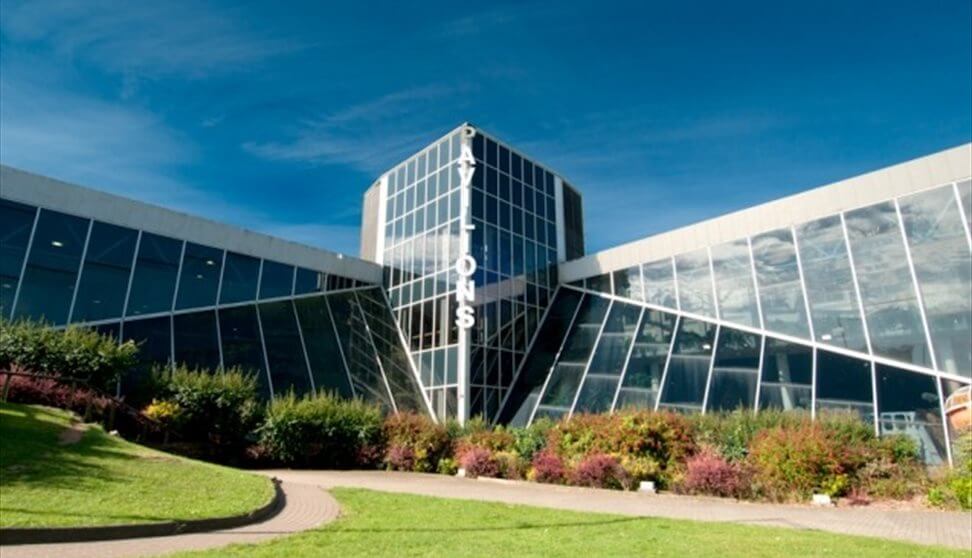 Plymouth is home to the Theatre Royal Plymouth, Plymouth Pavilions, and the Barbican Theatre, as well as a number of smaller independent venues. So whether it's a world-class musical, a fringe play, or a live orchestra, there's plenty of choice.
Ahead of your visit to Plymouth, check out what's coming up at some of the city's live entertainment venues. You'll be sure to find something that will make your trip to Plymouth even more memorable!
Your day out in Plymouth
Whether you want to be by the sea, exploring nature, or shopping to your heart's content, Plymouth really is a great choice for your next day out in England.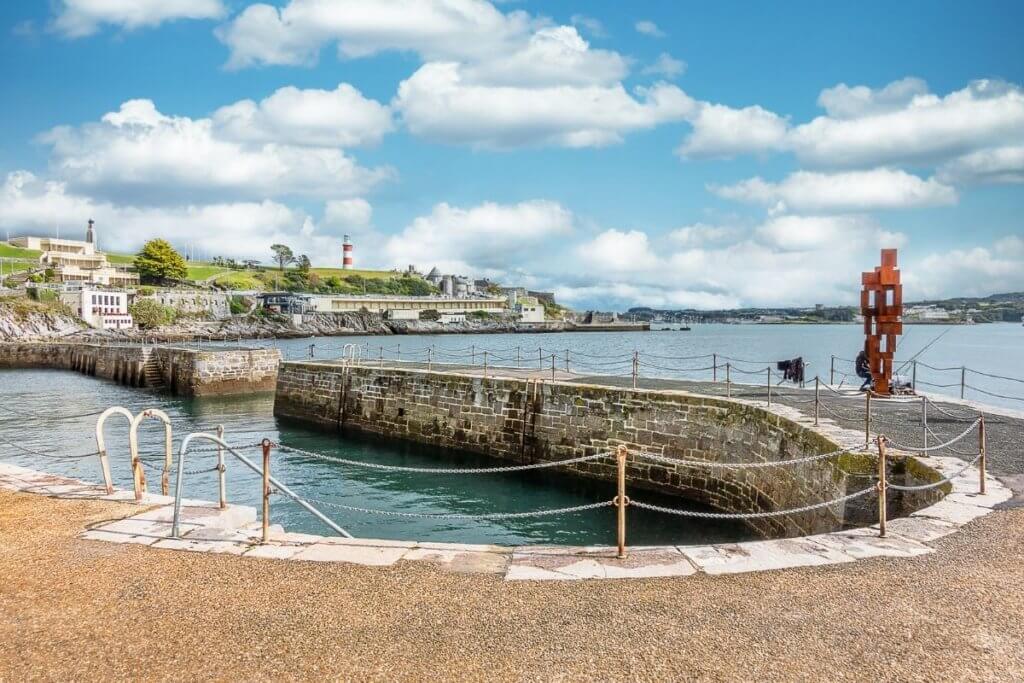 Of course, there's so much more that we just couldn't fit in here. If you're spending more than one day in Plymouth, we'd really recommend exploring some of the surrounding areas — Dartmoor National Park is just a short drive away, and the best days out in Cornwall are just down the road!
Whatever you choose to do, we know you'll love your day out in Plymouth!
---
Quick guide to a day out in Plymouth
9am: Breakfast on Plymouth waterfront
10am: Stroll along the Barbican in Plymouth
11:30am: Take a Plymouth boat trip or harbour cruise
1:30pm: Eat at the Harbourside
3:30pm: Visit The Box in Plymouth
5pm: Drinks at The Treasury Bar
6pm: Dinner on Royal Parade
7:30pm: Evening at the Theatre Royal, the Pavilions, or the Barbican
---