A day out at Peppa Pig World in Paultons Park is a rite of passage for a modern toddler. Gentle rides, muddy puddles, and meet and greets are all part of the experience. Here's the lowdown on the best Peppa Pig day out in England…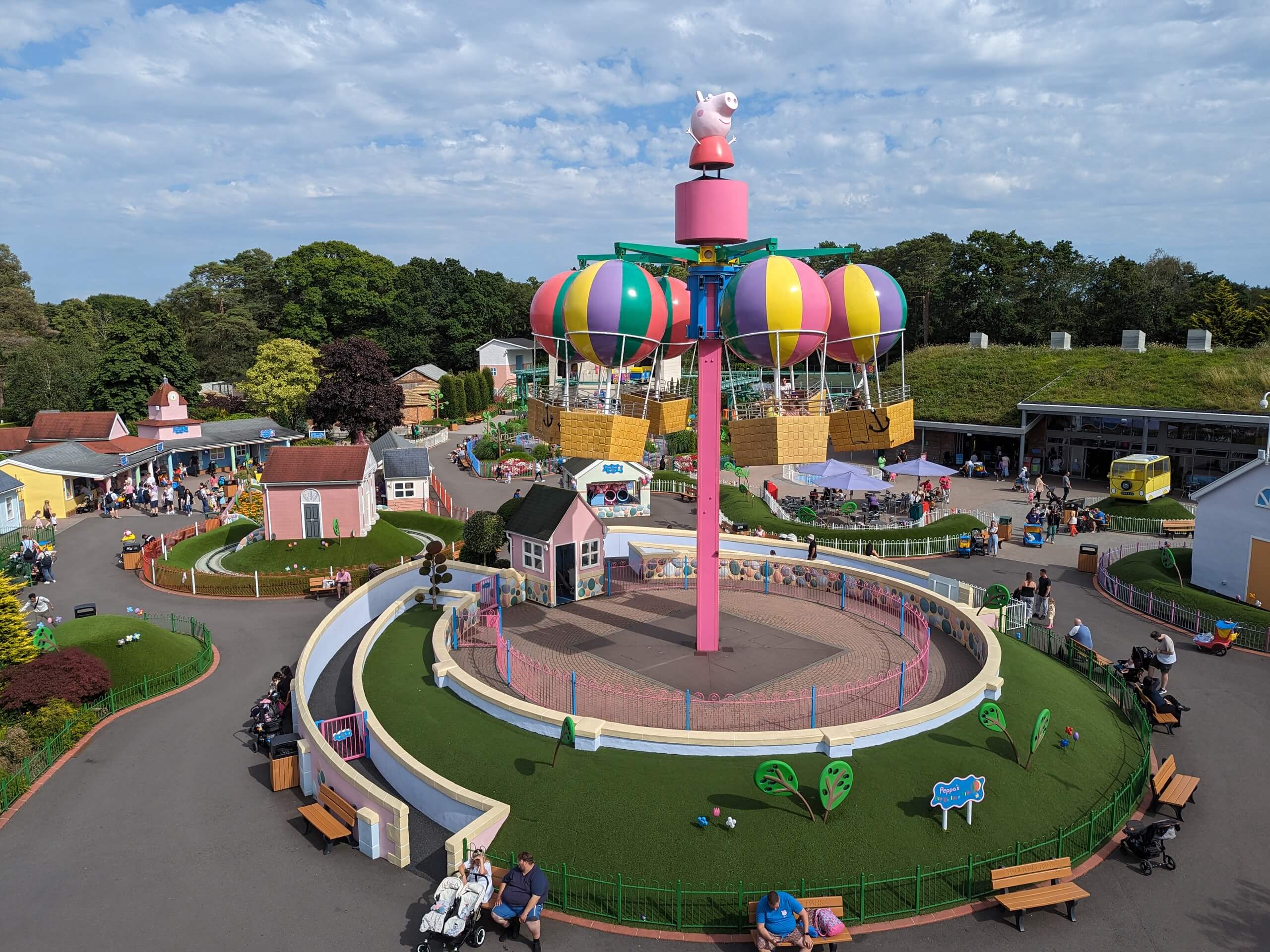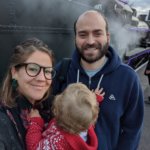 Vicky, Ben and Reggie (18 months)
Date of trip: Tuesday 18th July 2023
Day Out in England editor Vicky and her family visited Peppa Pig World at Paultons Park to report back on what what exactly there was to do there, especially for toddlers.
We recently went for a day out at Paultons Park, in particular the much talked about Peppa Pig World. My partner and I thought it'd be a good introduction for our 18-month old son to the wonder that is, a theme park. 
Paultons Park is actually a pretty big theme park, and Peppa Pig World is just a small part of it – although this is the area that is most talked about, and best marketed.
Having heard great things from our NCT buddies we went for a day out at Paultons Park to see what all the fuss was about.
Is 18 months too young for Peppa Pig World?
Only one way to find out!
Day out at Peppa Pig World
Peppa Pig World is only about 40 minutes from our home in Portsmouth, and so easy to get to, just at the top of the New Forest. It was an easy drive, and getting in to the free parking was straight forward on the July day we were there.
In short, we had a great day out at Peppa Pig World – all of us.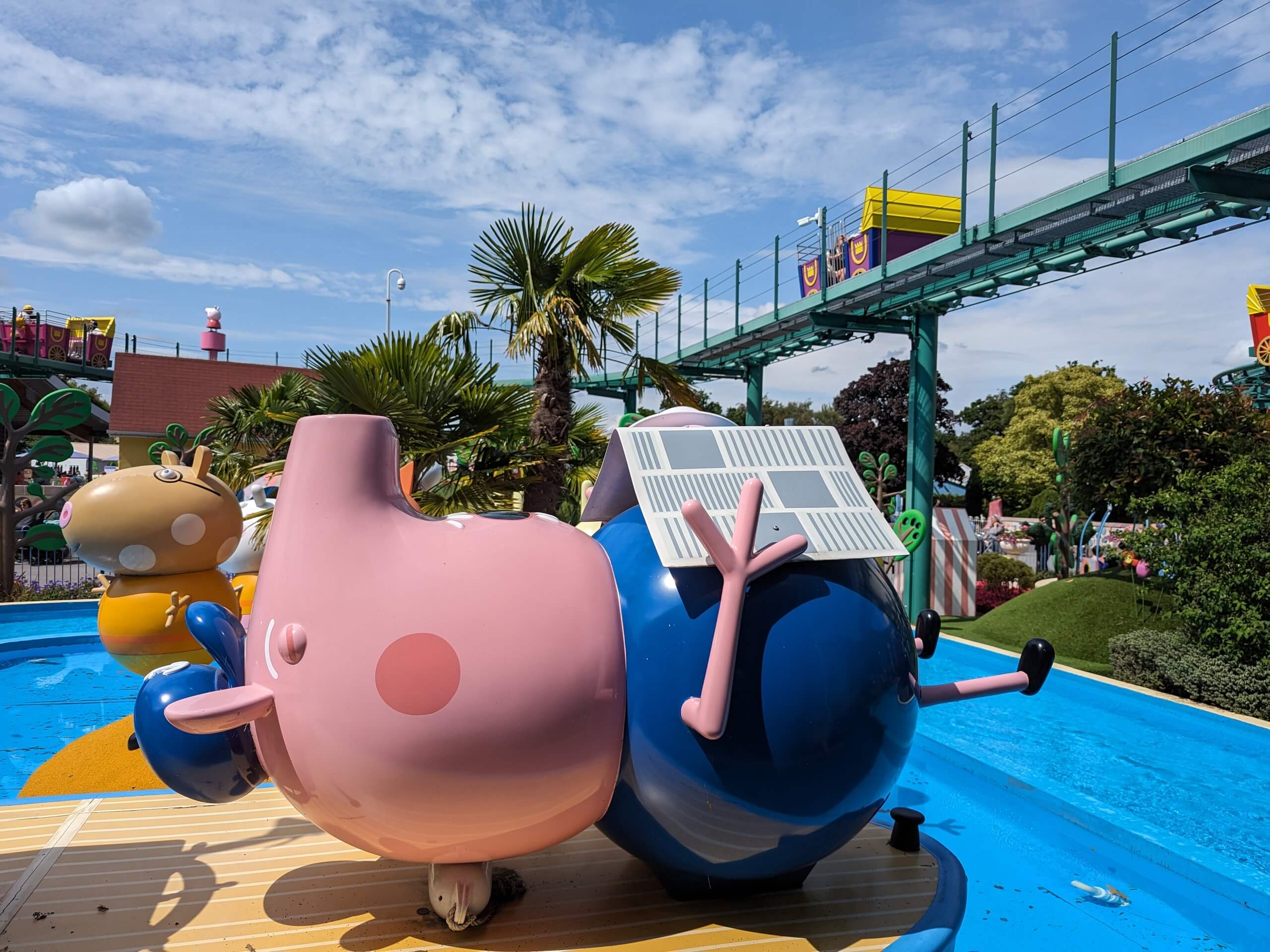 To address the elephant in the room though, yes, it's expensive if you're just going for Peppa Pig World. We paid £83.50 for the three of us, and that's with our 90cm son being free. 
'Just under' the lady on the gate said, as she got her measuring stick out. 
He was a clear 10cm under, although tall for his age. This frosty reception on the gate wasn't indicative of that in the park though. 
We were in, thanks to booking our tickets before to save hassle, and hung a right to get into Peppa Pig World at Peppa Pig World. It's part of the bigger Paultons Park, which includes:
Storm Chaser  – a spinning coaster ride, the only one of its type in the UK.
Velociraptor – drops from 20m in the air and sweeps around tight bends with speeds of up to 40 mph before reversing to do it all again.
Cyclonator – a gyro swing spinning pendulum ride carrying 30 riders at a time, rising to around 25 metres. This is the most adrenaline pumping ride at Paultons Park.
Peppa Pig World is actually a relatively small section of the park (it'd be great of they did a half price ticket for just this bit to be honest). 
Map of Paultons Park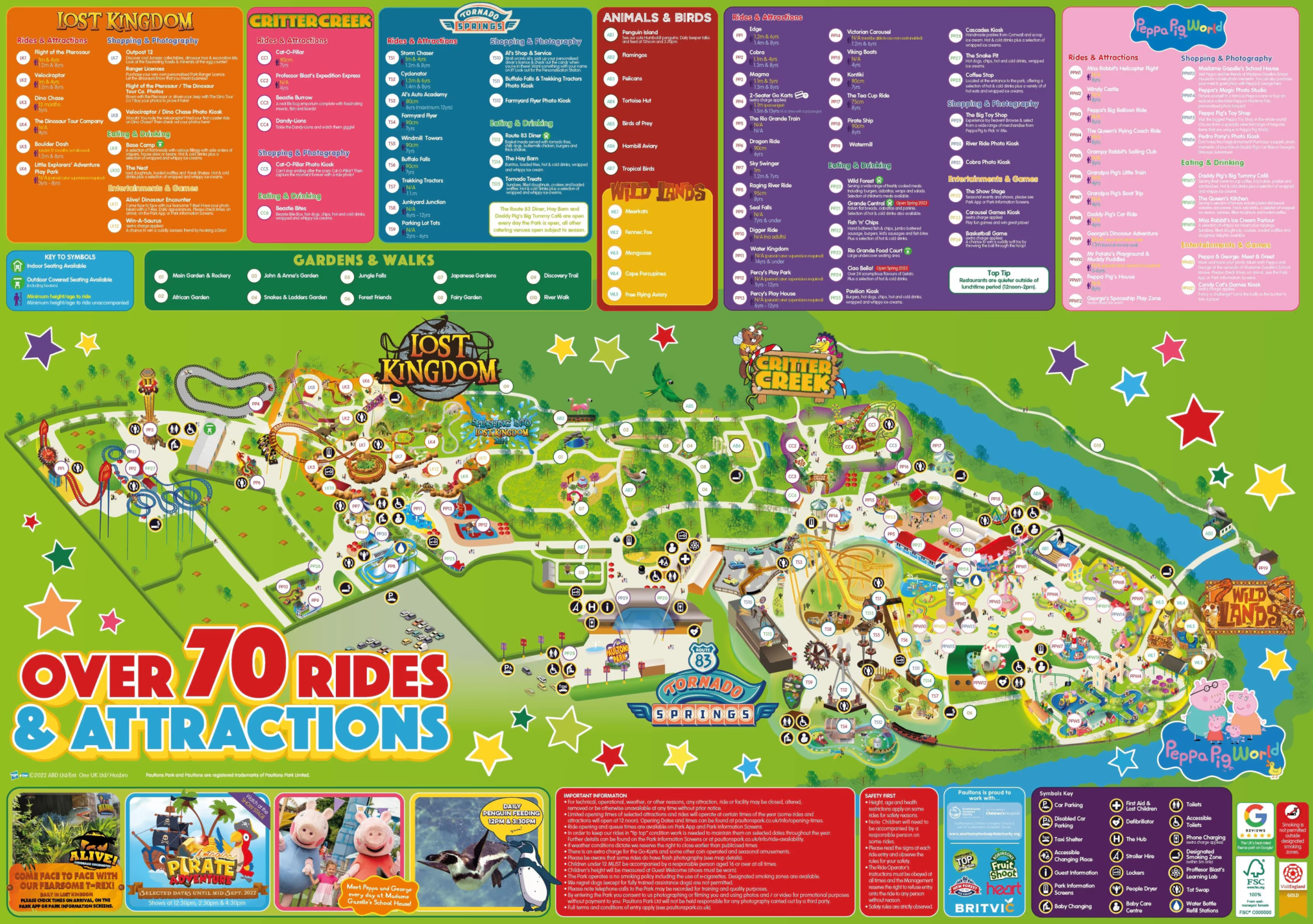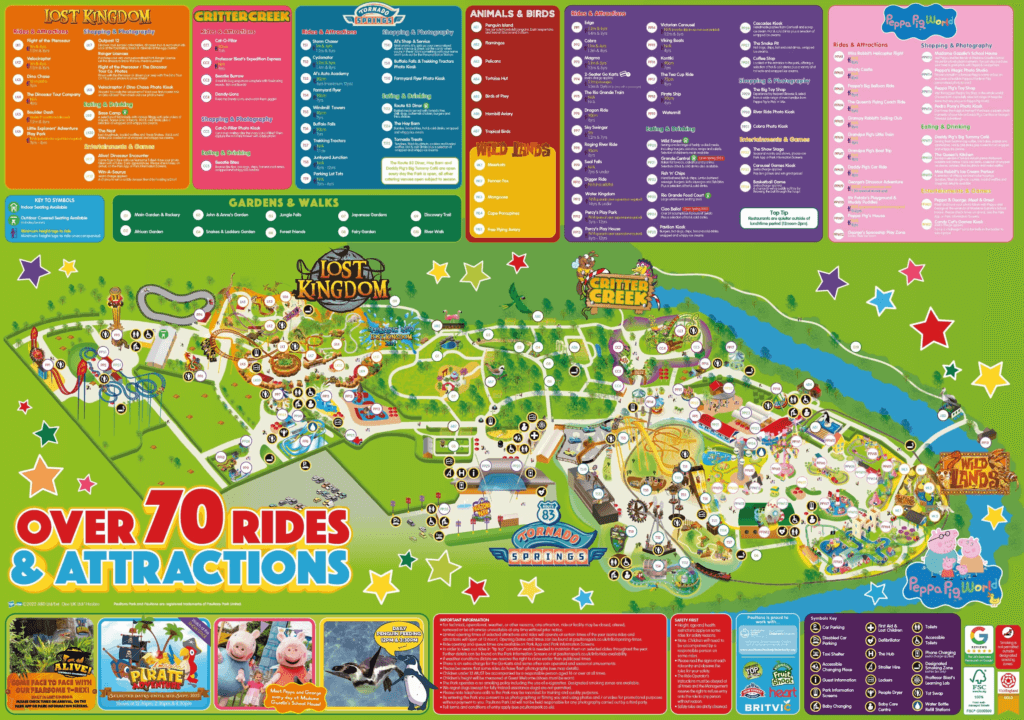 Peppa Pig World for toddlers
Our toddler went on 3 of the 9 kiddie rides at Peppa Pig World.
Daddy Pig's Car Ride
Miss Rabbit's Helicopter Flight
Grampy Rabbit's Sailing Club
He was a bit apprehensive on all of them. Before we went I was undecided whether he'd love them or be terrified – I think he was in between. He doesn't like the rides on the pier at the beach, but then he's a daredevil at the playground, so it's difficult to know how a toddler would react. All are different of course!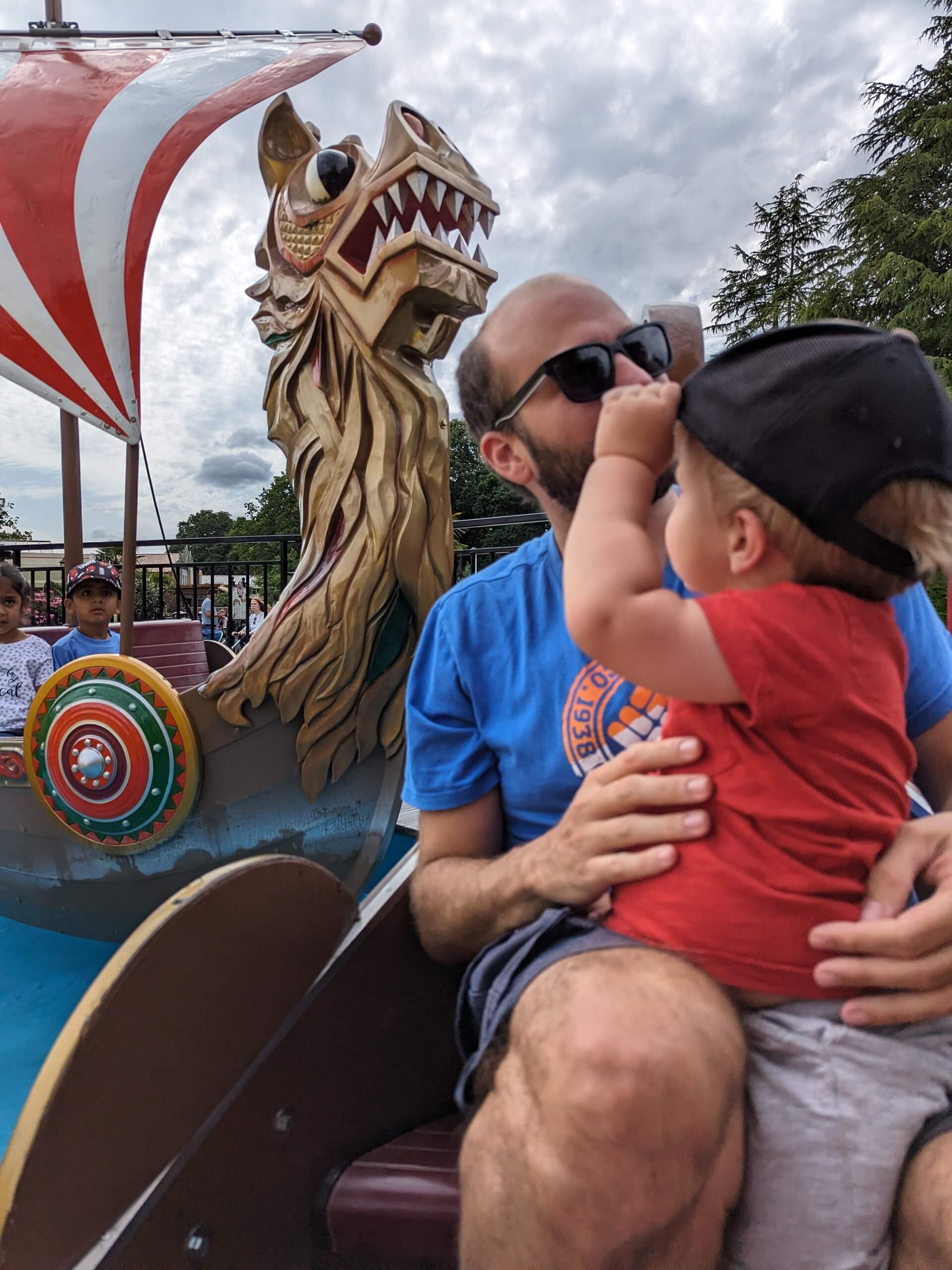 We queued for around 5-20 minutes for each one, despite there being a blanket '10 minute queue' sign up at each.
Reggie's favourite ride was actually the Mini Viking Boats near Critter's Creek (outside of Peppa Pig World and PP15 on the map), which was surprising. After he'd been clinging to me on the 5mph Peppa Pig cars on Daddy Pig's Car Ride, I was worried when the ships lurched forward over the 'waves' but he was so happy on it we stayed put to go round again once it'd finished. 
My son did absolutely love the playgrounds at Paultons Park though. There was a great one for toddlers in the Tornado Springs area (TS9 on the map) and in Peppa Pig World (PPW10). Honestly, he was so happy and they felt so safe and age appropriate. He was in both for ages.
READ MORE: The Best Days Out for Toddlers
What to do at Paultons Park  
There's plenty more entertainment at Paultons Park beyond Peppa Pig World. We didn't try any of the other rollercoasters, although Ben did zoom down the water chute which was pretty funny.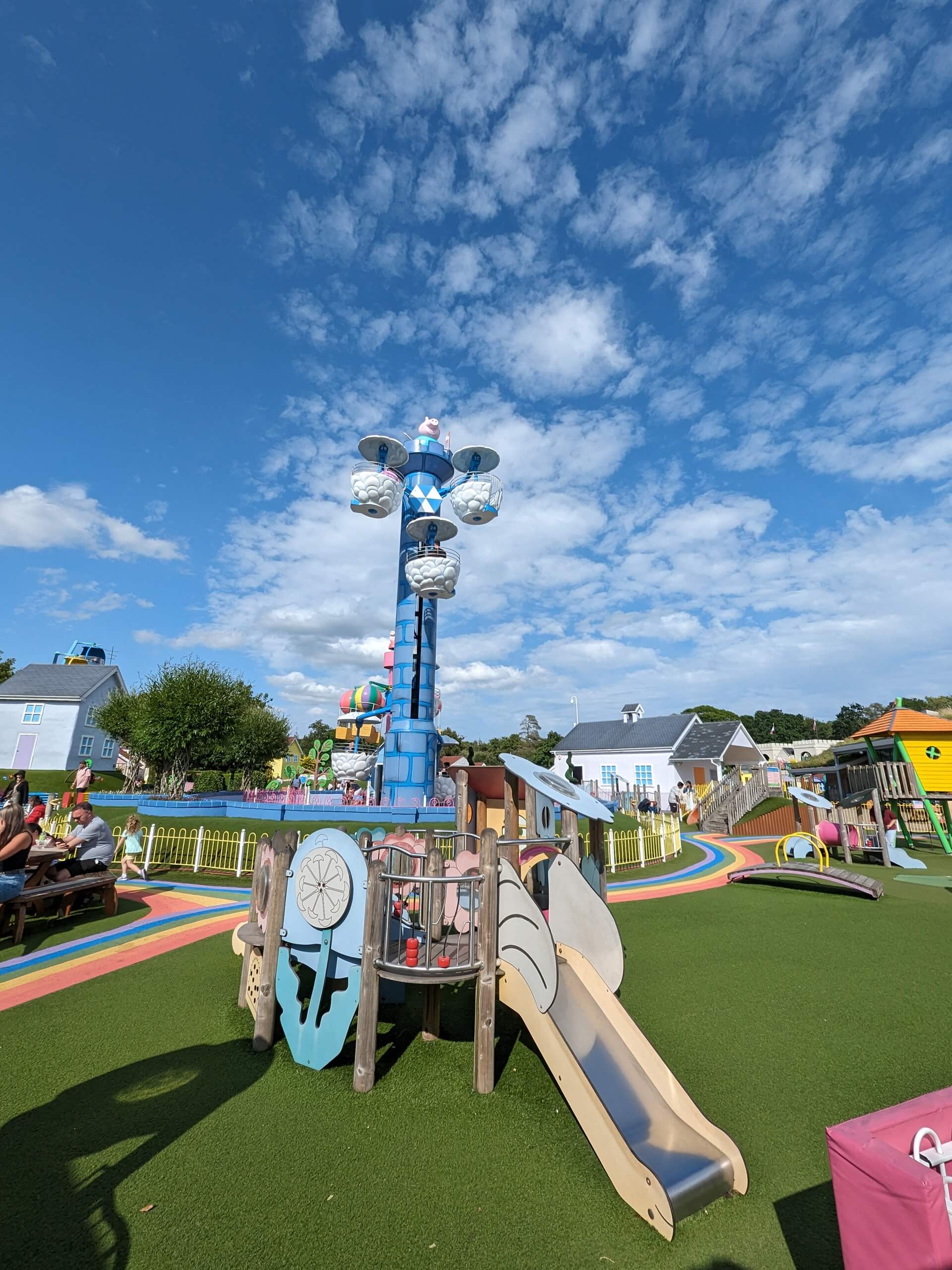 There's also a zoo as you travel round. We saw the penguins and there was a seated area for the shows. There are more animals to see, but our toddler wasn't quite ready for that yet. He prefers a farm chick to a snake right now.
I've mentioned the wonderful playgrounds.
There's also daily shows, a water kingdom, an indoors soft play, a discovery trail, Japanese gardens, an African garden and a lake too, among other attractions. We didn't have time for any of this, but I'm happy with what we did on our first visit.
What to eat at Peppa Pig World 
You're allowed to take a picnic into Paulton's Park, which is a great way to save money on days out. 
We got a very expensive, grim sandwich from the Queen's Kitchen which we were really disappointed with. We bought a sandwich, crisps, drink and chocolate to share and it came to over £20. I'd recommend you go into Tornado Springs and look at the Route 83 Diner if you want a sit down meal. Serving all kinds of chips, burgers and chicken tenders, this looked a good spot for a feast.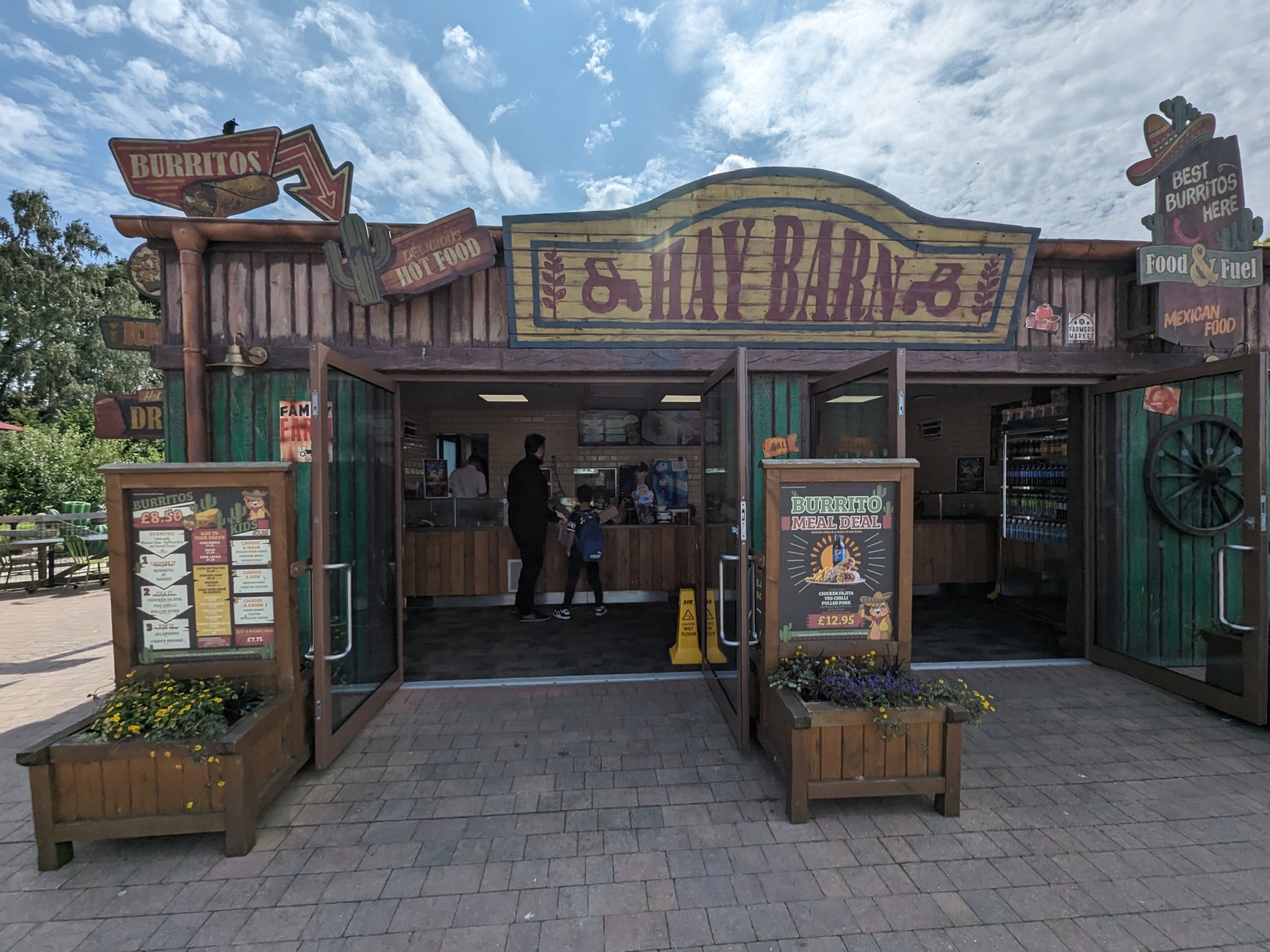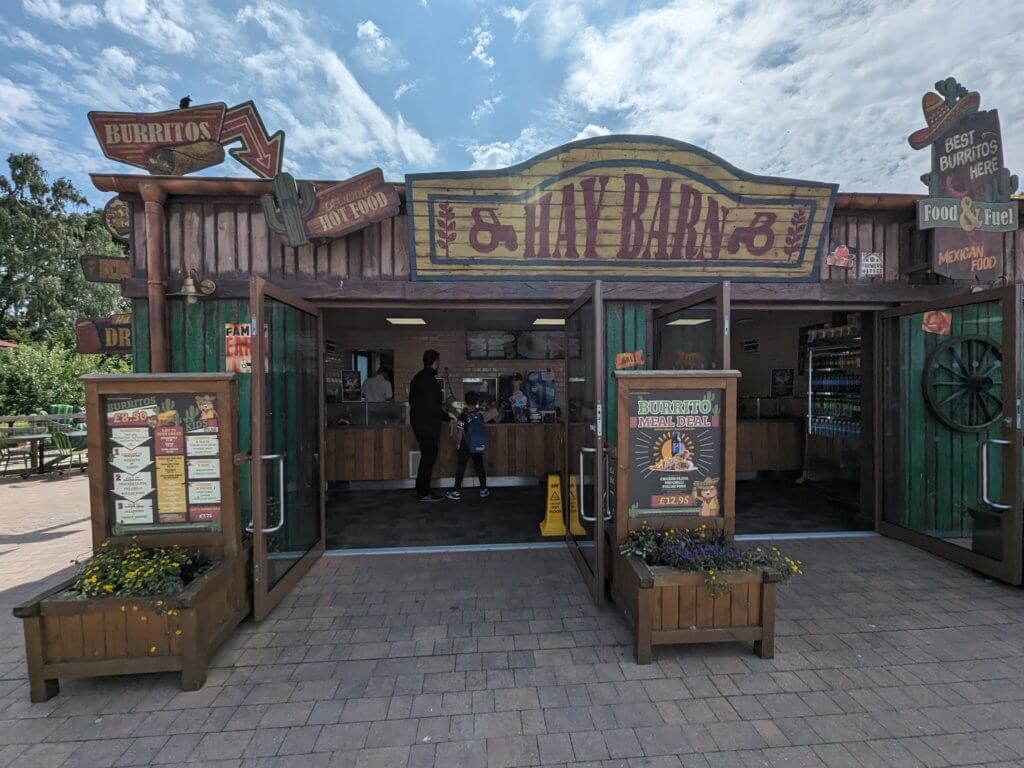 There are a few restaurants around, but next time I go, I'd go to the build your own burrito take out spot. Eat there and you can customise your burrito as you like, and its right next to the playground so you might actually be able to eat it while your little one plays. If you're going to the park with a toddler, this could be a good time for the precious nap and you could pick up a burrito and head into the gardens.  
Facilities at Peppa Pig World 
There were plenty of toilets around, and baby spaces too with microwaves and quiet, private breastfeeding rooms. It looked like they'd thought of everything to keep their younger guests happy. If you're wanting a day out with a baby, if you have older children, this is a good shout.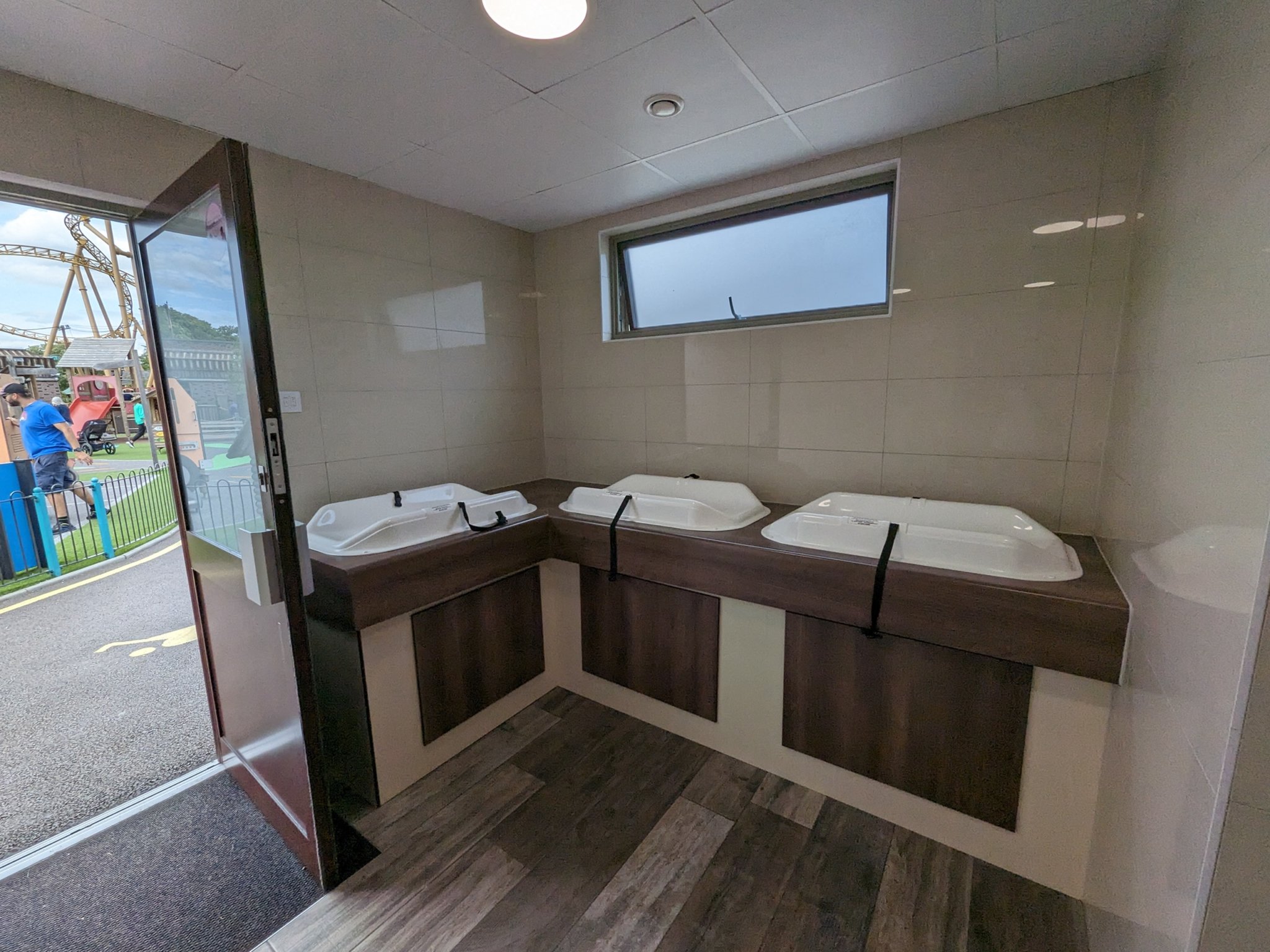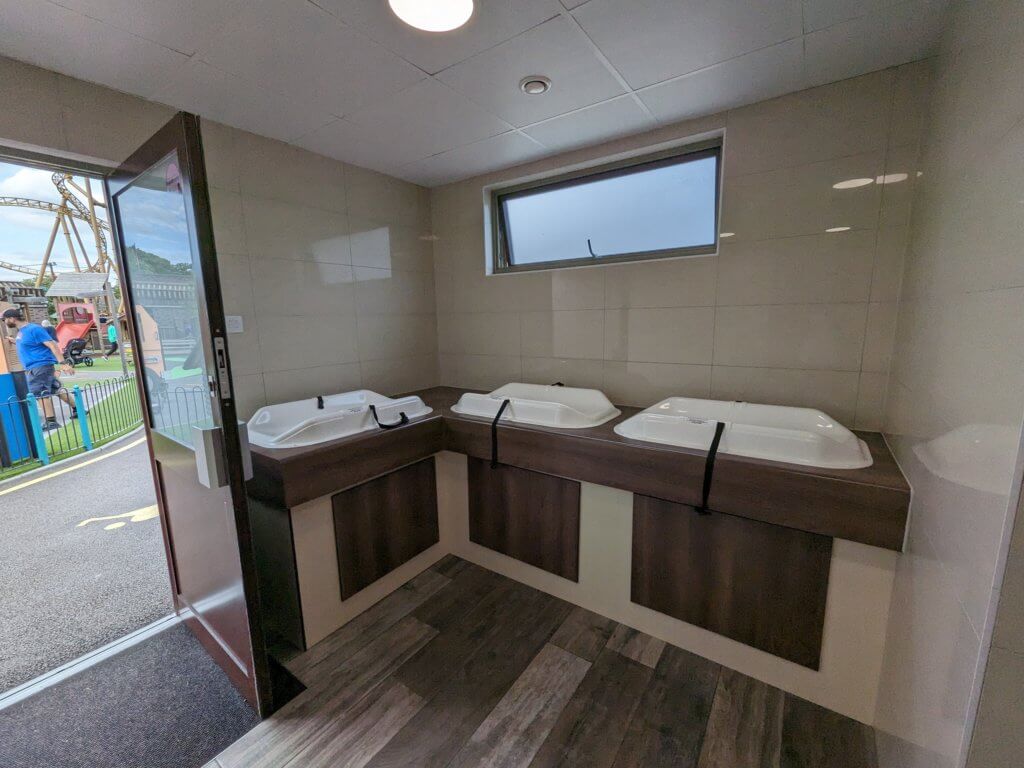 Buying tickets for Peppa Pig World 
We paid £83.50 for our Peppa Pig World tickets, the day before. That was for two adults as my 90cm son was free. Kids are free until they're 1 metre tall.
I searched around for deals for Peppa Pig World but couldn't find any when we went, and have since looked for friends and still nothing. It doesn't mean there won't be when you want to go though!
Ideas to make Peppa Pig World Cheaper
Look up Hampshire Attractions to see if they have any deals. 
Look at a cashback site to get money back on what you do spend. 
Pay on credit cards to earn points. 
Google 'Peppa Pig deals' before you go.
What time to arrive at Peppa Pig World 
Peppa Pig World usually opens at 10am till 5pm (check before you go!). We went at 1pm after our son's nap. This was perfect as it really wasn't very busy, despite it being a Tuesday in July. The longest we queued was about 20 minutes for the hot air balloons.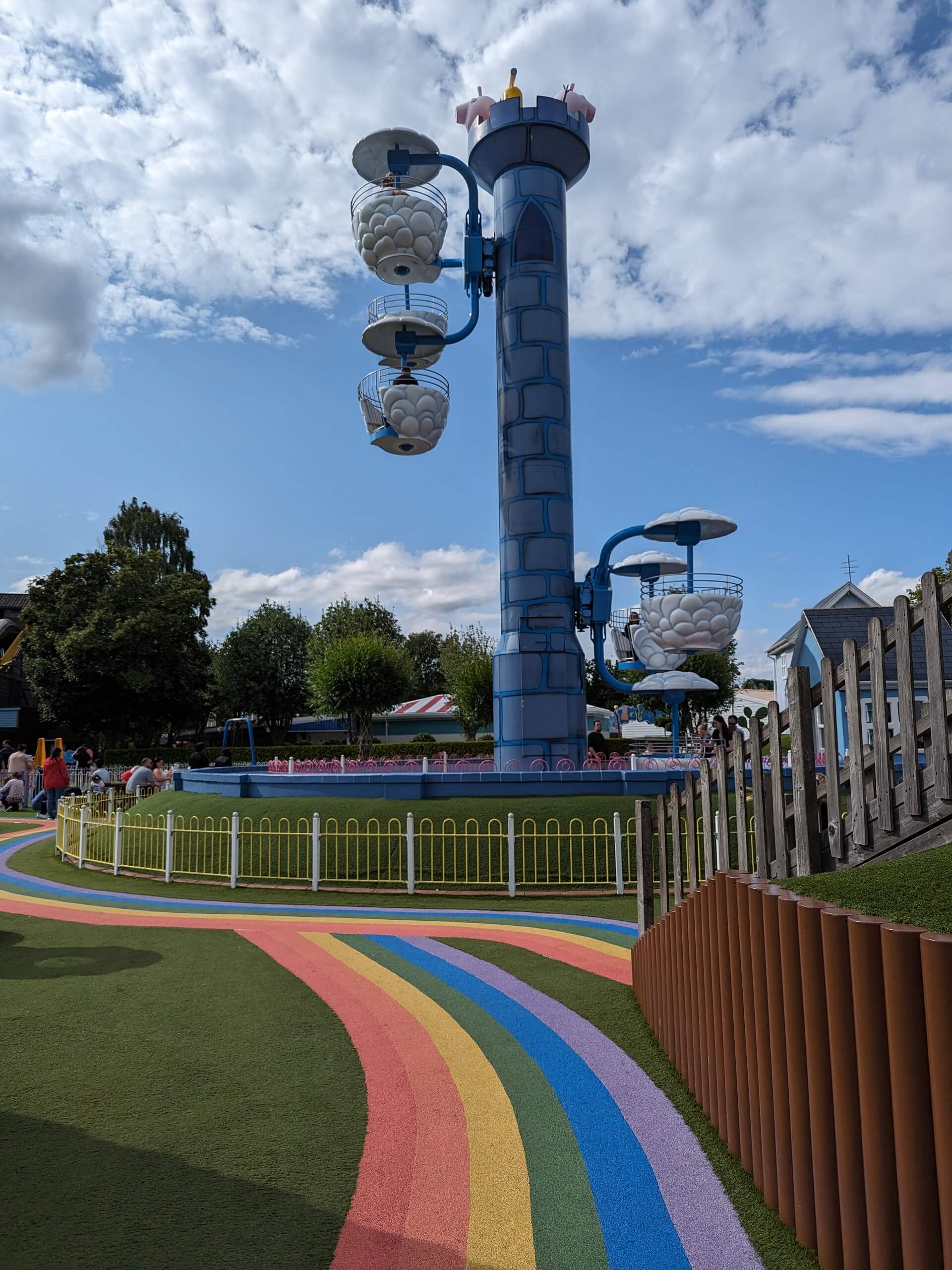 We could've gone at 10am to feel like we were really getting the most for our money, but with an 11am nap, we decided to wait to make the day more enjoyable for us all. It also meant we missed that morning rush I read about online.
Top tips for Peppa Pig World 
Take your own food and drink for a picnic to save money and have options.  
Go on a weekday either early, or after lunch.
Take it slow.
Look at the special activities for the day (like animal feedings and meet and greets) and plan your day out accordingly. 
Also, special events. Peppa Pig World is one of the best days out at Christmas in Hampshire.
Relax in the gardens if it all gets too much.
Don't go in the gift shops!
Check the opening times on the day you're there – they may close earlier. 
Check the rides are running – this is more if you're going on the big ones, or have your heart set on a particular ride.
Get in line for the photo ops early. 
Under 1m are free.
Getting to Peppa Pig World 
It's much easier if you can drive to Peppa Pig World in Paultons Park in the New Forest, but there are options if you don't have a car.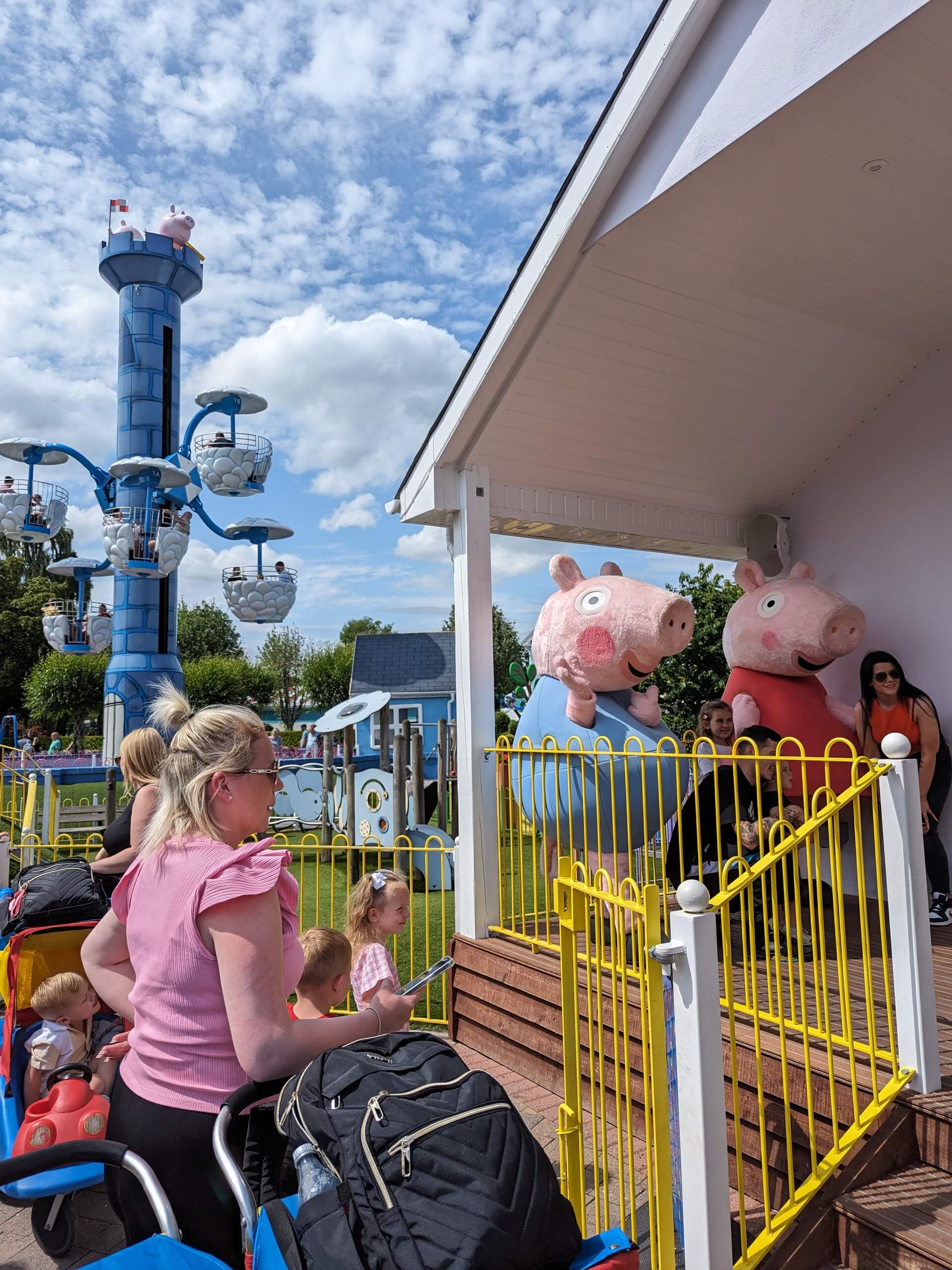 You can get a train to Southampton, then the X7 bus goes direct to Paultons Park from Southampton Central Station. You will then need to walk about 15 minutes to get in the park.
If you're travelling to Peppa Pig World from London you can save a lot of money and hassle by booking this Peppa Pig World ticket and transfer from London. It takes two hours to get from London to Peppa Pig World via their transfer.
Cost of our day out at Peppa Pig World 
2 x adult tickets = £83.50
1 x 18 month old ticket / 90cm= £FREE
Parking = £FREE
Sandwich, drink, crisps and chocolate to share = £20+
Book on the day and it's £55 each, so make sure you book your tickets in advance to save money.
Peppa Pig World for toddlers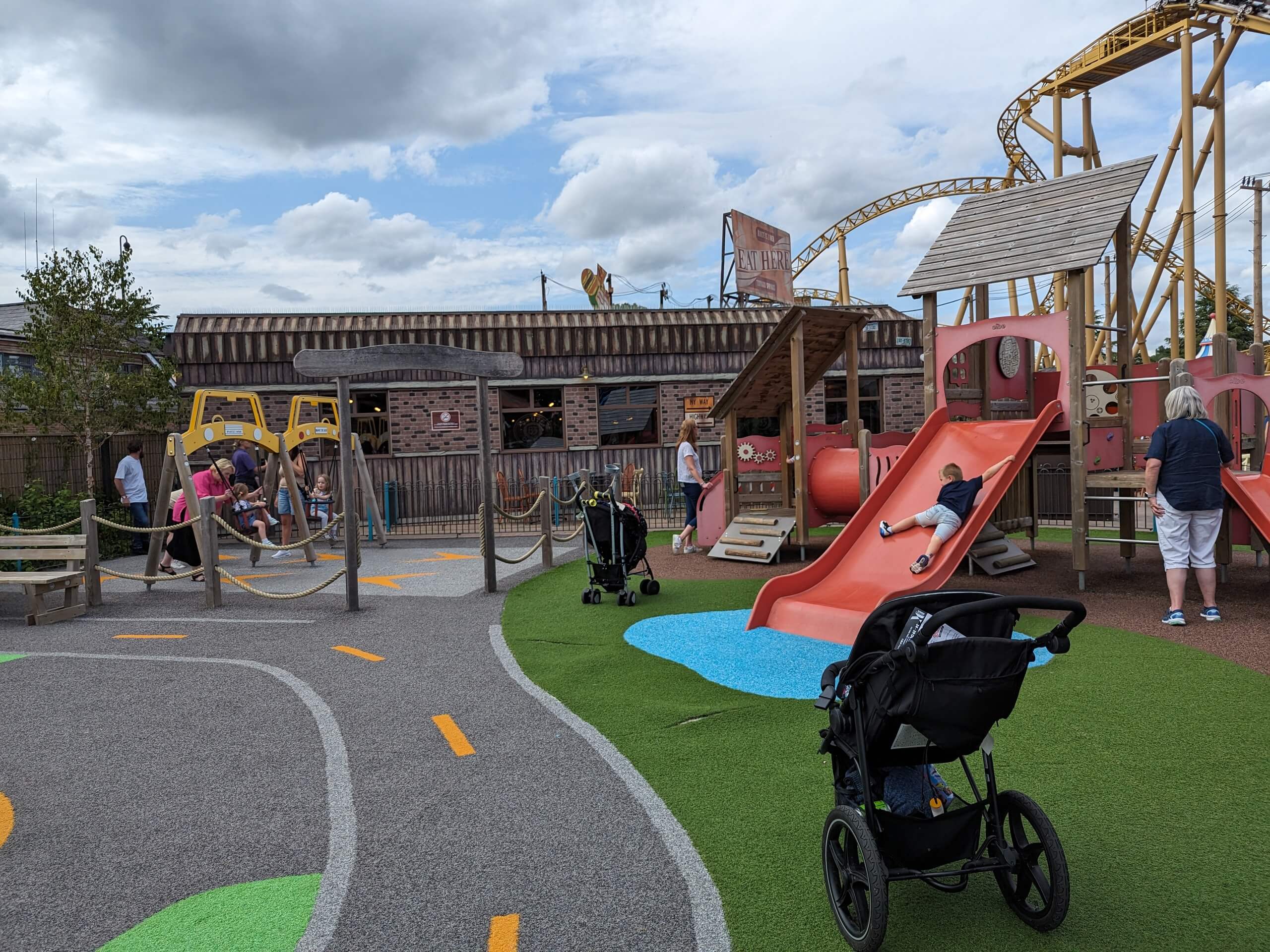 I'm really glad we went to Peppa Pig World when we did, and we had a great day, but he might've been a little too young. We'll definitely try again in six months as he was happy walking around, and he loved the playgrounds. I still think he got a lot out of the trip, and it was a lovely way for us all to spend a day together. I can see why it's often rated as one of the best days out in Hampshire.
It's just me wanting to see him go on every, single ride to feel like I got my money's worth!
---