Joining a day trip to Lundy Island is one of the coolest things you can when you're in Devon. Here's everything you need to know about going on a day out on Lundy Island, and why you won't regret it.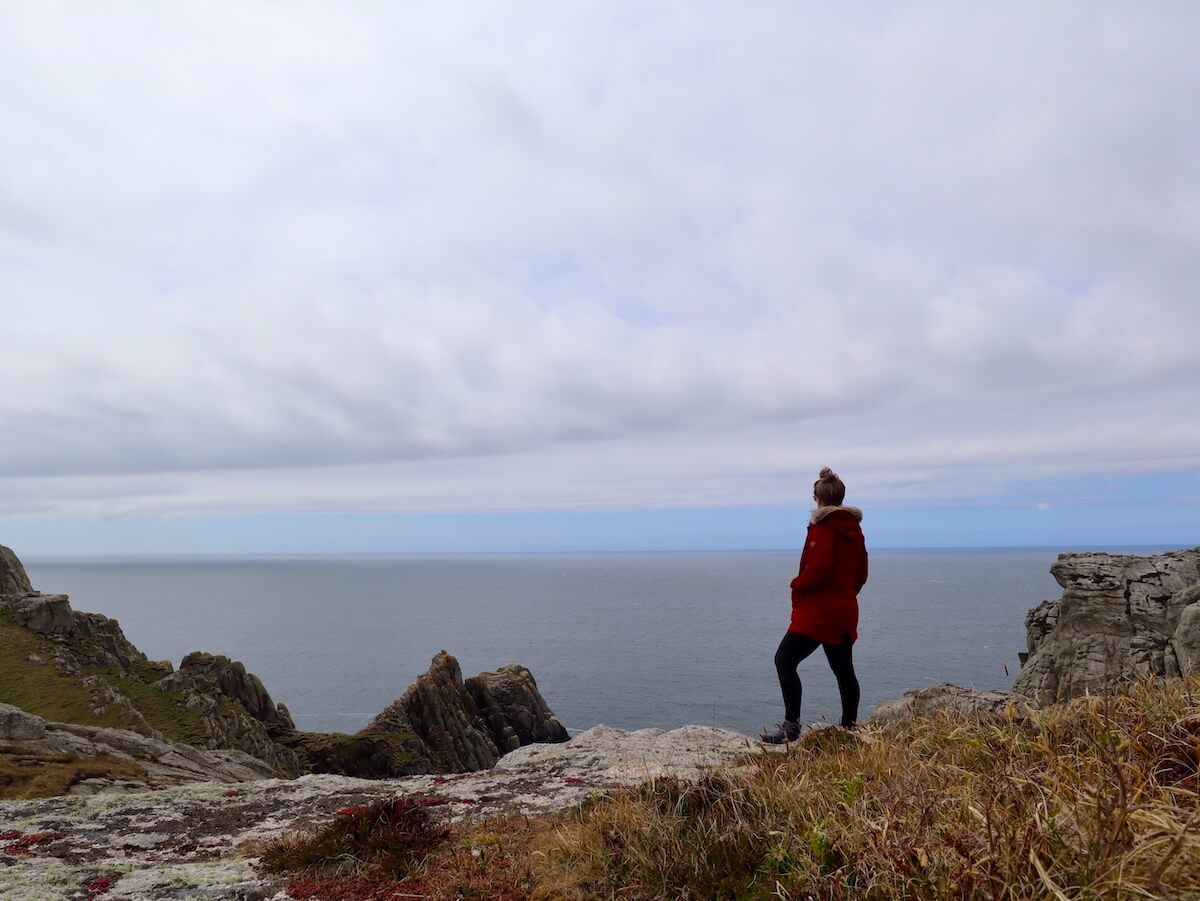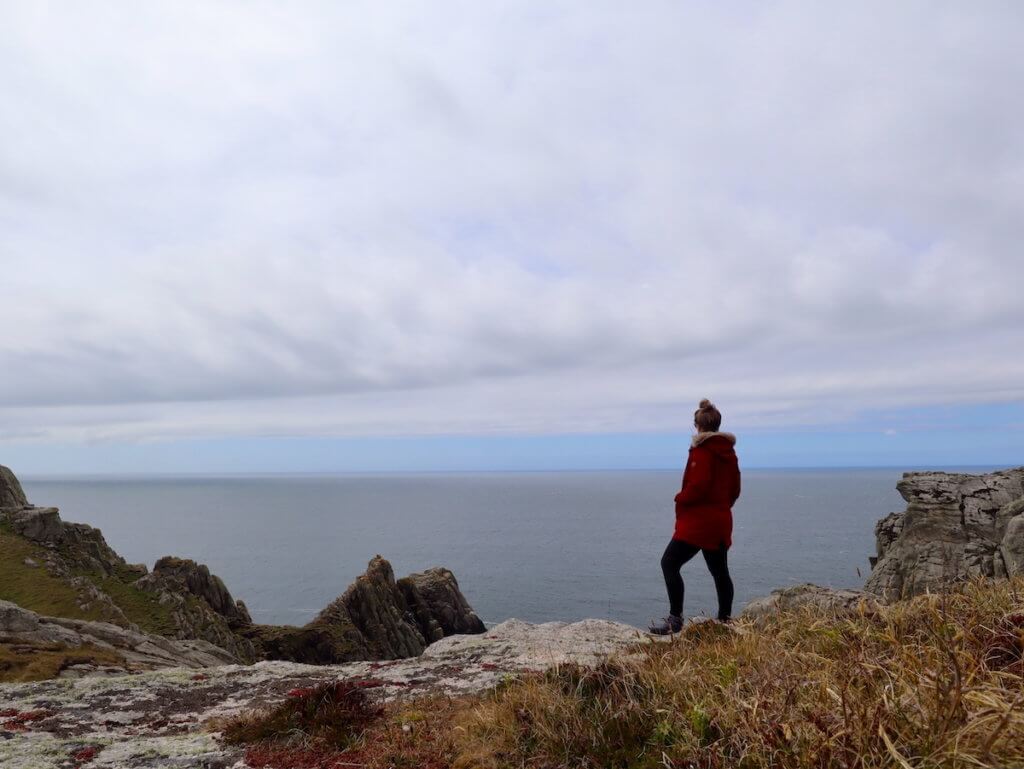 Lundy Island is 23.5 miles off the coast off Ilfracombe in Devon, where the Atlantic meets the Bristol Channel. The island is only 3 miles long by ½ mile wide, so Lundy Island makes a great day trip for keen walkers and wildlife lovers.
Lundy Island is managed by the National Trust and the Landmark Trust. What you spend on visiting Lundy Island for the day will be put back into preserving the island for the future. Basically by going to Lundy Island for the day, you're giving to charity, so what's not to love?
I recently did one of the day trips to Lundy Island as part of a week's holiday enjoying the best day trips in Devon, so let me take you through everything you need to know about this wonderful place.
What's on Lundy Island?
People visit Lundy Island for the day to see the incredible wildlife there. The island is home to only 28 people so the wildlife has plenty of natural ground to nest and breed, making it a haven.
Bring your binoculars!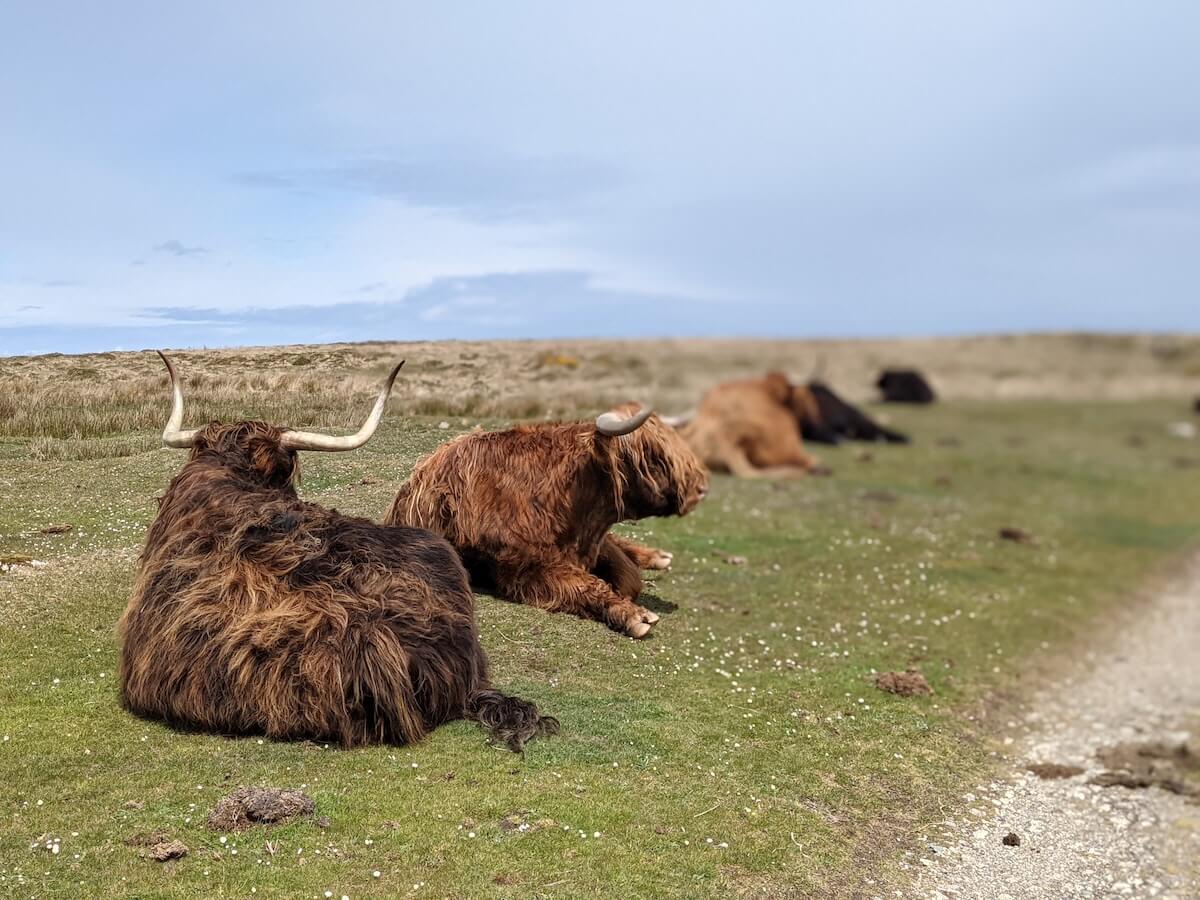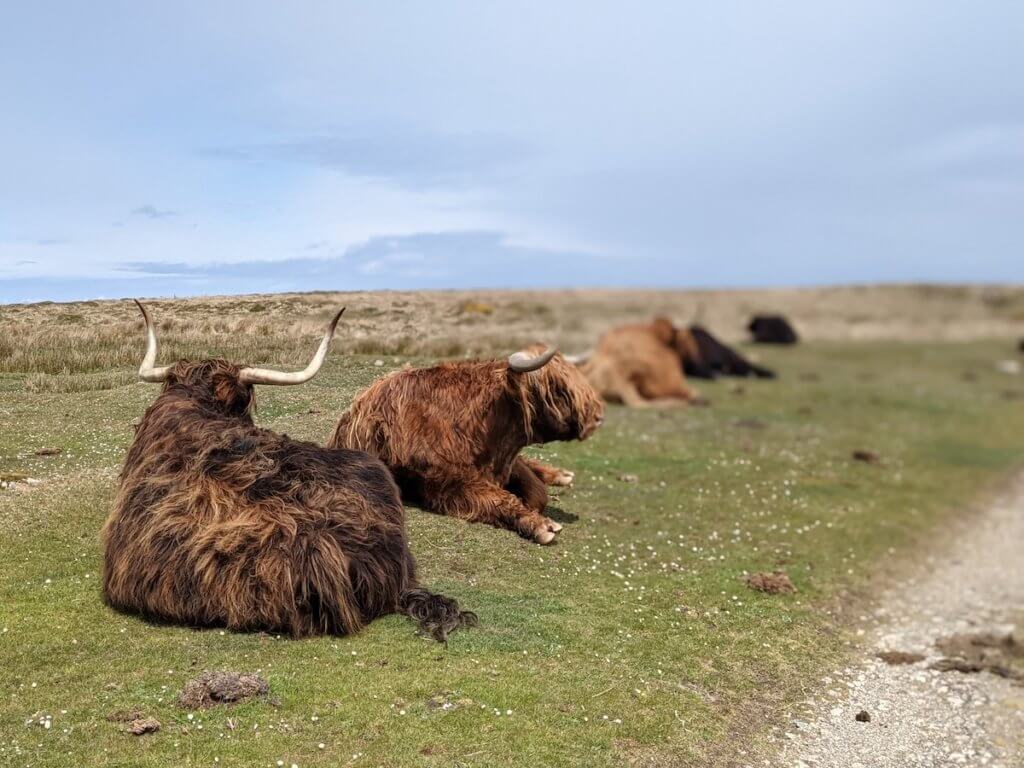 On a Lundy Island day trip you can see goats, hairy coos, many kinds of sea birds, seals, puffins, sika deers, wild sheep and black rabbits too. Basking sharks are also in the surrounding waters – one of my favourite animals in England.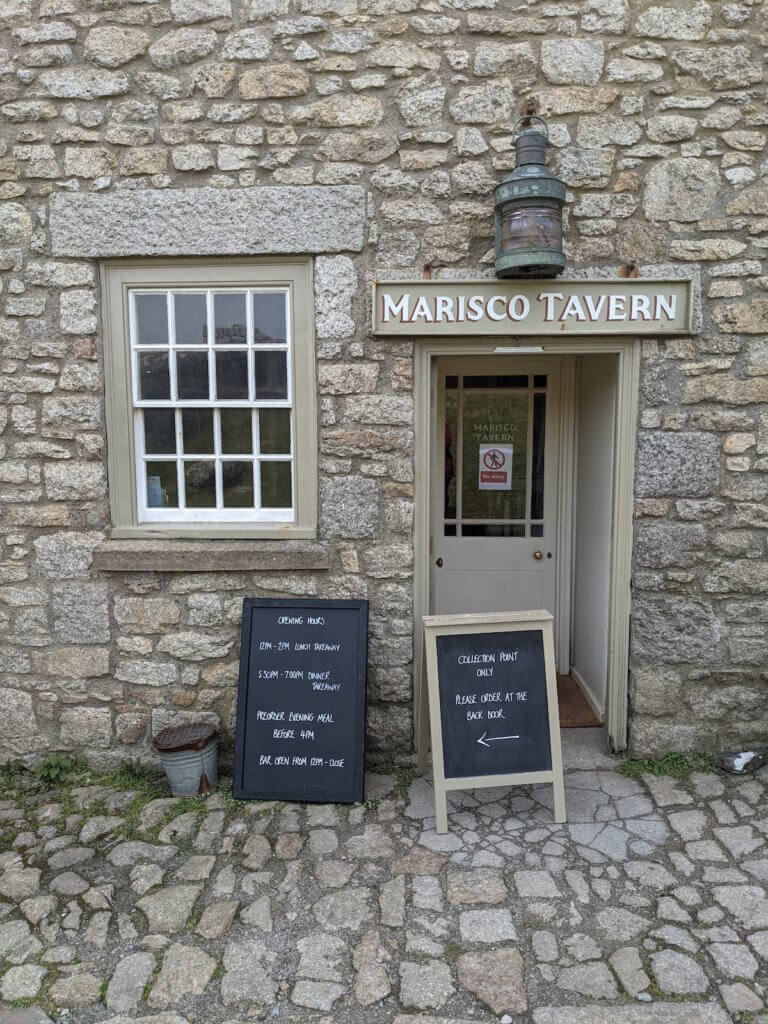 As well as a few houses for residents, there's also the famous Marisco Tavern pub, a general store, a church and a few Landmark Trust houses for anyone who wants longer than a day trip to Lundy Island, to stay in. There's also a castle and an old lighthouse.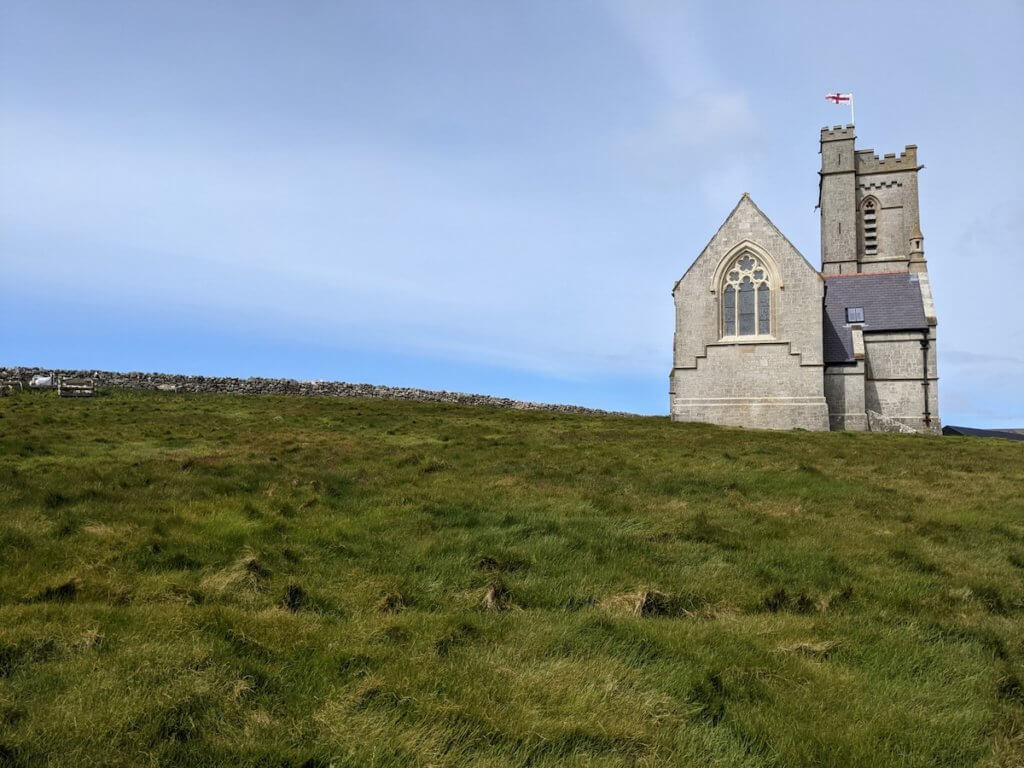 And that's about it – that's what's so great about a day trip to Lundy Island. You can see a lot in just a small amount of time, because there's not a huge amount to see.
What do you do on Lundy Island?
You walk!
Lundy Island is divided by three walls – the Quarter Wall, the Halfway Wall, and the Three Quarter Wall. All are classified as a 'Scheduled Ancient Monument'. The walls make a good divider and placemarker for how far you've walked. They also have these cool stiles on which I saw used by both people, and goats.
It's recommended you walk to the Halfway Wall down either the west or east side, then cut across and come back using the other side. There's a path to show you the way, but some of the best scenery is 'off piste'.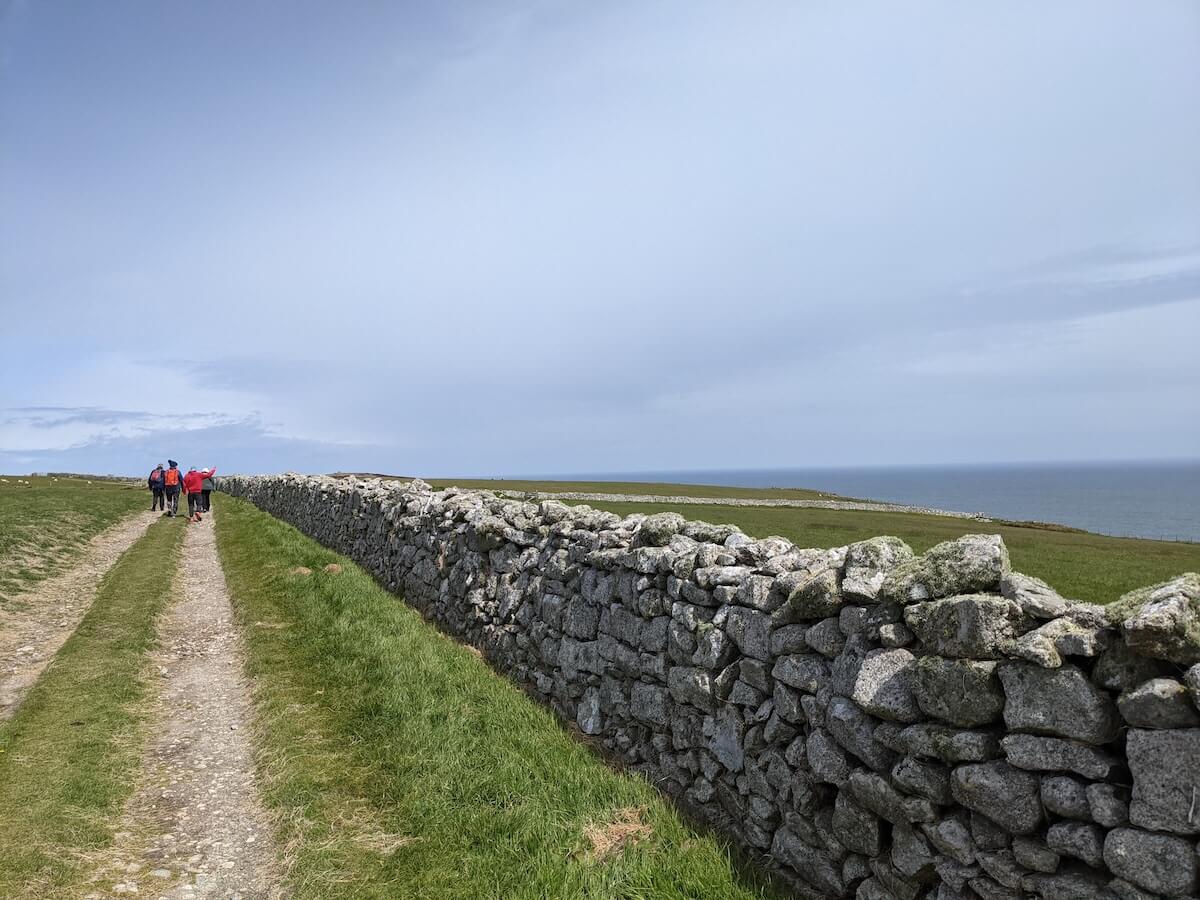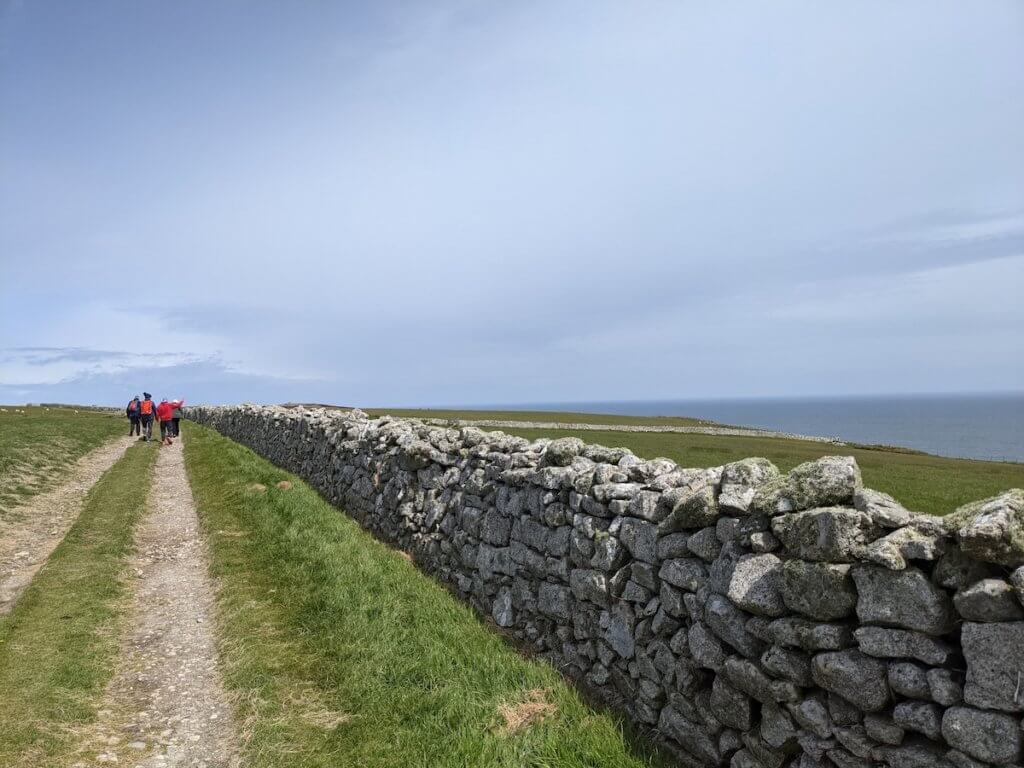 Use the path as your guide, and then walk to the coast either way, staying a safe distance from the edge. Take the time to admire the views rather than just going full steam ahead to cover as much ground as possible.
Just to note, as soon as you get off the Lundy Island ferry you have to walk quite a way up a steep slope. If you're of limited mobility there's help with this from one of the island Land Rovers, but you'll need to book that in when you book your tickets.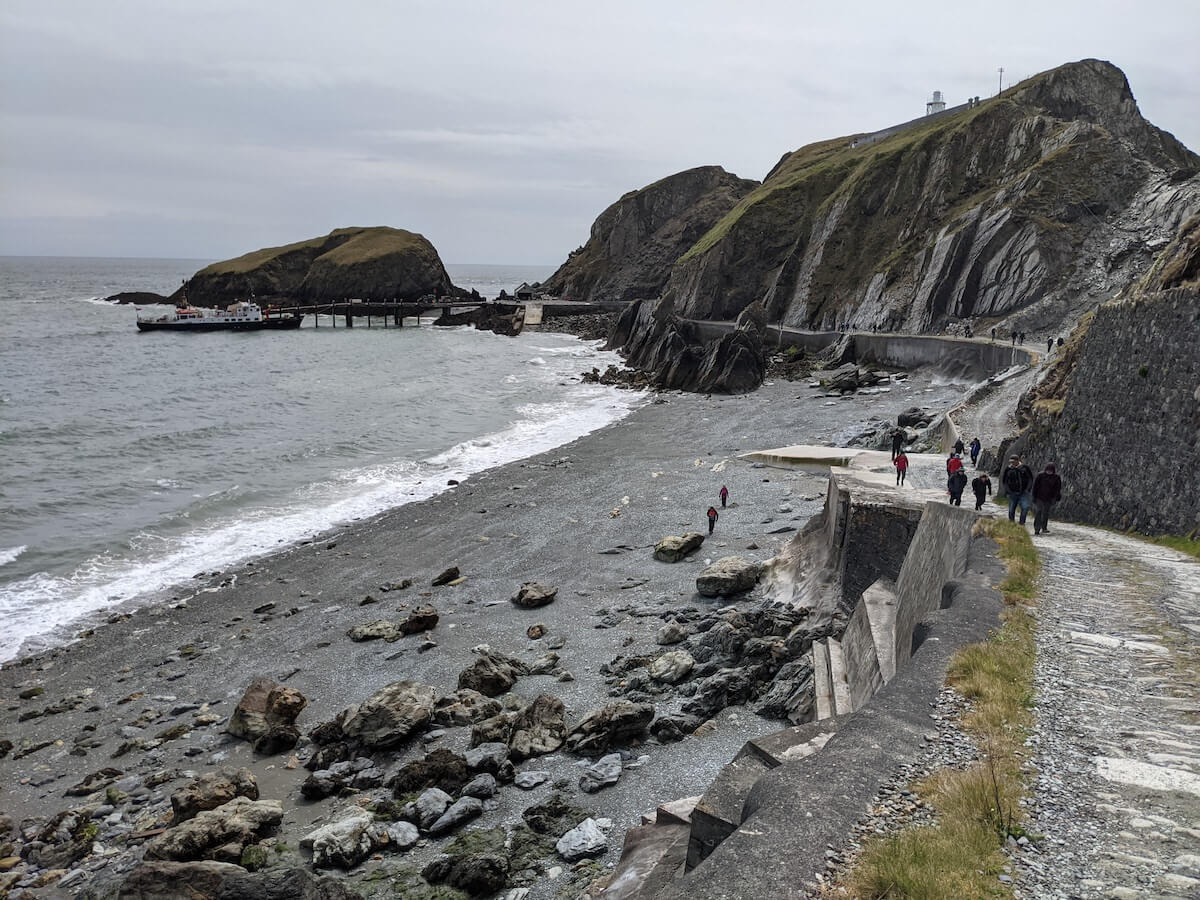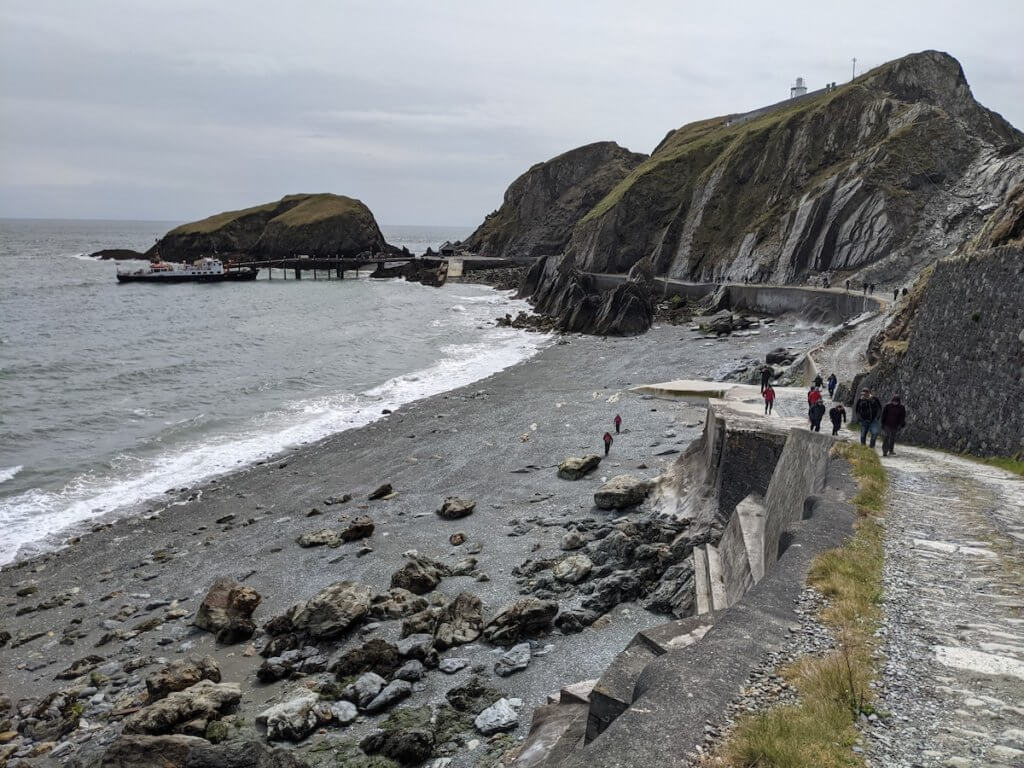 You can also join a guided walk, if you prefer to explore that way rather than by yourself. If you want to find the best wildlife, I'd recommend joining the guided walk. If you want to just mooch around at your own pace, discovering for yourself (like I did), then go for it solo.
My day trip to Lundy Island
After a turbulent boat trip over there (more on how to get to Lundy Island on a day trip below) I marched on ahead up the aforementioned slope. Two reasons: I wanted to get as far away from that boat as possible, and, I wanted to be by myself on the island.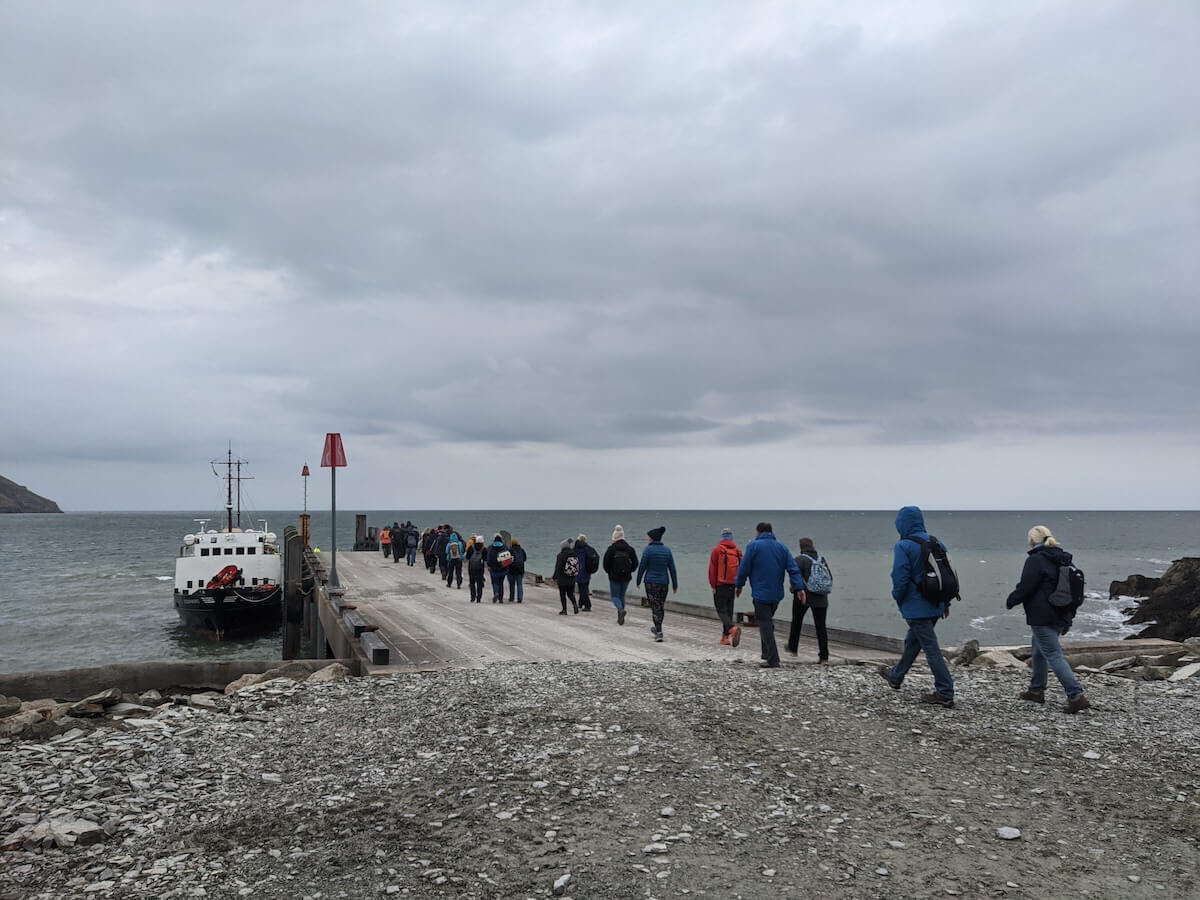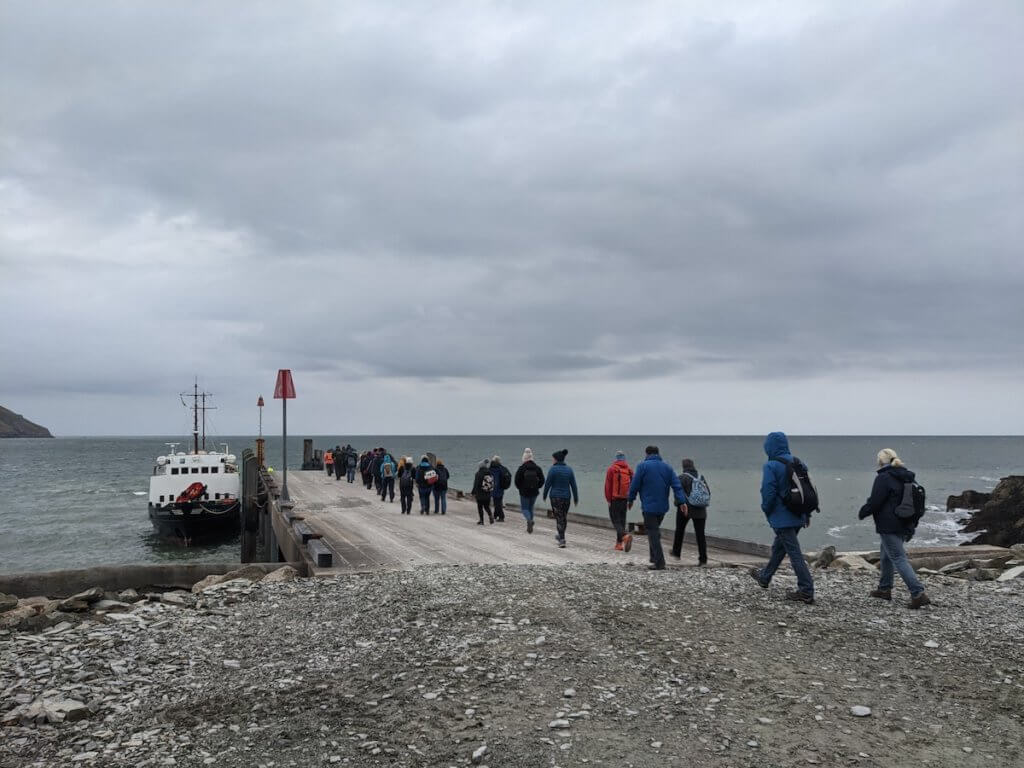 I visited on Thursday 13th May 2021 on what was predicted to be a rainy day. There was already a limited capacity on the boat due to Covid restrictions, and not many people had booked on because of the weather. This was great for having space to enjoy the island in solace.
In fact, the full Lundy Island ferry capacity was 267, and there were about 50 of us.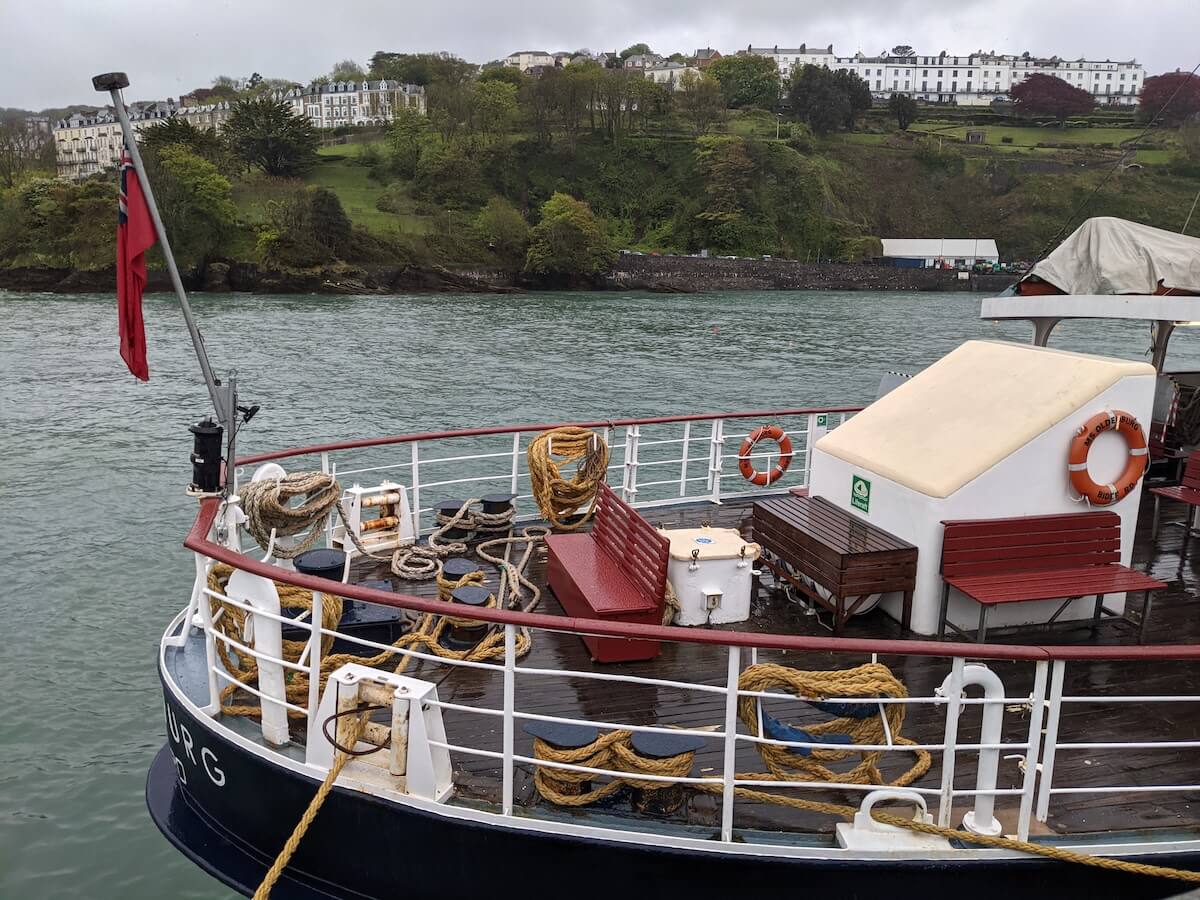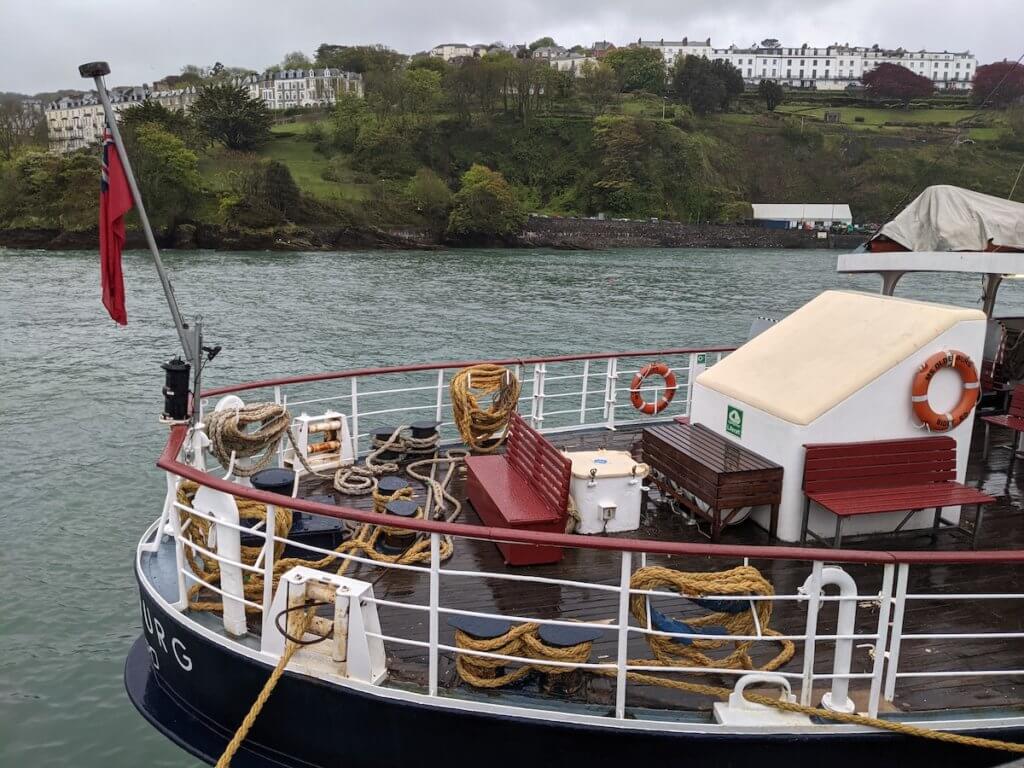 I walked up the east side to just beyond the halfway wall, and then across, and back down the west side. It would've been nice to walk round the whole island, of course, but with all the stopping I was doing, I felt this was far enough.
I did 19,000 steps, and have no regrets. That was plenty!
Out of the animals it's possible to see on Lundy Island, I saw hairy coos, goats and sheep. Admittedly, I wasn't scouring the banks for the sea birds, and I hadn't bought any binoculars so the puffin sightings were out. To be honest, I was just happy to be there.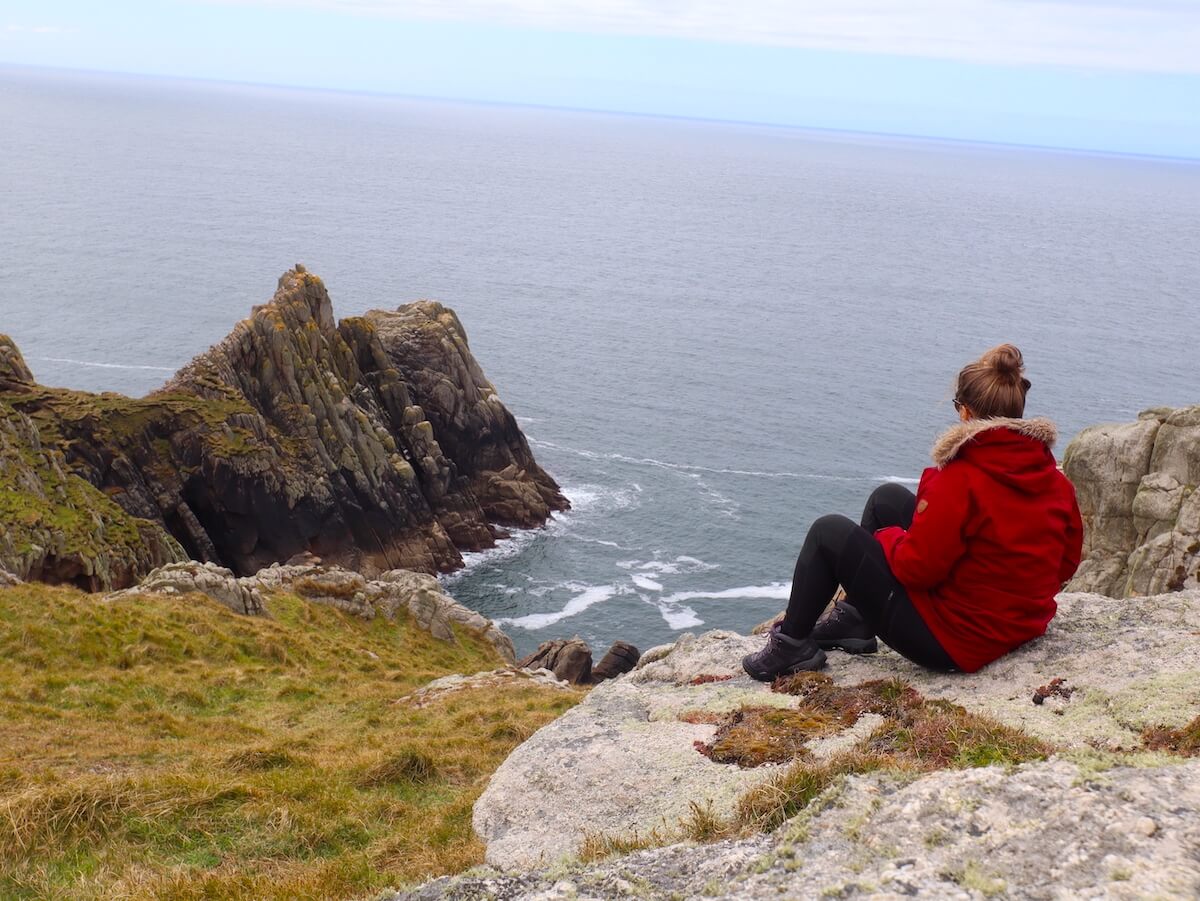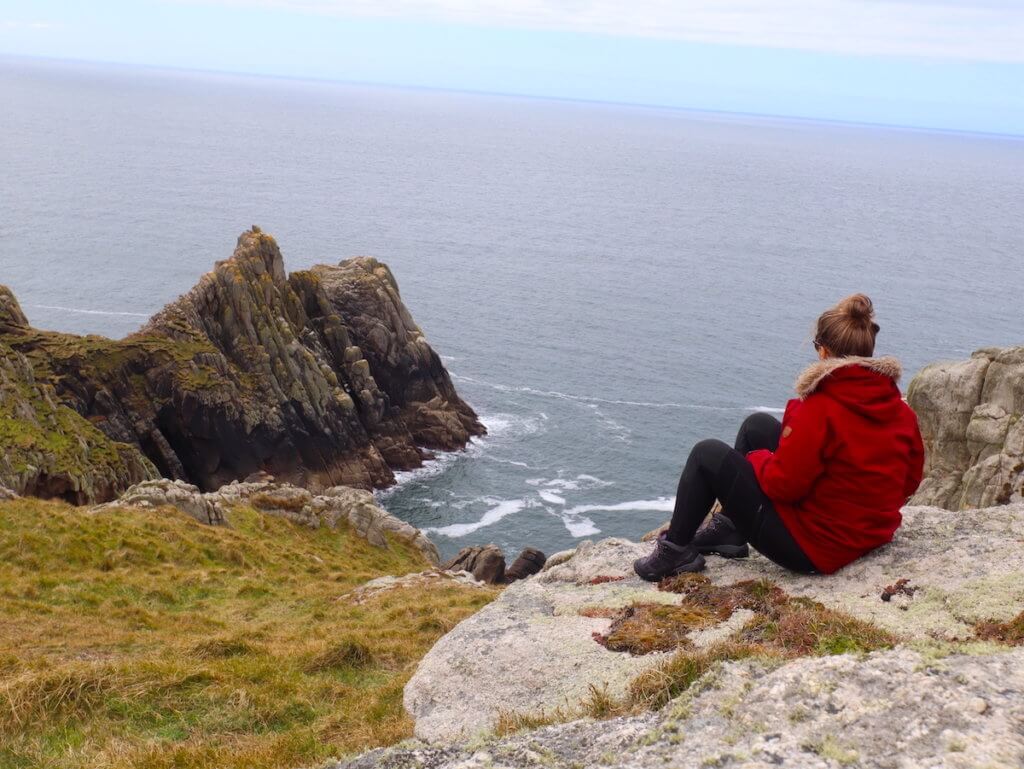 On your day trip to Lundy Island make sure to go in the church for a look as they have an information centre set up in there all about the island, and the church is pretty too.
The Marisco Tavern is an island highlight for anyone who's made the journey, but it was only doing a hatch service when I visited. Still managed to get a photo inside though.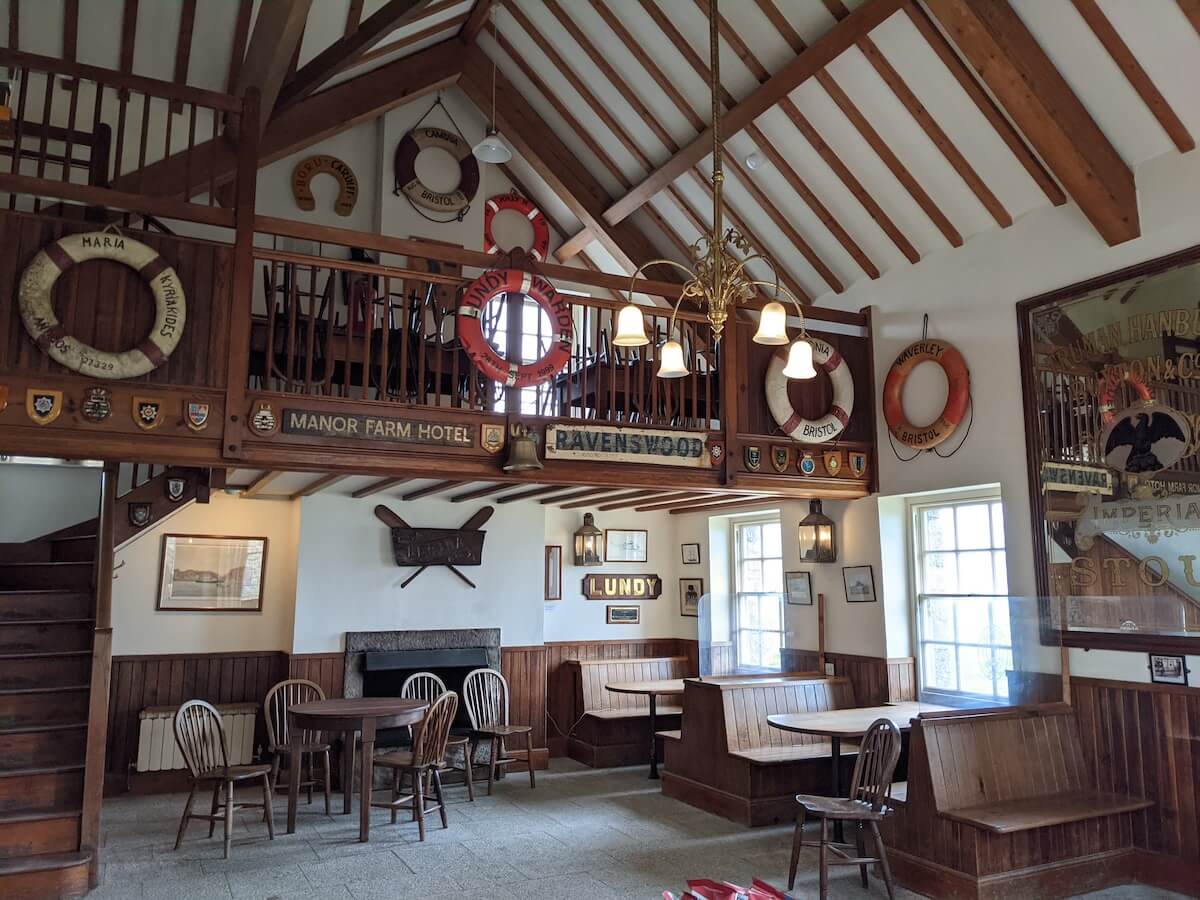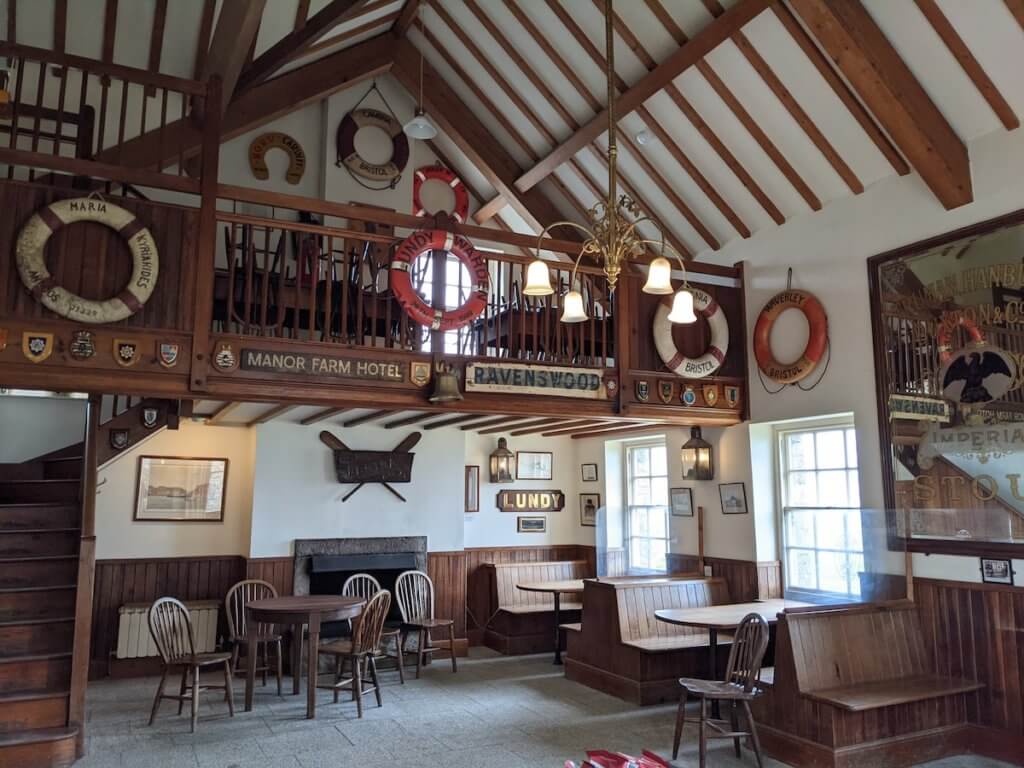 Apparently all the Lundy Island day trippers naturally convene here after their look around, and there's a great atmosphere for all. So keep some time for that Lundy Island experience at the end of your day, before the boat ride.
How to get to Lundy Island on a day trip
Most people get to Lundy Island by boat, although there is a more expensive helicopter option if you prefer. Lundy Island day trips are simple to organise. Check the weather on Lundy Island and book the best day while you're there. Don't let the rain put you off though, rain was forecast for my Lundy Island day trip and it ended up being lovely.
The Lundy Island ferry and entry to the island is all included in your ticket, which at the time I went, was £44. There are two crossings, from Ilfracombe, and Bideford (depending on the tide).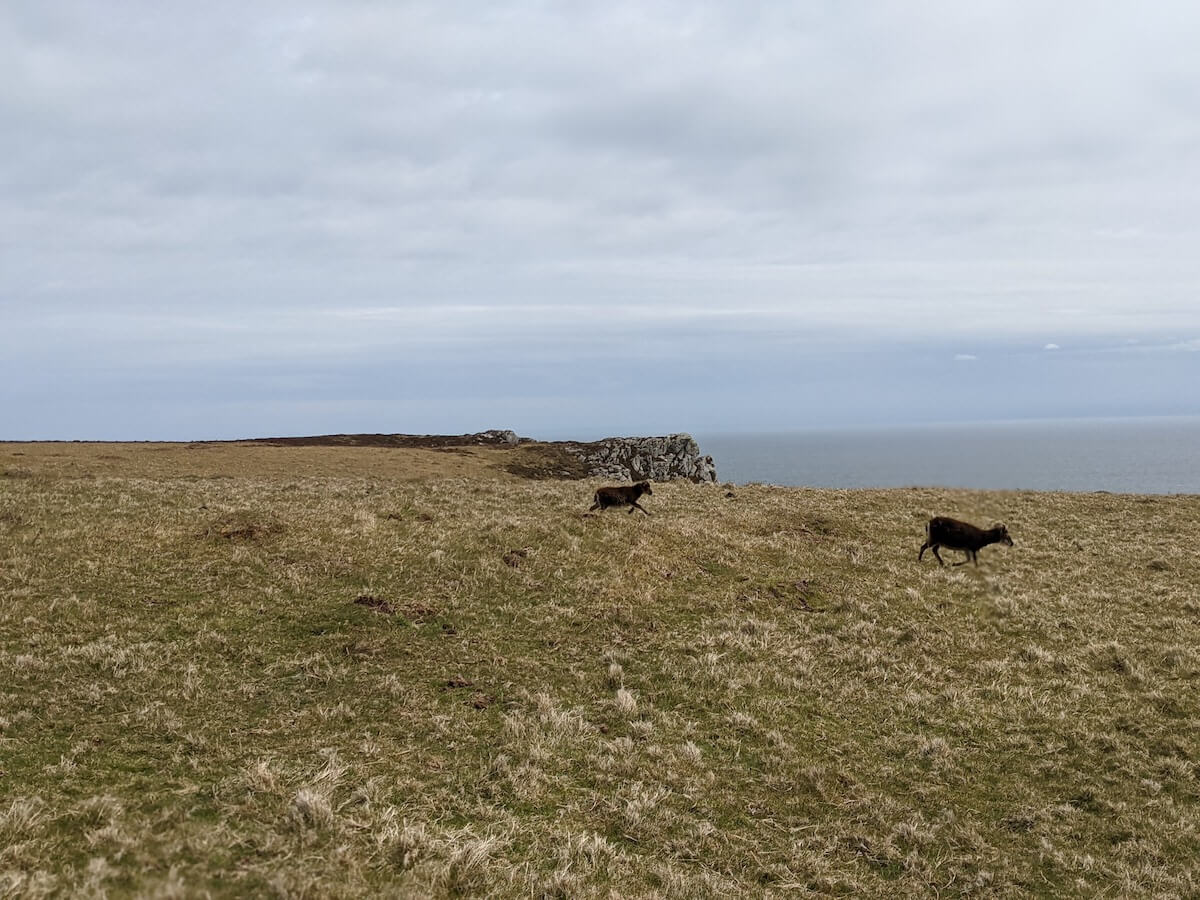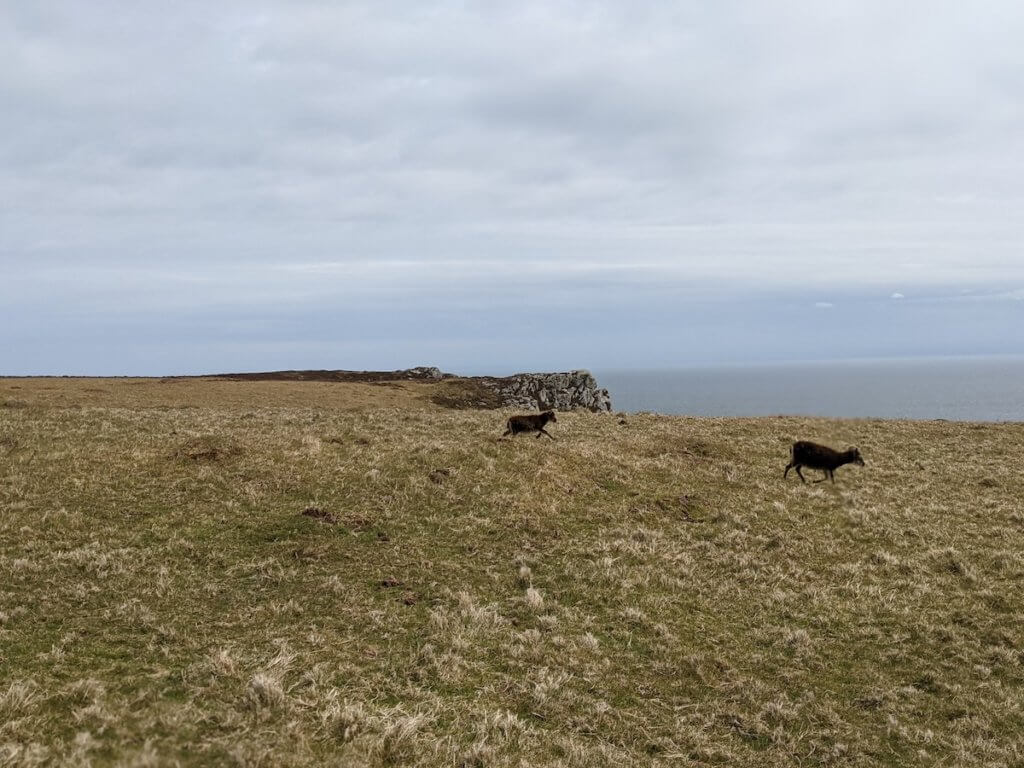 My Lundy Island day trip started from Ilfracombe – one of the best seaside towns in Devon. I only chose that one as it left on a Thursday, which suited my schedule better. The boat leaves at 10am and was back for 6pm, although it was 5:30pm for us on that day (actual time depends on tides and amount of people etc). 
I just want to warn you though, that Lundy Island ferry ride was pretty rough. As soon as we got on we were given a sick bag, and it's known for being quite a tough stretch of water.
I was very sick. Three times.
(Although I found out a few days later I was actually 6 weeks pregnant at the time!)
If you're worried about being sick, I'd strongly recommend taking some sea sickness tablets beforehand.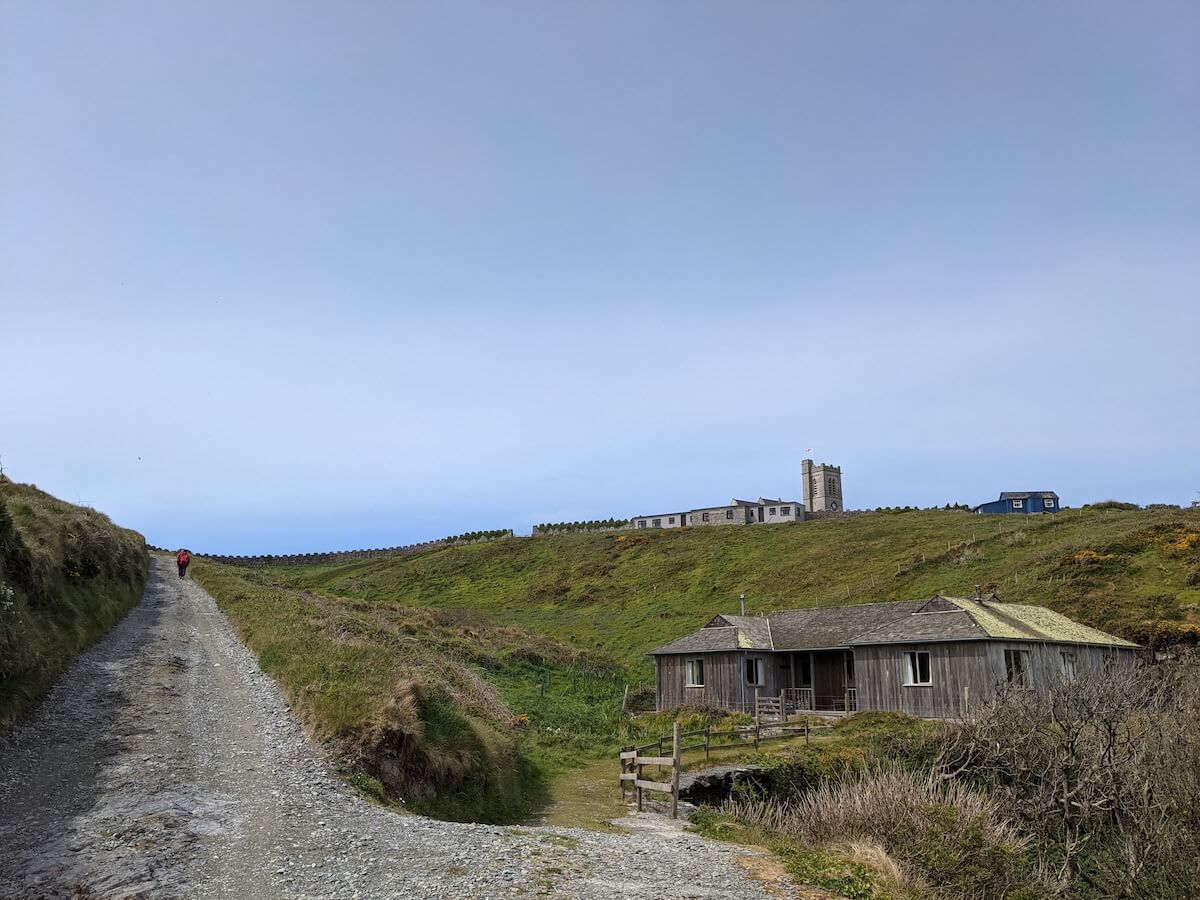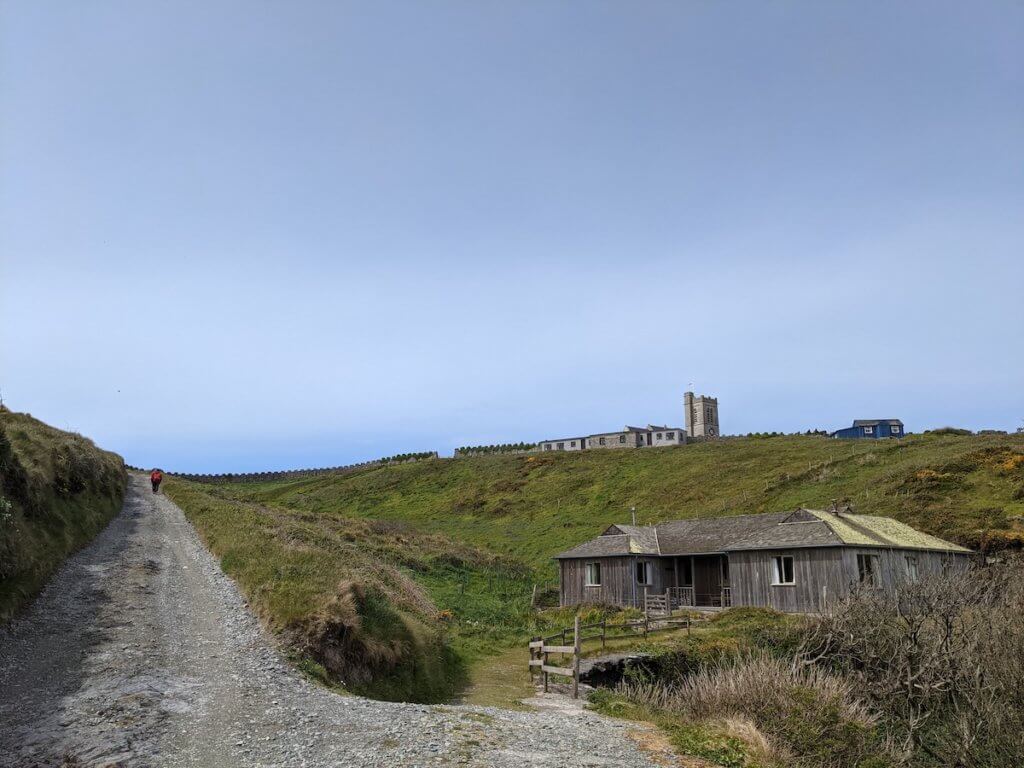 They were giving out special anti sea sickness ginger biscuits on board but unfortunately it was too late for me.
I don't want this to put you off but I wish someone had warned me. Just be prepared for the nausea.
The boat trip is billed to take two hours, but it was (thankfully) only 90 minutes each way for us on that day.
How to book your tickets to Lundy Island
You can book your tickets for a day trip to Lundy Island online here. Or, you can go into the Lundy Island boat trip office on Ilfracombe Harbour, which is what I did.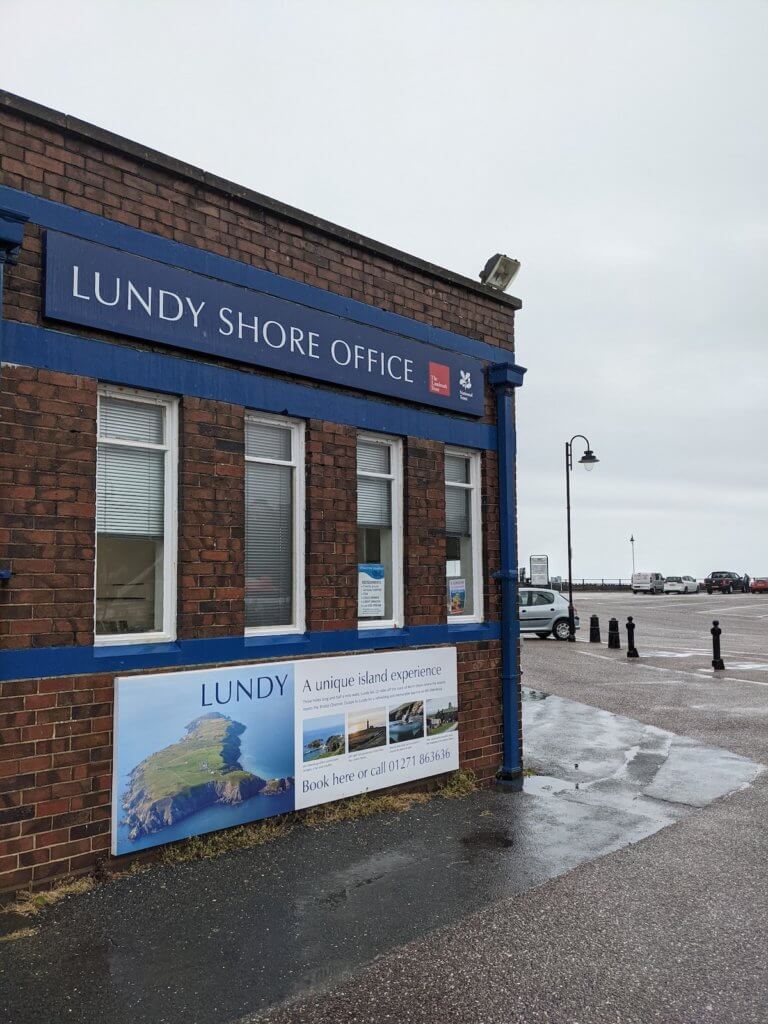 It's £44 for adults. If you have National Trust membership, you get £3 off. Another point for the National Trust in our English Heritage vs National Trust throwdown!
What to bring on your Lundy Island day trip
Anything you take to Lundy Island, you'll have to carry. There's nowhere to store things. Here's what you'll need to bring on one of the Lundy Island day trips.
– Take a warm coat for the crossing. Also, the weather can change quickly with it being a small island, and all.
– Sea sickness tablets. And follow the instructions and time them right.
– Binoculars. For some reason I thought it'd be easy to see the puffins, as if they'd be waiting for us to arrive package holiday style. Unfortunately not. I didn't have binocoluars so didn't stand a chance of seeing the puffins on Lundy Island.
– Camera. If you have a long lens, that'll help with the animal spotting too.
– Walking boots. The ground was uneven, and at times boggy. I'd definitely recommend wearing walking boots over trainers on your day trip to Lundy Island. Don't even contemplate anything else.
– Earphones for the boat. I was travelling solo and they helped me focus on the boat. They also drowned out the other people shouting at eachother to be heard over the engine.
You won't need snacks as there's the general store, and the Marisco Tavern serves food too. Buy over there and support the island's economy.
"A day trip to Lundy is also a cruise, a chance to enjoy the beautiful North Devon coast. The MS Oldenburg is an impressive ship, carrying 267 passengers, providing a bar, buffet, shop and information centre."

– LUNDY ISLAND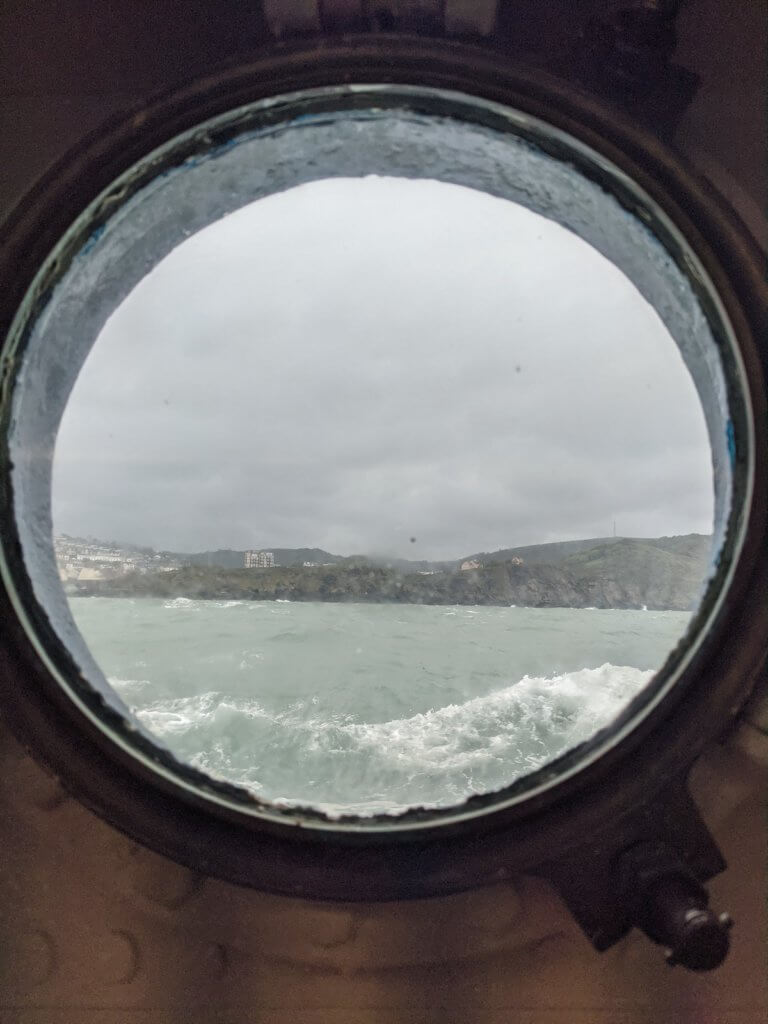 READ MORE: The Best Places to Go Paddleboarding in Devon
---
Day out on Lundy Island
I'd been wanting to do a day trip to Lundy Island for a long time, and I'd definitely recommend it to you. You could definitely walk the whole length of the island in a day trip, if that's your desire. Or, you can take it more leisurely and enjoy the unique rock formations and coastline that Lundy Island offers.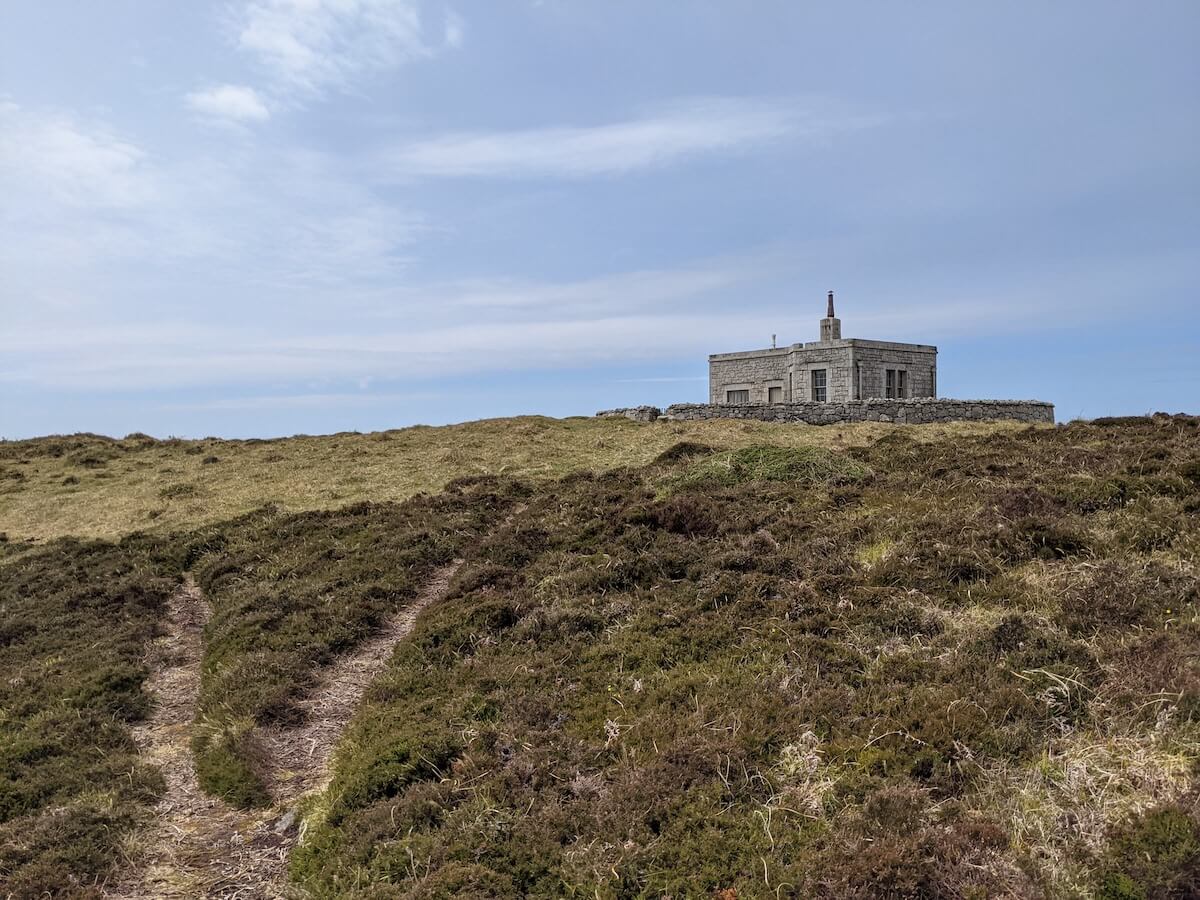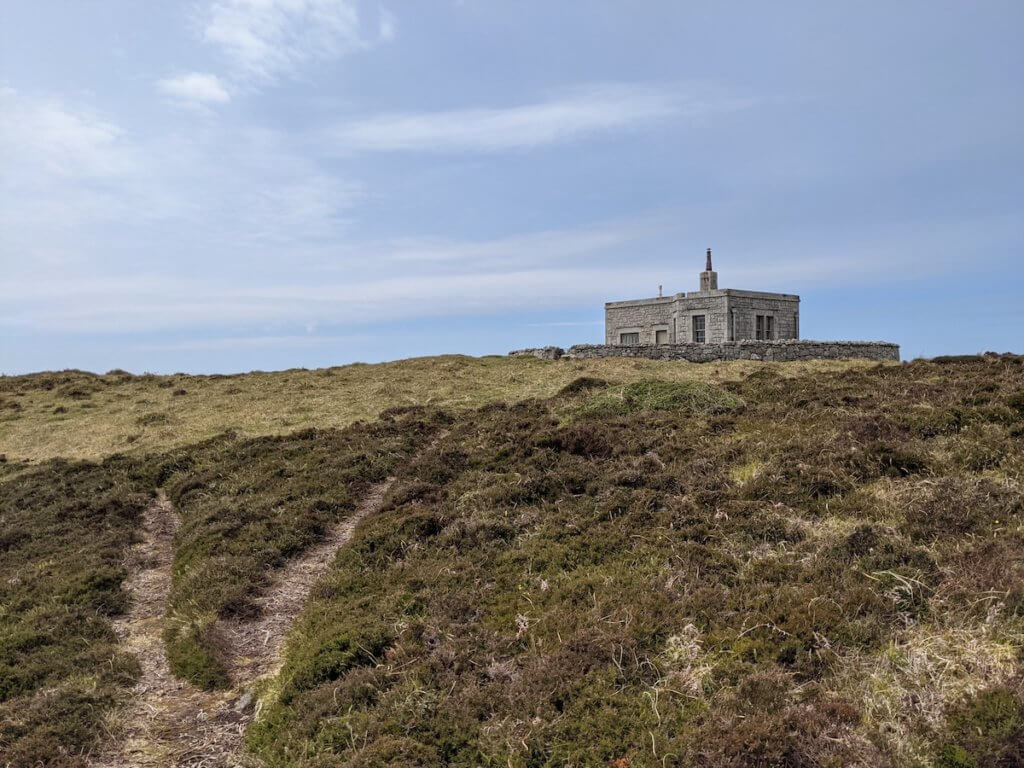 By visiting Lundy Island for the day you will help to secure the future of the island, and its landscape, buildings and wildlife.
Just remember the two things I wish I'd taken on my Lundy Island day trip: binoculars and sea sickness tablets!
---