8 of the Most Impressive Mosques in England
Many mosques in England stand out in their cities with unique and eye-catching architecture, and a strong community that gives back in the local area. If you're looking to find the most impressive mosques, both for their beauty and their community outreach, we've rounded up some from around the country that are well worth a visit. Here are the most impressive mosques in England.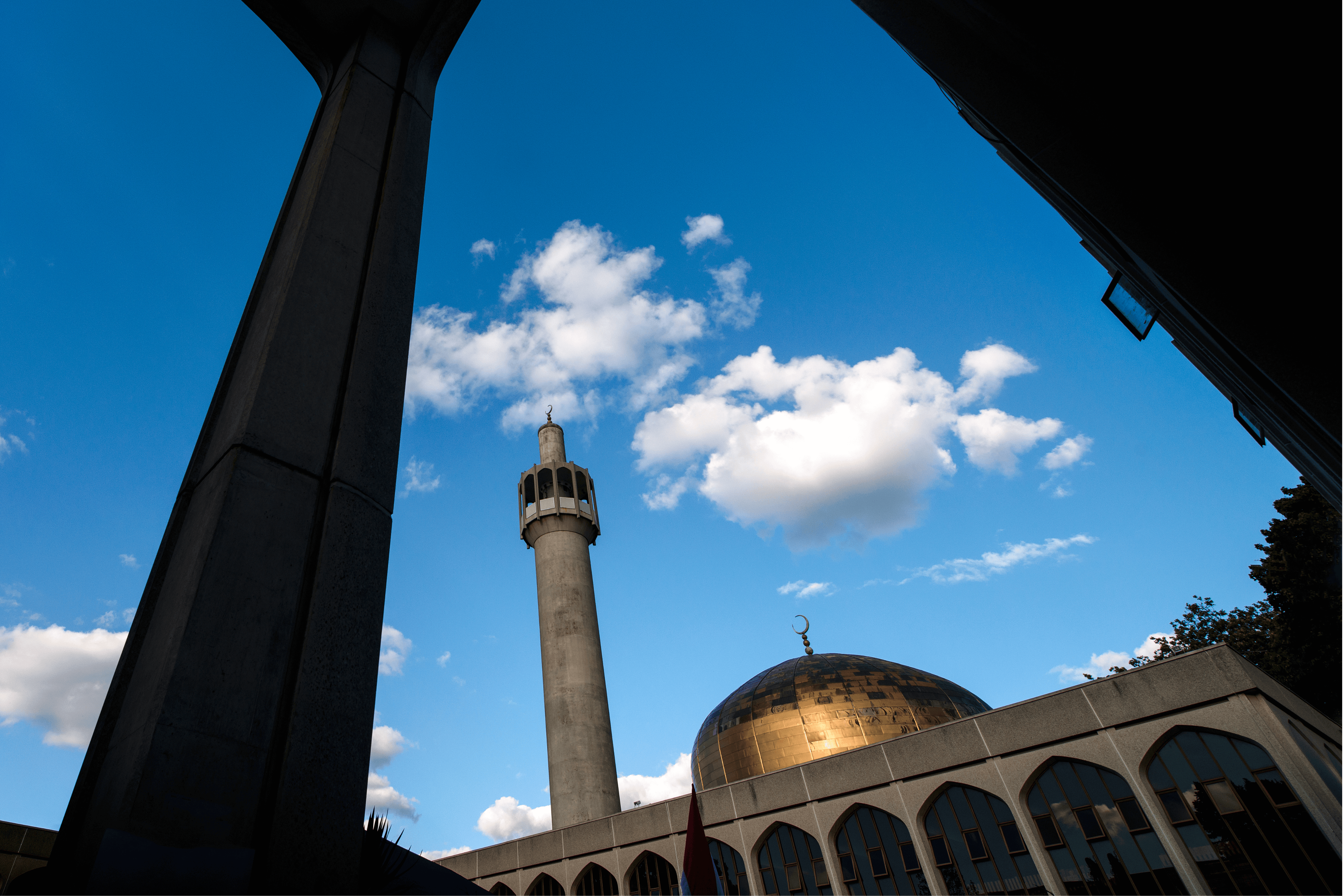 Whether you regularly visit one of these mosques in your local area and want to know more about it, you're an architecture buff interested in the unique design of these eye-catching buildings, or you're a Muslim tourist looking for a place to perform prayers away from home, there are plenty of great mosques all around the country that you'll enjoy visiting.
From their history to their design features to their community projects, these are the most impressive mosques in England and where to find them throughout the country.
1. Cambridge Central Mosque, Cambridgeshire
The city of Cambridge is known for its stunning architecture, and Cambridge Central Mosque is no exception. This beautiful building was opened in 2019 and is surrounded by modern wooden tree-like pillars while still incorporating traditional Islamic design features, such as the geometric patterns around the building that symbolise the infinite.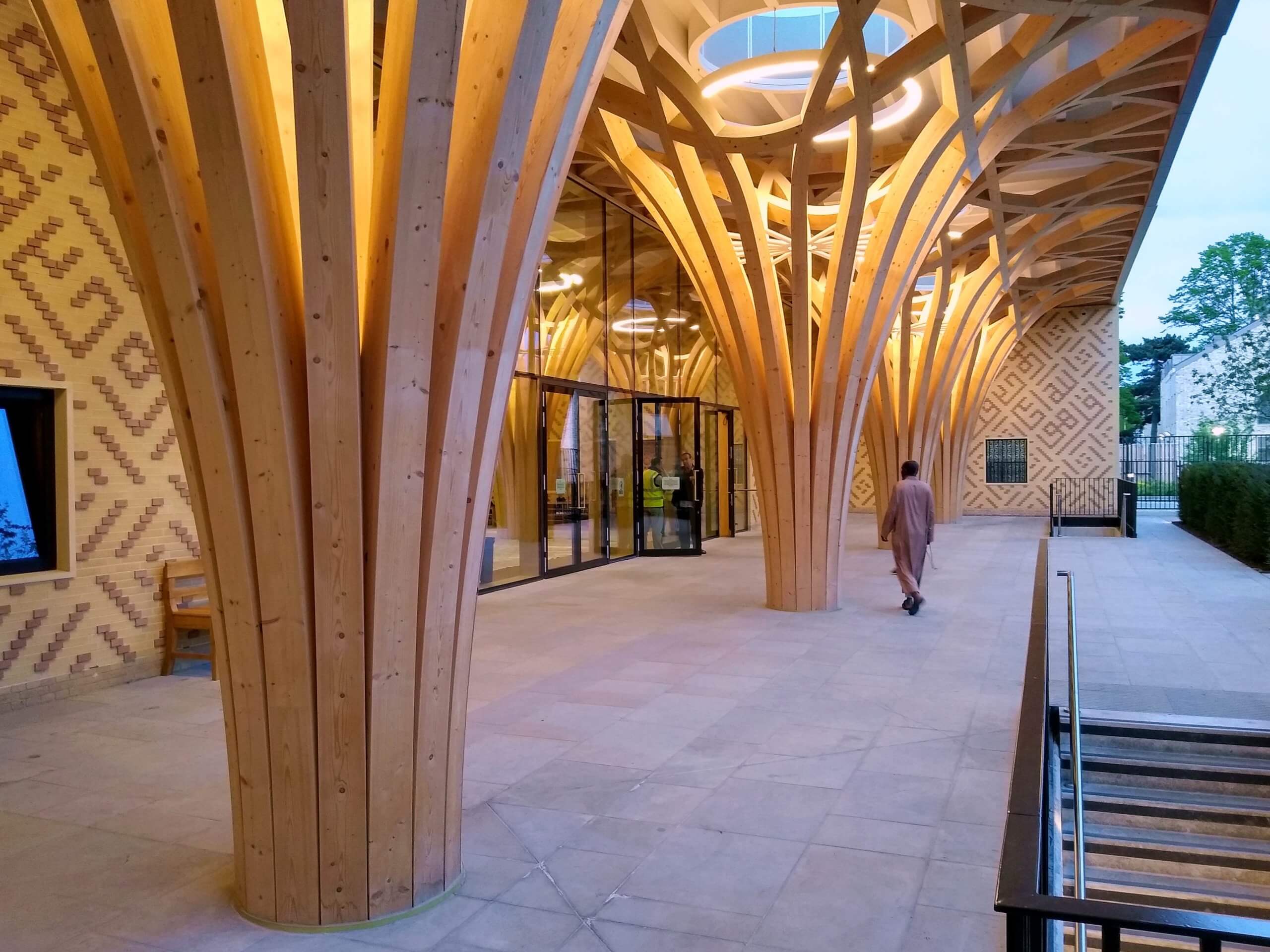 The Cambridge Mosque Trust originally commissioned an international competition to find the perfect design for this mosque, with the brief to be respectful of its surroundings while also standing out. We'd say they achieved this and then some, as this definitely features on our list of the most impressive mosques in England, partly for its size and also for its sustainability efforts. It's apparently the first eco-friendly mosque in Europe and in the UK thanks to its innovative design and commitment to using green energy.
At 2,340-square-metres, it's a huge building which makes it one of the most impressive mosques in England. Inside, the space is used to host many prayers and community events in its welcoming interior, as well as tours, exhibitions, a cafe, meeting rooms, the Islamic garden, and much more.
2. Mubarak Mosque, Surrey
You just have to look at the exterior of this mosque to know that it's one of the most impressive mosques in England, as its unique design was chosen to blend into the natural surrounding environment thanks to the organic roof shape. It features 32 "fins" all twisted around a central dome, and beautiful calligraphy art lines the inside.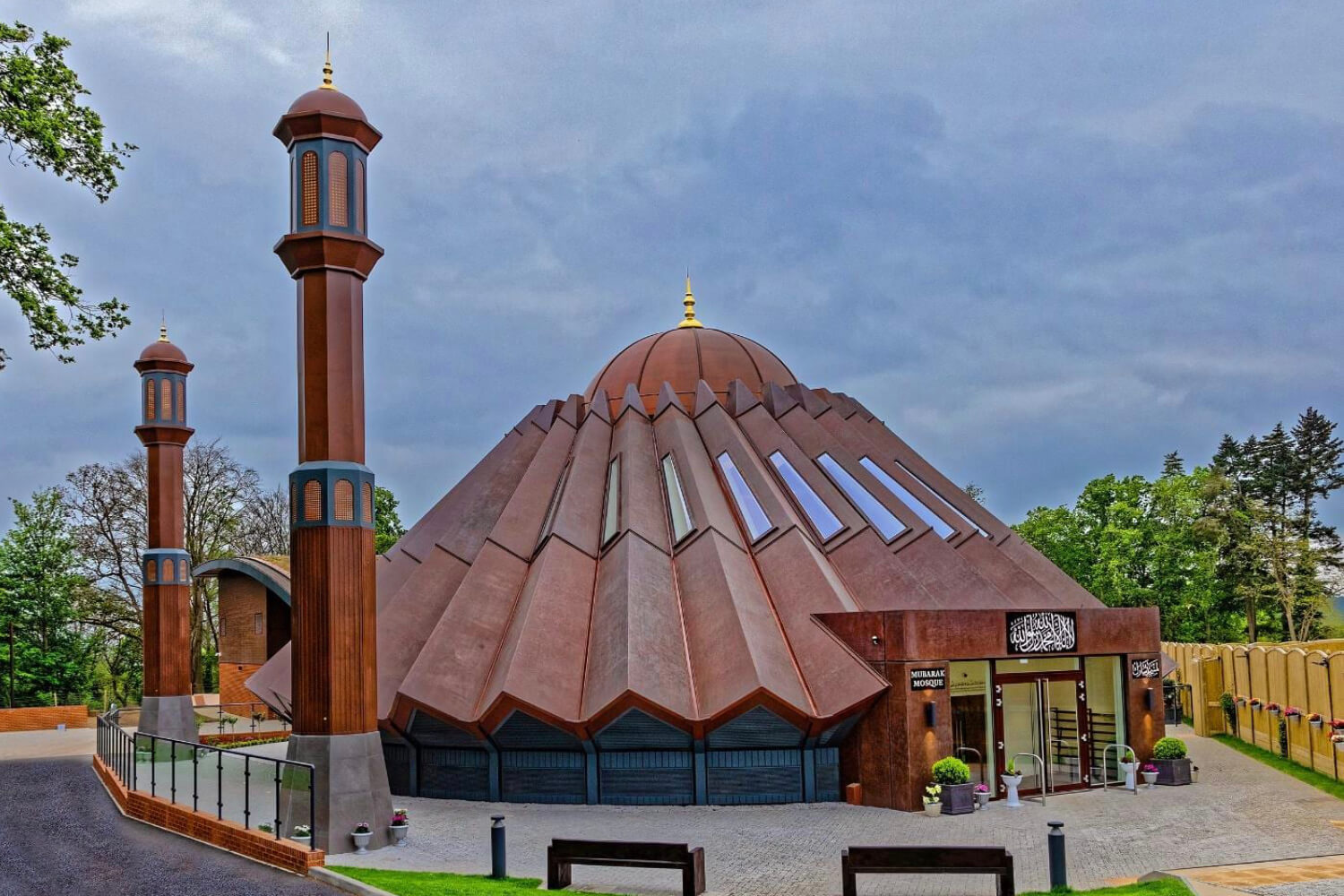 The first prayer was offered at Mubarak Mosque in 1985, which at that time was held in the barracks that would later be converted. Back then the mosque was named Bait-us-Salaam, which means 'The House of Peace'. Today, the mosque on site is purpose-built for the community and was completed and opened in 2019.
The mosque is the world headquarters of the Ahmadiyya Muslim Community, replacing the previous HQ in Southfields. Around the mosque there is also a courtyard, places of residence, a sports hall, meeting rooms and more. Their commitment to the wider community is a big part of what makes this one of the most impressive mosques in England — in 2022 the Mubarak Mosque community helped raise funds for Tilford Village Church.
3. Maidenhead Mosque, Berkshire
Maidenhead Mosque has been awarded the Best Run Mosque Award 2022, and it was the first purpose-built mosque in Berkshire. It has since become a fixture of the local borough with its beautiful turquois blue domed roof. Their mission is to "Serve, Educate & Empower", and it's clear from their ongoing work in the local community that this is true.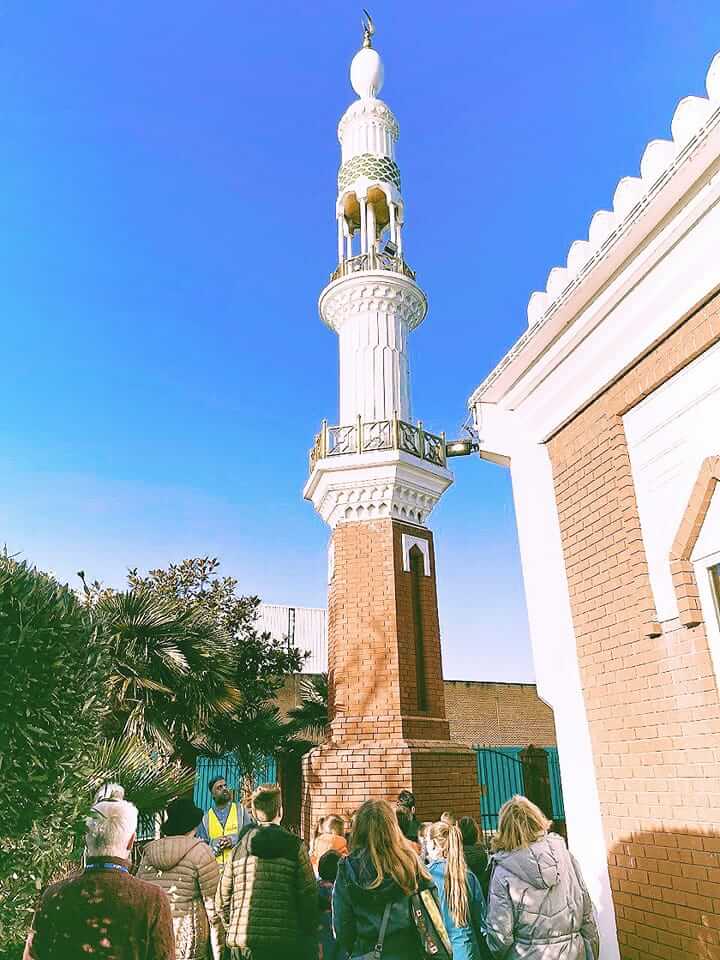 Although the mosque is smaller than others mentioned here, it's still firmly on the list of the most impressive mosques in England as it now accommodates even more people after its recent renovation, with plenty of space to host their regular classes, meetings, seminars and events.
Through their work with the community they have seen improvements in Maidenhead's education, health, environment, and more. During lockdown, Maidenhead Mosque pulled out all the stops for the community. They had already been running a year-round food project for around 10 years, but in March 2020 they launched an emergency food parcel project to bring essential items to the local community.
4. London Central Mosque, London
Completed in 1994, London Central Mosque began as a gift exchange between England's King George VI and King Farouk of Egypt and Sudan. Today, it's commonly known as Regent's Park Mosque due to its location, and has the best of both worlds being near great transport links while also being situated next to the green open space of Regent's Park.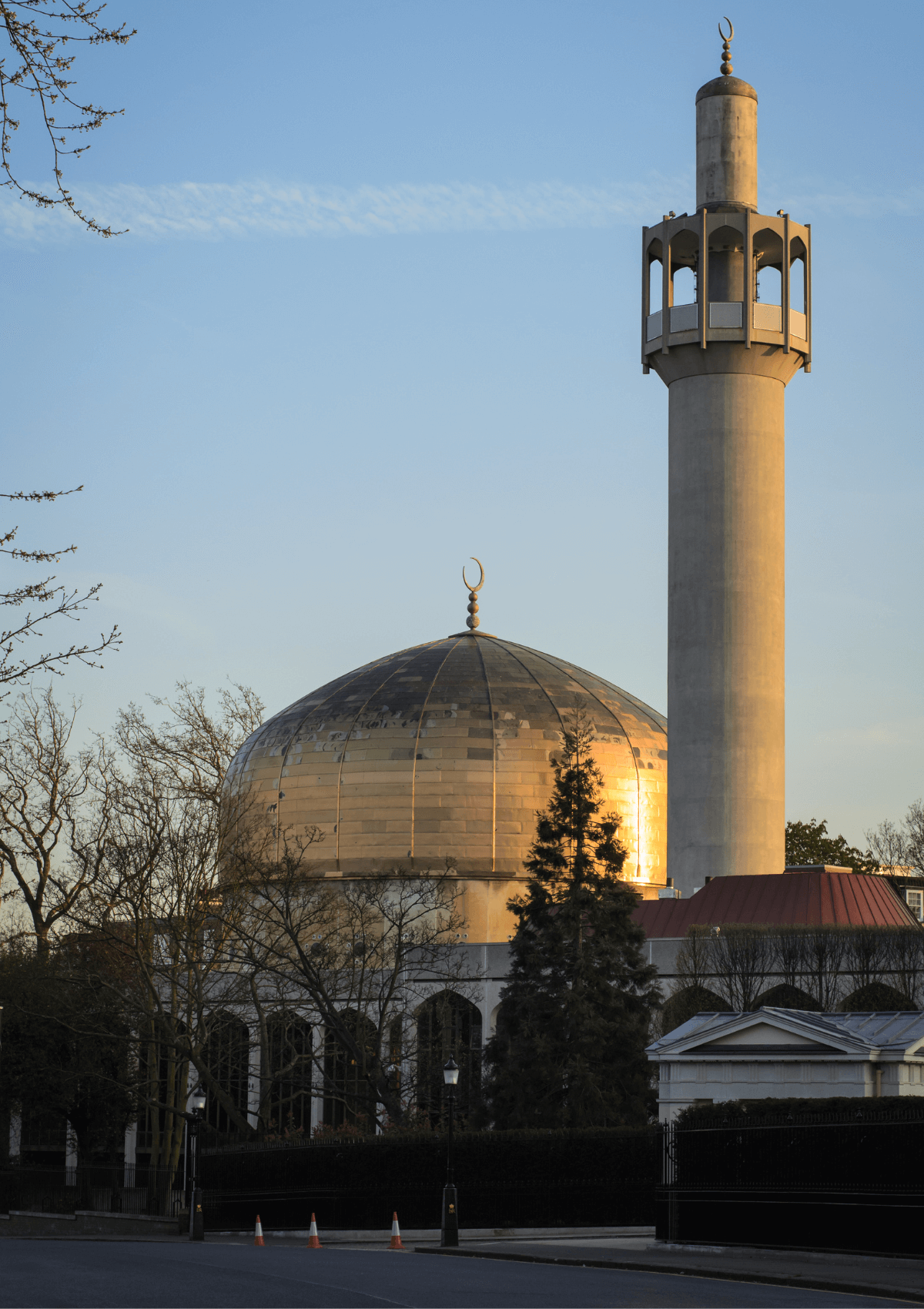 The Mosque features a grand entrance hall, two large prayer halls, a library, a reading room, a cafe, and an impressive golden dome that can be seen from all around. Inside is just as impressive, with chandeliers, and large, arched windows.
The building was given Grade II listed status in 2018, and it's not hard to see why. Inside the dome is adorned with sacred geometric patterns in the Islamic tradition, and small stained glass windows with turquoise 16-pointed stars. This impressive mosque is definitely one of the most prominent in London, and one of the most impressive mosques in England.
5. Madina Masjid, Yorkshire
Madina Masjid is Sheffield's first purpose-built mosque, and since its opening has been a hub for the Muslim community and beyond. Otherwise known as the 'Wolseley Road Mosque', its traditional turquoise domed roof is flanked by two slim, tall minarets on each side, making it one of the most impressive mosques in England when viewed from the surrounding area.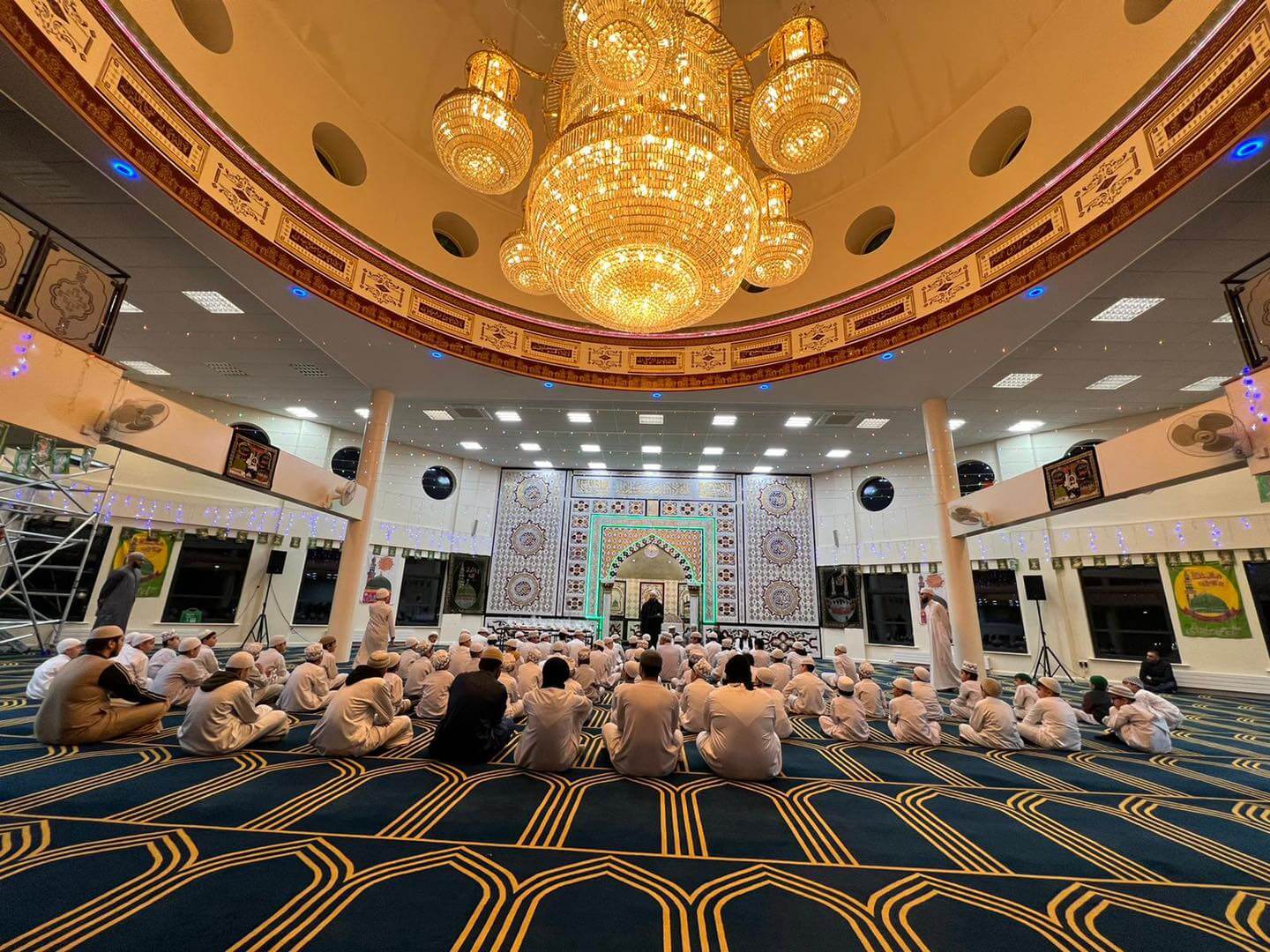 The Muslim community in the area had been on the hunt for a suitable site in the south of Sheffield for over 10 years, and finally they began building in 2004, but with only £500,000 of the estimated £3.5m it would take to complete the project. Thankfully, the local community all chipped in to help fund the remainder of the project, and the rest is history.
One of the most impressive features of the mosque is the dome that has been designed with acoustics in mind, so that if the Imam stands below the dome, he does not need a microphone to be heard.
Inside this mosque is particularly stunning, with its huge chandelier in the central hall and beautiful geometric patterns. There are 19 rooms in the building, two large halls, a library and a day centre, so there's lots going on here for the local community.
6. Al-Jamia Suffa-Tul-Islam Grand Mosque, Yorkshire
Al-Jamia Suffa-Tul-Islam is also known as Bradford Grand Mosque, and grand it is! The mosque stands out along the Bradford skyline with its minarets and domed roof, but up close you'll notice the well-maintained details, like the gold moons above each minaret and intricate window designs, which really make this a marvel to look at.
It's clear to see that this is one of the most impressive mosques in England, with its beautiful exterior and epic size giving it its name 'Grand Mosque'. Bordering the city centre, Al-Jamia Suffa-Tul-Islam is set in a tranqil area away from the hustle and bustle of Bradford, so it's a popular place to visit both within the UK and internationally.
7. Fazl Mosque, London
This might just be the most beautiful mosque in London, but there are so many that it's difficult to choose. The Fazl Mosque is often referred to as simply The London Mosque, and the name 'Fazl' means Grace. It is the first purpose-built mosque in London completed in 1926.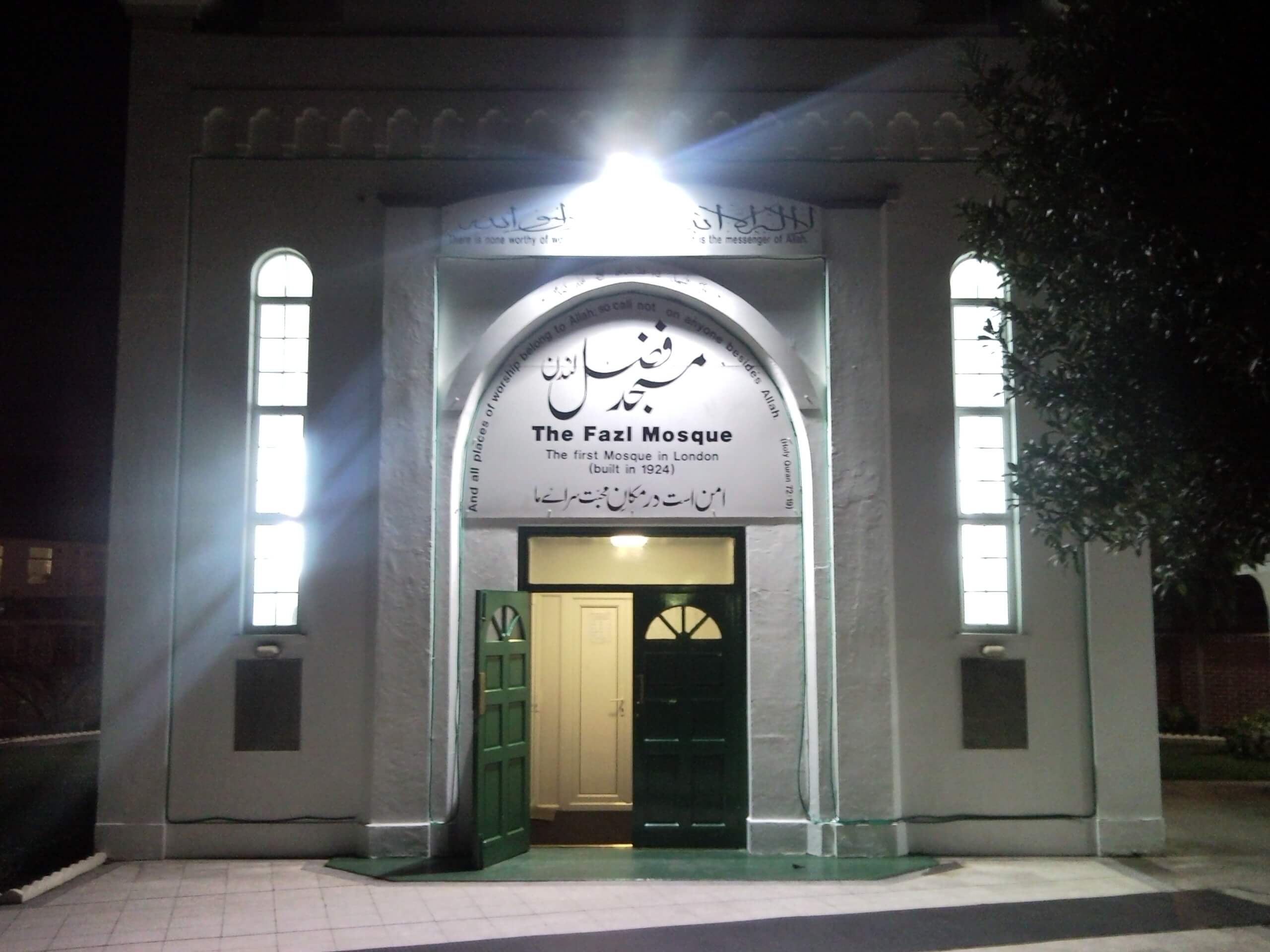 The Fazl Mosque's exterior is impressive, as it combines both British and traditional Mughal architecture which helps it stand out in its busy area of London. From the outside you can see the green 10m-high dome on a square base, with four cupolas on the corners — its unique design led to it becoming a Grade II listed building.
Over the years the mosque has held many exhibitions on its history, and won awards from the London Gardens Society. It previously served as the international headquarters of the Ahmadiyya Muslim Community, and is definitely on our list of the most impressive mosques in England.
8. The Baitul Futuh Mosque, London
Baitul Futuh Mosque is not only one of the biggest mosques in London and the UK, it also holds the title of being the largest mosque in Western Europe, so naturally it had to be on our list of the most impressive mosques in London due to its sheer size and occupancy.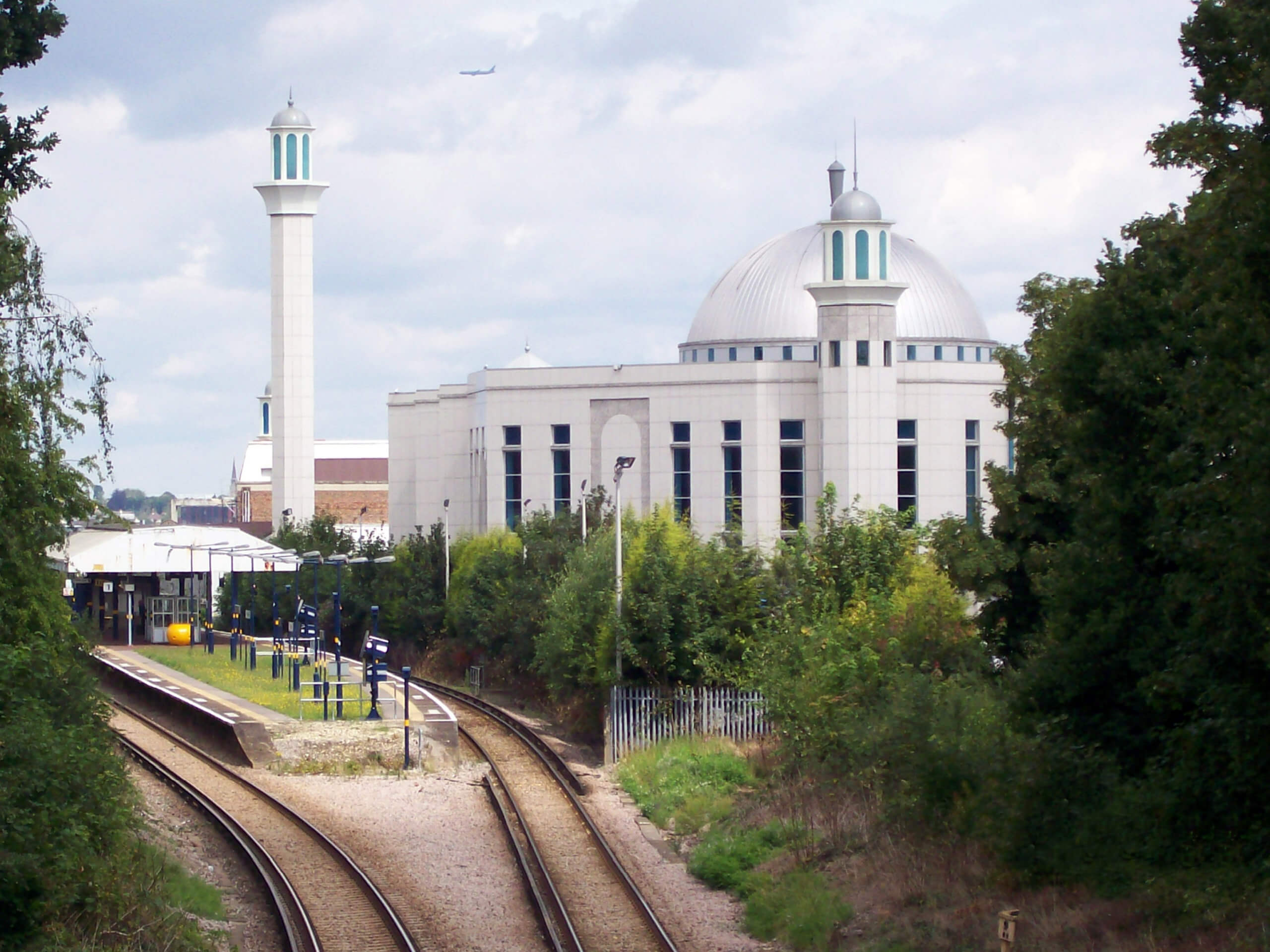 It's also one of the most beautiful mosques in London after its recent renovation. It was built in 2003, but sadly in 2015 the Baitul Futuh Mosque in Morden, south London was badly damaged in a fire which reportedly cost around £12 million in damage. In recent years it underwent a £20 million redevelopment to open a 5-storey complex with 2 large halls, offices, guest rooms, and plenty of other community spaces in its 5,950 square metre site that holds over 10,000 worshippers.
They have reportedly hosted everything from school exams to career fairs to sporting events, and it's even home of MTA (Muslim Television Ahmadiyya) on Sky which is broadcast around the clock in the UK.
World renowned architects were involved in the redevelopment project for Baitul Futuh Mosque, including the team behind award-winning projects like the roof of King's Cross station, so it's no wonder people come from all over Europe to visit this impressive mosque.
Want to visit one of these beautiful mosques? You're sure to find one that fascinates you on this list! From their impressive architecture to their history to their community spirit, there are many reasons to get involved with these thriving communities around the country, and visit some of the most impressive mosques in England.
If you're interested mainly in architecture, don't forget to also check out these 10 incredibly beautiful churches in England.
Quick List: 8 Most Impressive Mosques in England
Cambridge Central Mosque, Cambridgeshire
Mubarak Mosque, Surrey
Maidenhead Mosque, Berkshire
London Central Mosque, London
Madina Masjid, Yorkshire
Al-Jamia Suffa-Tul-Islam Grand Mosque, Yorkshire
Fazl Mosque, London
Baitul Futuh Mosque, London
---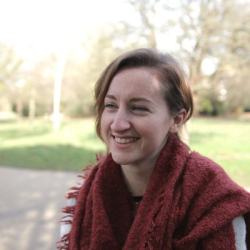 Latest posts by Caitlin McAllister
(see all)