Paddleboarding in Devon is a wonderful way to see the county. There are so many options for places to get on the water, and you get a completely different perspective on some of the biggest tourist draws by seeing them from the water. Here are the best spots for paddleboarding in Devon, from a local…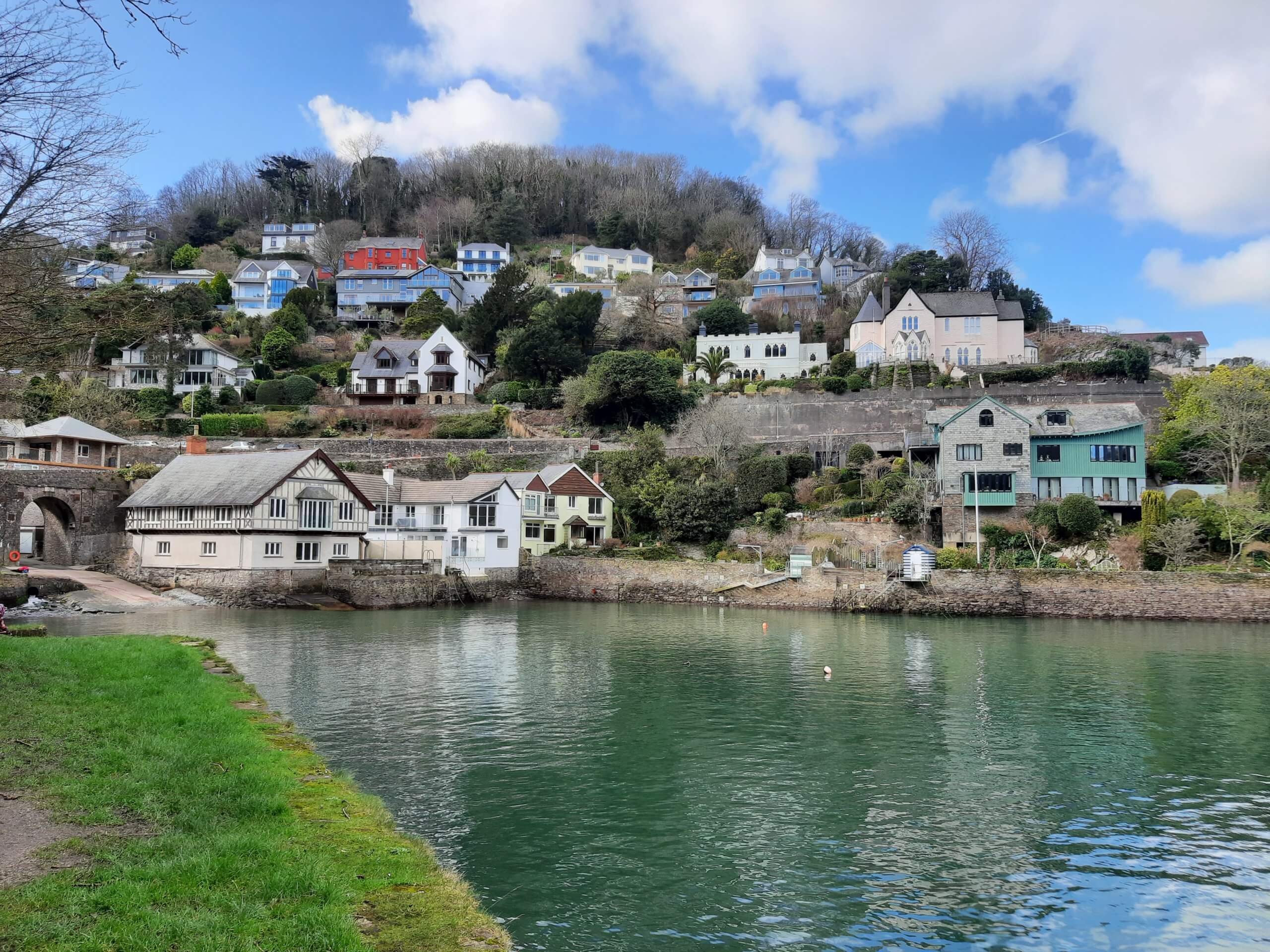 Whether you're looking for a gentle meander down a river, or some adrenaline-fuelled paddling in the waves off the coast, Devon has you covered. I often have my family in tow so my favourite spots are generally suitable for all abilities and strengths. They tend to be within easy reach of toilets and cafes too.
Here are my current tips for the best places for paddleboarding in Devon.
---
The Best Places to Go Paddleboarding in Devon
Want to have a go on a paddleboard in Devon? Here are the best places to launch from…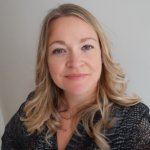 Rowen Campbell
Writer specialising in photography, the arts and lifestyle
Rowen Campbell is a marketing manager and copywriter with experience across many sectors.  She loves to tell a story and when she's not writing, you'll find her outside on an adventure, or curled up somewhere with a good book.
---
1. Paddleboarding in Dartmouth
Dartmouth has long been my happy place. I'd been visiting for years before I knew paddleboarding was a thing, and now there's a new dimension to my time there. The town looks completely different from the water. There are lots of places you could launch along the Dart but one of the easiest is Warfleet Creek. It's very sheltered so it's generally calm, making it a great place for newbies or children to get on the water and hone skills before adventuring out further.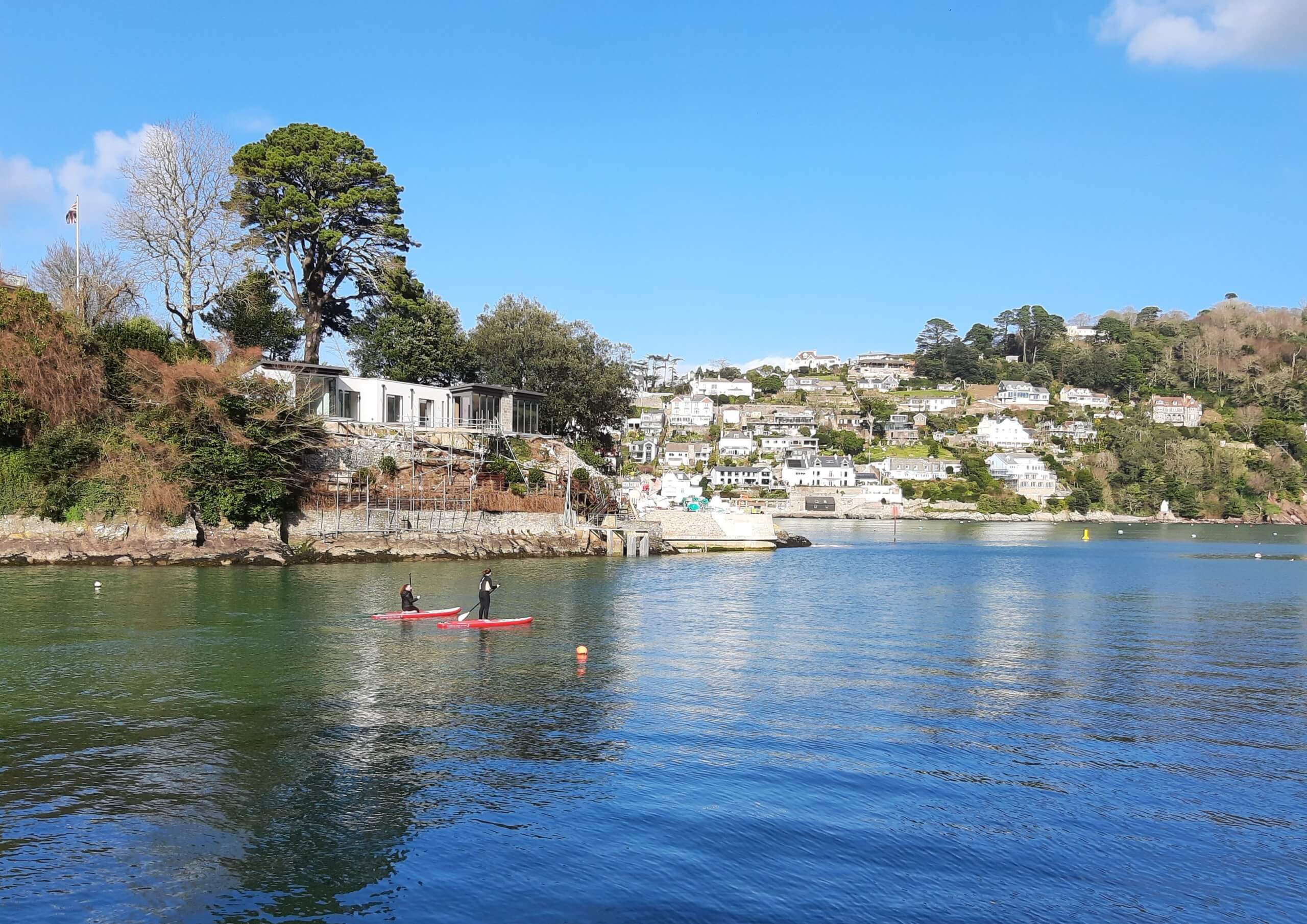 Going left will take you back into Dartmouth and it's up to you how far upstream you paddle – Totnes is about 9 miles. We're planning a two-car one-way paddle sometime, but starting from Totnes to make our lives easier. Beware that there are a lot of boats on that first stretch, and as paddleboarding grows in popularity, we're rarely the only paddleboarders out. Turning right out of Warfleet Creek takes you out into more open water and it's only a short paddle round to Dartmouth Castle. This one is for more confident paddlers. With all the little coves and caves along the way, I imagine pirates and smugglers around every turn.
There is no car park but if you're there early enough, there's on street parking on Weeke Hill just beside the creek. Otherwise there is limited parking at the castle, but only if you're prepared for a bit of hike with your board. Don't forget it's uphill on the way back! The castle is also the closest café and public toilets, though there are lots of options in town and Dartmouth is well worth a wander around. Browns is always a favourite of mine, tucked away just off the town centre.
This is one of the best spots for paddleboarding in Devon.
2. Paddleboarding in Exmouth
Exmouth is a good choice for paddleboarding, whatever your level. The marina is ideal for a chilled paddle, while the seafront offers more of a challenge, especially on days when the wind gets up! There are often kiteboarders out on the water in Exmouth, which gives you an idea of how breezy it gets.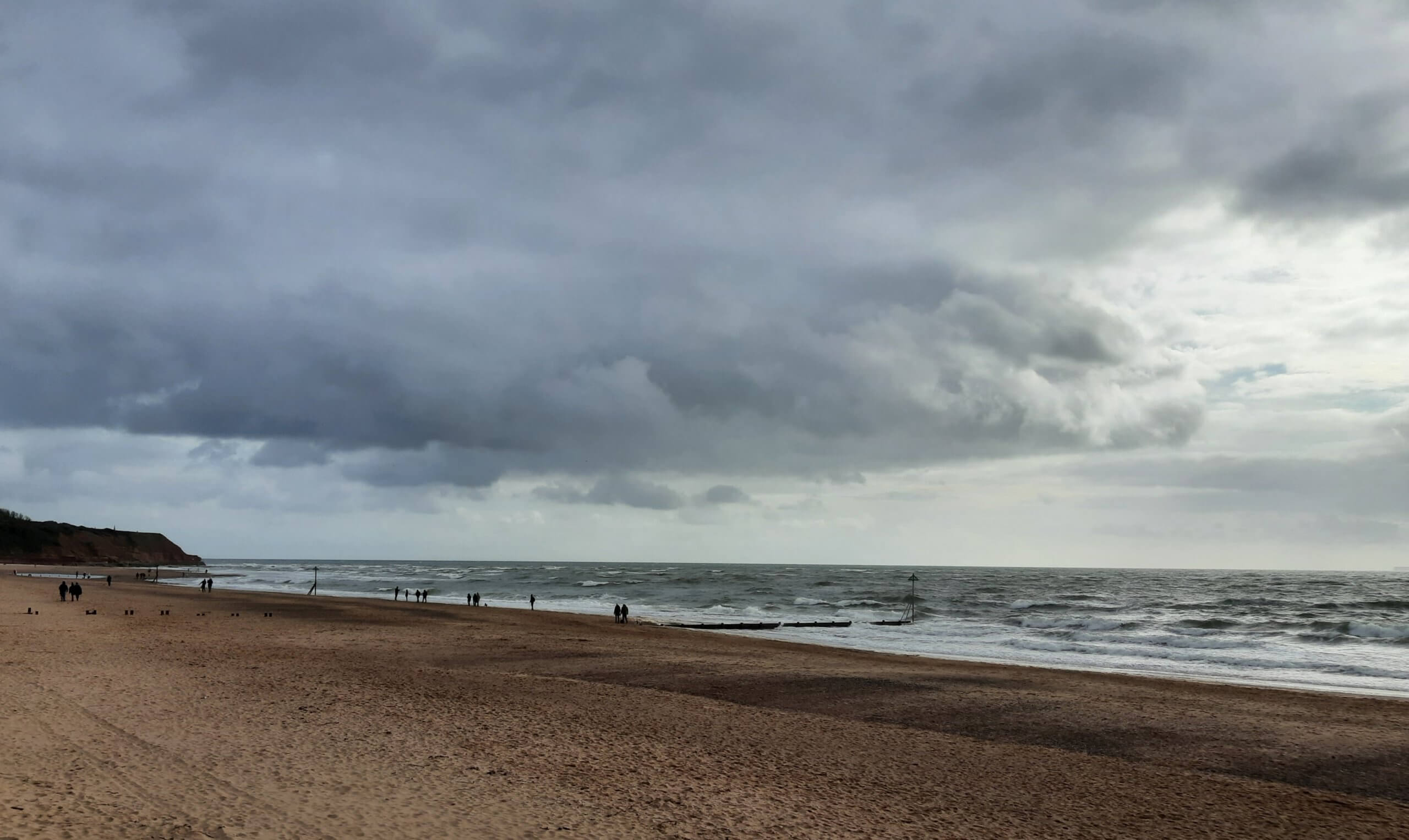 The River Exe offers the chance to travel, and there's always lots to see with so many possible routes. The landscape changes a lot here depending on the tide, revealing sandbanks and lovely patches of sheltered, flat water at the right time of day. The sandy beach is a good spot to leave non-paddleboarding family members for a while, especially on sunnier days.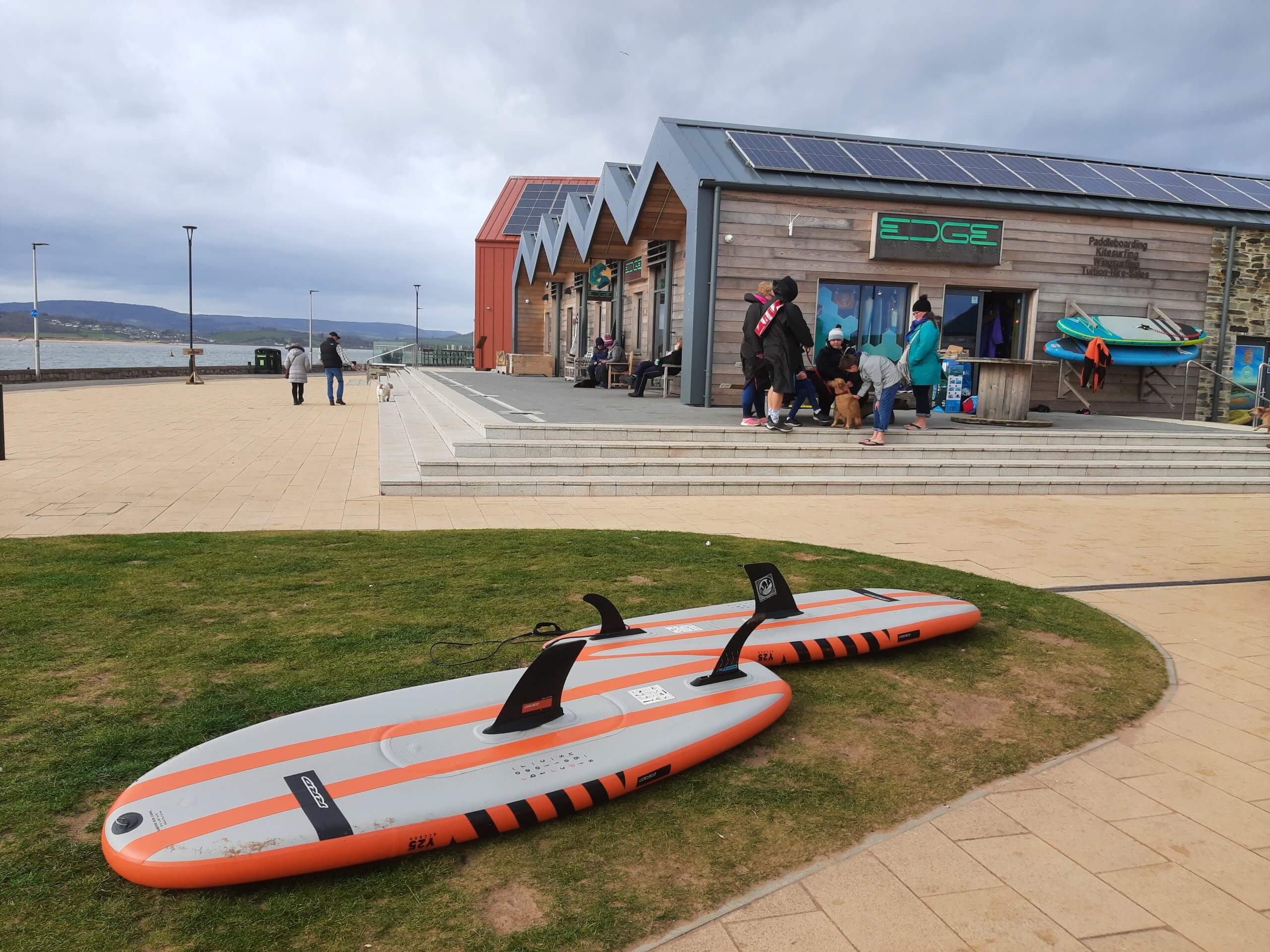 Sideshore Watersports Centre is a dedicated space that will help you plan your day, right on the seafront. There's plenty of parking, (pay and display) easy access to the beach, and toilets too. Take your pick from the café or bar and restaurant for your post-paddle sustenance. Otherwise, there are options in town of along the promenade, and I've never passed the fish and chip shop without seeing the queue out of the door – usually a good sign!
READ MORE: The Best Days Out in Devon at Christmas
3. Paddleboarding at Exeter Quay
I love the trendy, cosmopolitan feel to Exeter Quay these days. It's got a bit of a buzz to it, and there are lots of options for exploring the city from the water. There are launch sites on both sides of the water.
Launching from Maritime Court, you're in the company of the rowing and canoe clubs, as well as Kayakhub for equipment hire. You have choice in Exeter; stick to the Exeter Ship Canal, or paddle on the River Exe. Or a combination of the two! It's a gentle, scenic paddle down the canal, passing Riverside Valley Park on your left, or heading up the river you get to see the city from a new angle.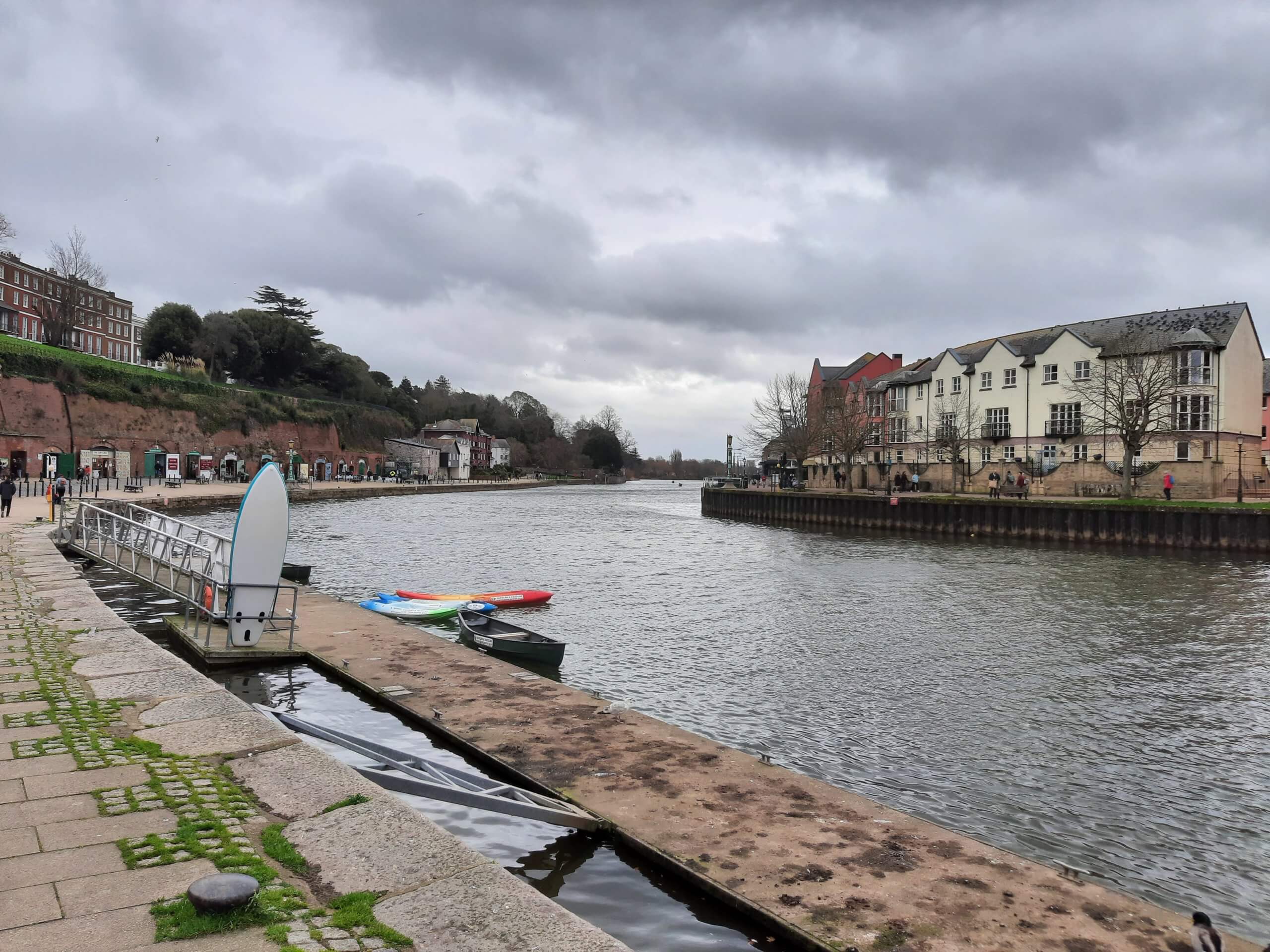 There's parking at Haven Banks car park on the south side of the river, or the Cathedral & Quay car park on the north side, though there's more of an incline there – fine on the way down, but harder on the way back! Being in the centre of Exeter, there are lots of places to grab something to eat or drink whichever side you choose to launch from. Definitely one of the best spots to go paddleboarding in Devon.
READ MORE: The Best Places for Glamping in Devon
4. Paddleboarding in Combe Martin
On the North Devon coast, Combe Martin is a little gem of a place. Not as popular with tourists as nearby Ilfracombe, it's becoming one of the must-see places for paddleboarders. It's on the Atlantic coast, so it can get pretty wild out there, but on a calmer day it really is a beautiful stretch of coastline. It's a sandy beach with lots to look at, and the best views are from the water.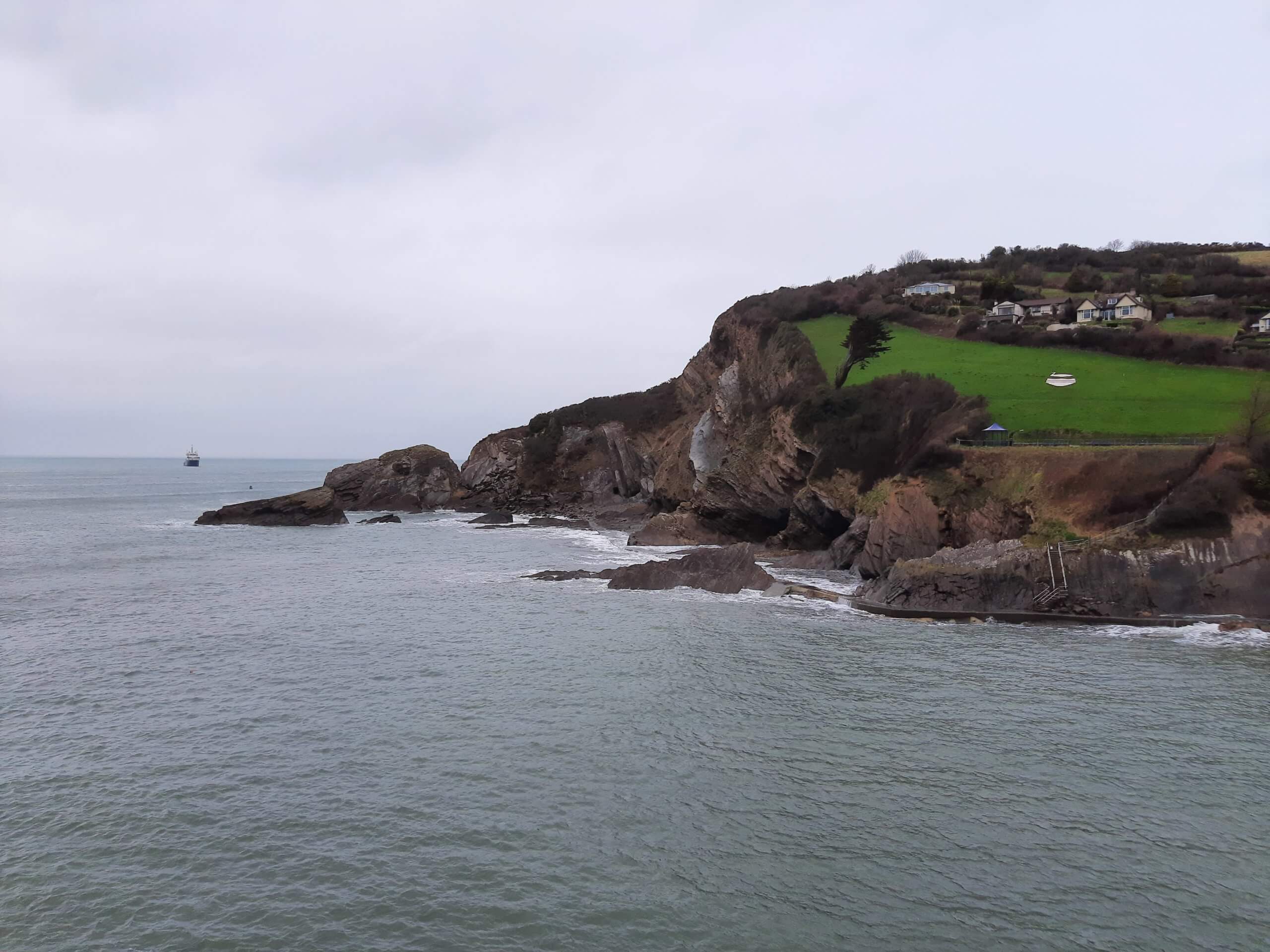 There's a stretch of coastline at least 3km long that is suitable for most levels (obviously dependent on sea conditions) and there's a lot of wildlife to look out for. I've seen lots of different birds, and my daughter is convinced she saw a seal but I can't verify that! I've never seen a dolphin here but I believe they are regular visitors so I hope you get lucky!
If you don't manage to find a parking space on-street, there is a pay and display car park up on the cliff with a path down to the beach.
5. Paddleboarding at Tiverton Canal Basin – the Grand Western Canal
There are lots of places to launch onto the canal but I think one of the easiest, and certainly the easiest to find, is at Tiverton Canal Basin because it's so well signposted from the town centre. It's a fantastic year-round paddle and you can go for miles if you want to. Having the tow path alongside means that you can take non-paddling company with you.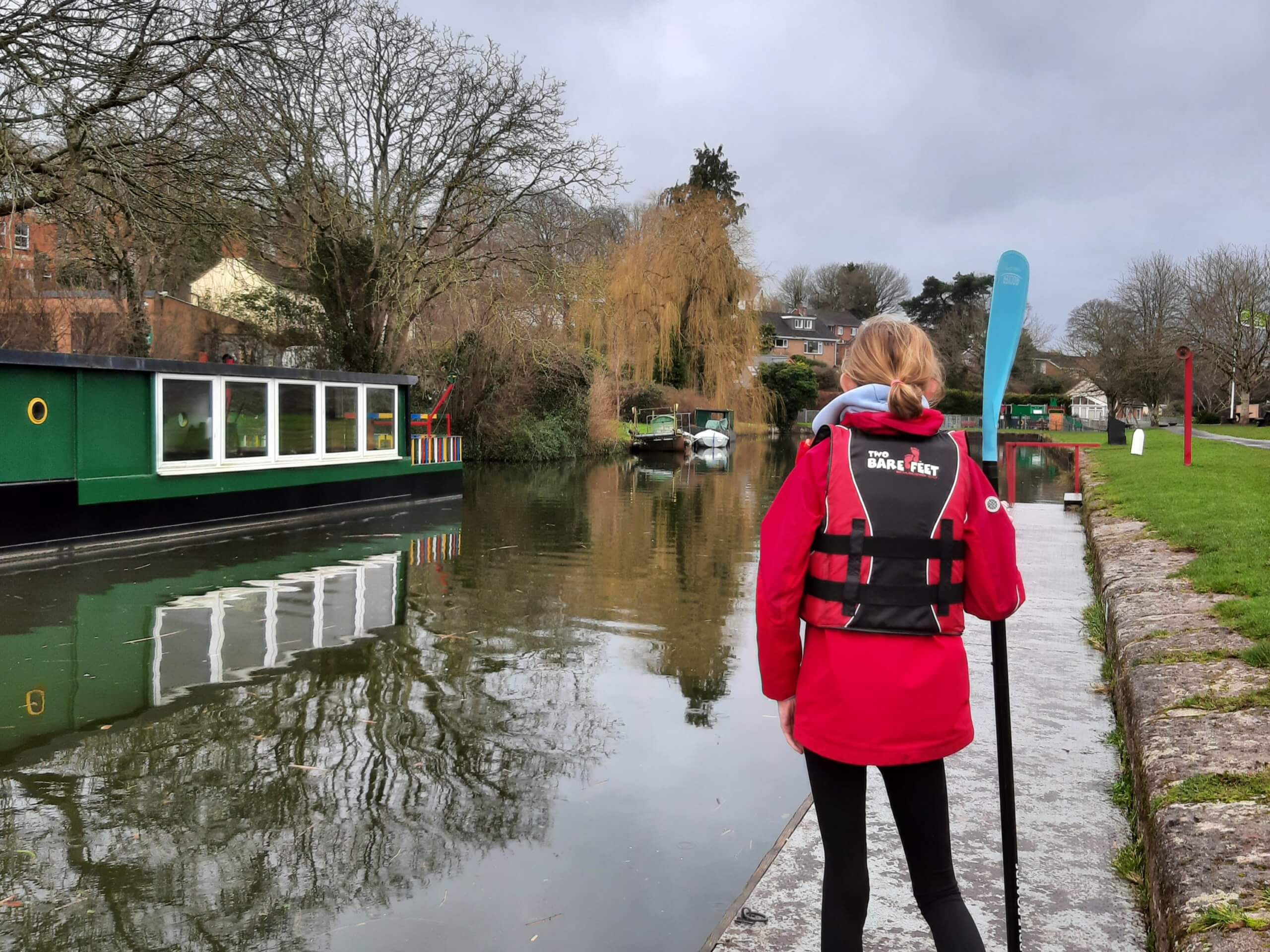 There's plenty of parking (pay and display), and as it's also the entrance to the country park, there are all the other facilities you might want; café, toilets, children's play area. The canal is very popular with kayaks and boaters, as well as fishermen, so be prepared to share the water – it can get busy, but there is lots of space. You'll also need a permit to launch (£5 per day) and they're available from the ranger's office at the entrance to the park.
6. Paddleboarding in Salcombe
Salcombe is one of the prettiest towns in Devon and the beaches are lovely all year round. North Sands and South Sands are both good spots for paddleboarding, and I couldn't choose between them. North Sands usually has slightly bigger waves so is better suited to paddlers with a little more experience. There is a large pay and display car park just across the road from the beach, and The Winking Prawn is perfect for a post-paddle ice-cream or more substantial meal. It's very relaxed and the large patio is an ideal spot in summer to soak up some sun and talk about your paddle.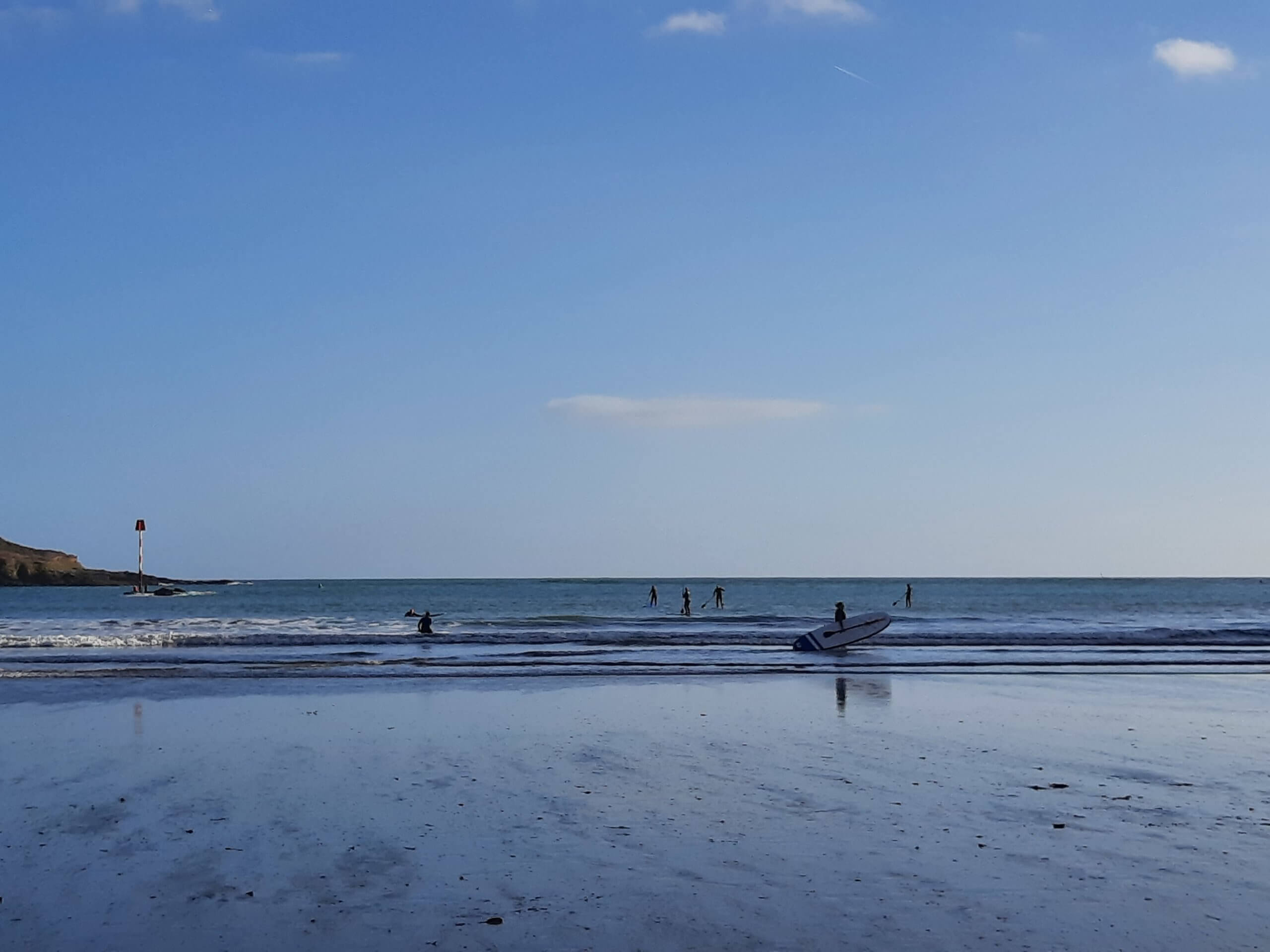 South Sands is not as handy for parking, but it slightly more sheltered so a safer bet for less confident paddlers. There's no public car park and limited on street parking at beach level, so an early start is in order, especially in the summer months. The streets are very narrow, which can be challenging when it's busier but shouldn't really put you off trying a really lovely spot.
7. Paddleboarding in Kingsbridge
Right in the centre of Kingsbridge, on The Quay, is a great spot to launch your board onto the Kingsbridge estuary. It's a really pretty area, whether you paddle to explore, or paddle on a mission, maybe to get to Salcombe. It's about an hour's journey by SUP, depending on conditions and how quickly you paddle. Just remember to have a car waiting at the other end, or be prepared for the upstream trip. As with several places on my list, the water here is tidal so do check tide times before you go.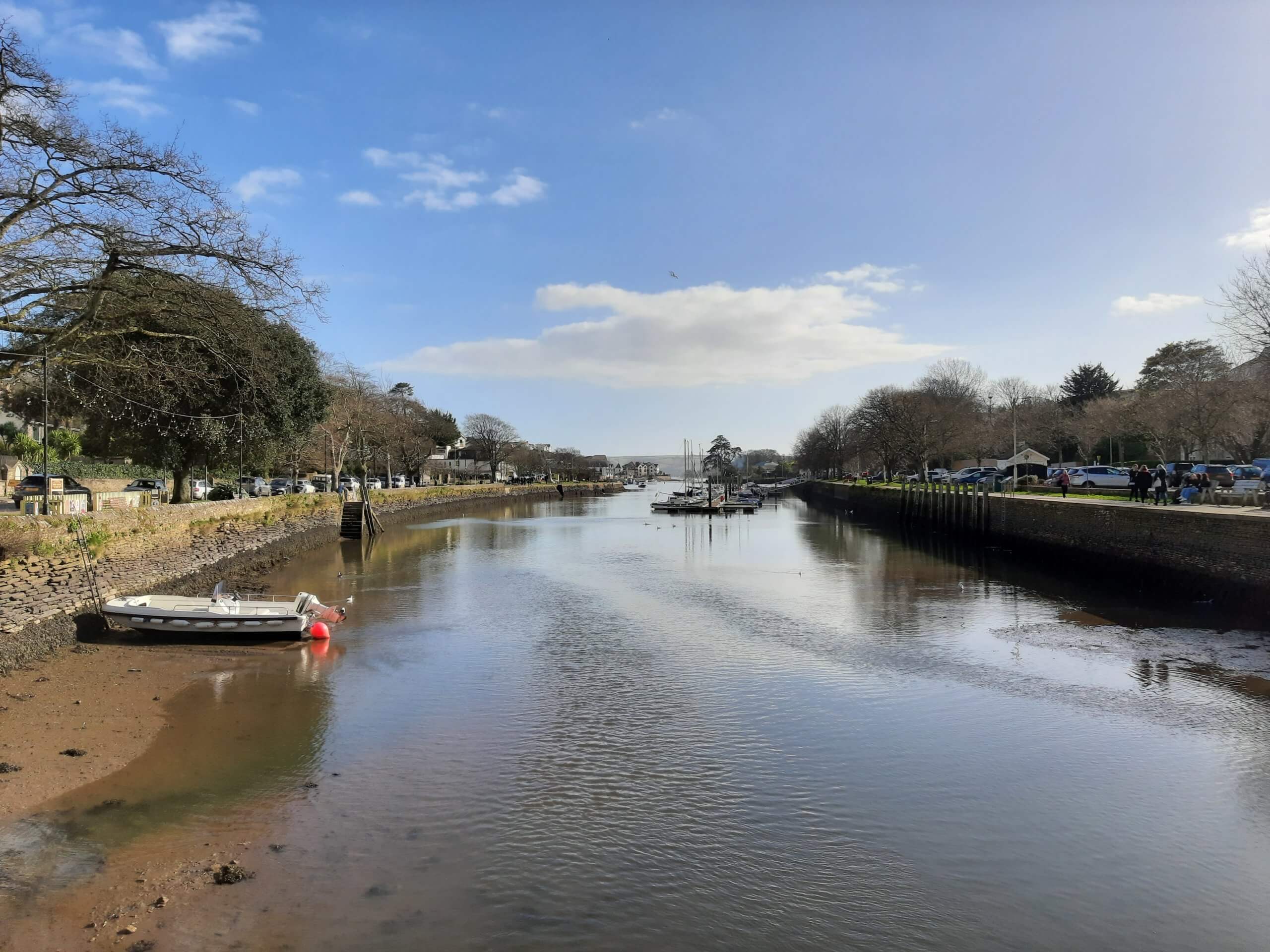 Kingsbridge is such a convenient place to get on the water. There's a huge car park on The Quay, with public toilets available. And because you're right in the centre of town, you're in the middle of things if you fancy a drink or bite to eat. The Creek's End Inn is exactly where you might imagine it to be, at the end of the estuary, and it's a good place to go for coffee.
You really are spoilt for choice when it comes to the best paddleboarding spots in Devon, with canals, rivers and the sea. You'll have a wonderful time, though do be sure to check and double check conditions before you launch. The Met Office app is reliable for a general weather forecast, and Windy app is also good, but neither should take the place of conditions where you intend to get on the water. Take a phone with you, and some water as a minimum.
If you'd prefer a beginner-friendly organised SUP tour, take a look at the Stand Up Paddling Experience in North Devon – book through LoveToVisit, here.
And once you're done with the best spots to go paddleboarding in Devon – how about the top paddleboarding spots in Cornwall too!
You could also try paddleboarding in Dorset, or in Somerset, or even getting your SUP out in the Lake District.
Places to hire paddleboards in Devon
Best places to go paddleboarding in Devon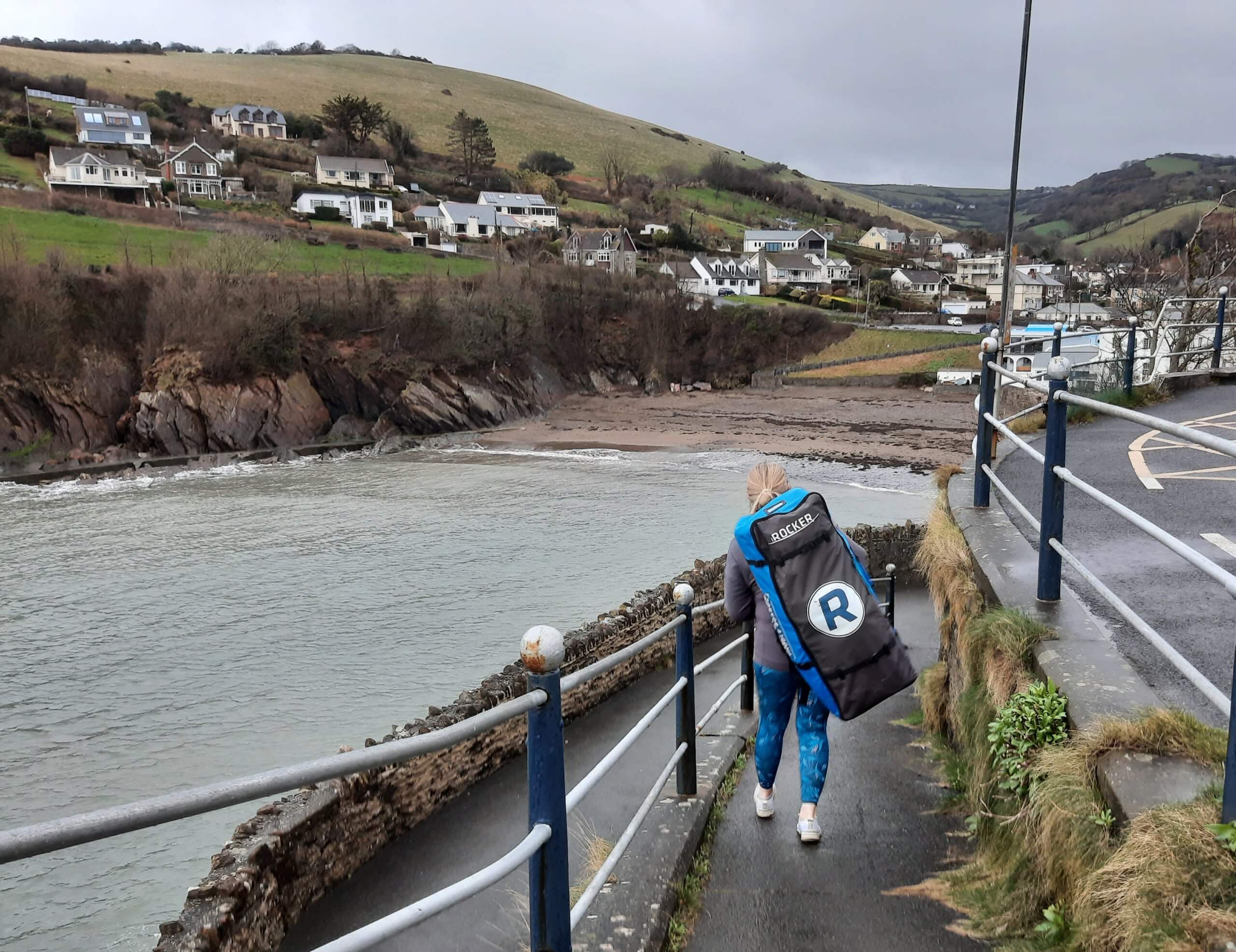 Those are my current 7 best places to go paddleboarding in Devon. It's a hard list to keep narrowed down because there are so many and I'm finding more all the time. I didn't venture onto Dartmoor this time, or Burgh Island, just a couple of places that could have made the cut. I'm always adding to my list so let me know if there's somewhere that really ought to be included – we're forever on the lookout for new places to launch.
---