Christmas in Devon is a wonderful time for a day out. From the Polar Express to the Christmas Garden Illuminations there are plenty of activities to help you feel festive.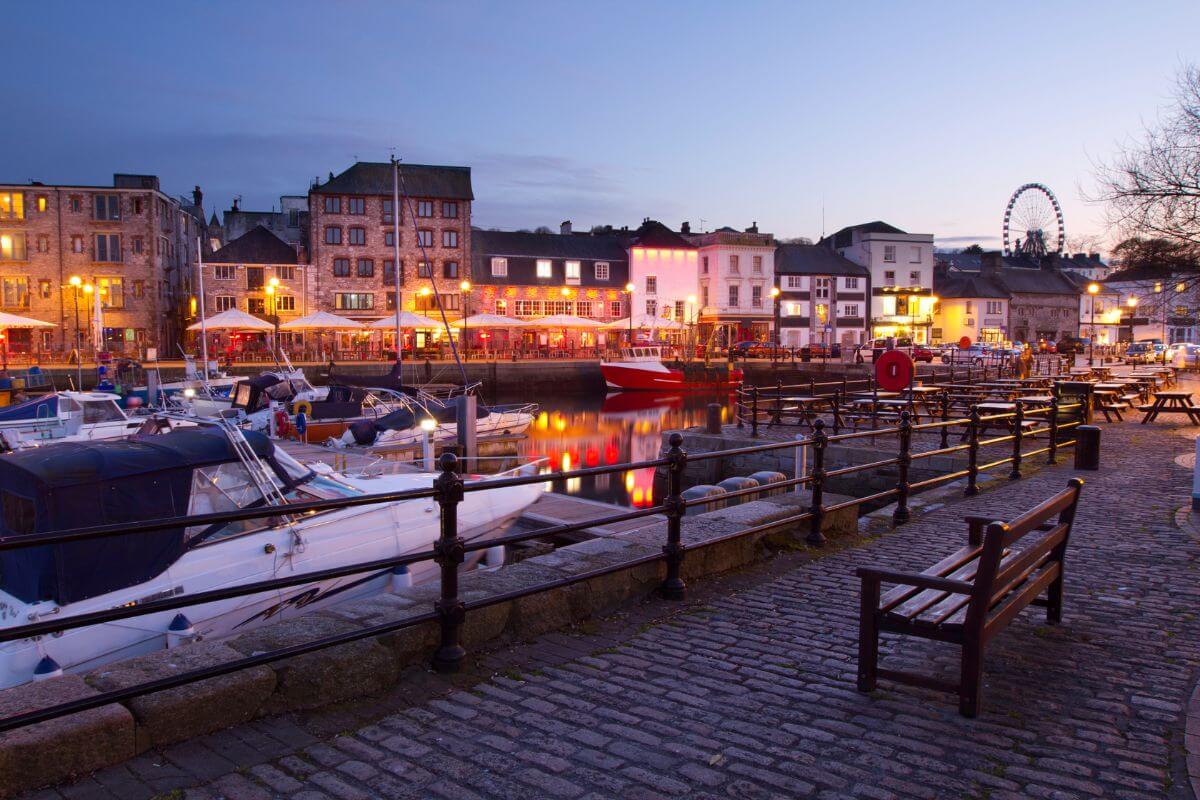 Christmas is a magical time and there is no better place than Christmas in Devon, to experience all the magic. There is so much to see and do in Devon, in the run-up to Christmas from exploring the merriest Devon Christmas markets to meeting Santa himself!
This guide will give you 10 wonderful Christmas events in Devon, to add a bit of festive sparkle during the Christmas period.
Whether you are a Devonshire local or you are visiting on a winter break to experience Devon in all its Christmas glory, you'll be sure to find a special festive activity to suit you.
Days Out for Christmas in Devon
All times, dates and confirmations for these Devon Christmas days out correct at date of publishing (November 2022). Please double check and pre book before you leave the house!
1. Plymouth Christmas Show
19th November 2022. 10am – 4pm, Free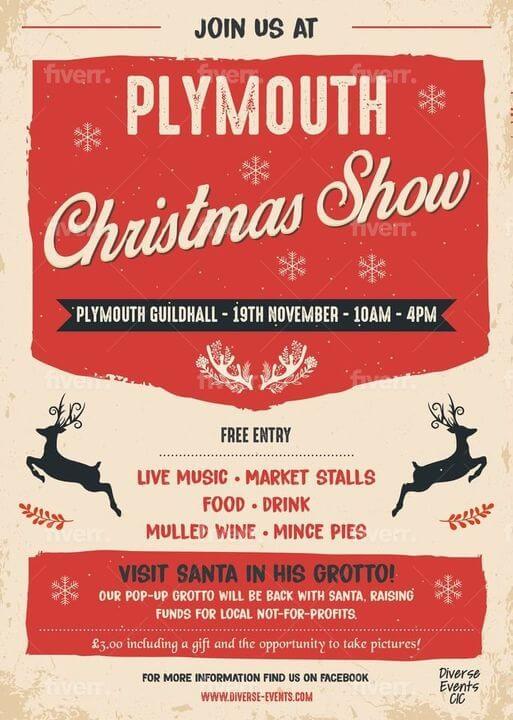 Returning to the Plymouth Guildhall for 2022, this free festival is sure to get you in a joyful mood with mince pies, a Christmas market, and the opportunity to visit Santa in his grotto (for just £3 including a gift). So if you like getting into the yule-tide spirit early, head to the Plymouth Christmas Show, grab a mulled wine and even do a bit of Christmas shopping at some of the fabulous craft stalls they will have on the day.
And if you've got the day to enjoy in the city, check out our day trip itinerary for Plymouth.
2. Polar Express Tram Ride Seaton Tramway
25th November to 24th December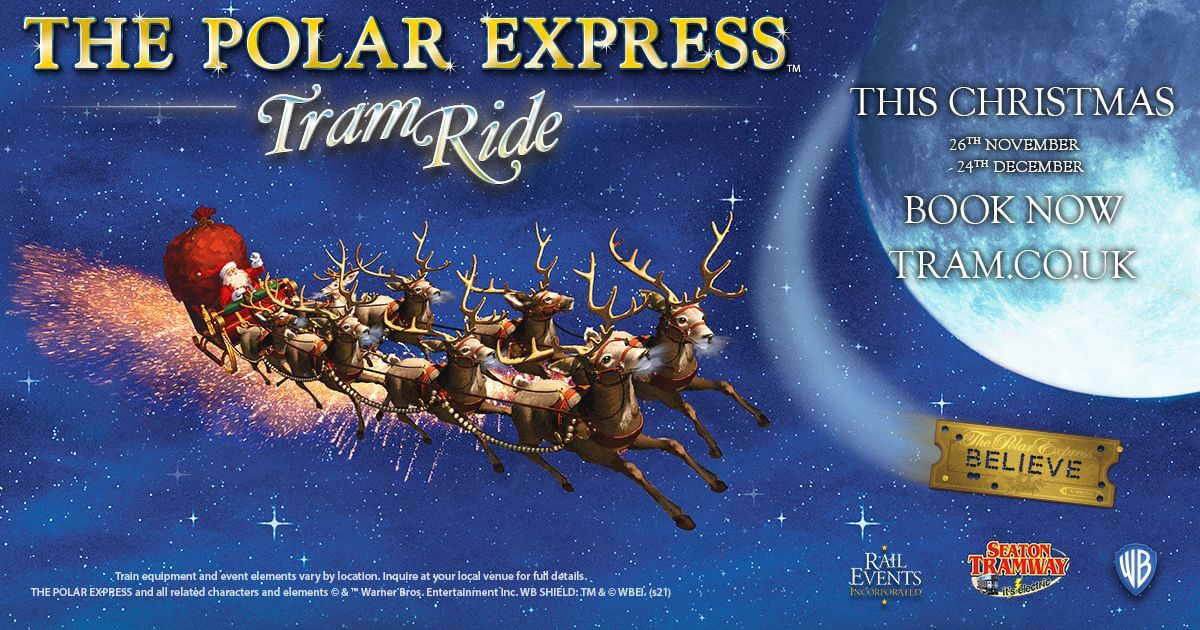 Take a magical tram ride through the North Pole to Santa's house on a specially decorated tram at the Seaton Tramway during November and December. Enjoy a hot chocolate, and a treat, as you watch the pretty lights pass and get the chance to chat with Santa in his grotto. You'll even get to take home a small gift from Santa himself on this Devon Christmas day out.
If you like a sing-song you can also enjoy some classic Christmas carols on the tram back. A round trip lasts around 2.5 hours and there are a limited amount of seats per tram so book early to avoid disappointment.
Book your Polar Express Tramway Tickets here.
3. Christmas Garden Illuminations at RHS Garden Rosemoor
17th November onwards through to 30th December 2022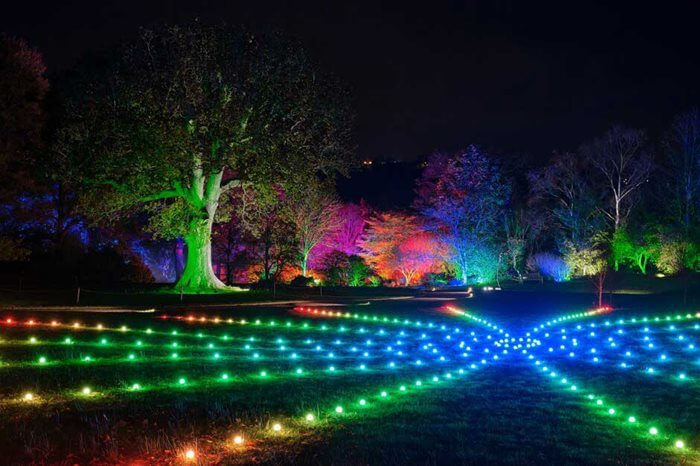 See the beautiful gardens come to life at the spectacular night-time light display at RHS Rosemoor Glow for Christmas in Devon. All the family can enjoy the stunning gardens and follow the Glow trail that incorporates both light and sound to bring cherry fun to the grounds of Rosemoor.
Experience a galaxy of stars, a tunnel of lights, and the Orchard shelter lit up at this wonderful Christmas event. You can even grab a tasty snack or hot drink and do a spot of Christmas shopping at any of the food and craft stalls that will be lining the trail.
Ticket prices differ depending if you are a member, and should be booked in advance. Check the website for the dates that the light display runs.
4. Lanterns, Lights, and Luminations, Brixham
26 November 2022, 12pm – 8pm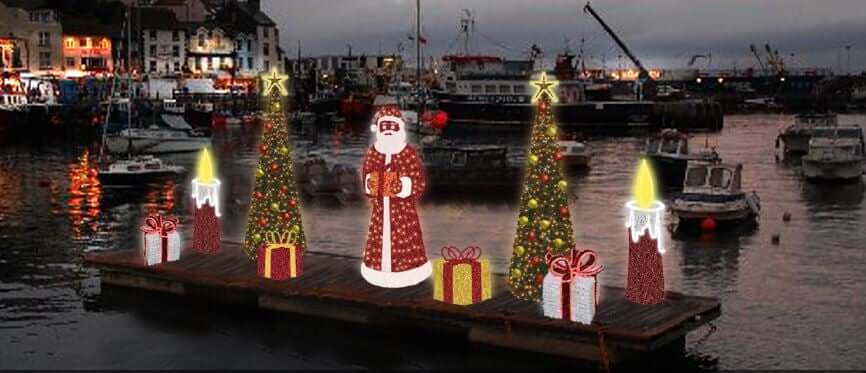 Brixham celebrates its annual Christmas lights switch on with a festival that includes a large Christmas market, live entertainment, musical performances, a children's choir, and a lantern parade. Although none of the lanterns are launched, this popular Christmas event is full of festive cheer and after the big Christmas light switch on there is a fireworks display over the harbour.
This is a great Devon Christmas day out to get in the holiday mood for all the family.
Follow the Facebook event page for updates, and more information closer to the time.
5. Catch a Christmas Play at Stiltskin's Soapbox Children's Theatre, Plymouth
3rd December until 24th December 2022
Create some magic and immerse your little one in the wonder of theatre with a spectacular Christmas play at the award-winning specialist Stiltskin's Soapbox Children's Theatre. The Stiltskin's Soapbox Children's theatre is a great place to take your children to create some brilliant memories with a choice of two Christmas-themed plays.
'The Christmas Mouse', is suitable for children under the age of 8 years old, whereas The 'Snowcat at Yuletide' is suitable for ages 4 to 94 years old. Although showings of The Christmas Mouse will be offered for families that have older children.
6. Exmouth Winter Festival
3th December 2022, 3pm onwards, free 
Enjoy live music from the Exmouth Rock Choir and Exmouth A Capella to kick off the festive season at the Exmouth Winter Festival on The Strand. This free day out for Christmas in Devon will be held on the 3rd of December and starts at 3pm. This mini-festival will include entertainment from roller-skating performers and light-up hula hoopers. You can join in with the carol-singing, and watch them turn on the Christmas tree lights. It's definitely one of the best days out in Devon for Christmas.
Keep up to date with the Facebook events page: Exmouth Winter Festival 
7. Carols in the Caves, Kents Cavern, Torquay
29th November to 15th December 2022
Experience Christmas underground at a candlelit carols service held in the depths of prehistoric caves at Kents Cavern. This unique Christmas experience is suitable for children and adults and includes a bewitching Christmas carol concert by the 'Yours in Harmony' group and the 'Torbay Police and Community Choir'.
Once you've finished enjoying the concert in the Vestibule Chamber, you can take a candlelit tour around the caves before ending your adventure with hot chocolate or mulled wine in the Great Chamber. Tickets are on sale here.
READ MORE: Best Paddleboarding Spots in Devon
How to Do a Day Trip to Lundy Island in Devon
8. Festive Afternoon Tea with Santa, Boringdon Hall
18th November 2022 to 1st January 2023
Take the little ones to Boringdon Hall for Christmas in Devon, where they'll be charmed by a special dance performance, enjoy a Christmassy afternoon tea and then have the opportunity to meet Santa in his grotto. The experience includes festive activities such as gingerbread decorating and each child will receive a gift from Santa himself.
Dates are limited and pre-booking is advised. 
9. Christmas Toddler Takeover at Big Sheep Farm, Abbotsham North Devon
5th December to 11th December 2022
One for the kids – head to the Big Sheep Farm in North Devon for Christmas for Toddler Takeover. Join the 'Jiggy Wrigglers' for some singing and dancing to Christmas festive favourites, and even enjoy an indoor snowball fight, dance in the snow and meet the Jiggy Wrigglers Christmas characters. This lovely farm based in Abbotsham also has sheep, goats, pigs, and ducks that you can wave hello to while enjoying the festive cheer. The farm hosts Christmas markets in the run-up to the big day and you can also buy your Christmas tree from the farm. 
10. Boxing Day BBQ on the beach, Clovelly Village
26th December 2022
Enjoy a Christmassy day at a Devonshire beach at the Boxing Day BBQ held annually at Clovelly Village for Christmas in Devon.
There'll be a huge hog roast and live music, with free access to the picturesque fishing village, which usually charges for entry. A brilliant way to walk off the feast of Christmas day and get a breath of fresh air while enjoying a mulled cider or a delicious hot chocolate. Before of course going to stuff your face all over again at the BBQ.
Also, Clovelly is without a doubt one of the prettiest villages in Devon too, and if you're looking for some cosy glamping in Devon, there's a great place on our list!
Christmas in Devon
There are so many wonderful Christmas activities in Devon to explore and experience that the whole family can enjoy.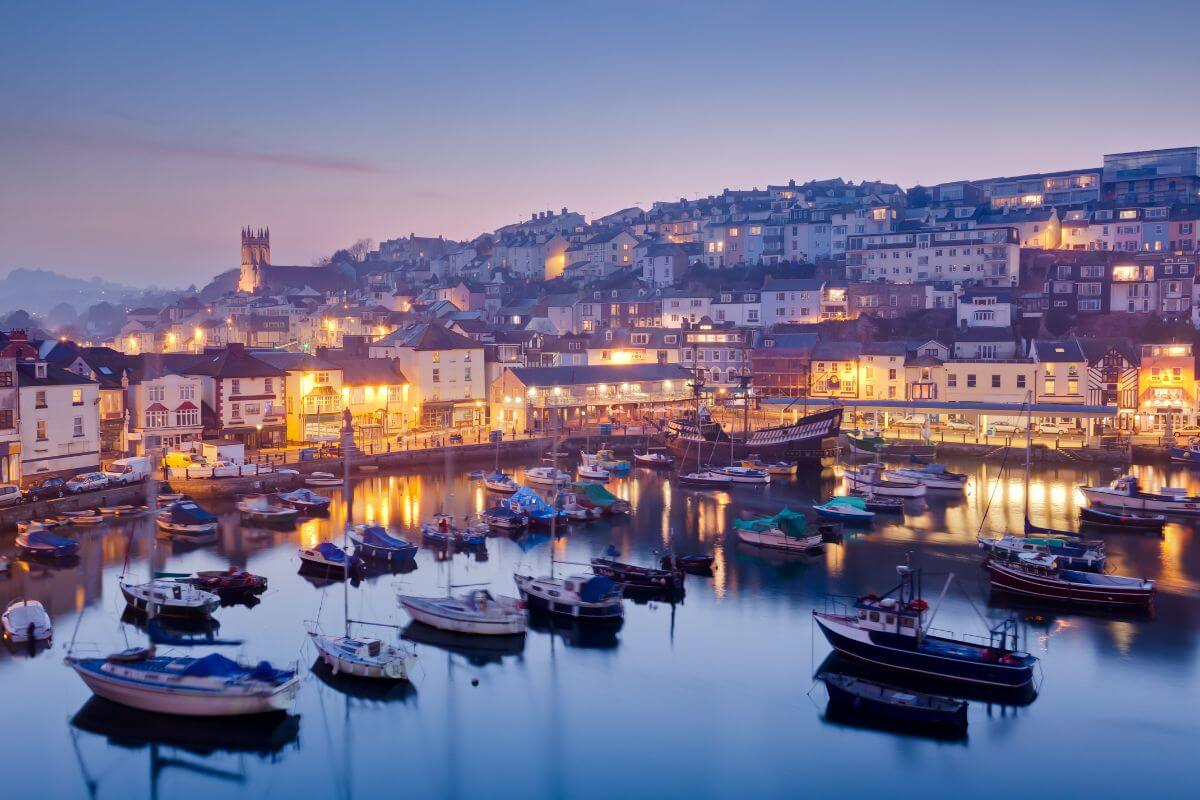 Whether you are a Devon local looking for something different to bring some extra Christmas cheer or you are enjoying a Devonshire festive break, there are so many different ways to celebrate. From fancy afternoon tea with Santa to a Boxing day beach barbeque, whatever you choose to do in Devon, it will no doubt be a great Christmas memory.
---