7 Prettiest Villages in Devon for a Wonderful Day Out
Looking for the prettiest villages in Devon for a day out? Exeter and Plymouth are great as the only cities in this county, but it's the beautiful Devon villages you really can't miss. Here are our favourites…
The real magic of this popular summer county is found in Devon's cosy villages.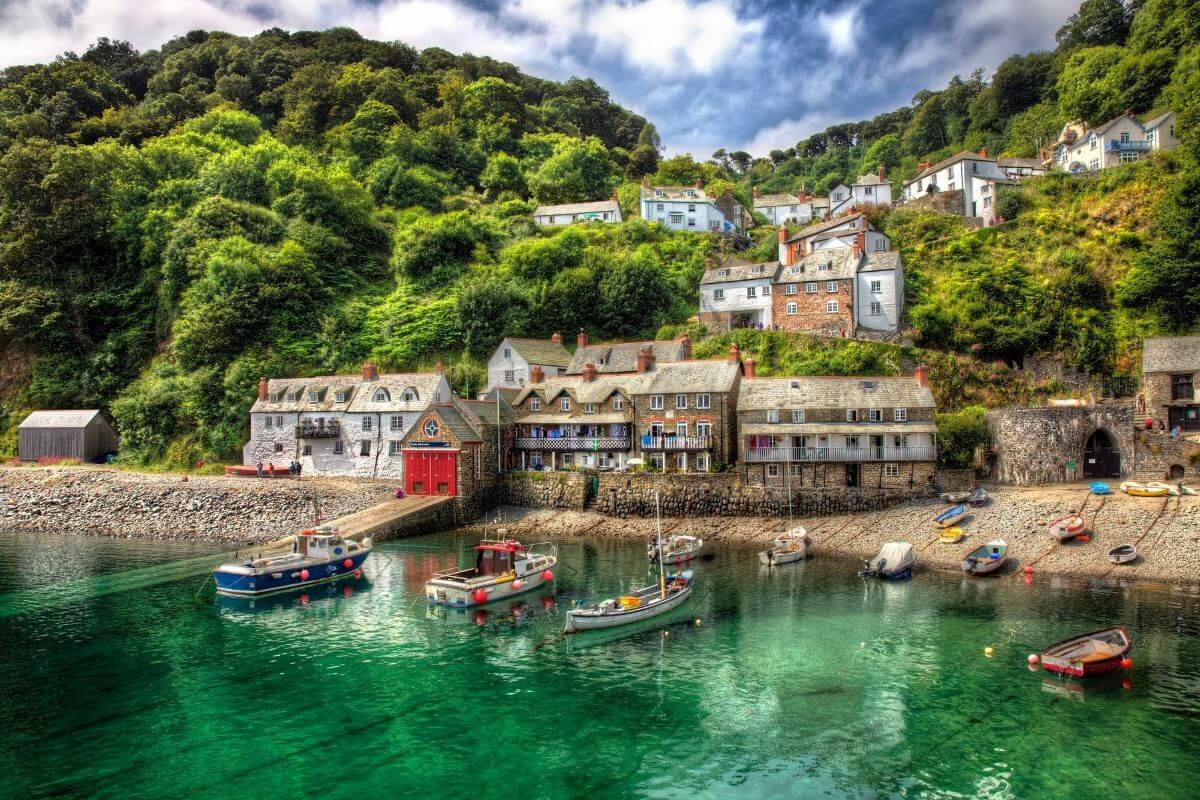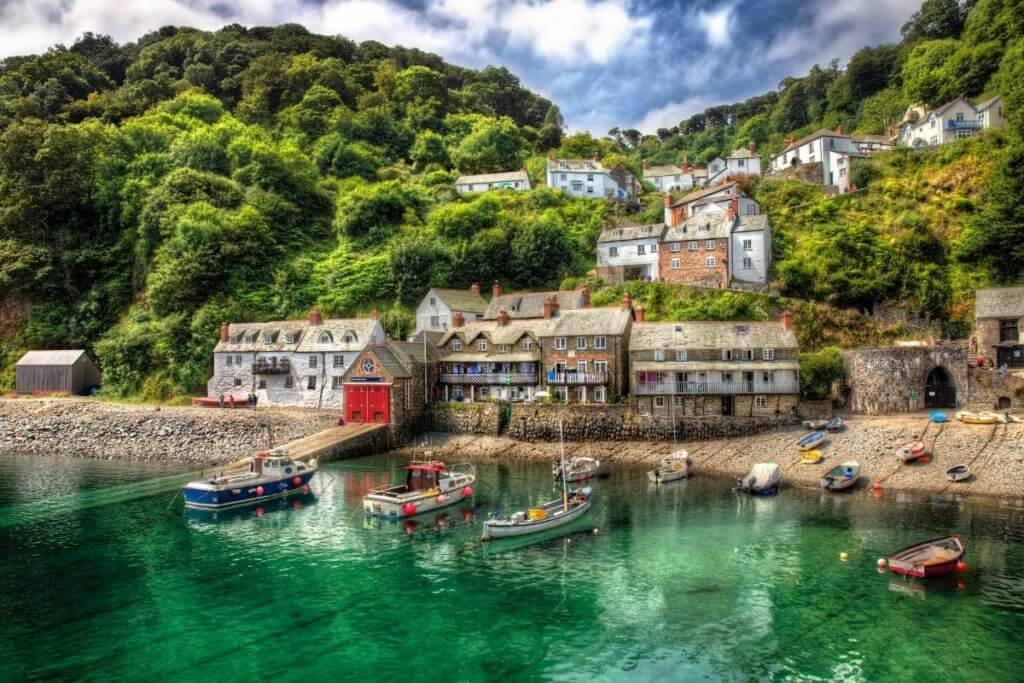 Devon is in the southwest of England along the English Riviera. It has some of the prettiest seaside villages, medieval architecture, fossil-filled cliffs, and rural hilly inlet communities in the country. Bordered by the Atlantic Ocean in both the north and the south and characterised by the infamous sprawling moors in between, Devon makes for some great days out.
If you're wondering where to go and what to do in the county, read this guide to discover the 7 prettiest villages in Devon. You're guaranteed to fall in love with its cosy villages and beautiful landscapes, making you want to come back for more.
The Best Villages in Devon
If you want to know which Devon villages you need to see while you're there, the ultimate list is here!
---
1. Lounge by the sea in Woolacombe
Families and surfers alike head to the pretty Devon village of Woolacombe to enjoy a brilliant day out in England. It's no surprise that the three miles of golden beach in Woolacombe is frequently named one of the best beaches in England.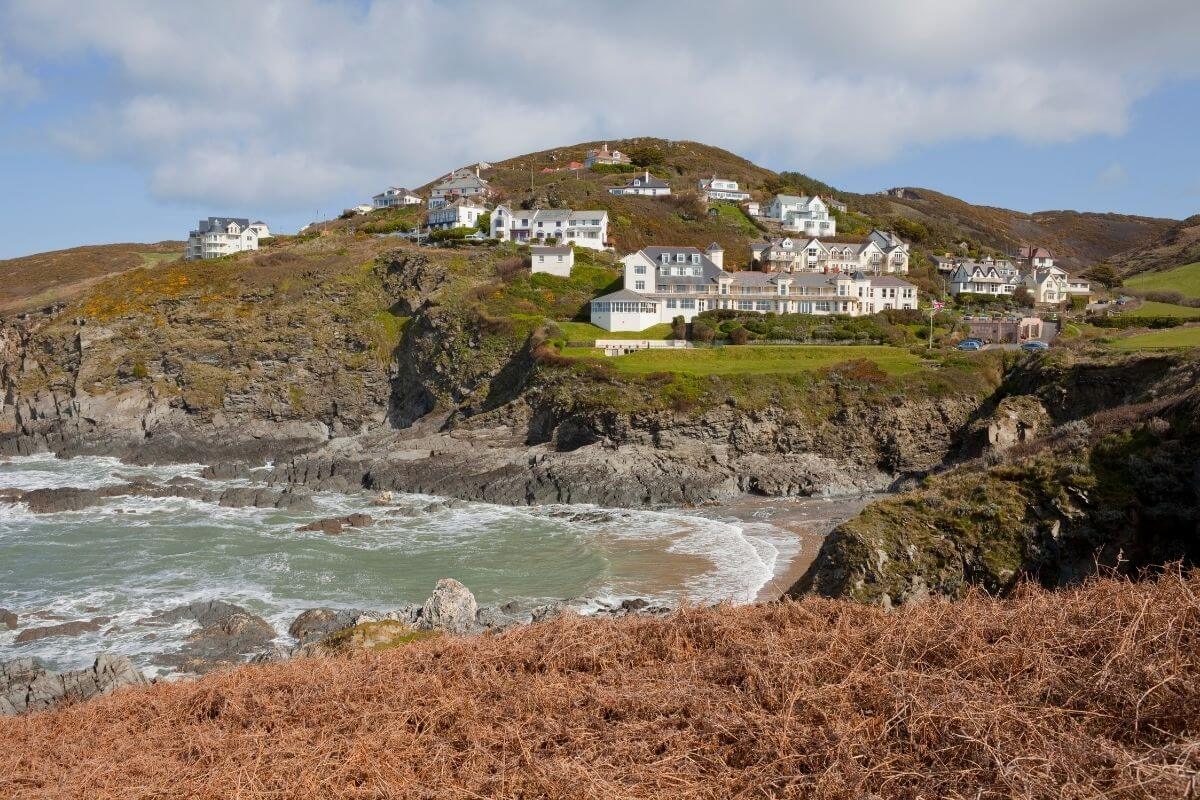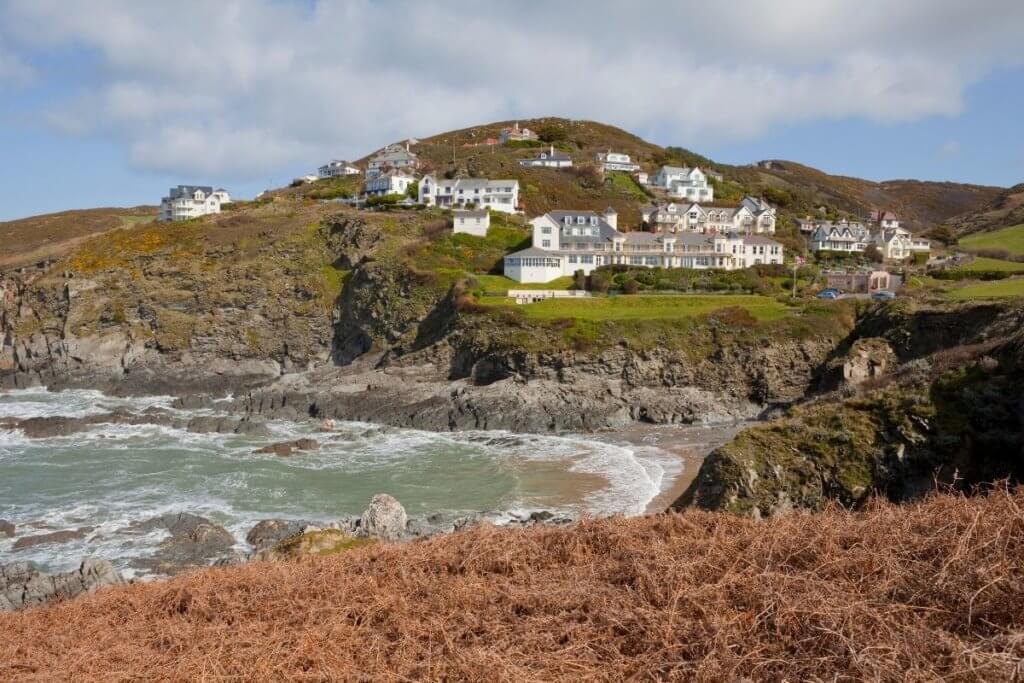 Woolacombe spans part of the Northern coast of Devon, on the Bristol Channel. Ramblers can hike to Morte Point for amazing views or trek to Bull Point Lighthouse. The blue waters and surrounding countryside are beautiful, but the village has its charms as well.
Woolacombe village is home to charming pubs and fish and chip shops. Originally a small hamlet, beautiful estates dot the rolling hills. A popular summer destination, there are plenty of shops selling dessert and souvenirs.
---
2. Be a part of history in Clovelly Village
Walk into a world stuck in time in the small village of Clovelly. Located on a 400ft cliff above Bideford Bay, this might be the most picturesque place in Devon.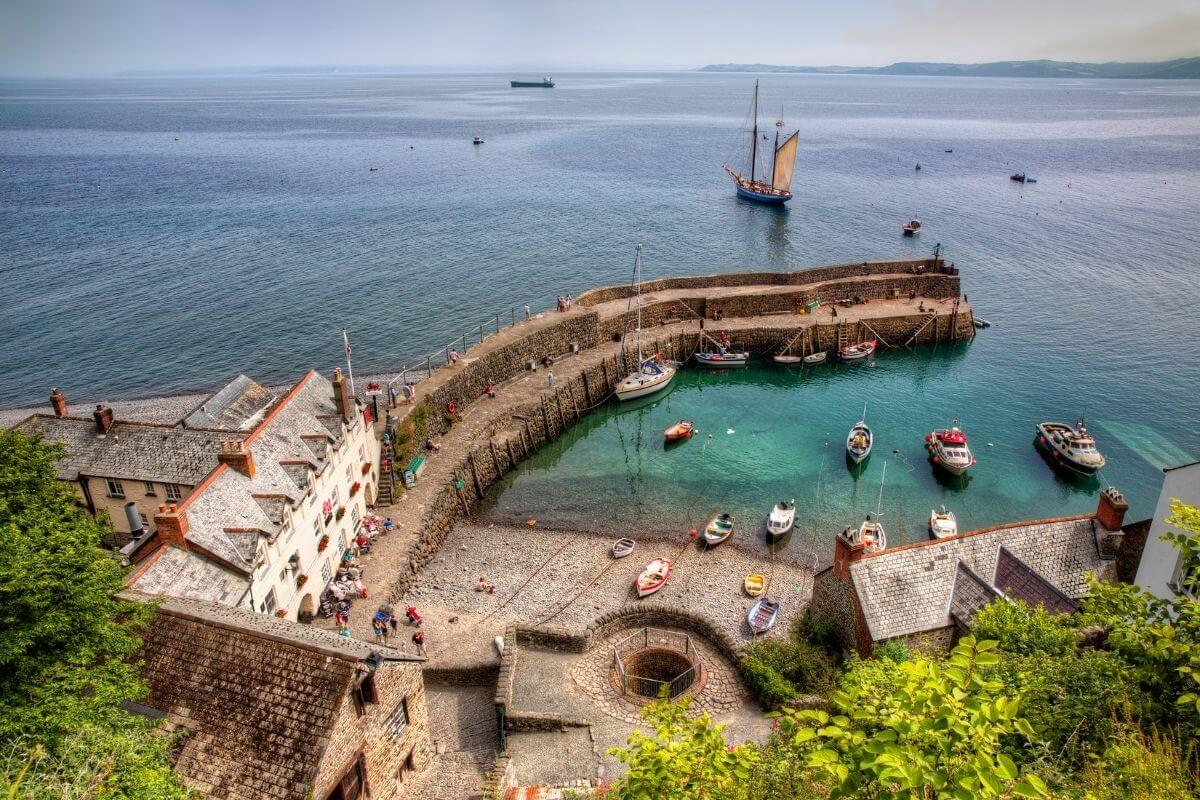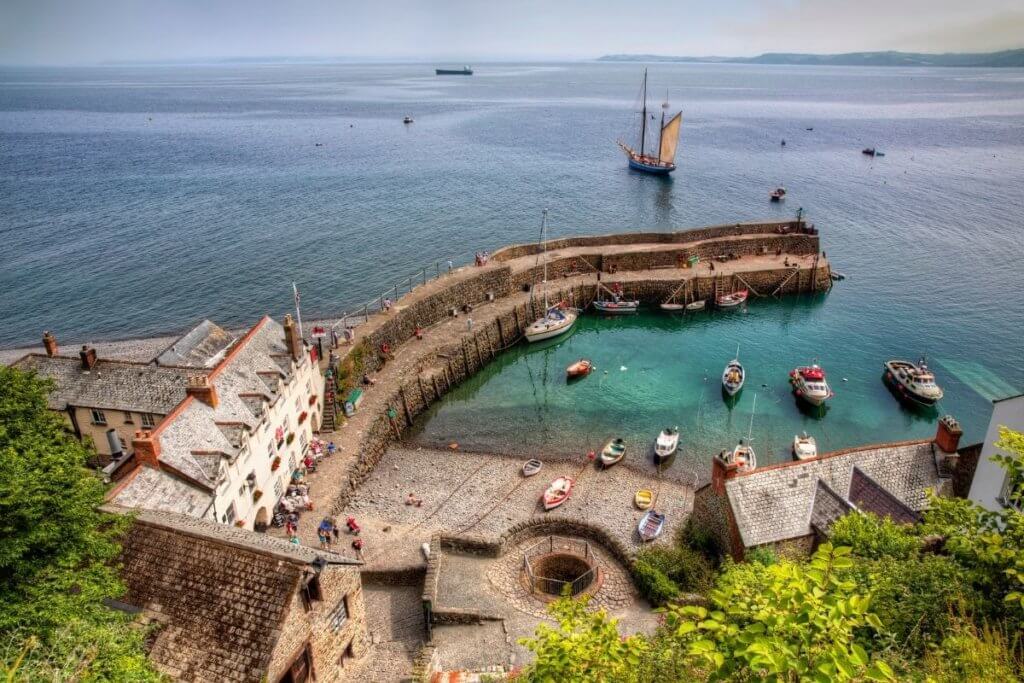 This village is completely privately owned which means that there is an entrance fee to visit. Every pence goes back to maintaining this historic village and keeping everything just as it was in the Elizabethan days. Although about 500 people still call the village home, Clovelly looks a bit like a living museum.
Clovelly is a postcard-worthy village in Devon, and one of the most visited. Steep and narrow cobblestone streets bordered by pristine white buildings look like they are plunging into the blue harbour. Donkeys walk the steep streets of Clovelly. Visitors can stop in museums, gift shops, and tea rooms.
Visiting Clovelly is a day out in Devon that you won't experience elsewhere.
---
3. Wander the moors around Widecombe-In-The-Moor
Located in the heart of the moors in Dartmouth, Widecombe-in-the-Moor is a small village surrounded by farms. Since it is so remote, the 120-foot tower from its Church of St Pancras can be seen for miles. This 14th century church is one of the most visited parish churches in England.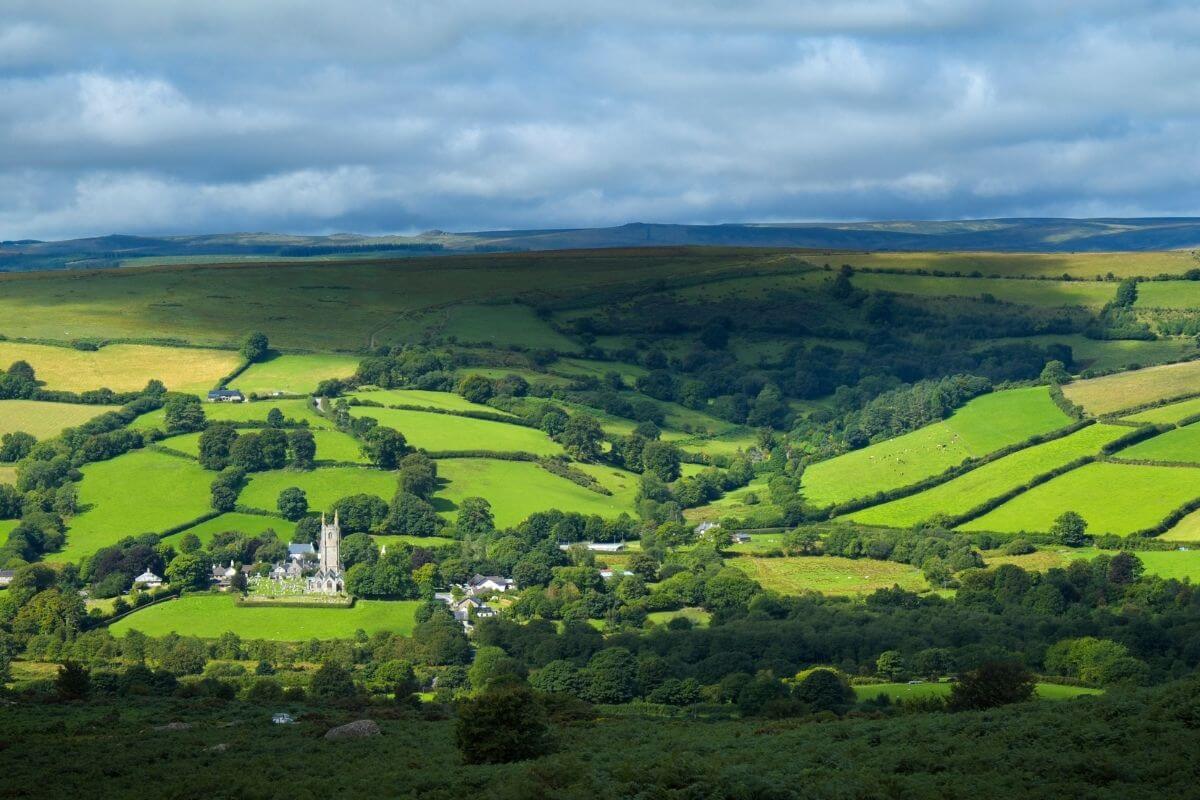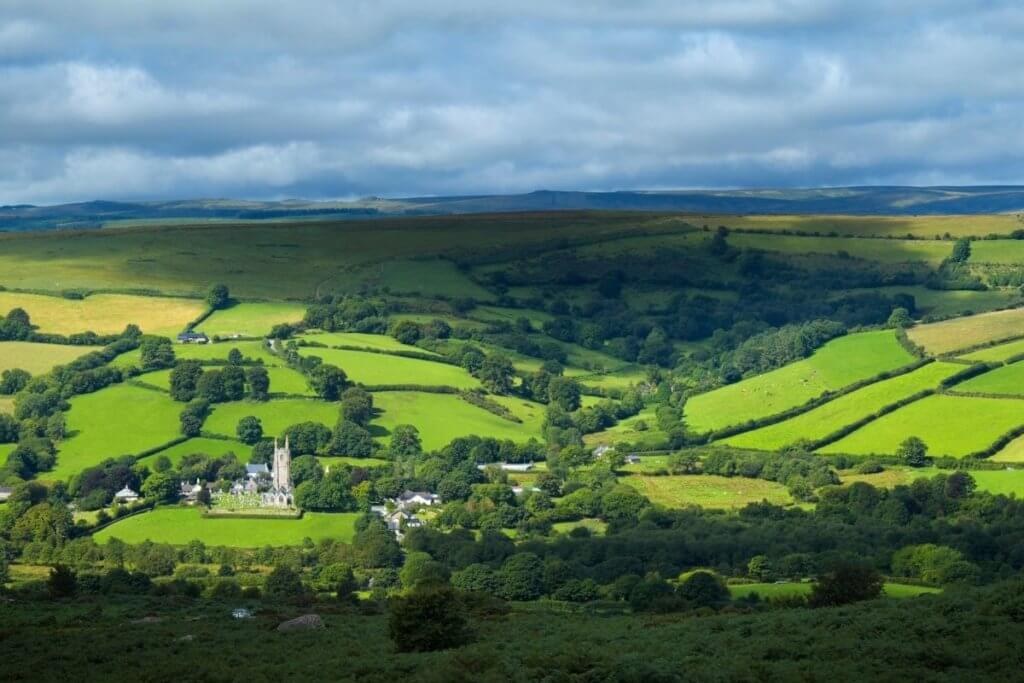 Widecombe holds a large fair every year that brings visitors from all over the United Kingdom. This fair is so iconic that it inspired a folk song. The song was named after the village and put Widecombe on the map.
The cosy stone cottages and verdant gardens in Widecombe are some of the prettiest in Devon. Pubs, tea rooms, hiking trails, and horse riding farms make days out here full of adventure. You might even see some wild ponies grazing alongside sheep and cattle in the green.
---
READ MORE: How to Do a Day Trip to Lundy Island in Devon
The Best Days Out in Devon at Christmas
---
4. Spend a day out in unspoilt Shaldon Village
The sleepy coastal village of Shaldon is home to a thriving restaurant scene and flourishing local community. A fishing town year-round, the Shaldon locals are quick to welcome summer holiday-goers. The pretty Georgian architecture gives Shaldon its own unique look. White buildings climb up from the harbour into the tree-topped hills, making Shaldon one of the most beautiful villages in Devon.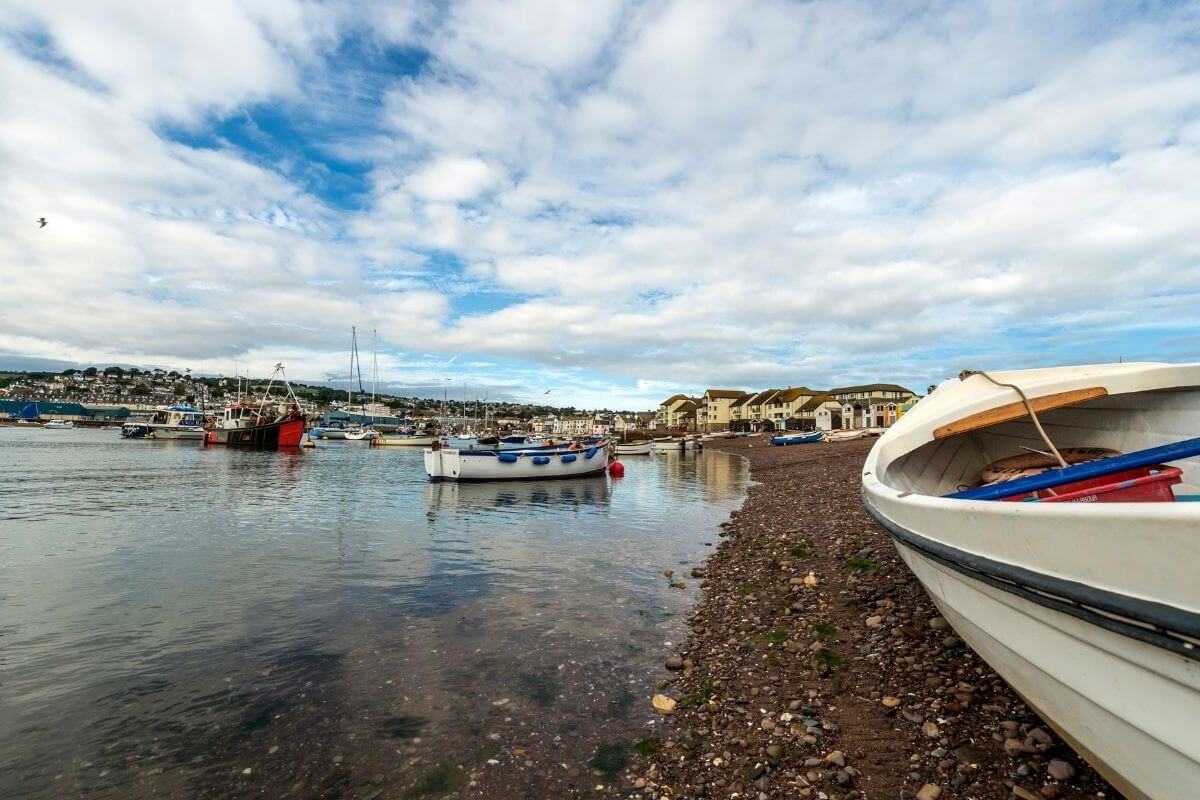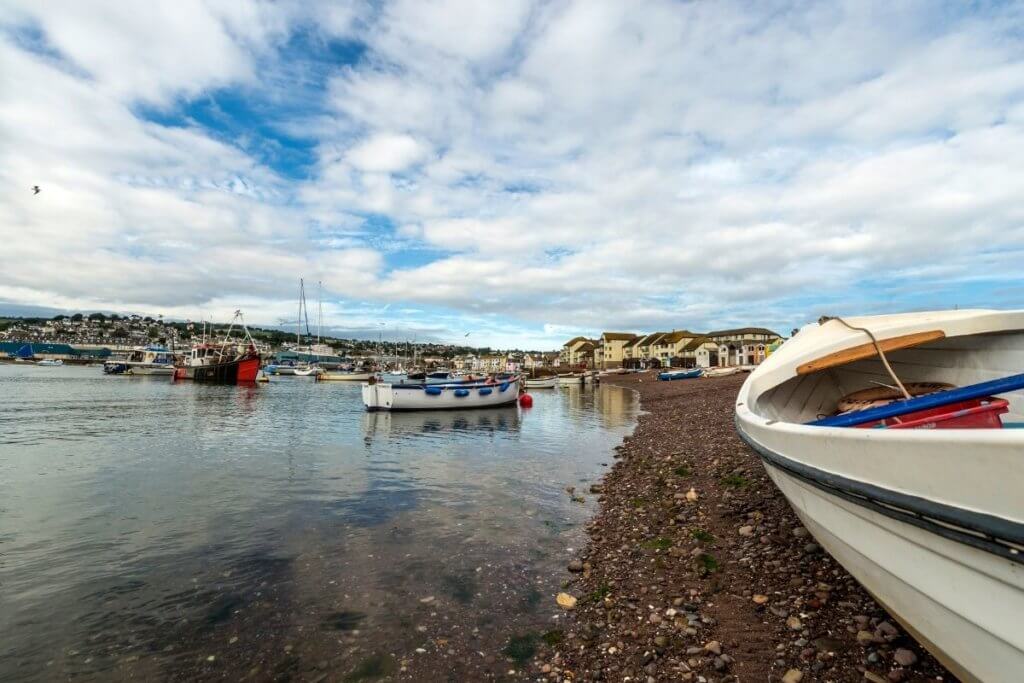 Shaldon Beach and nearby Ness Cove Beach are ideal places for bathing and enjoying the sun. Go for a peaceful walk around Labrador Bay to enjoy fantastic views of the surrounding ocean. Kids will love the Shaldon Wildlife Trust which is home to small primates and other animals. The Shaldon Botanical Gardens are located on top of a hill with amazing views. A castle surrounded by flourishing plants and flowers are well worth the trek up the hill.
---
READ MORE: The Best Places to Go Paddleboarding in Devon
---
5. Enjoy a quiet day out in Dittisham
The pretty village of Dittisham is located right on the banks of the River Dart in the south of Devon. Close to Dartmouth, this is a lovely village for a nice day out.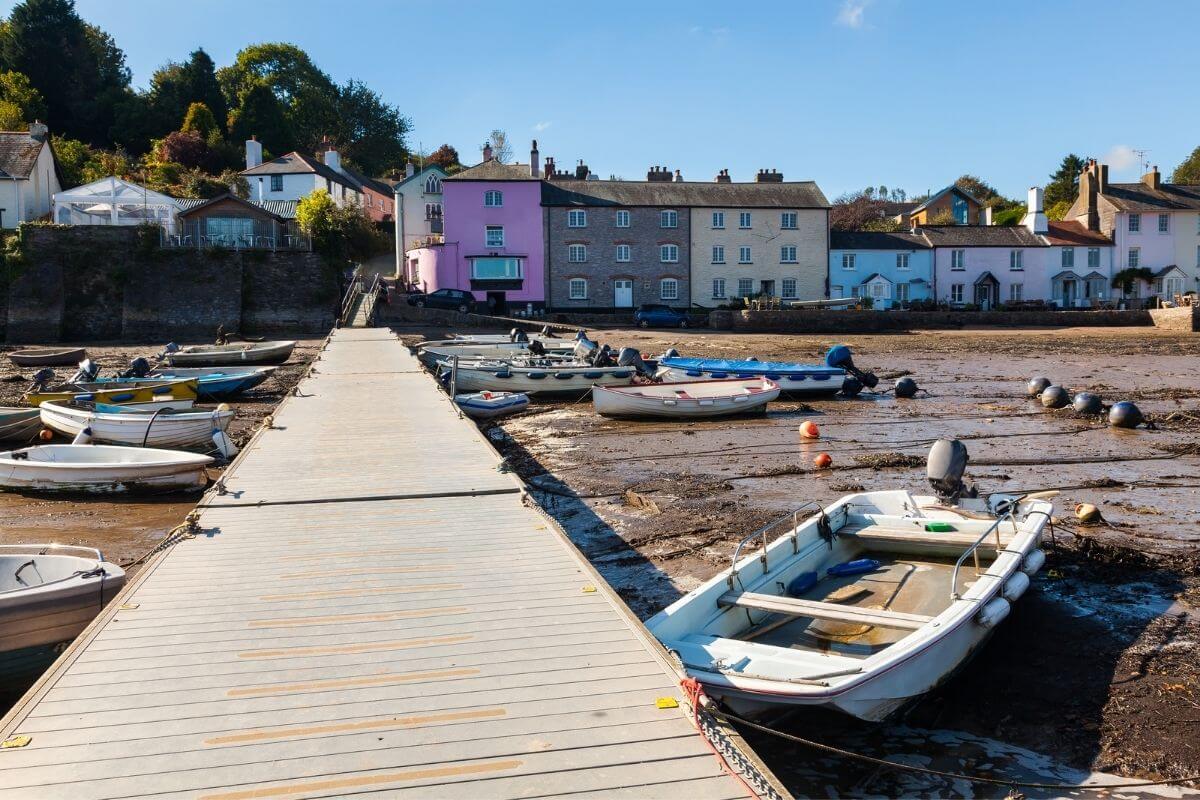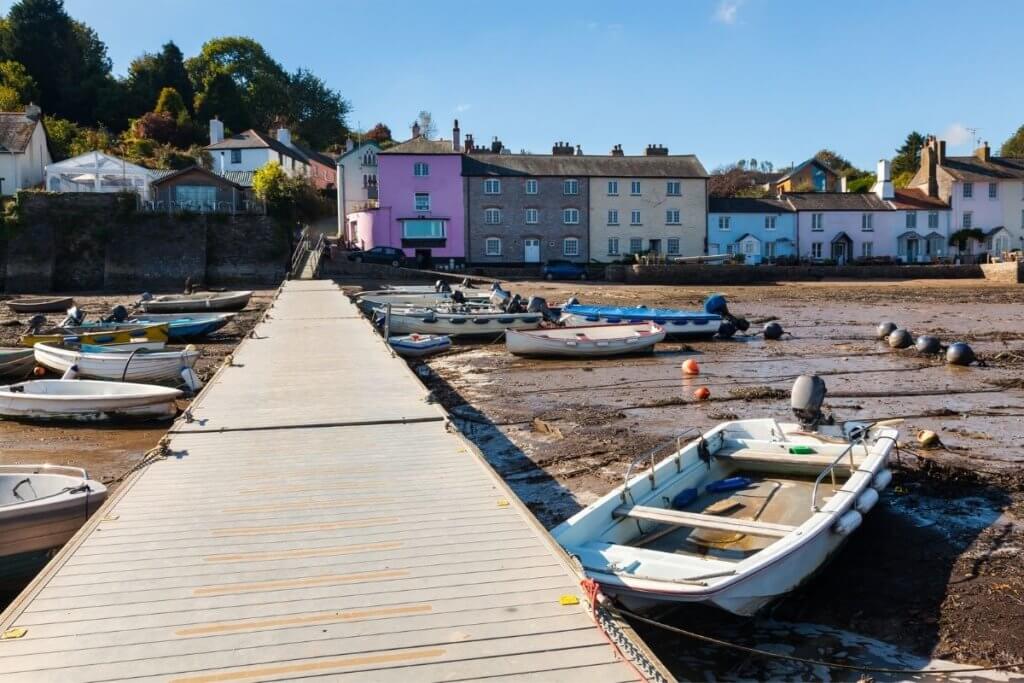 Mystery fans will love visiting Agatha Christie's holiday home, Greenway Estate. The stately white manors houses many of her family's collections. Step outside and enjoy the beautiful gardens. Local vineyards, seafood restaurants, and hiking trails are other great options for a great day out in Dittisham.
Just a short drive away are some of South Devon's best beaches. Here you can relax on the sands or try your hand at water sports. Dittisham is a quiet holiday destination that is perfect for families and couples looking to get away.
---
6. Relax in the pretty coastal village of Beer
Nestled in Lyme Bay is England's first natural World Heritage Site, the pretty village of Beer. The name sounds enticing, but it is actually named after an old English word and has nothing to do with a lovely pint in the pub.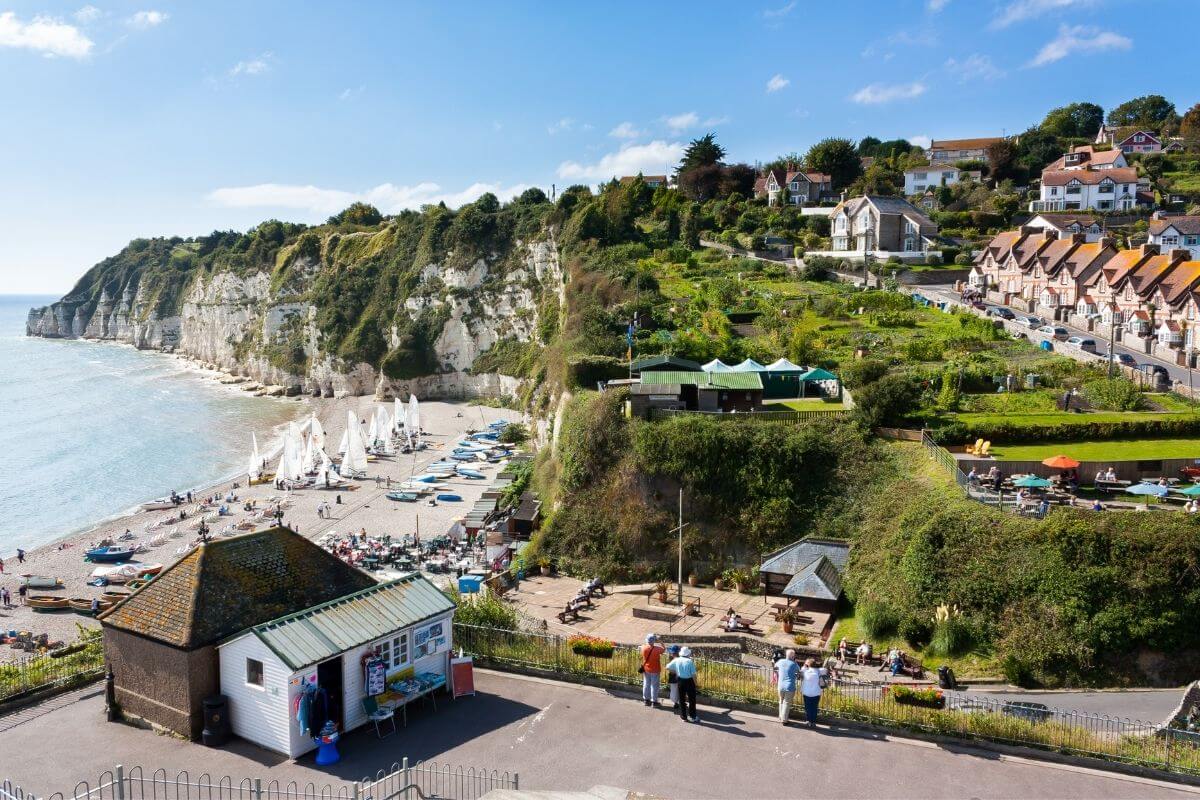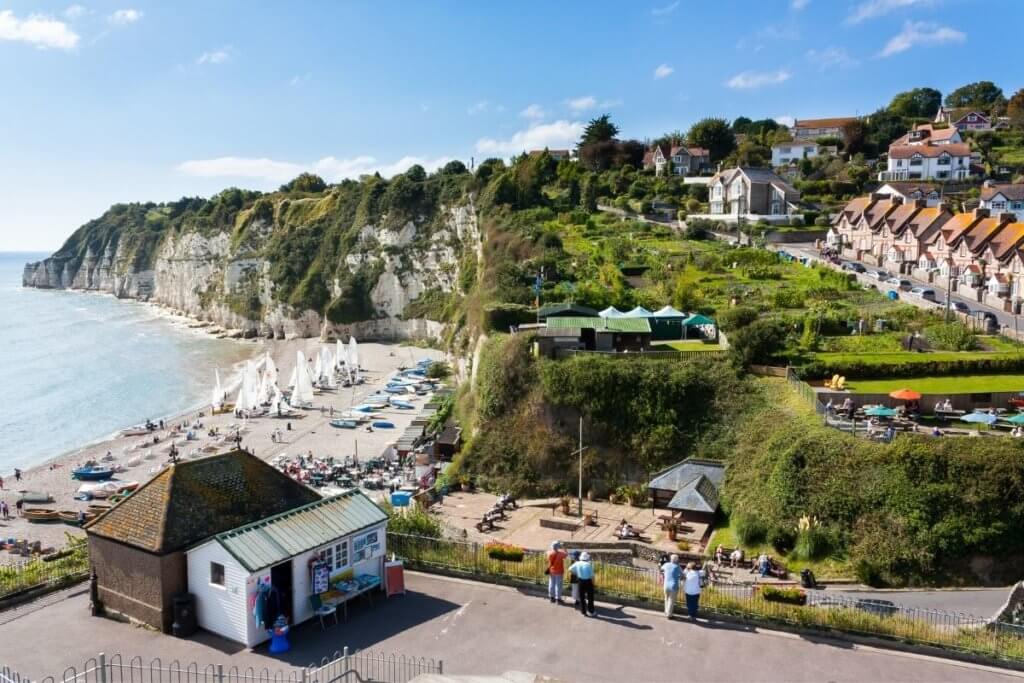 Beer has a tucked away beach that is sheltered from the wind. The surrounding cliffs are a part of the South West Coastal Path, making it a great day out for those who like to ramble. Once a smuggler's paradise, Beer is now populated by more lawful fishermen. Learn more about the village's interesting history at the heritage center and make sure to stop by St Michael's Church.
This fishing village has a beautiful rocky beach where visitors sunbathe on loungers. A trickling stream runs down the village streets. In the center of the village, pretty white buildings are surrounded by colorful flowers and flags are home to gift shops, restaurants, and cozy pubs. Jubilee Gardens has some of the best views of Beer's stunning beach. Visitors looking for a seaside feel and a day out by the water will love Beer.
---
7. Step back in time in Cockington
Cockington is a small village with an international reputation. Located near Torquay, Cockington is a short drive from the English Riviera. Visitors feel like they have stepped back to a simpler time when touring Cockington. This small village is full of quintessentially British thatched cottages with vines and flowers creeping along their stone walls. The seaside Devon town was first settled around 2,500 years ago with most of the cottages being around 300 years old.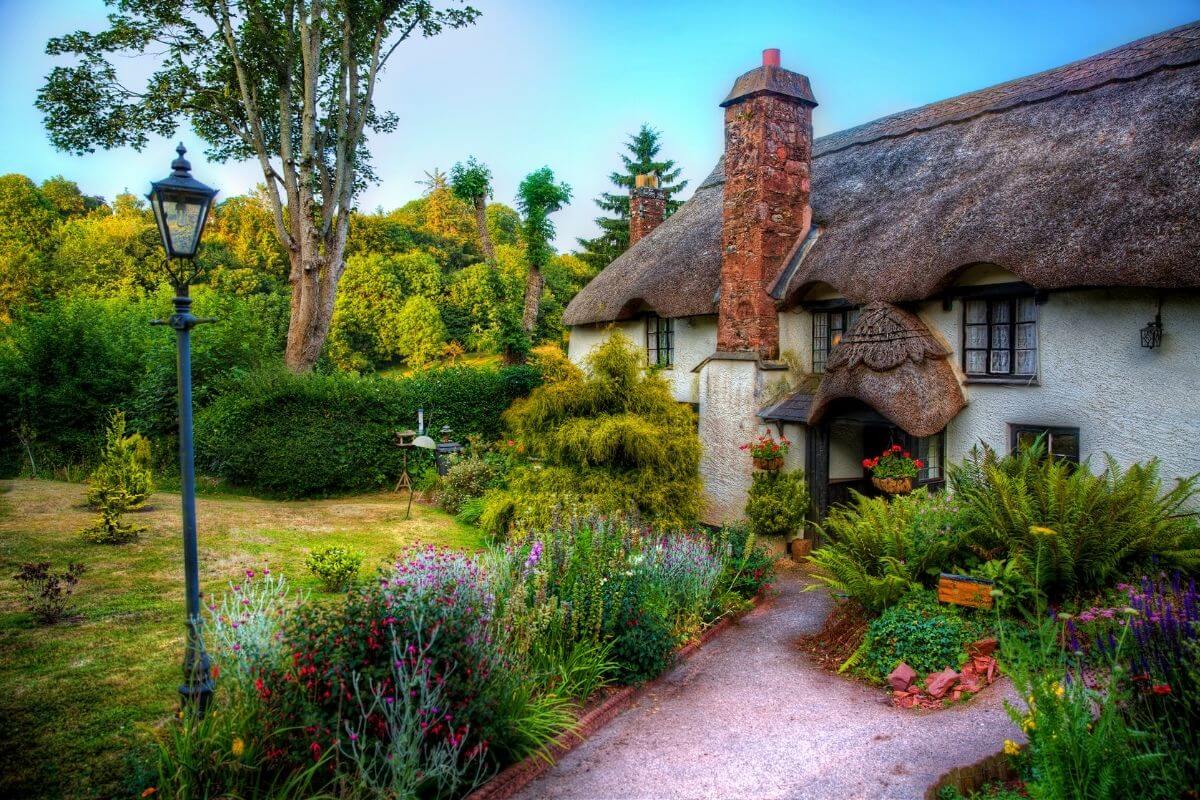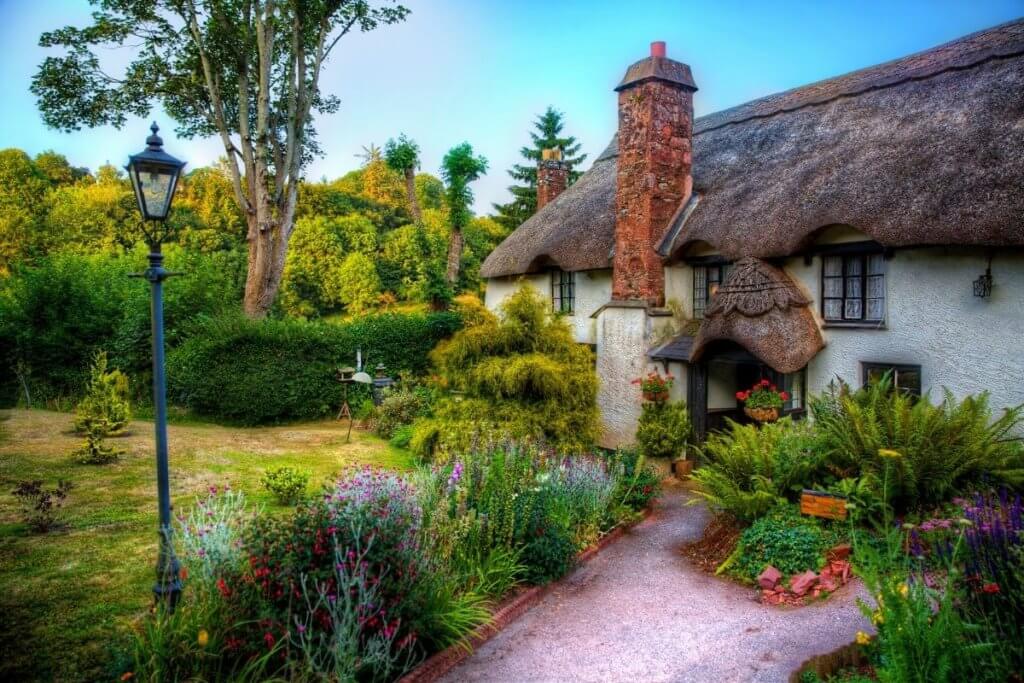 Not a lot happens in Cockington, meaning this is a place to spend a quiet day out. Cockington Court manor house and Parish Church of St George & St Mary are stunning historical buildings. The Drum Inn is a wonderful pub to grab a bite and a pint. The historic cottages are home to artisan craft stores, ice cream shops, an old forge, and even a glass blower who may be doing a presentation. The meadows, rose gardens, and estates are peaceful places to walk and smell the roses.
---
Prettiest villages in Devon
This list only mentions 7 particularly pretty villages in Devon but trust us, there are many more beautiful places for a day out that didn't make the list! Use this list and go out and explore the charming villages of Devon, and let us know what you find!
---
Quicklist for the best Devon villages
1. Lounge by the sea in Woolacombe
2. Be a part of history in Clovelly Village
3. Wander the moors around Widecombe-In-The-Moor
4. Spend a day out in unspoilt Shaldon Village
5. Enjoy a quiet day out in Dittisham
6. Relax in the pretty coastal village of Beer
7. Step back in time in Cockington
---