Looking for the best islands in England for your summer hols?
Back in September last year I decided I wanted to go to every island in England, and I started with Thorney Island, just a 25-minute drive away. Then I went to the Isle of Wight to make a video for this 'England island project' as I called it, and then unfortunately the weather and work took over, and I didn't do actually see any more islands in England last year.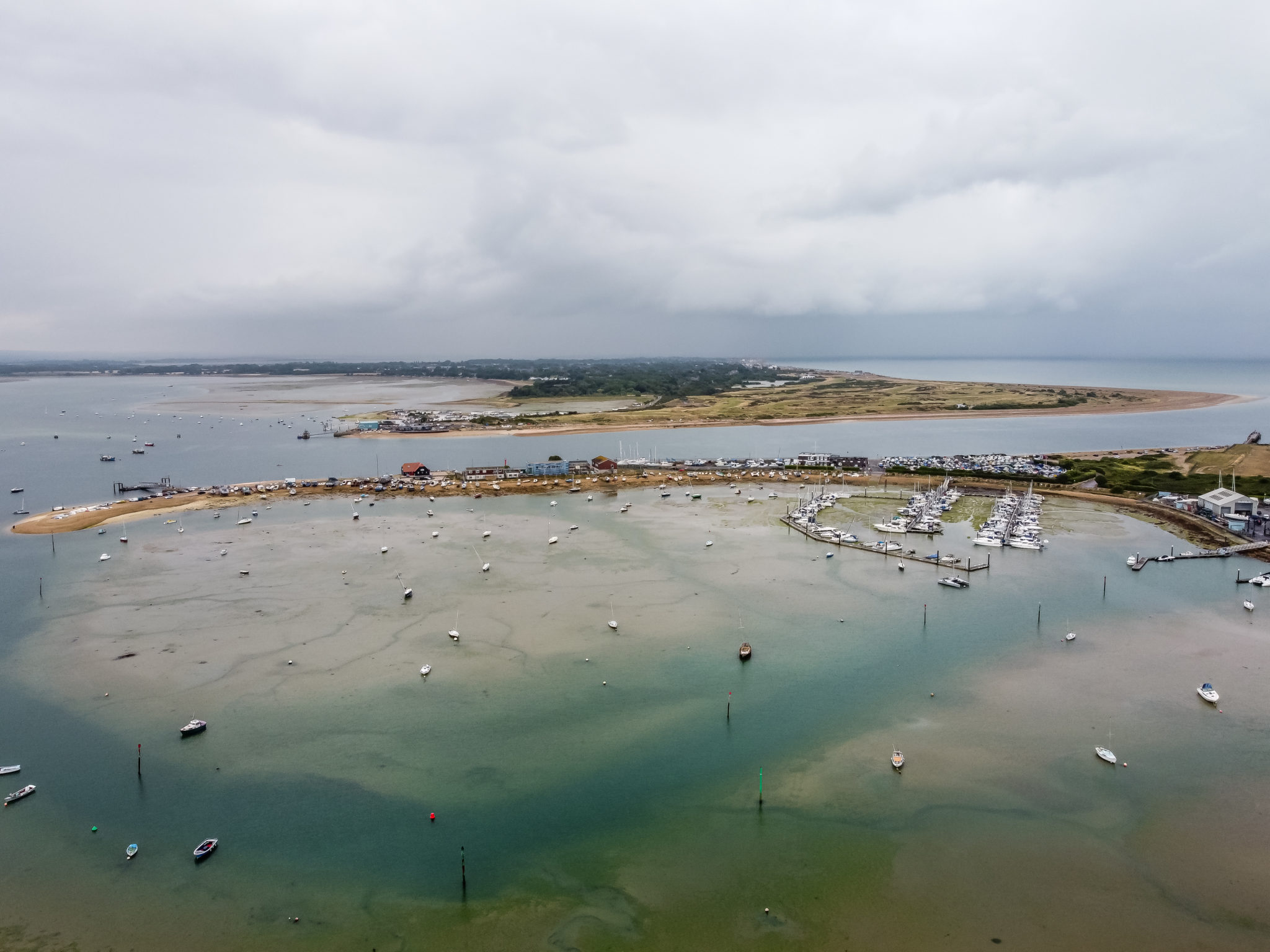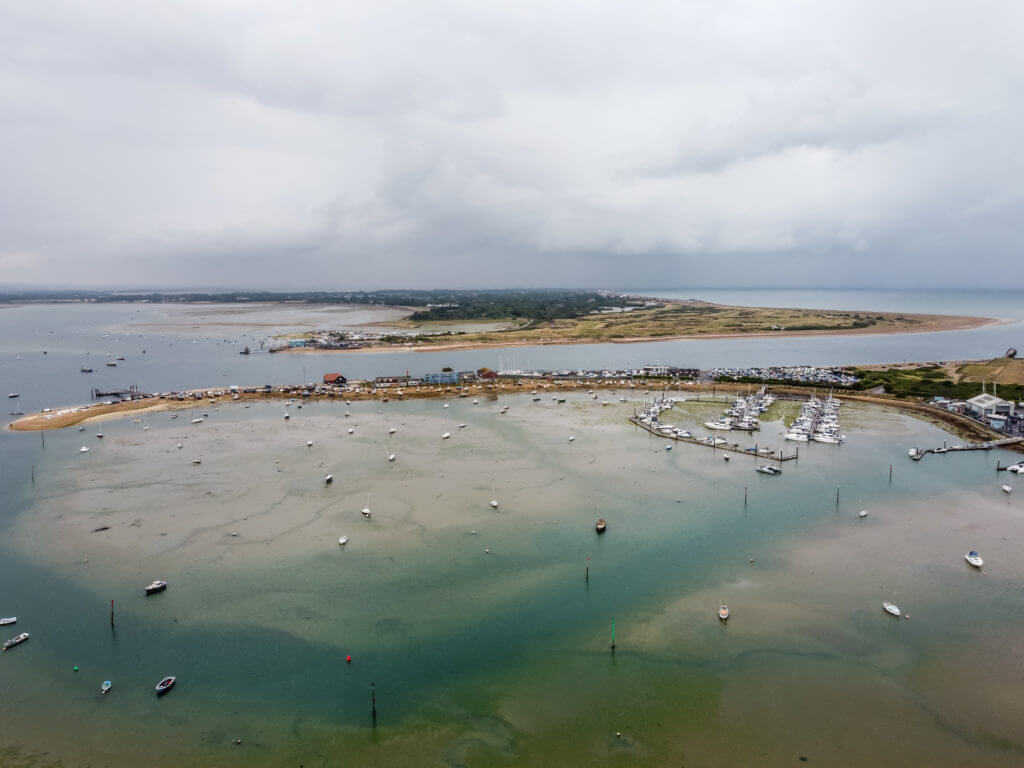 But this year, with a family holiday to Cornwall planned, I decided it was the perfect time to visit the Scillies and start the project up again. To go to, write about, and film, every island in England.
And then, the V I R U S.
Ruined everything.
I had a lot of research though, and a lot of past experience, so I thought it was a great opportunity to put it together and highlight some of the best islands in England to visit this summer.
Let's start with England's islands on the south coast shall we?
South Coast Islands in England for 2020
1. Isle of Wight, Isle of Wight
The Isle of Wight is the biggest of England's islands, and has the most people too. The Isle of Wight is its own county and is known for it's excellent sandy beaches, bustling old-skool seasides, and more recently, as a foodie mecca. There are some wonderful restaurants on the Isle of Wight – I love it over there. I live in Southsea, Portsmouth, and so I can just get a hovercraft over to Ryde whenever I feel like it.
There's also the car ferry if you want to do a bit of a road trip while you're there.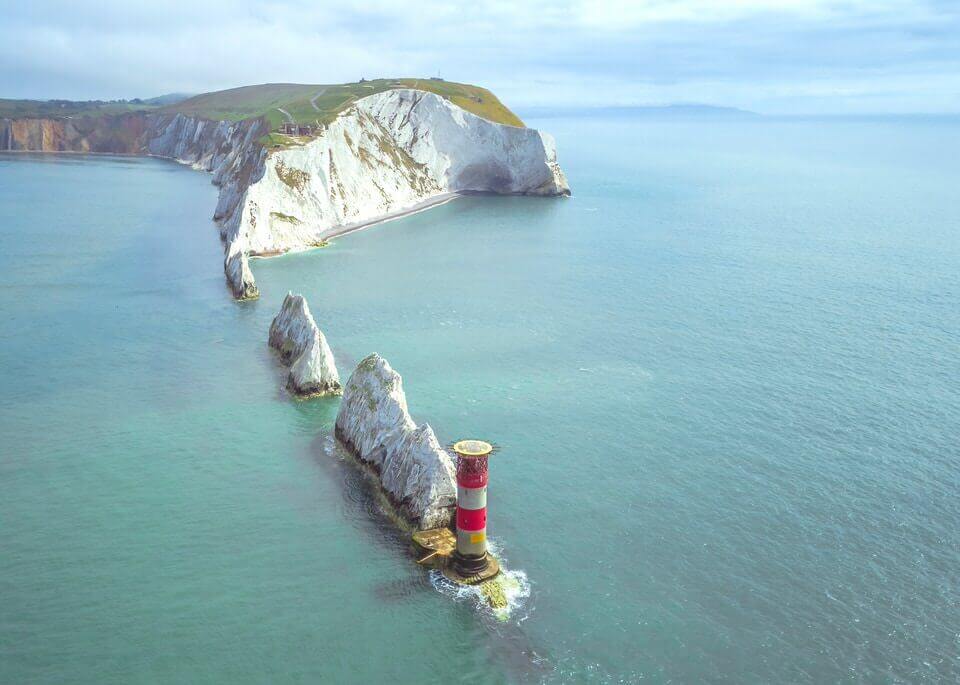 The rolling mountains are stunning on a day out on the Isle of Wight, there's loads of fun things to do for kids (especially of they're into animals) and loads of fun things on the Isle of Wight for adults too. In fact, it's known as having the most activities per mile than any other county in England.
The Isle of Wight is also known as being one of the sunniest places in all of England, given its proximity to mainland Europe.
It's closer to France than a lot of England!
2. Thorney Island, West Sussex
I've made a video about my afternoon walking round Thorney Island, and let me tell YOU, you're in for a treat. If you're looking for somewhere remote for a walk in England, then the 7-9-mile circumference of Thorney Island makes for a great wander.
It's MOD land, so once you've started, you can't stop and walk across, but that's what makes it all the more relaxing. You just walk round the edge, and you don't need to worry about directions.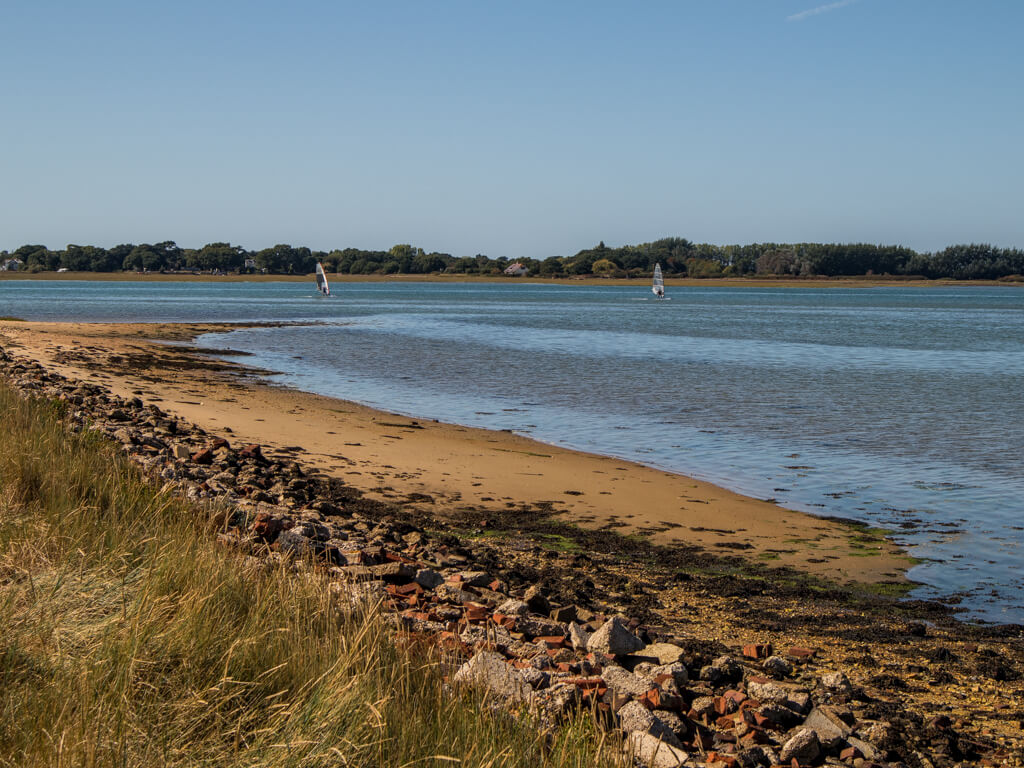 You'll pass an RSPB bird sanctuary, a stony beach, a sandy beach and windsurfers and boats. There's absolutely nothing to buy on the island, so you need to take everything with you, but it also means you won't spend any money. Whooppeee!
Oh, and bring your swimmers!
Definitely one of my favourite days out in West Sussex.
---
3. Hayling Island, Hampshire
I live right by Hayling Island, in fact, I can just get the 5-minute boat across from Southsea Marina for a few quid, rather than driving round. Great for cycling on Hayling Island, not so great for seeing as much of the island as possible in a short amount of time.
Either works though.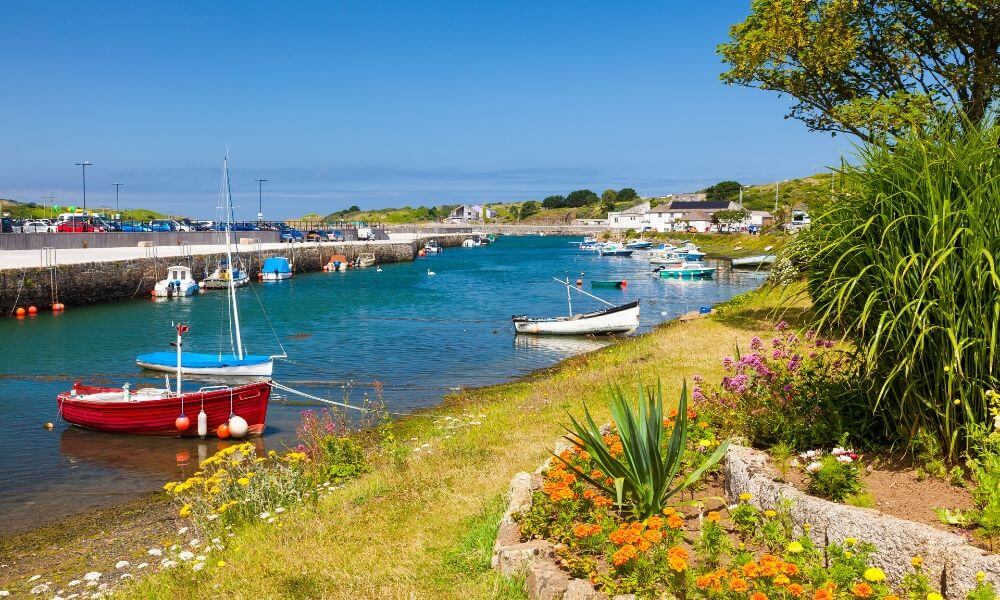 Hayling Island has a great beach – over three miles facing the Solent. I've been a few times but one of the most memorable was when the Kite Surfing Festival was on. It's kinda windy down there so it's a favourite for the surfers, you can watch them riding the waves, and the wind.
The best place to eat on Hayling Island is Inn on the Beach. Despite going and trying to find somewhere new, it remains a favourite. Those fish and chips!
One of my favourite days out in 2020 was when I walked around Hayling Island, making a video as I went. You can check it out on that link.
Other things to do on Hayling Island include the Lavender Farm, the Farm shop, and the Billy Trail too.
---
READ MORE: The 10 Best Marinas in England
---
4. Portsea Island, Hampshire
Portsea Island is my island, where Portsmouth, and within that, Southsea, are located. There are 20 different localities on Portsea Island, making it the largest island in England.
Cycling round Portsea Island is a great way to get around.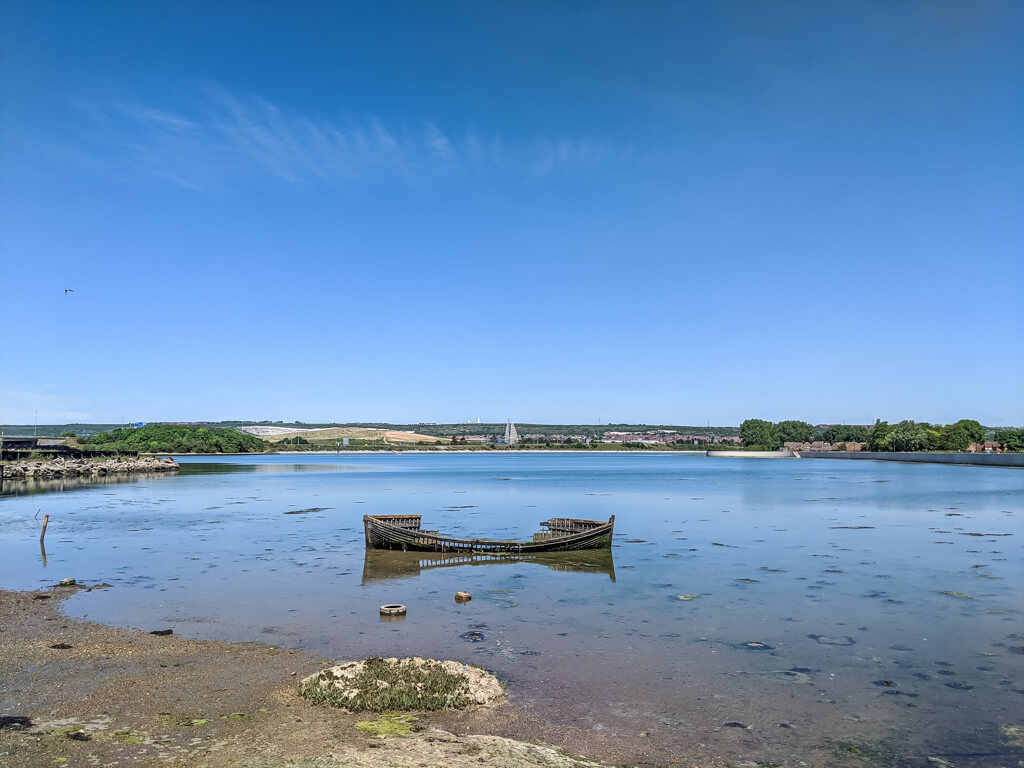 There's loads to do on Portsea Island, given how big it is, and the fact it contains Portsmouth, the only island city in the UK. Portsmouth has an even higher density of people than London, but don't worry, it's not nearly as busy. This means that a lot of cool shops and independent restaurants can survive down here, which would normally have to close because of the foot traffic.
The beach is the highlight of Portsea Island if you ask me. It's a shingle beach and stretches for miles – meaning it's never too busy and there are different sections depending on your interests – nudist, arcades, kitesurfing, kayaking, wild swimming etc.
Gunwharf Quays outlet shopping centre is also kinda a big deal round here, as is the Portsmouth Historic Dockyard.
If you want to walk Portsea Island as part of a longer trip, then how about walking the 60-mile Solent Way? Read our guide to where it starts and finishes, where to park, how to use public transport to move around and why exactly you should do it.
5. Brownsea Island, Dorset
Brownsea Island is most famous for being the island where Lord Baden Powell set up his scout experiment back in 1907. Of course this has gone on to the successful scout movement around the world.
The island is 1.5 miles (2.4 km) long and three quarters of a mile (1.2 km) wide. It consists of 500 acres (200 ha) of woodland (pine and oak), heathland and salt-marsh.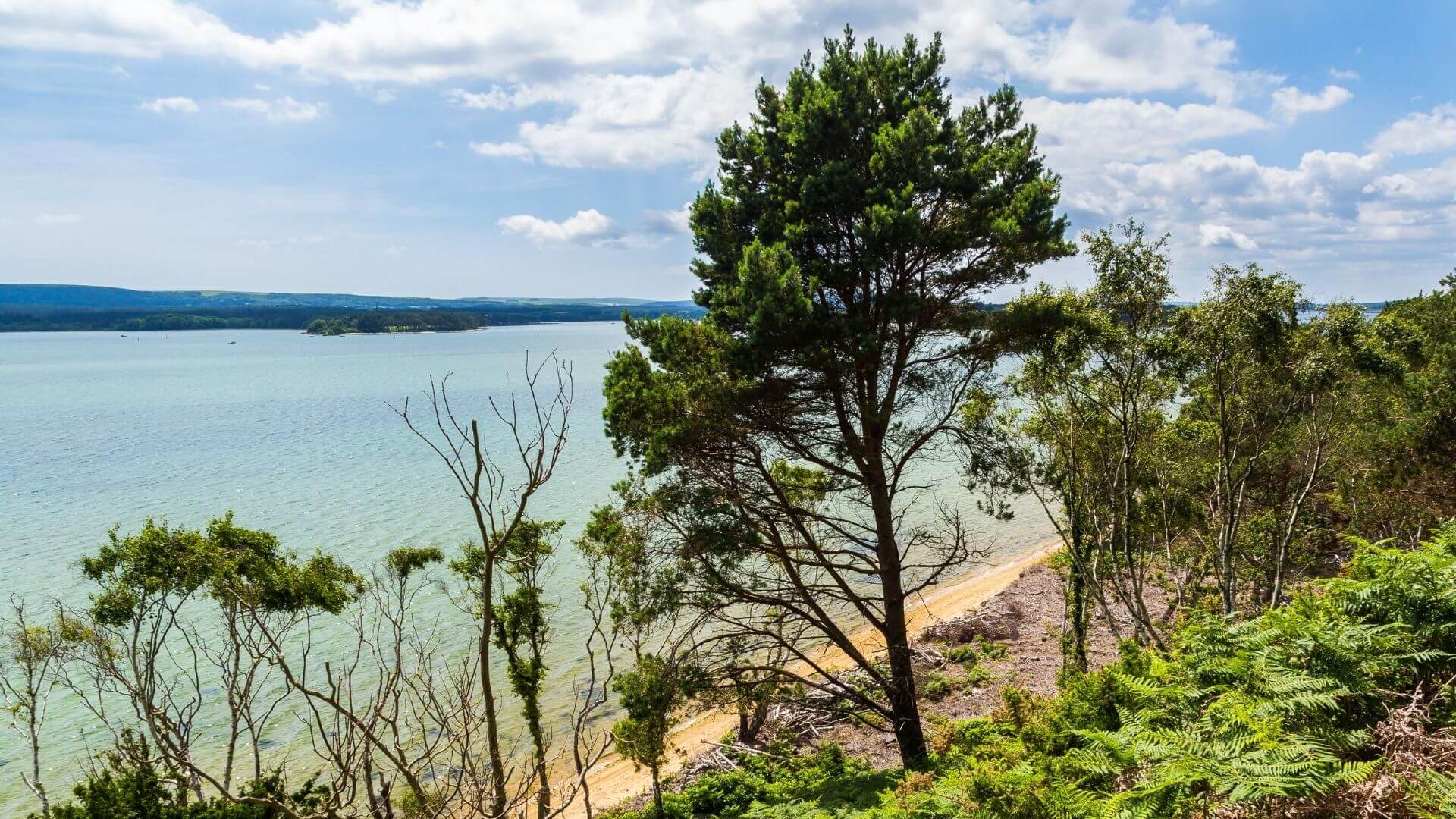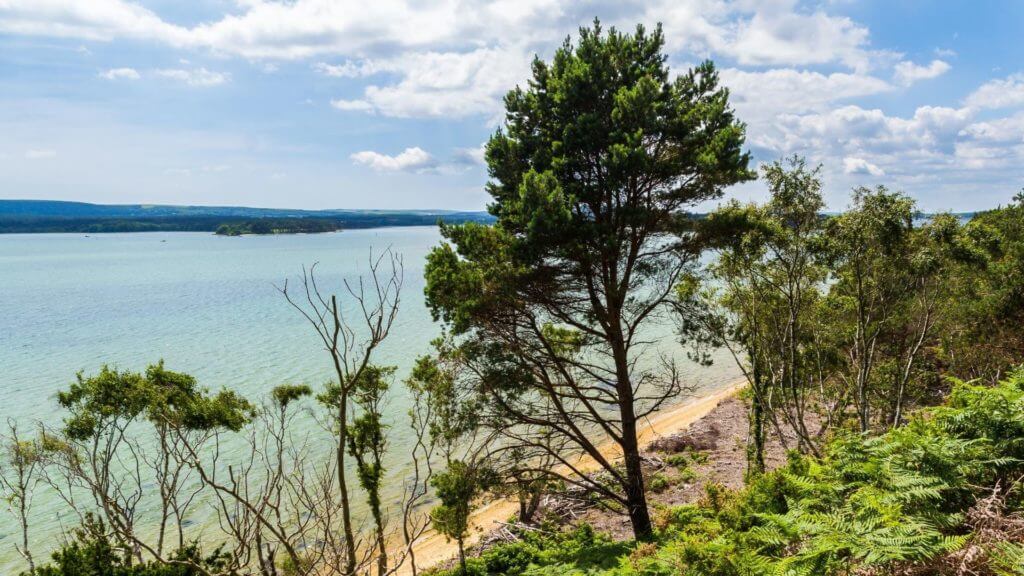 Brownsea Island is only open from mid March to the start of November, and there's a charge of £7ish to get in. The island wildlife sanctuary is in the middle of Poole Harbour, just off the Dorset coast. Woodland, heathland and lagoon all meet here creating a haven for wildlife – red squirrels and peacocks are the highlight here. For this reason the island is actually owned by the National Trust, Yep, it's free to enter for you members.
Things to see on Brownsea Island include fabulous views out to the Purbeck Hills, a 19th century church, and a Visitor Centre. Here you can learn more about the industries on the island that've kept it thriving, and see the remnants of the old village where people used to live. Tours are available daily.
Outdoorsy types love the Outdoor Centre where you can stay to enjoy ropes course, orienteering, archery, tree climbing trails and mini golf. During the summer there's open air theatre and cinema under the stars here. And the sunsets are amazing.
There's a shop for sovenirs, and also the Villano Cafe to pick up lunch and snacks. The Outdoor Centre is open to campers over the summer for however long you like – making for a cheap stay and the ability to see the island after hours.
To get to Brownsea Island you can travel over via your own boat or kayak, or take a short ferry trip from Sandbanks or Poole. It's a great way to spend a day out in Dorset. There are some great English white sand beaches in Dorset that you should definitely explore.
6. Portland Island, Dorset
Just five miles off Weymouth, Portland Island is one of England's most treasured islands. It is actually tied to the mainland along Chesil Beach, but still counts as an island for me. It's the most southern point on the Jurassic Coast and is known for its quaint villages and moody scenery.
At four miles long and a mile and a half wide the amount of things to do on Portland Island is pretty impressive. Three lighthouses, folklore, pirates, smugglers and sporty outdoor pursuits are all celebrated here. With the winds of the coast kitesurfers and sailors love the challenge.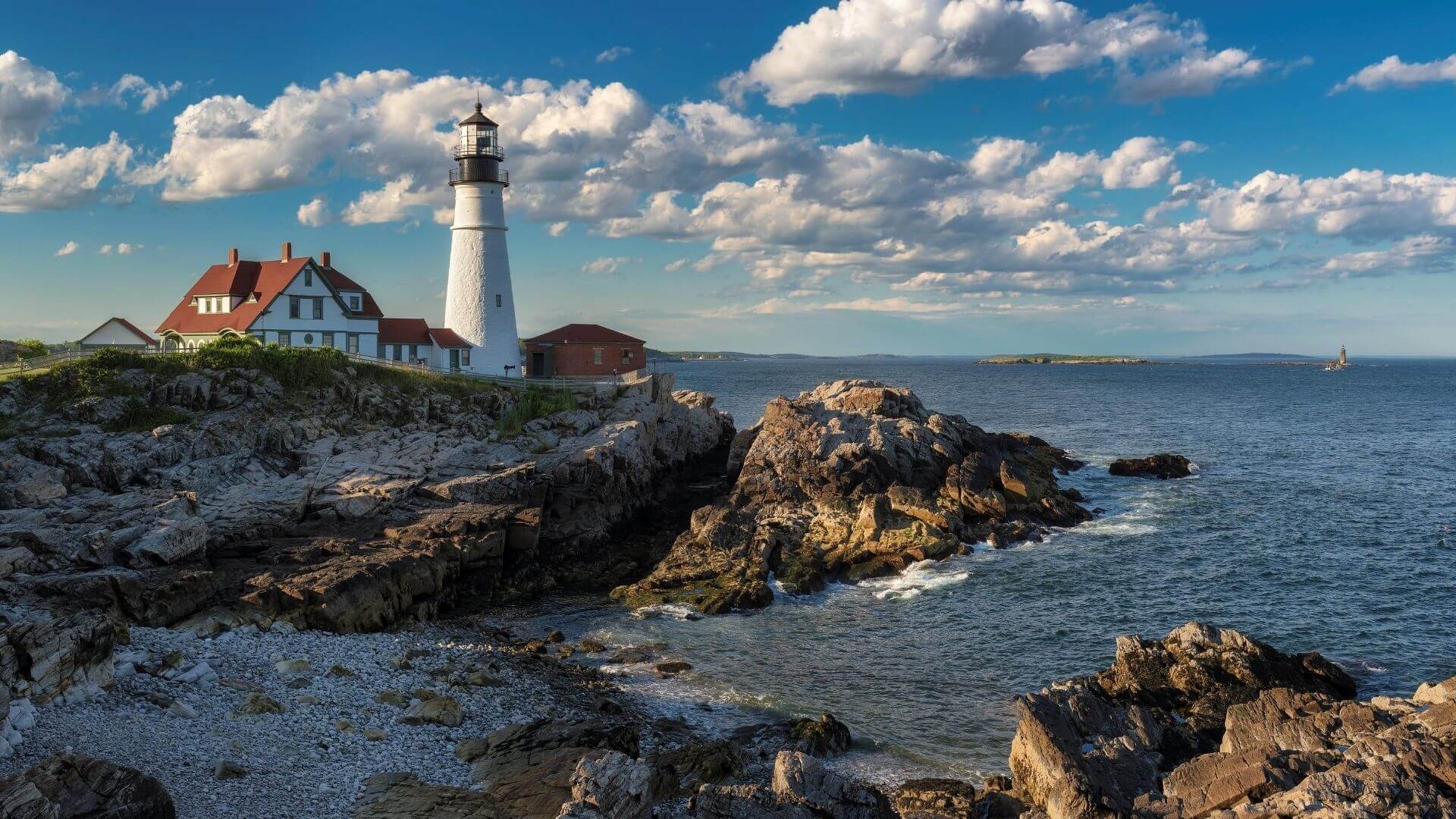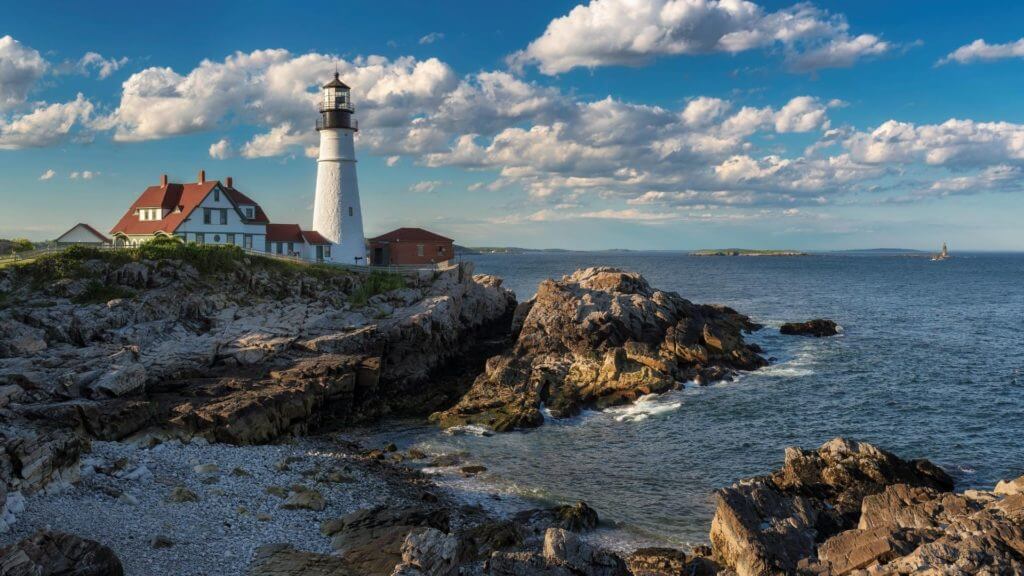 You can enjoy the Portland loop of the South West Coastal Path – I walked the 9.5-mile trail around the island to enjoy the dramatic rugged cliffs, the views and the wildlife. It's unique position brings in a rich variety of birds and plants too. If you're into that, check out the Portland Bill Observatory.
Also, over 25 species of butterflies can be found on Portland Island.
The top thing to do on Portland Island is to climb the 153 steps of the Portland Bill Lighthouse to Pulpit Rock. Second, is to head up to the north of the island to see the Olympic rings for sunset.
One of the best things about visiting Portland Island was seeing the Antony Gormley sculptures in the stone sculpture park.
7. Burgh Island, Devon
I had never even heard of Burgh Island before I started this project on the islands in England. The hotel there looks amazing though. Just you wait. It's super fancy and is based around an art deco vibe, you can even book the whole hotel out for your family and friends if you like. If you have a spare £20k ish.
You'll see why Noel Coward and Winston Churchill loved it here.
Pop along for a traditional Devon cream tea, in your Sunday best in the Palm Court Lounge.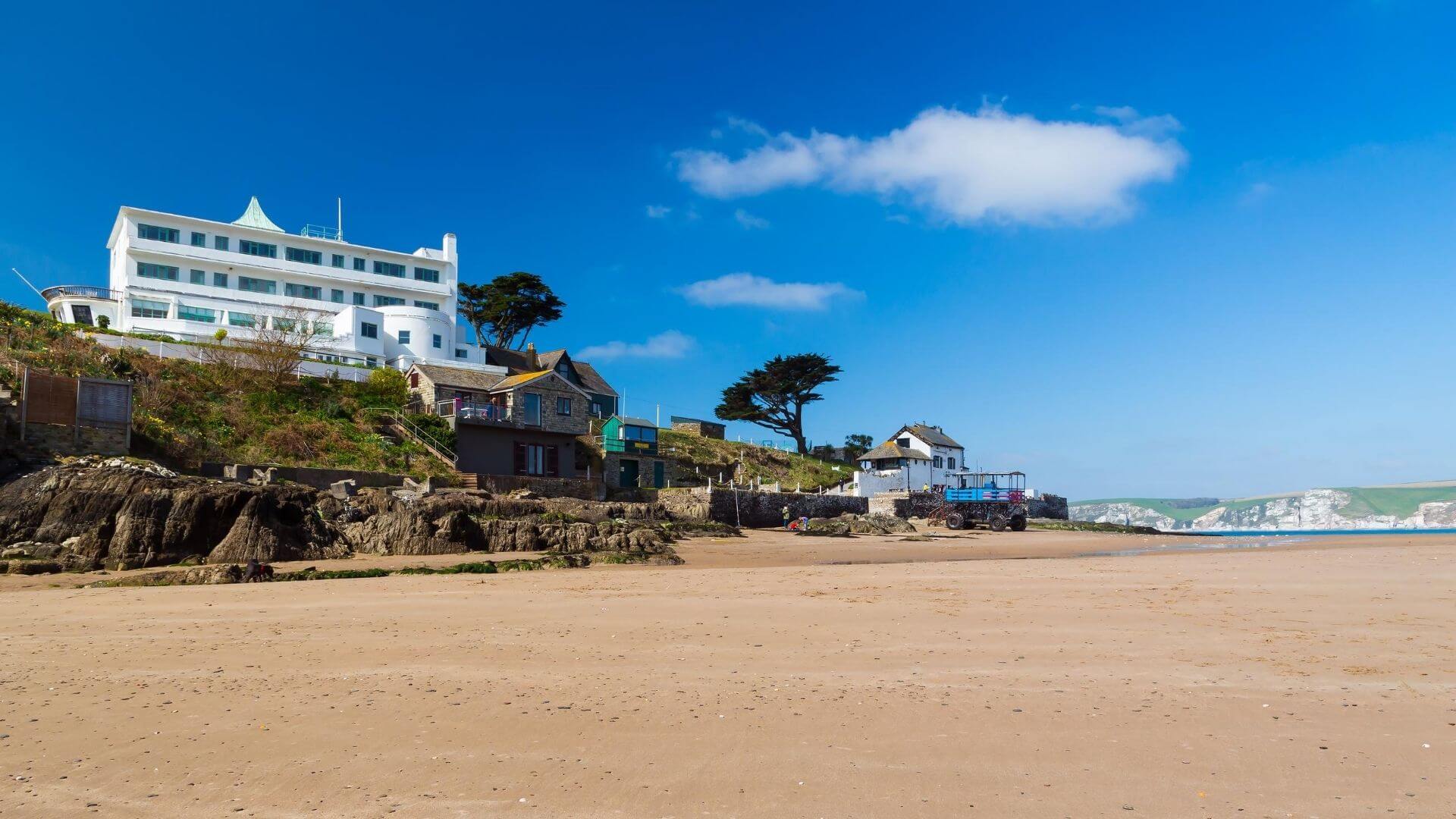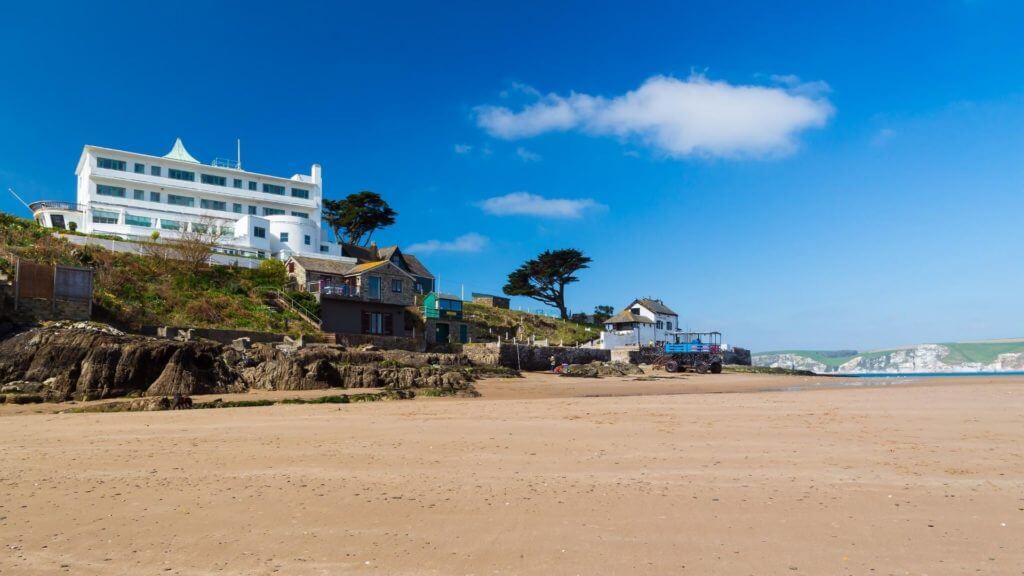 The hotel is a huge feature of Burgh Island, but it's not the only thing to do there. The 26-acre tidal island sits off the coast of Bigbury-on-Sea and apparently came to attention because of the Agatha Christie novels
Once upon a time there was a monastery on Burgh Island, then during WWII it became an RAF Recovery Centre for pilots and workers.
During World War II the hotel was used as an RAF recovery centre for wounded pilots and workers. It suffered significant damage during this time and fell into decay, until in.
Now Agatha Christie fans can stay in 'Agatha's Beach House' .
It's totally free to visit Burgh Island in Devon and you can walk over the tidal causeway under your own steam while the tide is out. Keep an eye on it though of you could end up needing to stay. Take some cash so you can catch the sea tractor back again.
8. Drake's Island, Cornwall
On the very day that I looked up 'Drake's Island' on Google, it was announced that they were opening it for tourists for a limited time. Unfortunately the tickets were snapped up immediately and I missed out.
Would've been great.
Drake's Island is a former fort, prison and adventure centre located about 550 yards (500 metres) off Plymouth in Cornwall. It's been closed since 1989.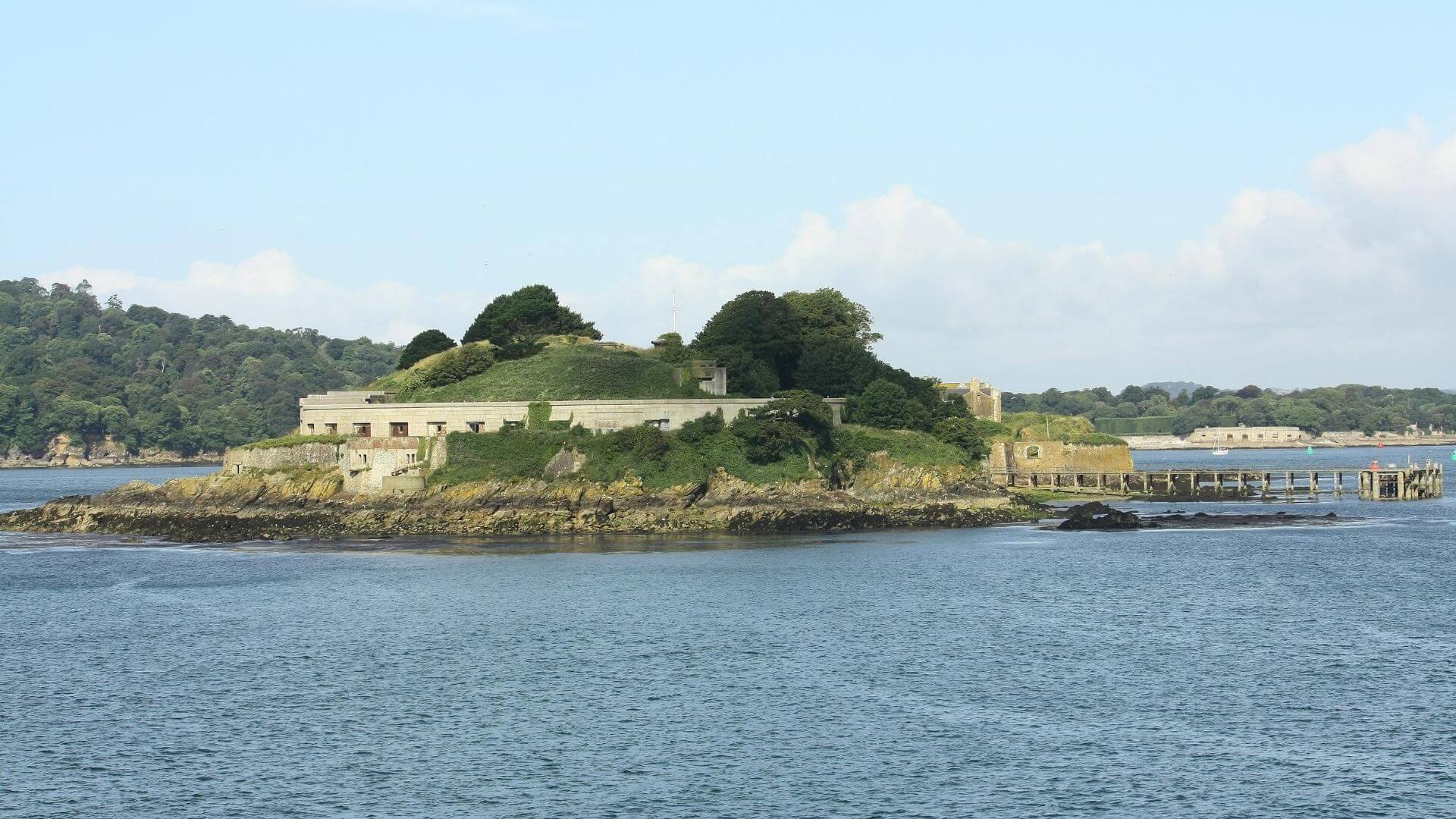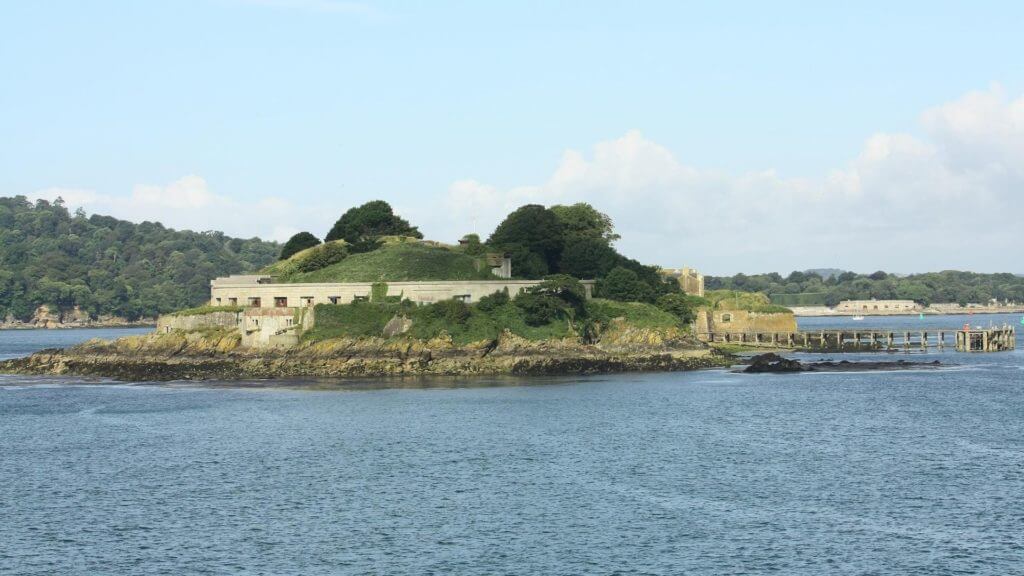 But now owner Morgan Phillips plans to create a living museum and heritage centre on the island, so the public can come and enjoy the island for years to come. It was once a War Office, but the Crown Estate put it up for sale and the guy who won it wanted to create a hotel complex. Unfortunately for him, after buying it his plans were rejected.
It was bought for £384,000 in 1995, and sold for £6 million in 2018.
Now that's a tidy profit!
So this one is uninhabited as yet, but we'll have to go to the museum and heritage centre when it finally opens, hey?
9. The Scilly Isles, Cornwall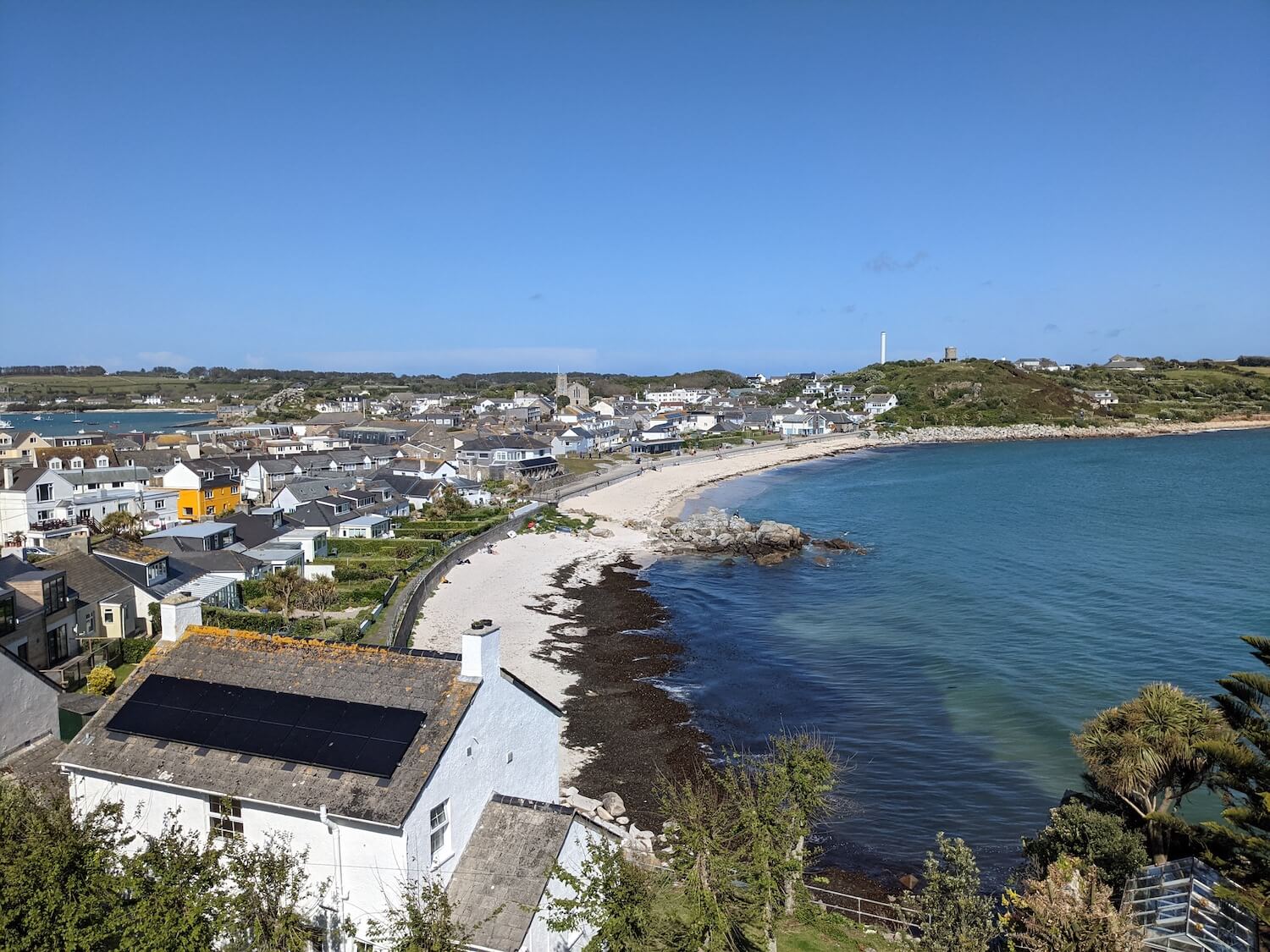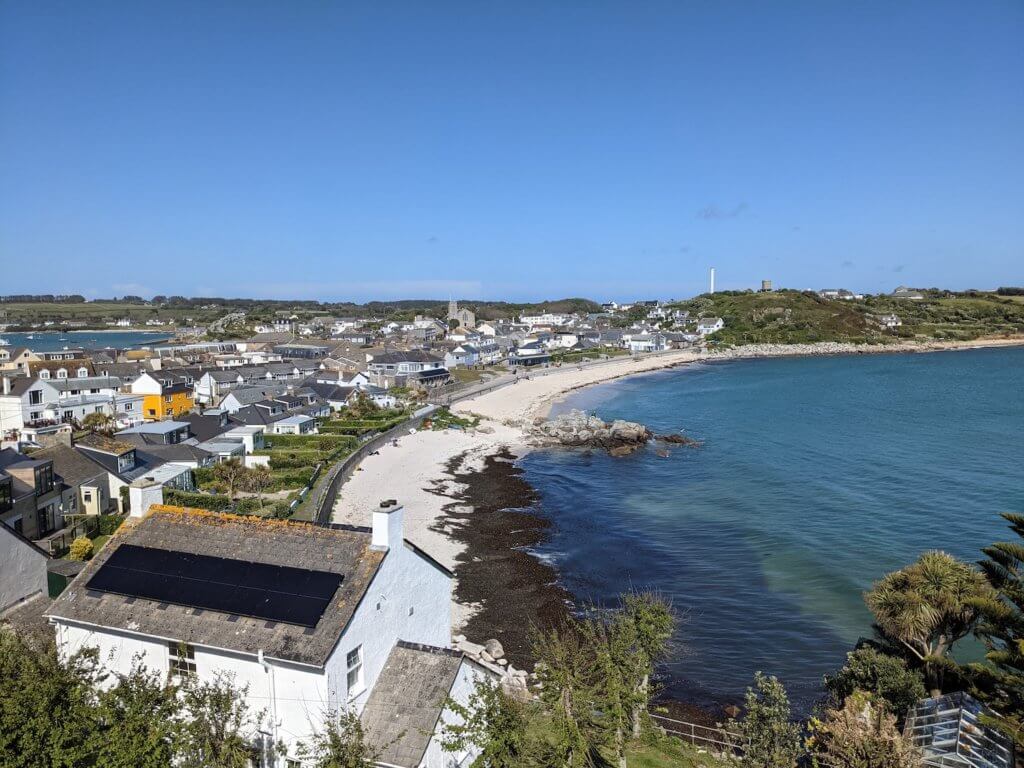 And finally, we'd definitely recommend you do a day trip to the Scilly Isles in Cornwall. It's a really beautiful part of England and there's lots of natural beauty to see there!
Islands in England to visit
There are at least another 15 islands I want to write about and visit over the next few months, including the wonderful Lundy Island in Devon. Watch this space!