If you want to do the Solent Way Walk in day trips, rather than staying over en route, here are the best train stations and ferries, the distances, and the ultimate route plan for your adventure.
I set myself the challenge of walking the Solent Way in 4 day trips, to keep things cheap, and so I didn't need to stay over. Turned out the walk was so pretty and interesting, that I just decided to relax into it and walk the Solent Way in 6 days instead.
The route is actually relatively simple, following the coastline, although there are a few forks in the road where you'll need my guide. This is the guide to walking the Solent Way I wish I'd had when I started. The most difficult part of walking the Solent Way is the fact that it's linear, and you need to work out the public transport to get back to your car or train station. I spent hours researching the best ways to do this!
You can enjoy the fruits of my labour below…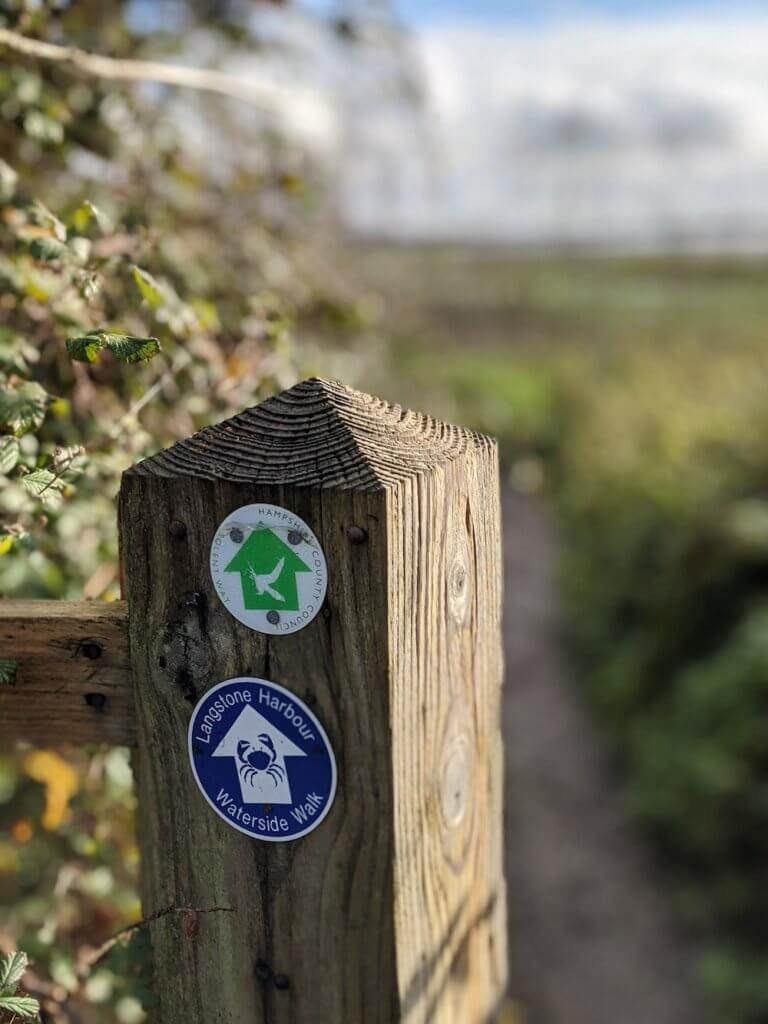 The Solent Way Walk
The Solent Way Walk begins in Emsworth – just next to the Hampshire border with West Sussex – and ends in Milford on Sea, in the New Forest, Hampshire. You'll basically be walking the entire coast of Hampshire, and through the New Forest National Park (one of the best National Parks in England).
You'll walk the Solent Way along the beautiful Solent coast walking through cow fields, beaches, a little bit of road, and taking in two ferries, two cities, and a forest. Oh, and it's around 60 miles long.
Sounds exciting hey?
Everything I read suggests doing the Solent Way Walk the other way, from Milford on Sea to Emsworth, but it suited me better from Emsworth to Milford on Sea. I looked at the route, divided it up, and got going.
No regrets about doing the Solent Way Walk this way – stunning!
---
The Solent Way Map
This is a rough map of the Solent Way walk. As you can see, it follows the Hampshire coast as much as possible.


---
---
How to Walk the Solent Way in 6 Day Trips
If you want to walk the Solent Way, but don't want the hassle of staying over, or the expense, then here's how you can do it in 6 separate day trips.
Solent Way Walk Day 1: Emsworth to Portsmouth Harbour
I live in Portsmouth, so got the train to Emsworth Station, which pretty much brings you out to the start of the Solent Way Walk.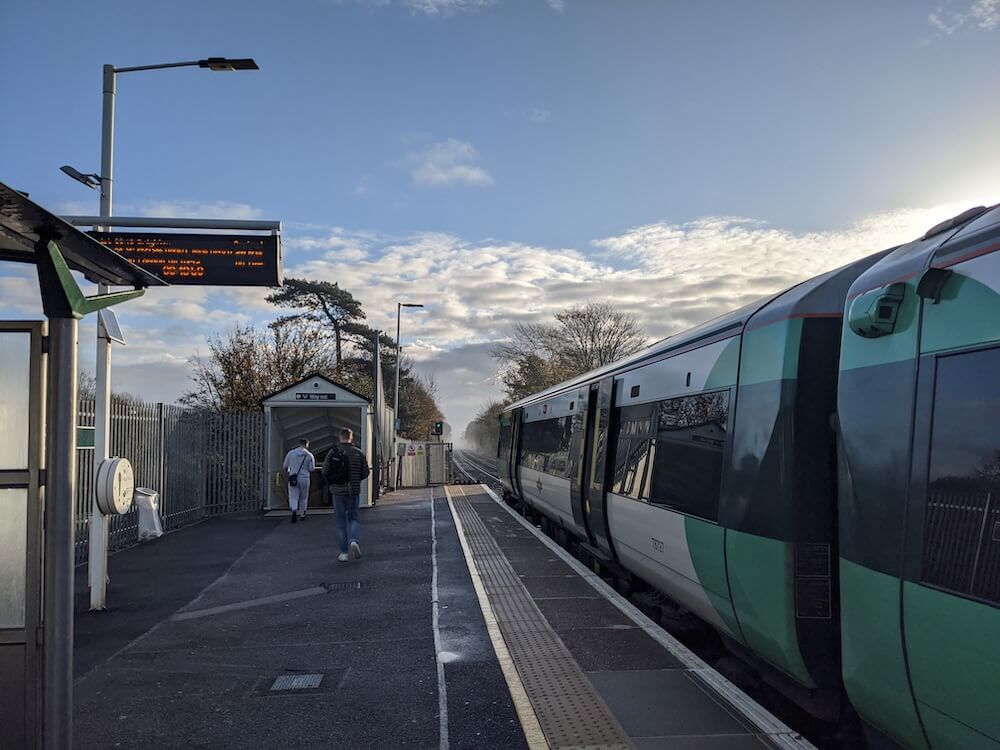 Leave the station to the right and wander into Emsworth village to pick up your supplies. One of my best friends lives in Emsworth so I know it well. It's a lovely place if you want to have some breakfast before you begin the Solent Way walk.
Driftwood has a lovely wood fired stove out the back – that's where I'd go. Or, you can pick up some treats from Heidi's pastry shop, and there's a Tesco and a Co-op too.
There's also lots of (paid) parking in Emsworth, if you're driving, but for this leg of the Solent Way walk, I used the train.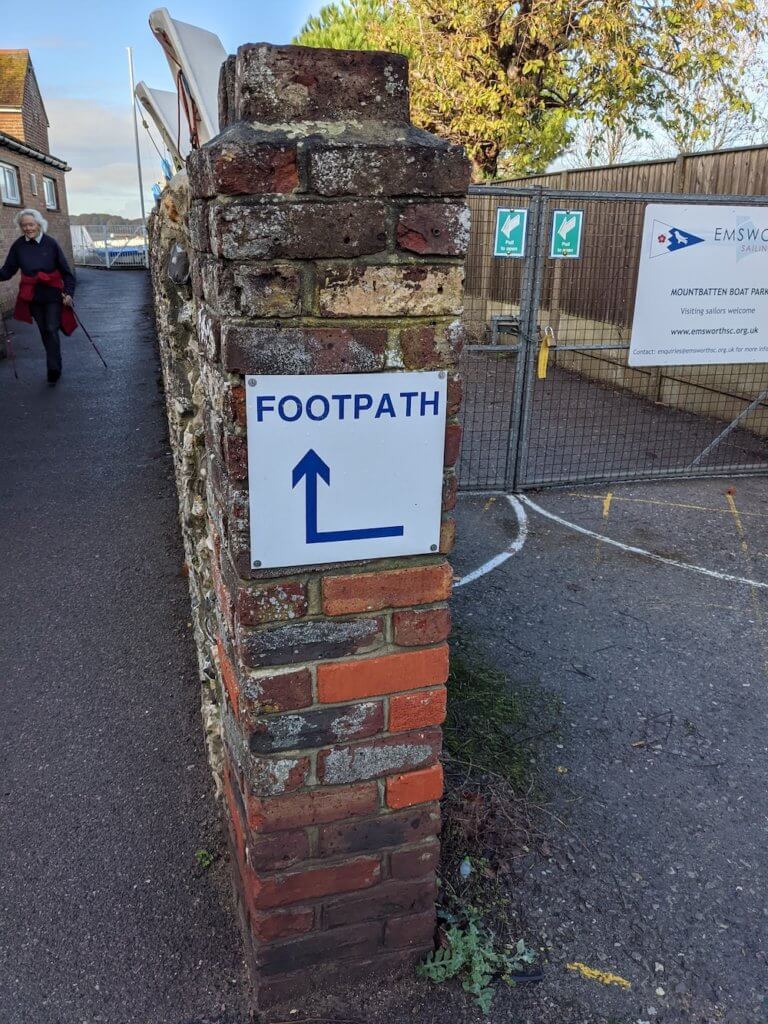 The start of the Solent Way
Once you're satiated head for the Emsworth Museum. This is where the Solent Way begins.
The marker for the Solent Way is this little white bird on a green background.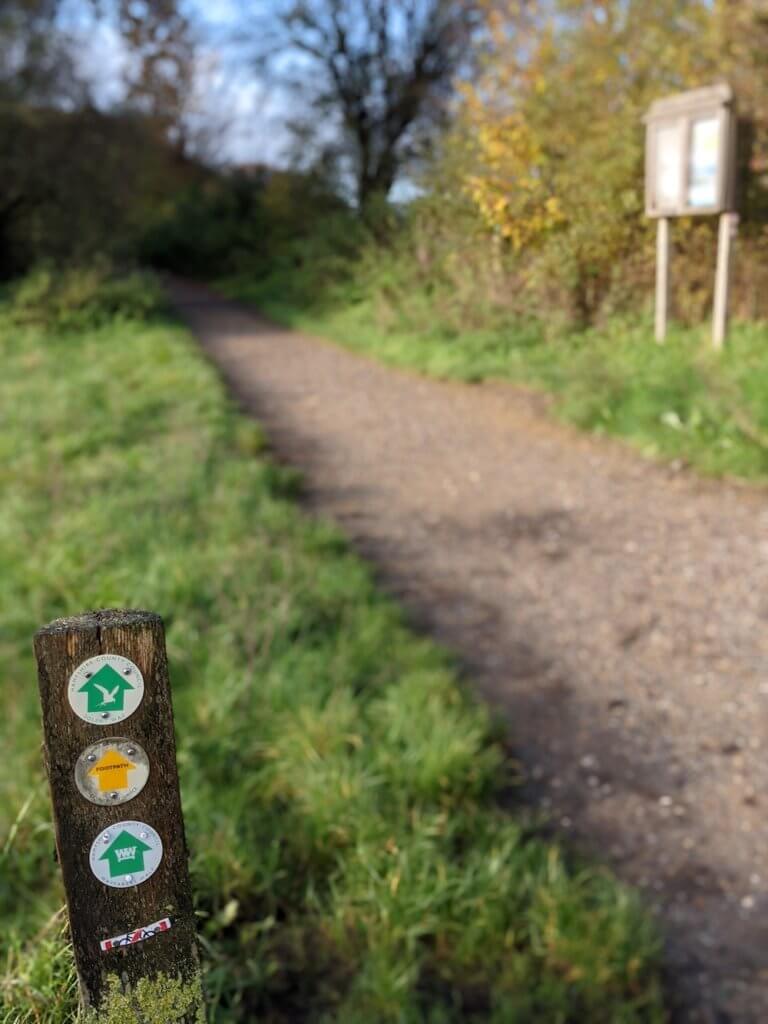 Make your way down to Slipper Pond, with the pond on your right. I definitely added a good few minutes to my route time here, stopping to take pictures. It was coming up to 9am on a beautiful November day and the sun just bounced off the water beautifully.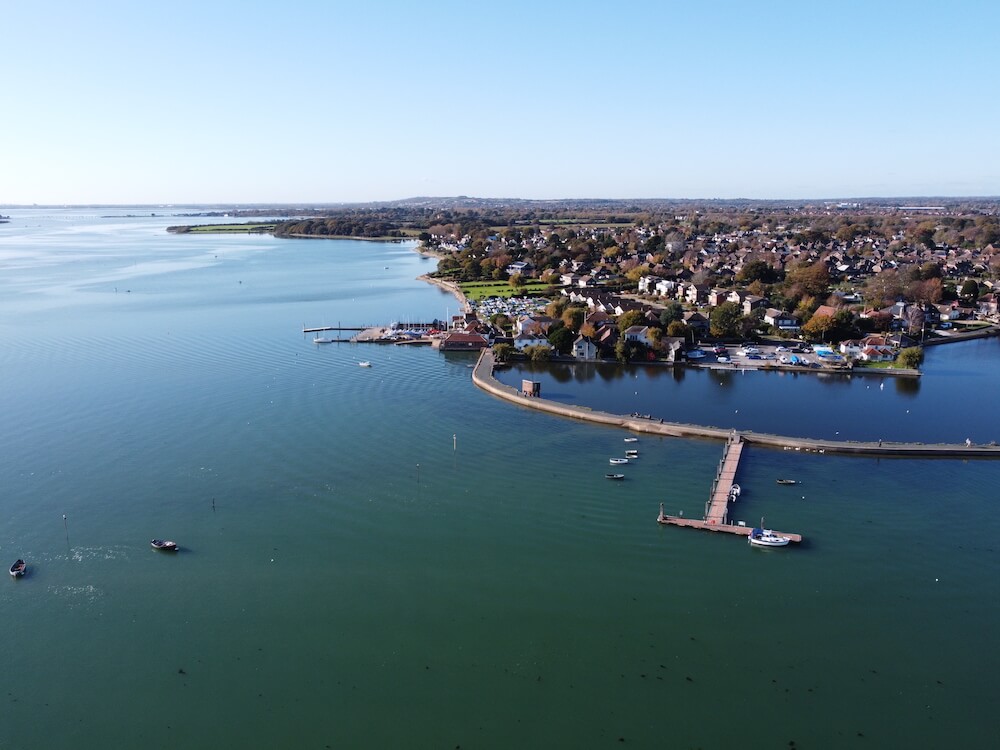 Follow the pathway round, look for the 'footpath' sign shown above, rather than coming up the other side of Slipper Pond, and you'll leave Emsworth, heading for Warblington.
You'll pass Chichester Harbour AONB. The Solent Way route really is stunning here.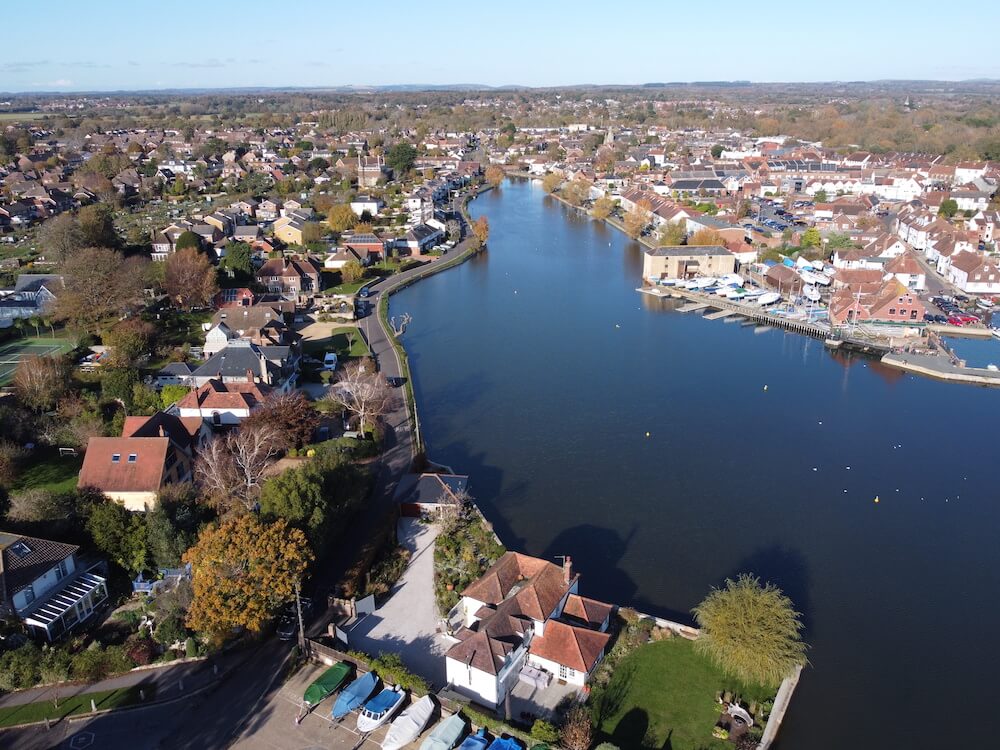 Next up is Nore Barn Woods: just keep walking the Solent Way, looking for the signposts, and enjoy the beautiful surroundings. Keep going till you get to Warblington Cemetery, which you'll need to walk through to get to the next stage. Walking the Solent Way is great, because you know you just need to keep to the coast, and you're going the right way.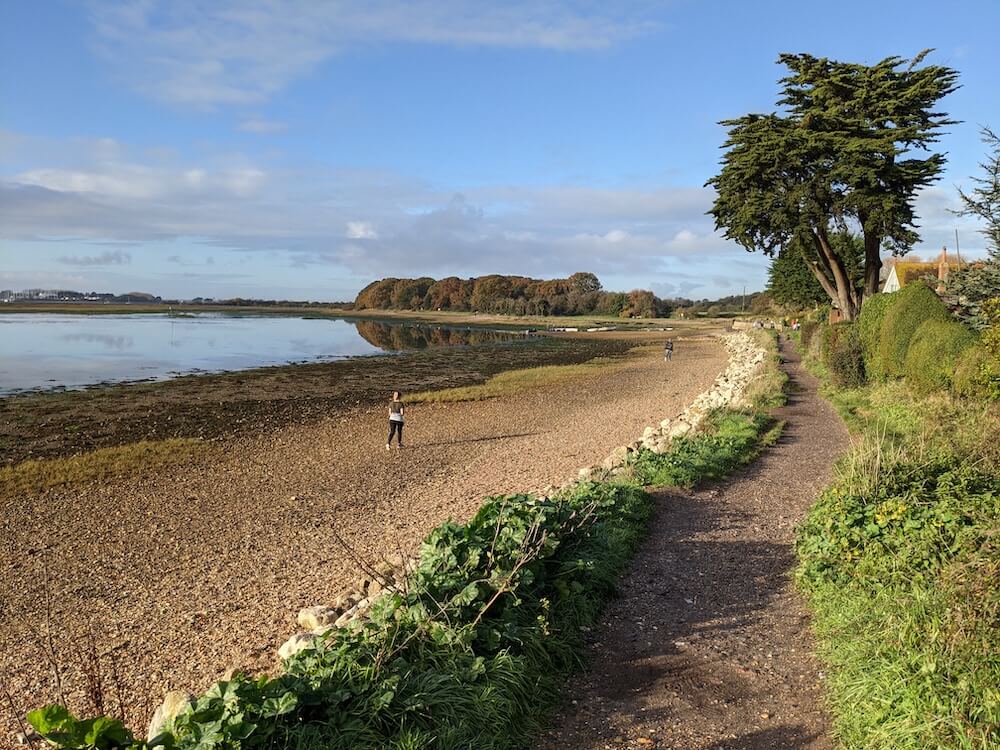 Langstone on the Solent Way
Walk round Emsworth Harbour to Langstone Mill Pond. There are some nice Solent Way pubs here, if you need some refreshment. The Royal Oak and The Ship Inn are thriving on a sunny day (in normal times) and I can recommend them both from past trips.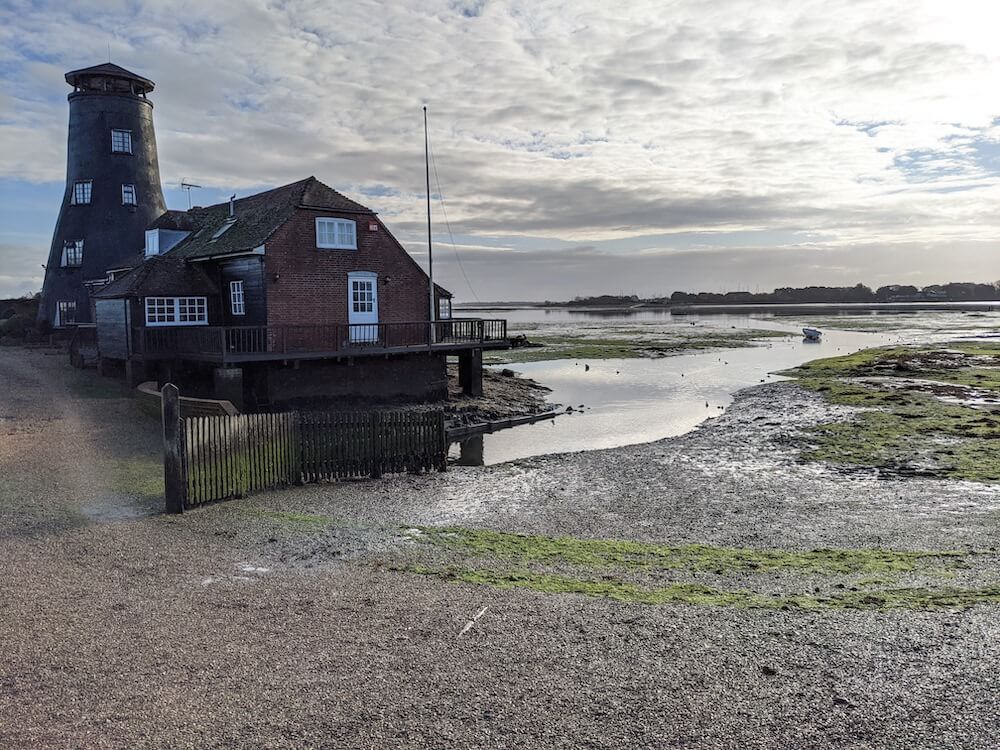 Out in the distance you'll see Hayling Island – another great walking spot for a different day. You can see all the great things to do in Hayling Island here, and get some tips on walking round Hayling Island here. But today it's the Solent Way walk full steam ahead.
Walk up pretty Langstone High Street and pick up The Solent Way again from there. Keep an eye out for the white swallow on the sign post on the other side of the road to know the passage to follow. Keep going around the stream and back out the coast. The sea will be on your left, and the Southmoor Nature Reserve on your right.
I barely saw anyone on my Solent Way walk, but this was definitely the quietest bit – not a soul or an animal in sight.
Keep going and you'll join back up with the main road again at Harts Farm Way.
I got a bit confused here, thanks to the map, and ended up walking on more road than I needed to. You can walk back to the coast at Broadmarsh Coastal Park, and walk round the coast from there. No need to be walking along the A27 when you don't have to!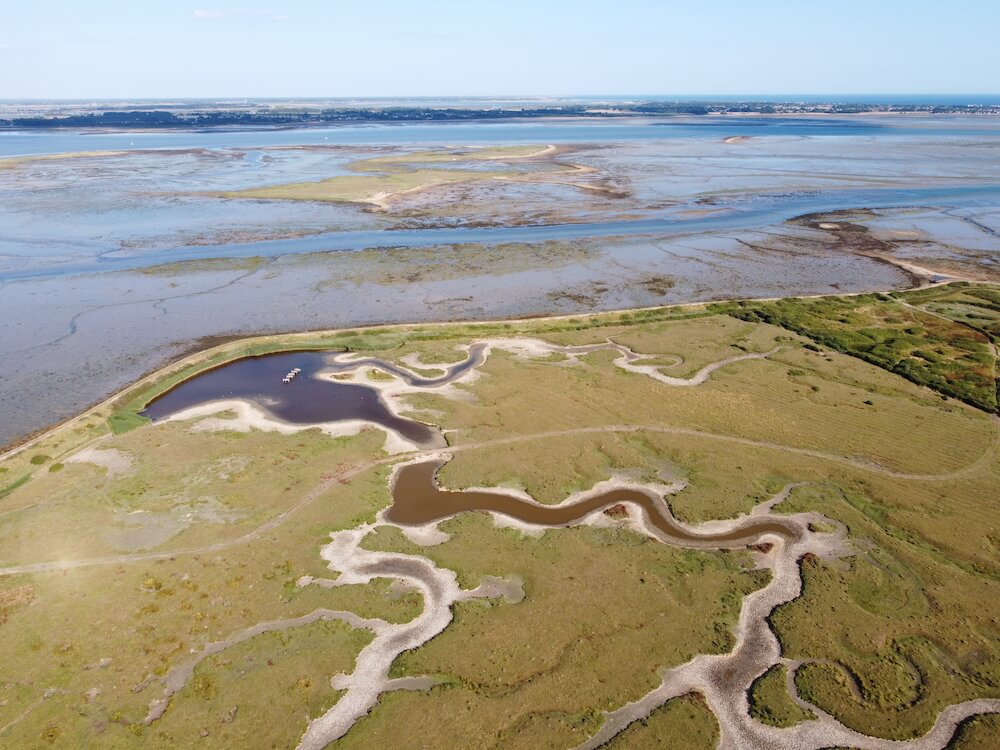 You'll link back up with the Solent Way, which will lead you round Farlington Marshes Nature Reserve. I decided not to do this on my Solent Way Walk and just walked the tree lined path along the top. I have done it many times before though, and have a whole post dedicated to tips and advice for walking Farlington Marshes here.
If you want to do every inch of the Solent Way (which I'd recommend) then go ahead and walk round Farlington Marshes for the full effect. There are no shops or facilities along here so make sure you've collected enough in Emsworth and Langstone to see you through.
Coming into Portsea Island
Keep going and the Solent Way will lead you to the infamous Eastern Road, which has some incredible views as you walk onto Portsea Island. Look out to your left and that's Langstone Harbour, with all its lakes and wildlife. Might even spot a kayaker or a SUP-per, depending on the time of year. It's one of the best spots in Hampshire for paddle boarding. Bring your binoculars for seals, too.
Keep on walking down the coast, through Milton Common, and you'll come out at the Thatched House – another great pub along the Solent Way. More 'great' for the location and beer garden rather than any unique qualities. It's just another Greene King.
Chill here, or just keep on going round.
Walking the Solent Way through Portsmouth and Southsea is super straight forward, just keep to the coastal paths as much as possible. Highlights will include the Portsmouth Distillery, maybe a food truck or two (Southsea Deli at Eastney), looking out to the pubs on Hayling Island, and then walking round to admire the wonder of Eastney Beach leading to Southsea Beach. Definitely recommend picking up a coffee at either the Southsea Beach Cafe or maybe something a little stronger at The Briny.
You're almost there –keep with it.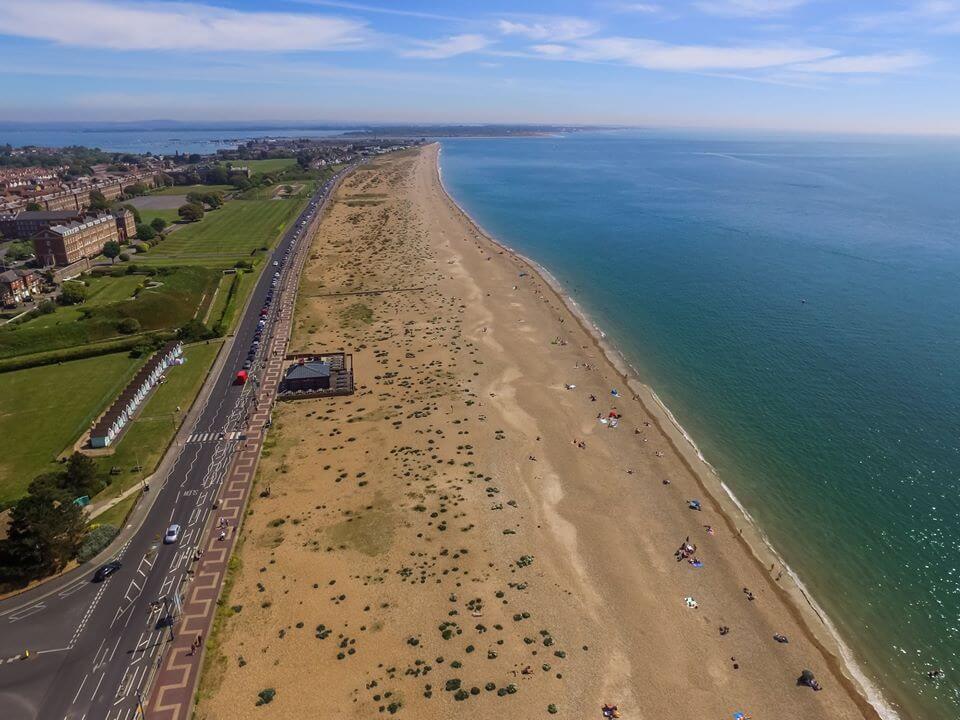 You'll pass Henry VIII's Southsea Castle, the impressive Southsea Common, and the fun times at Clarence Pier. Coming into Old Portsmouth and you can admire the colourful buildings, and the old roofless church – don't go too far up though as the quickest way to Portsmouth Harbour is past the ferry terminal, and through Gunwharf Quays shopping outlet.
Head out the other side and there, in all its glory, is Portsmouth Harbour, the end of day one of the Solent Way Walk. Here you can enjoy the HMS Victory, a whole load of restaurants and bars, and some great benches to enjoy the view.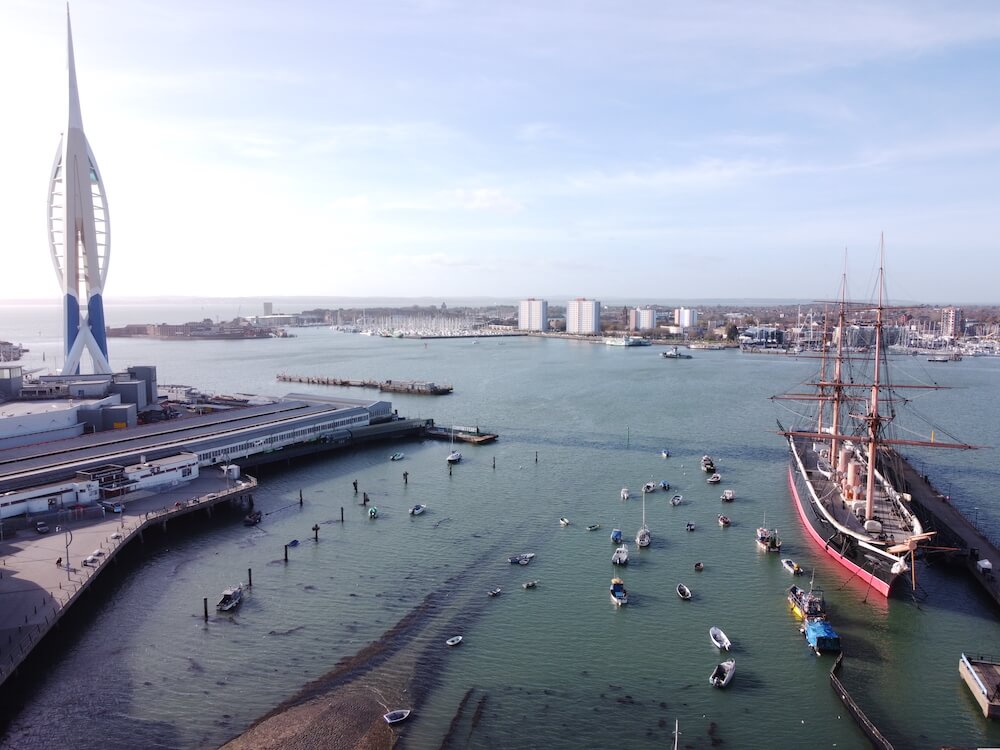 Portsmouth Harbour has trains, coaches and buses leaving all through the day, so rest, up, tomorrow is a whole other day. You can easily spend the day in Portsmouth with this day out guide, by the way. There's also plenty of accommodation round here if you'd rather stay over.
Even in itself, the walk from Emsworth to Portsmouth is one of the best coastal walks in Hampshire without doing all of the Solent Way walk.
Hope you've had a great day!
SOLENT WAY MAP: Link to the rough Google map of day 1 of the Solent Way Walk


Too much walking? If you want to split today in two, then I'd recommend stopping at the Thatched House and walking across to Fratton Train Station to get home. That way you can come back to Fratton for day two, retrace your steps and enjoy your time walking the southern length of Portsmouth rather than wishing it was over!
START STATION: Emsworth Train Station (plenty of paid parking here too)
END STATION: Portsmouth Harbour Train Station
DISTANCE WALKED: around 17 miles according to my phone (extra for my walk to Portsmouth Train Station from home)
STEPS DONE: around 35,000 steps
TIME TAKEN: 5.5 hours
---
READ MORE: The Best Hiking Trails in England
Solent Way Walk Day 2: Portsmouth Harbour to Hamble
From Portsmouth Harbour Station, turn left and you'll see the Gosport Ferry. You'll need to pay to go over on this, to get to Gosport. Gosport isn't served by any other train station, but you can get a bus in, if you prefer. Or of course you can drive there but then it's harder to get back given the public transport situation.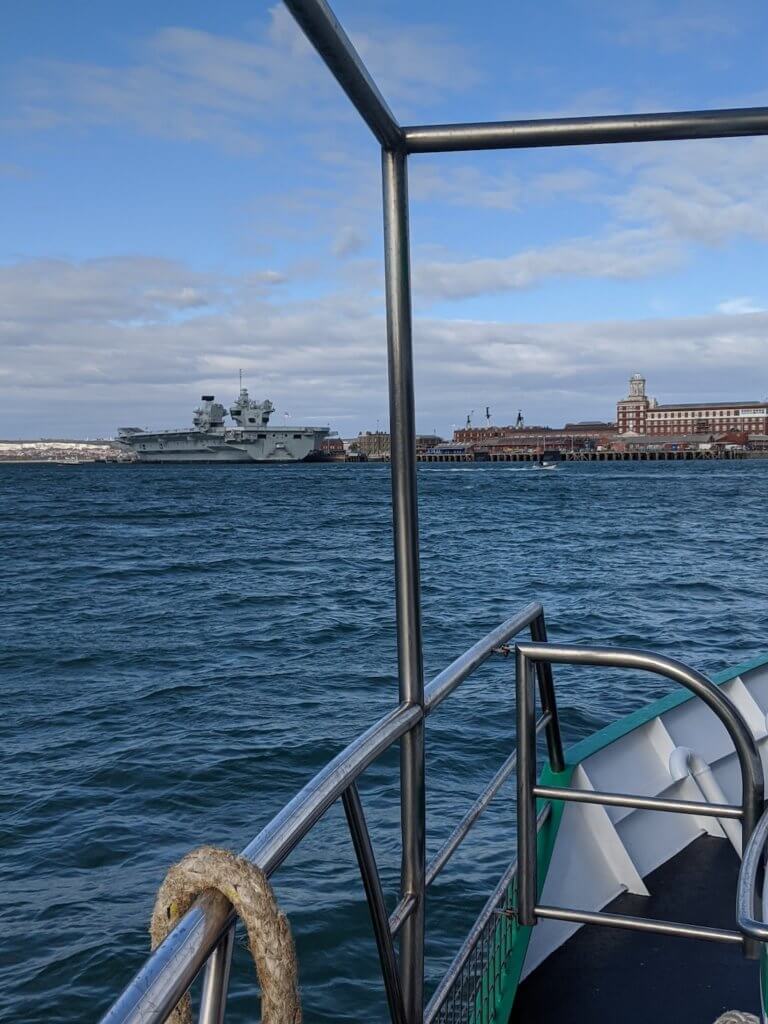 Once you're in Gosport, head to the coast. If you need to get some snacks, head to the high street first. I can recommend Katie's Vinyl Bar and Kitchen and Craft Coffee House (pics below) for coffee and snacks.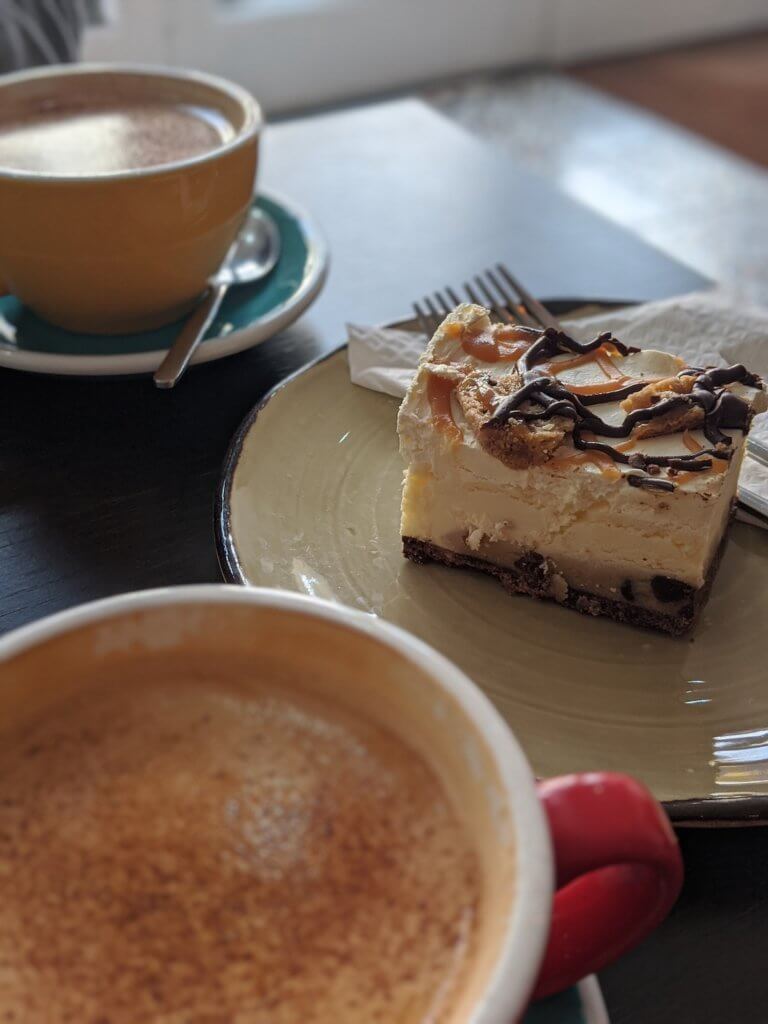 Walk to the coast and follow the Solent Way walk along the beach, past Alverstoke, past Fort Gilkicker, Stokes Bay (great spot for paddleboarding) and the Gosport Diving Museum, and then finally to Lee on Solent.
I've walked and cycled this on sunny days and there are some beautiful views out to sea.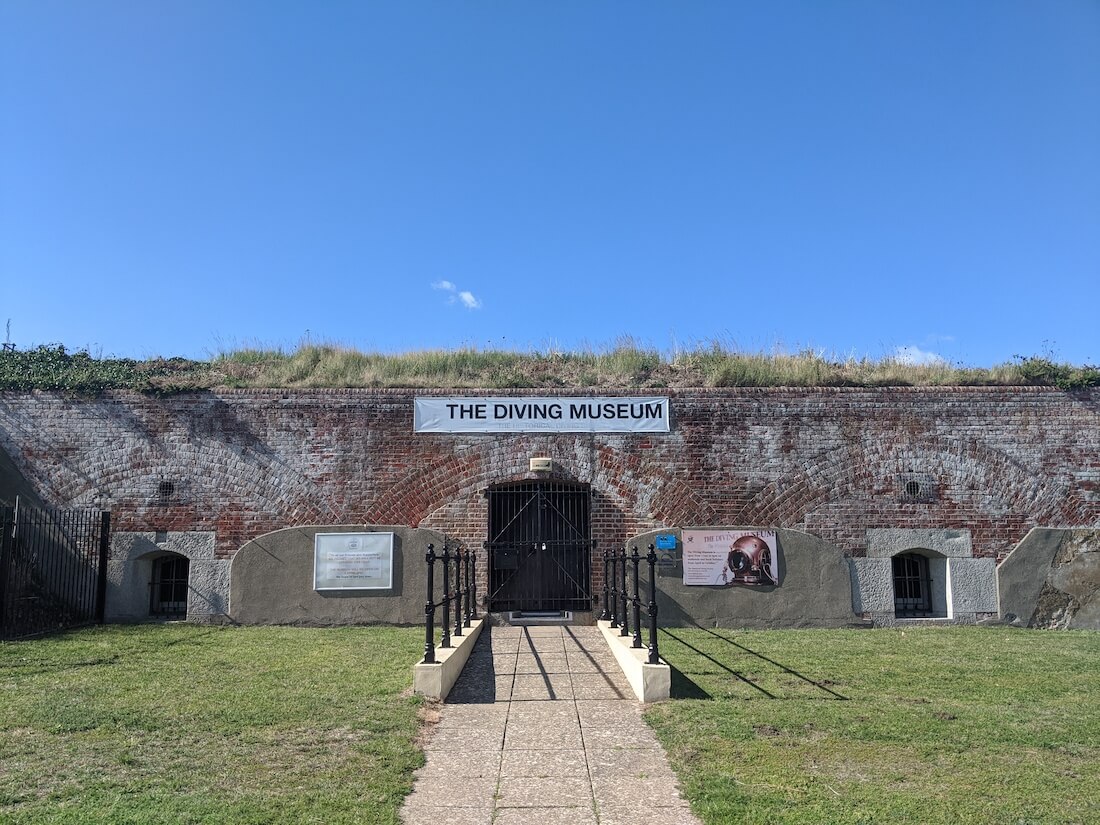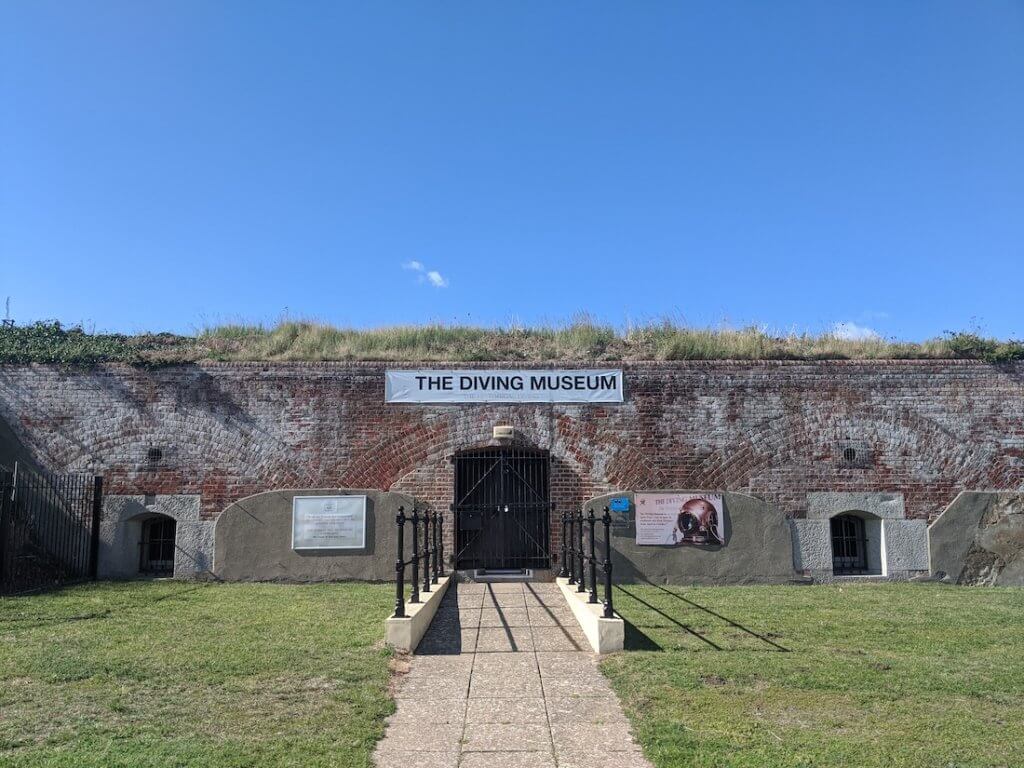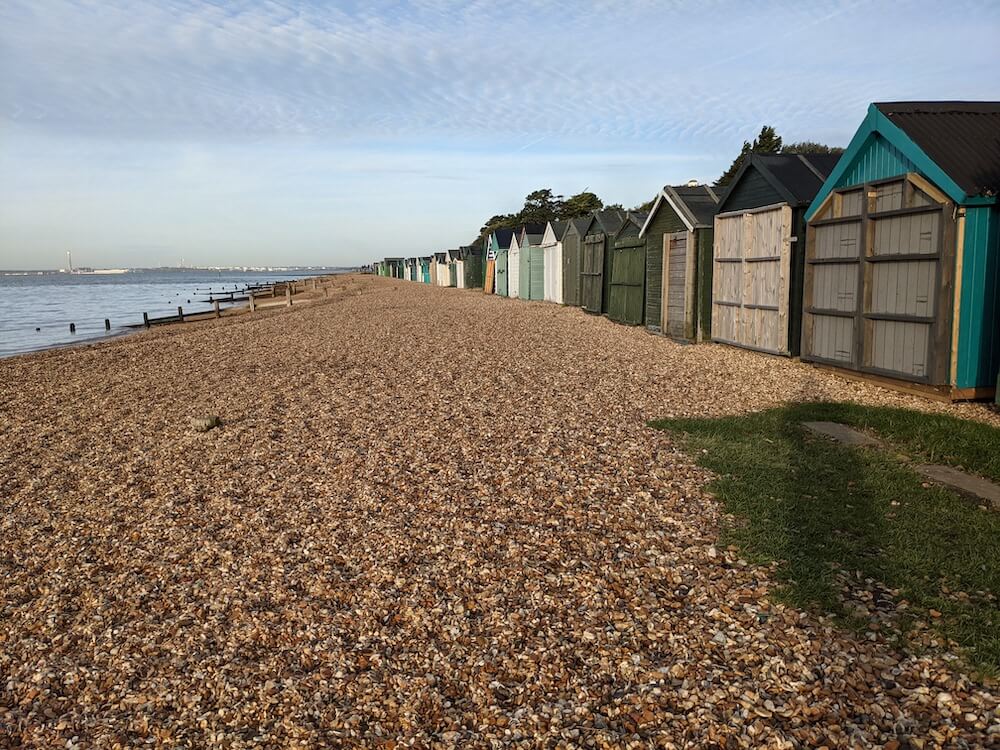 Hungry? Pop into Lee on Solent for a coffee and snack from the Artisan Bakery.
As long as you stick to the coast, you can't go wrong here. I love this as it means you can just relax into the walk.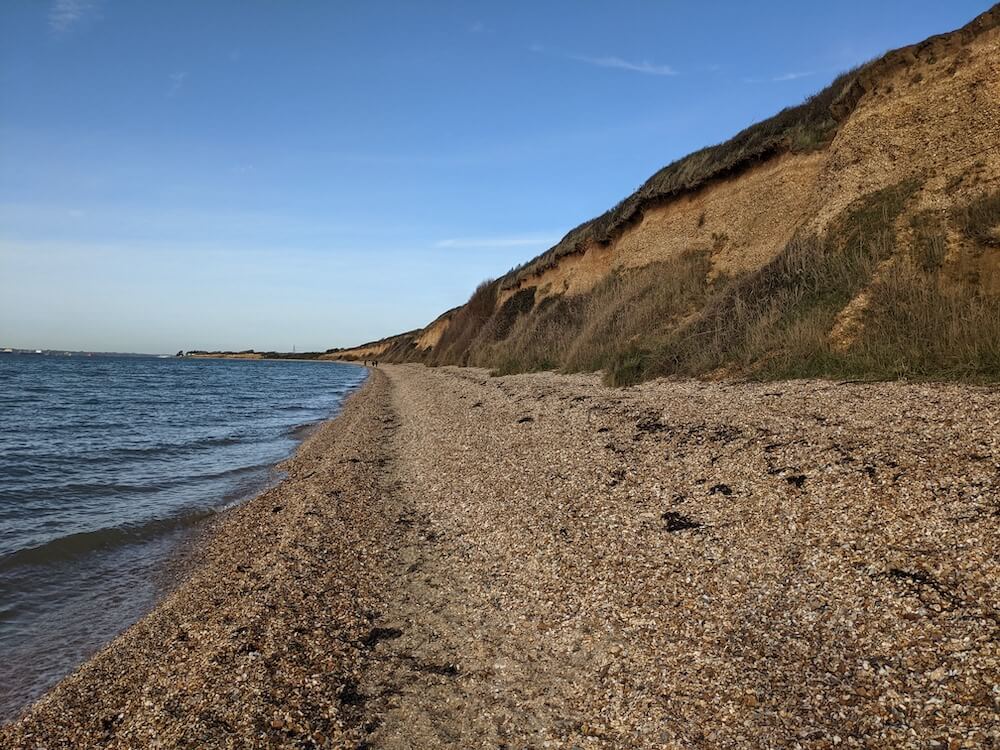 Keep walking on Hill Head Beach, past the bird hides, and up to Thatcher's Copse. The views from here are seriously stunning. Make some time to really enjoy it from Brownwich Cliffs.
The clifftop coastal road was closed for a short section so I went inland as you can see from the map linked below. Always follow the signs for danger spots like that – the cliffs in England can be hazardous!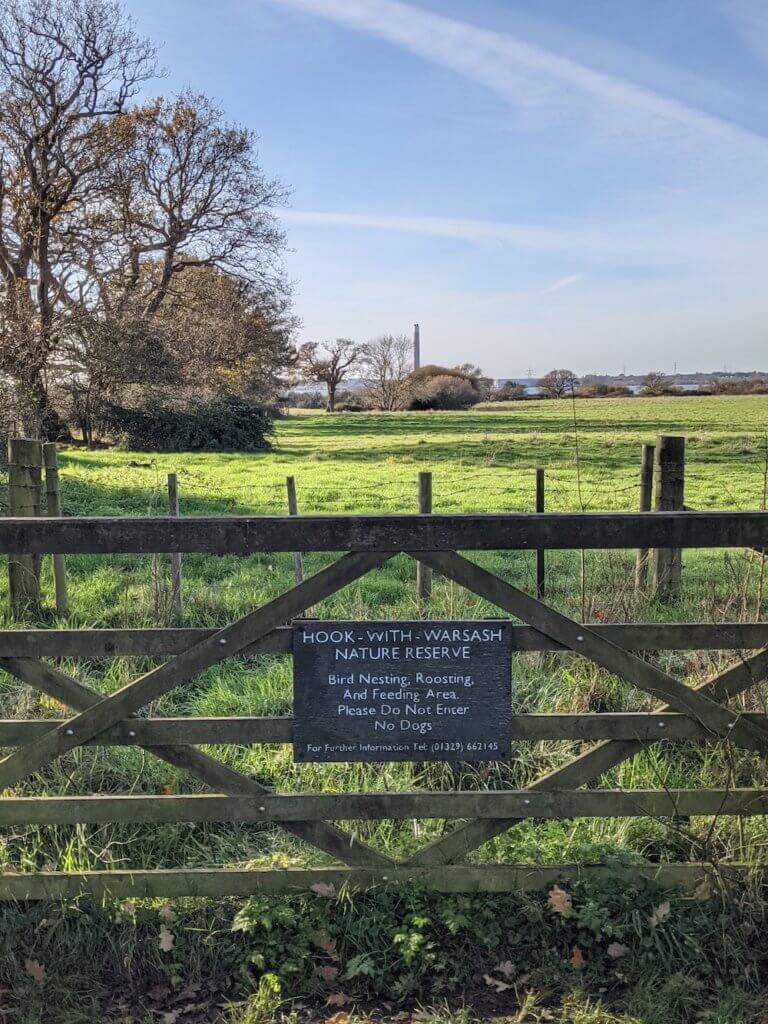 From here you can walk along the coast, all the way to Warsash.
Walk round Warsash Nature Reserve and past Strawberry Fields. Warsash is a pretty good shout if you want to pick up some snacks, or a pint at the pub. I decided to stop here and get the bus back to Portsmouth. Warsash is well connected and you can get a bus to Gosport, Fareham or Portsmouth from here, and many other places I'm sure.
I stopped thanks to some sort of restrictions or stage of lockdown where I didn't want to get on the pink Hamble ferry that takes you across to the next stage. All the details for the Hamble Ferry are here, so time your trip right.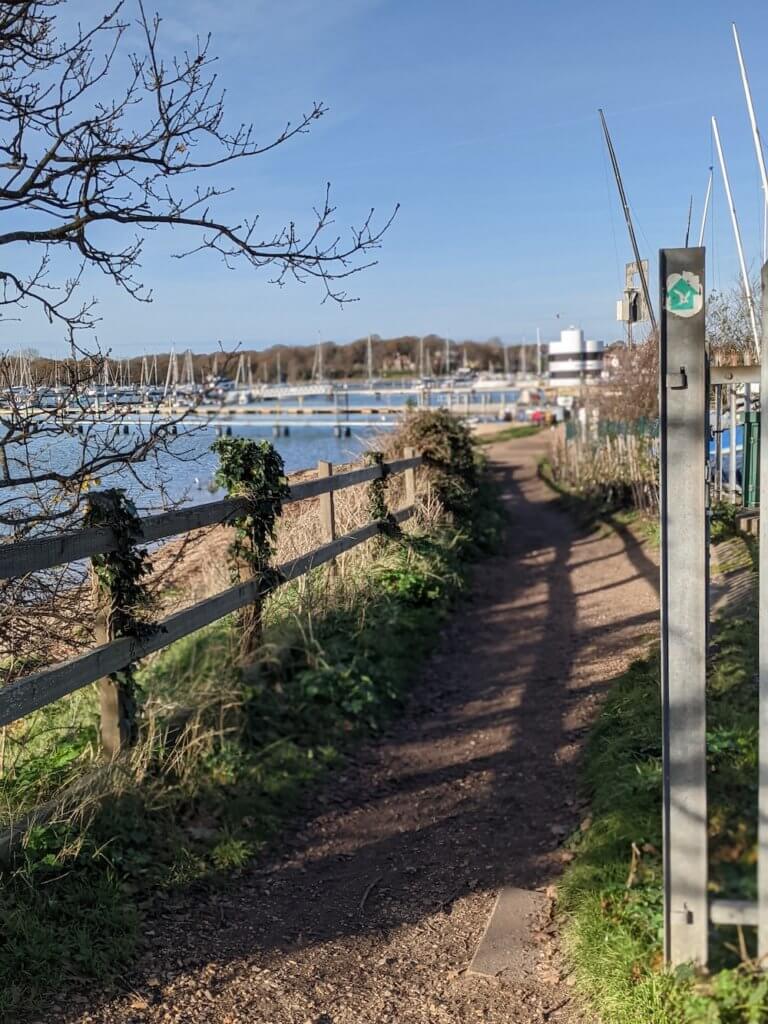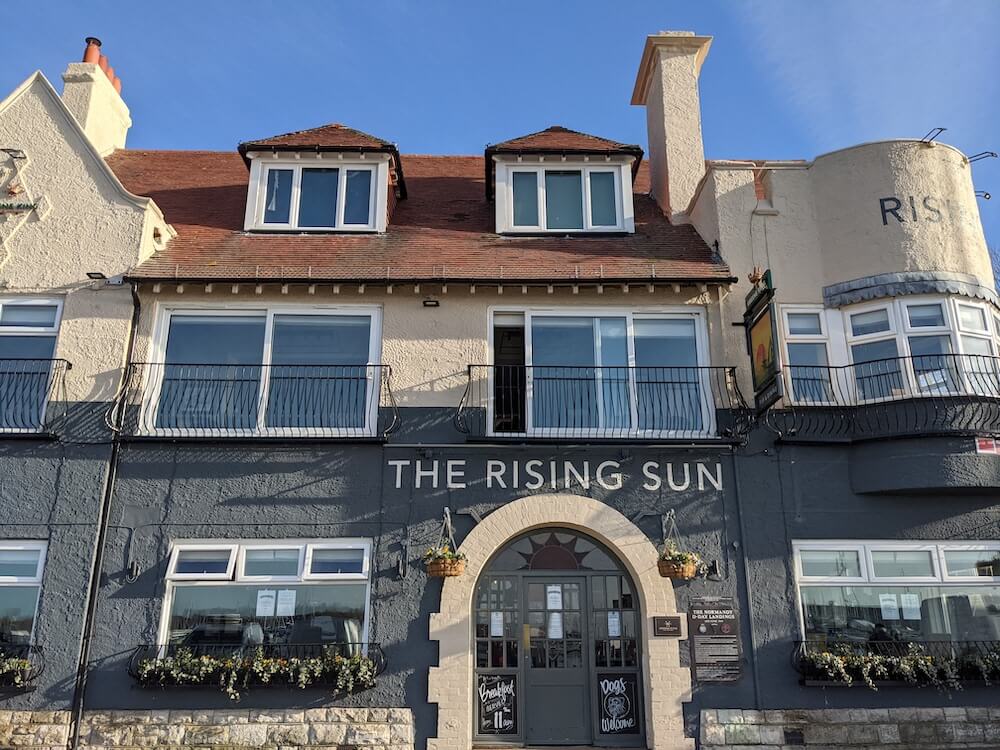 This is the best route for this stretch of walking the Solent Way as there are no other train stations along the way. You can always pick up a bus, on the route, but there are no other trains.
SOLENT WAY MAP: Link to the Google map of day 2 of the Solent Way
START STATION: Portsmouth Harbour Train Station
END STATION: Warsash Bus stop
DISTANCE WALKED: around 15 miles
STEPS DONE: around 30,000 steps
TIME TAKEN: 6 hours (lots of drone photo stops today!)
---
Solent Way Day 3: Hamble to Southampton
Today starts at Hamble Train Station.
From there you can either walk back to the pink Warsash ferry port, to start where you left off but on the other side of the water, or just crack on from where you are. Depends whether you want to cover every single step of the Solent Way walk, or happy doing 99% of it.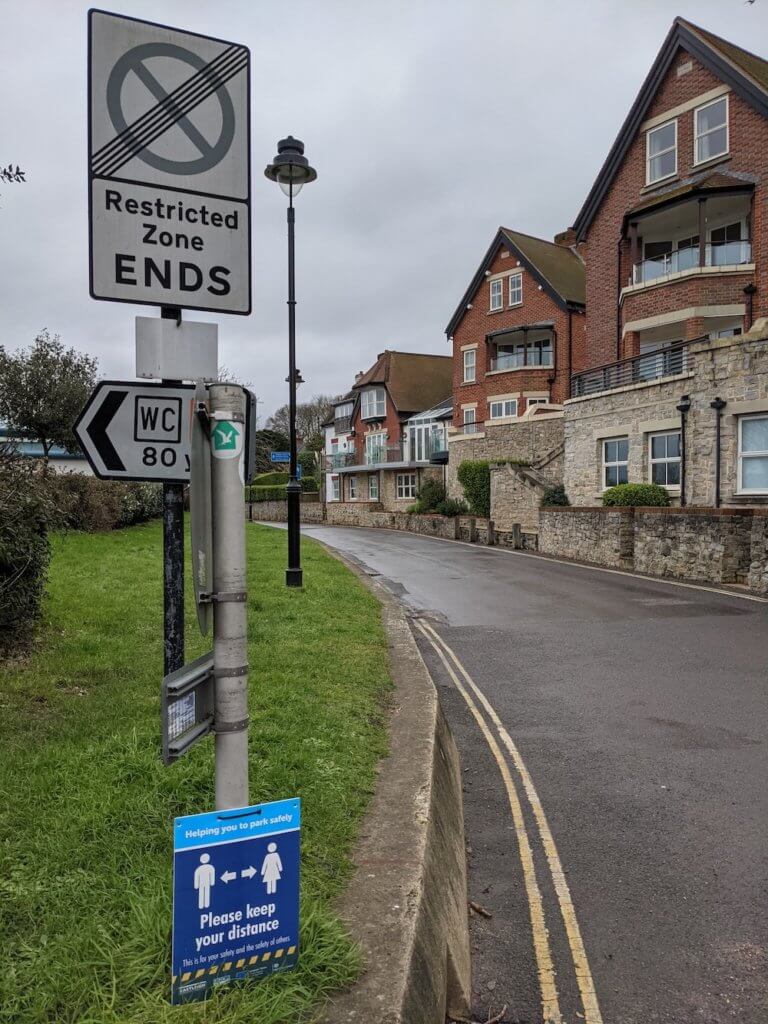 I walked down to Hamble Point, to the ferry, just to have a look. It's very cute down there with some lovely coffee shops. Would recommend. The Maritime Art Gallery is very lovely too.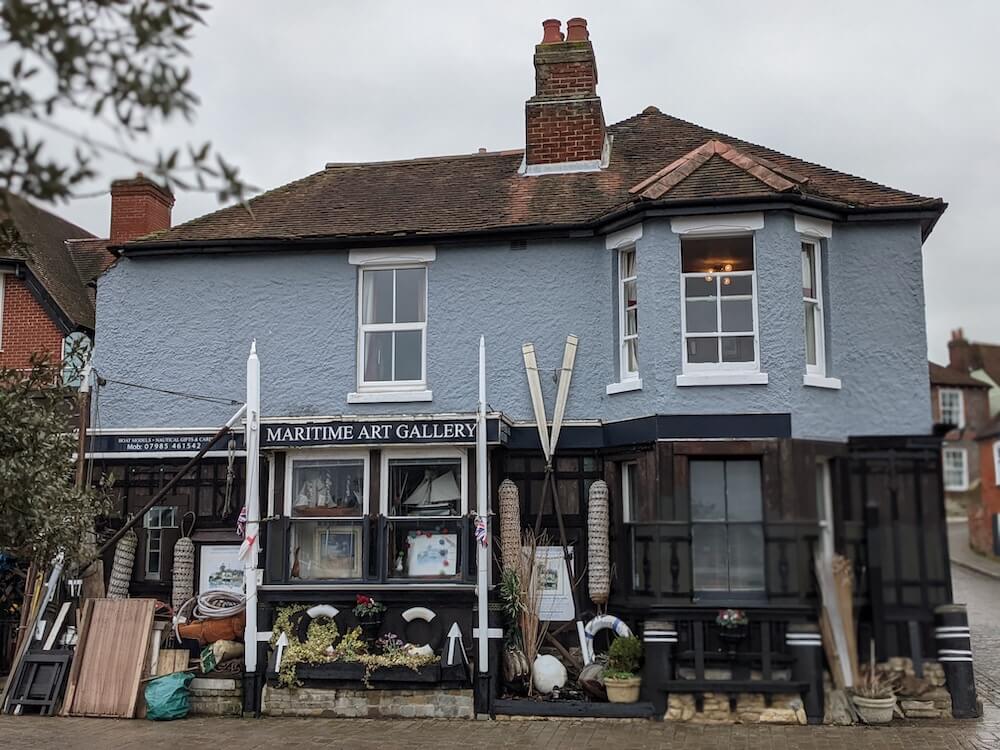 You'll see the Solent Way waymarker here by the ferry, so pick that route back up again.
I got a bit lost here, around Hamble Common, but no regrets as I liked having a wander around.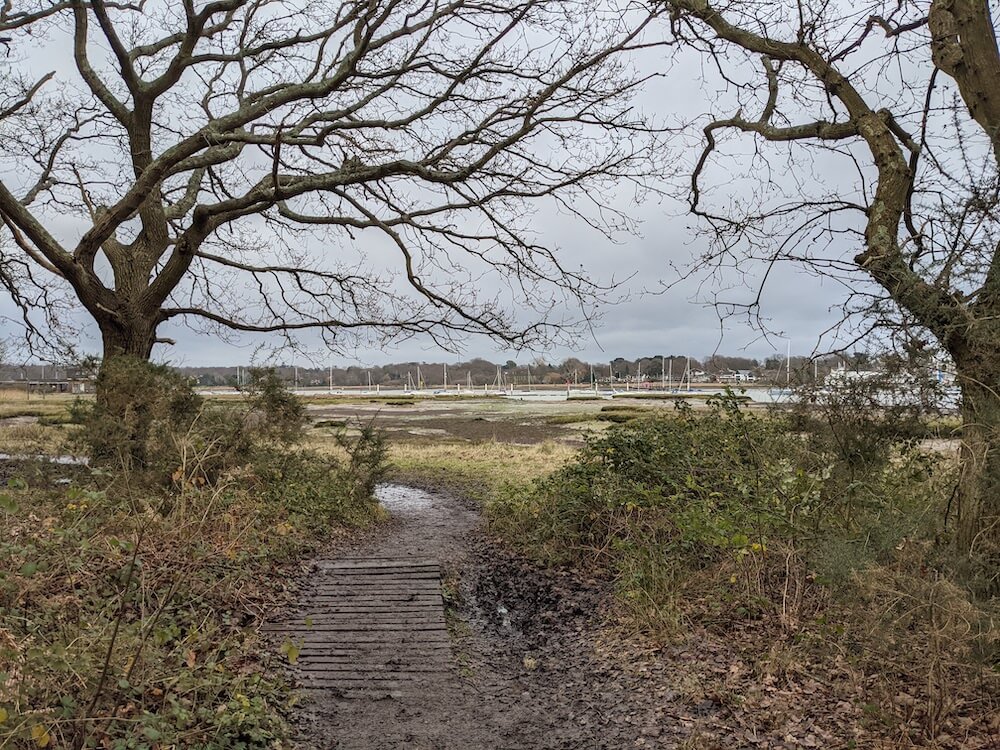 Back en route and I followed the coast towards Netley (past Netley Abbey), up to the Royal Victoria Country Park, past Weston and into Woolston. This is one of the most residential bits of the Solent Way walk. Good if you want to pick up snacks along the way, but not so much for beautiful views.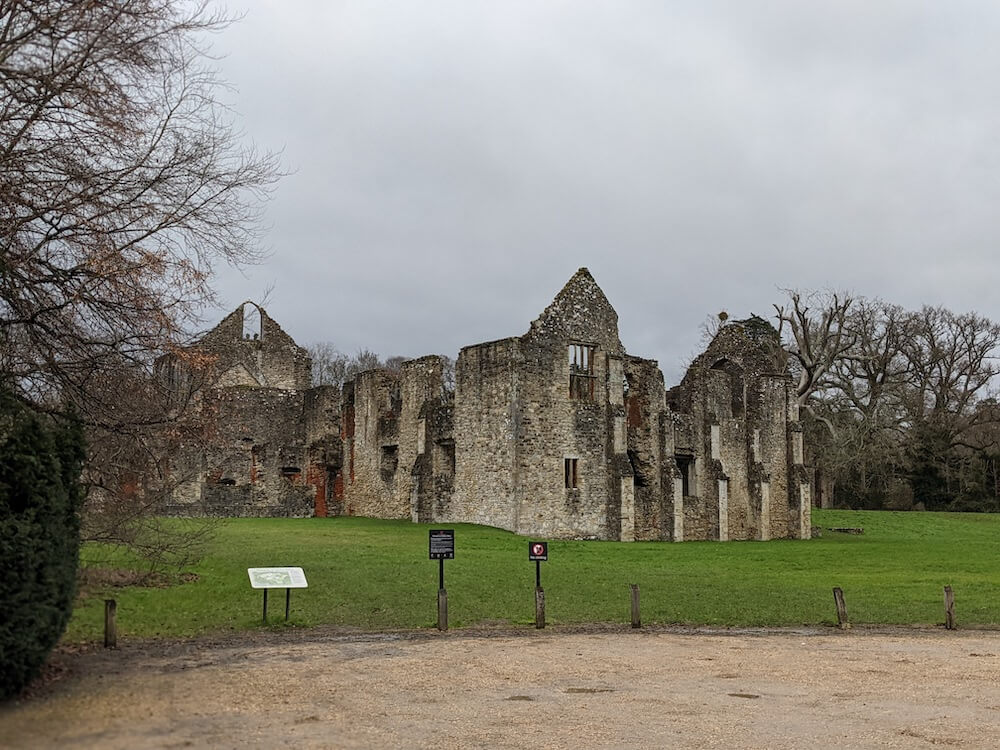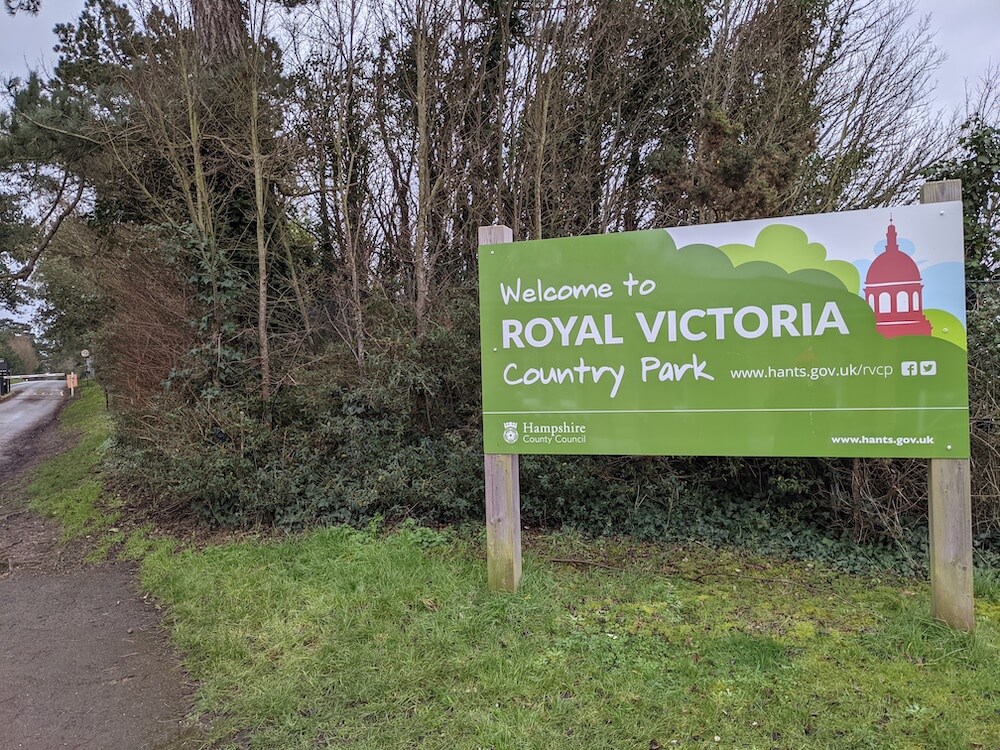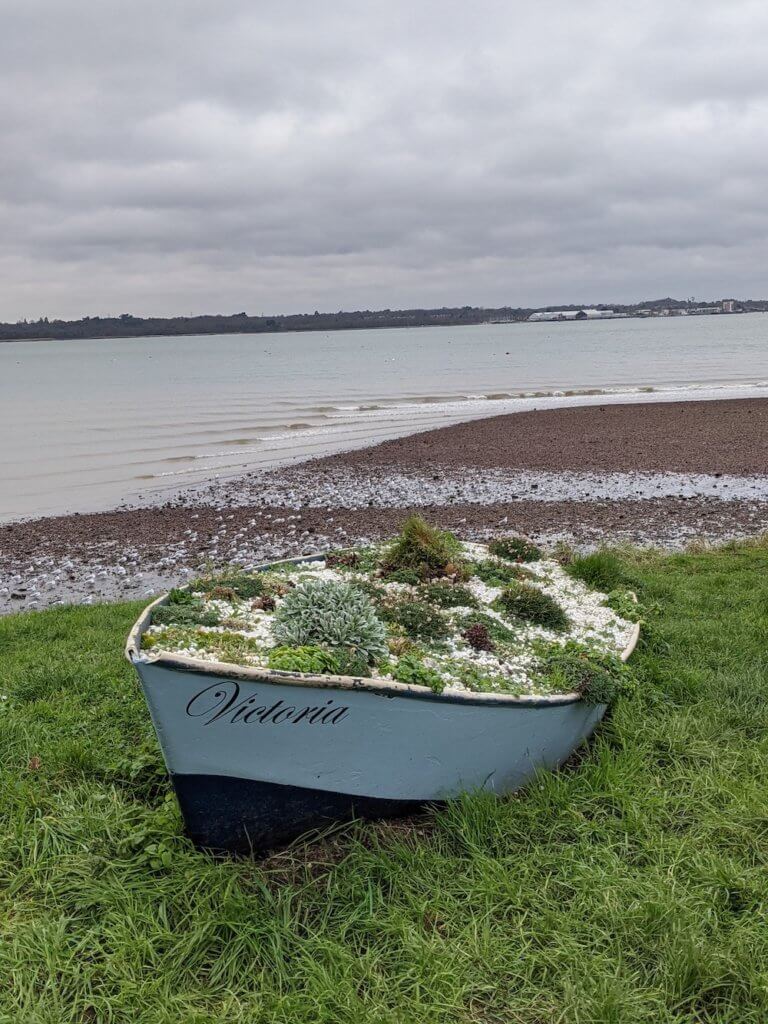 I decided to get the train from Woolston back to Hamble Train Station, as I've walked through Southampton many, many times, and didn't feel the need.
If you want to though, keep going through the city centre to the train station to conclude today's Solent Way Walk. Or, walk to the Southampton Ferry Port over to Hythe to look at where your journey will start next time.
As I've mentioned, I didn't do any of the boat trips on the Solent Way Walk because of various restrictions during 2020/21.
SOLENT WAY MAP: Link to the Google map of day 3 of the Solent Way
START STATION: Hamble Train Station
END STATION: Woolston Train Station / Southampton Central Train Station
DISTANCE WALKED: around 9 miles
STEPS DONE: around 20,000 steps
TIME TAKEN: 3 hours
---
TOP TIPS for WHAT TO PACK FOR A DAY HIKE
READ MORE: The Best Afternoon Teas in Southampton
---
Solent Way Day 4: Hythe Marina to Beaulieu
Today's adventure on the Solent Way walk is one of the most beautiful sections.
You can park at the Waitrose in Hythe and have a look around Hythe Village before you start today's Solent Way walk.
Or, get the ferry from Southampton over to Hythe if you want to experience that adventure.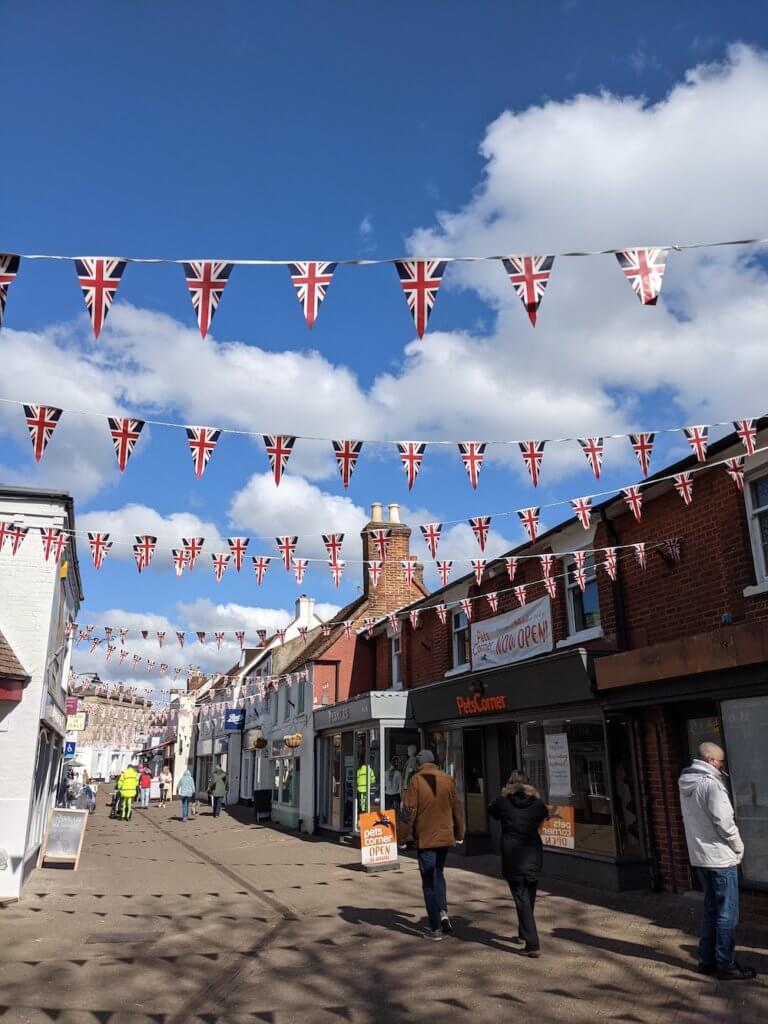 In Hythe there's a Boots, a Costa, a few clothes shops, some nice looking cafes, the Seashell Bar overlooking the water and… Philpotts Fish and Chips shop!
Thrilled when I saw my name up there in lights.
Need to go back one day when it's not 10am and try them for myself.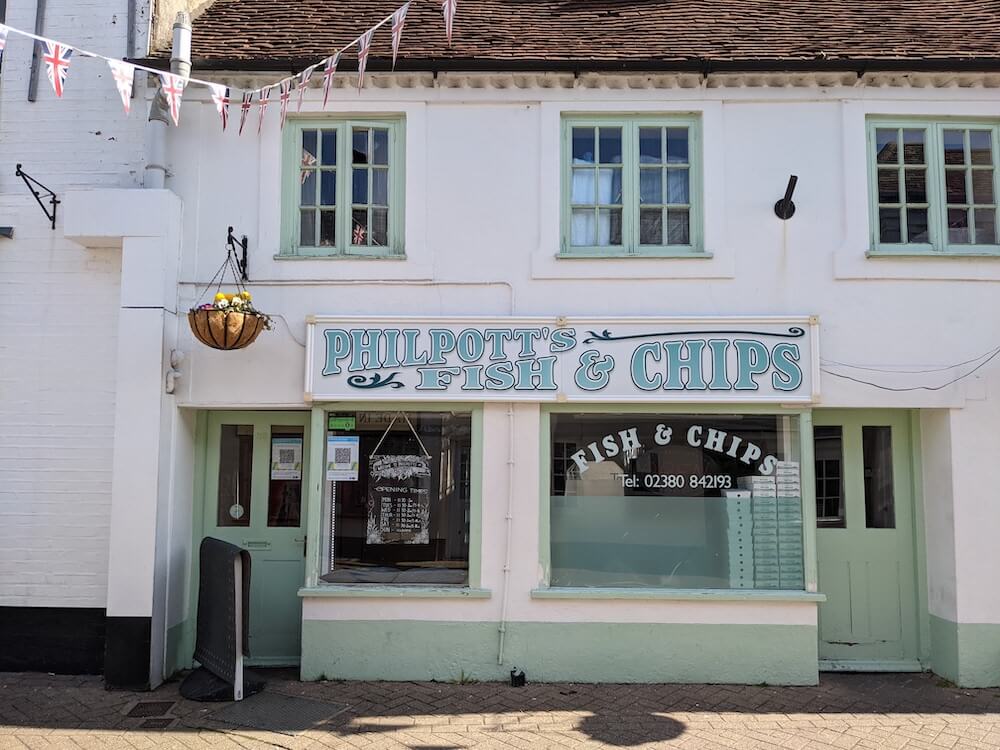 Have a pootle round Hythe, it won't take long.
When you're ready, head west out of Hythe village and you'll see the familiar Solent Way markers on the lampposts. You'll pass through some new housing estates for a few minutes until you come out to the water again. This bit is a nice walk with a good path. I took a moment to relax on a bench and send the drone up to see what was around.
Keep walking along Shore Road until it turns into Frost Lane and follow the signs to the Travellers Rest. You'll see some llamas and horses along the way – take the time to say hello.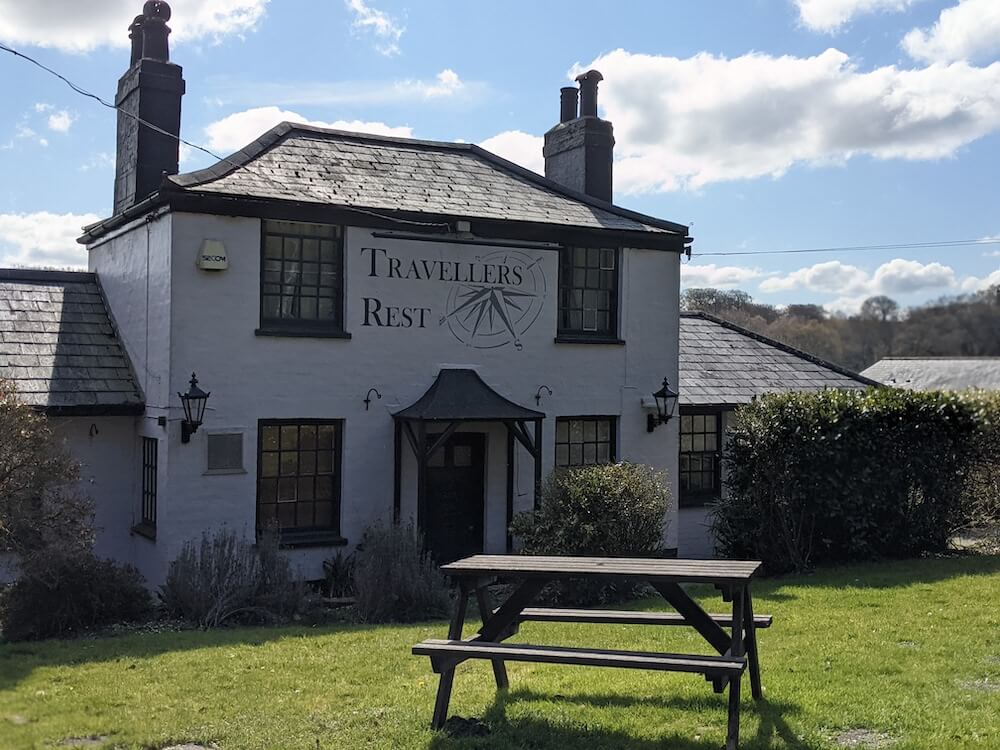 If the Travellers Rest is open, it could be a great stop for a snack as it's in a beautiful location. We need to add it to our list of the best pubs in the New Forest actually. If you'd rather crack on, them keep going up the path. You're about to enter the no vehicles section of the walk so it's time to relax and take in the silence. Follow the pretty footpath here until it becomes a road again.
Turn left.
You'll come to a big roundabout which I got very confused on and ended up walking all the way round, despite the fact you only need to cross one road and go left. Don't be like me. Think before you cross and make sure you're going the right way.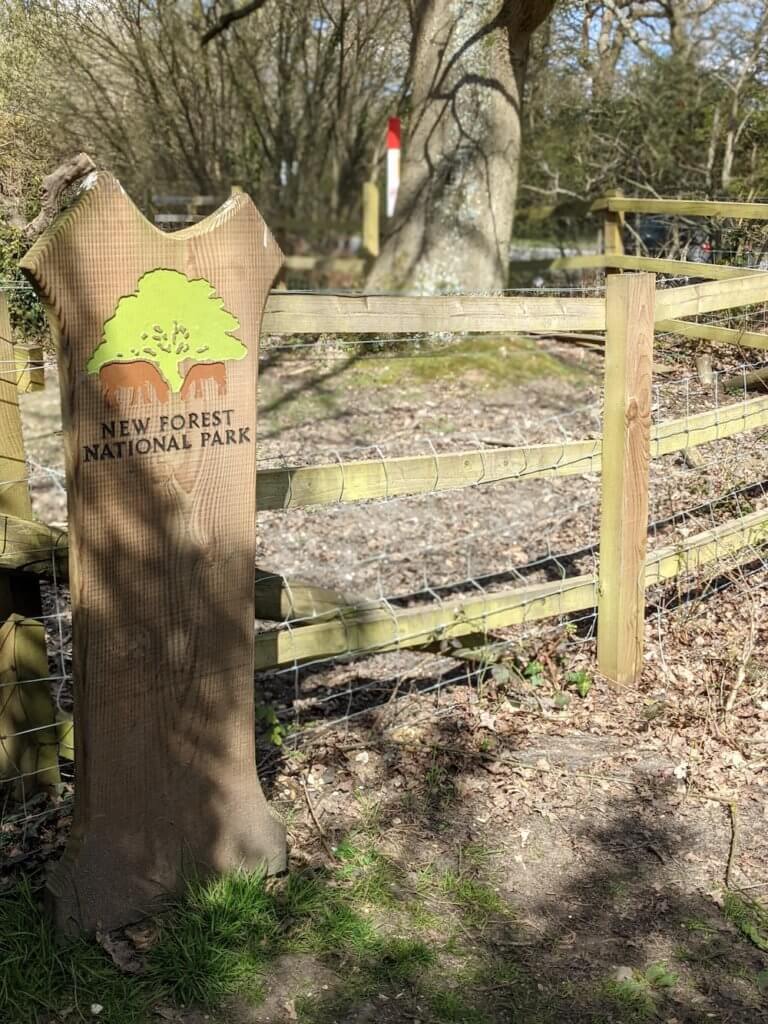 Once you're on track to walk up the Hythe Bypass you don't actually have to walk by the road, cast your eyes further and you'll see there's a handy and easy pathway to follow which is protected from the road by trees. Took me a few minutes of worrying about the traffic to notice it.
Get on that and walk up the Hythe Bypass.
When you reach the next left turning, use it, and keep walking till Beaulieu. It's very straightforward.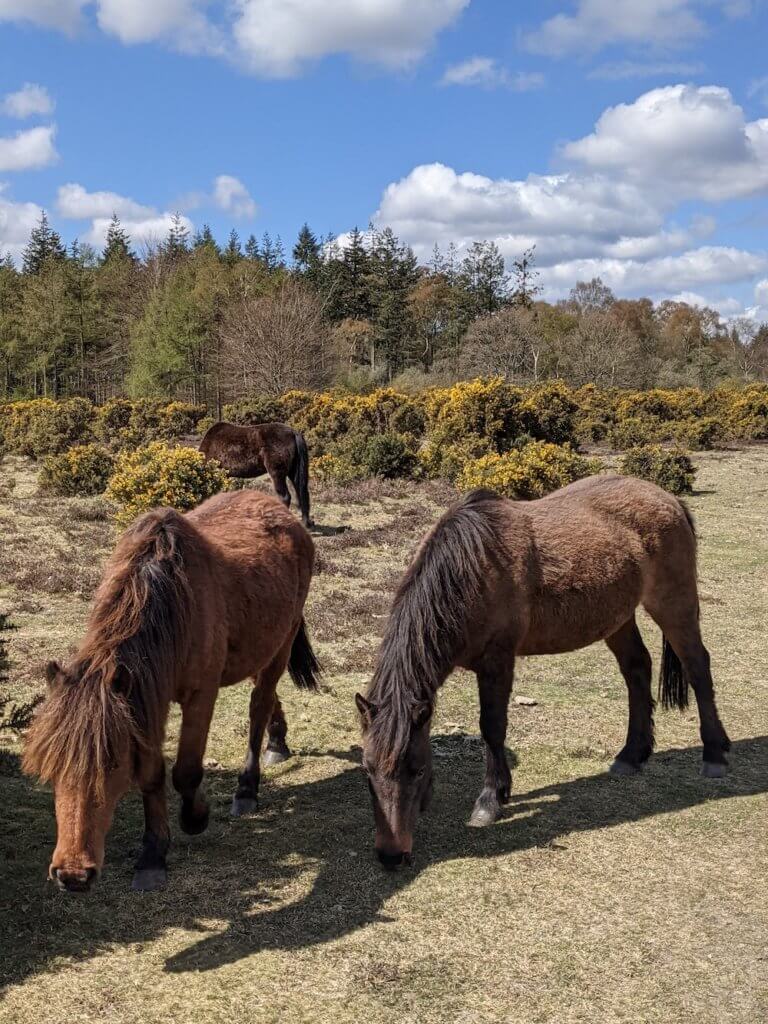 Remember, you don't have to walk on the pavements here. I followed the idea of the route but went cross country to see more New Forest ponies and less cars. I'd brought a packed lunch and sat down along the way, with a pony for entertainment. 'Lunch with a pony' is a totally free experience in the New Forest, just don't get too close or let them come to you. Don't touch them!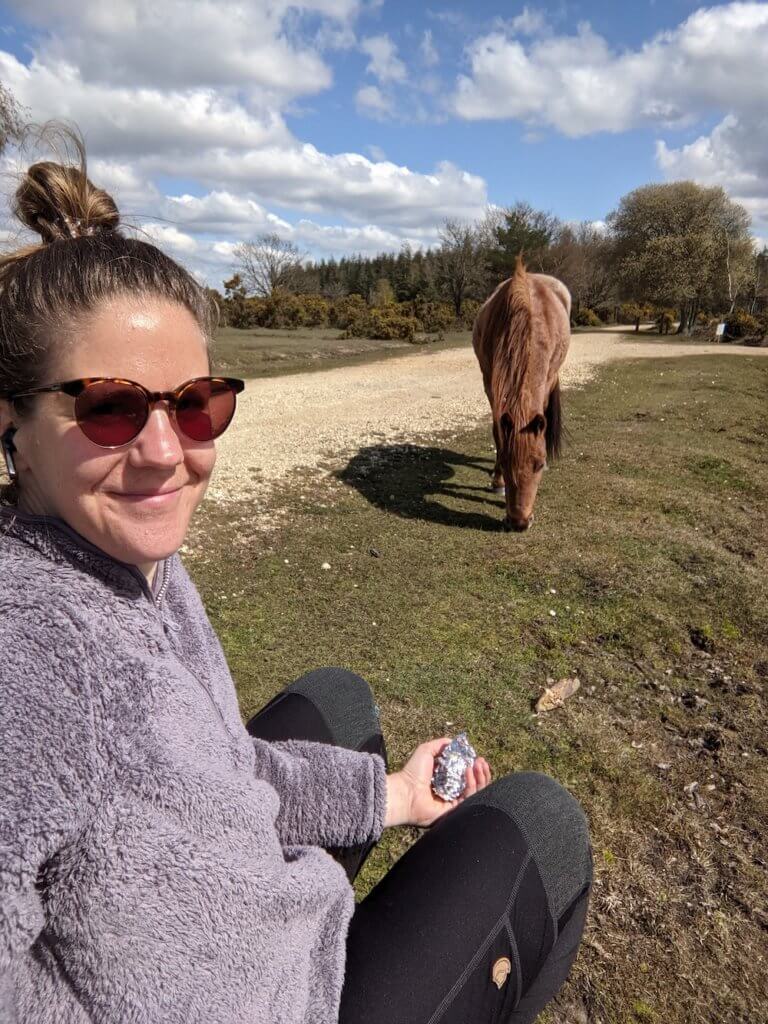 Once you get to Beaulieu take the time to have a wander around. Unfortunately for me, doing it in April 2021, none of the main attractions – Beaulieu Abbey, the Motor Museum and Palace House – were open. You can still wander round the village though, with the River Itchen and the pond to enjoy. I also picked up a coffee from Palletts to enjoy while I waited for the bus.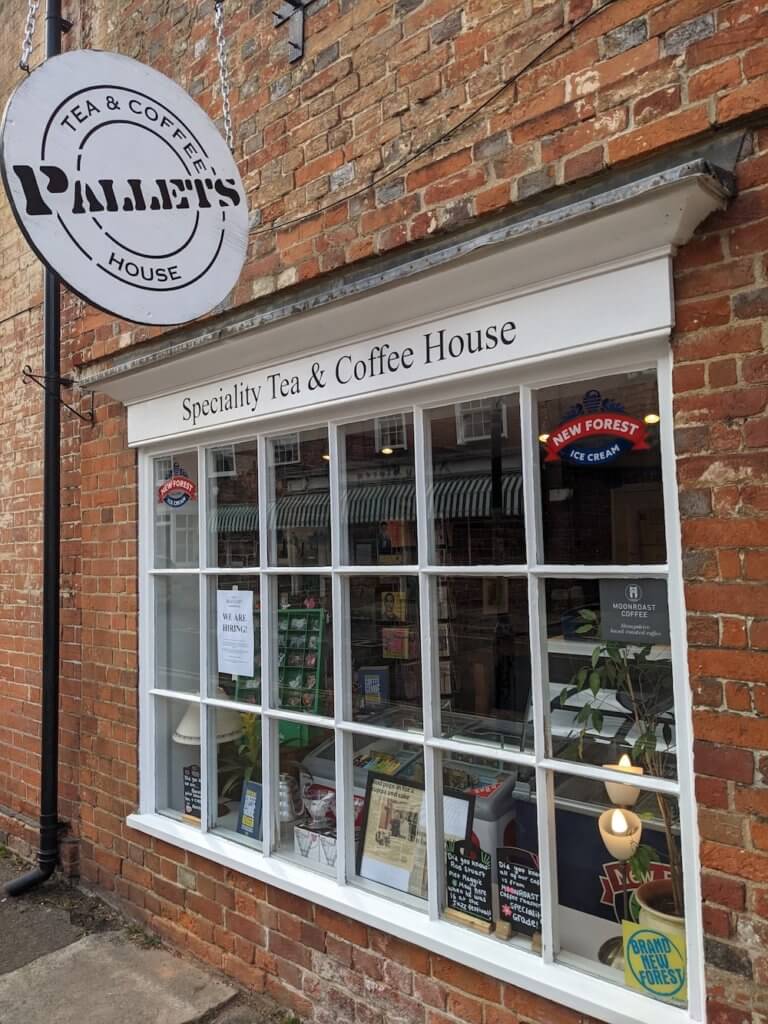 The bus back to the car in Hythe only runs on Tuesdays and Thursdays in the week, and one a day one weekends. It leaves at 14:26 and takes about 15 minutes, for £5 one way. To be honest, you'd probably be better off getting a taxi unless you time it just right. I thought it'd be cheaper than that!
(I wrote this before I realised how much taxis were in the New Forest!)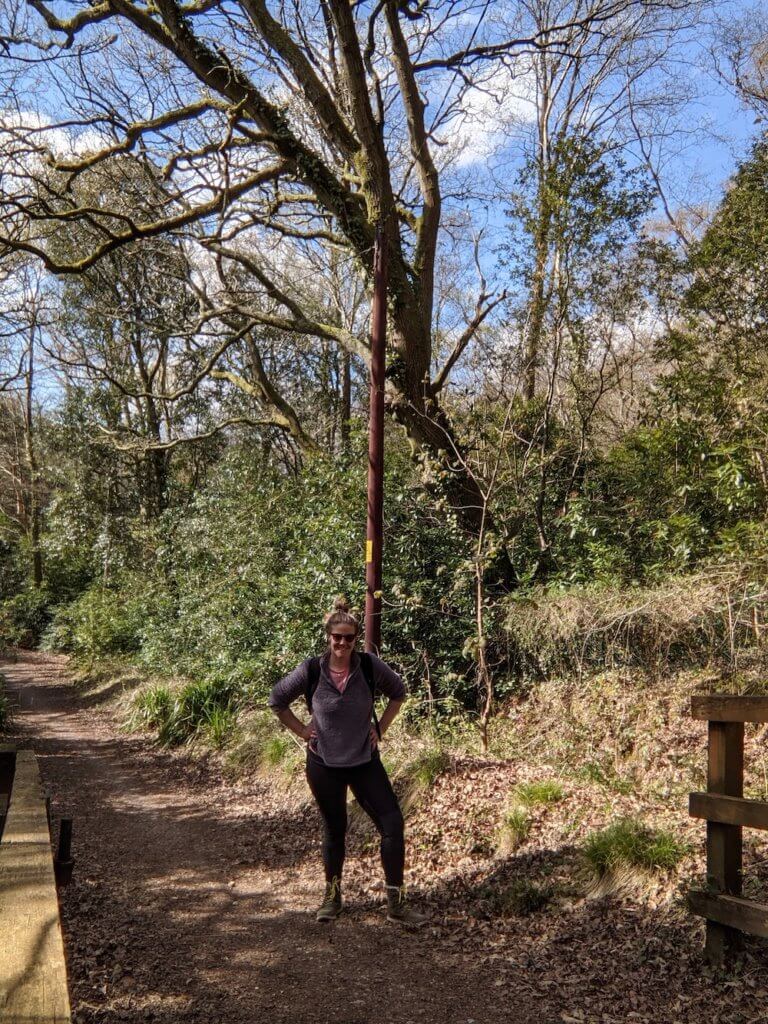 It worked though, and a few minutes of bus ride through the New Forest and I was back to pick up my car. I paid £ in parking for the 5 hours I was out walking the Solent Way, and wandering round Hythe and Beaulieu.
The route I've shown you on the map is 7 miles but by the end of the Solent Way walk today, I'd done 9 miles and 17,500 steps.
SOLENT WAY MAP: Link to the Google Map of day 4 of the Solent Way
START STATION: Hythe Marina
END STATION: Lymington Quay Bus Stop
DISTANCE WALKED: around 9 miles
STEPS DONE: around 17,000 steps
TIME TAKEN: 4 hours 30 mins
---
Solent Way Day 5: Beaulieu to Lymington Quay
It took me about 20 minutes to even find the entrance to the Solent Way Walk in Beaulieu. I wish Id had this guide to walking the Solent Way to consult before I set off.
Turns out it's just by the Montague Arms, in the centre of the village, just by the fire station. You can park in Beaulieu Village car park behind the New Forest Motors Classic Car company. Or, you'd need to get the bus in from Lymington Train Station, which only runs on Tuesdays and Thursdays.
You walk down this path for about two miles, following the signs to Buckler's Hard.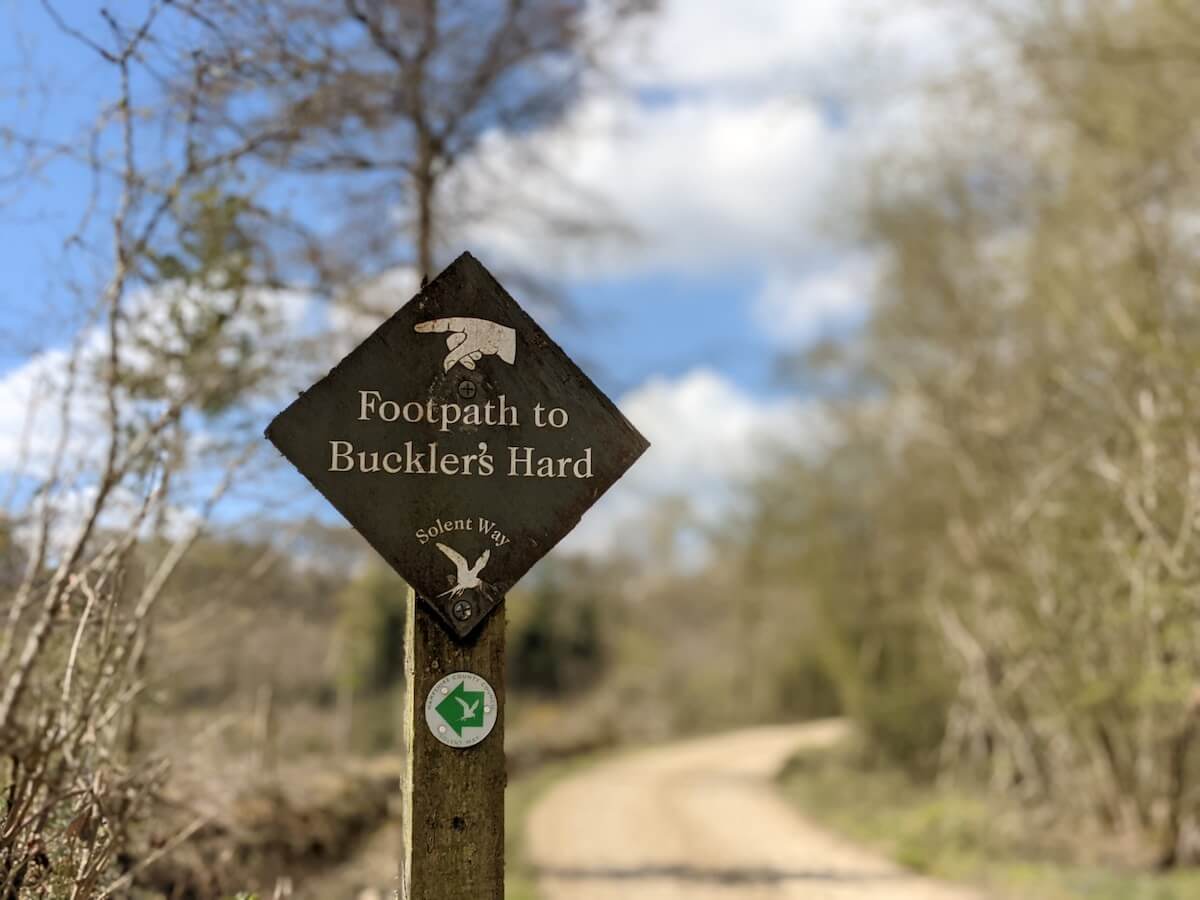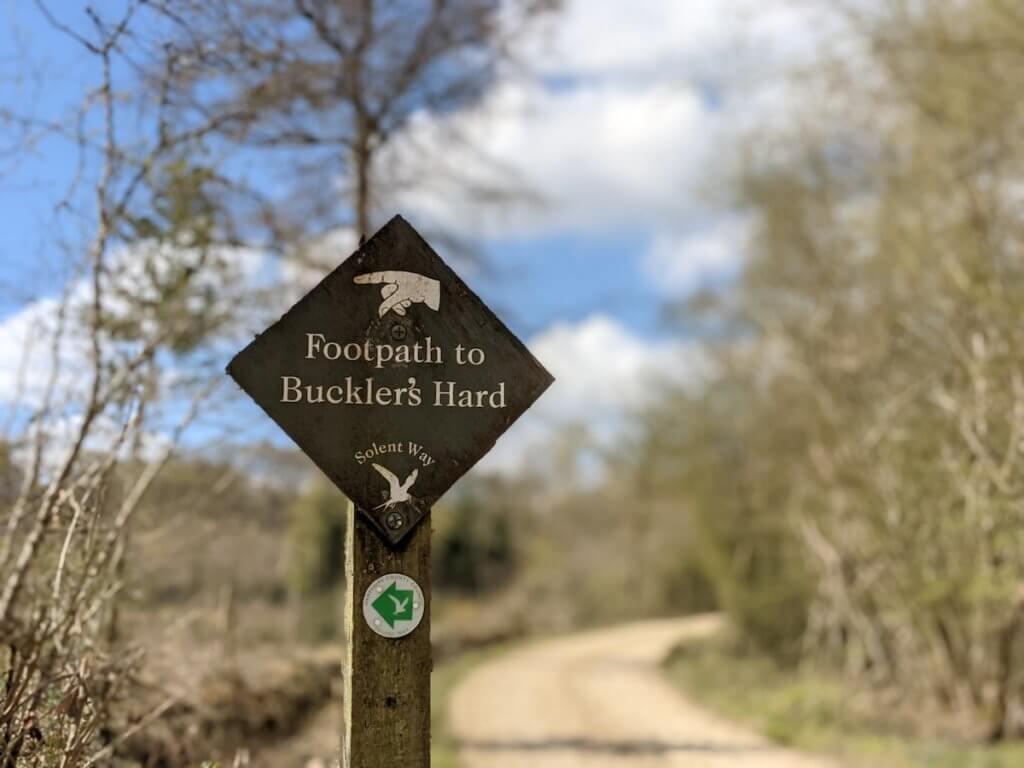 There's a Riverside Walk here which is apparently a great walk, but it was shut for conservation when I was there. The main path is still lovely though. I didn't really feel like I'd missed out.
You'll come out at New Forest Activities – a great company if you come back to the New Forest, not for today though. Keep going, following the Solent Way symbols and the signs pointing left to Buckler's Hard.
Just past this and you'll come to a fork in the road. Keep going on the main path. I went up the other way thinking it'd bring me out by the water, but it was just a dead end (only useful for a nature wee).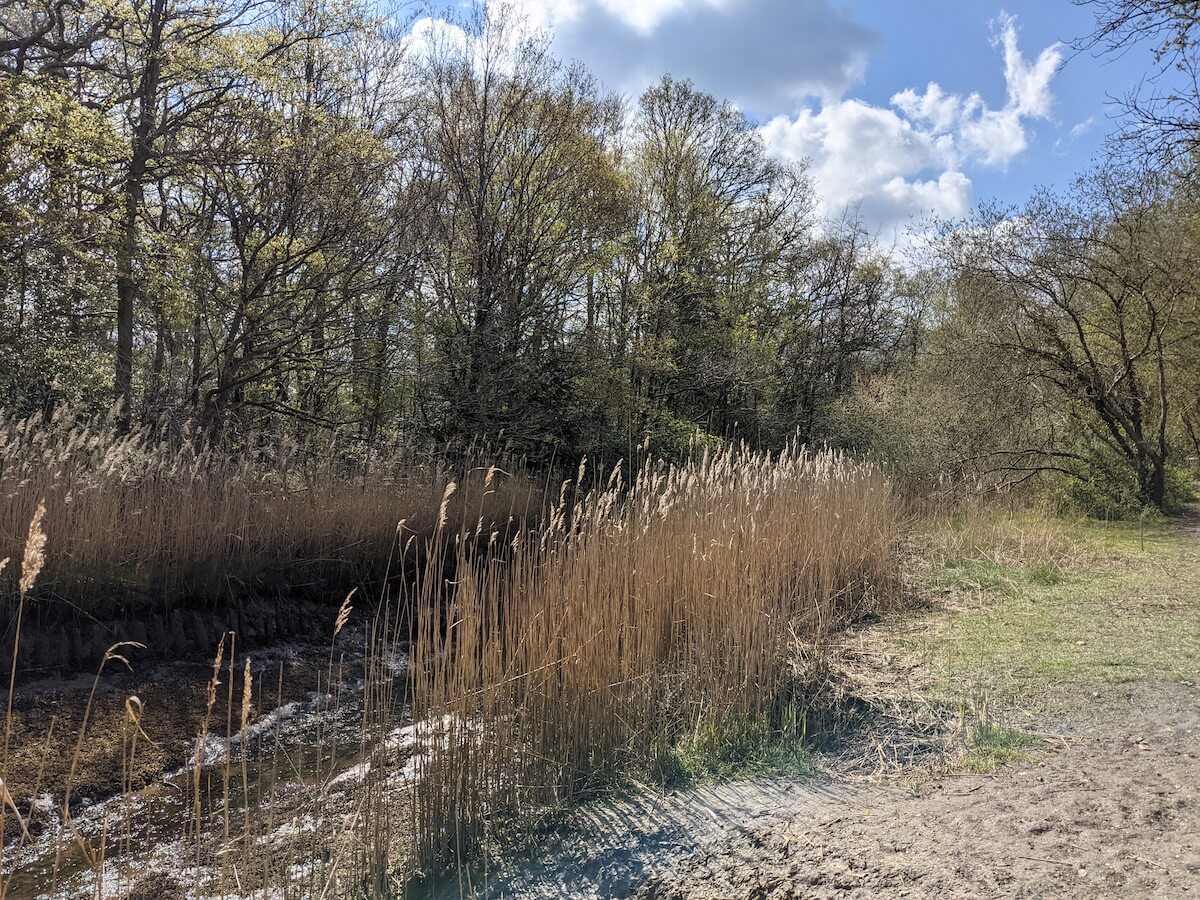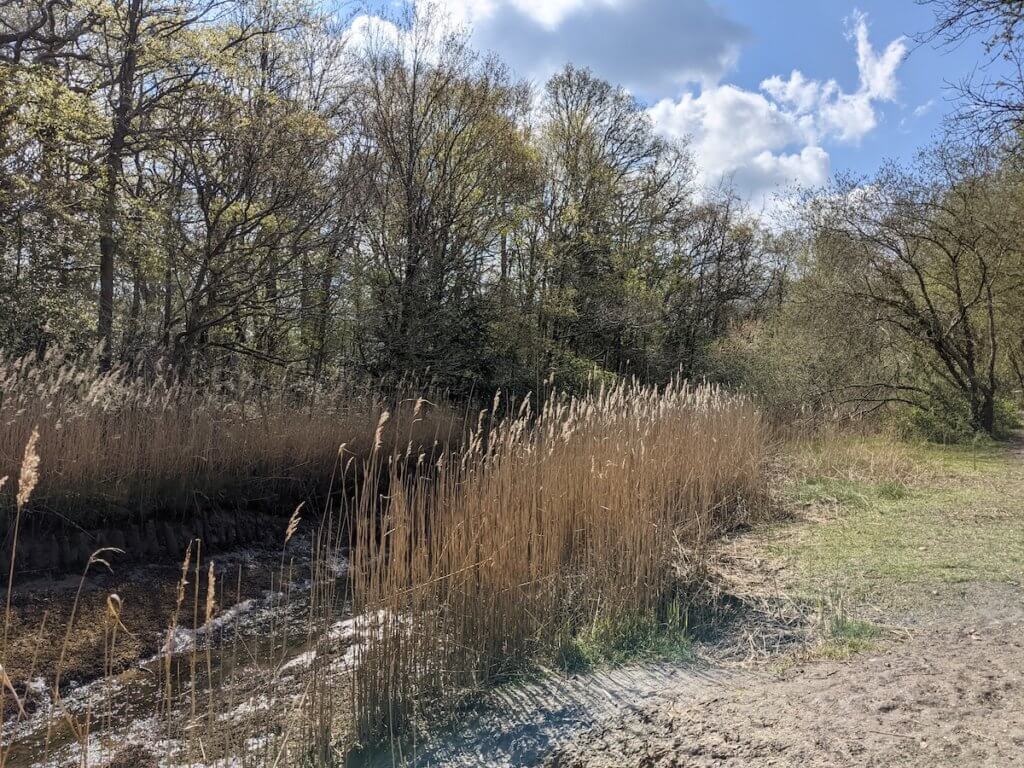 Turns out there was no need for the nature wee though as there are public toilets at Buckler's Hard, not too far away.
Keep following the path past the Marina. This is a really lovely part of the Solent Way walk so you'll see quite a few people here. The route from Beaulieu to Bucklers Hard is a popular 5-mile round trip.
Once you get to Bucklers Hard there's the Master Builder's pub, which definitely needs adding to our best pubs in the New Forest post. It looked fab and even had those igloos outside to sit in. The Bath House was cool to see, too.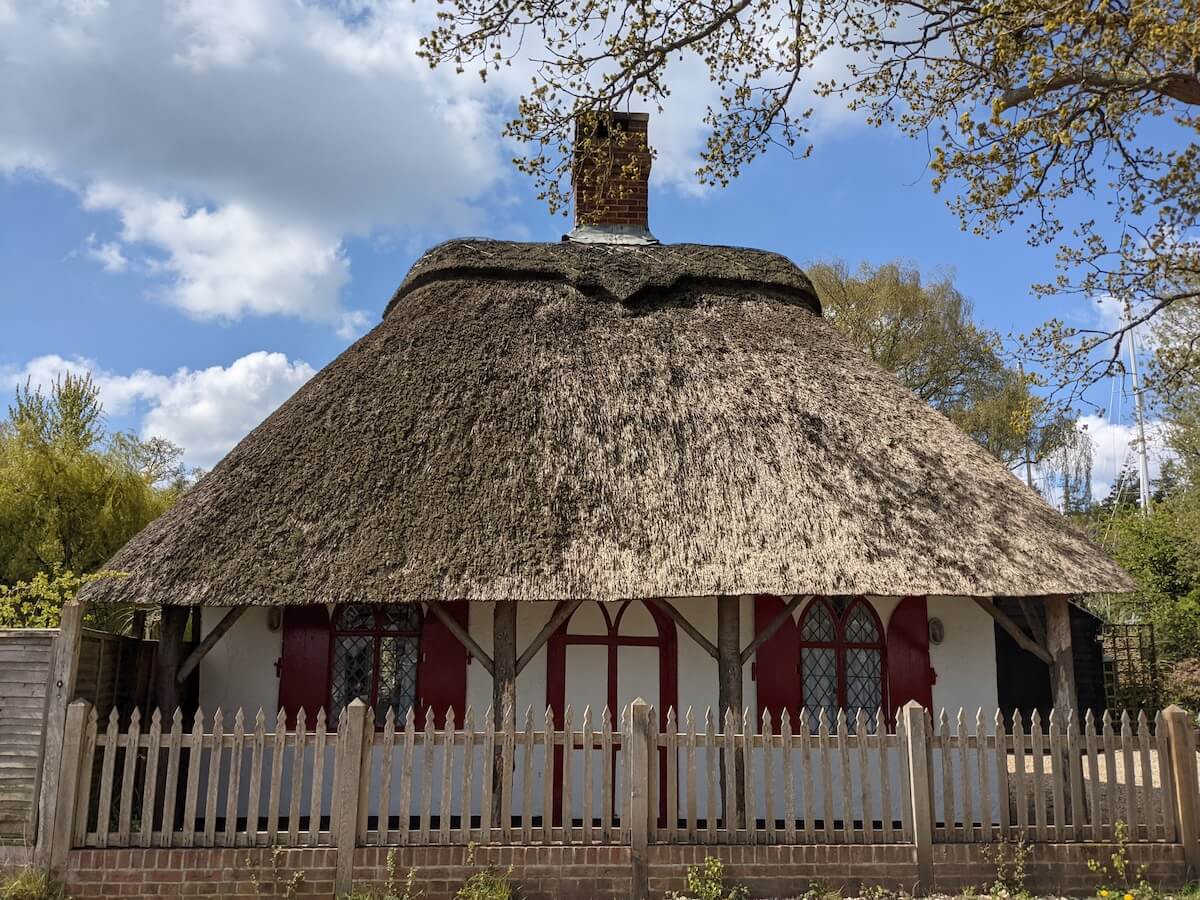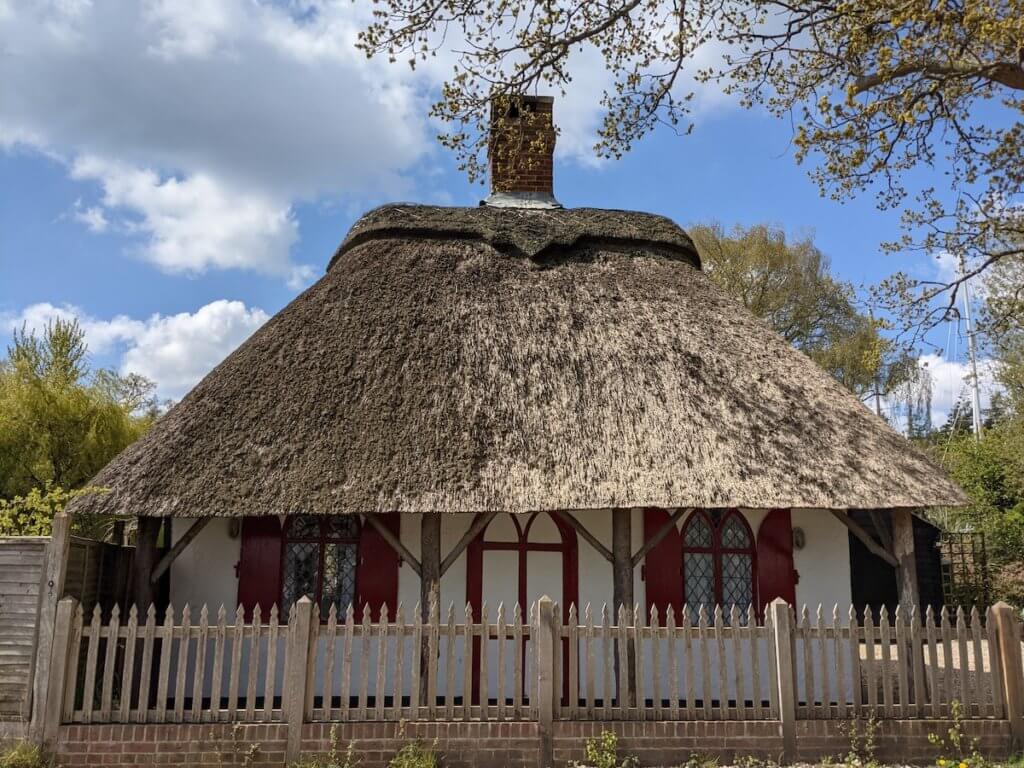 I went to the Buckler's Hard Captain's Cabin tea rooms and had a well above average latte coffee. Lots of nice space to sit outside up here if you need a break.
I carried on.
Come out of the car park and look out for the green Solent Way Walk signs again to get back on track.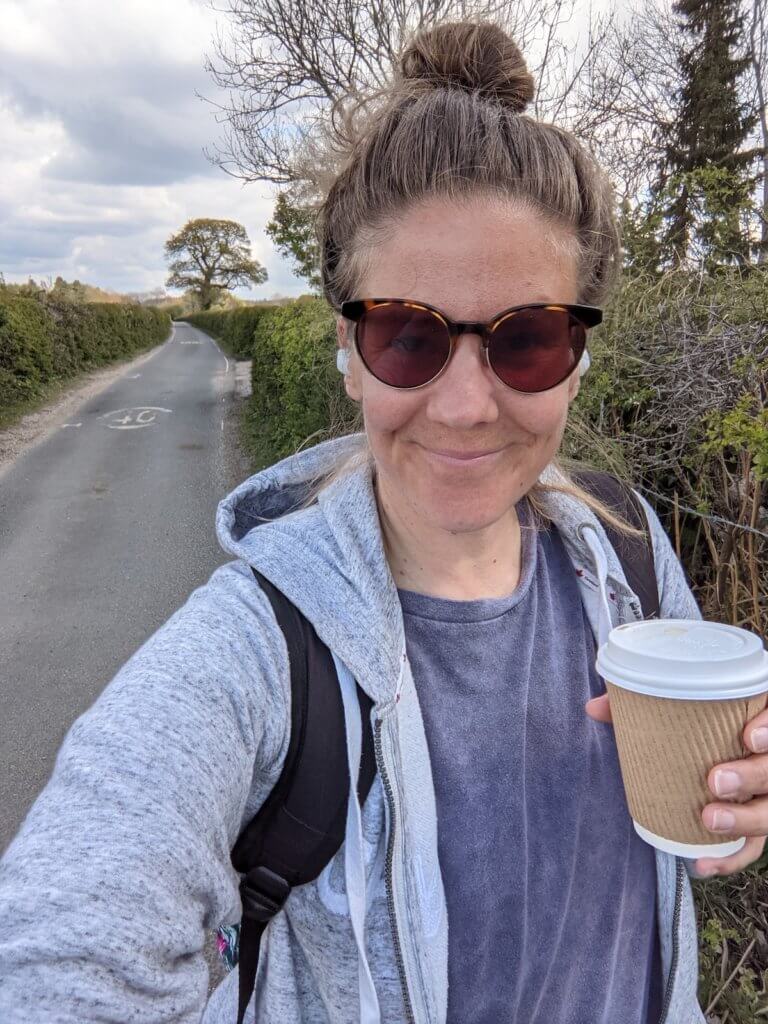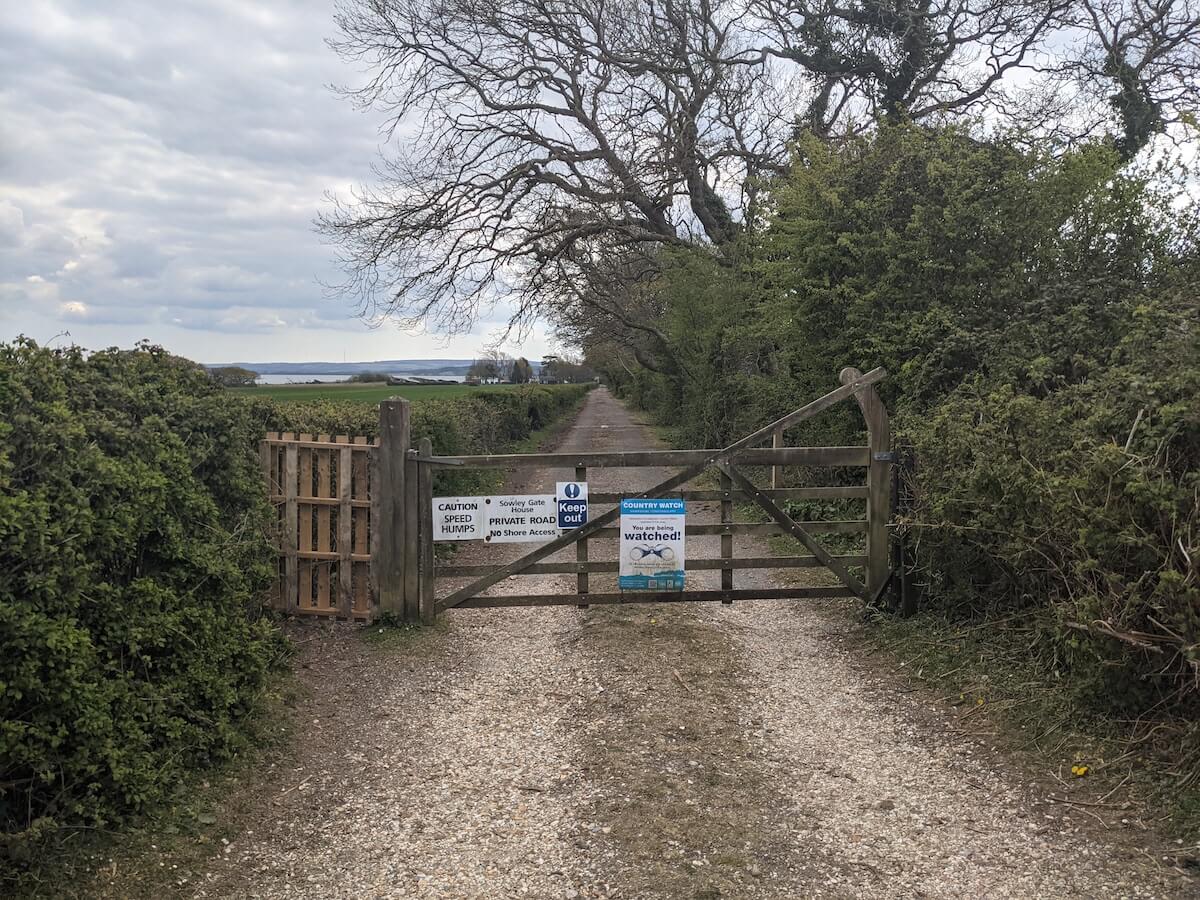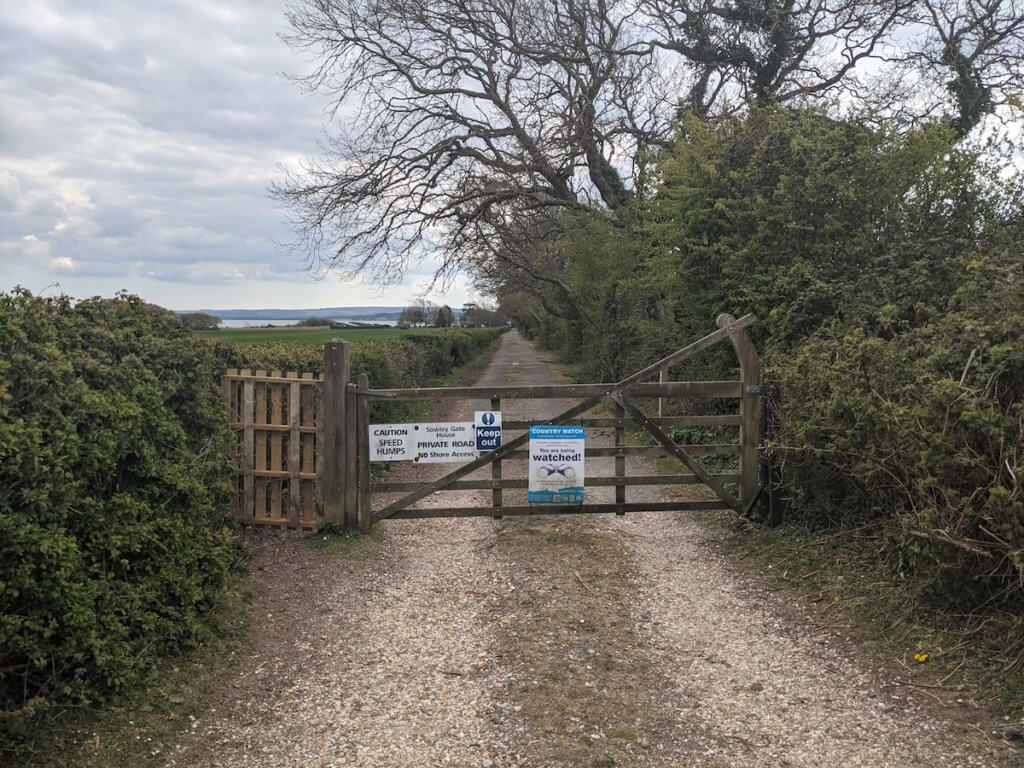 To be honest, the next few miles were probably my least favourite of the Solent Way walk. I had to walk along the road for much of it. It wasn't awful in any way, just not as lovely as the rest of it. You'll go past the OId Telephone Exchange in Beaulieu – which you can rent to stay in – and along the road.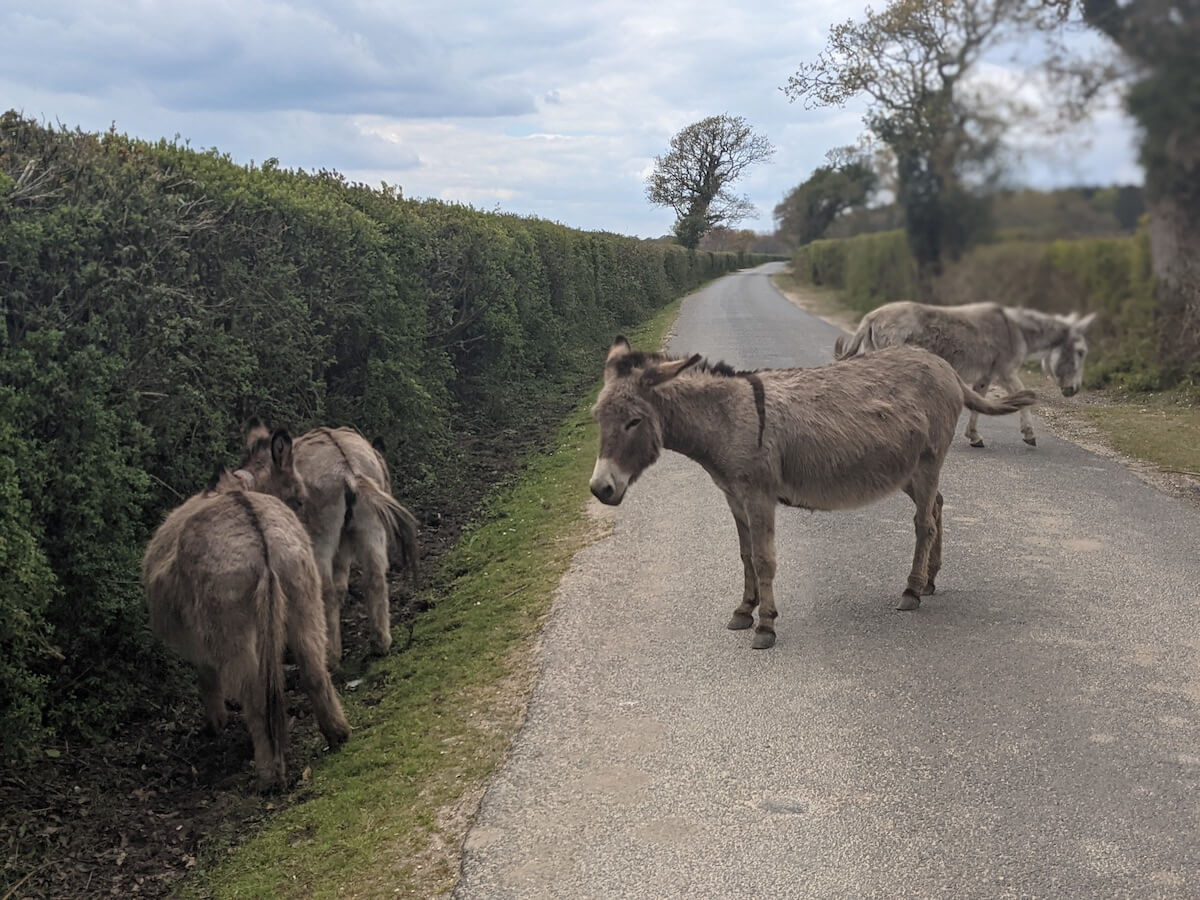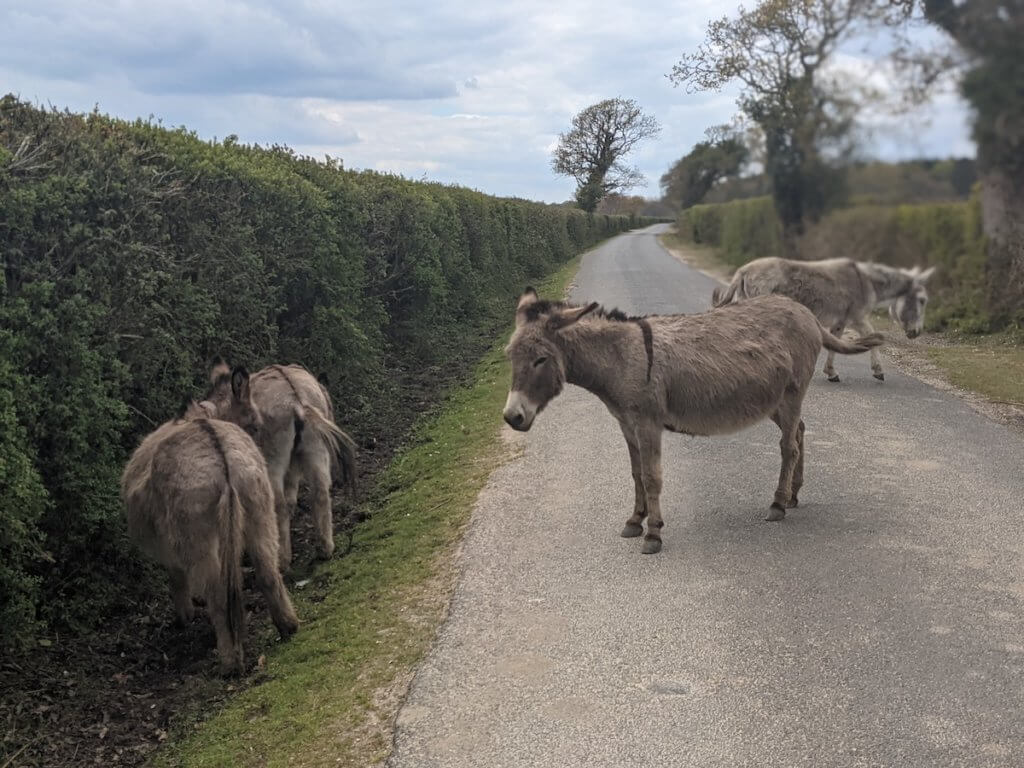 I kept thinking I'd be able to get to the edge somehow but every gate had 'private, no coastal access' on it. Other people had obviously thought the same.
Some homeowners have got some very nice plots along here!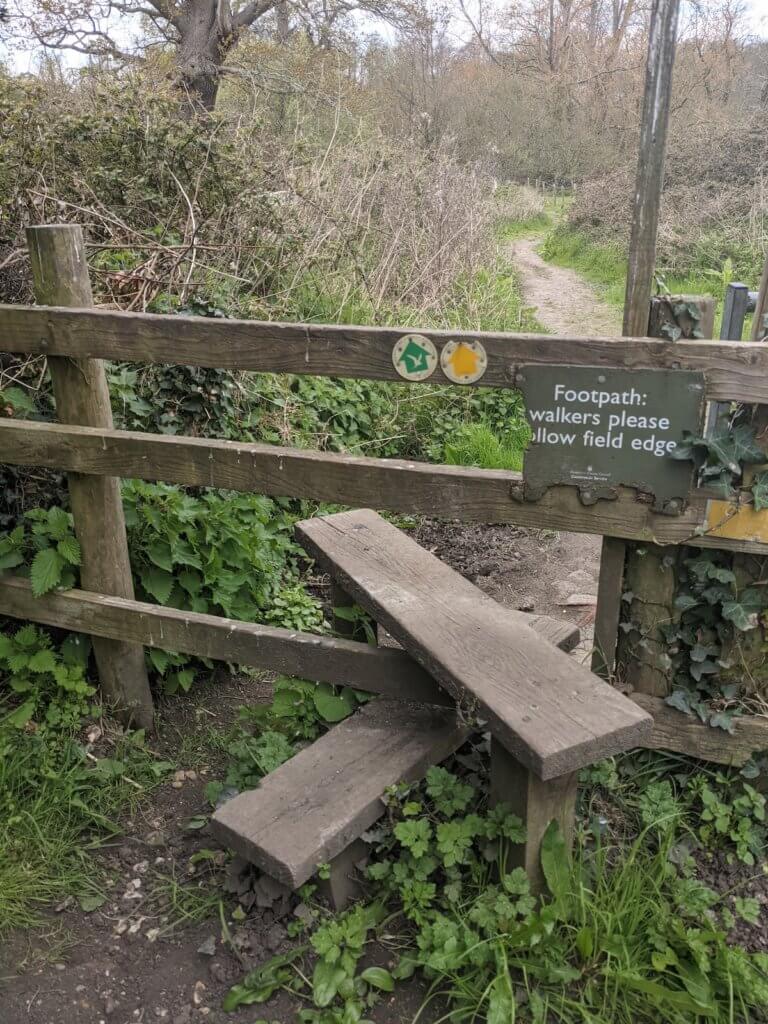 I was happy when I came to a stile which meant I could go cross country again. The next mile or two of today was mainly back in the field.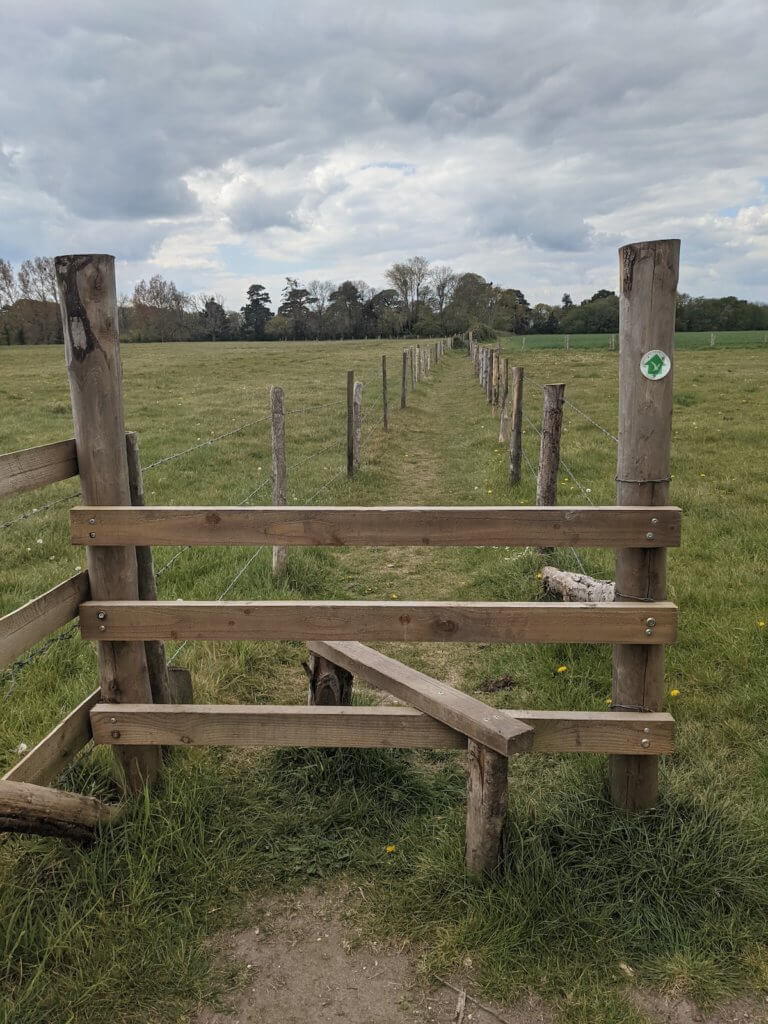 As I came into Lymington it was back on the road again, not for long until there was a path though.
There's a bus that runs on Tuesdays, Thursday and weekends here but after the waiting around and having to time the previous stretch of the Solent Way walk, I decided to just bite the bullet and splash out on a taxi to save time.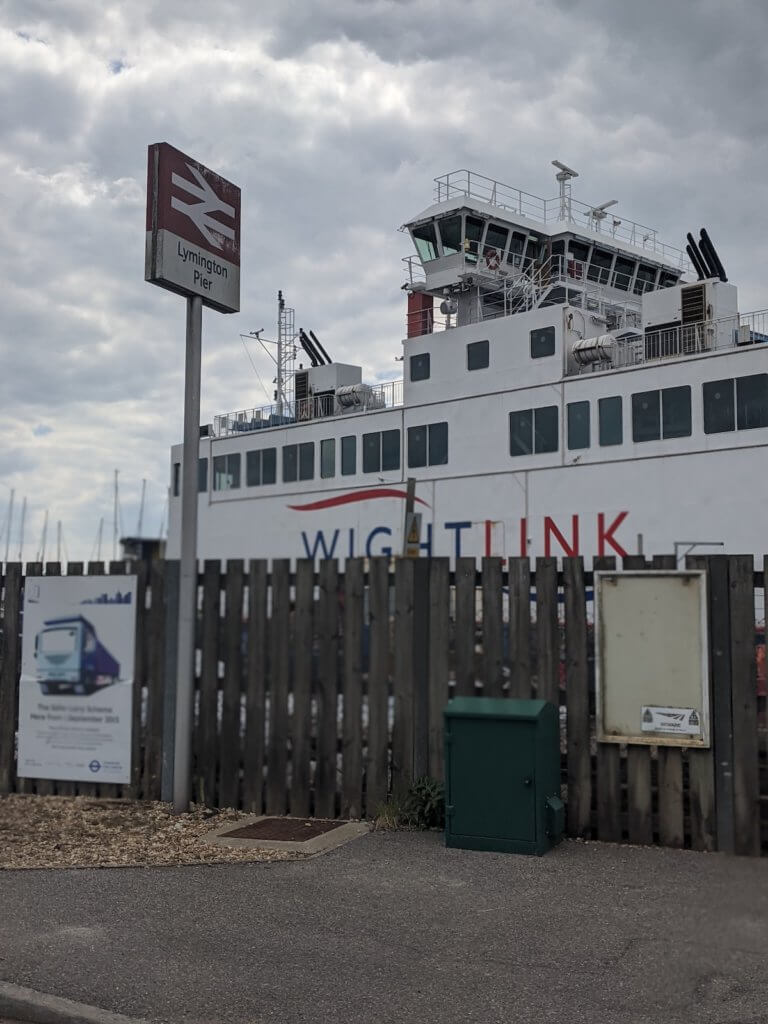 As I was walking into Lymington Pier I phoned Brockenhurst Taxis and booked one for 20 minutes time. The 13-minute taxi ride from Lymington Pier to Beaulieu was £20 (!). There's no Uber in the New Forest.
Apart from the price – am I out of touch? – I was very happy with the service. It saved a lot of faff with buses, the taxi driver was friendly and head office text me when I had no phone service. They were very prompt, too.
If you're using the trains and buses you can easily get a train from Lymington Quay Station.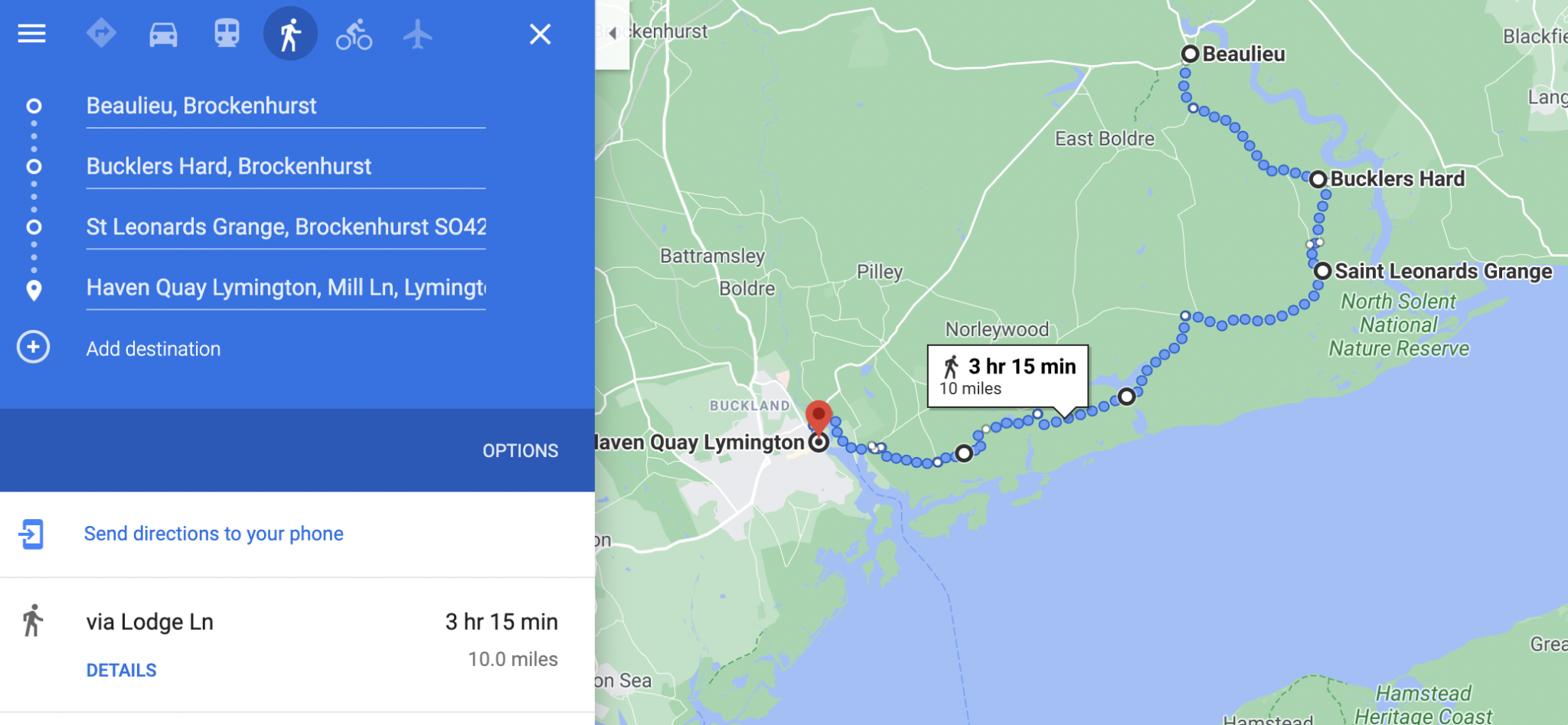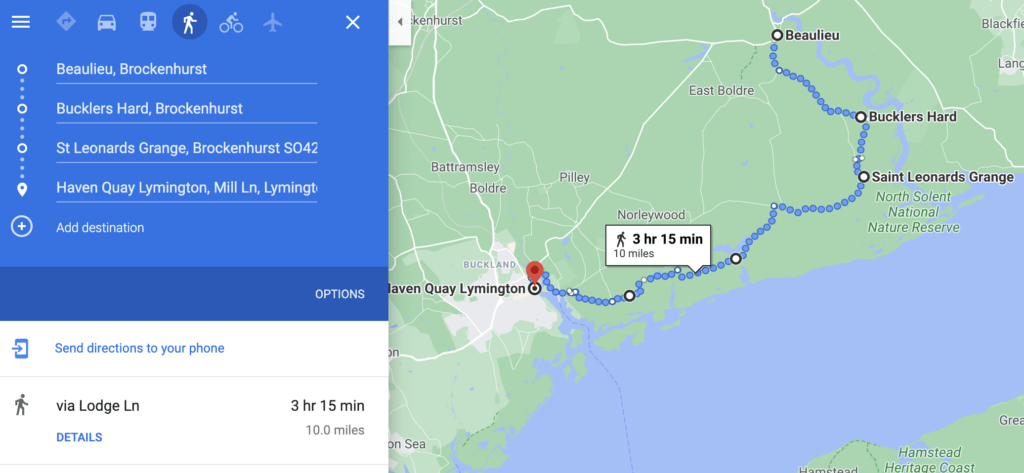 SOLENT WAY MAP: Google map of day 5 of the Solent Way Walk
START STATION: Beaulieu Abbey bus stop, or the car park behind New Forest Motors.
END STATION: Lymington Quay / Pier
DISTANCE WALKED: around 13.5 miles
STEPS DONE: around 22,000 steps
TIME TAKEN: 4 hours 30 mins
---
Solent Way Day 6: Lymington Quay to Milford on Sea
I drove to Lymington Quay from Portsmouth, and parked at Lymington Quay car park for £4.40 for four hours. If you're using public transport for the Solent Way walk then you can easily get a train to Lymington Station, or the xx bus route runs through Lymington.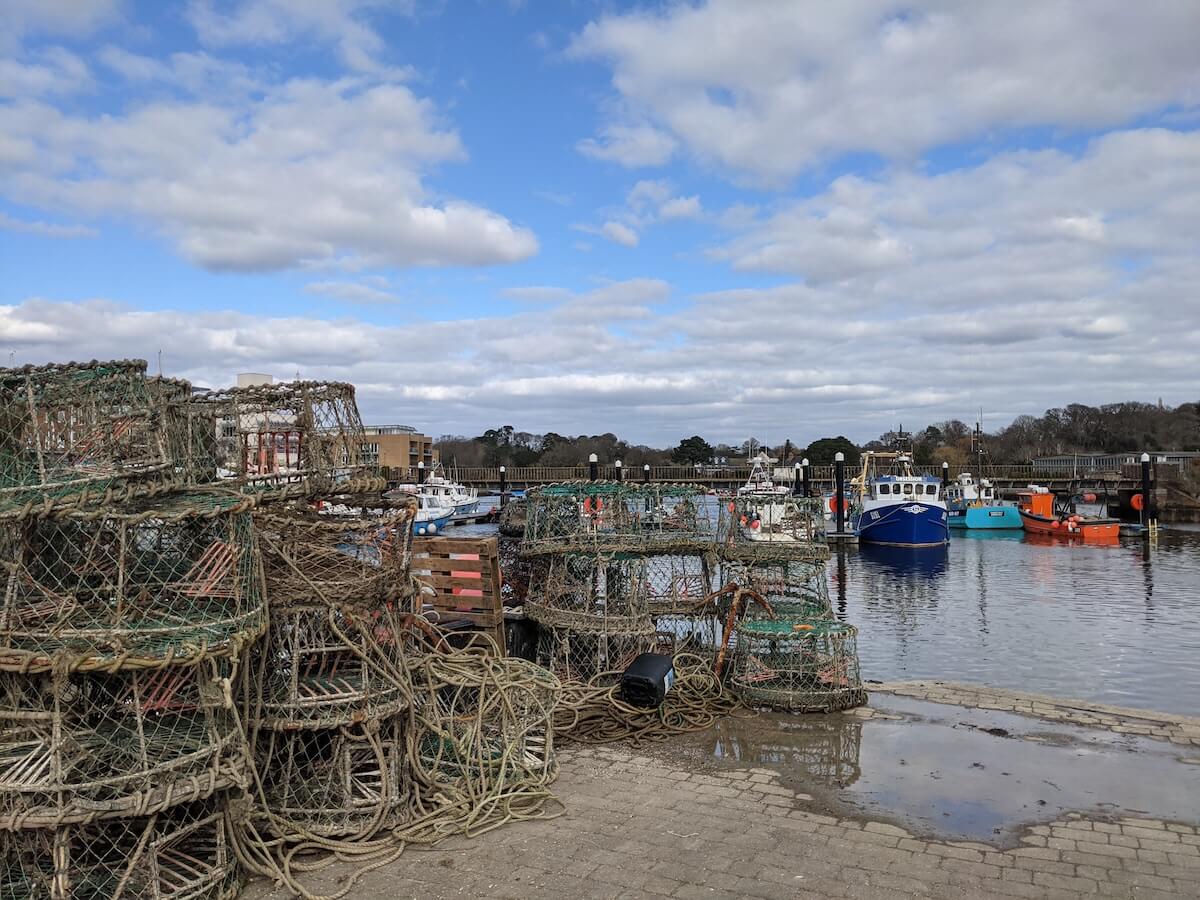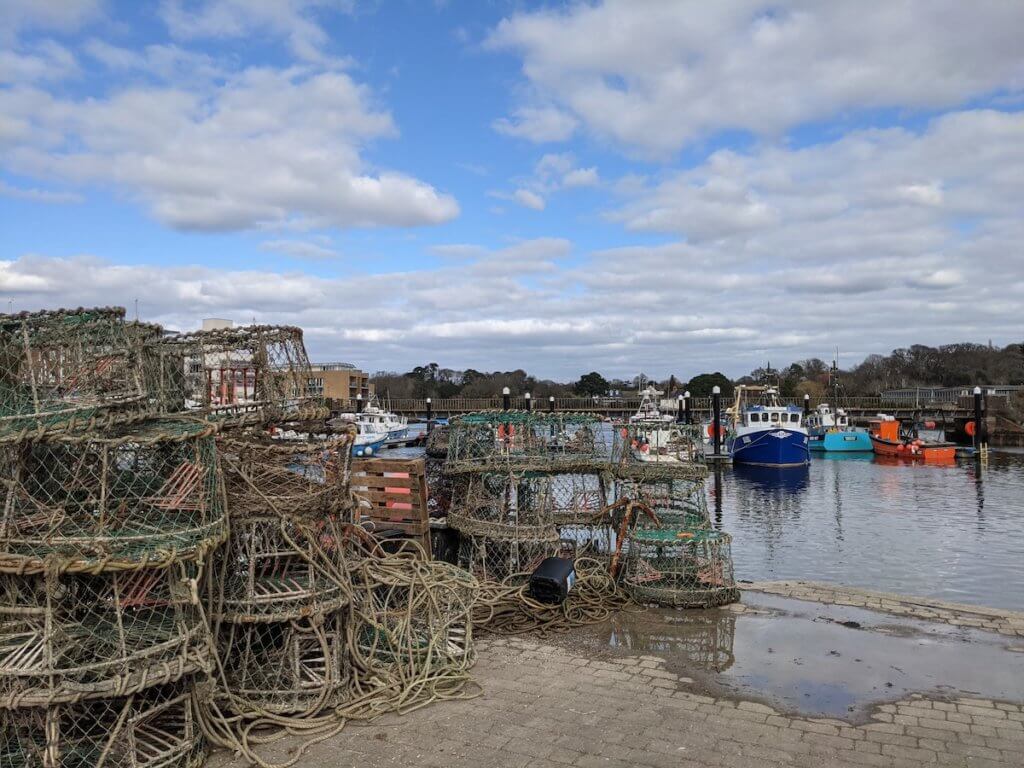 From pretty Lymington Quay you just need to walk east around the coast, away from the shops. Follow the signs to the Lymington Sea Baths if you can't see the Solent Way signage. Keep walking round the edge.
Once you've walked through the marina you'll see a little public footpath through the forest, take that. It might not show up on Google Maps, it didn't for me, but this is the quick way through. I ended up walking round as I wasn't listening to my intuition. This is it from the other side.
From here keep going down the path until you see a big gate, walk through this. The Solent Way walk is really easy to follow here, and you can mix it up as a you please. The bird migration trails are filled with birds, and so of course you'll see Twitchers with their long camera lenses. They're harmless!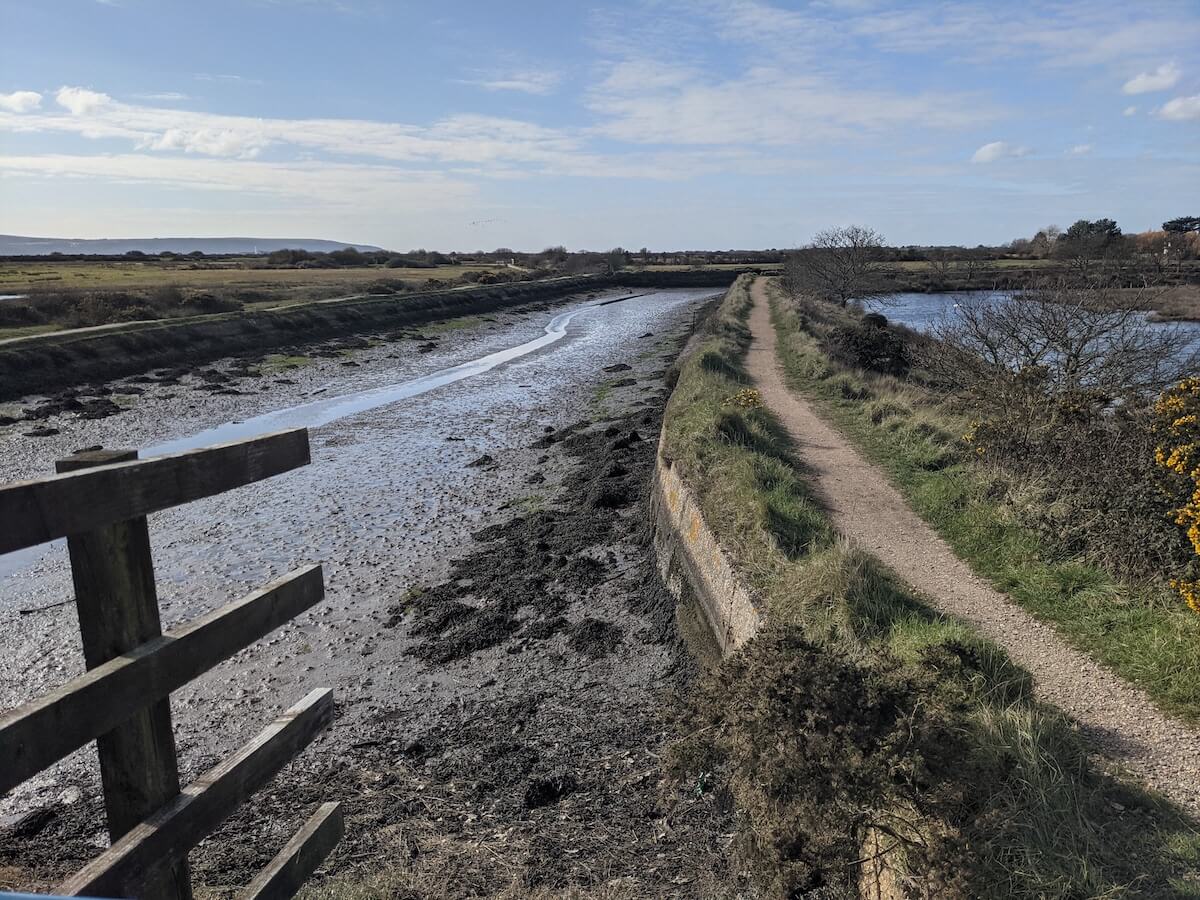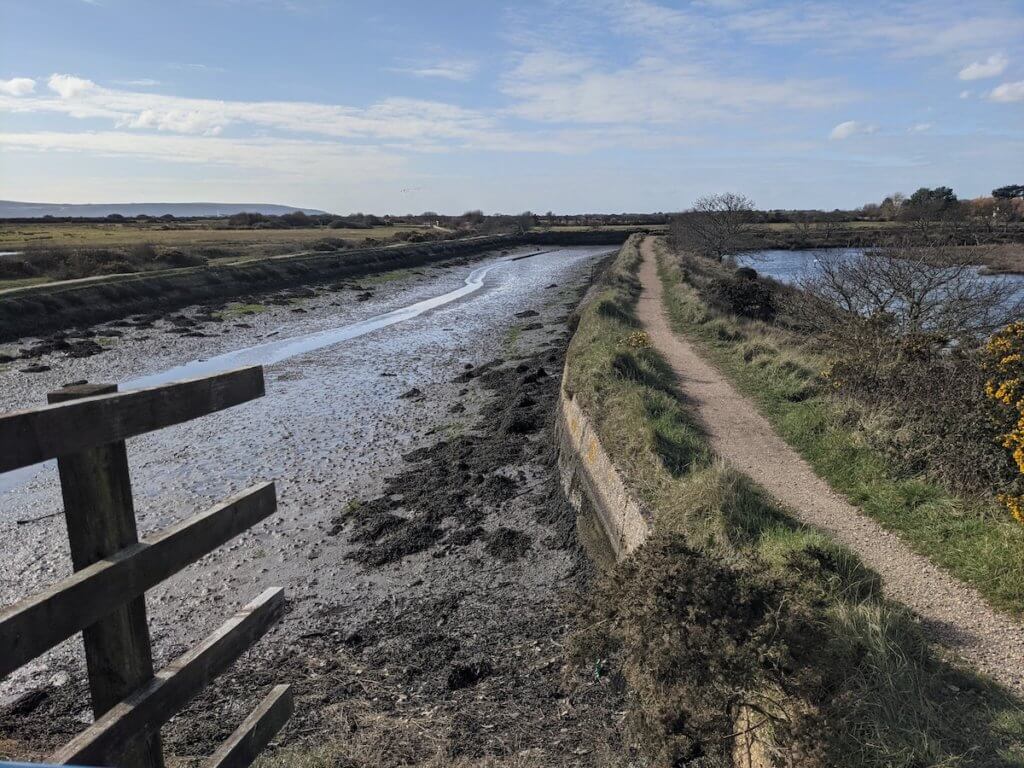 You can walk all the way around the coast for the full Solent Way path, or mix and match it up with a few direct paths through the centre. The day I did this the weather was gorgeous – a light breeze and a bit of a chill, but sunny and fresh. It was perfect.
You'll see some amazing houses here, seriously. How do people get to live here and have scenes like these for their gardens?!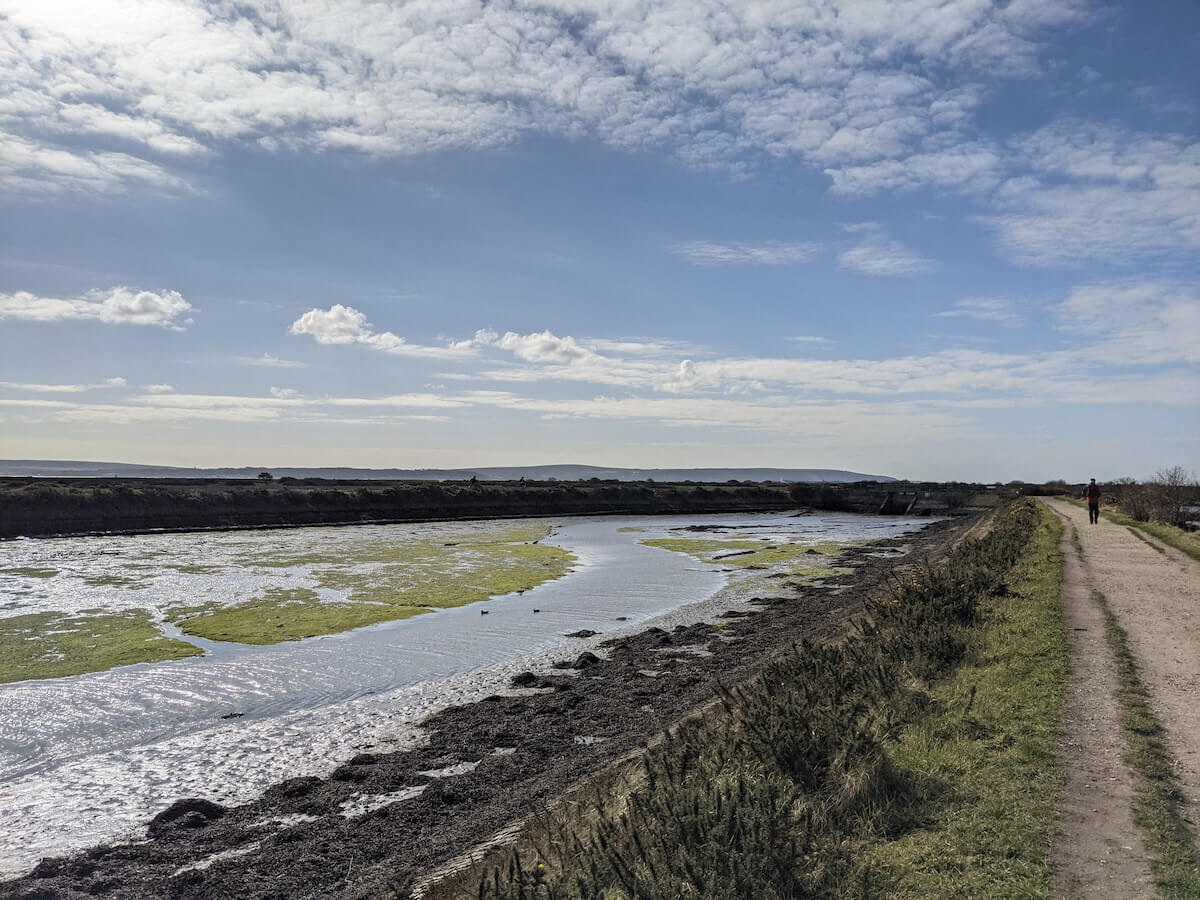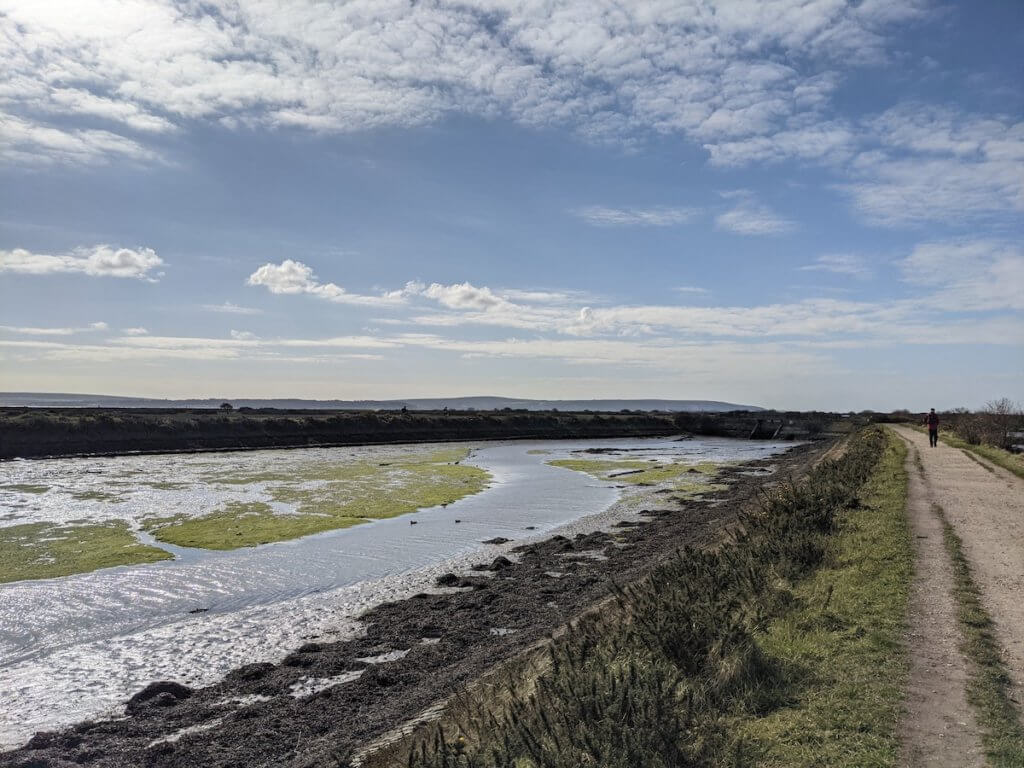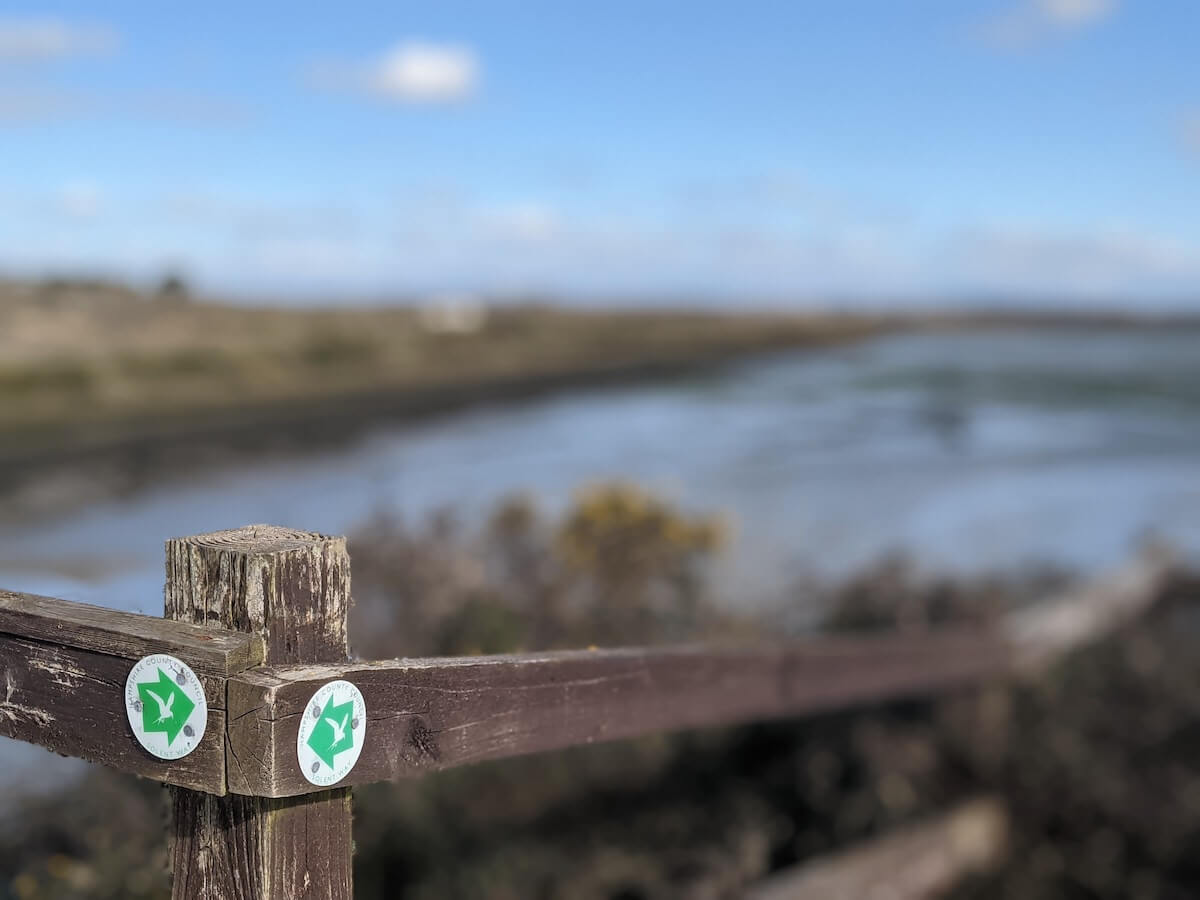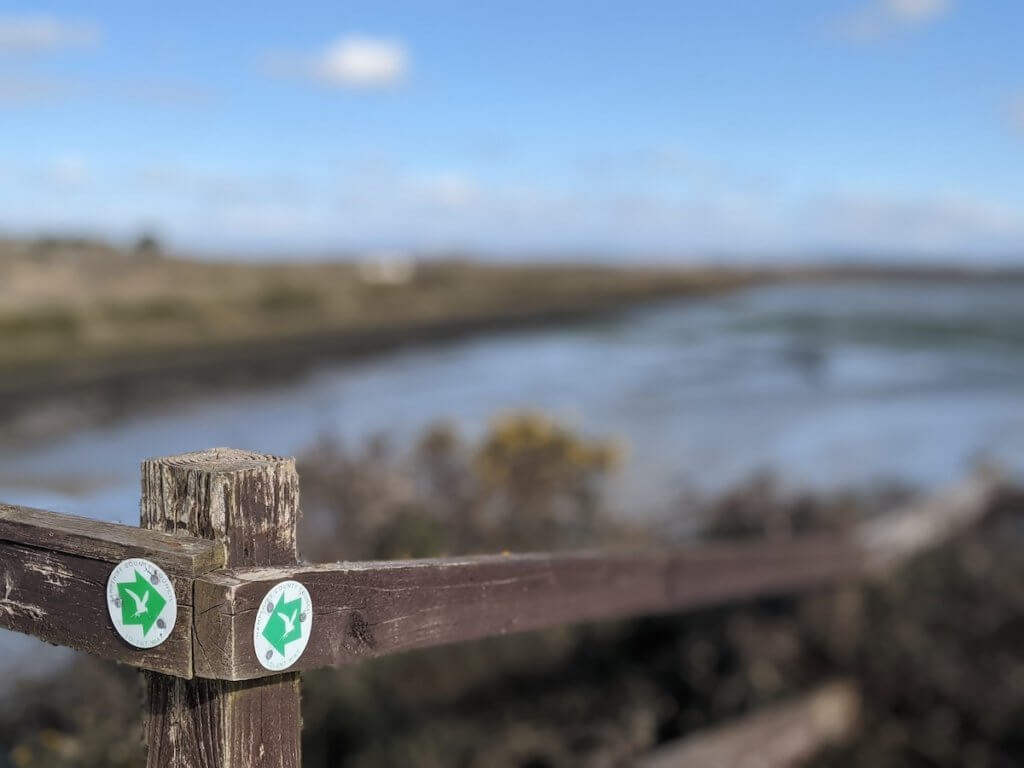 Just keep following the Solent Way signage through the paths and you'll reach Keyhaven. If you can see the impressive Hurst Castle in the distance, then you know you're going the right way. Press on.
You will be fine bringing your dog for a walk on this section by the way.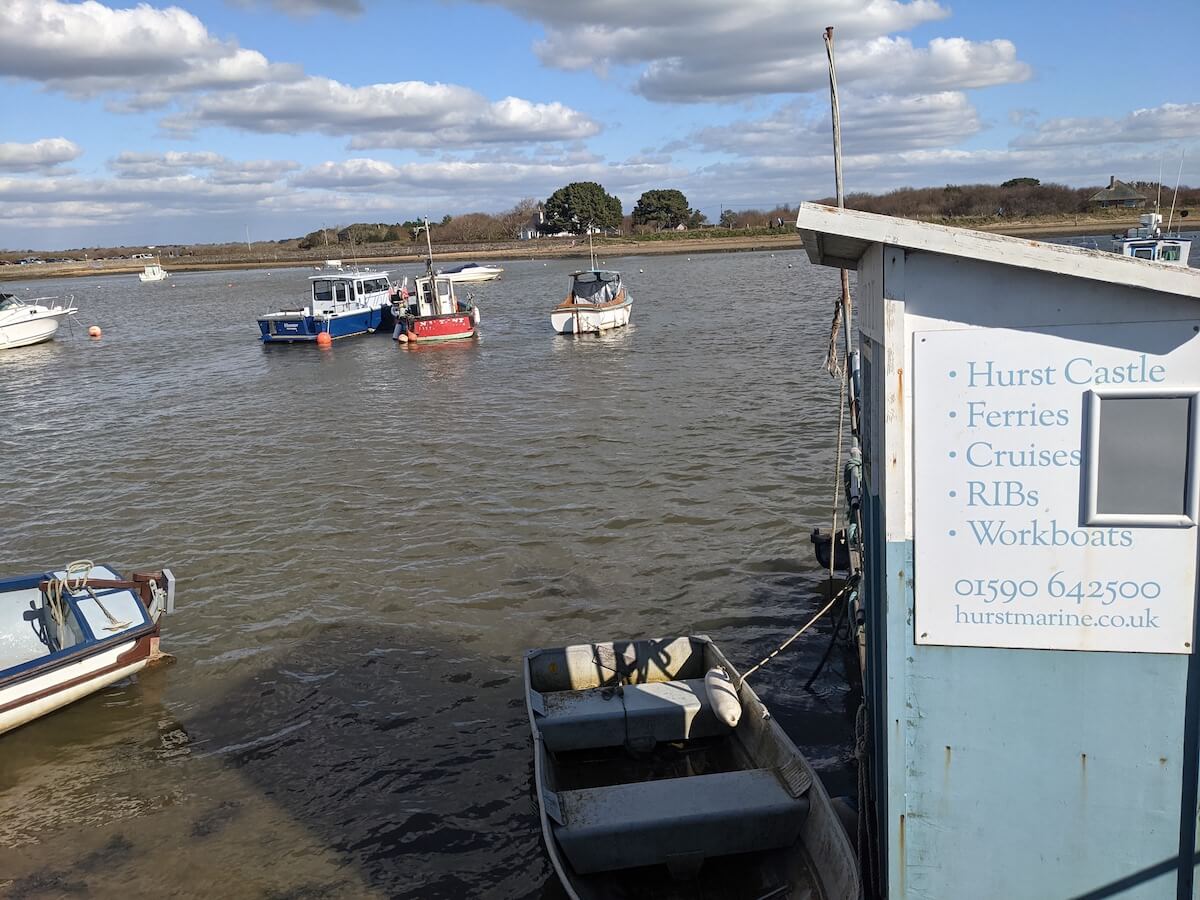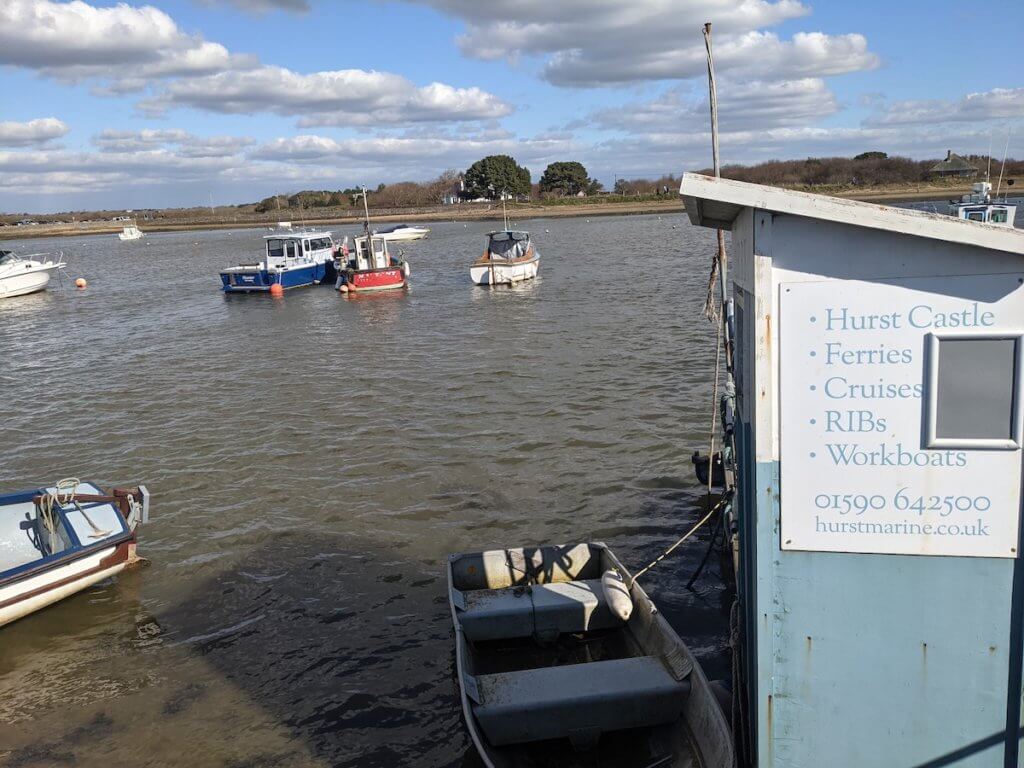 Keep walking round the marina you'll see above. From here you can get a ferry to Hurst Castle, although it's totally walkable from Milford on Sea. Pretty views over the water and lots of benches mean this is a great spot to crack out the picnic, if you bought one with you.
If not, carry on.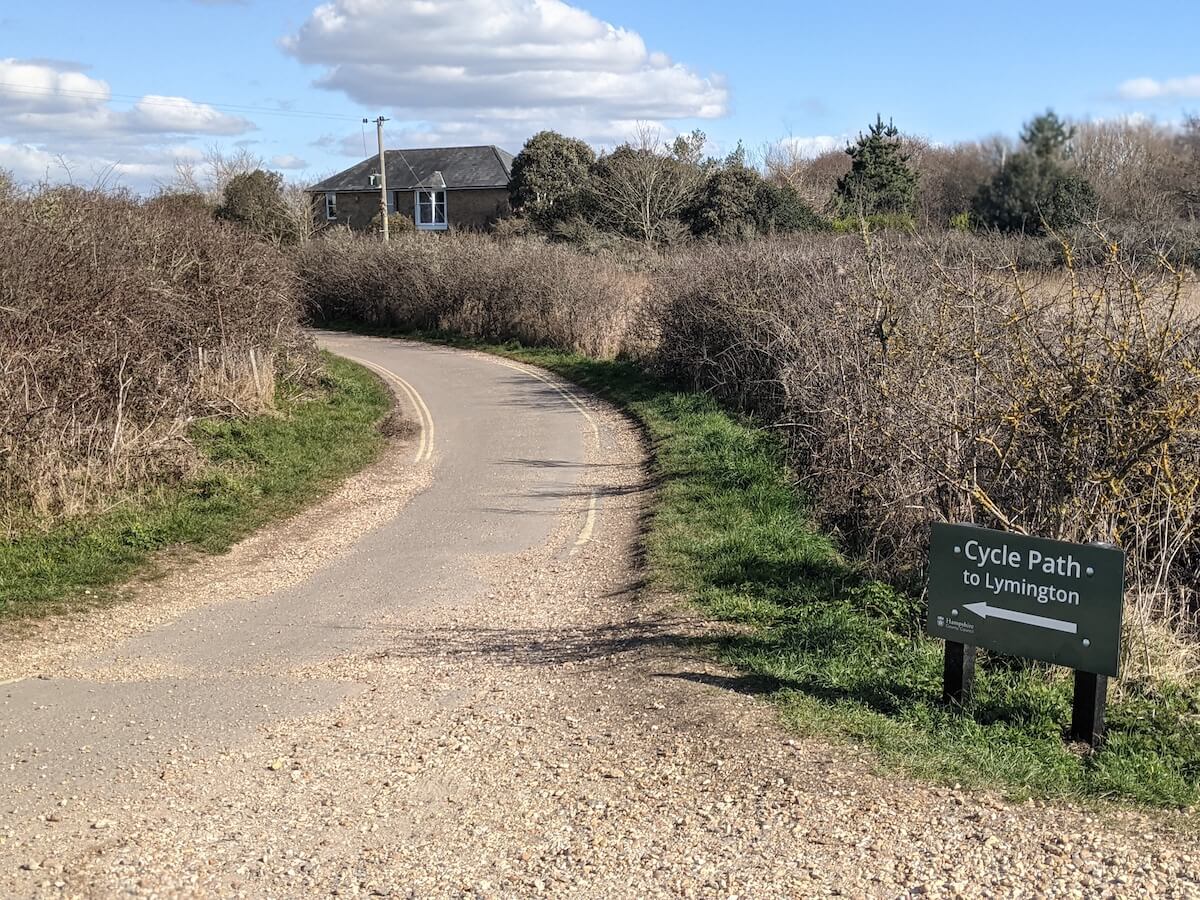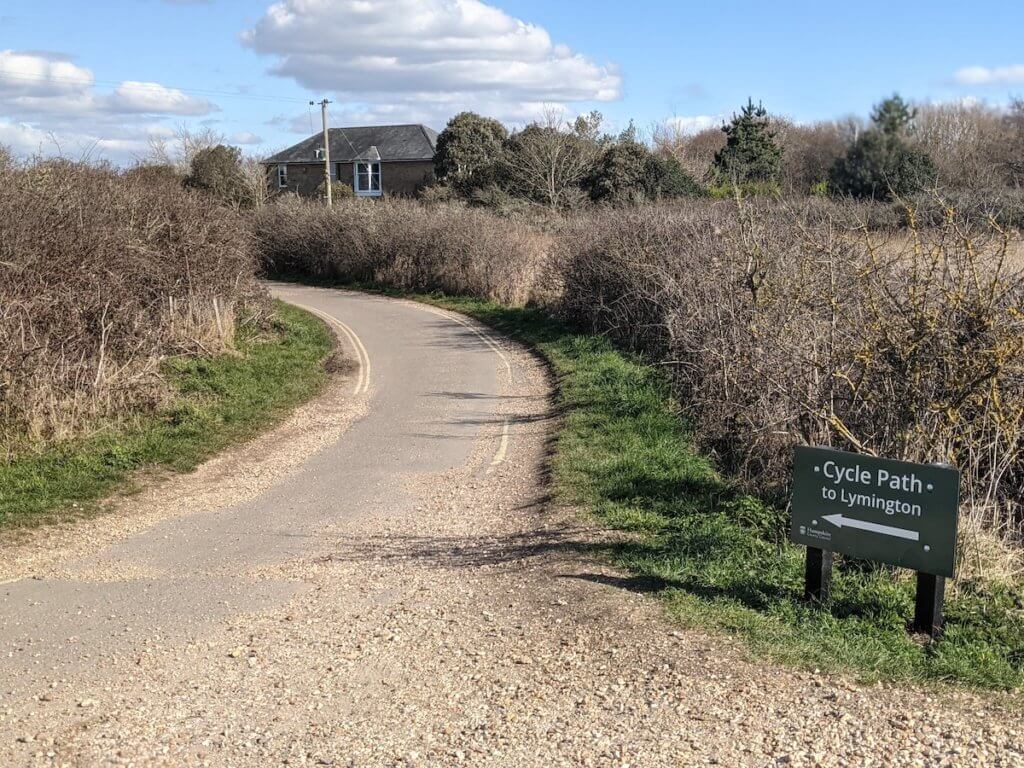 You have options here.
If you want to add some miles onto your walk, and thoroughly complete the Solent Way Walk, then turn left to Hurst Castle. It's about a 3-mile round trip along the spit, with the castle at the end of it. You need to pay to enter the castle but it's really interesting in there, with xxx. There's also a cafe.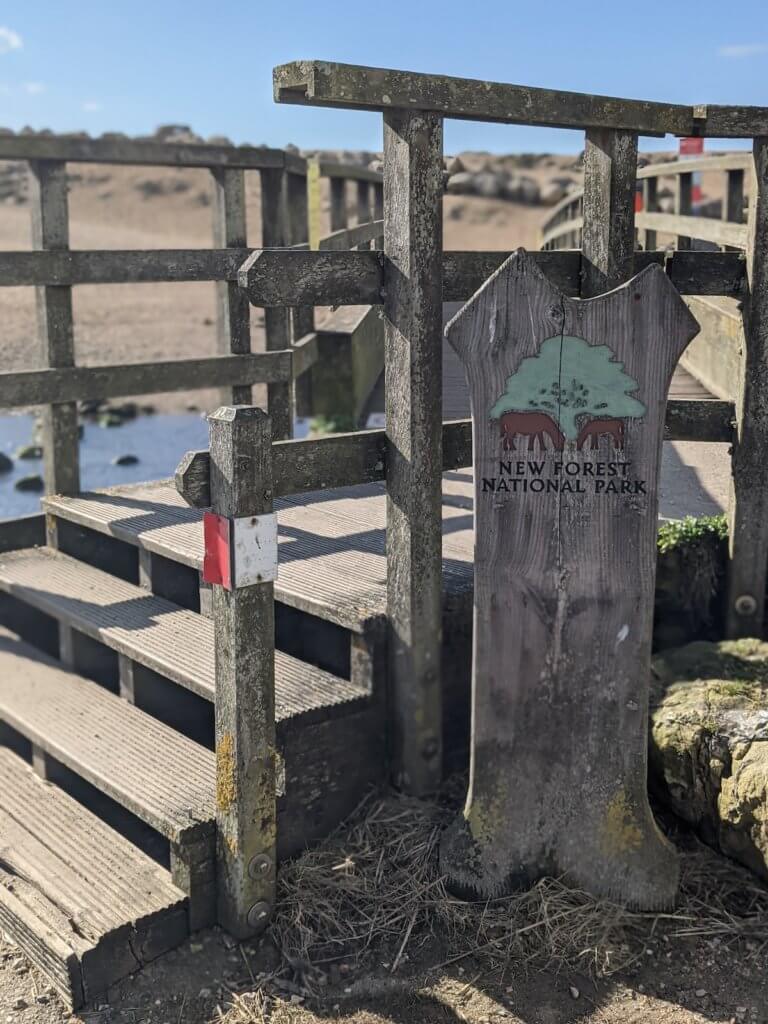 If you don't want to do the 3-mile+ trip, then turn right and walk along the seafront to Milford on Sea centre. You'll pass Stuart Pond, and all the swans there, before making it back onto cemented land.
Before you do though, there's a great restaurant on the corner that you can't miss. The Lighthouse serves amazing food, in a beautiful location and setting on the coast. If they're not open pop round the corner for their takeaway hatch – I had a delightful fish finger sandwich with loads of tartare sauce on it, sat on the benches on the seafront. A seagull pooed on my arm which kinda ruined the vibe a little, but, this is the sea!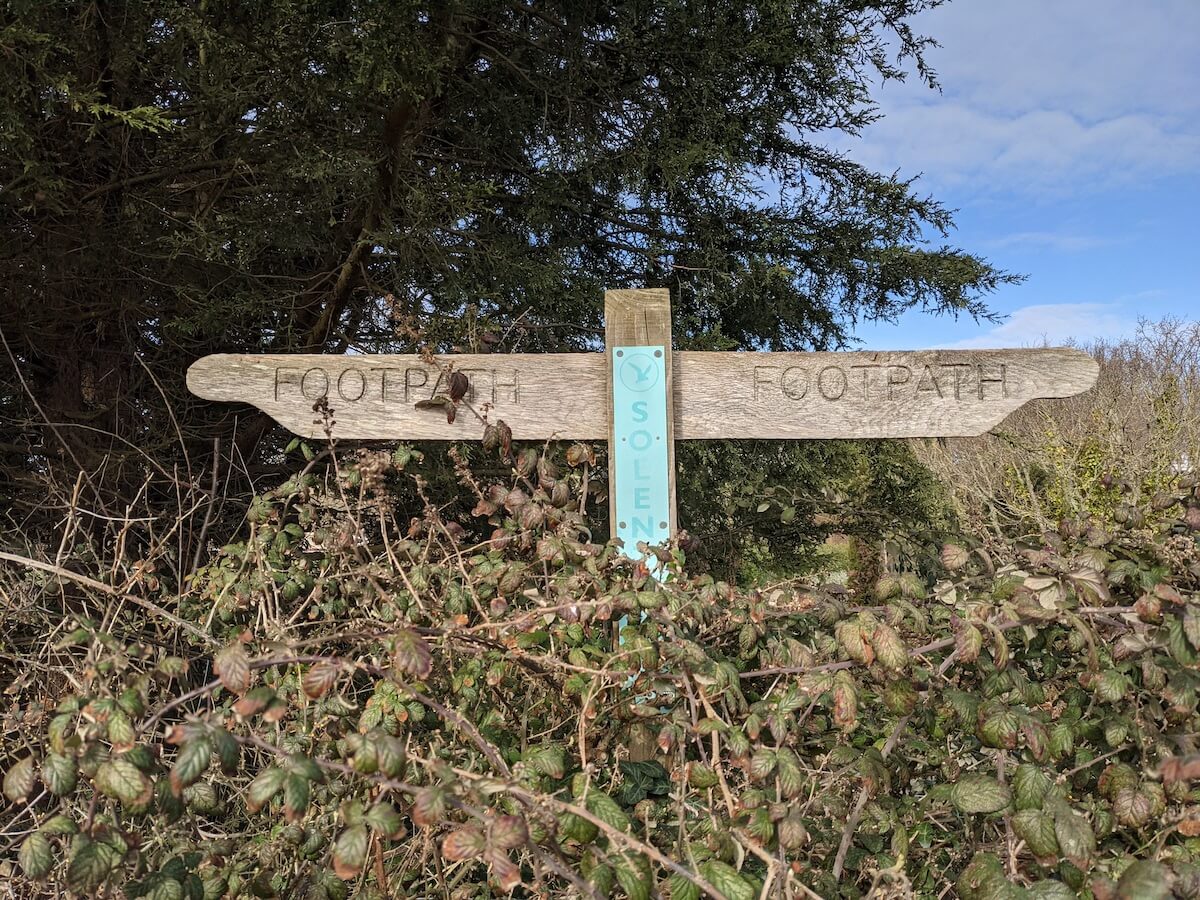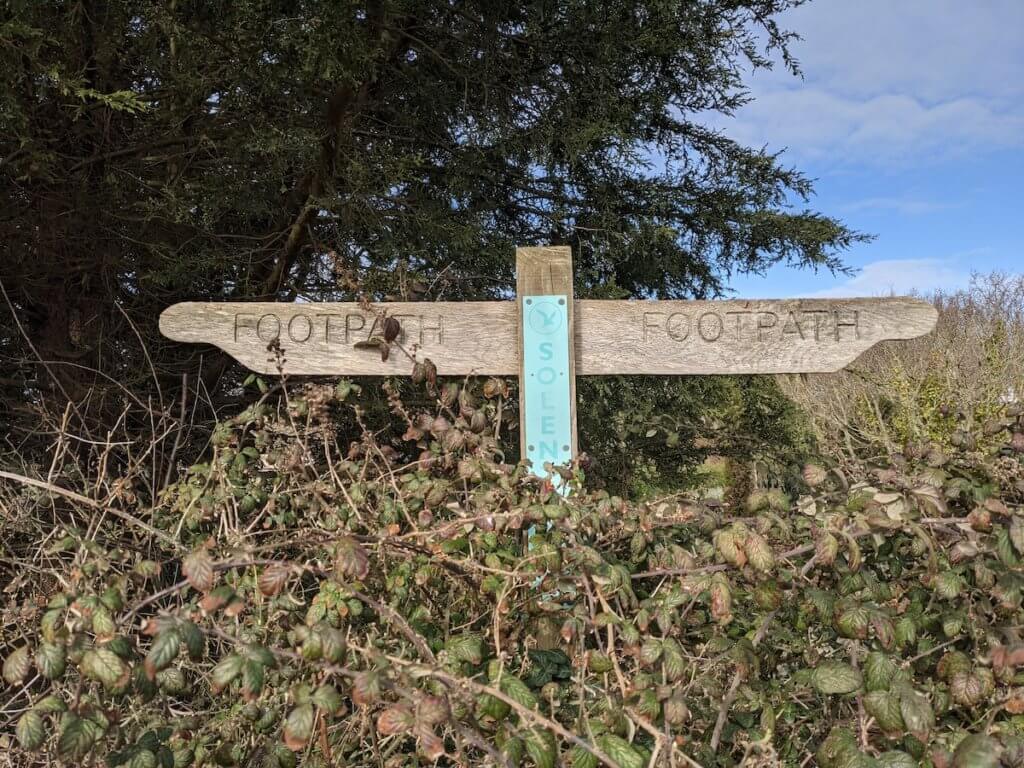 From here you can easily walk into Milford on Sea and celebrate the end of your 60 miles on the Solent Way Walk with a beer at the Smugglers Inn, or a pastry at the Coastal Bakery. There are a few coffee shops, a butchers, some great wine bars and a few shops in Milford on Sea.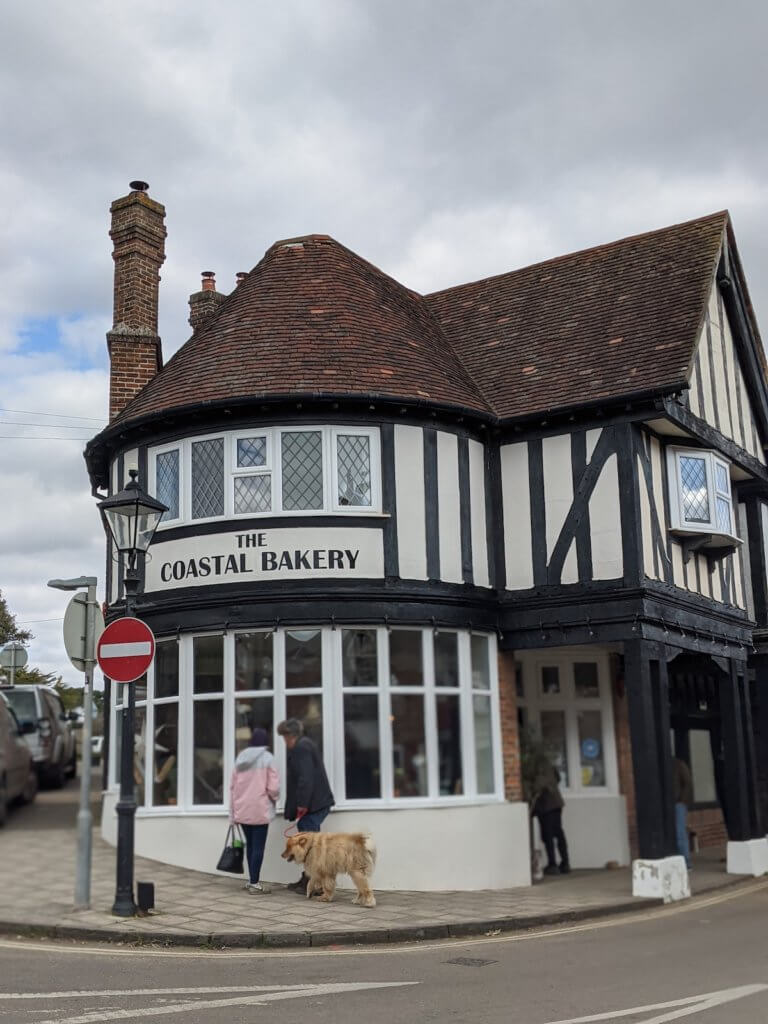 Make sure you check the times before you settle into a wine bar though, the buses leave just past the hour, every hour, back to Lymington.
You can get off in the centre of Lymington for a look around, or get off at the Quay to just get to the car park for a quick getaway.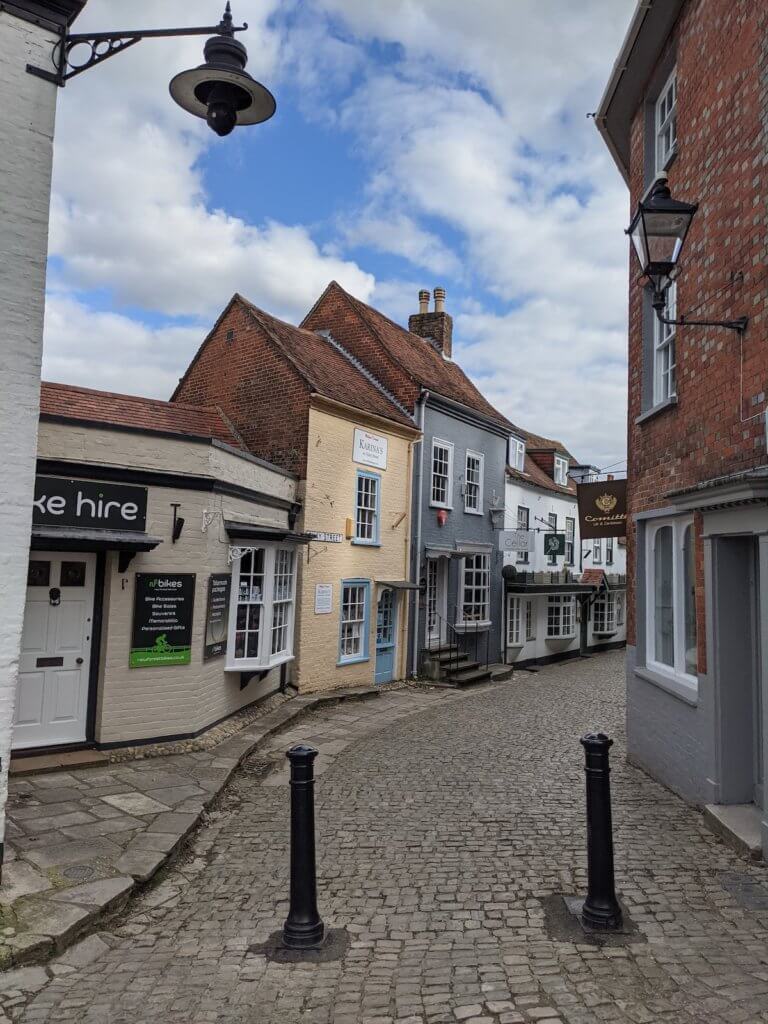 SOLENT WAY MAP: Link to Google map of day 6 of the Solent Way
START STATION: Lymington Quay
END STATION: Milford on Sea (bus stop)
DISTANCE WALKED: around 7 miles
STEPS DONE: around steps
TIME TAKEN: 3 hours
---
Walking the Solent Way
Well done, you've done it!
Walking the Solent Way is a great achievement and you should be happy with yourself!
Boat trips on the Solent Way
Portsmouth Harbour to Gosport ferry
Warsash to Hamble pink ferry
Southampton to Hythe ferry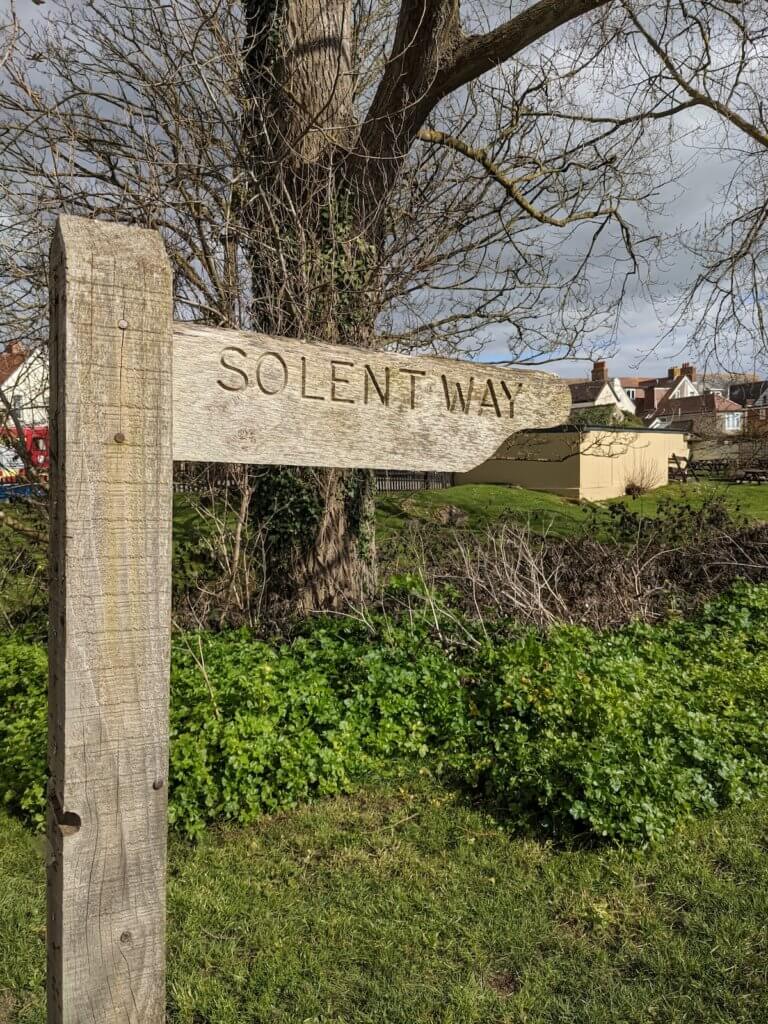 The Solent Way is such a beautiful route, I'd totally recommend taking your time. Five days was a good amount of time for me, what with all the photographing and all. Day four was a lot but I just couldn't see an easier way to split it up, without getting an expensive taxi.
If you have any questions about doing the Solent Way Walk, just let us know in the comments below and we'll get back to you ASAP.
---
Quick guide to the Solent Way Walk
Solent Way Walk Day 1: Emsworth to Portsmouth Harbour
Solent Way Walk Day 2: Portsmouth Harbour to Hamble
Solent Way Day 3: Hamble to Southampton
Solent Way Day 4: Hythe Marina to Beaulieu
Solent Way Day 5: Beaulieu to Lymington Quay
Solent Way Day 6: Lymington Quay to Milford on Sea
---