Essential Tips for Walking Round Farlington Marshes, Portsmouth
As you come into Portsmouth – at the top before the bridge over – you'll see a load of cars parked up, with seemingly nowhere to go. I bet you a tenner they're walking round Farlington Marshes, one of the many pretty spots to walk in Hampshire.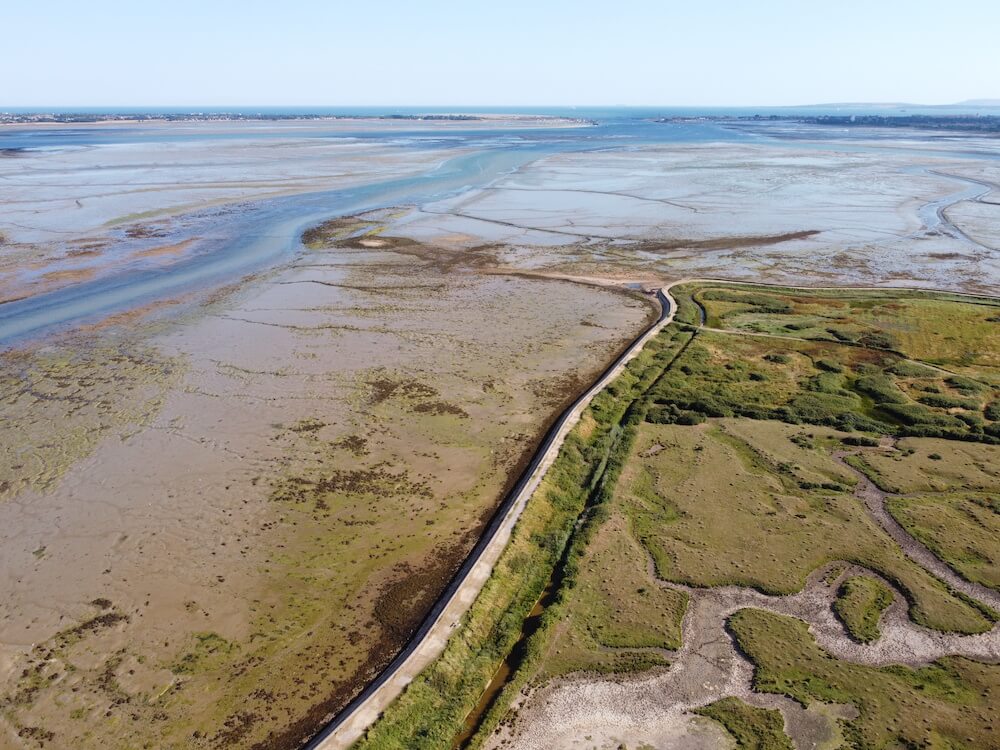 Farlington Marshes are entirely coastal, and make for a great few hours out.
Farlington Marshes is an RSPB Nature Reserve with a huge body of water in the middle for them to nest. Around the island you'll find mud when the tide is out, and flowing water when it's in.
Walking round Farlington Marshes
The walk round Farlington Marshes is 2.8 miles and will take around and hour, if you don't stop for pics or a snack. Which I totally recommend you do.
It's an easy walk, along the flat, with absolutely no gradient up or down to deal with. Walk along the wall, on the path, or through the grass – whatever suits you best.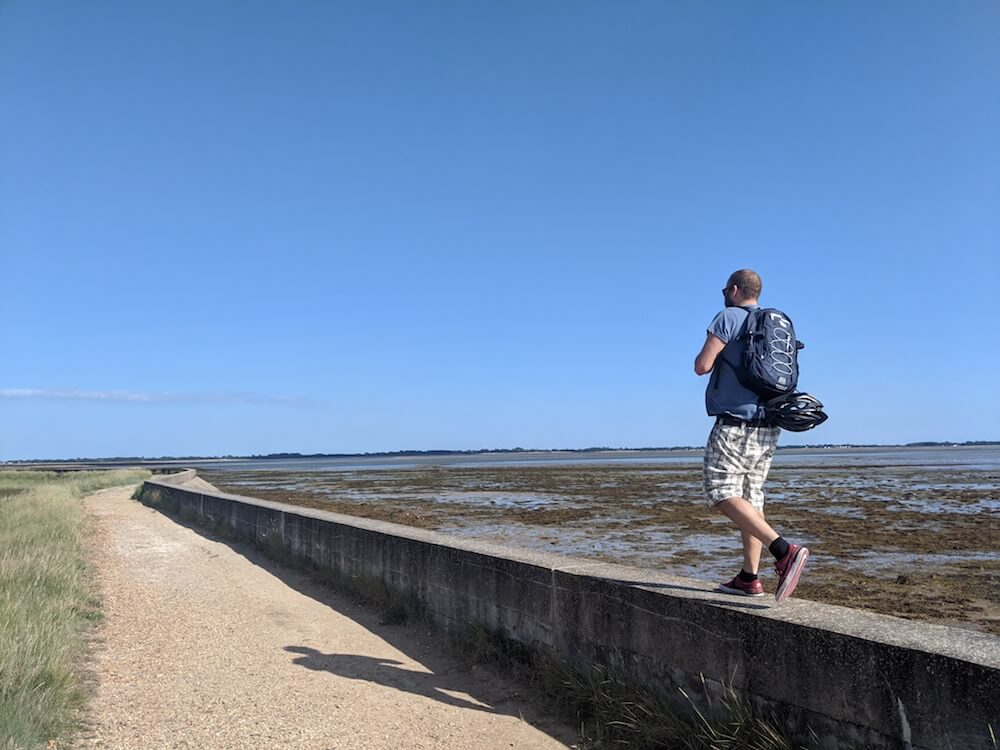 Another great thing about walking Farlington Marshes is the fact that three side of it are surrounded by water, and so on a hot day, the breeze will be there no matter what direction it's coming from.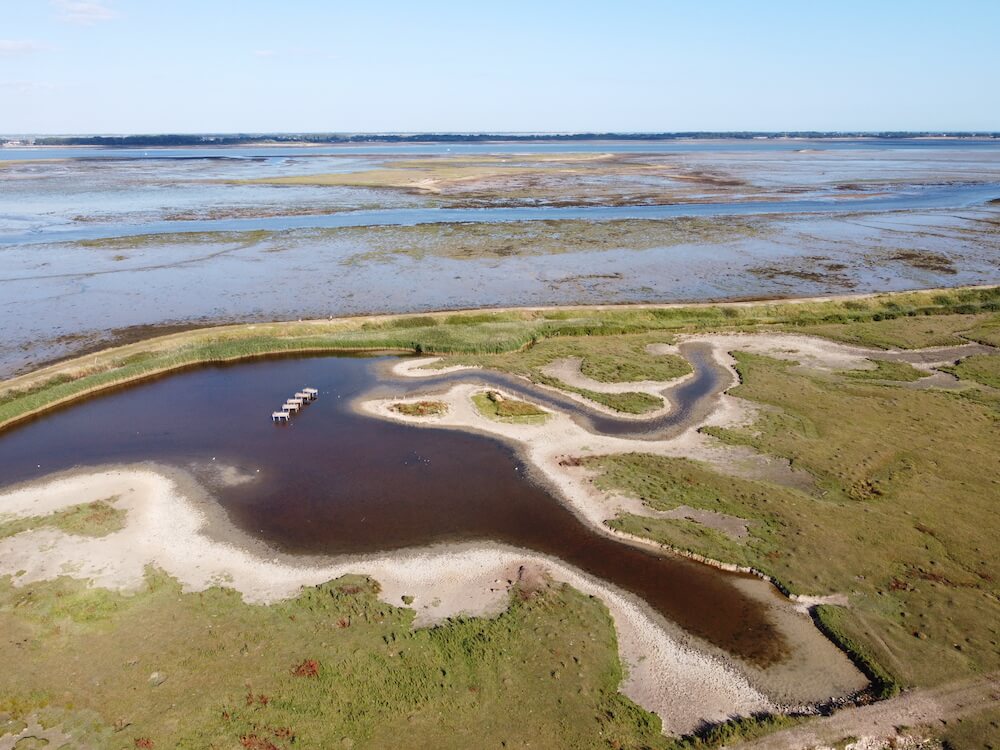 Parking at Farlington Marshes
So, you just need to park at the car park. There's space for about 10 cars, and you don't have to pay. First come, first served. I've never actually driven there as I cycle up – there's space to lock up by the gate in.
Farlington Marshes island is entirely pedestrianised and you'll see runners and walkers, and that's about it. No dogs allowed!
If you want some ideas for great days out for dogs in England, click that post.
How to walk round Farlington Marshes
Walk through the gate, and get going. There's absolutely no conveniences on Farlington Marshes – no toilet and nothing to buy, so make sure you take what you need.
There are lots of little places to stop and admire the view.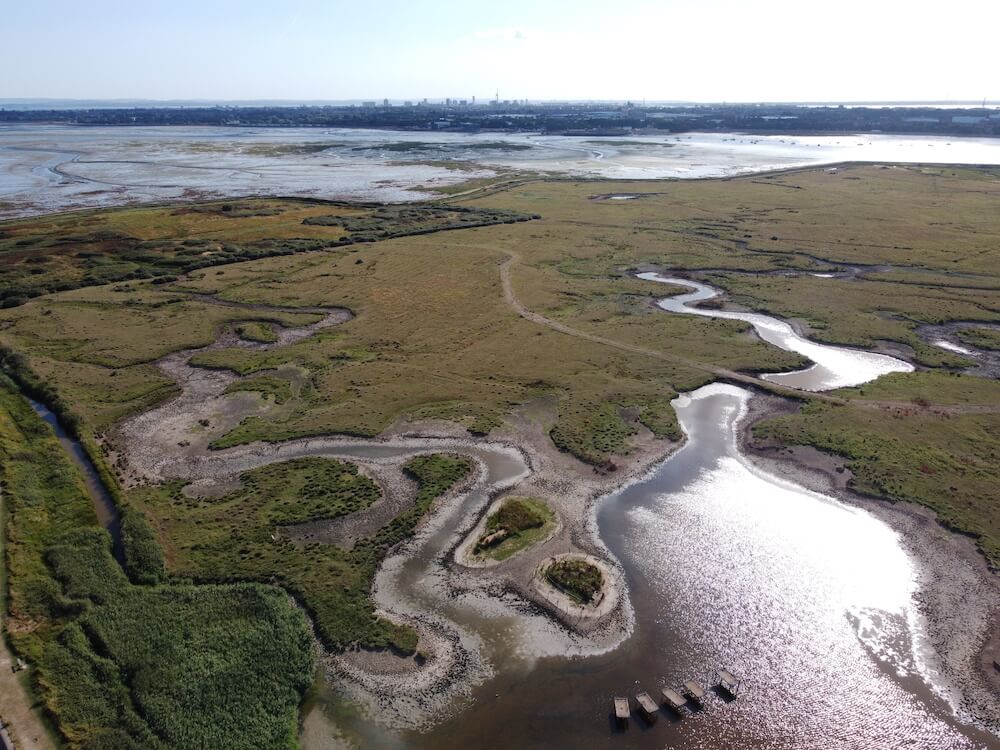 On a clear day you can see over to Portsmouth, with the iconic Spinnaker Tower in the background. And then over to Hayling Island in the other direction, and Emsworth Harbour the other way AND, up to Portland Hill too. It's a pretty special place!
Make sure to take the time to enjoy it!
Walking round will take you about an hour at a leisurely pace. You'll see the views, a few cows, birds, grass and not too much else. It's a big spot of bird lovers and you can see the birds that have been spotted recently on the way in and out on the chalk board.
Look out for geese, wigeons, teals, avocets, redshanks, dunlins and short eared owls, among others – which you can find out more about in the Farlington Marshes birds guide here. If you walk ant-clockwise, which is the route from the car park, then you'll see a hide towards the end, near this gate.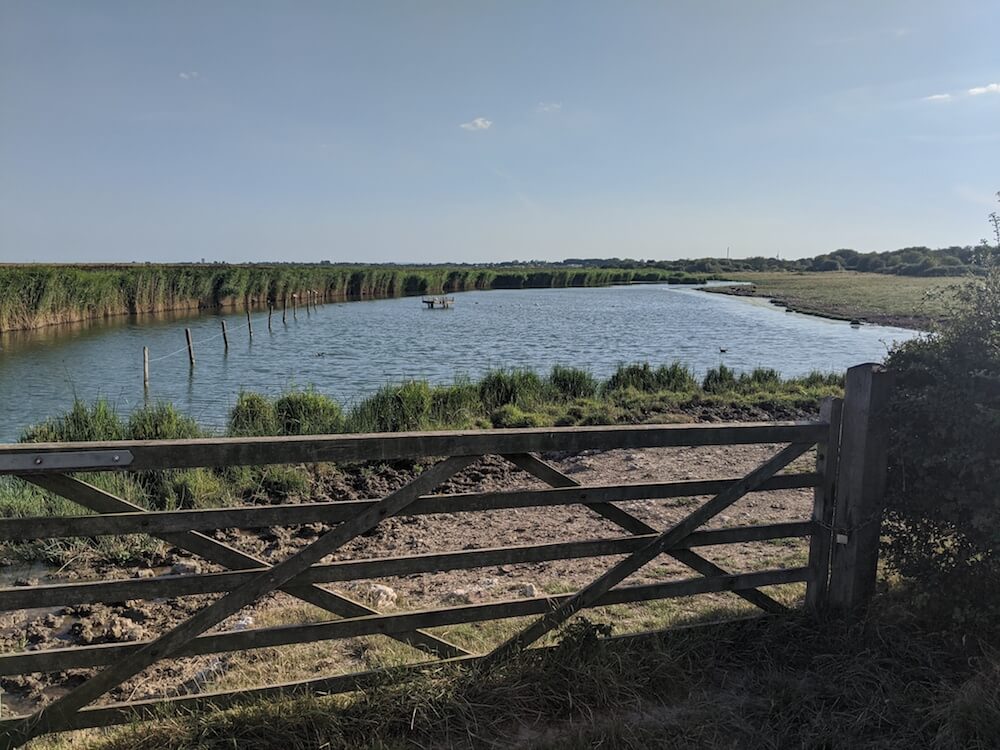 Once you get to the end, which you'll be able to see across the island, you can either walk on the pavement to get back to your car or bike, or carry on across the field. You can't really go wrong to be honest.
Next adventure: how about walking the Solent Way? It's 60 miles from Emsworth to Milford on Sea, and we've broken it down into 6 awesome day trips. Click the link!
Make Farlington Marshes a day out
Farlington Marshes will only take you an hour or so, maybe two if you take a picnic or chill out halfway round.
If you want to extend your Farlington Marshes walk then you could walk across the bridge to wander along the river and follow my cycle route round Portsea Island. This way you'll get to enjoy some more of Portsmouth's countryside, and to carry on walking to Hilsea.
Alternatively, check out some of the other great things to do in Hampshire on a day out, or drive along the Eastern road into Portsmouth. I have a great itinerary to a day out in Portsmouth right here. Keep you busy and entertained. If you've got a SUP board then when the tide is out, it's one of the best spots to go paddleboarding in Hampshire too.
OR you could drive onto Emsworth about ten minutes' drive away and do the Thorney Island walk. I have a complete guide to walking round Thorney Island here. At around four hours it's a bit longer, and totally worth it for the sandy beach.