How to Do the Thorney Island Circular Walk
The Thorney Island Walk is a 9-mile circular route, along the shoreline of this MOD-owned island in Chichester Harbour AONB. I walked it one September to show you what to expect.
The Thorney Island walk is kind of the only thing to really do on the island – bar a spot of windsurfing. Thorney Island is actually Ministry of Defence property, and there are army barracks on there, so although you can happily walk around, you're not allowed to walk across. Or access any part of the barracks without prior permission, and a friend in the know.
That doesn't stop Thorney Island being a great place for a walk though. In fact, I'd describe it as glorious.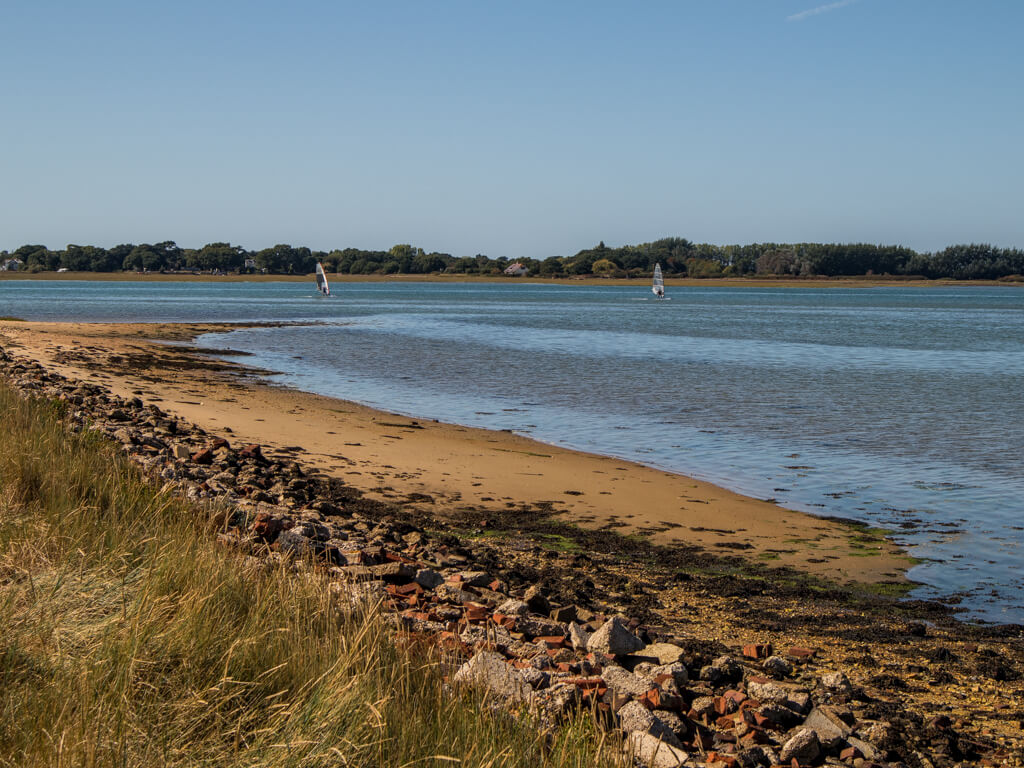 Can you walk round Thorney Island?
I went on a September day last year and was genuinely amazed at the views, and the beautiful beaches the island is hiding from us!
It's definitely one of the best coastal walks in Hampshire.
I barely met a soul on my Thorney Island Circular Walk – just a few runners and dog walkers, and one guy swimming in the chilly waters. It was lovely, peaceful and easy – a great way to spend a day out in England in fact.
I really enjoyed the few hours I spent walking on Thorney Island and it was a really nice surprise, given that I couldn't find much info online beforehand. I wanted to write this guide to the Thorney Island walk to help you plan your trip, but without ruining some of the beautiful views you'll discover.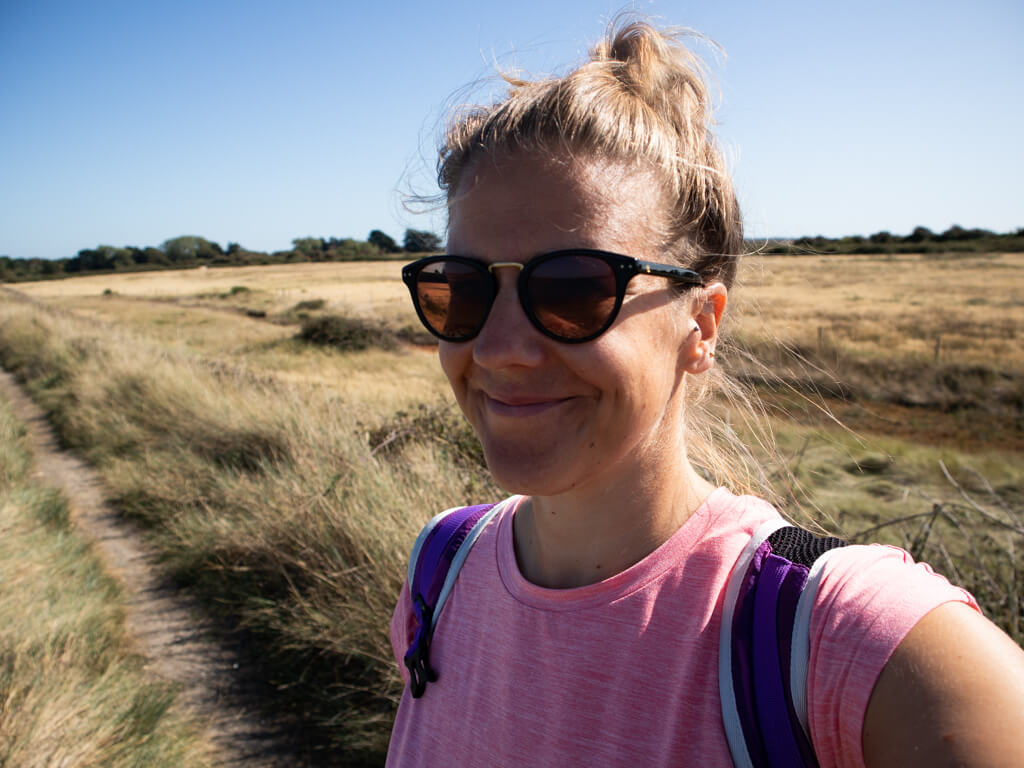 Anyone of medium fitness can do the walk, it's 9 miles, or 14km, on flat ground. I'd definitely recommend taking a note of my Thorney Island Walk tips before you go though.
Tips for walking round Thorney Island
You're going to need three to four hours for the Thorney Island coastal walk, depending on how fast you go and how many times you want to stop. Also, how long you want to spend on Thorney Island Beach.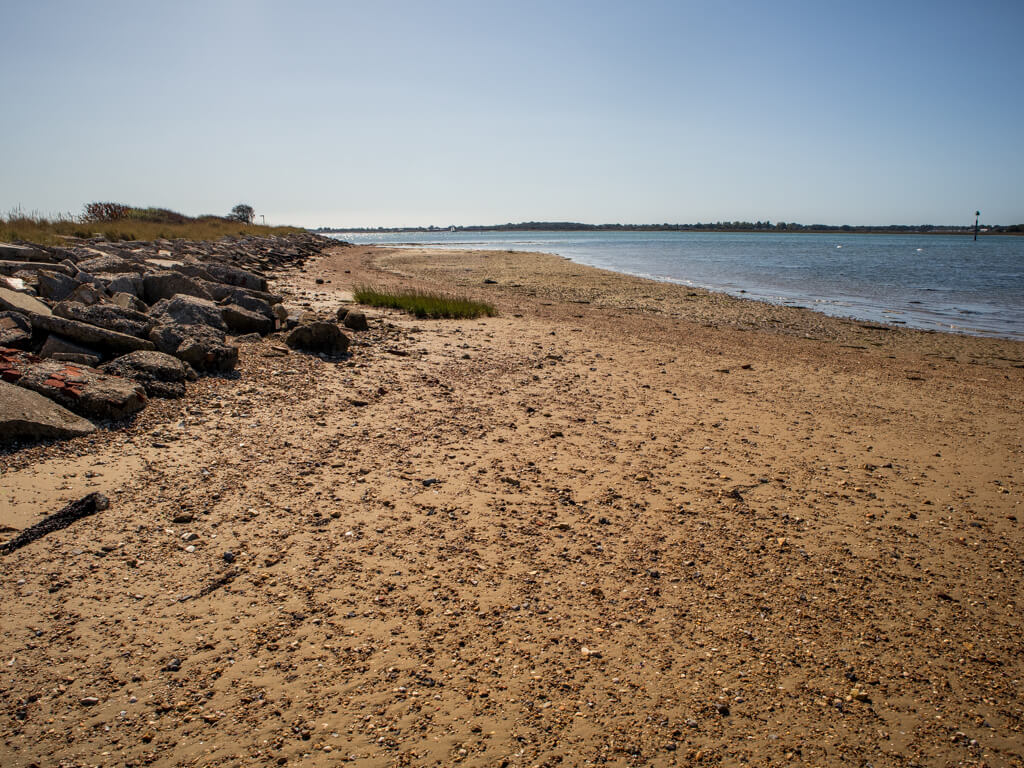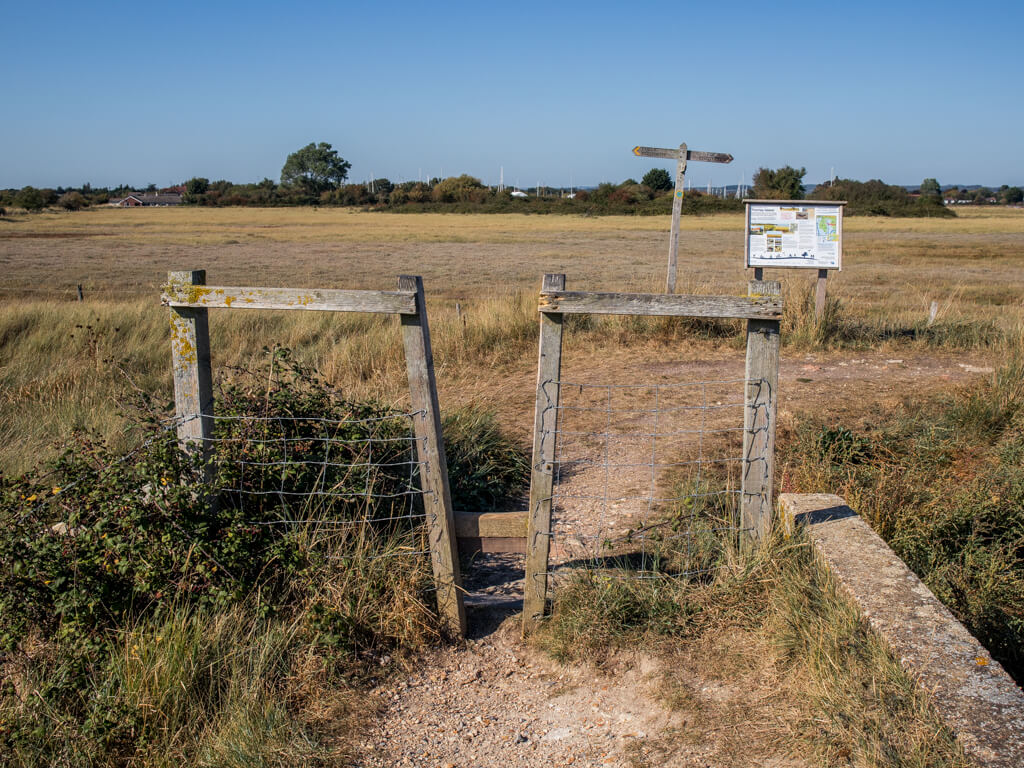 Thorney Island is off the south coast of England, near Emsworth but in West Sussex. It's actually only about a 20-minute drive from my house so I'm sure I'll get back there this summer to do it all again.
There really isn't anything else on the island, but this is all part of the beauty as you can just enjoy your surroundings without distractions.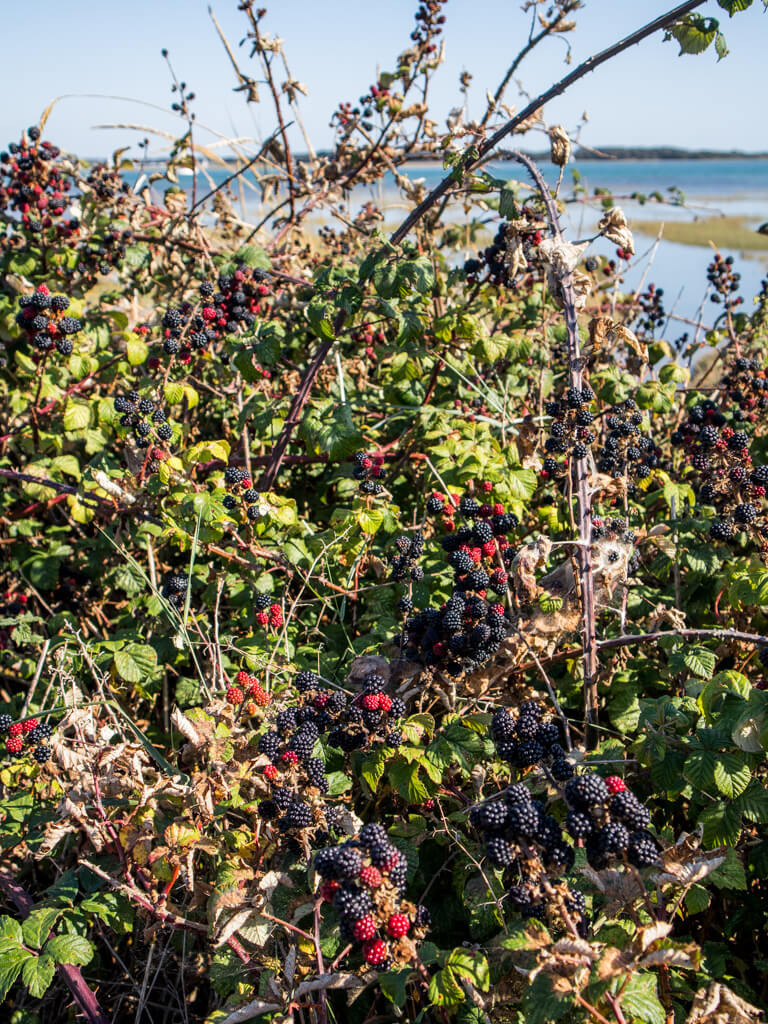 Of course, this does mean you'll need to take any supplies you need with you. You can pick up stuff in Emsworth if you need, beforehand. Make sure you have enough water to see you round, especially if it's a hot day.
I took a delightful ham and pickle bagel with me for the way round, as you can see from the little bit of pickle that lodged itself in my teeth on the video (uploading soon). So annoying, but that's what happens when you travel solo!
And finally – more tips for your day hiking essentials.
---
READ MORE NEARBY
How about cycling Portsmouth next door when you're done?
Or, walking round the nearby Farlington Marshes?
---
Parking for Thorney Island
I parked in at the little car park on the corner of Thorney Road and Thornham Lane. This was just by the start of the trail and totally free, although there was probably only space for about ten cars so go off season, or early.
If you can't park there, there are lots of space in Emsworth – although you'll need to pay, and you should allow about 5 hours. Bear in mind you'll have to walk extra to arrive here too. There's not a lot of space for Thorney Island Walk parking, but then there's not a lot of people that do it either so you should be ok.
---
Watch my video on how to do the Thorney Island Circular Walk
Watch the video for more tips and advice on the Thorney Island walking route, and how to do it.
---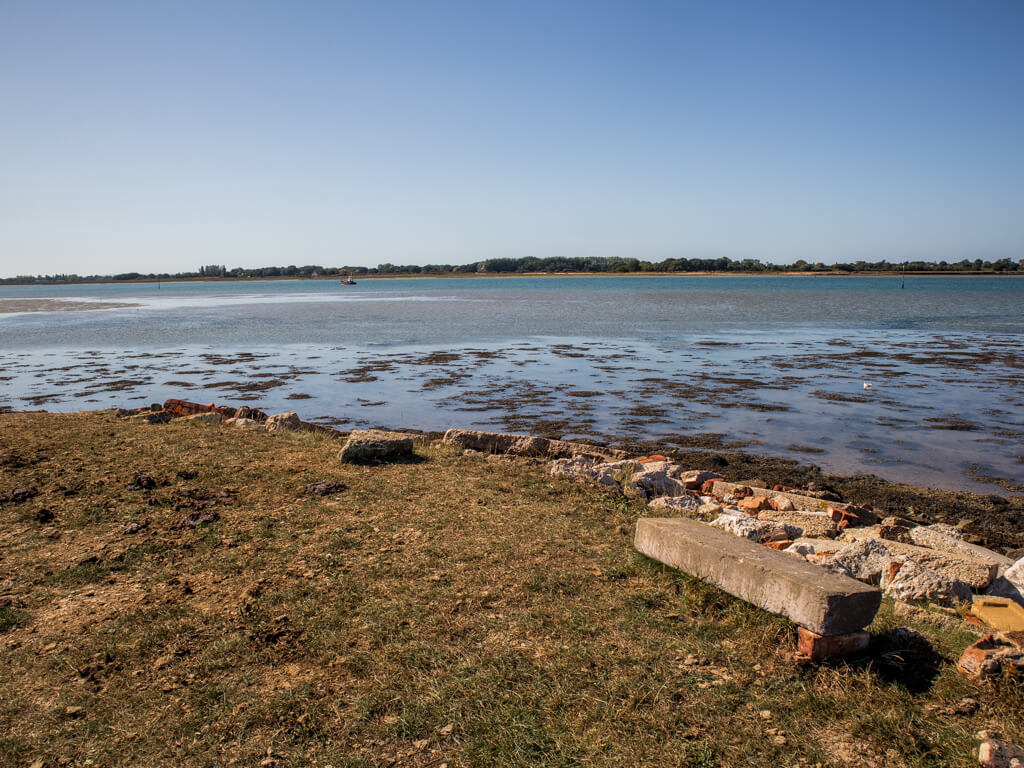 As an army base you need to be careful where you walk on Thorney Island. There'll be sign posts, so there's no need to worry, you'll know where you're allowed to go, but just to be conscious of the fact. Thorney Island used to be a fighter station and base for Coastal Command during the Second World War.
---
READ MORE ABOUT DAYS OUT IN ENGLAND NEARBY
Best Things to Do in Hampshire
Awesome Things to Do on the Isle of Wight
---
Start of the Thorney Island Coastal Walk
I had a bit of a problem in the first few minutes as I was nervous about walking across what felt like someone's land. Although, you can see from the video that it is actually signed as a Public Footpath, so it's fine. It looks like this…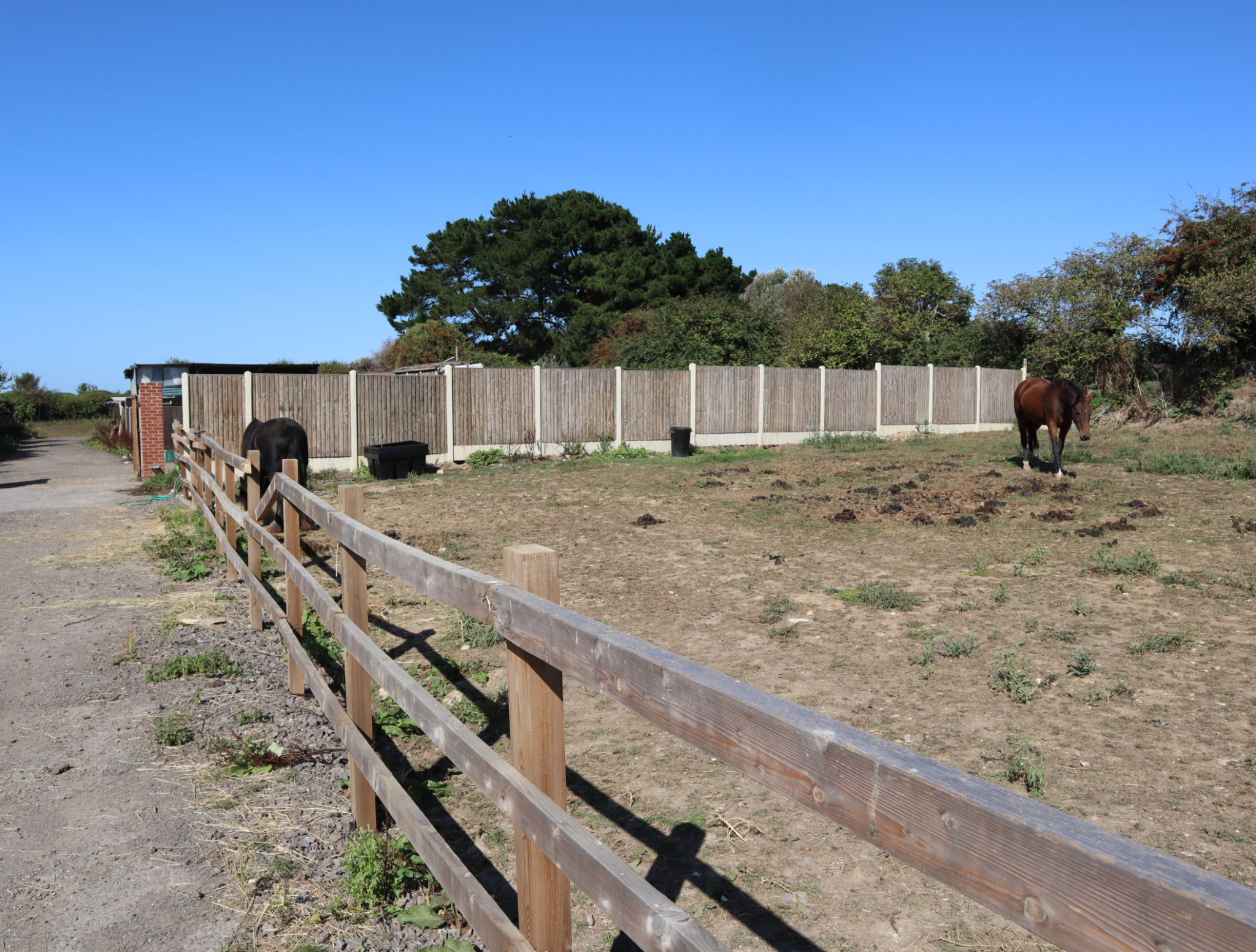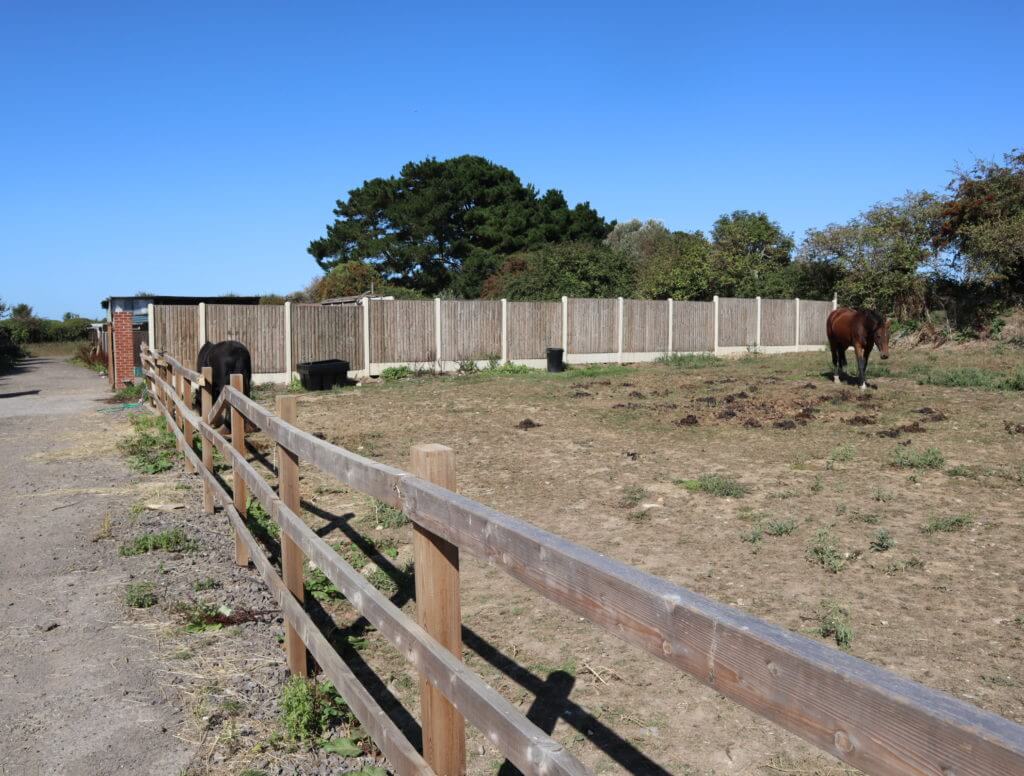 The first part of the walk was past horses, past blackberries and raspberries I was too worried to pick, and past a pretty harbour with plenty of boats to enjoy.
It really was a beautiful day when I walked round Thorney Island, so it took me a while as I was so distracted by the vistas.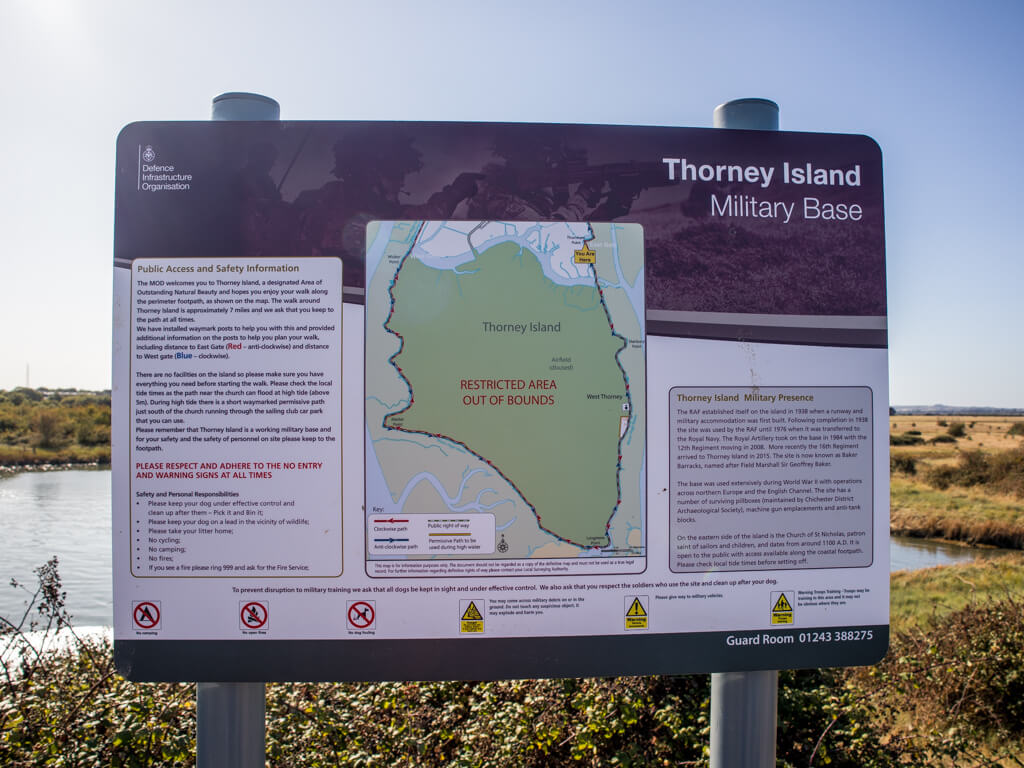 It's hard to find a good map of the Thorney Island Walk as Google doesn't map it. You basically start at the car park near Emsworth Yacht Marina and walk along the Great Deep, and just keep following the Sussex Border Path round.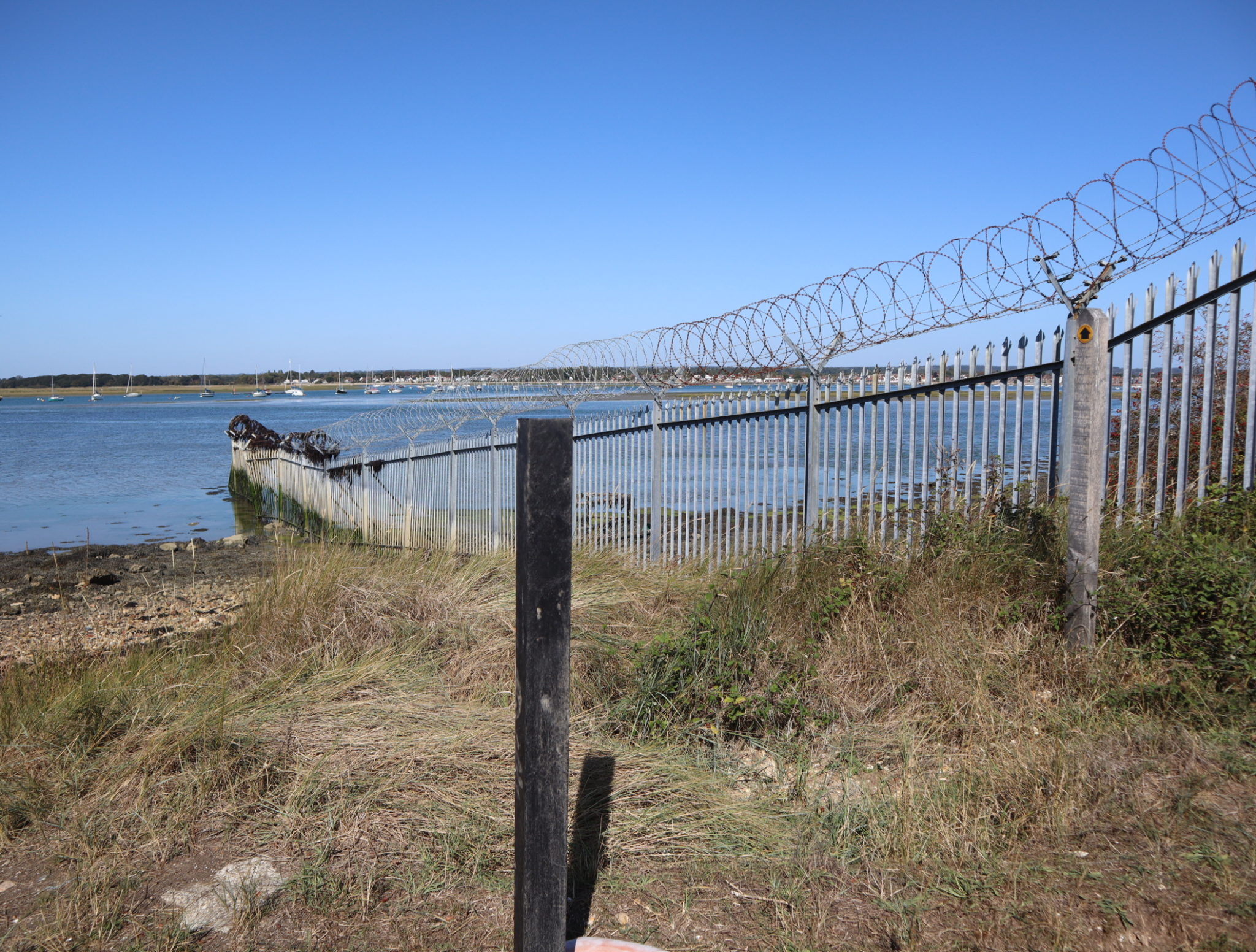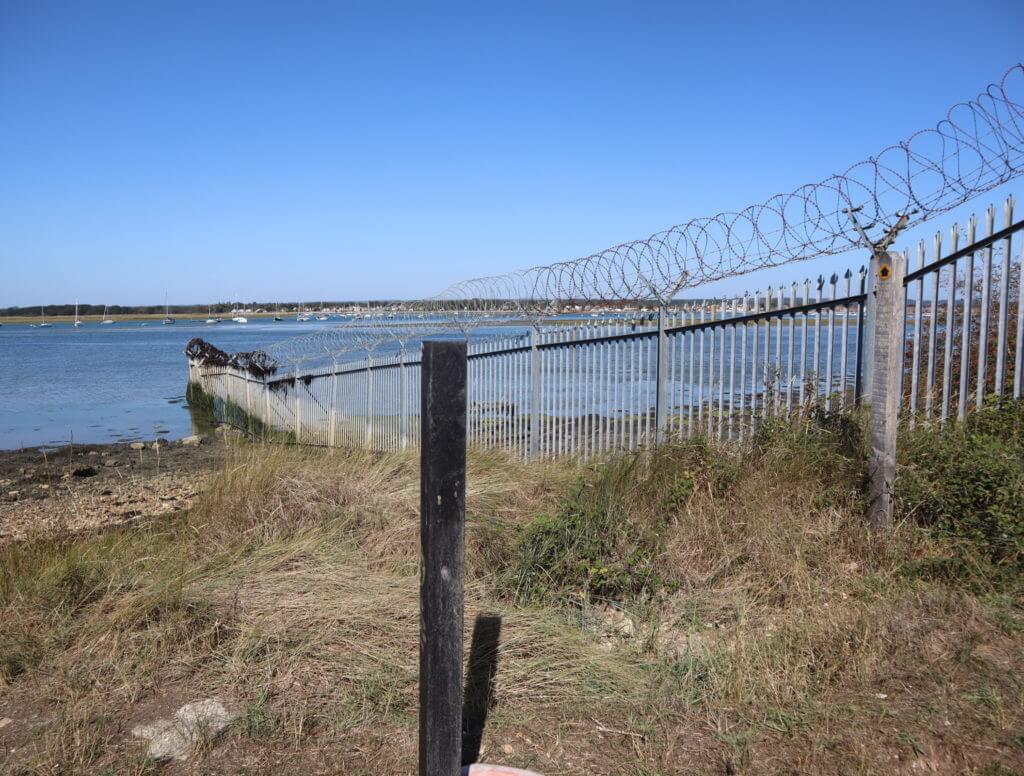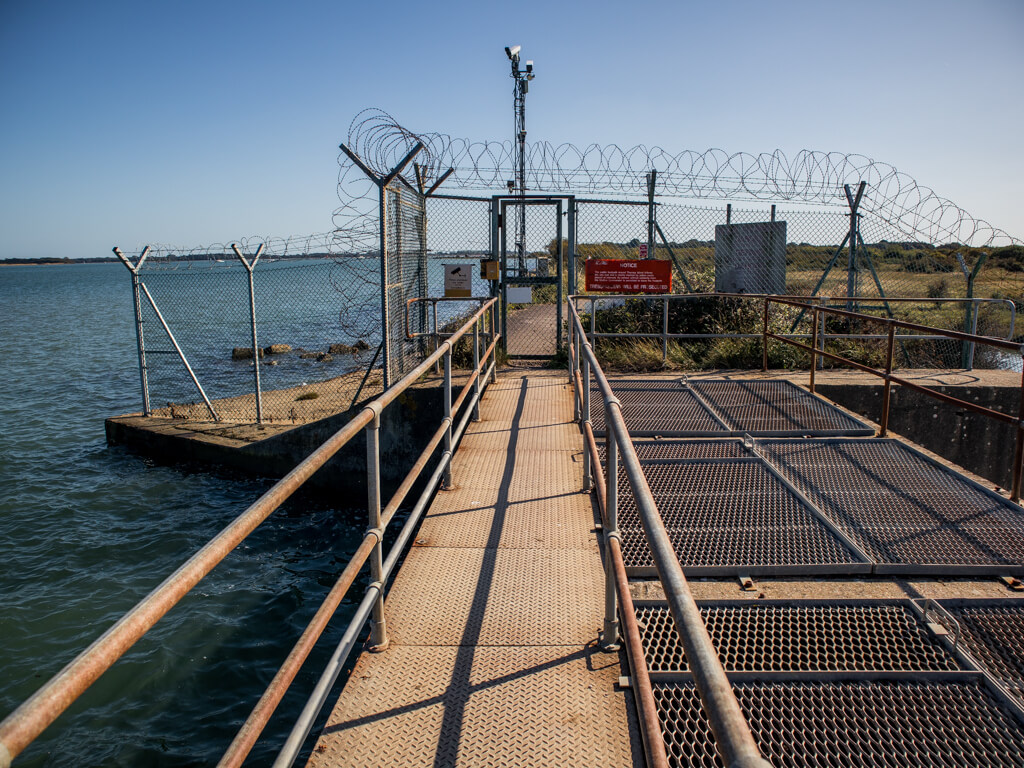 You will come across barbed wire entrances and gates that you'll need to buzz yourself in. I never actually had to talk to anyone on these, but was just let in based on them seeing me on the CCTV after I buzzed. No dramas, although I have seen people moaning online that sometimes there's no answer.
Thorney Island Beach
I came across a stony beach on my Thorney Island walk, which at the time I thought was the most beautiful thing ever.
And then as I carried on walking I actually came across a white sand beach that was incredible, and pretty much deserted too. There were a few people wind surfing out there but it was just me and one other couple on the Thorney Island Beach for the 30 minutes I spent there.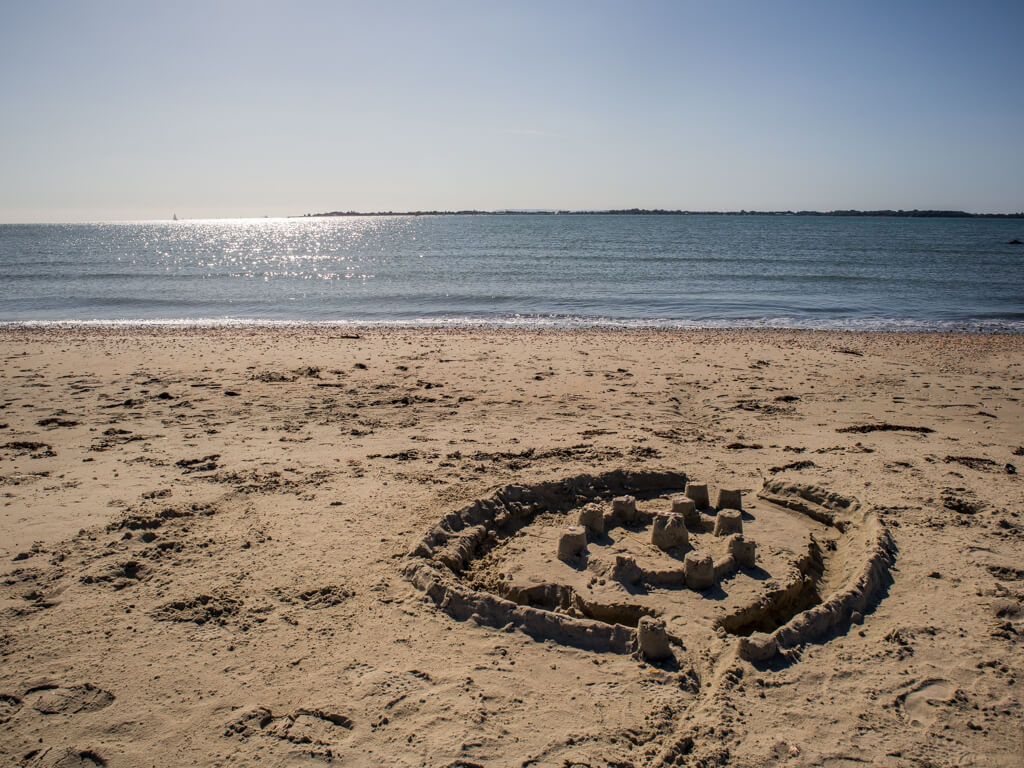 I'd love to come back here on a hot, hot day. The water was a little chilly when I stepped in it, but it was September after all.
The walking route
To do this walk you just need to follow the remote coast around the peninsula. You'll see Slipper Mill Pond and walk round the Ministry of Defence land – constant reminders are in the signs that line the route.
Walk the mudflats along the two beaches and you can't really go wrong.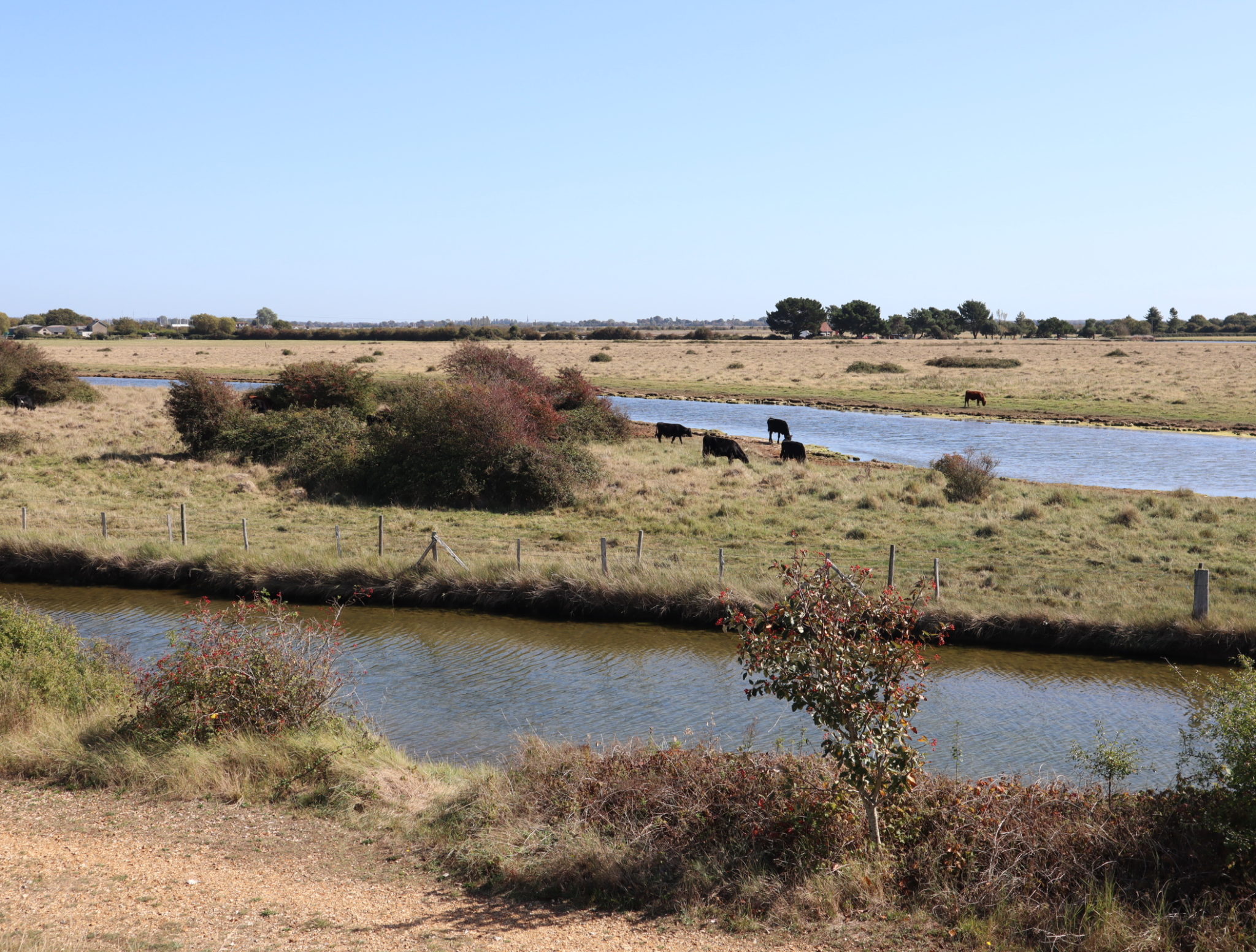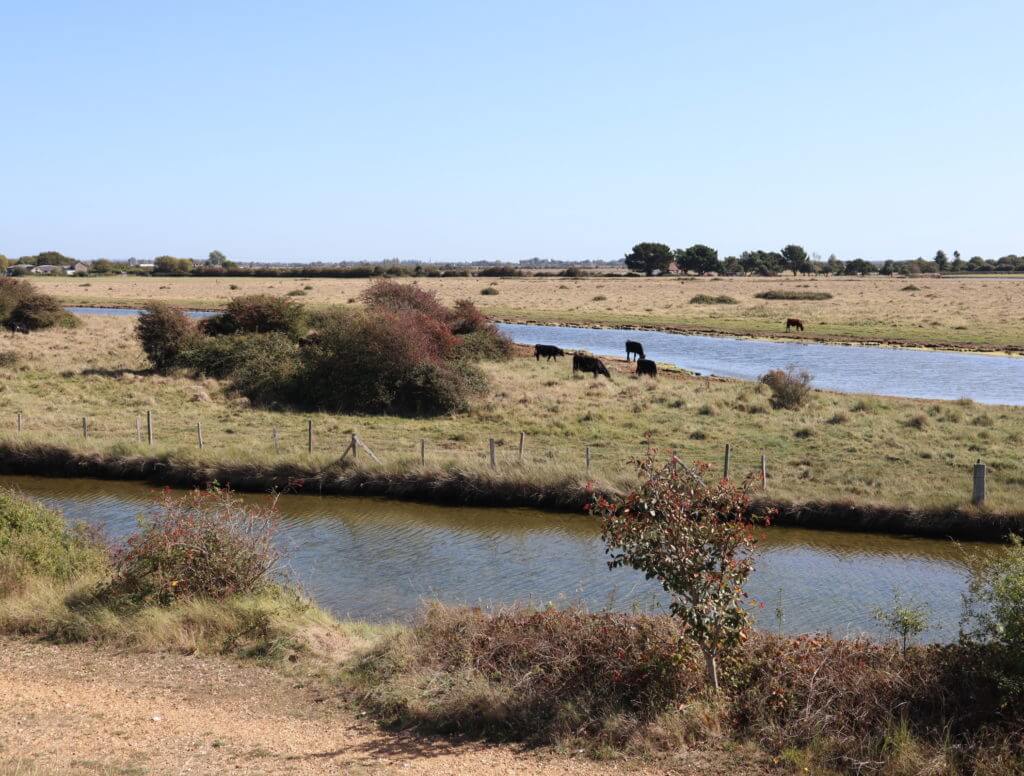 I didn't actually walk over to Pilsey Island but if you're into your birds, this is an RSPB Bird Sanctuary. Don't forget your camera and binoculars for the bird hide. Thanks to the lack of farming, people and construction, the island is a haven for wildlife and home to all kinds of birdies.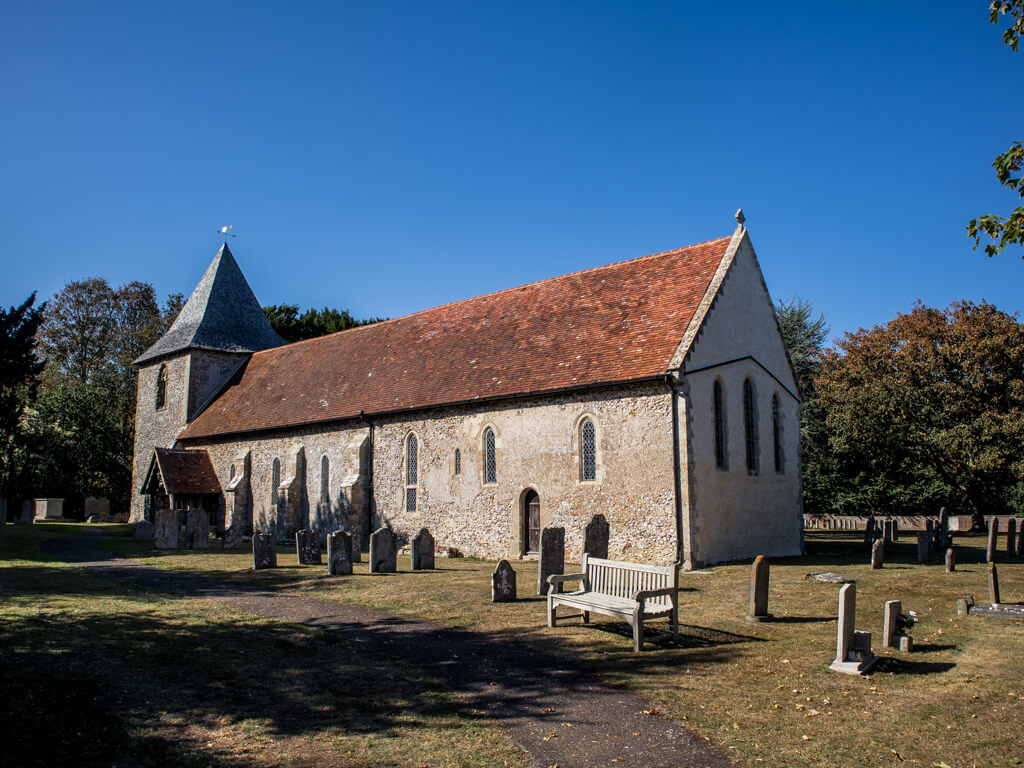 As you come to the end of the walk you'll pass the water sports club, and the 11th-century church of St Nicholas. Here you can find some war graves too. Make sure to keep following the path round for the walk. I was tempted by the delights of the town, but you won't be able to get through without permission so just keep going past the church.
Despite the church saying it was open, unfortunately it was actually closed when I went to try the door. See if you can get in!
You might have to walk across these makeshift bridges in muddier parts of the walk.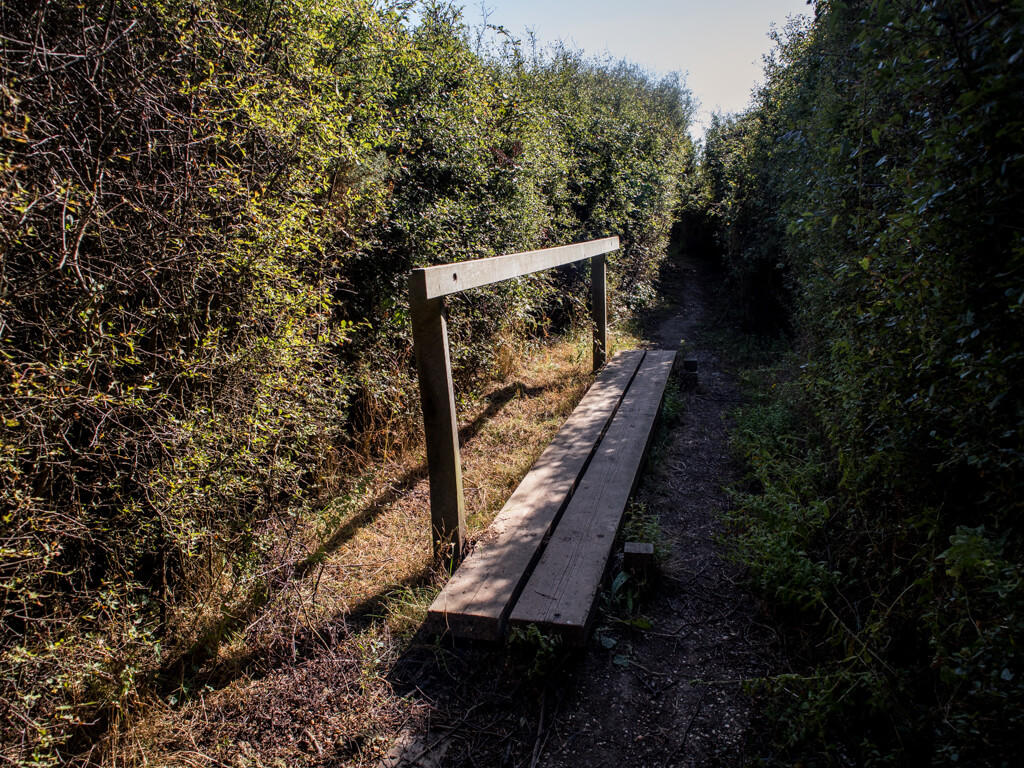 Thorney Island Walk fitness
Before the walk it'd been a long time since I'd done a walk of that length. By the end my legs were throbbing and I was ready for it to be over. I was walking for about two and a half of the three and a half hours.
I did steps and burned over 2000 calories on the Thorney Island Walk.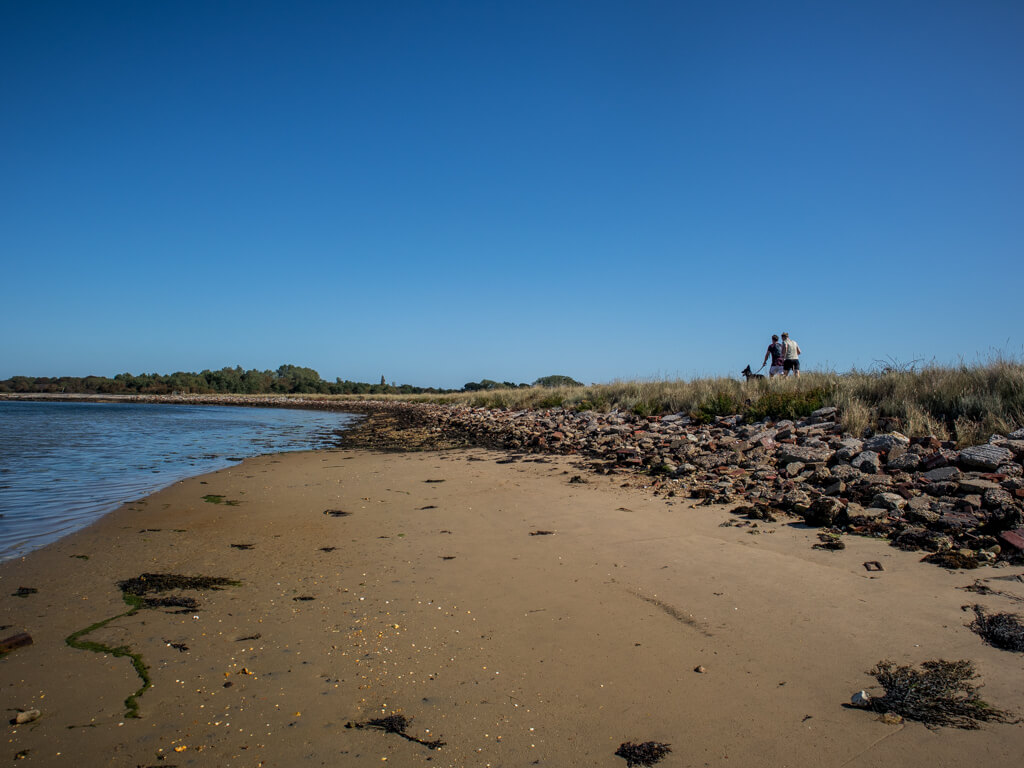 One of the absolute best things about the Thorney Island Walk is that it doesn't cost you a penny for a beautiful day out in England. There's nowhere to spend your money, and nothing to spend it on – which means you can have a good few hours of entertainment at absolutely no cost to you.
If you need any accommodation for before or after the walk, check out VisitChichester. And read our guide on how to have the best day out in Chichester city too.
---
Next adventure: how about walking the Solent Way? It's 60 miles from Emsworth to Milford on Sea, and we've broken it down into 6 awesome day trips. Click the link!
---
Toilets on Thorney Island
There are none. Gonna have to work that one out for yourself!
Can you drive on Thorney Island?
No, there are no public cars allowed on Thorney Island. Only pre approved cars belonging to the MoD are allowed on the island.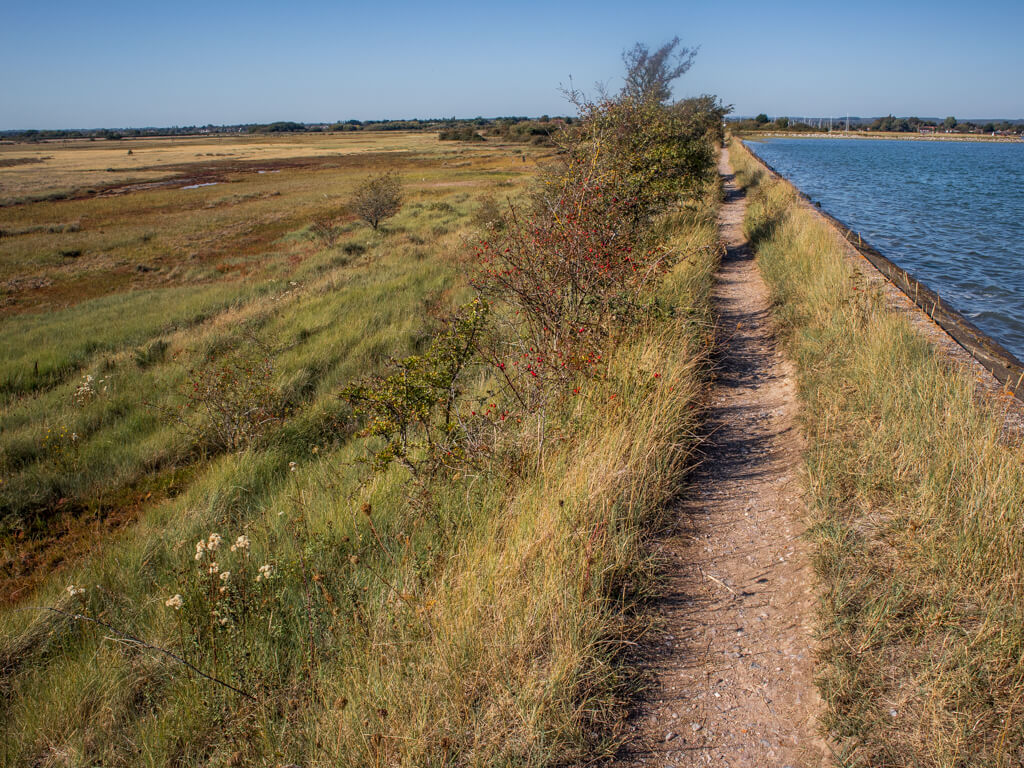 Walk around Thorney Island
If you're looking for a remote walk in England, somewhere kinda easy but safe and enjoyable, then I'd definitely recommend Thorney Island. Make sure to look out for the seals at the harbour!
If you have any questions about walking on Thorney Island, just let me know in the comments below.
Want to see more of Chichester Harbour? Check out our Complete Guide to Chichester Harbour right here!
---
Pin this post on Thorney Island for later?