Looking for the best days out in autumn? Here are some great ideas for awesome days out at this time of year…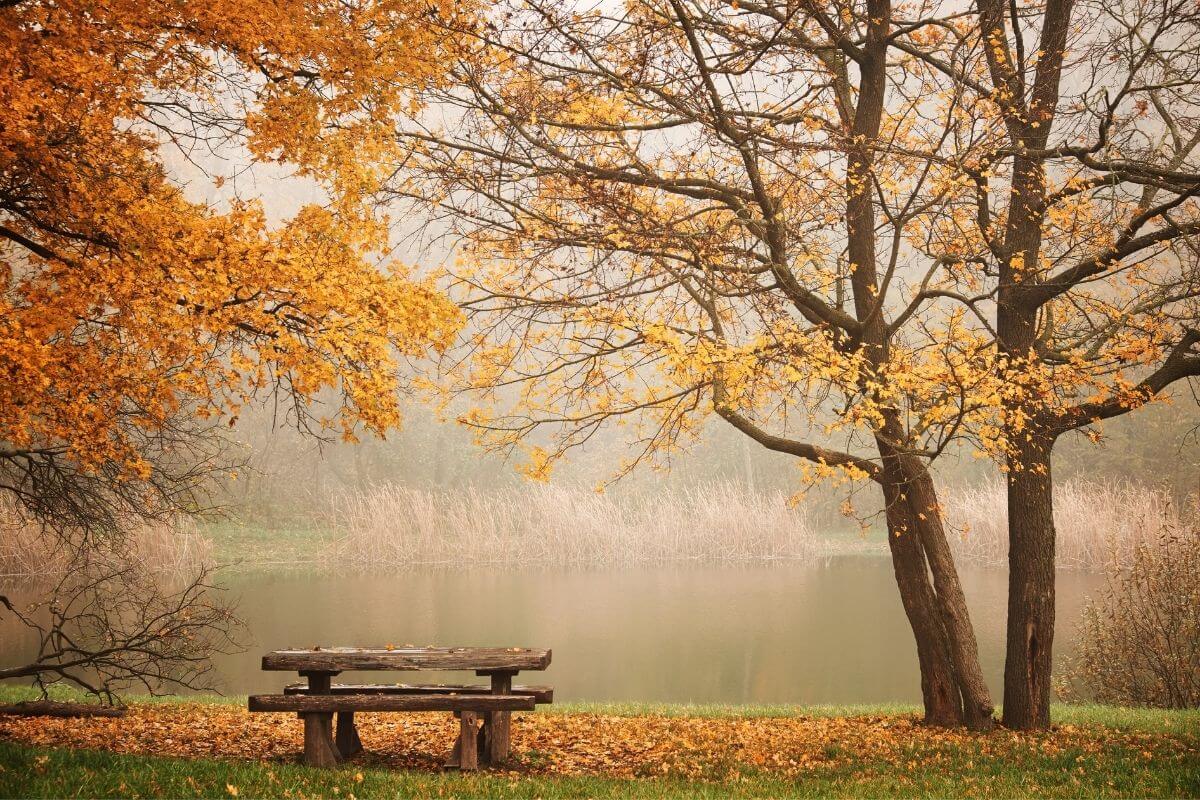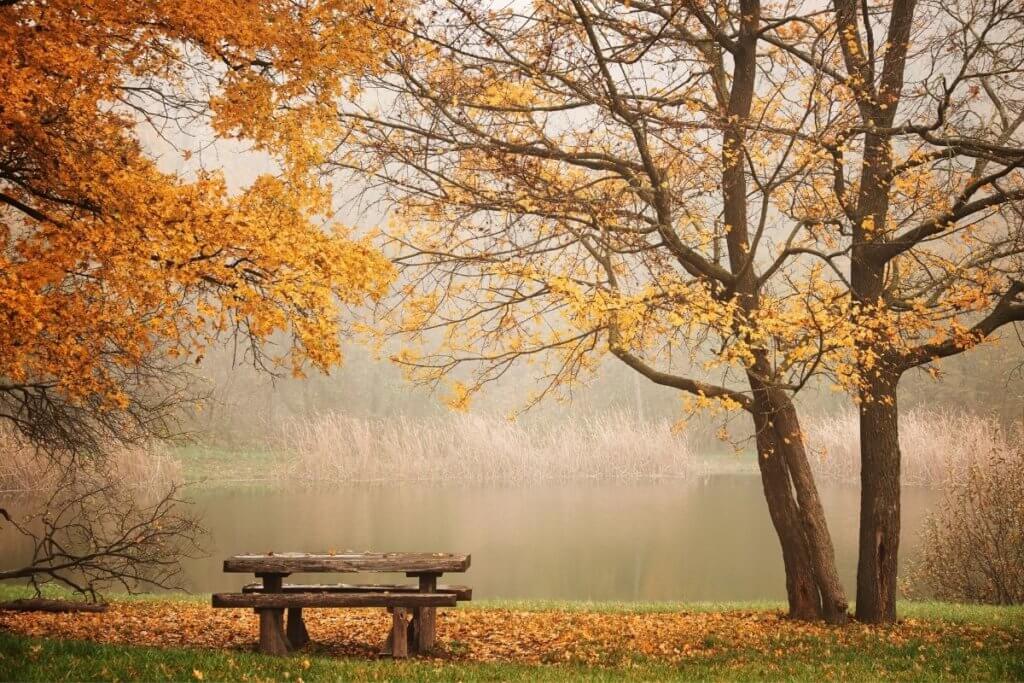 For many, autumn is the most ideal time of year. Caught in between the hottest and the coldest seasons, but with a better balance of warmth than spring, and of course an unmatched beauty in all the trees that turn red and yellow colours. It's certainly the most beautiful season, but what's there to do on a day out in autumn?
There's no sunbathing, but autumn days out have their own unique charms well worth exploring. With the promise of colder days, winter on the horizon, and dare we say the festive C word? A crisp autumn day out makes for one of the best types of days to explore the beautiful attractions and scenery England has to offer, so get your coat, and get out there.
---
Best Days Out in Autumn
Here are some of the best autumn days out in England you'll absolutely love
---
1. Go out on a nature hike
The best and most iconic part of autumn is the change in the surrounding nature. To see the usual changes, you could just go out to a park, but that's never quite as fun as challenging yourself with a long hike, be it through a mountain trail or a forest trek. It's definitely a more comfortable experience during this time of the year than it would have been in the summer, what with fewer bugs and more bearable weather.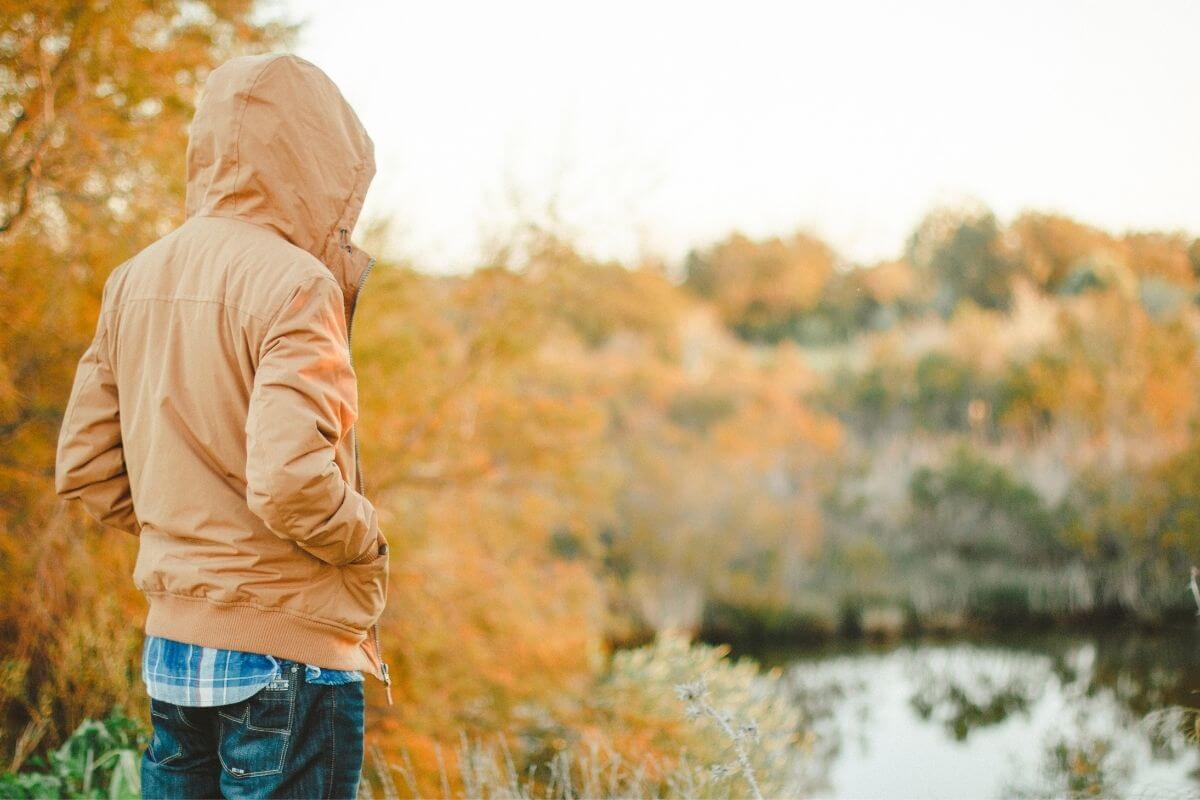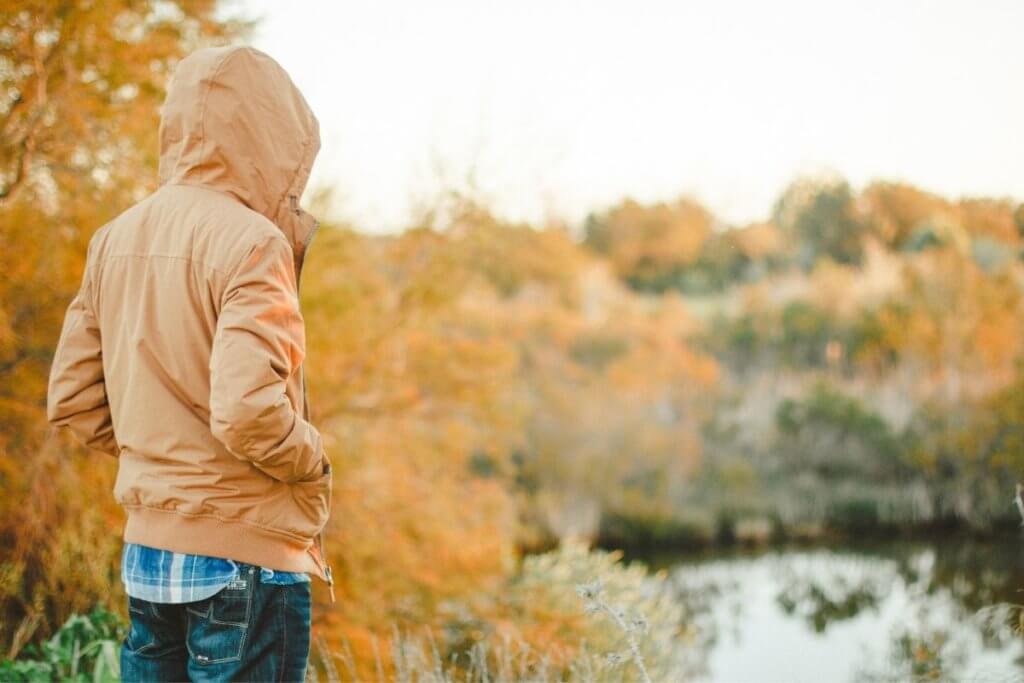 What's more, the tell-tale signs of the new season are a wonder to behold, and it's generally much safer to be around the wildlife as most of them are either settling down for sleep, or are already settled. Hikes are an excellent way to spend a day out during autumn, and should definitely be added to your list of autumn activities!
There are a lot of hikes available to take throughout England, such as the Hadrian's Wall Path in Northumberland and Cumbria. Or perhaps the Cotswold Way National Trail through the quiet and quaint Cotswold countryside. The Solent Way Walk in Hampshire is another great option. You could also try the National Trails in England and England's National Parks too.
The best autumn hikes all depend on your time and location!
---
2. Go pumpkin picking/carving
Autumn is famed for its pumpkins, which have since become a symbol of both the time of the season, and the Halloween traditions that take place during this period. Get to know your nearby pumpkin patches for a great autumnal day out. Of course, finding the ideal pumpkin is only half the experience. The other half is carving it!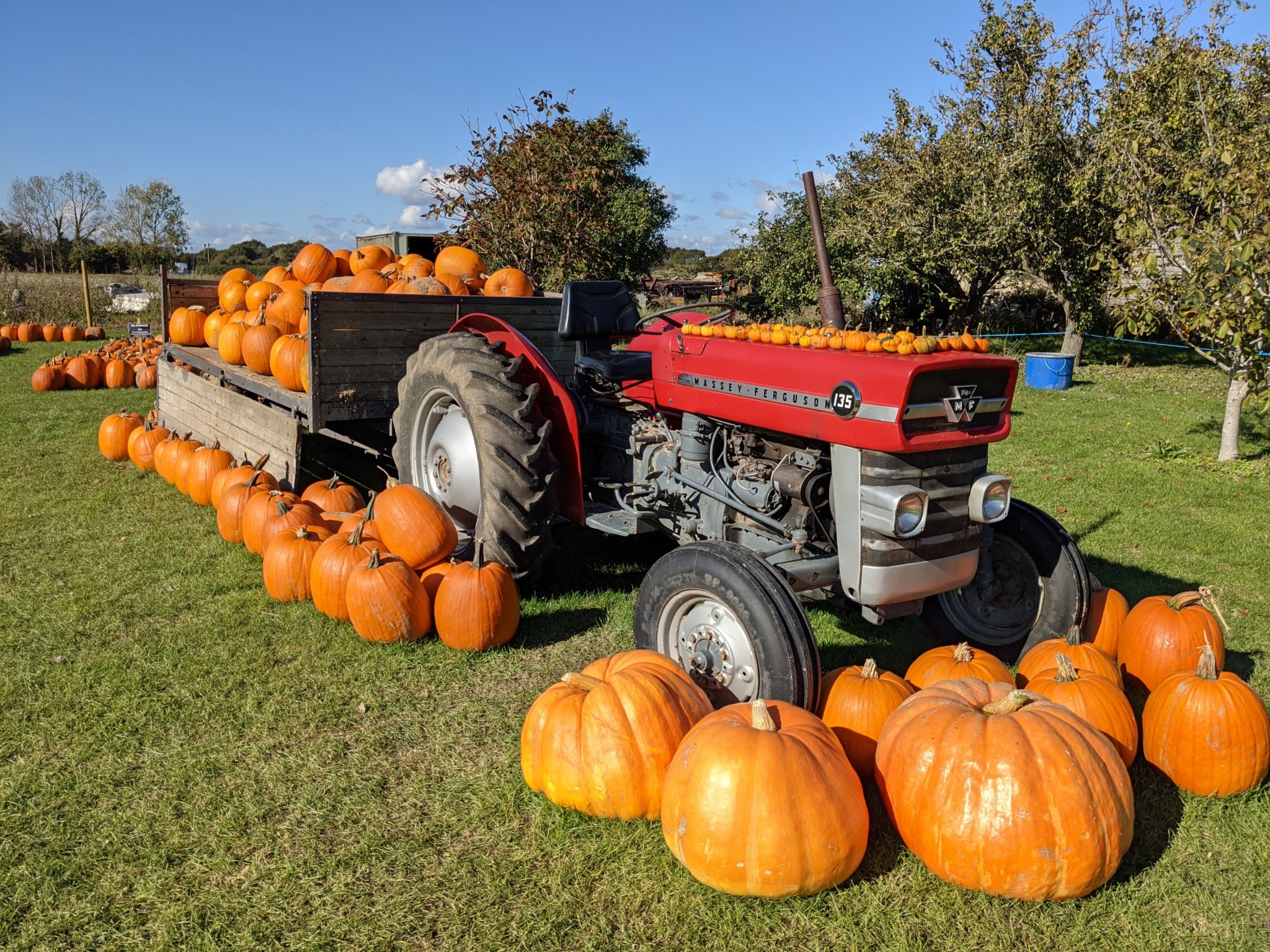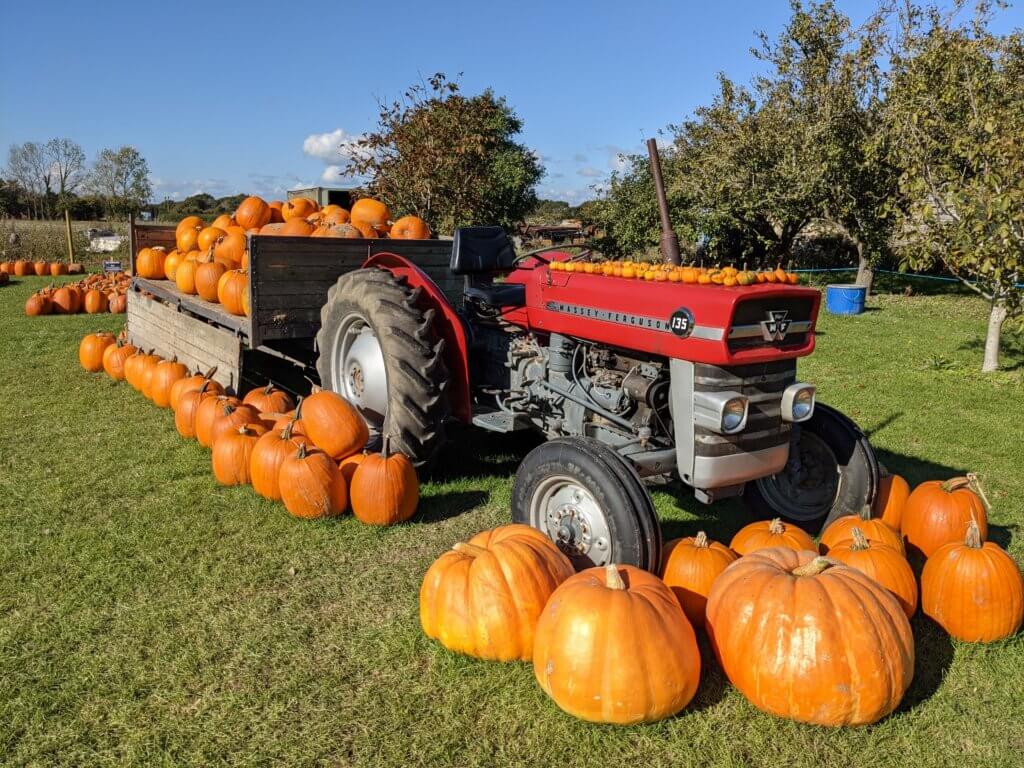 Some people prefer to do pumpkin carving at home, but you can find workshops where pumpkin carving events are organised and done together – which can be an especially great experience if you're with a partner, or with family, or just going it alone. It's certainly a more traditional way to spend an autumn day out!
Some of the best pumpkin patches in England include: the Pumpkin Forest in Wickford, and the Foxes Farm Produce Pumpkin Patch in Colchester. There are also some great pumpkin patches on Hayling Island in Chichester Harbour.
---
3. Camp out somewhere close
Camping is usually done during the summer when people have more free time. However, if we're talking about camping out on a smaller scale – such as in your own back yard, or out somewhere in a close forest, then you'll find it makes for a brilliant autumnal day out! The autumn atmosphere has just the right amount of chill in the air for a great experience of exchanging ghost stories, and adds that extra comfort to a cracking fire for toasting marshmallows.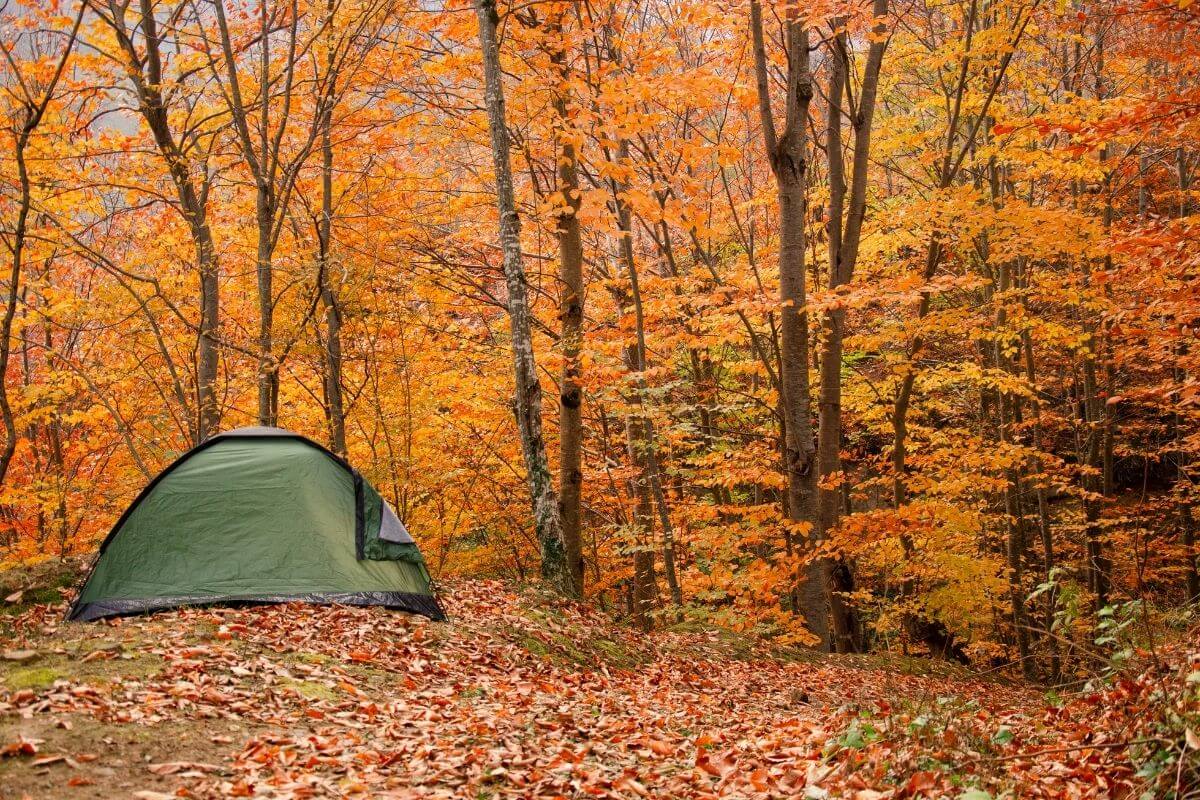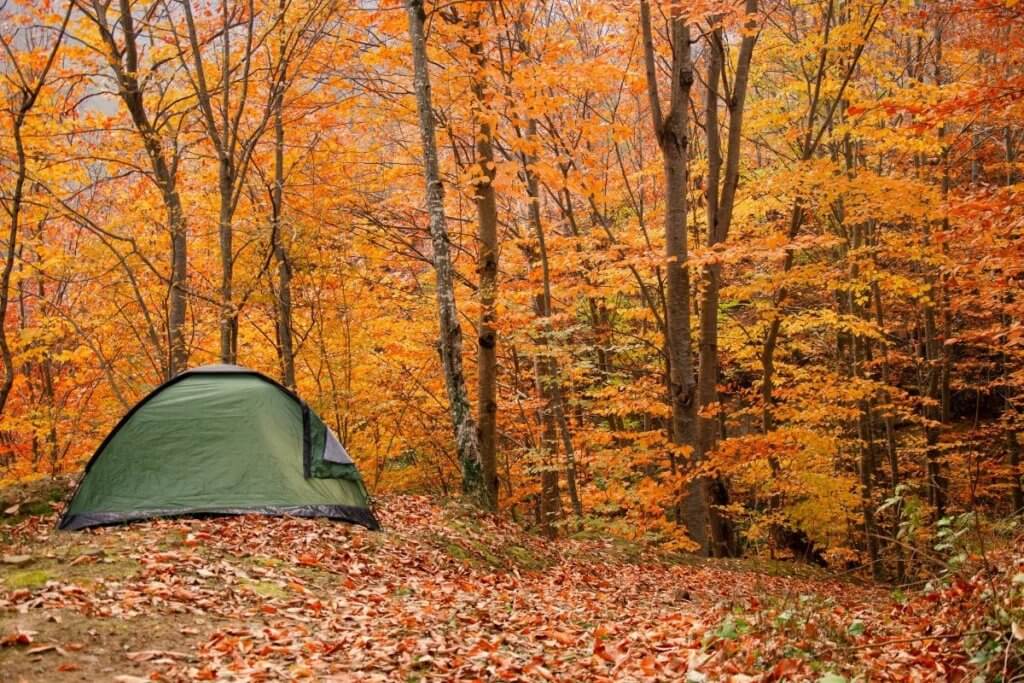 Of course, it's important to know whether or not camping and even fires are allowed in whatever area you choose to put down your tent, so this is much more of a niche activity which won't be available to everybody. If you find you have the opportunity, however, then don't waste it!
You'll find campsites even in London, such as the Crystal Palace Caravan and Motorhome Club Campsite, which is perfect if you own a motorhome! You'll find more outdoorsy places in Broxbourne, such as the Lee Valley Almost Wild Campsite.
You can also do this in your garden, and it doesn't have to be overnight either – just another wholesome day out in autumn.
---
4. Go out collecting autumn treasures
One of the most major parts of autumn, as you know, is that things… well, fall! From conkers/chestnuts, to pinecones, and even acorns, this is the time of year that's earned autumn its poetically romanticised name. Collecting up some autumn treasures is a super chill activity that isn't too tiring and is best done as a family day out. Children love collecting things during autumn, so why not make a day of it?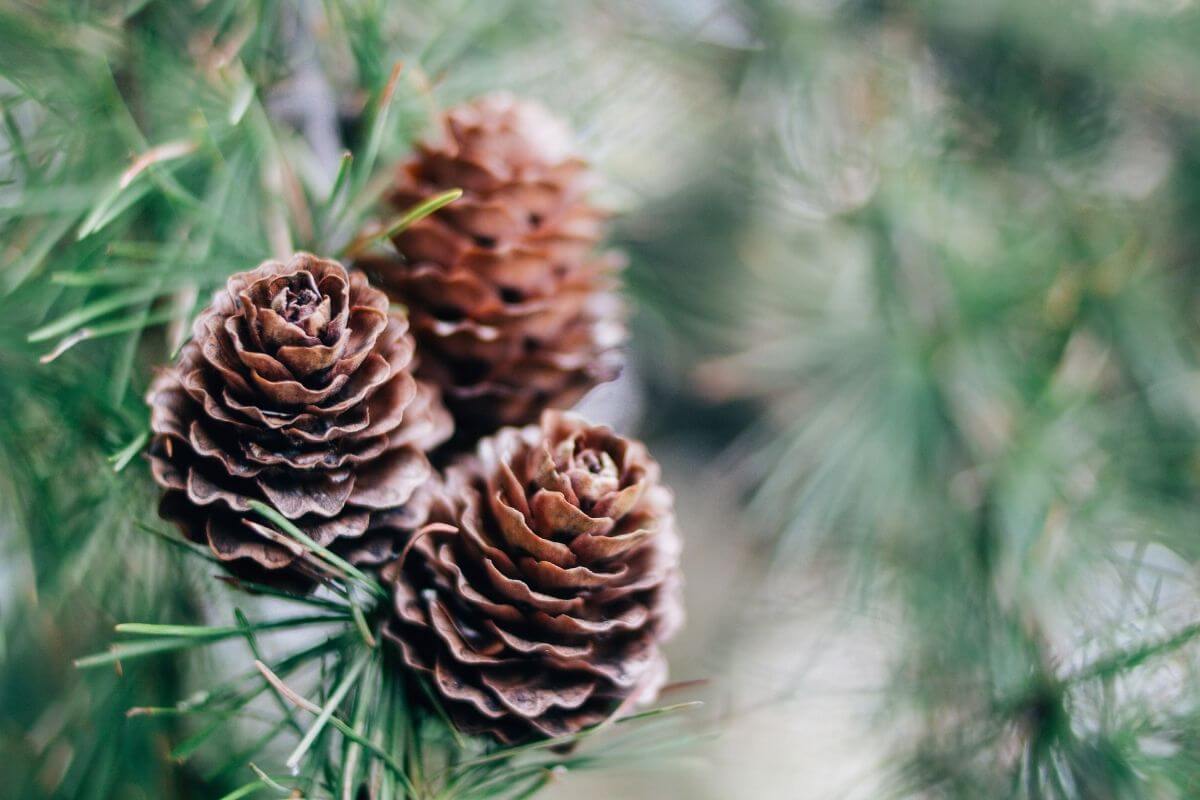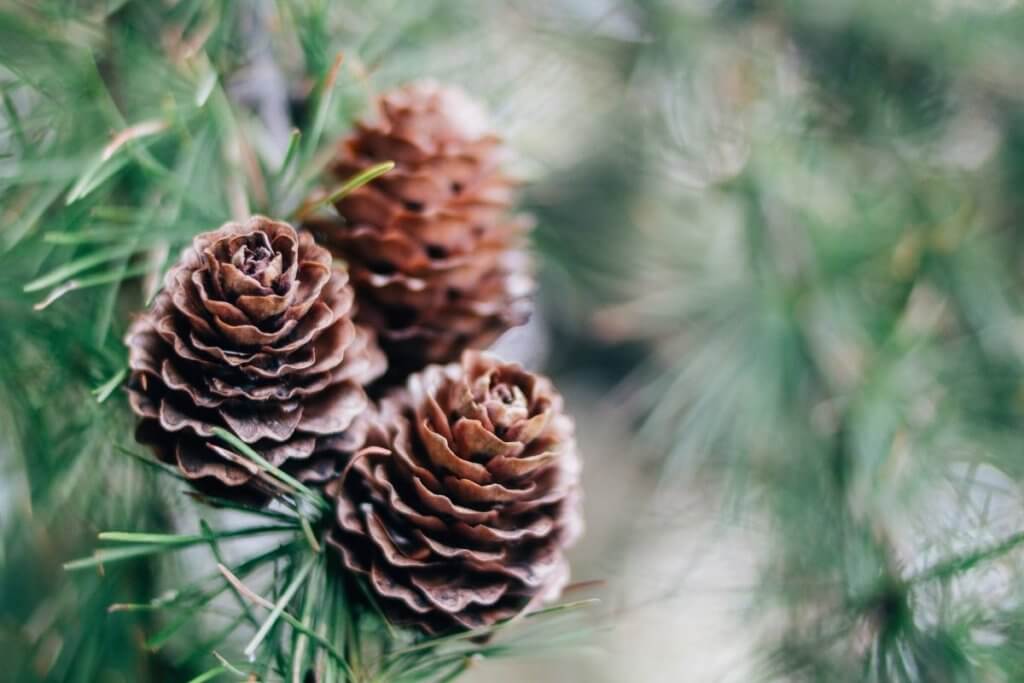 Chestnuts and acorns are delicious when roasted, and are a very traditional snack during this time of the year. This makes the whole dedication to a day out for collecting them a worthwhile endeavour, and can be fantastic for family or friend bonding. The first acorns to fall from oak trees tend not to be ripe, so leave this autumn day out for mid to late autumn.
This is an activity that can be done in any park or forest, and there are plenty to choose from around England.
---
5. Drop by a Maize Maze
An icon of countryside horror settings, fields of corn aren't exactly what you'd expect to hear when discussing great days out in autumn time. This one also won't be available for everybody, as you'll need to know of a nearby cornfield which is organised into a maze every autumn, but it makes for an incredibly memorable day out if you can find one.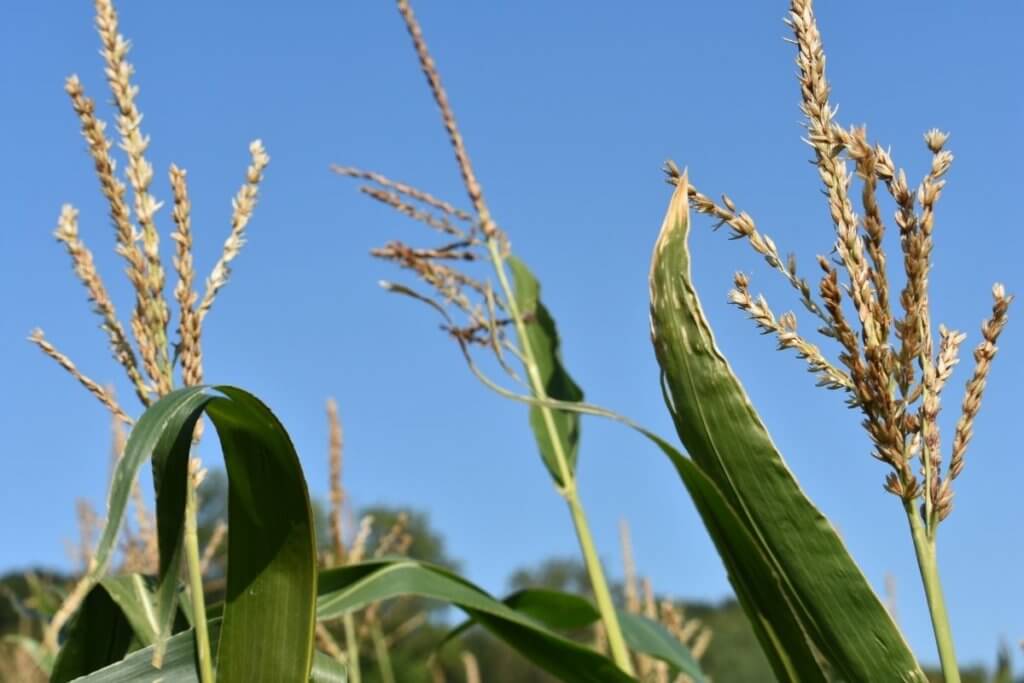 There are often paid entries for corn mazes, if they are holding organised event visits. It's plenty of fun, and can make for an especially great family day out. Find your way into the middle, and then back out again!
There's a Corn Maze in Colchester, Essex, the same place where you'll find a Pumpkin Patch – owned by Foxes Farm Produce. You'll find another in Worcester – the Great Worcester Maize Maze!
READ MORE: The Best Mazes in England
---
6. Go out kite flying
One thing the autumnal weather tends to be ideal for is kite flying, thanks in large part to the blustery winds that throw the reddening leaves all over the place. Whether you're a fan of flying a kite, or even if you've never actually flown one before, then this is the time to do it. Never a more perfect season in which to begin learning than in the windy season when the experience is at its peak.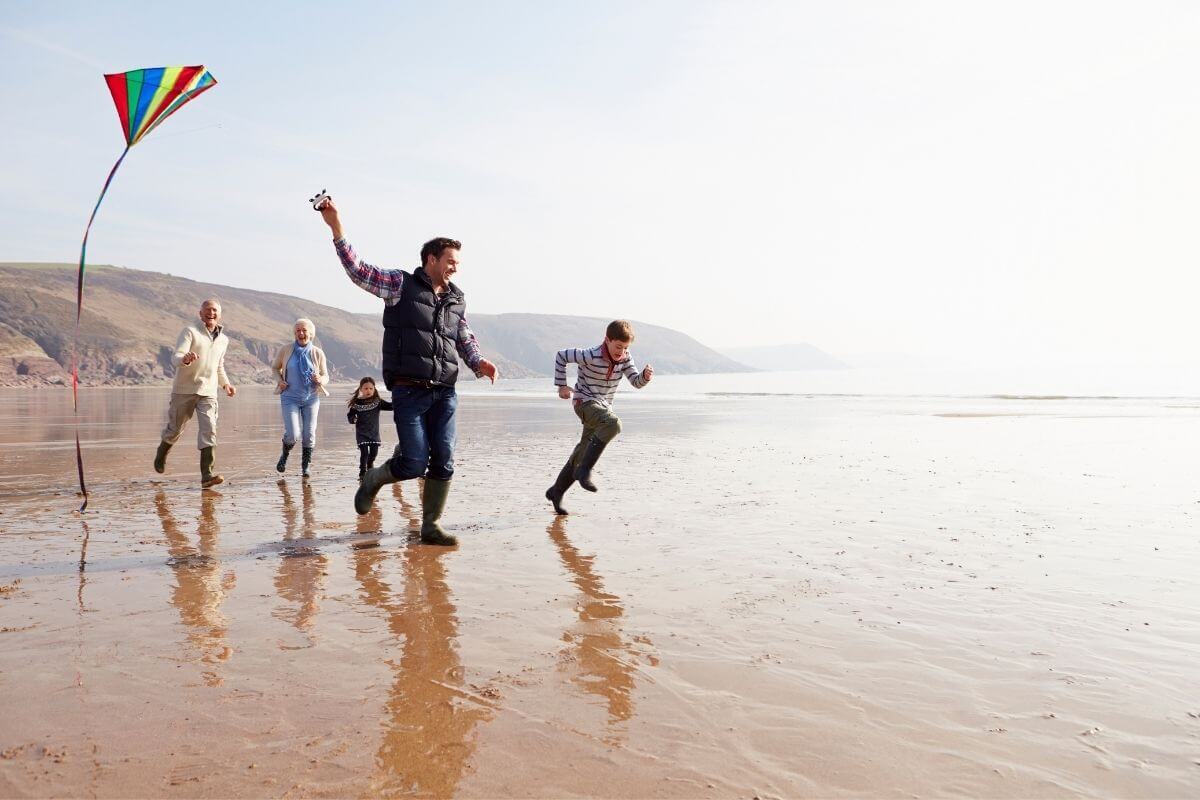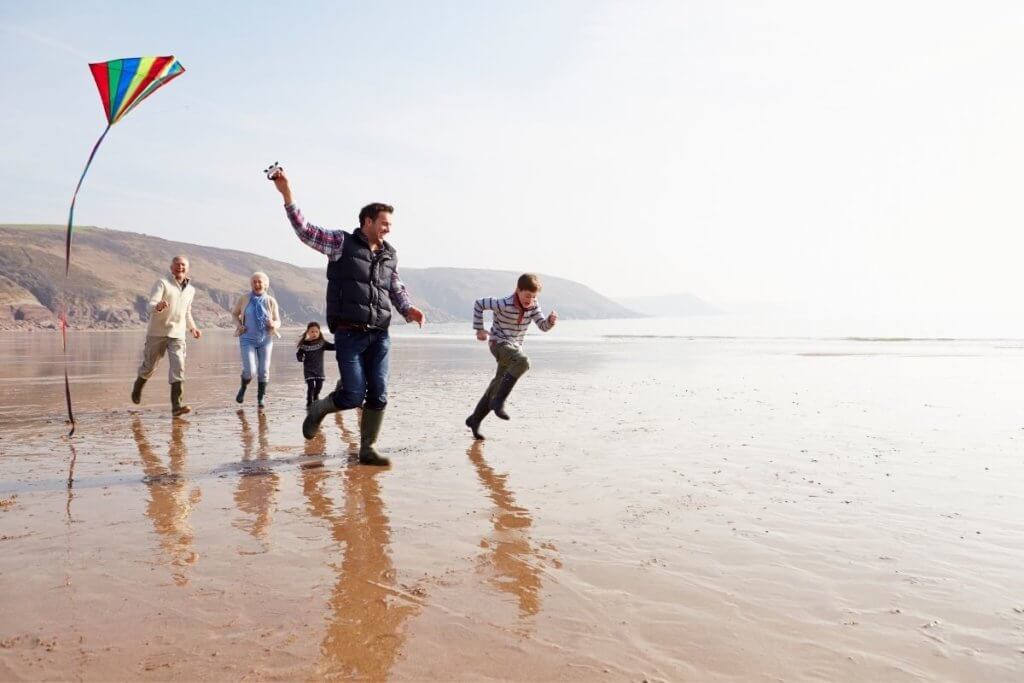 Though it's a fairly old-school kind of hobby that not as many people explore anymore in the age of technology, it's still a great activity for family and relationship bonding and it's certainly an entertaining way to spend a day out.
Some towns have workshops where you can make a kite with professionals, but you can also just choose to purchase one from a store. If you do find yourself interested in making your own kite, however, that experience can be just as rewarding as learning how to fly it!
The great thing about kite flying is that you don't need any specific or special place to do it – any park or rolling hillside will do.
---
7. Visit a farm park
Unlike other parks, farm parks allow for more direct interaction with some animals. Farm animals of course, not that that's any less interesting!
Visiting a farm park gives you an opportunity to spend the day out at a farm feeding the many animals and even interacting with them, to your heart's content. This is a very popular choice of activity for days out with children, and days out with toddlers, as you can imagine.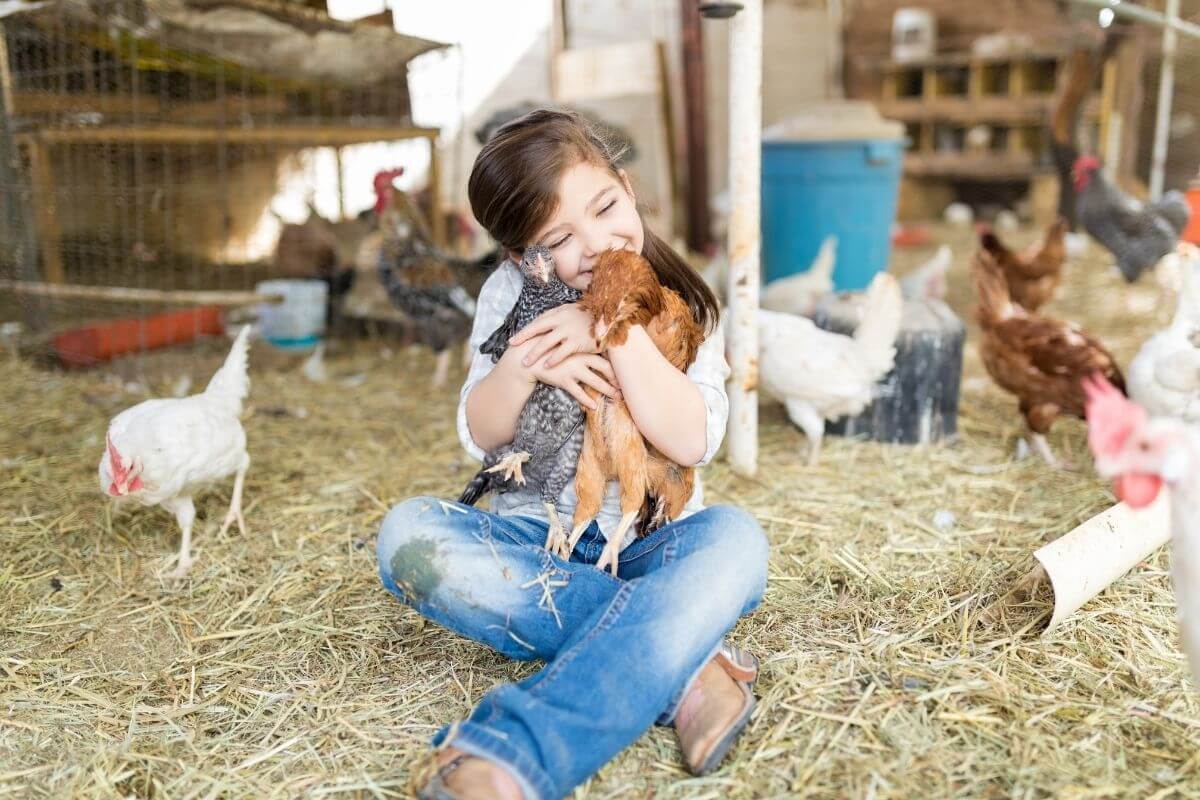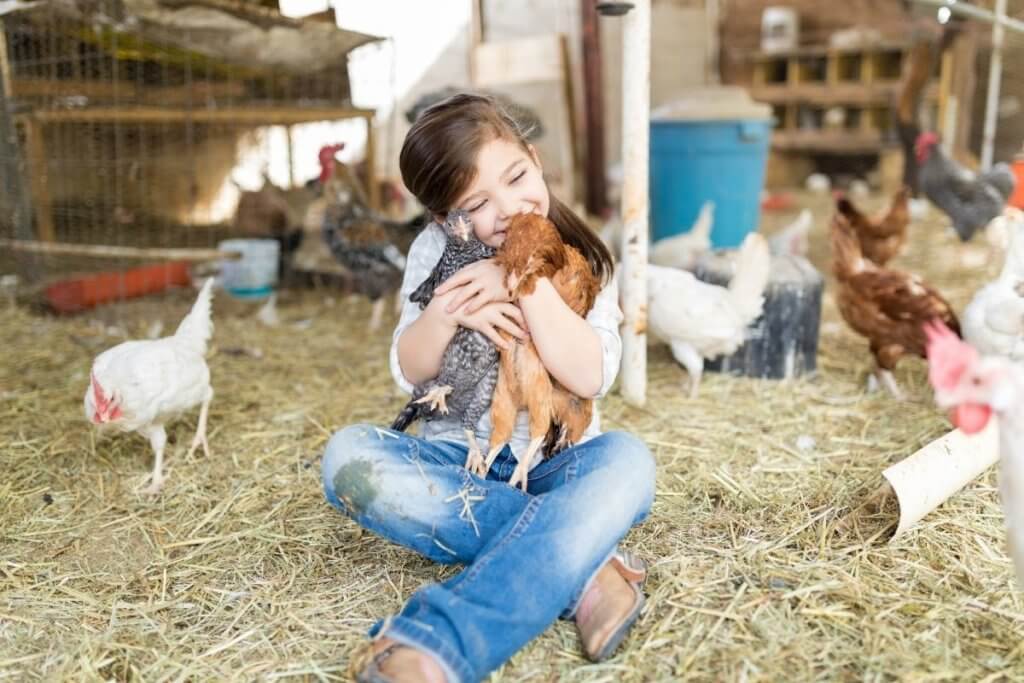 You probably need to book in advance, so check the farm before you leave the house. Many are open during the autumn time, which is really the best season for it – given that it's quite sweaty and tiring during summer, chilly during winter, and a little more difficult during the spring when the animals have babies. Autumn has the best combination of weather and atmosphere for this kind of trip, and it's sure to be a memorable one!
You could try the Odd Farm Park in High Wycombe, Buckinghamshire, which is open all year round. Or perhaps Pennywell Park in Buckfastleigh, Devon, which is open all the way up until the end of November. If you're nearer to London, here are the 7 best farms in London for meeting animals.
READ MORE: 7 Best Alpaca Experiences in England
---
8. Visit your favourite city
Autumn puts a brand new filter on everything, so returning to some of your favourite places can feel like a whole new adventure. Don your best jumper and head to your favourite city in England to wander the streets, spot the changing colours, and maybe treat yourself to a pumpkin spiced something!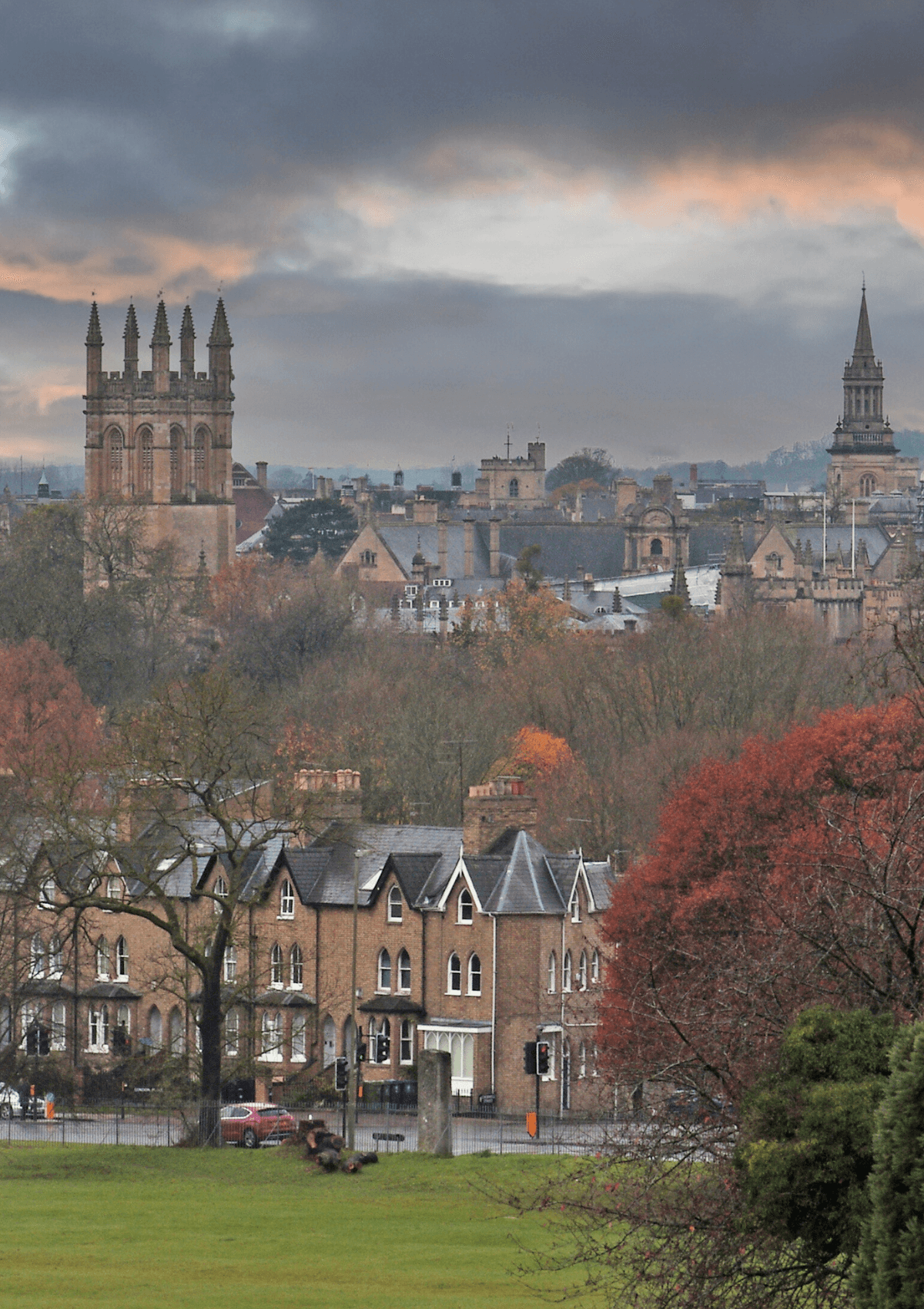 There are tonnes of brilliant cities in England that look great in autumn and have lots of fun weather-appropriate activities to enjoy with the whole family.
Bath is one of the most picturesque cities in England with some really unique things to see, like the famous Roman Baths. Here's the best itinerary for a day out in Bath.
It's no surprise Canterbury is one of England's UNESCO World Heritage sites, and this is a stunning day out that you'll love to see throughout the year (but especially autumn!). Here are 8 great things to do on a day out in Canterbury.
When some people think of autumn they think of the 'dark academia' trend (darker evenings, dusty libraries, writing with quills, that sort of thing!) and there's no better place to feel this than Oxford! Here's how to have a wonderful day out in Oxford.
9. Go inside a castle
Exploring some of the most historic places in England is a great way to spend autumn, as the season gives them a whole new atmosphere. There are so many fascinating castles in England to explore, and this is a great activity for the whole family to take part in.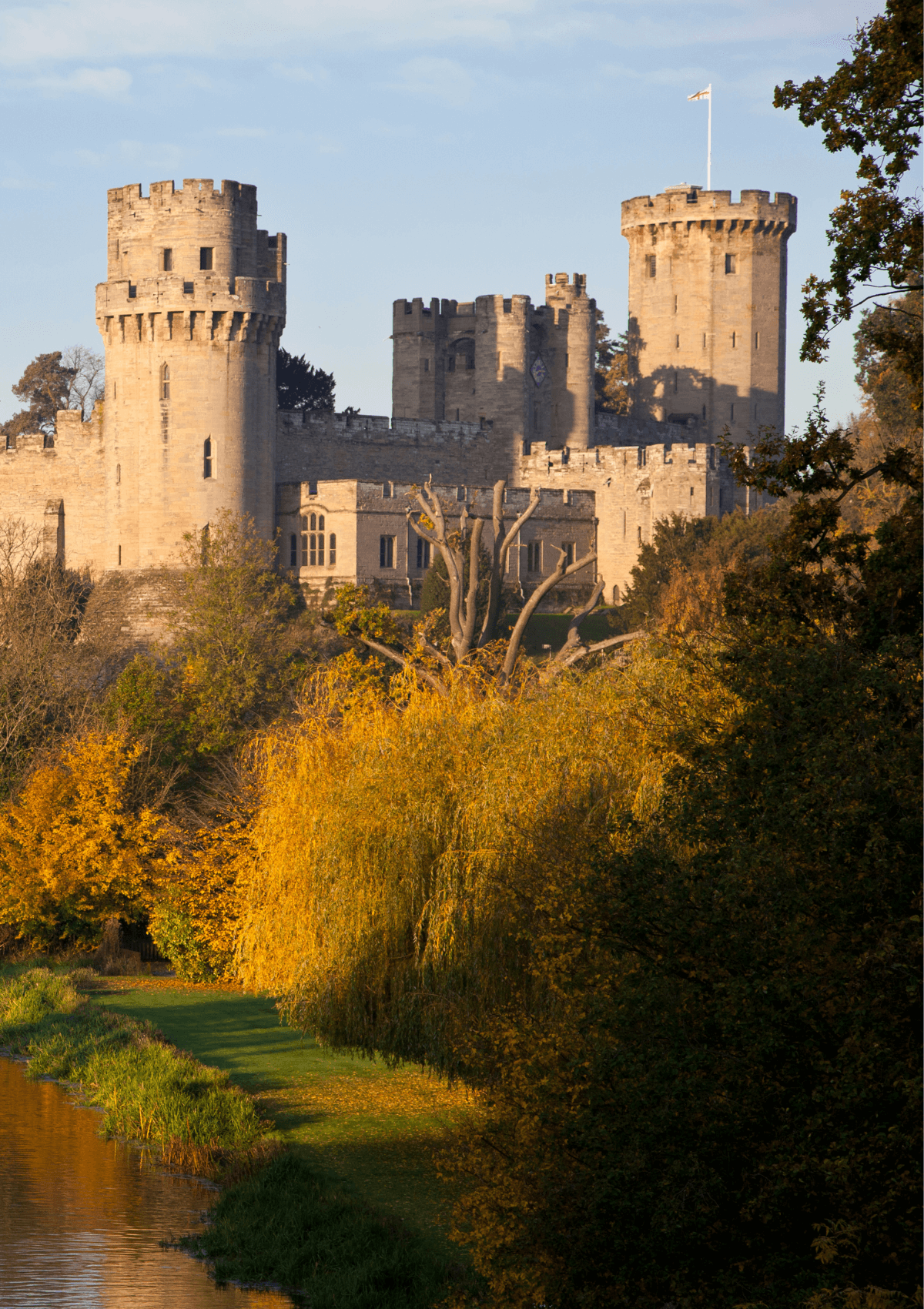 If you're interested in the history of the Royal Family, here's how to do a day trip to Windsor Castle, or if you're looking for a castle that has tonnes of kid-friendly activities going on throughout the year too (and an epic playpark!) then Warwick Castle could be a great day out – you can book tickets to Warwick Castle here.
10. Treat yourself to a spa day
After a long summer of busy family activity, autumn brings the return of school, typical UK weather, and the last push at work before Christmas. So, before life gets on top of you once more, why not treat yourself to a relaxing spa day? There are loads of great ones all around the country, and this is a lovely way to catch up with friends, or treat your better half.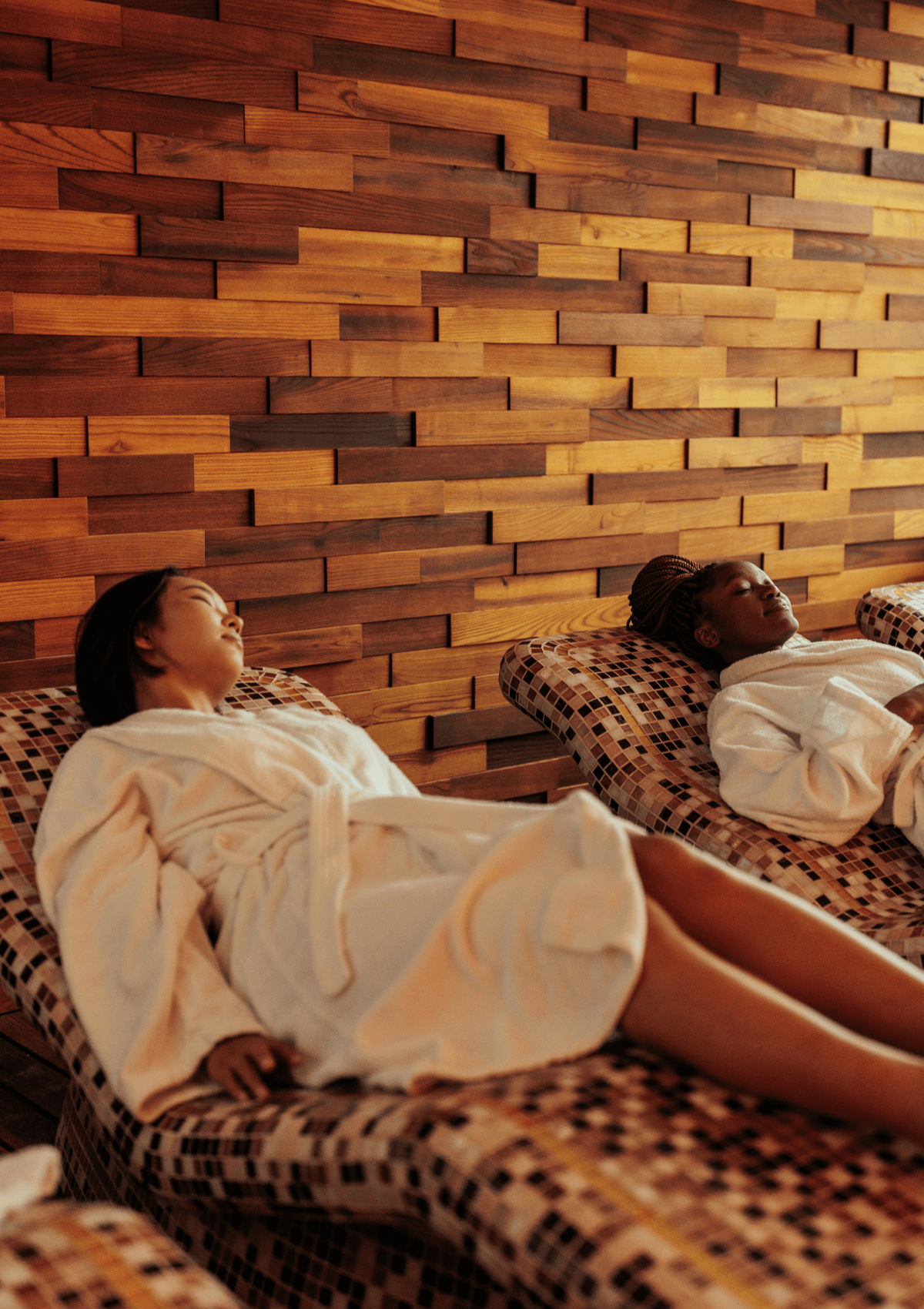 You'll find a fantastic spa day wherever you are in the country. If you're up north, here are the 12 most luxurious day spas in Yorkshire. By the lakes? Here are 6 amazing spa days in Windermere.
If you're looking for relaxation down south, here are 7 of the best day spas in Dorset, or if you want to really treat yourself, here are the 9 best spas in the whole of England for the ultimate chilled day out.
---
The Best Days Out in Autumn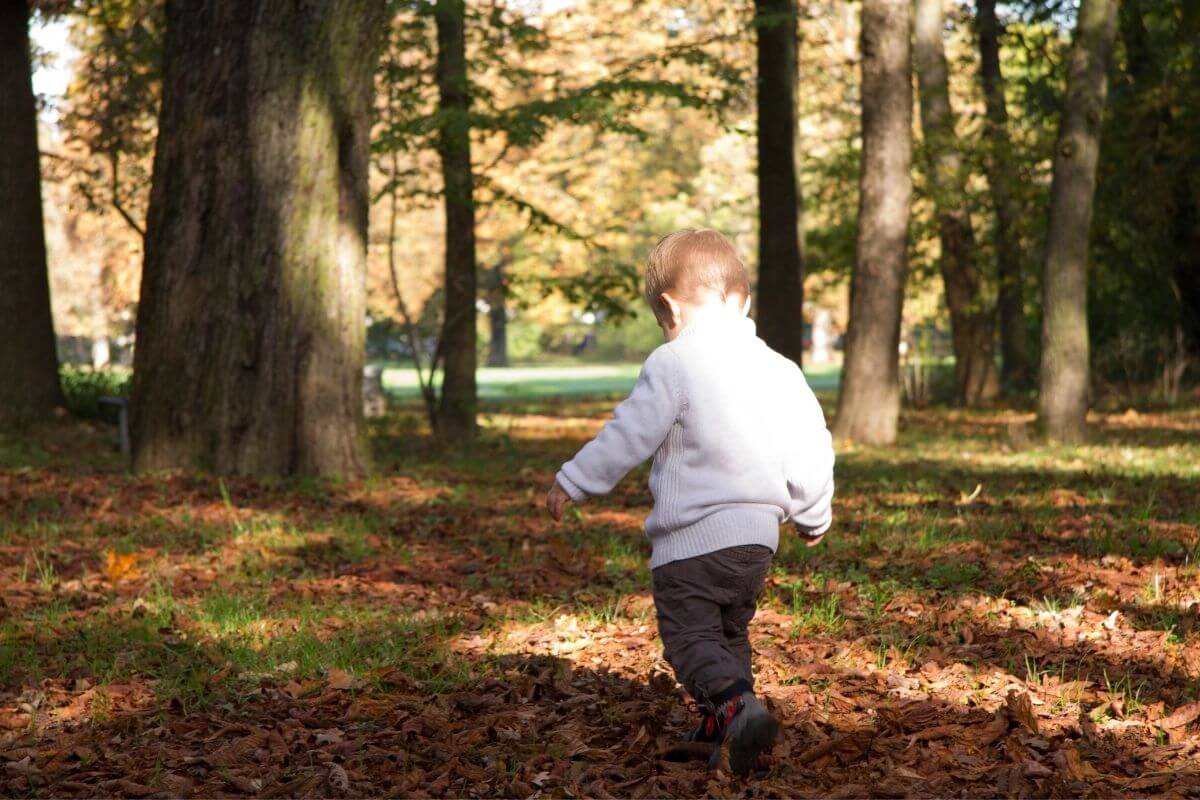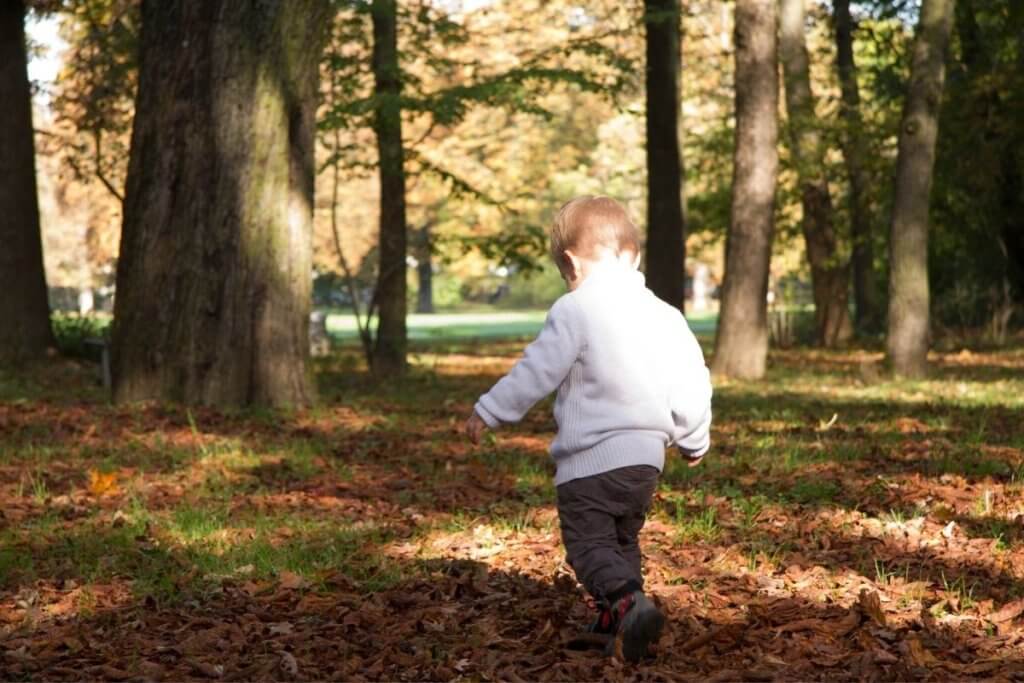 There's really no end to the wonderful activities you could take part in during autumn time. Whether you're the outdoorsy type or not, plenty of these could appeal to you. It's time to start putting some thought into how you'd like to spend your days out this September to December.
READ MORE: The Best Days Out in Spring
---
Quick List: Days Out in Autumn: 7 of the Best Ideas for 2023
1. Go out on a nature hike
2. Go pumpkin picking/carving
3. Camp out somewhere close
4. Go out collecting autumn treasures
5. Drop by a Maize Maze
6. Go out kite flying
7. Visit a farm park
8. Visit your favourite city
9. Go inside a castle
10. Treat yourself to a spa day
---