Embark on the best dinosaur days out in England to see animatronic giants, interactive exhibitions and fossils dating back millions of years.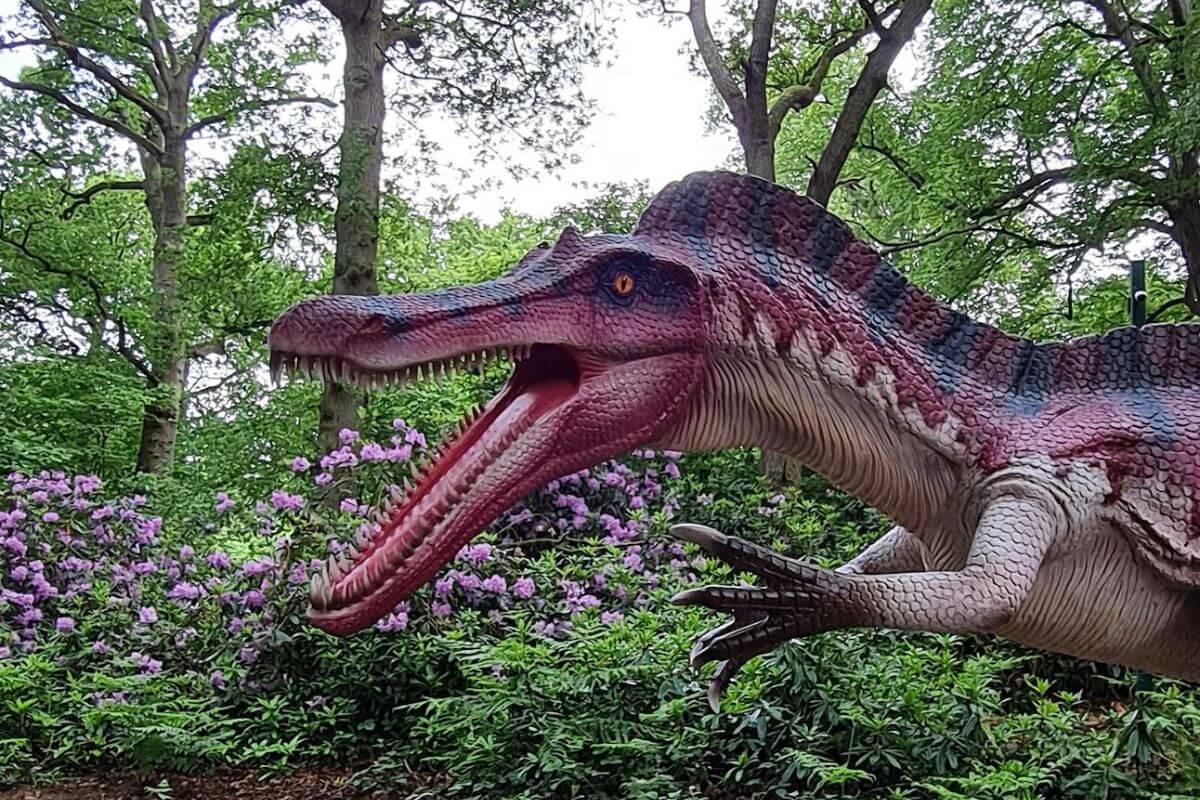 Are you a budding paleontologist searching for an extraordinary day trip? Or at least, know one? Maybe currently parenting one? If so, you might be interested in the best dinosaur days out in England, which promise to thrill visitors of all ages.
From adventure theme parks with augmented reality rides to zoos with dedicated dinosaur plots, the most impressive dinosaur attractions in the UK give you the chance to get up close and personal with a diverse array of giant prehistoric creatures.
So, whether you are an amateur enthusiast or just interested in dinosaur-related activities, England's best dinosaur parks, trails and museums are more than worthy of a visit.
Best Dinosaur Parks in the UK
You'll find replica dinosaurs, scenic walking trails and maybe even a few fair rides at some of the most amazing dinosaur attractions in the UK.
1. Roarr! Dinosaur Adventure, Norwich
Roarr! Dinosaur Adventure is an exciting dinosaur-themed attraction for kids and adults alike.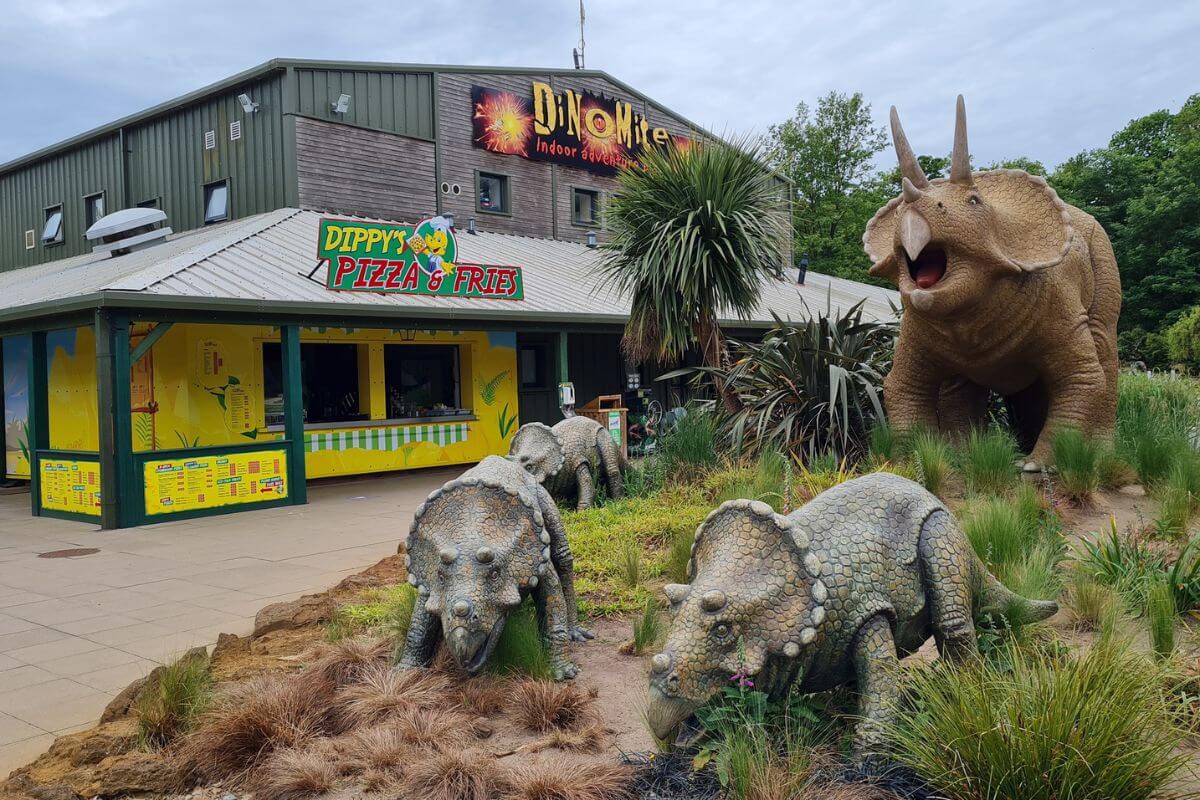 With life-sized dinosaurs populating a 50-acre prehistoric landscape, this park is perfect for dino lovers who want to get up close and personal with their favorite creatures.
Visitors can explore an ancient forest and dinosaur kingdom on foot or on a mini train. Look out for the giant nest pits and flocks of feathered dinosaurs. You can also take part in fossil hunts and attend interactive events to learn about these giants of the past.
Roarr! Dinosaur Adventure is one of the best dinosaur parks in the UK, offering a palaeontological experience like no other. After your prehistoric adventure, you might want to experience more of the best things to do in Norfolk.
2. Paradise Wildlife Park, Broxbourne
Considered to be one of the UK's best family wildlife parks, Paradise Wildlife Park is a renowned dinosaur-themed attraction and zoo that you should add to your itinerary.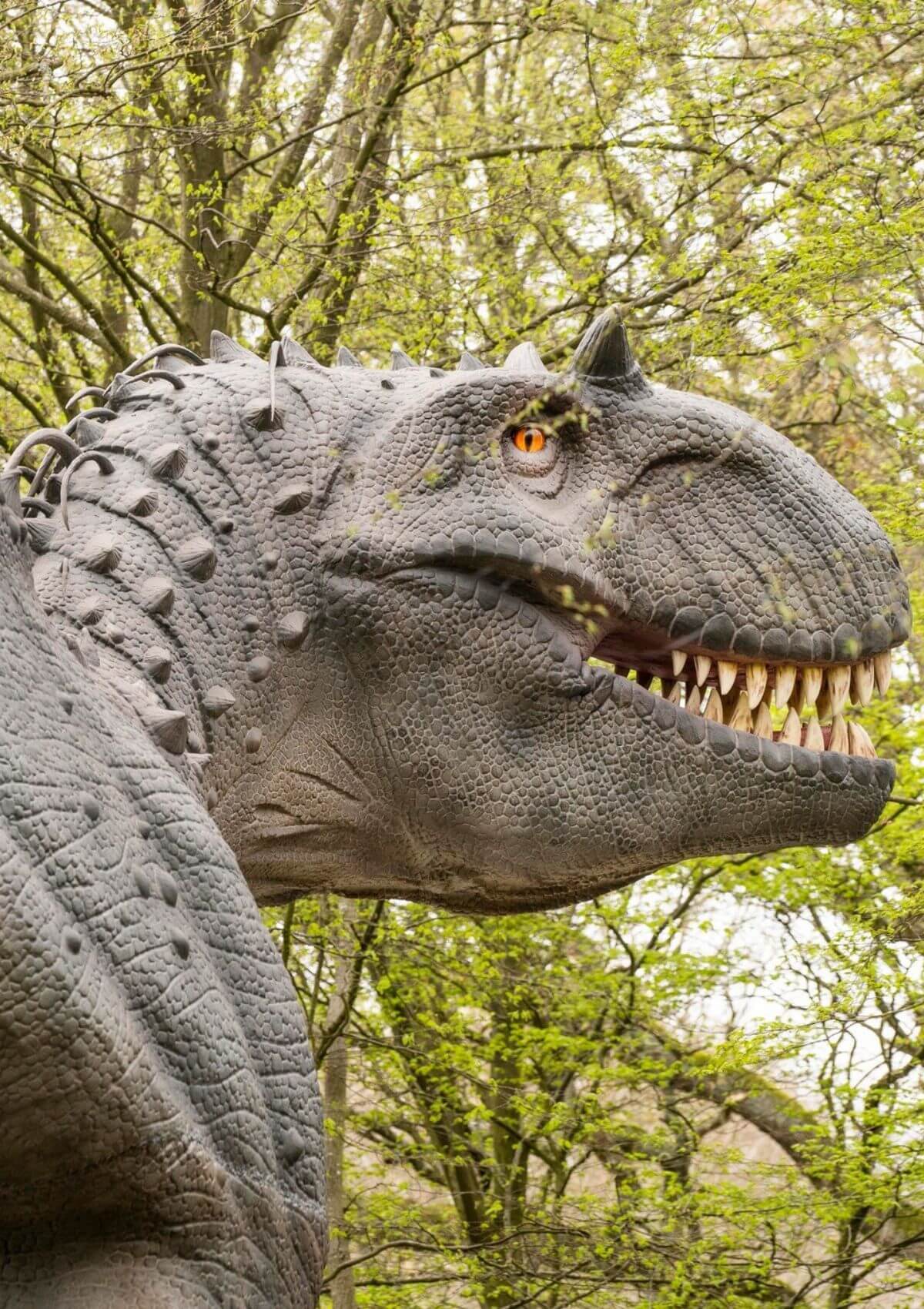 In 2018, the park unveiled the World of Dinosaurs, where you can discover around 30 life-sized animatronic dinosaurs. The World of Dinosaurs also features a variety of interactive displays and activities, from fossil-digging pits to live shows with baby dinosaurs.
On top of everything, Paradise Wildlife Park offers educational workshops and fun-filled events, which makes it an ideal spot for schools and groups looking for unique days out in Hertfordshire.
With so much dino-fun on offer, there's no doubt that this is one of the top dinosaur exhibitions in the UK. It's a great idea for a fun family day out.
3. Knebworth House, Stevenage
One of England's most spectacular stately homes, Knebworth House has recently opened its own Dinosaur Trail within the Wilderness Area of its gardens.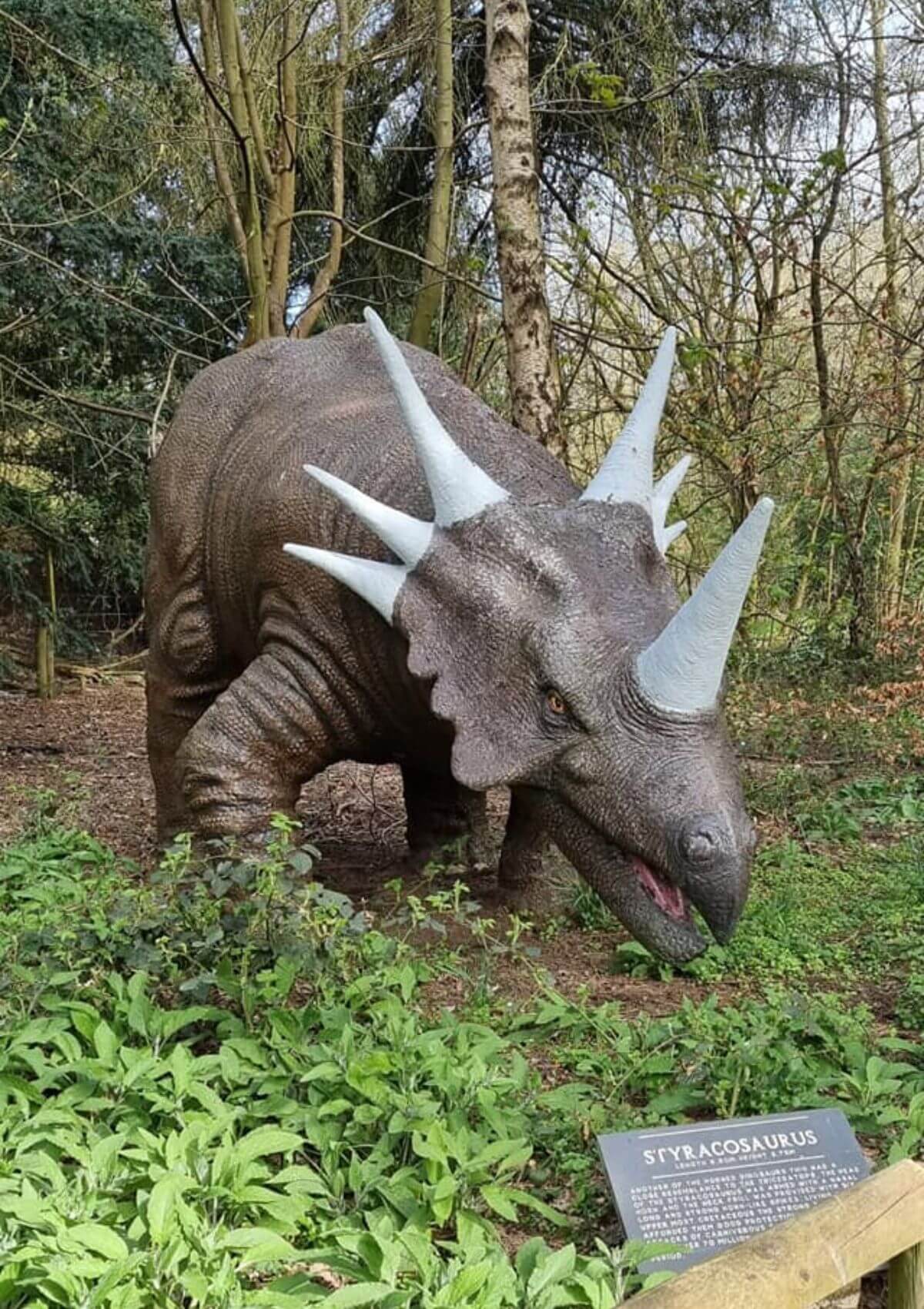 Alongside exciting activities such as an adventure playground, a walled garden and a giant swing, Knebworth House is now home to a large family of replica dinosaurs.
While following the trail, you'll see 72 life-sized prehistoric creatures that include the T-Rex. You'll gain insights into the lives of these magnificent animals through interactive displays, informative talks and incredible activities.
Knebworth House is the perfect venue for visitors of all ages to learn about dinosaurs and experience the thrill of having prehistoric creatures in their own 'backyard'.
4. Combe Martin Wildlife & Dinosaur Park
The Combe Martin Wildlife & Dinosaur Park in Devon is one of the best places to visit in the UK for those looking for majestic creatures of the past and present.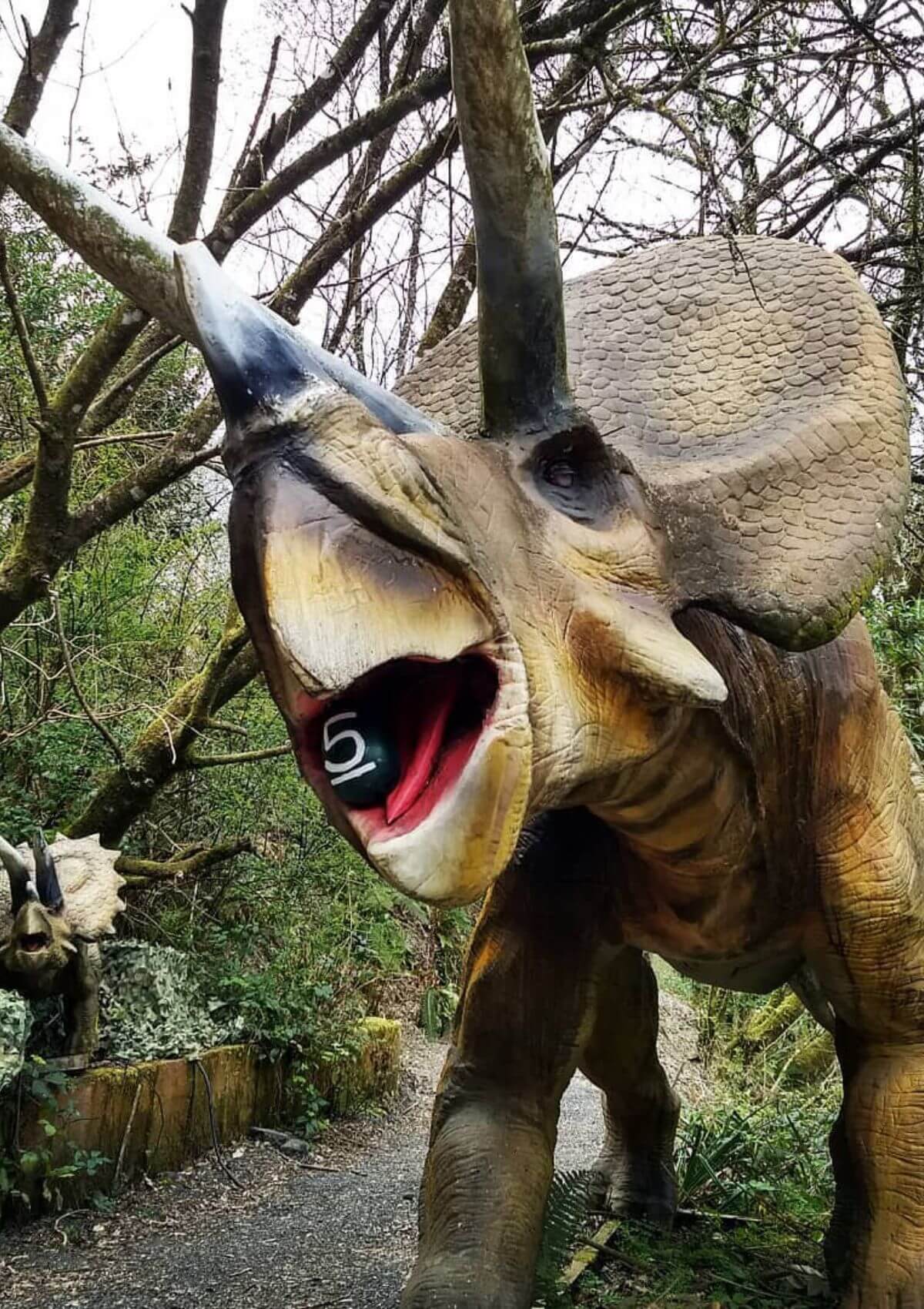 As you venture through the Dinosaur Domain and Valley of the Dinosaurs, you'll encounter over 30 life-size static and animatronic models of dinosaurs, including an enormous T-Rex.
Within the park outside of the dinosaurs' habitat, you'll find a zoo, a fossil museum, and plenty of walks suitable for all ages. The kids can take part in hands-on activities in the gigantic indoor Dinosaurus Playzone.
Ticket prices at the Combe Martin Wildlife & Dinosaur Park start at £17.49 per adult and £14.99 per child aged 3-15 years. Children aged two years and under can enter for free.
If you want to get close to even more adorable animals after visiting the Combe Martin Wildlife & Dinosaur Park, check out the best zoos in England. While you're in the area, you might want to learn about more of the best things to do in Devon.
5. Restricted Area 5 at Blackgang Chine, Isle of Wight
Restricted Area 5 at Blackgang Chine is an augmented reality experience on the Isle of Wight that brings dinosaurs back to life. Visitors explore a secret woodland, where they can hunt for dinosaur eggs and uncover the mysteries of prehistoric creatures.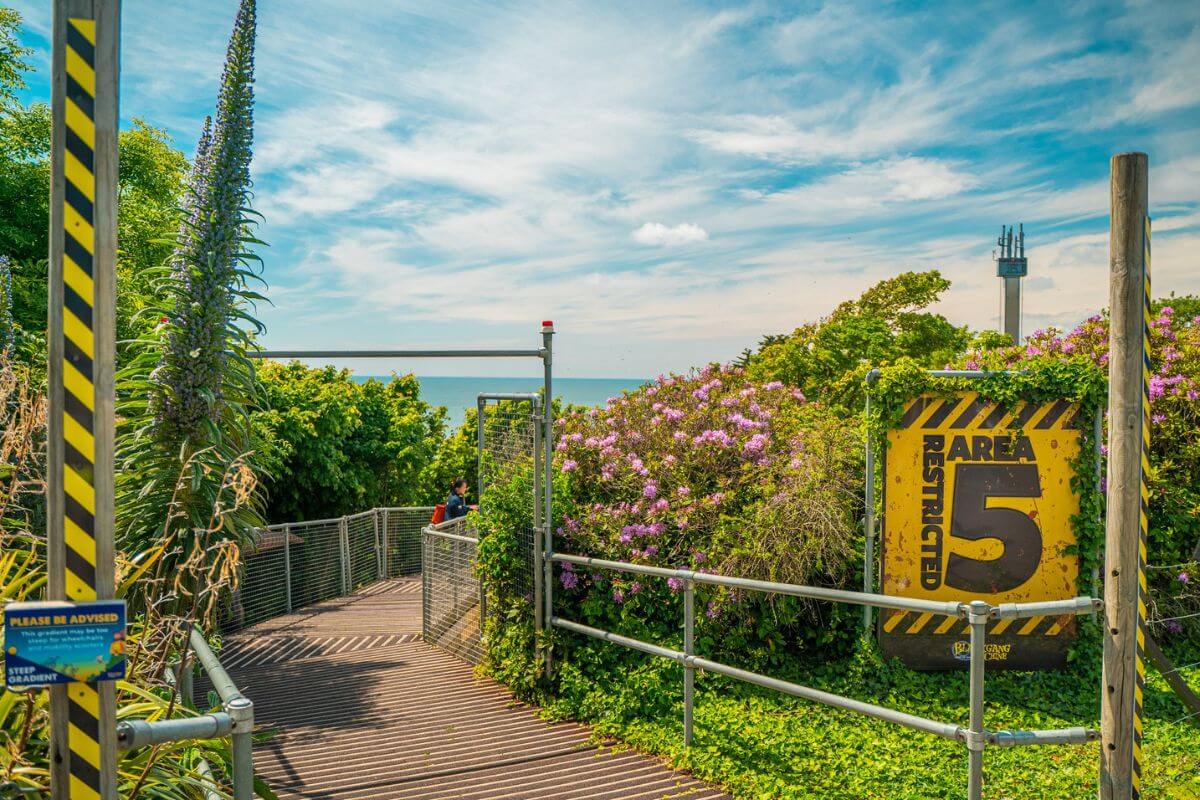 This immersive experience includes interactive activities, realistic audio-visual effects, and a few surprises along the way!
With the help of a special headset, guests can travel back in time and explore an area jam-packed with ancient secrets. Restricted Area 5 is truly a captivating experience that will leave you feeling like you've been transported to another world.
Amazing Dinosaur Museums in the UK
We've already looked at some of the best dinosaur parks in England, but what about museums? The UK is home to a variety of excellent dinosaur museums, from small independent facilities to world-class institutions that any paleontologist would be proud of.
6. The Dinosaur Museum, Dorchester
Located in the historic county town of Dorchester near the Jurassic Coast, The Dinosaur Museum is home to an extensive collection of dinosaur bones and replicas. It's certainly one of the most interesting dinosaur days out in England.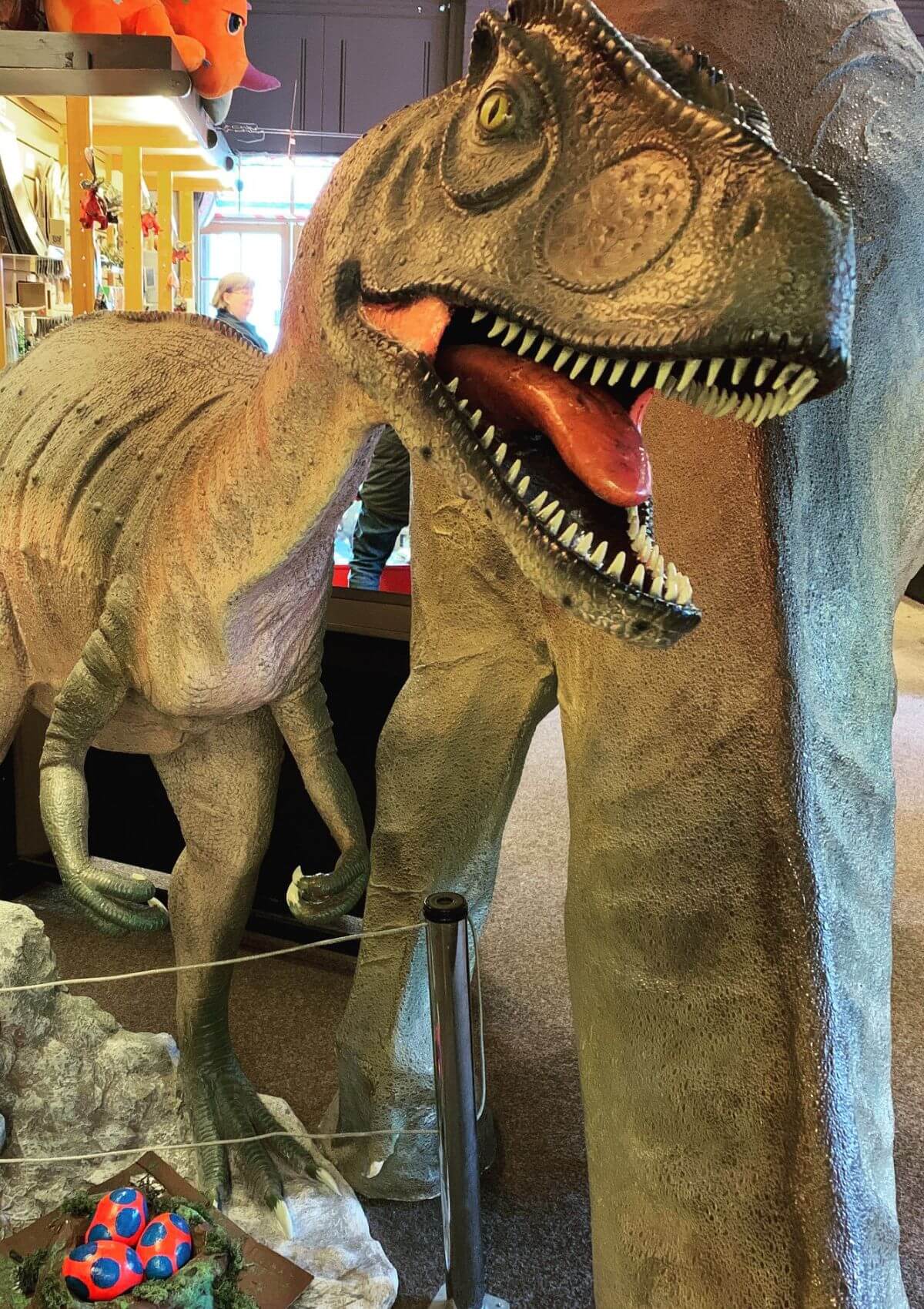 Situated inside a former Victorian schoolhouse, the museum features life-size skeleton reconstructions, animatronic dinosaur models, and artefacts ranging from teeth to toilet waste. You can dive into the prehistoric world of dinosaurs by taking part in interactive activities and attending educational talks.
One of the museum's most famous exhibits is a life-size triceratops model. Over easter, the kids can embark on a dinosaur egg hunt. Dinosaur days in England promise to be thrilling for visitors of all ages at The Dinosaur Museum.
Ticket prices at the Dinosaur Museum start at £10 per adult and £8 per child. Youngsters aged under three years can enter for free. After your museum visit, you might want to visit nearby castles on the Isle of Purbeck on your day out in Dorset.
7. Lyme Regis Museum
The Lyme Regis Museum is the place to go if you're looking for a hands-on dinosaur experience in England.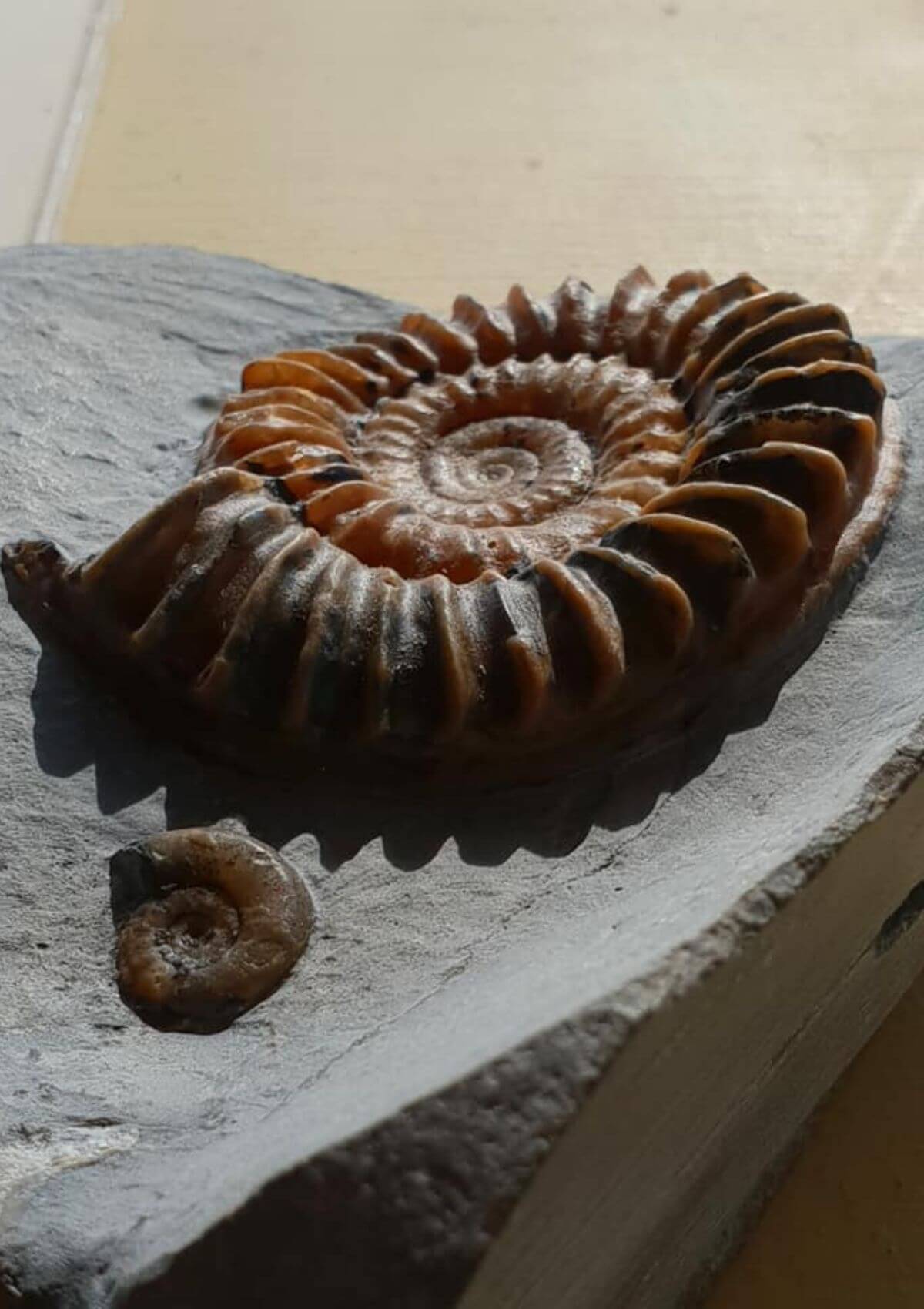 Located on the site of fossil hunter Mary Anning's birthplace, the museum showcases an impressive collection of fossils and dinosaur remains from the Jurassic period.
The museum also has a range of interactive activities suitable for all ages, such as mock fossil digs and dinosaur dig pits. It's definitely one of the best places to go to get stuck into some ancient history.
8. Dinosaur Isle, Isle of Wight
Dinosaur Isle is a must-visit destination for anyone interested in paleontology. Located on the Isle of Wight, it's home to some of Britain's best dinosaur remains and interactive displays.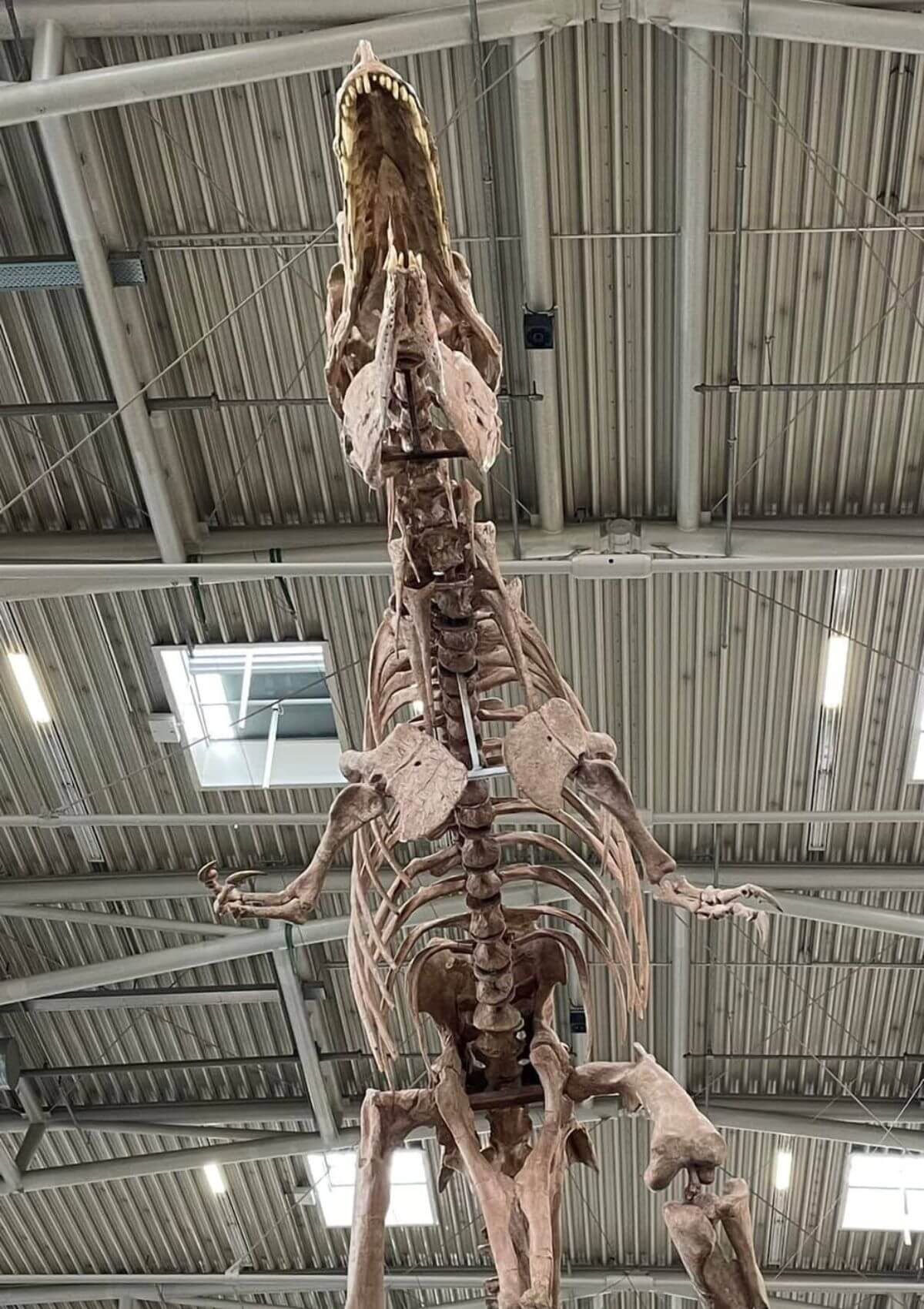 Visitors can explore the museum's various galleries containing fossils, skeletons, and other artefacts from the Mesozoic era. The museum also features a number of interactive activities and educational talks, making it an ideal destination for families looking to explore the history of dinosaurs in the UK.
9. West Midlands Safari Park, West Midlands
The Land Of The Living Dinosaurs at West Midlands Safari Park is an immersive walkthrough experience taking you back in time through the age of the dinosaurs.
This dinosaur day out features many highly detailed, sophisticated and realistic animatronic dinosaurs and prehistoric creatures along a themed trail. Any fans of the Stegosaurus, Triceratops, Anklyosaurus and Tyrannosaurus Rex will enjoy it here, with realistic dinosaur sounds in the background to add to the exciting experience along this dino themed adventure.
10. Peppa Pig World, Hampshire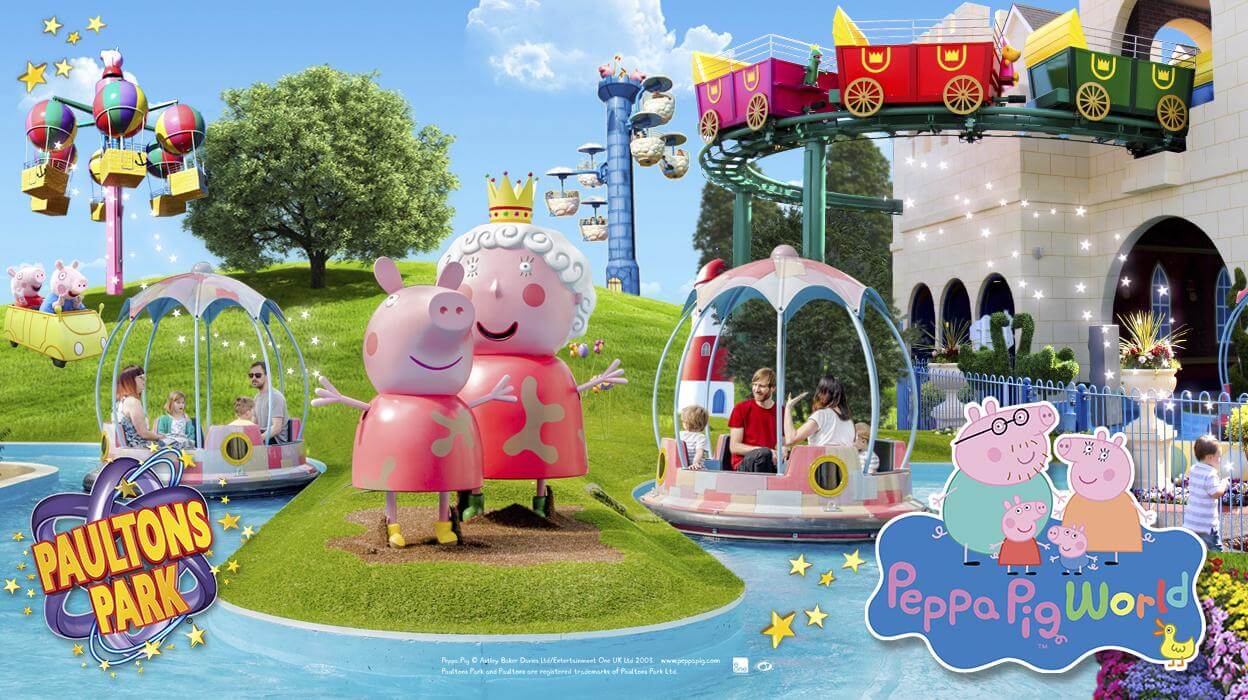 As well as Peppa Pig followers, anyone who loves dinosaurs will enjoy it here. Go into the immersive Lost Kingdom for four acres of Jurassic landscape, with two family rollercoaster rides, an adventure play park and a Jeep exhibition too.
11. Paradise Park, Newhaven
Paradise Park is perfect for a day out in East Sussex for families, providing all sorts of different entertainment for kids and adults alike.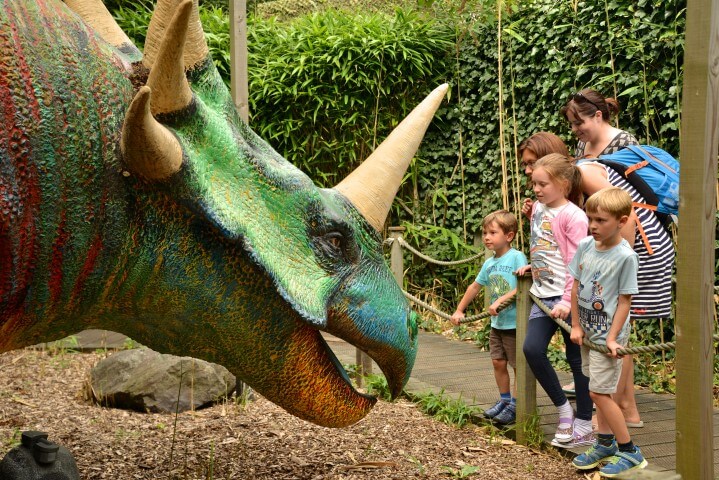 The Planet Earth Museum houses a great collection of fossils and minerals, as well as exhibits about Neanderthals and the dinosaurs. The Dinosaur Garden is home to animatronic dinosaurs which you'll hear before you see!
Dinosaur days out in England
A trip to one of England's premier dinosaur attractions will be an unforgettable experience. From interactive activities to displays of life-size animatronic dinosaurs, there's something for all ages. And for those looking for a truly immersive experience, Blackgang Chine's Restricted Area 5 promises to keep you on the edge of your seat.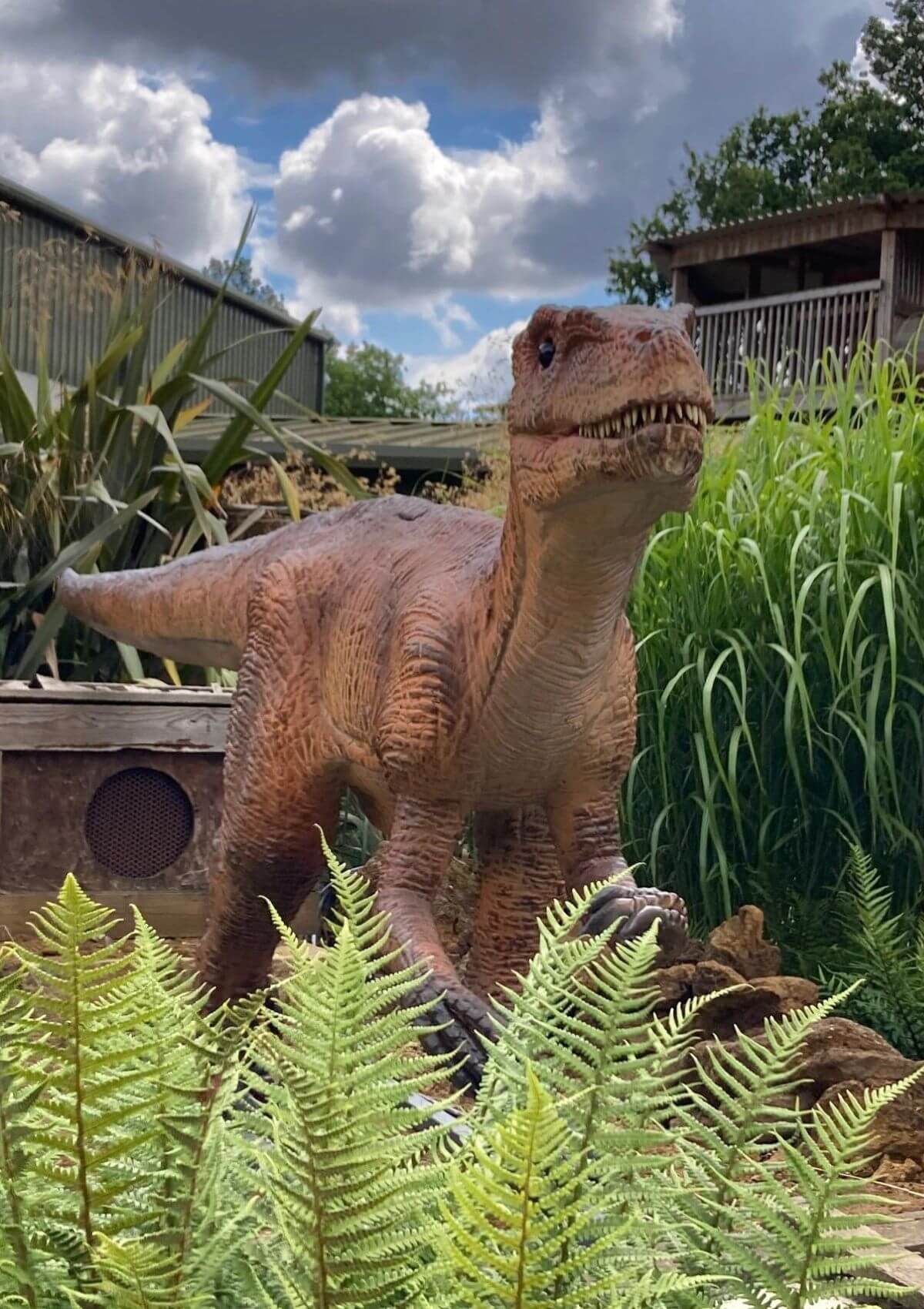 With so many incredible dinosaur attractions in England, it's no wonder that they remain among the nation's most popular tourist destinations. If we've missed any dinosaur days out in England you think deserve a mention, let us know in the comments below.
---
Quick list of the best dinosaur days out in England
Roarr! Dinosaur Adventure, Norwich
Paradise Wildlife Park, Broxbourne
Knebworth House, Stevenage
Combe Martin Wildlife & Dinosaur Park, Devon
Restricted Area 5 at Blackgang Chine, Isle of Wight
The Dinosaur Museum, Dorchester, Dorset
Lyme Regis Museum, Dorset
Dinosaur Isle, Isle of Wight
West Midlands Safari Park, West Midlands
Peppa Pig World, Hampshire
Paradise Park, Newhaven
---