How to Have the Best Blackpool Day Trip in 11 Top Blackpool Attractions
Planning a Blackpool day trip this year? From Blue Flag beaches and aquariums to quirky museums and arcades, there's no shortage of exciting things to do in Blackpool for families – only problem is how to fit them all in!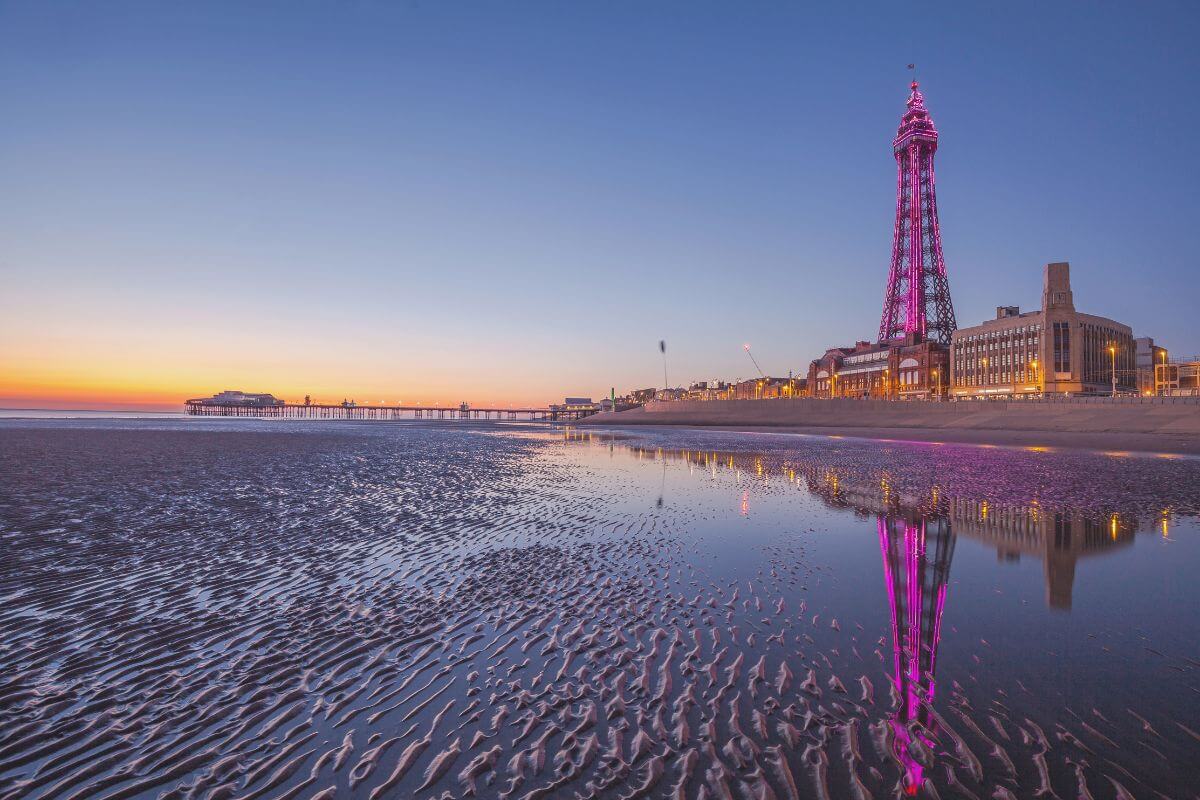 Blackpool is one of the most famous seaside resorts in the North of England, home to iconic UK landmarks that include Blackpool Pleasure Beach and the awe-inspiring Blackpool Tower.
Thanks to big improvements made over the past couple of decades, Blackpool Beach now holds Blue Flag status. And when you need a break from the sun, sand and sea, you can visit arcades, theme parks, museums, restaurants, greenspaces, historic landmarks and much more. There's so much to do on a day trip to Blackpool, let us help you find the perfect Blackpool attraction for you.
Blackpool Pick n Mix Ticket
Just to note that best of all, you can discover many of Blackpool's most famous attractions with just one pass – the Blackpool Pick n Mix Ticket. Get involved and you'll get the top 6 Blackpool attractions for one great price.
Head 380ft in the sky and see Blackpool from a birds-eye view at the top of the Tower.
Join Mooky and Mr Boo for the UK's biggest and best Circus as they deliver slapstick antics and edge-of-your-seat death-defying stunts.
Come face to face with the Grim Reaper at The Blackpool Tower Dungeon.
See 2,000 incredible creatures at SEA LIFE Blackpool including Phoenix the green sea turtle.
Burst into the action with The Marvel Super Heroes at Madame Tussauds Blackpool where you can discover your power with Captain Marvel and fight your way through debris and destruction to test your strength against The Incredible Hulk!
Visit the iconic Blackpool Tower Ballroom.
Visit all of the Merlin Blackpool attractions and you can save up to 45% off the ticket price with the Blackpool Pick n Mix Ticket. BOOK NOW!
There's even more to see on a day out in Blackpool though, here's a selection of our favourites.
Attractions to Visit on a Blackpool Day Trip
From the iconic Blackpool Tower to beach activities and theme parks, here are some of the most exciting attractions for a day out in Blackpool.
1. Blackpool Tower
Standing 158 metres tall, Blackpool Tower has dominated Blackpool's skyline since 1894. It's still the tallest observation tower in the North West. From the top of this iconic structure, you can take in panoramic views of Blackpool, the promenade and the Irish Sea.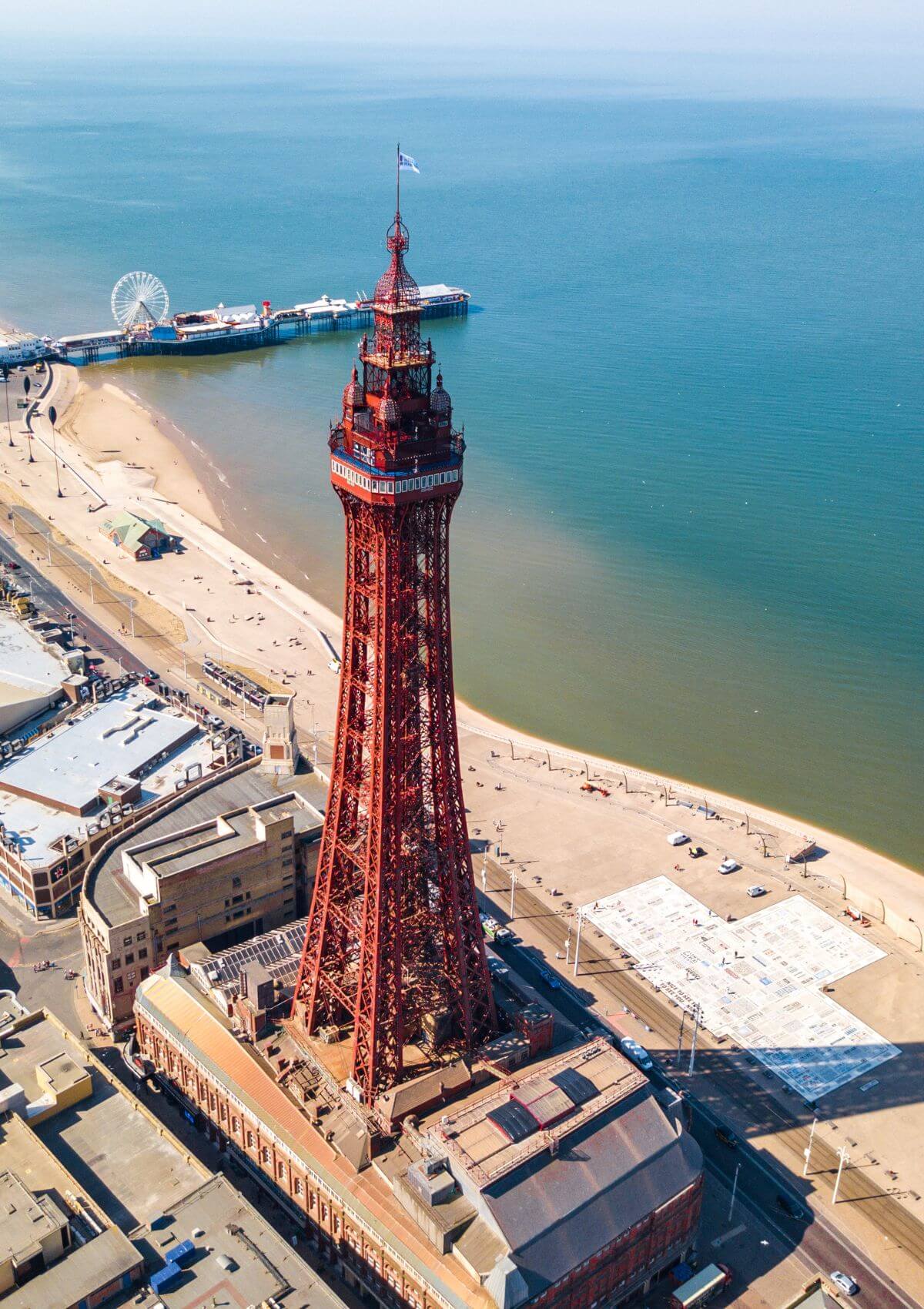 Besides staggering views, Blackpool Tower is home to activities ranging from mini golf to 4D cinema screenings. Those who dare can take in the best views of North West England from the Blackpool Tower Eye.
One of the most famous attractions at Blackpool's tribute to the Eiffel is the Blackpool Tower Circus, one of the world's oldest-running circus shows with clowns, acrobats and a range of other performers. There's also the glitzy Blackpool Tower Ballroom, which hosts live shows including comedy, dancing and music. You can't do a day out in Blackpool without seeing them!
2. Blackpool Dungeon
If you're up for a scare during your Blackpool day trip, you might want to head on a terrifying journey through the Blackpool Dungeon. This is a great destination on a day trip to Blackpool.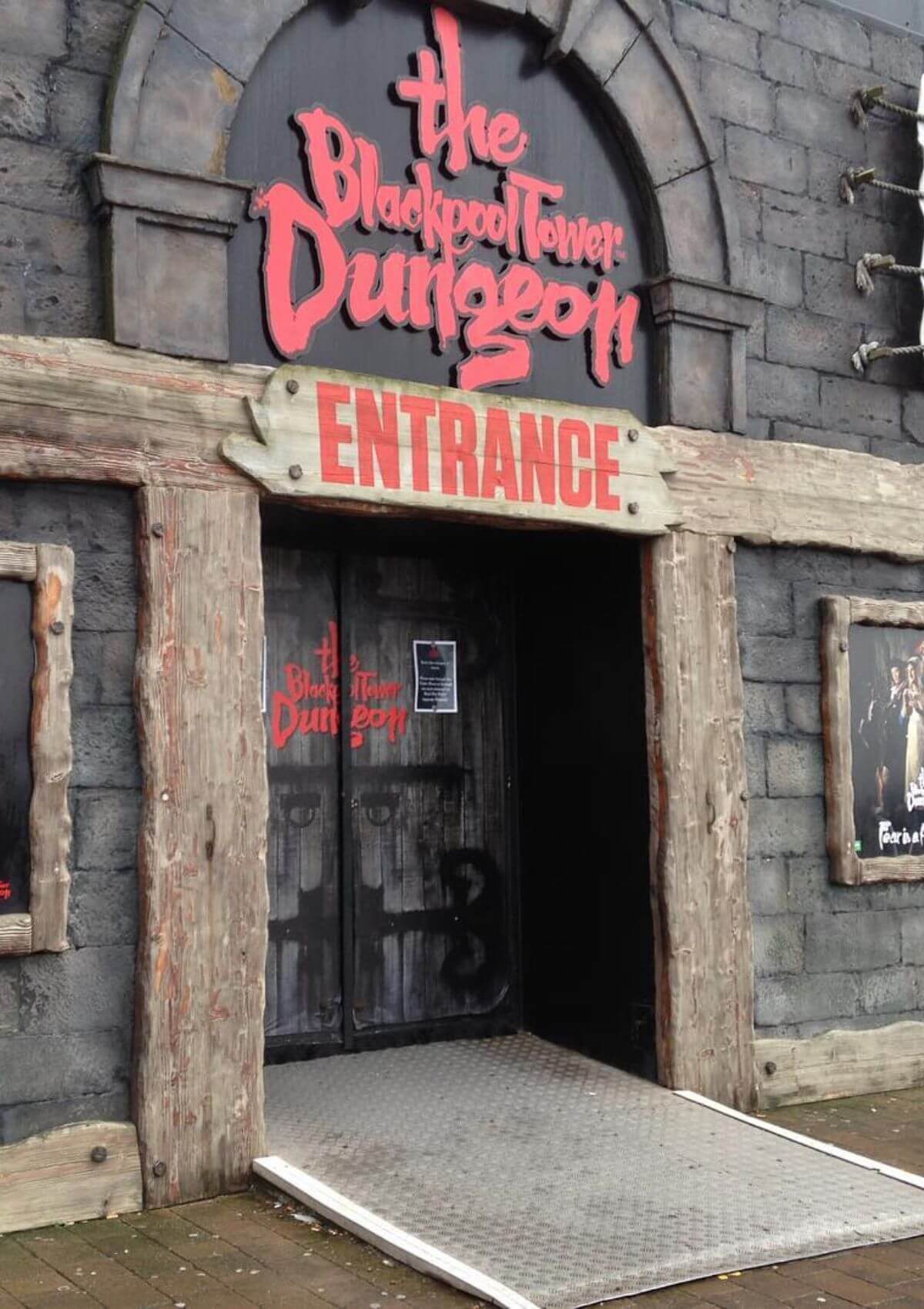 While exploring the dungeons, you'll hear stories about England's grizzly history over the past 1,000 years, brought to life by theatrical actors, special effects and even a few unnerving rides.
Your host will be The Jester, who will guide you to a doctor's theatre from the Middle Ages, a torture chamber, a criminal court, a witch trial and more.
It may sound rather gut-wrenching, but it's a highly entertaining experience for anybody aged ten years old or over – we promise!
3. SEA LIFE Blackpool
You don't need to go snorkelling in the chilly Irish Sea to see some aquatic creatures during your Blackpool day trip. Instead, you can stay warm and admire over 2,500 spectacular creatures at SEA LIFE Blackpool.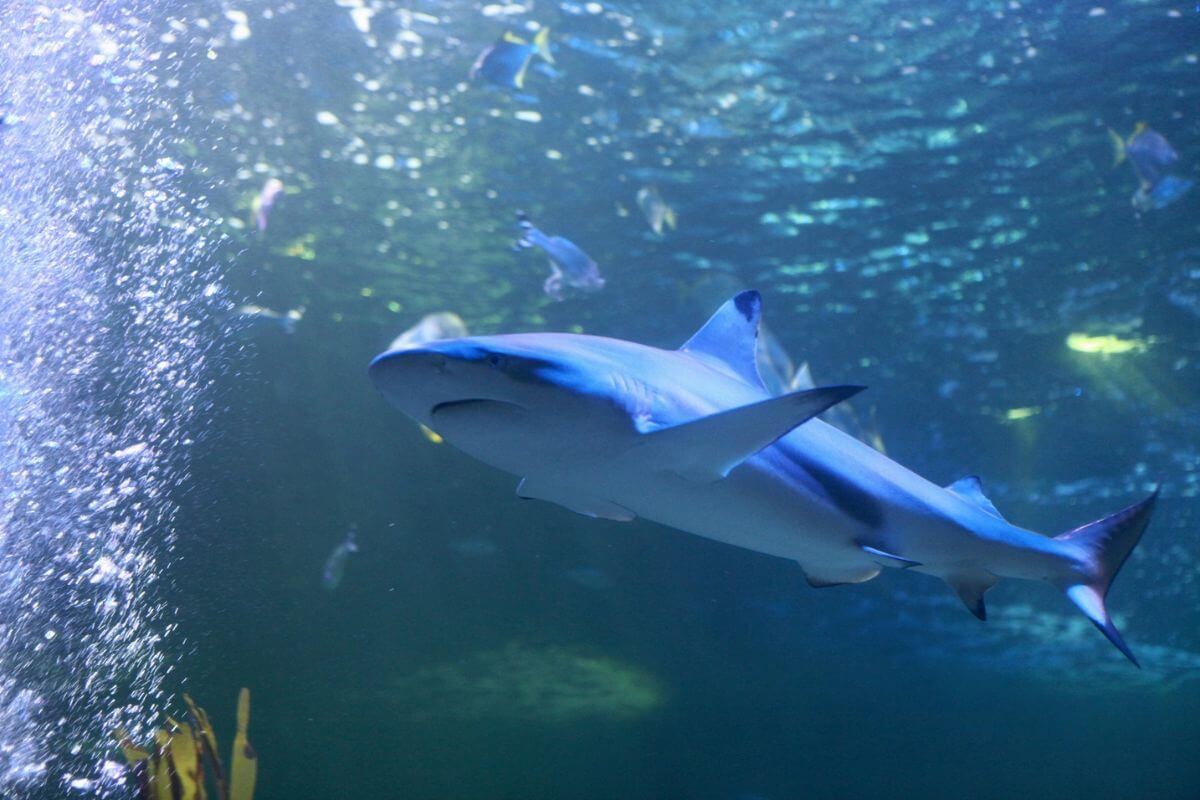 While perusing the 50 dazzling display areas, you'll discover underwater life in recreated habitats ranging from the shallows of the British coast to the Amazon rainforest and tropical ocean depths. Head to the Ocean Tank for incredible sights of colourful fish through floor-to-ceiling windows.
Besides aquatic giants, SEA LIFE is a sanctuary for creatures including eels, jellyfish, stingrays, seahorses, and a famous green sea turtle named Phoenix. Consider yourself a daredevil? You can prove it by snorkelling with sharks. For a slightly less intense animal encounter, you can attend several live feedings throughout the day.
If you enjoy your visit to SEA LIFE Blackpool, you might want to check out more of the best aquariums in England. For rare animal encounters on dry land, head to one of England's best zoos. 
If you're visiting Lancashire for Christmas and want to escape the weather, the SEA LIFE Centre is a great shout!
4. Madame Tussauds in Blackpool
Fancy taking your picture with the biggest names in British TV, film, music and sport? Take some selfies with the eerily lifelike wax figures at Madame Tussauds Blackpool, and nobody will know the difference.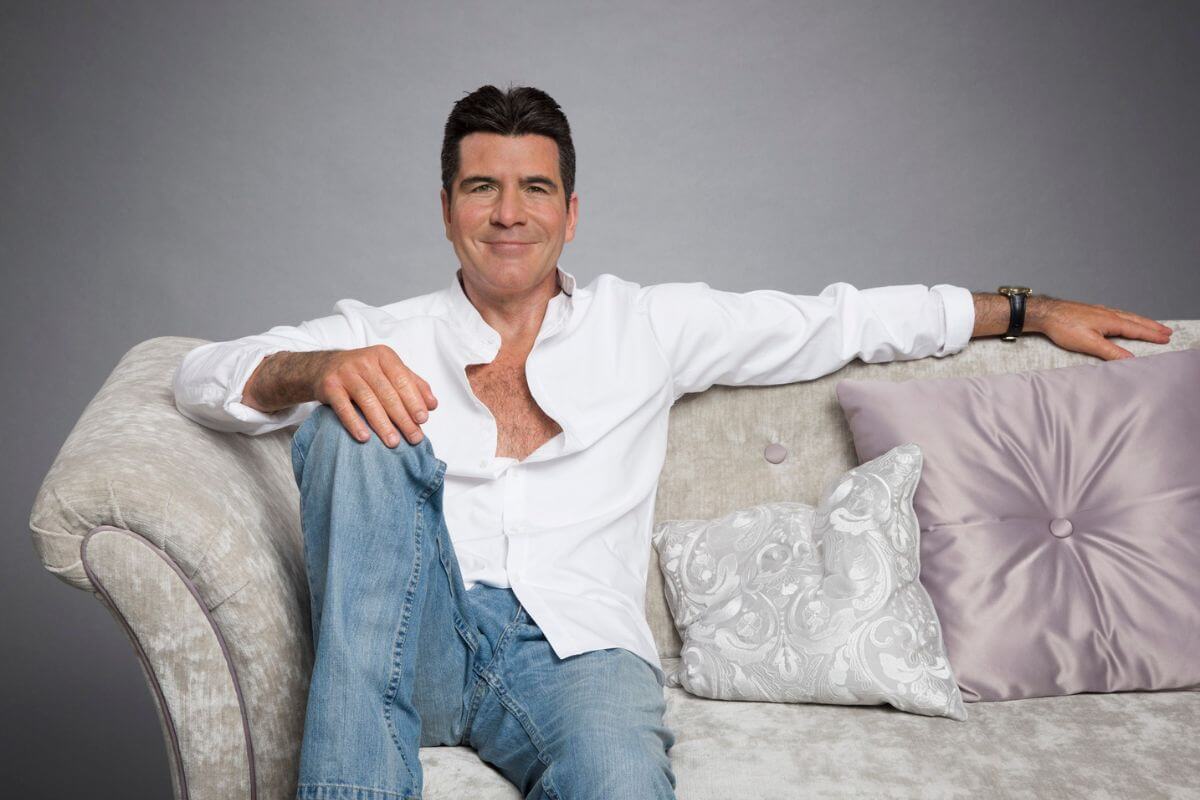 There are over 80 figures on display at Madame Tussauds Blackpool, meaning one of your heroes is bound to be in the line-up.
Some of the most photographed figures include talent show judge Simon Cowell, Olympic star Mo Farah and the late Queen Elizabeth II. There's also a recreated Rovers Return Inn from the soap opera Coronation Street, where you can meet Bet Lynch, Vera and Jack Duckworth, and Diedre and Ken Barlow.
From April until the end of October, Madame Tussauds Blackpool will be open every day. It's one of our favourite Blackpool attractions for families.
BOOK MADAME TUSSAUDS BLACKPOOL HERE
5. The Gruffalo Clubhouse
If you have kids, you'll undoubtedly be familiar with best-selling author Julia Donaldson's The Gruffalo. From May onwards in Blackpool, you'll have the chance to meet your favourite characters from The Gruffalo books.
The Gruffalo & Friends Clubhouse is a multi-million pound interactive indoor adventure ground that's been in the making for 18 months. In the Clubhouse, the little ones can dive into six of their best loved stories. 3D scenes will include the deep dark wood and Princess Pearl's castle.
There'll also be a play area for children aged under ten and a toddler area for adventurous youngsters aged under three. Everybody's catered for on this family day out in Blackpool. Book your tickets for the Gruffalo Clubhouse in advance to save the faff when you get there!
If you want more encounters with the Gruffalo, read about some of the best Gruffalo trails in England that lead you through beautiful countryside vistas and stunning National Parks.
6. Peter Rabbit: Explore and Play
Fancy meeting a beloved children's book character that's been entertaining youngsters for generations? Beatrix Potter's iconic Peter Rabbit has made a home for himself in Blackpool at the Peter Rabbit™: Explore and Play indoor adventure ground.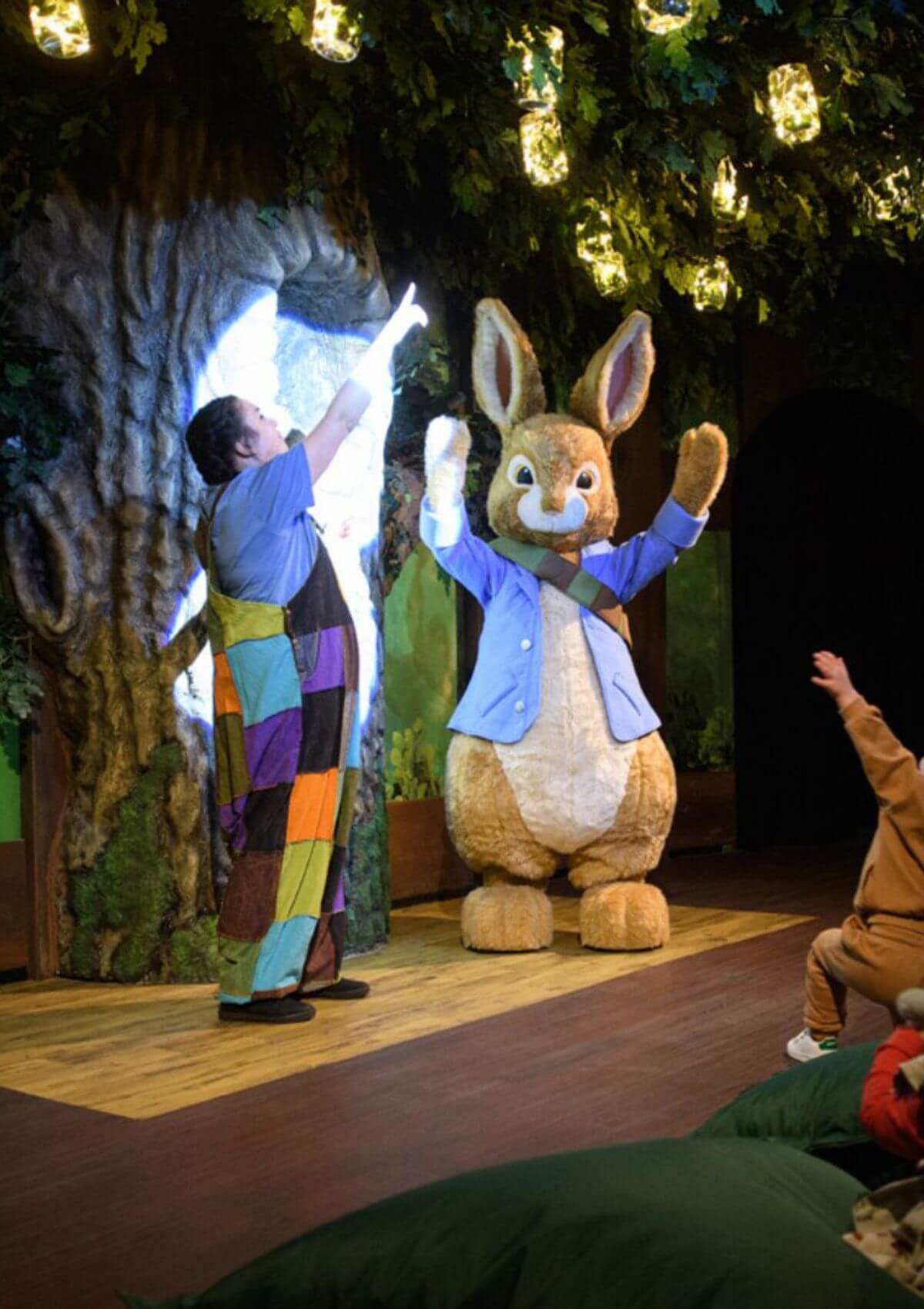 During this 45-minute adventure, you'll explore recreated scenes that include Jeremy Fisher's Pond, The Burrow and Mr Bouncer's Invention Workshop. You'll also meet characters such as Lily Bobtail, Benjamin Bunny and – of course – Peter Rabbit and Mrs Rabbit.
Blackpool days out simply need to include a visit to Peter Rabbit™: Explore and Play, whether you want to treat your kids to a day out or yourself to a kick of nostalgia. You'll find this amazing adventure park next to Madame Tussauds.
If you want to know more about the life and work of Beatrix Potter, you might want to plan a visit to the Lake District to explore the author's former home and favourite viewpoints.
7. Blackpool Pleasure Beach
Blackpool Pleasure Beach has been one of the most popular theme parks in England since opening way back in 1896. In fact, this thrilling beachside attraction is one of the 20 busiest theme parks in the world.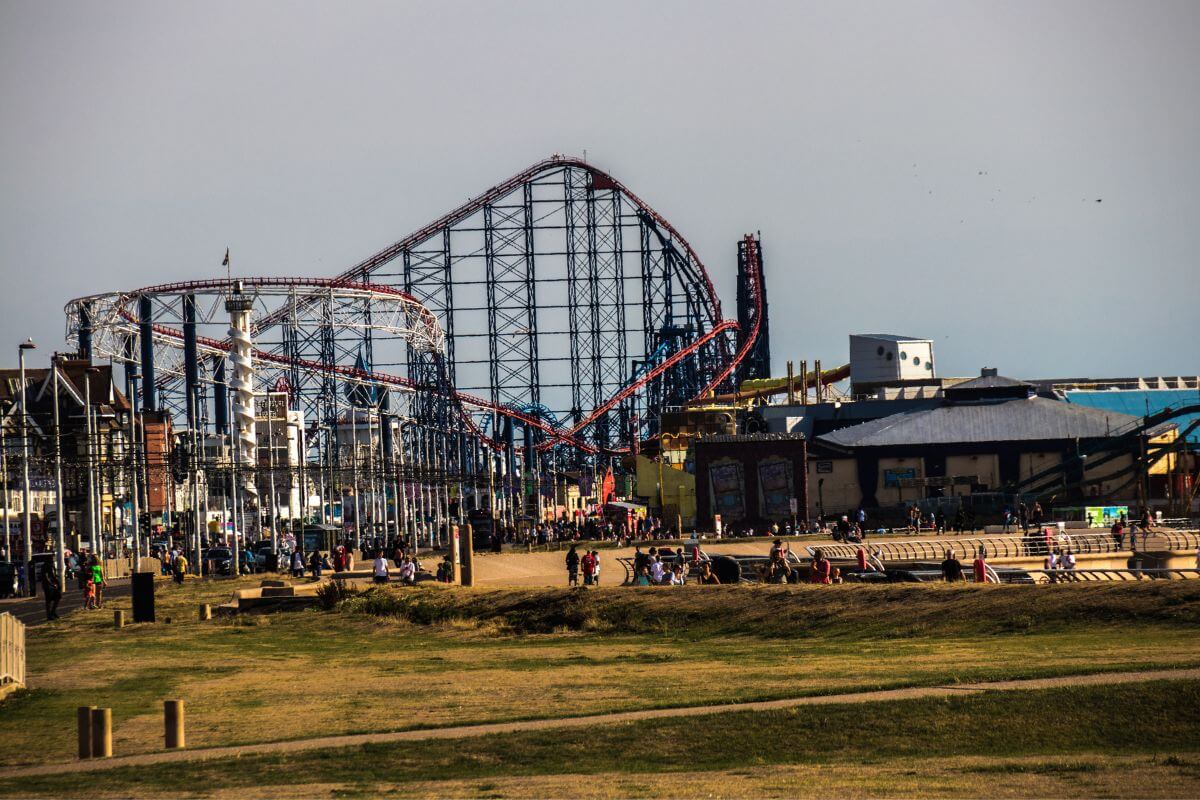 During its lifetime, Blackpool Pleasure Beach has broken numerous records in the UK and Europe. Today, it's home to ten incredible rollercoasters, including traditional wooden ones like the Big Dipper.
When you need a break from the excitement of the rides, you can watch choreographed ice dancing shows and take the kids to Nickelodeon Land. A great thing to do for kids on a day trip to Blackpool!
8. Blackpool Tramway
The Blackpool Tramway is one of the world's oldest tram systems, and one of the only remaining first-generation tram systems in the UK.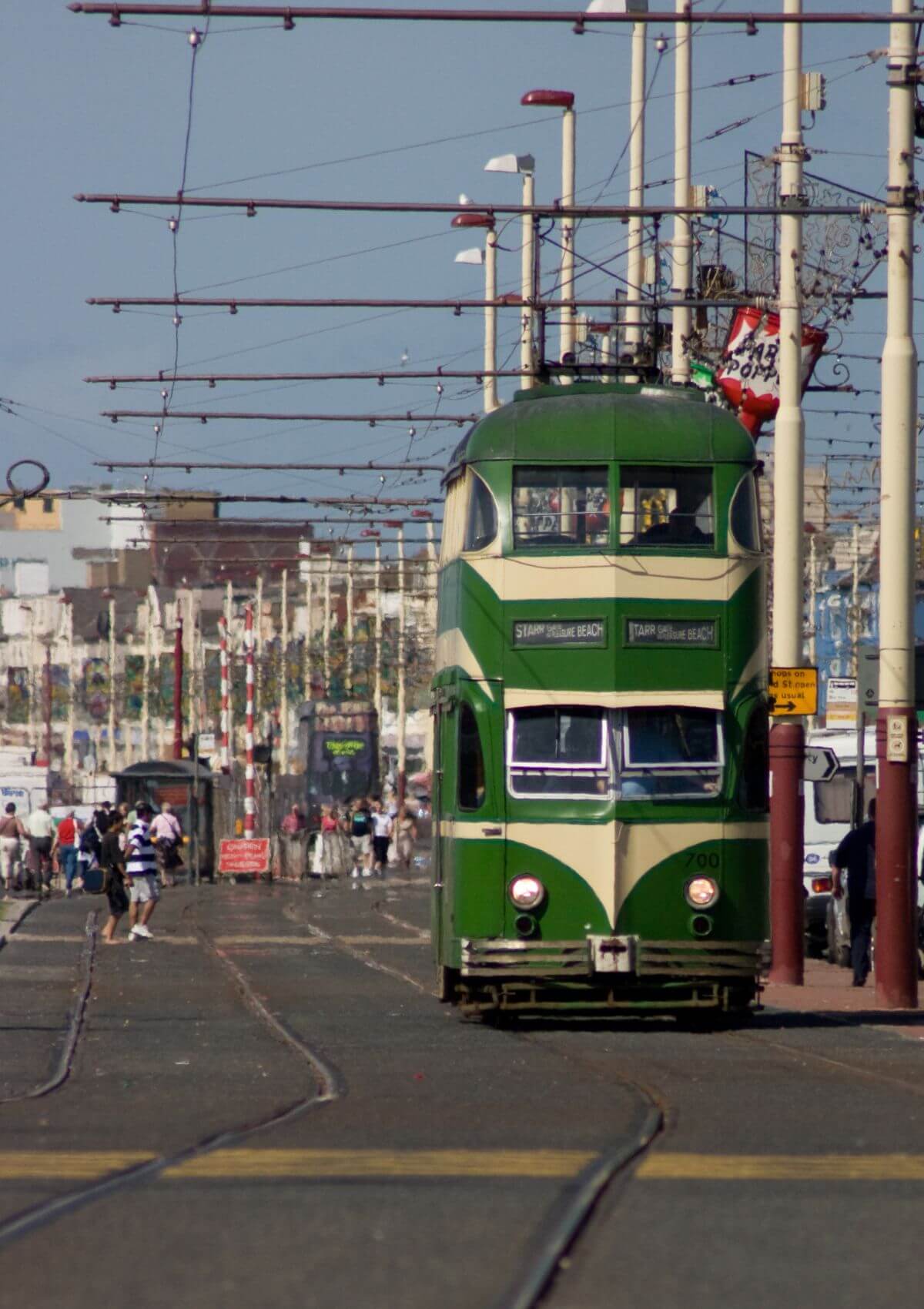 The tram has been running along the promenade since 1885, though new trams that retain a few historic style features were introduced in 2012. If you want a glimpse of Victorian Blackpool, you can ride a heritage tram on weekends and bank holidays.
Day tickets for the Blackpool Tramway start at £6.60. You can also get a seven-day pass for under £20.
9. Blackpool Beach
Blackpool Beach is now one of the most glorious beaches in England. It may not have had the best reputation towards the end of the last century, but improvements in cleanliness and facilities have earned it Blue Flag status today. It's a great stop for a Blackpool day trip.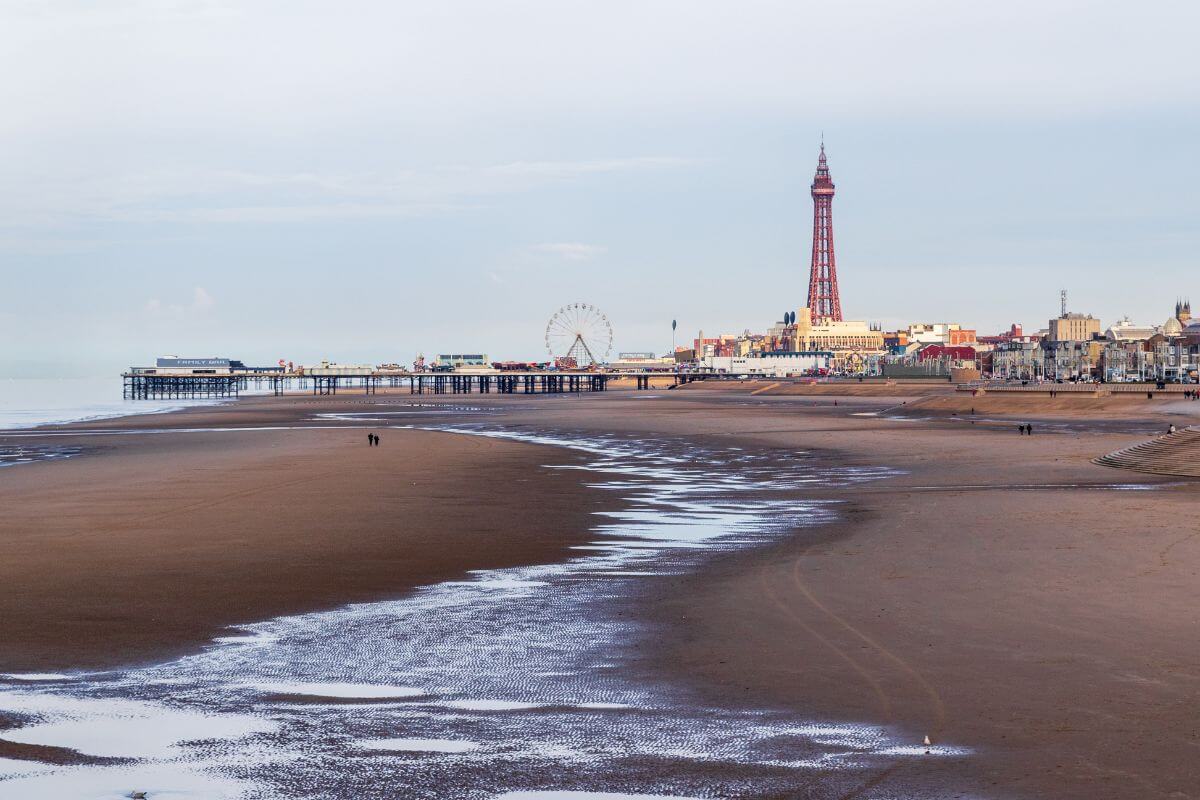 Blackpool activities here include everything you'd expect from a quintessentially British seaside resort, including donkey rides, paddling and sandcastle building.
The beach itself is hundreds of metres wide when the tide goes out. When you need a break from sunbathing, you can head to the arcades and entertainment venues on the beach's three historic piers.
10. Stanley Park
Stanley Park provides you with a retreat from the glossy arcades along Blackpool's promenade. Spanning 260 acres, Stanley Park is home to lots of activities that make for an amazing family day out in Blackpool. There are also a couple of striking buildings that history buffs will appreciate.
Some of the best Blackpool activities for families at Stanley Park include boating on the lake and riding the miniature train. Other attractions include crazy golf, bumper boats, trampolines and electric cars.
If you want to get out of the sun for a while, grab a coffee at the Art Deco café that overlooks the Italian Garden's beautiful marble fountain and collection of statues.
If you love strolling through manicured outdoor spaces, don't forget to check out England's biggest and best gardens.
11. North Pier in Blackpool
Constructed in 1863, North Pier is Blackpool's oldest pier and only English Heritage pier. It extends about half a kilometre into the ocean, from where you can take in scenic views of Blackpool Beach and the promenade. For families, North Pier is home to traditional arcades and an Art Deco theatre.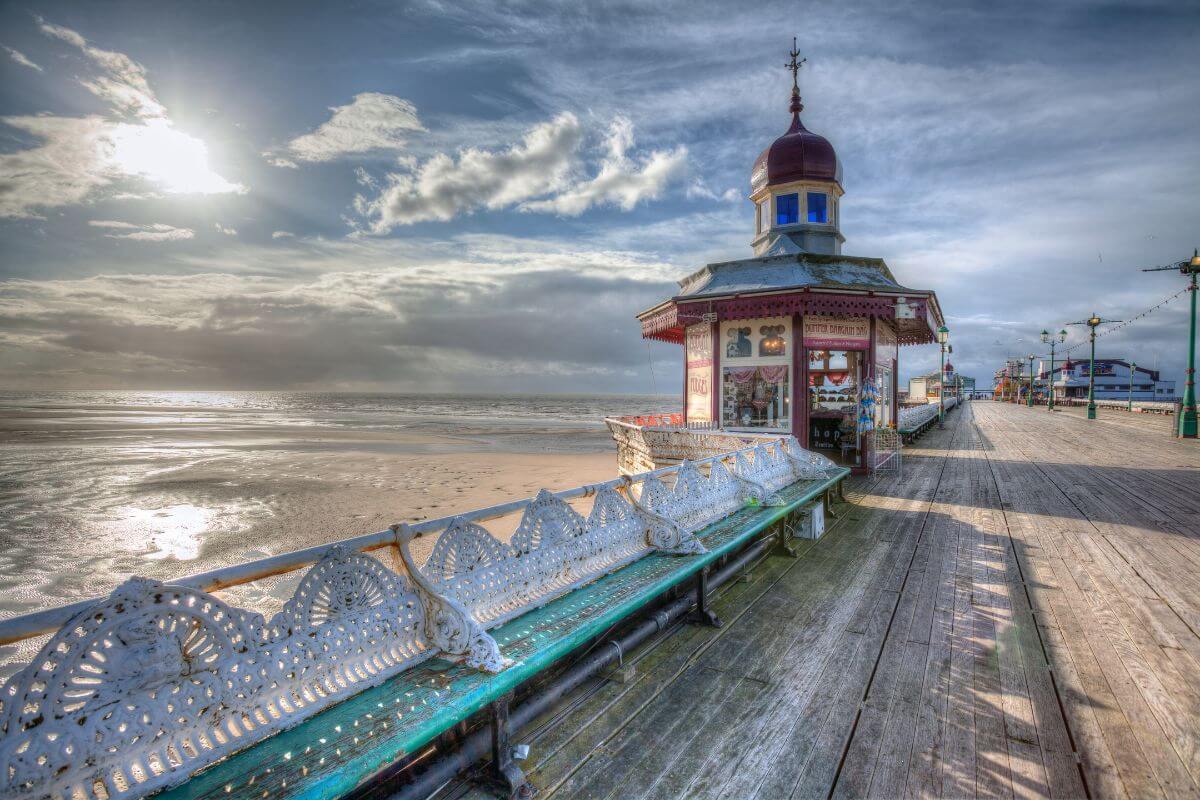 Some of the most notable features of the North Pier include a 1960's arcade, a two-tier carousel and a Victorian tearoom. There's also a cosy beer garden at the Carousel bar. If you're planning a family holiday in Blackpool, you should spend an hour or two exploring the North Pier.
What are your favourite things to do for a Blackpool day trip?
Blackpool is easily one of the best places to visit on a day out in Lancashire. It has everything you could possibly want from an English seaside resort, including an award-winning sandy strip complete with a Victorian promenade, traditional arcades and exhilarating theme parks.
On top of all the Blackpool attractions listed above, notable sites also include the Sandcastle Waterpark (one of the best water parks in England), the Central Pier and Blackpool Zoo. The list could go on and on… and on.
Have we missed any of your favourite things to do in Blackpool for a day trip? Let us know in the comments below.
Quick list of best things to do in Blackpool
The Gruffalo Clubhouse
Peter Rabbit: Explore and Play
Blackpool Pleasure Beach
Blackpool Tramway
Blackpool Beach
Stanley Park
North Pier
Enjoy your day trip to Blackpool!
---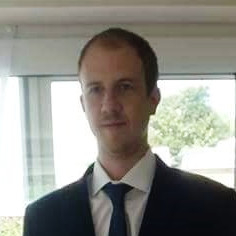 Latest posts by Josh Saunders
(see all)