There are some great day trips from Portsmouth to enjoy. If you live in or around the city, it's time to brave those exit roads and explore the vicinity. And if you're on holiday, then make the most of the nearby gems Hampshire has to offer!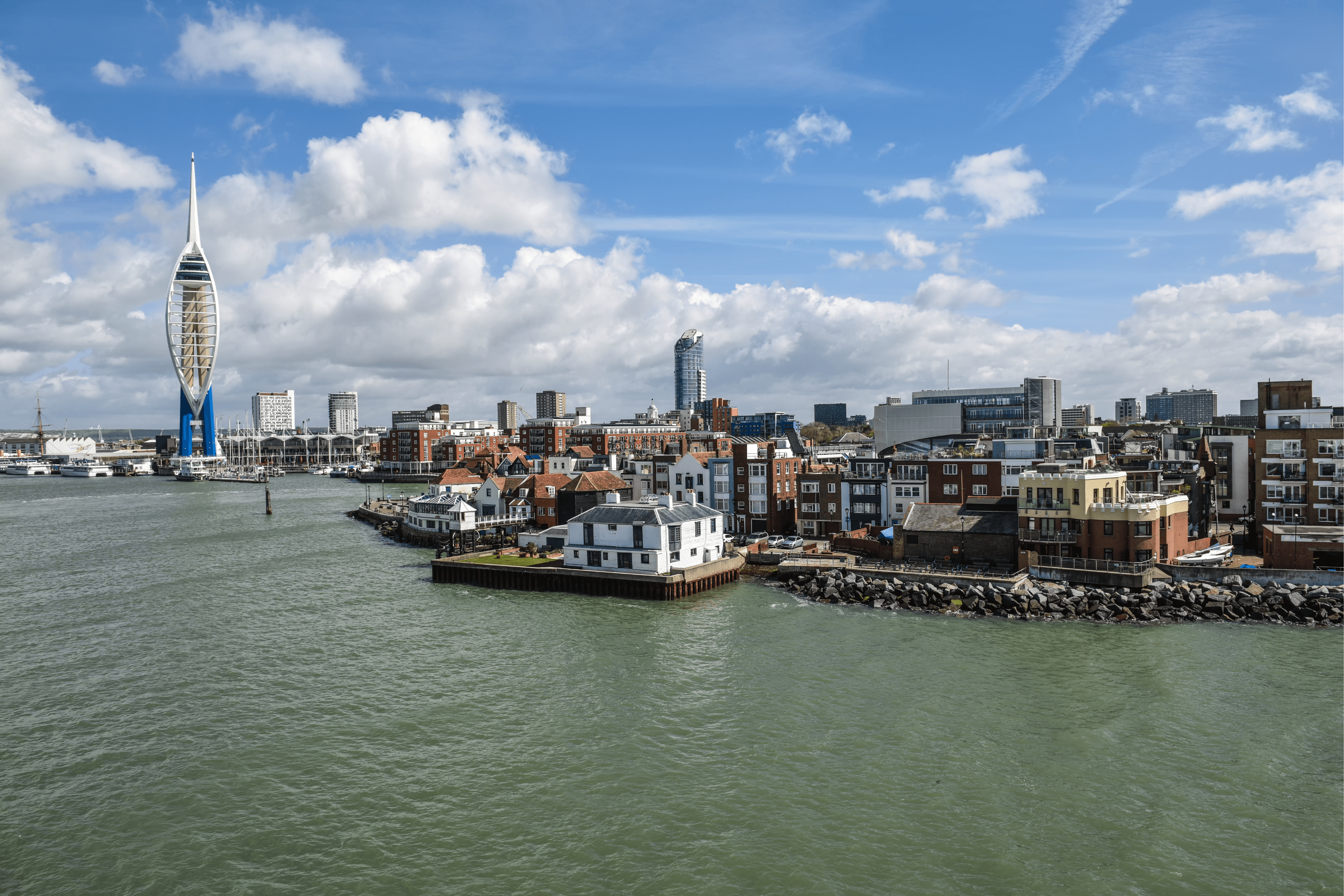 You can do SO much in 24 hours in Portsmouth; go up the Spinnaker Tower, shop 'til you drop at Gunwharf Quays, explore one of the many museums like the Mary Rose Museum, or whatever else takes your fancy! If you're looking for things to do on your Portsmouth trip, this is the best itinerary for a day out in Portsmouth.
But if it's time to enjoy a day out a little further away, then you're in luck. The city is surrounded by fantastic day trips from Portsmouth, where you can take any time with the whole family, with things to do to suit all tastes and budgets.
Whether you're looking to head just 15 minutes up the road or happy to drive up to an hour to explore a little further, we've rounded up the very best day trips from Portsmouth. 8 of them, to be exact! So bookmark this list and come back to it any time you're ready to load up the car and check out what's beyond the Portsmouth horizon!
The Best Day Trips from Portsmouth
If you're looking for the best days out from Portsmouth, read on!
1. West Wittering from Portsmouth
Travel time: Around 30 minutes by car
You really can't beat a good beach!
We Brits flock to the seaside on any given sunny day, and in Portsmouth you have quite a few nearby. Most are pebble beaches, and while that's always nice for a walk around, if you want to lie out it's really a sandy beach you want, West Wittering has that covered.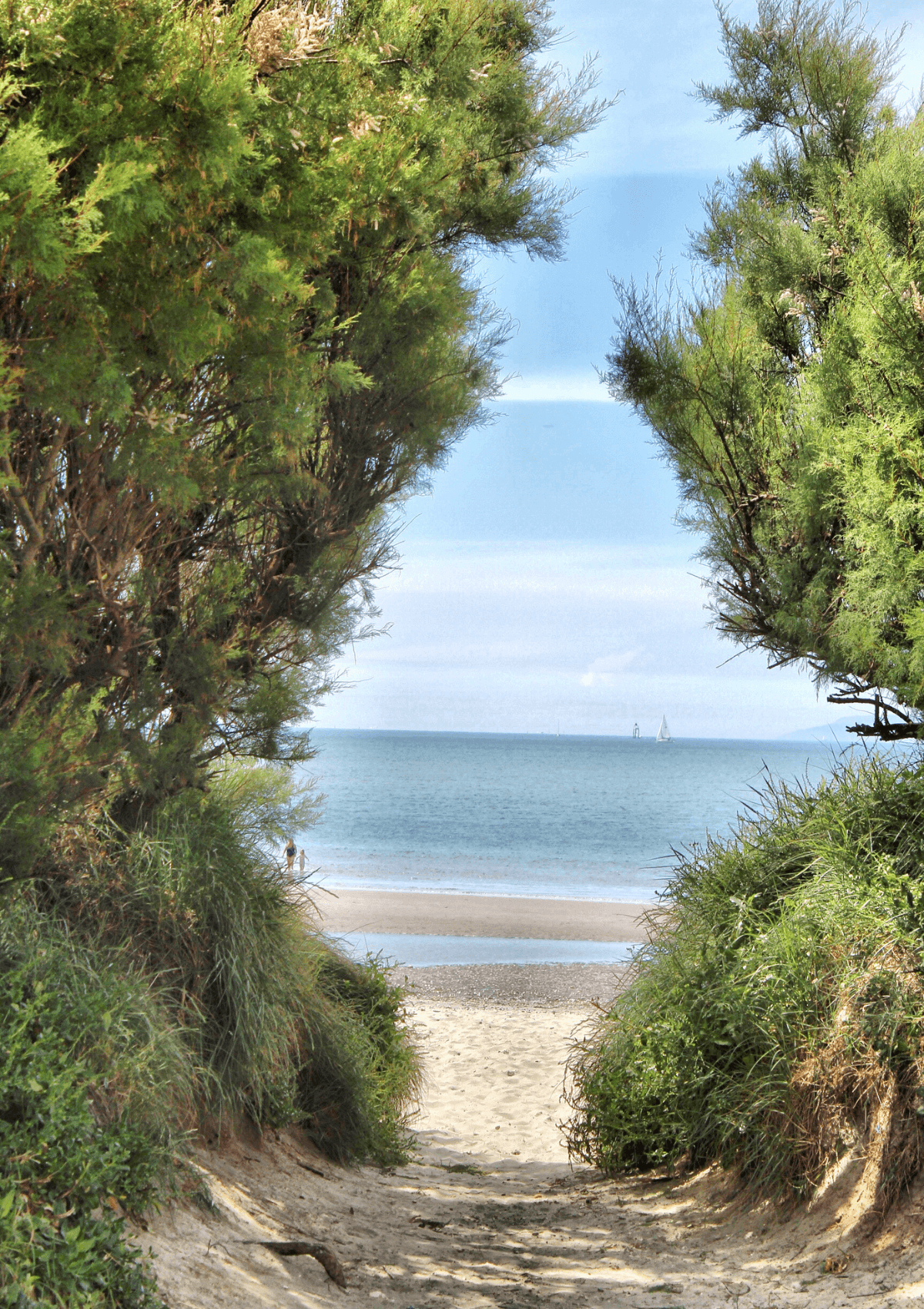 This really is the definition of a hidden gem, especially in England when white sandy beaches are rare. The beach is kept very clean, and in summer it's a hot spot for everyone in the area which means it can get busy. Even if you're not going when it's sunny though, you'll enjoy taking part in the activities they have going on down there.
You can do standup paddleboarding there any time, and other water sports are permitted at certain times of the year. You can also swim in the designated areas. If you're not sure where this is, the beach has lifeguards that can point you in the right direction. There's also a great little cafe on the beach to grab a snack and a drink, so you can come and enjoy the beach for the whole day.
This is one of the best day trips from Portsmouth on a sunny day, so grab your sunscreen, a bottle of water, and maybe some towels to lie out on, and you're sure to have a brilliant day out.
2. Arundel Castle from Portsmouth
Travel time: Around 40 minutes by car
Driving past Arundel Castle is like driving into a fairytale, so if you're looking for things to do near Portsmouth, this is a seriously magical day out that's just 40 minutes away by car.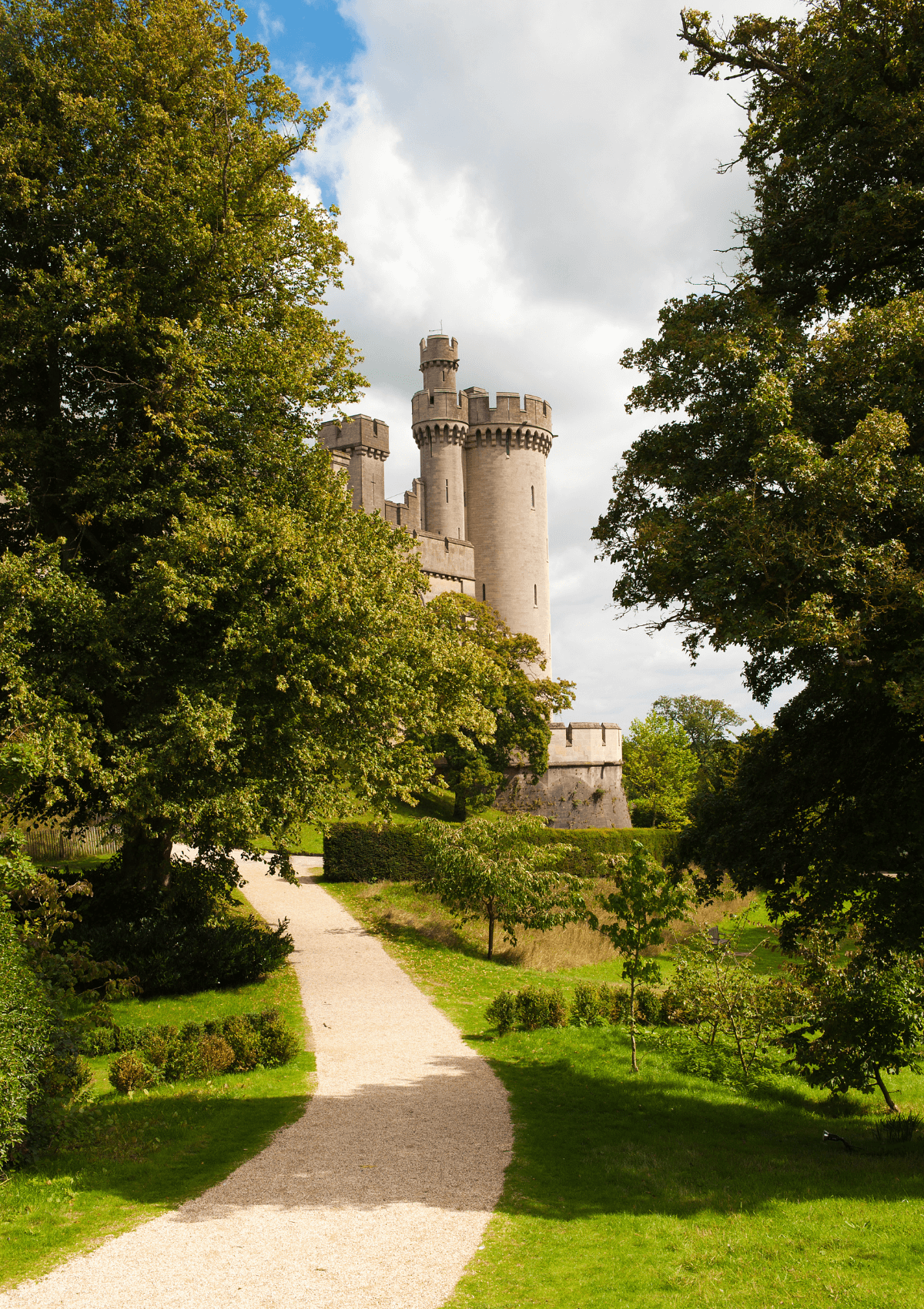 Arundel Castle and Gardens are stunning just to view from the outside, but it's also a great day out for visiting whether you love history, architecture, or you're looking to bring the kids along for some medieval fun.
The castle dates back as far as 1067 and has been rebuilt over the years, although many of the original features are intact such as the Norman Keep, medieval Gatehouse and Barbican. With its stunning Gothic architecture, the castle is considered to be one of the most impressive historical buildings in England. On your visit you'll see paintings, tapestries, gorgeous gardens, and much more. Plus the town of Arundel is lovely so you can go grab dinner at a nearby restaurant afterwards and chat about everything you learned in the castle.
This is on our list of 17 fascinating castles in England to visit, and it's one of the best day trips from Portsmouth for history lovers. Keep an eye out for the upcoming events here, such as the International Medieval Jousting Tournament which will transport you back in time — an edge-of-your-seat event!
3. Chichester from Portsmouth
Travel time: Around 25 minutes by car
Chichester is a very underrated city in England that deserves some time and attention, and luckily if you're in Portsmouth you're only around 25 minutes away by car. Point yourself in the direction of the iconic Chichester Cathedral and make your way to one of the best day trips from Portsmouth.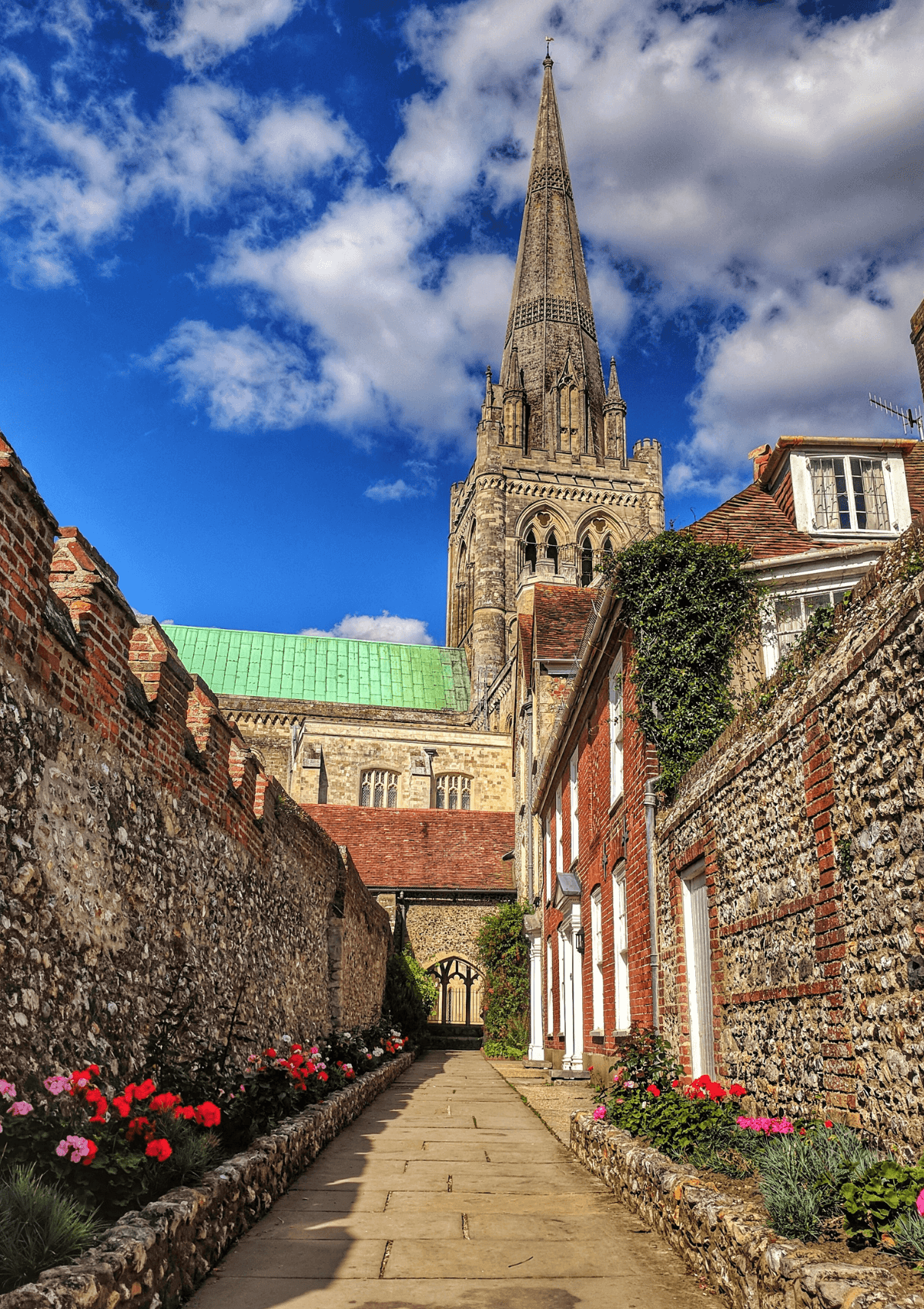 There's loads to do in Chichester, and from its stunning scenery to its historic buildings you could easily walk around the city all day just taking it all in. Walk the City Walls and Bishop's Palace Gardens, visit the Fishbourne Roman Palace and the Weald & Downland Living Museum, or why not go the whole hog and do the best itinerary for a great day out in Chichester.
If you're taking the kids, the South Downs Planetarium & Science Centre could be a great place to stretch their imaginations, and Priory Park is a lovely spot for a picnic and throwing a frisbee around to burn some energy before heading home.
And of course, Chichester is perhaps best known for being the home of Goodwood. Sports fans will enjoy a trip to this famous circuit, especially if there's a big event on.
4. Beaulieu from Portsmouth
Travel Time: Around 45 minutes
Beaulieu is a little village in the New Forest with a lot of charm. It's one of the prettiest places you can travel to within an hour from Portsmouth. A walk around the high street alone is well worth the journey, but there are a few more things to do in Beaulieu to make it a great day out for the whole family.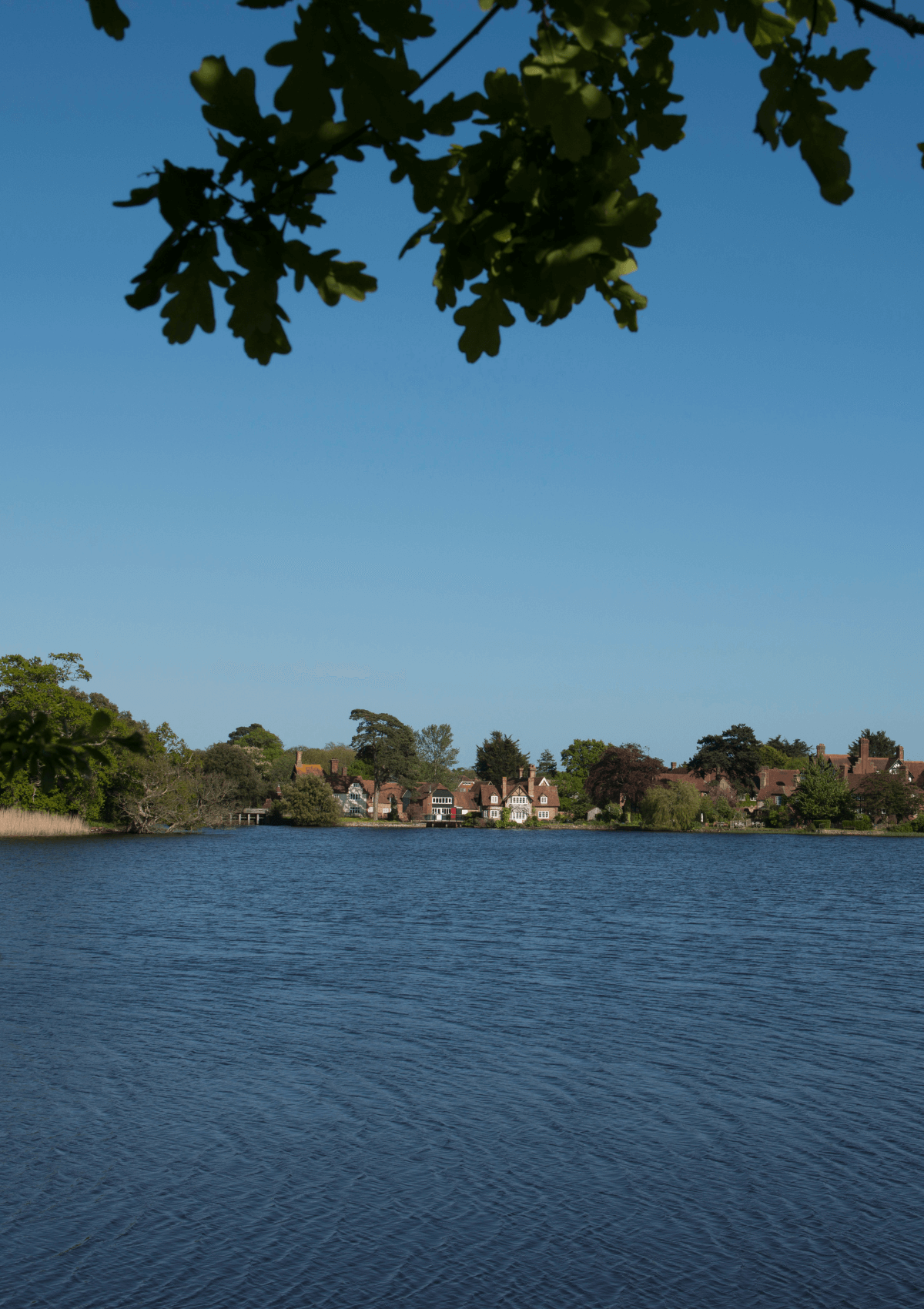 Apparently Beaulieu in Latin means 'Bellus Locus', which means 'beautiful place' — has there ever been a more fitting name for a village? You can take it all in as you walk along the Beaulieu River, and stop at The Beaulieu Bakehouse for tea and some cake.
If you've been to all the museums in Portsmouth and you're looking for something a bit further away, Beaulieu Motor Museum is a must-visit whether you're a motor-enthusiast or not. They put on tonnes of car events throughout the year, so keep an eye on their calendar to see the vehicles you might catch a glimpse of on your day trips from Portsmouth.
5. Portsdown Hill Viewpoint from Portsmouth
Travel Time: Around 30 minutes by car
Looking to go a long walk somewhere outside of Portsmouth?
You won't find better than Portsdown Hill Viewpoint, which has a stunning view of the water that you have to see to believe. Stretch your legs, get your step count up, and don't forget your camera!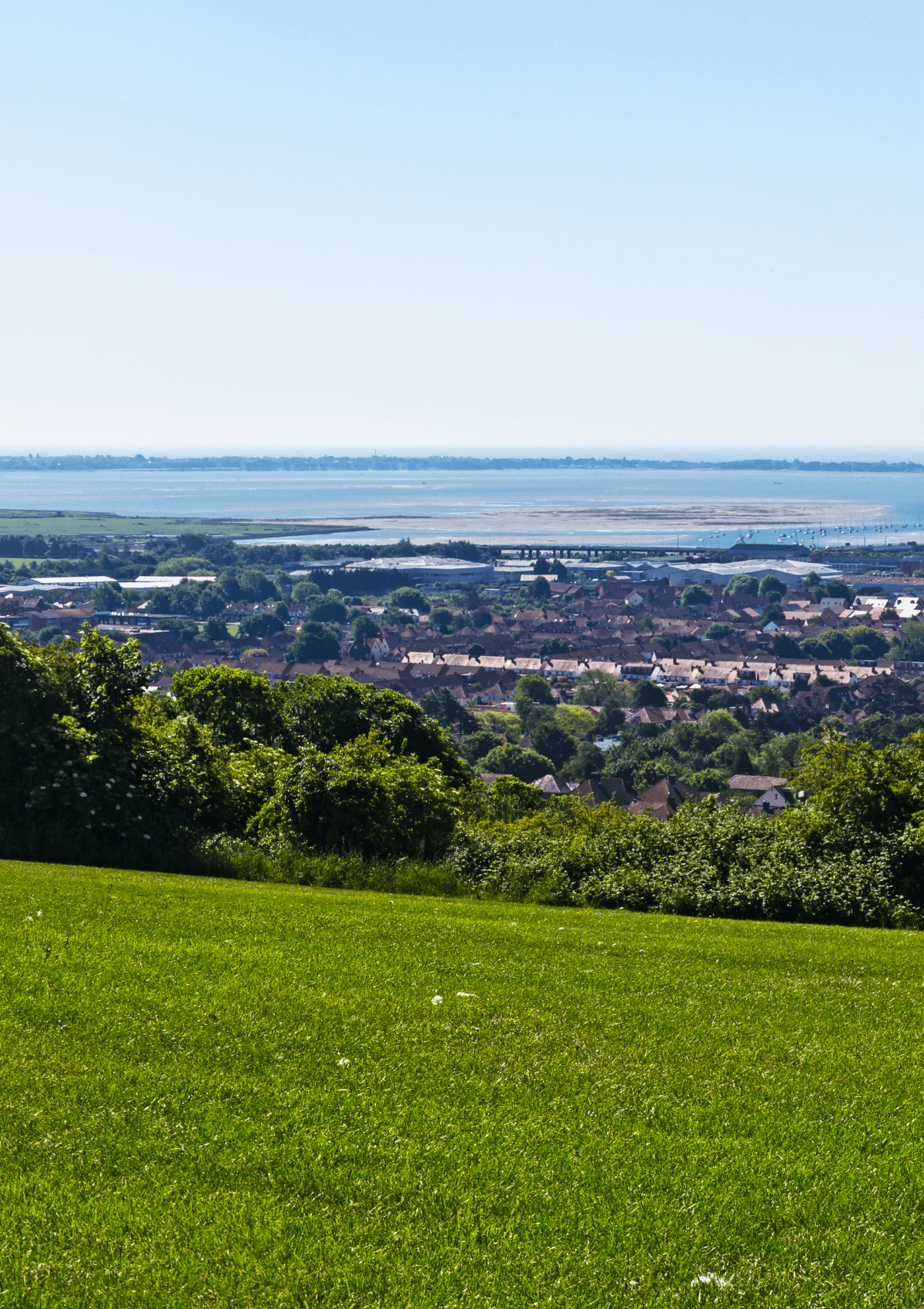 There's a free car park near the viewpoint so you can stop there for a while and head out to do your walk. At this epic viewpoint, if you're really lucky and it's a clear day, you might just enjoy views of the Isle of Wight, the Solent, and even all the way back to Portsmouth! See if you can spot the Spinnaker Tower.
If you get peckish, there are usually food vans with snacks and ice cream parked up nearby, so you're sure to have a lovely day there. Or, stop in at The Churchillian Pub for some tasty pub grub at decent prices. This is one of the best day trips from Portsmouth if you love to get out in the great outdoors.
6. Hayling Island from Portsmouth
Travel time: Around 20 minutes
Hayling Island is a mere hop, skip and a jump from Portsmouth, so it's definitely worth adding to your list of places to visit near the city. Whatever time of year you decide to go this is a great day out, as there are plenty of things to do in this traditional English seaside location.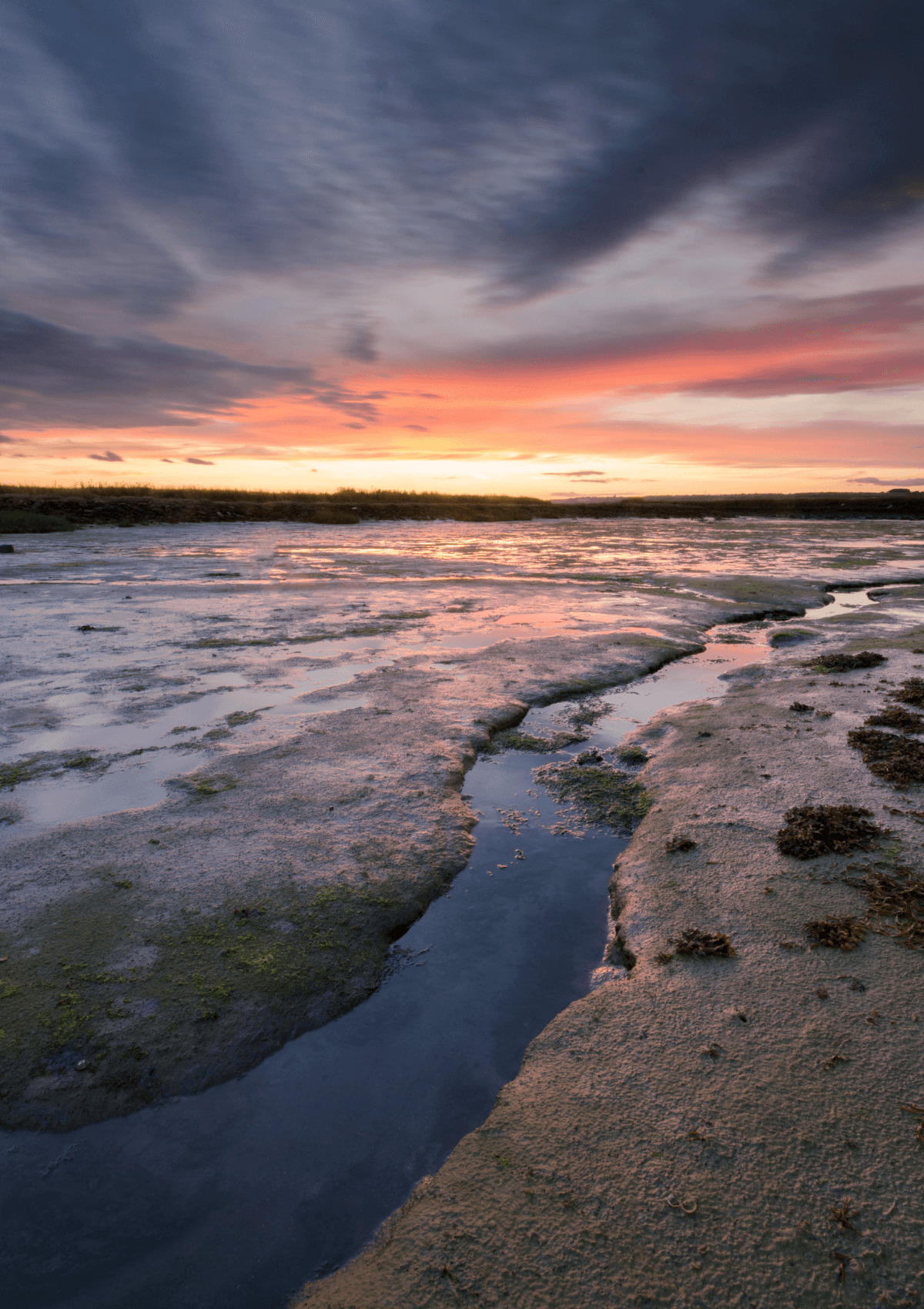 From its coastal views to its sand dune walks to its epic sunsets, Hayling Island has it all if you're looking for some seaside nature on a day out, and it's easy to get to via the Langstone Bridge crossing. Check out the Sandy Point Nature Reserve, take the kids to the Funland Amusement Park for some good old fashioned fun, and end your day with a traditional English fish 'n' chips (they have some of the best there!)
If you're into golf, Hayling Golf Club could be a perfect day out for you. You'll play on a gorgeous green overlooking the ocean… what could be better?!
Whichever of the many things to do on Hayling Island you end up doing, it's easily one of the best day trips from Portsmouth.
READ MORE: How to Walk Round Hayling Island
7. Port Solent from Portsmouth
Travel Time: Around 10 minutes by car
Shopping lovers… assemble!
Port Solent is thee place to go for your day trip from Portsmouth if you need a little retail therapy (and some delicious food to go with it). This waterside wonderland is packed with great shops, lovely restaurants, and much more to do on your day out whether you're bringing the whole family along or going for some 'me' time. And it's all only 10 minutes from Portsmouth.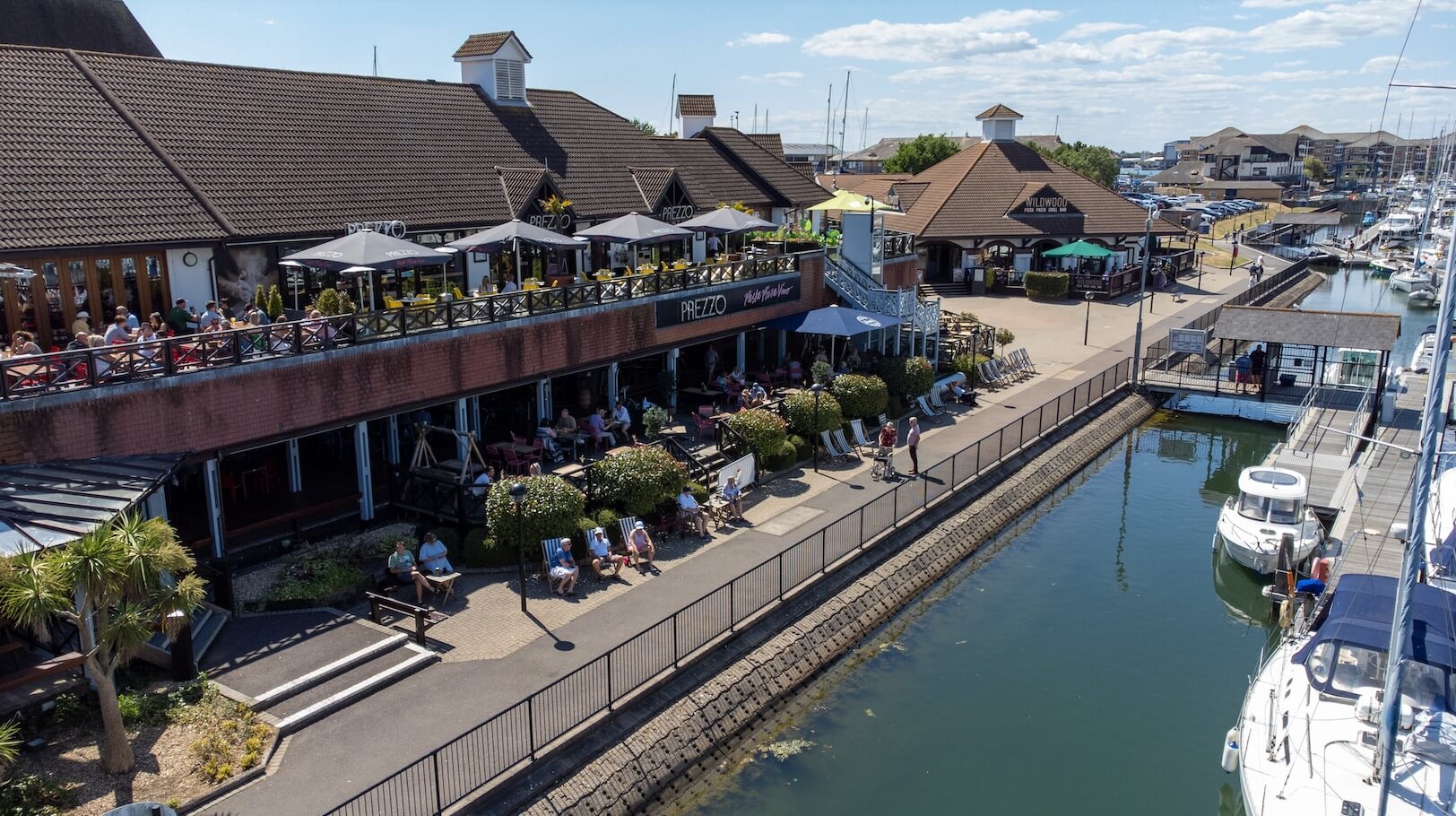 With free parking, you can really make a day of it at Port Solent. You can do it all there; hit the gym, swim in the pool, pop the kids in the onsite crèche, shop 'til you drop, head to the Odeon cinema, and finish any day trips from Portsmouth at one of their great restaurants offering cuisine options from around the world.
The award-winning Premier Marina is a lovely place to wander around by the water at night too, so we'd say this is a top notch choice for your next date night if you're looking for a romantic spot.
If you want some good shopping closer to the city, then check out Gunwharf Quays on the edge of Portsmouth. It's got some of the best outlet shopping in England.
8. Isle of Wight from Portsmouth
Travel Time: About 1 hour 15 minutes by car/ferry, but 20 minutes by hovercraft
The Isle of Wight is well-known for being one of the best destinations in the south of England, no matter what kind of holiday you want to go on. At just an hour and 15 minutes away from Portsmouth when you take the car ferry, it really is a must-see spot. If you want to get there even quicker, and on foot or bike, you can take the hovercraft from Clarence Pier in Southsea.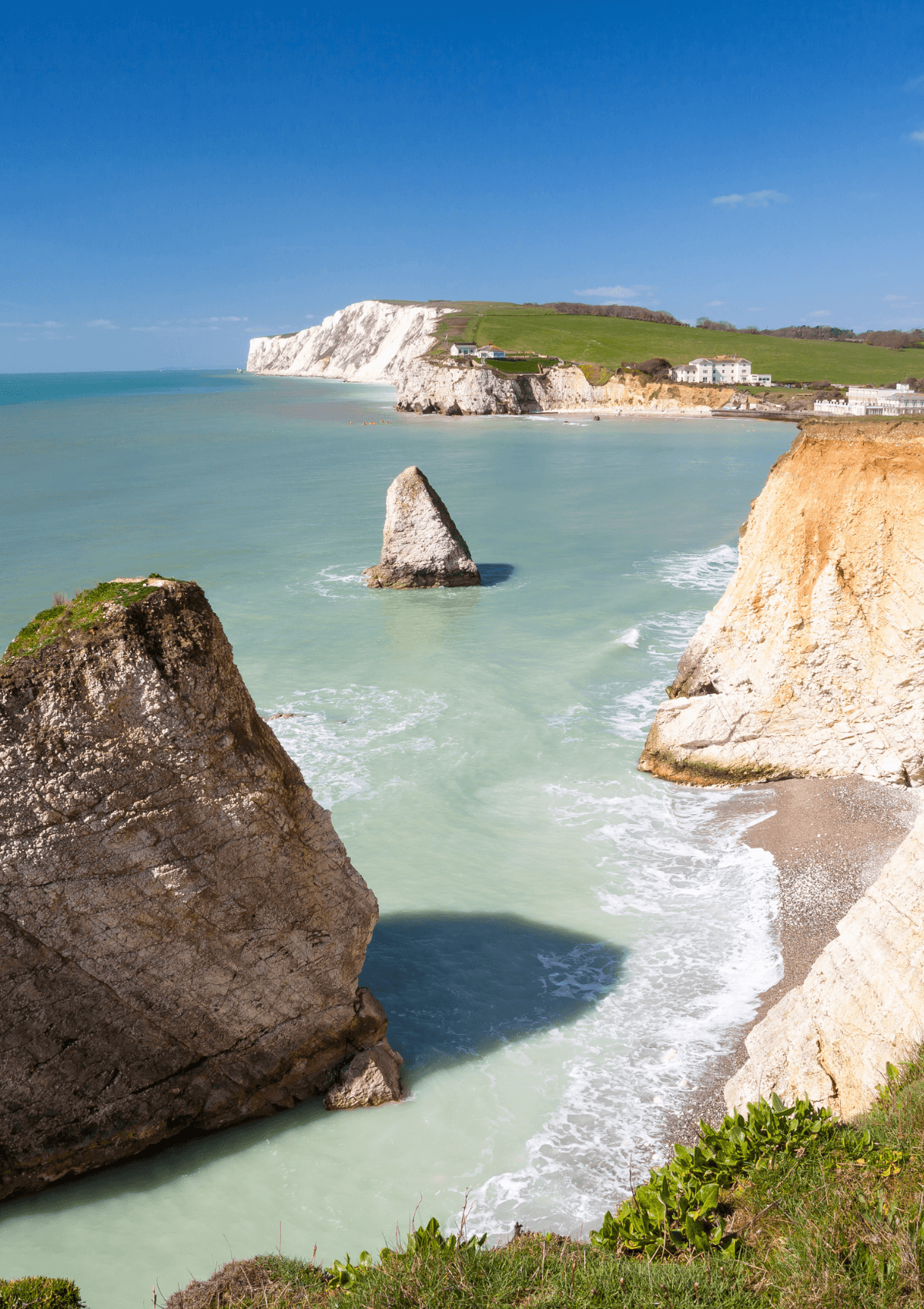 During summer on the Isle of Wight you might believe you're somewhere exotic taking in the beautiful seaside scenery, but it's right on your doorstep when you're looking for day trips from Portsmouth.
You can stay in Ryde where the ferry comes into (here's what to do for an awesome day out in Ryde) and explore the area from there, or head to either Sandown Beach or Shanklin Beach for some waterside activities, or check out some of the many kid-friendly attractions on the island. There are multiple animal rescue sanctuaries there, such as the Monkey Haven Primate Rescue Centre, the Donkey Sanctuary, and Wildheart Animal Sanctuary.
If that's not your thing, head to the Model Village at Godshill, the steam railway station, or one of these great days out on the Isle of Wight. If you want to stay overnight, there's lots of excellent glamping spots there too.
8 Best Day Trips from Portsmouth
Already dying to get going on one of these great day trips from Portsmouth?
Bookmark this page and come back to it to try all 8 of these amazing spots. There's just too much to do near Portsmouth and not enough time, so multiple days out are needed! If you discover any more great places in the area let us know so we can keep this list updated.
Have fun on all your wonderful day trips from Portsmouth!
Quick list: 8 of the Best Day Trips from Portsmouth
West Wittering from Portsmouth
Arundel Castle from Portsmouth
Chichester from Portsmouth
Beaulieu from Portsmouth
Portsdown Hill Viewpoint from Portsmouth
Hayling Island from Portsmouth
Port Solent from Portsmouth
Isle of Wight from Portsmouth
---