8 Great Days Out in the Cotswolds
The biggest problem you'll have is actually choosing which days out in the Cotswolds to go with. With all those picture perfect villages to explore, it can seem quite overwhelming to put your Cotswolds itinerary together!
I've had more than a few days out in the Cotswolds in my time, so I'm here to help you decide which one to choose.
The Cotswolds covers quite an expanse in England. It's such a large Area of Natural Beauty, it covers the five counties of Oxfordshire, Gloucestershire, Warwickshire, Wiltshire and Worcestershire.
The Best Days Out in the Cotswolds
1. Day out in Winchcombe
Park up on the side of the road – free for an hour – and headed off into the village of Winchcombe.
All signs pointed to Sudeley Castle, literally.
So after walking through the cute streets, shop and houses of Winchcombe, we walked up the path to the star attraction. Unfortunately it was £17 each to get in, and we only had an hour on the car, so after the nice walk, we decided to turn back.
Sudeley Castle is the main thing to do in Winchcombe though, and I would've loved to look round. Obviously, all the more reason to go back. Maybe next time it'll make it onto our list of the best castles in England.
---
2. Day out in Broadway
Visiting Broadway was when I realised that the Cotswolds had a lot of cool places I wanted to see more of. I'd assumed it was just a few cool villages, but seeing Broadway made me realise there was a lot in the Cotswolds I wanted to see.
I didn't actually take any pics here, as we were in and out, but you'll have to trust me when I say it was one of the most picturesque of all the Cotswolds villages we went to in the three days. Also, one of the most underrated. Broadway is one of the best places to visit if you're looking for places to go for Christmas in the Cotswolds.
We went up to Broadway Tower, seeing as it kept coming up as a 'top thing to see in the Cotswolds'.
It was so windy!
It cost £5 to go in and up the tower, which we actually decided not to do as we couldn't see the benefit over what was already an impressive view from the top of the hill. Just being up there was enough for us.
There's a nice little coffee shop here, which was totally rammed on the day we visited. Lovely place for a brew and a bit of cake though.
3. Day trip in Chipping Campden
Chipping Campden wasn't on my original Cotswolds road trip plan, but, seeing as it was some important Liverpool football match it was the only place I could find a pub that was showing it. We ended up at the Red Lion – a really, really nice pub. There was a special barn room out the back with a huge screen in for the footie fans.
We ordered a snacky lunch between us – the chips and pulled pork was yum. I'll admit I'd gotten over excited at the dandelion and burdock chicken wings and ordered them, even at £7. They weren't quite the portion I wanted, so if you go, focus on the chips instead.
We had a little look round Chipping Campden, and it was yet another wonderful village with cute houses, cute signs and independent places to eat and drink. Loved it!
4. Day trip to Stow-on-the-Wold
Google 'Stow on the Wold' and the top thing to do seems to be to go and look at a door. We actually forgot about this and pootled around the shops instead.
We shared a passionfruit cake at the Hive Cafe, which was great. Such a lovely business and after Ben and I had been discussing how we thought cake was overrated, we proved ourselves wrong with this. It was moist and delicious.
No exaggeration to say it was the best cake I've had for YEARS.
You can park for free on the road in Stow on the Wold, but after 3pm you can go to the bottom of the village and there's a big car park there that's free after 3pm.
Stow on the Wold is a great place to stop for a drink, and if it was closer to summer, we would've loved to hike too.
---
Where to stay in the Cotswolds
There are more pretty villages to discover in the Cotswolds on a road trip, and to be honest, I don't think you can go wrong. But, we decided to crack on and go and enjoy the spa at the De Vere Cotswold Water Park, where we were spending the night.
We got a great bargain here, with a £79 price tag. For that we got a night's accommodation, and access to their spa, which was the main reason I booked here to be honest.
We arrived at 6pm and headed straight over to the spa.
There's a pool, a steam room, a sauna and a bubble bath and therapy shower too. It was pretty busy in the evening, although we still had plenty of space. It was nice and felt a bit like we were on holiday in a hot country, with people lying on the sun loungers and mooching about in their swimmers.
There were less people when I went over at 7:30am the next day if that's your worry.
The only downside at the De Vere Water Park was that we hadn't booked into one of the restaurants there, and they were both full. We ended up having to eat at the bar with everyone drinking on a Saturday night. There weren't many options.
I ended up with chicken tikka masala and Ben had chilli.
They were alright, or would've been for half the price. Each meal was £16.
If you book at the De Vere Cotswold Water Park for your Cotswold road trip, make sure to book into the on site pub – The Boathouse, too.
As well as the restaurants and bar, and spa, there's also some really nice walks around the De Vere Cotswold Water Park you can enjoy.
---
4. Day trip to Cirencester
Lurrrrved Cirencester.
It felt like the most populated of the villages we saw and had a few shops like Joules and White Stuff too. We actually just went straight for breakfast at Jack's as we decided to see Cirencester, rather than eat around the De Vere Cotswold Park.
Jack's turned out to be an excellent choice.
We both went for the breakfast bowls, over the traditional breakfast items on the menu. Black beans, tostadas, poached eggs and tasty, tasty chorizo too. Need to try and recreate this at home. The coffee was spot on too.
This was my favourite meal of my three days in the Cotswolds.
We wandered around Cirencester afterwards. We saw The Fleece, one of the top places to eat in the Cotswolds, according to the internet and there's a lovely big church too. Had a little look in Accessorize and treated myself, and picked up a few essentials in Boots.
You can park at The Forum in Cirencester for free on a Sunday, or after 3pm. Free day out!
6. Day trip to Barnsley
Barnsley was on our list but after my morning trip to the spa, we were running a bit behind and wanted to get to the Cotswold Wildlife Sanctuary.
We did drive through though and it was such a pretty village, which is why I wanted to include it.
7. Day trip to Bibury
– Photo from Wikipedia, we didn't stop!
Bibury is one of the most popular places to visit in the Cotswolds. On a Sunday at 10amish it was living up to its reputation, with tourists surrounding the Instagram spots doing their thing. We didn't actually stop, mainly because I didn't realise it would be so amazing and I'd want to, and because there was no space to.
A coach had just dropped off a bunch of people and was taking up all the spaces.
If you can visit, Bibury is incredible. And, it makes sense on the 3-day Cotswold road trip route too.
---
8. Day trip to Cotswold Wildlife Park and Gardens
We ended our Cotswolds road trip with a visit to the Cotswold Wildlife Park and Gardens – one of the top zoos in England. It was awesome!
Saw some cool bats, monkeys, flamingos – even giraffes. My favourite was the anteater. I've never seen one before and he was playing a game with us where he'd hide and come back out. So many animals there – we saw over 260 species.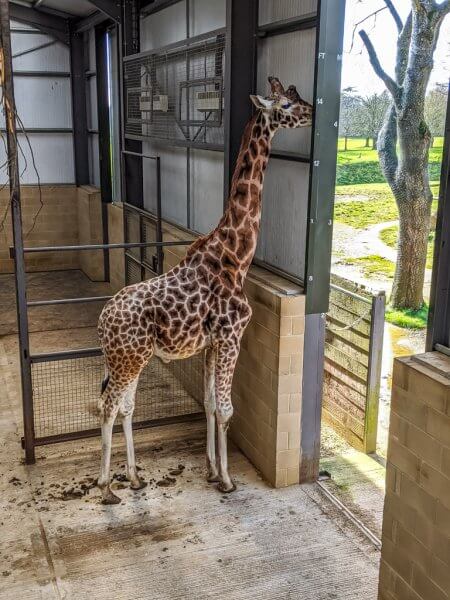 We spent three hours at the Cotswold Wildlife Park and Gardens. Ben loved the Prairie Dogs, they had this whole little Mexican Wave thing going on which was really cute.
---
MORE INSPIRATION FOR A DAY OUT IN ENGLAND
Check out the top quotes about England from the celebs, read why the Americans are surprised when they first visit, and check out the best places to go skydiving in England too. Or, if you don't fancy leaving your sofa – how about this England food quiz instead?
---
Quick list: best days out in the Cotswolds
1. Day out in Winchcombe
2. Day out in Broadway
3. Day trip in Chipping Campden
4. Day trip to Stow-on-the-Wold
4. Day trip to Cirencester
6. Day trip to Barnsley
7. Day trip to Bibury
8. Day trip to Cotswold Wildlife Park and Gardens
---