An Amazing Day Out for Christmas at Blenheim Palace (2022)
Last week we went to see if Christmas at Blenheim Palace lived up to the hype. With a £60 per person price tag it's an expensive Christmas activity, but is it worth it?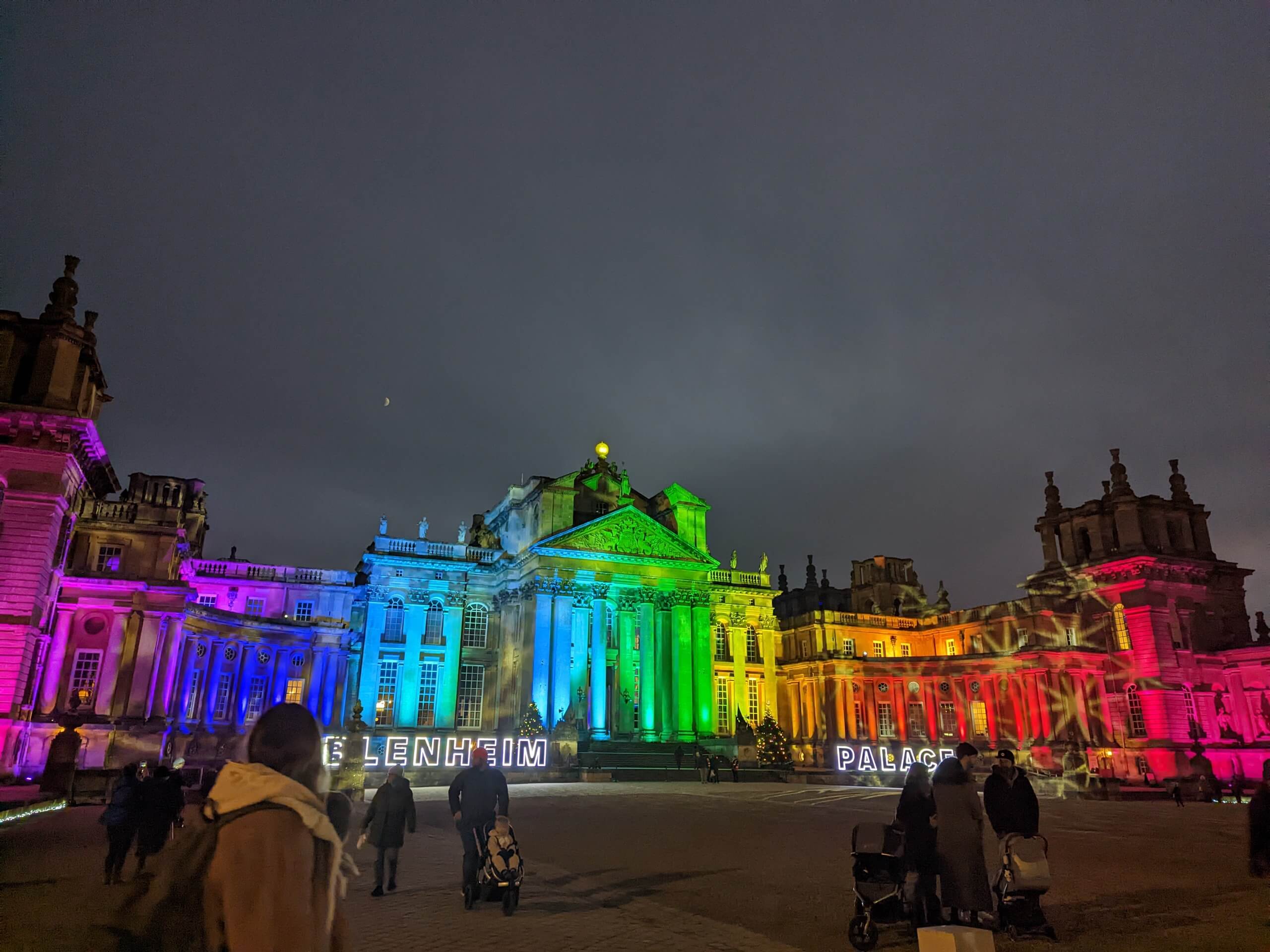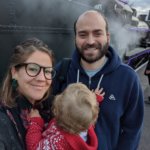 Vicky, Ben and Reggie (10 months)
Date of trip: Friday 9th December 2022
Day Out in England editor Vicky and her family visited Blenheim Palace at Christmas to report back on what the stately home has in store for us this year.
---
Blenheim Palace is one of England's most impressive stately homes. It's probably best known as being the childhood home of Winston Churchill, and the place where he was born. Blenheim Palace has been one of England's UNESCO World Heritage Sites since 1987. It's currently the home of the Duke and Duchess of Marlborough, who open it to the public to enjoy.
The 18th century home is amazing to visit at any time of year, but every Christmas Blenheim Palace put on a wonderful show to get you in the festive mood. It's known as being one of the best things to do for Christmas in the country, and is always one of the best things to do in Oxfordshire.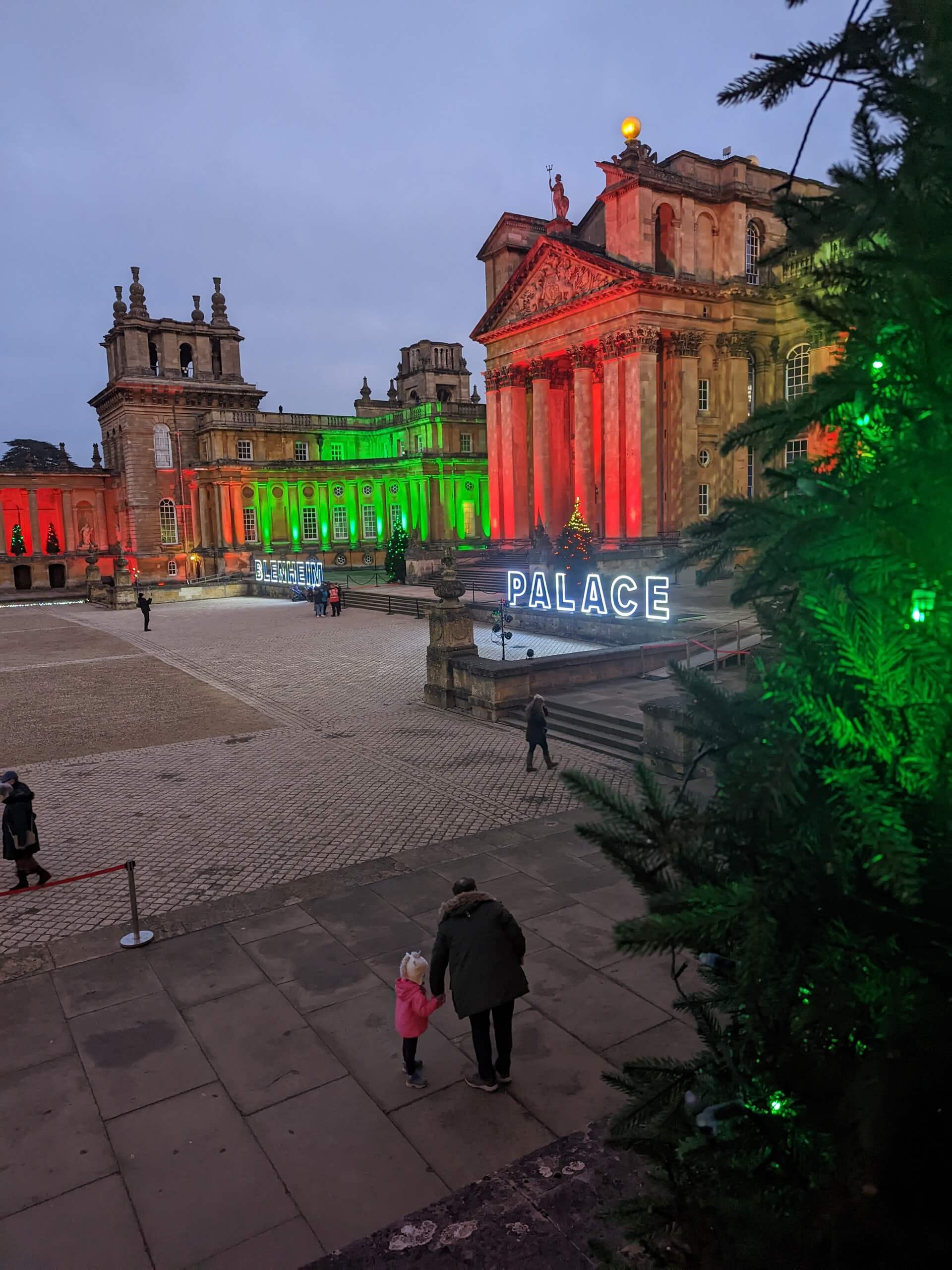 Located in Woodstock, about 25 minutes from Oxford, and in the Cotswolds, it's in a beautiful location. It's easiest if you have a car to visit – especially with that long driveway – but there are public transport options, and coach packages too.
Cost of Christmas at Blenheim Palace: In 2022 Christmas at Blenheim Palace was £130 for two adults and a (free) infant. This covered entry to the palace and the Kingdom of the Snow Queen, the illuminated trail, and a car parking space too.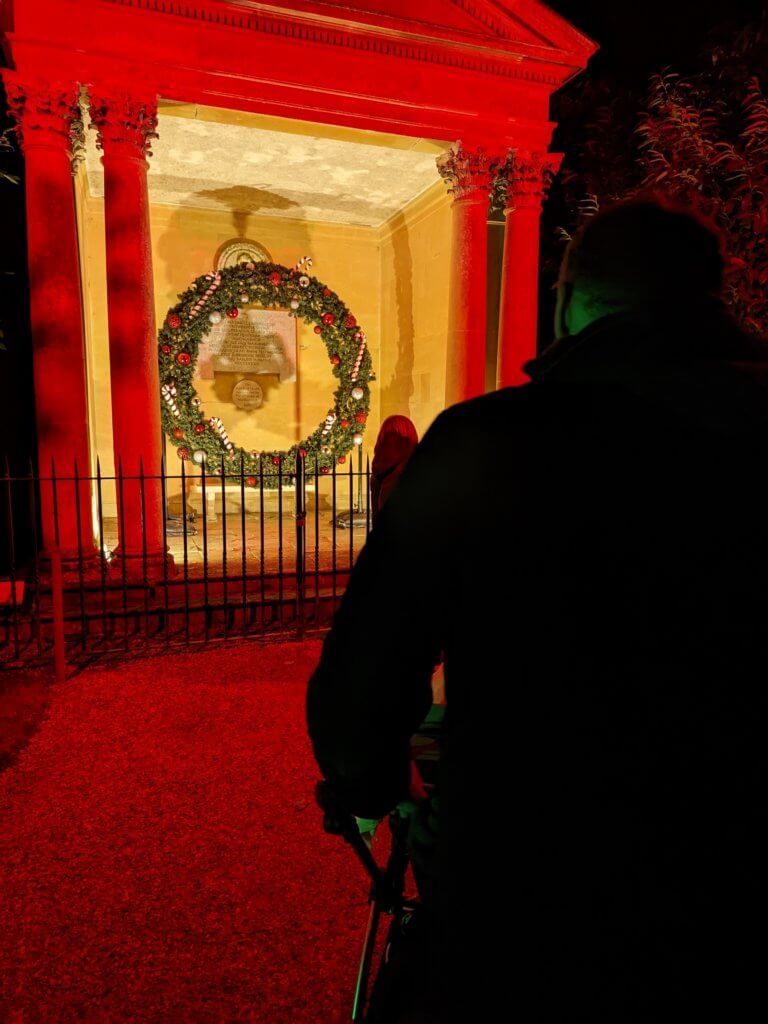 When is Christmas at Blenheim Palace?
Christmas at Blenheim Palace runs between 18th November 2022 to 2nd January 2023.
The Christmas Market will be open at 10.30 each day between 18th November to 18th December 2022.
The magical Ice Kingdom Themed Afternoon Tea will run between 18th November 2022 to 2nd January 2023.
What is there to do at Blenheim Palace for Christmas?
When you book Christmas at Blenheim Palace you'll choose a time to enter for the Kingdom of the Snow Queen. They recommend you leave an hour for this experience, which was just about right for us to get round and to have a bit of time in the baby neon cubes section (more on that below).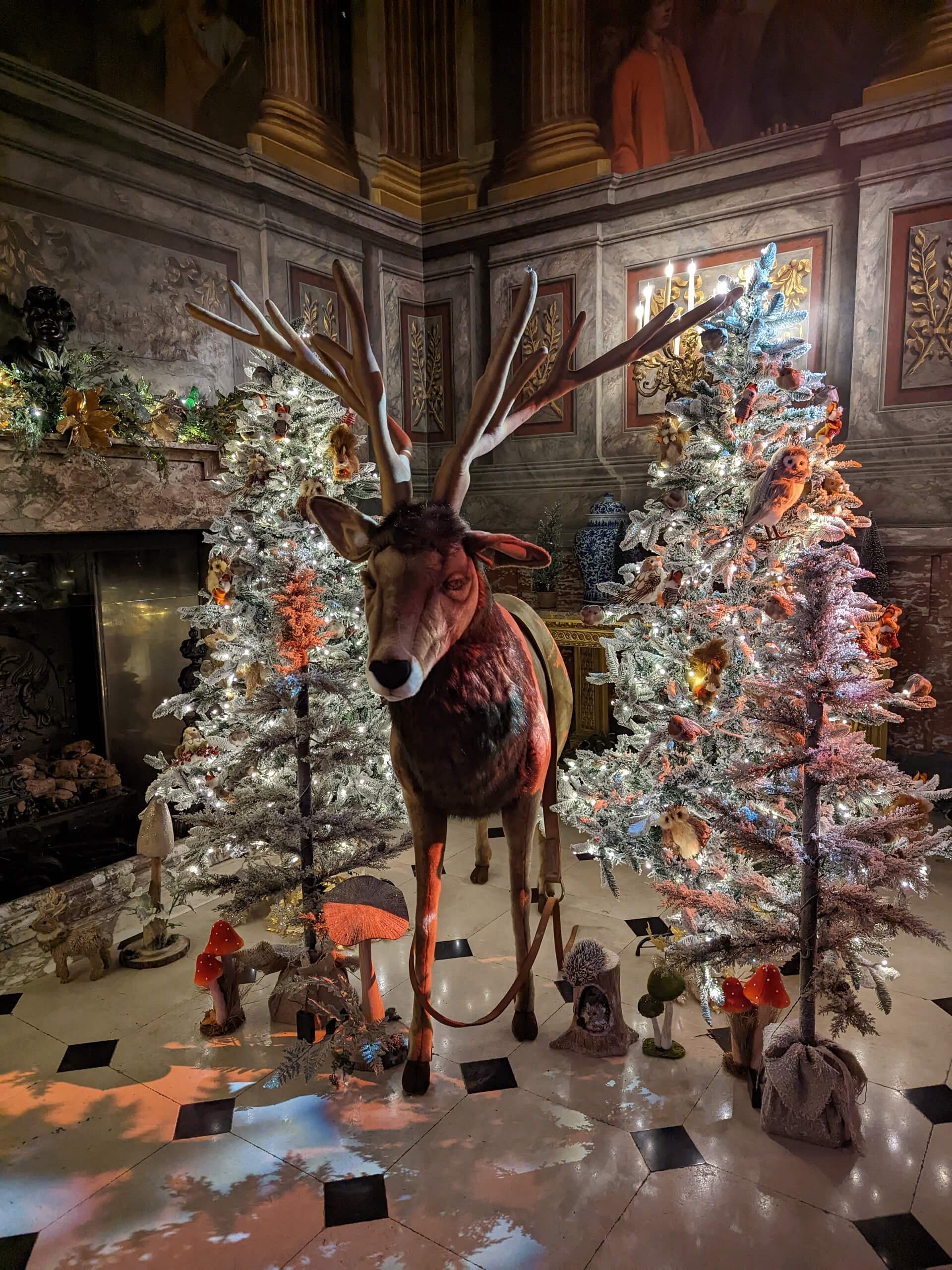 There's also the winter trail, which opens at 4:30pm. It took us just over an hour to walk around the trail, although we were slightly rushed thanks to wanting to find some warmth to feed our baby. I would've liked another half an hour really, to sit and admire the incredible installations on the way round.
As well as the palace and the winter trail there was a Christmas Market, with a few rides like a helter skelter and a carousel. There was also the Blenheim Palace and gift shop too.
Lots to see and do!
I'd recommend at least 3 hours for this experience, although if it wasn't for visiting with my 10 month old son, I would've stayed for at least another hour, if not two. More time for marshmallows, mulled wine and soaking up the experience!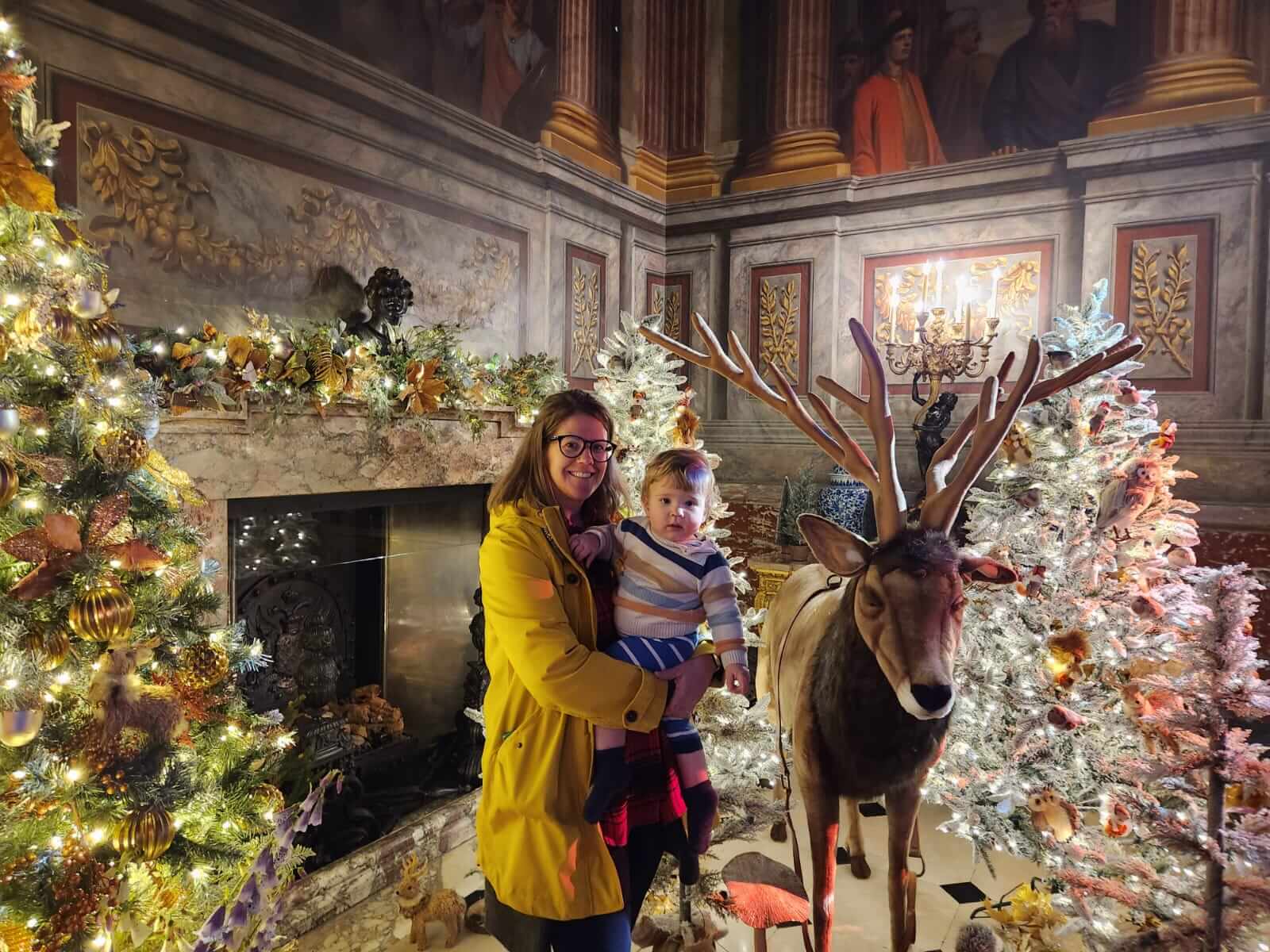 Inside Blenheim Palace at Christmas
The amount of decorations inside Blenheim Palace at Christmas was incredible.
The attention to detail was just amazing, and it blew my mind to think of the planning and cost of setting all of this up. It was easily the most impressive array of Christmas decorations I'd ever seen.
I'd estimate there were 10+ rooms, just filled with trees, animals, wreaths, decorated fireplaces and lights, set up to impress even the most Scrooge-like of visitors. Christmas had definitely arrived!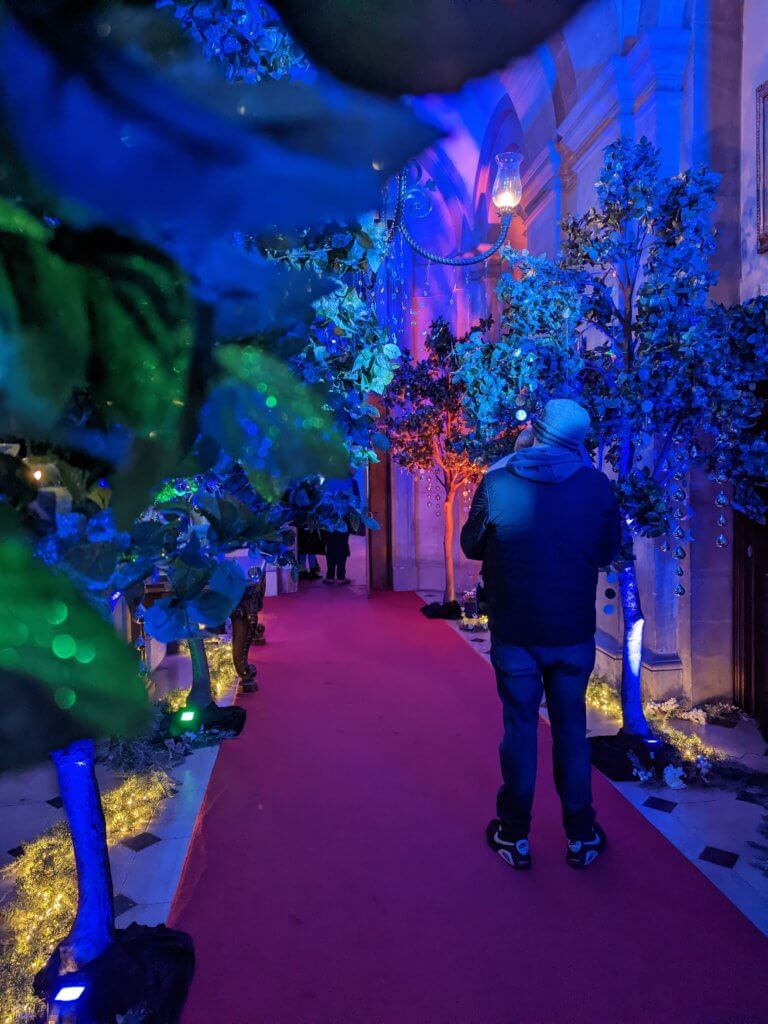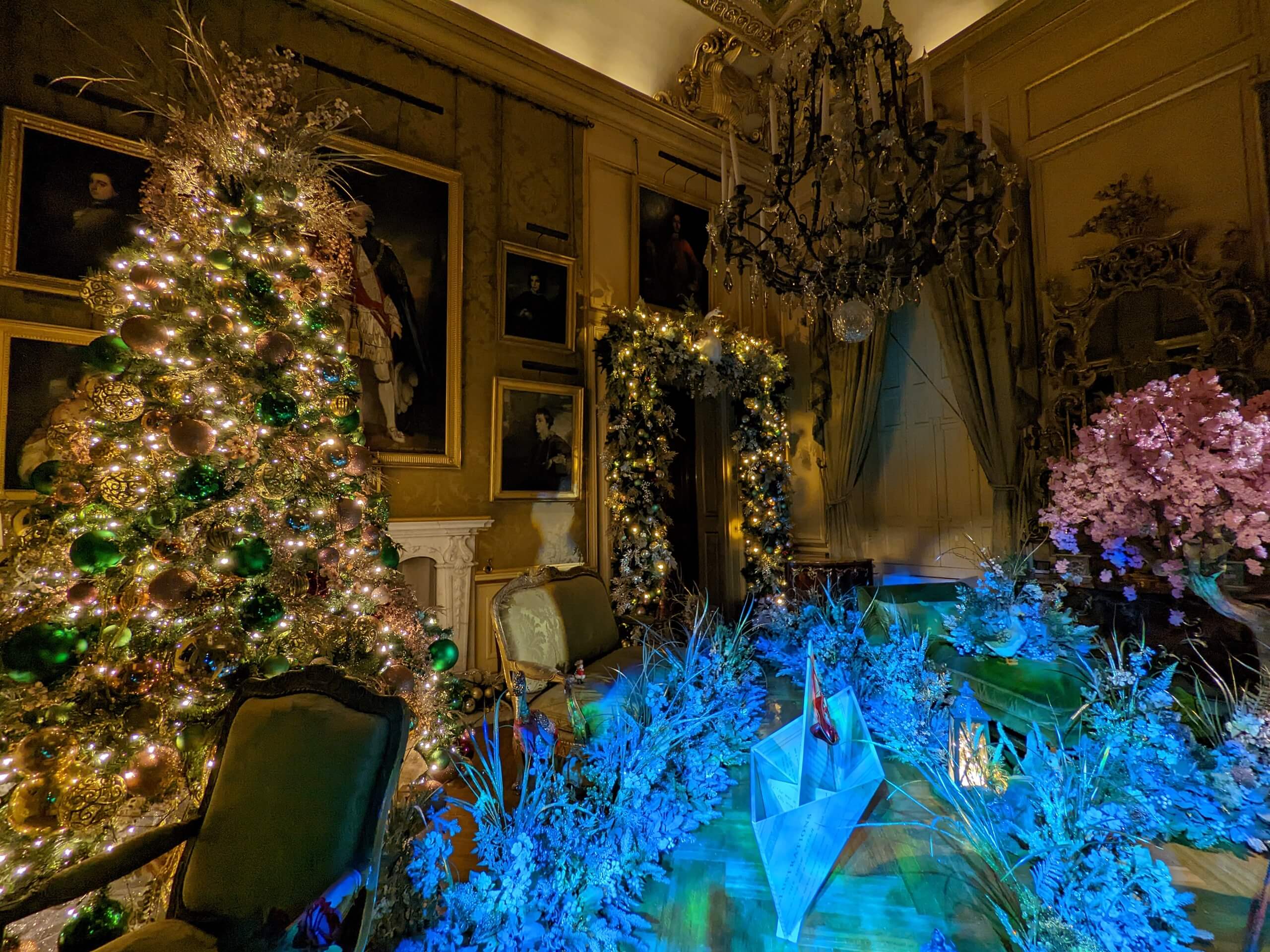 As you walked round there was a story to follow, which unfortunately I couldn't pay any attention to thanks to the wriggly 10-month old in my arms. That was fine though. It was still incredible without the story and I loved seeing my baby's face as he looked around at all the decorations.
It was the ultimate baby sensory experience!
There was plenty of space for the pram to get through, although some people had left theirs at the entrance. We were told this wasn't neccessary, but they did request I take the rucksack off my back to avoid knocking things over. Fair enough.
The rooms inside led to an amazing 'Kingdom of the Snow Queen'. An area decorated in lavish white, with sleighs, trees, majestic thrones and this beautiful snow queen overseeing it all. Truly magical.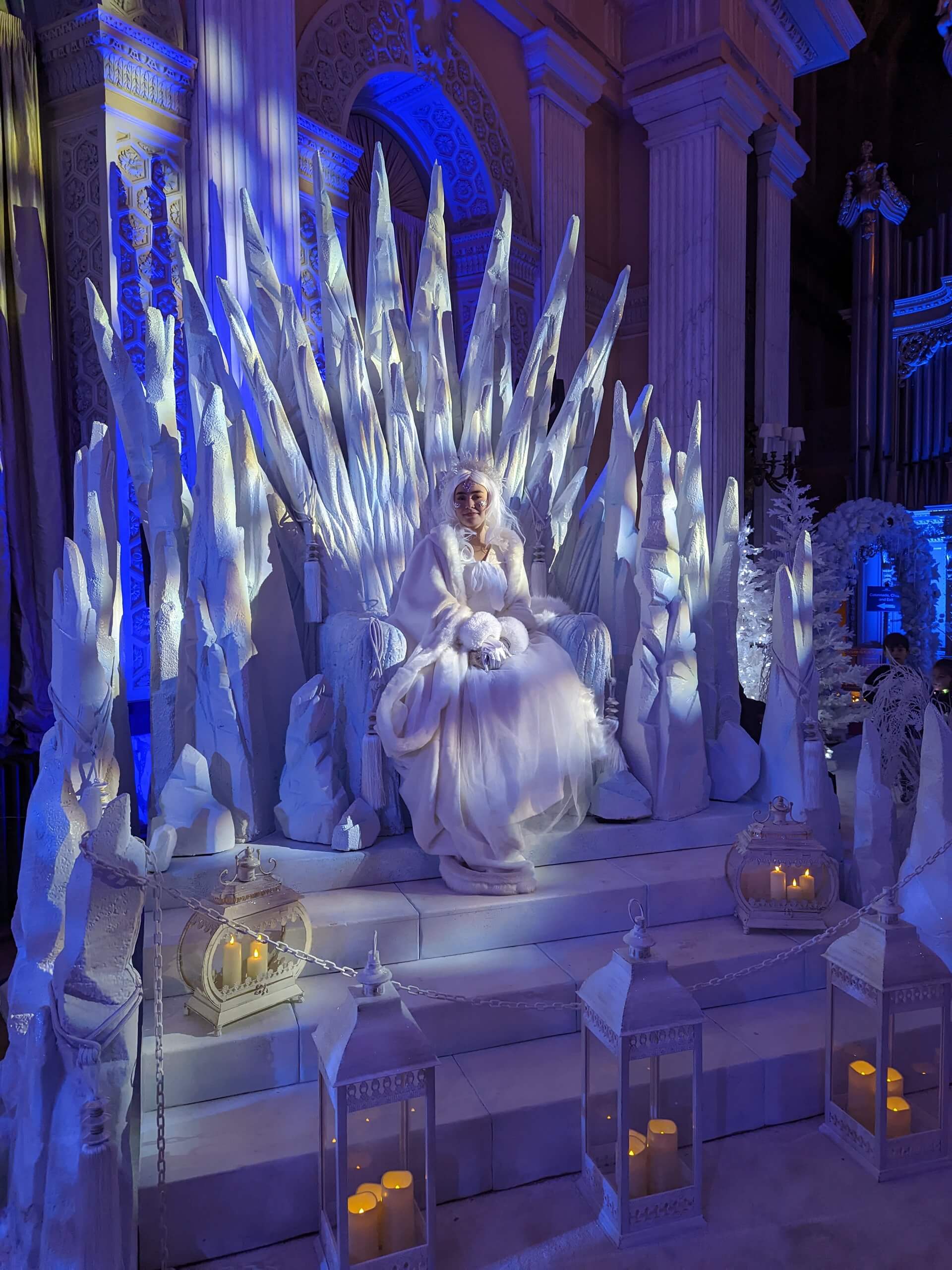 It wasn't particularly busy when we went, though we did sort of get ushered along with the crowd and people behind us. We realised when we stopped for the baby cubes play area that we'd been swept up in a group, and if we'd just waited a few minutes we might've had a bit more freedom to take our time.
So, top tip for Christmas at Blenheim: if you're booked for 3:30pm (let's say), don't go at 3:30. Go at 3:37pm to let all the keenos go head. Don't go too late though, or you'll get in the 3:45pm group. Or, just let anyone in more of a rush than you go ahead.
The illuminated light trail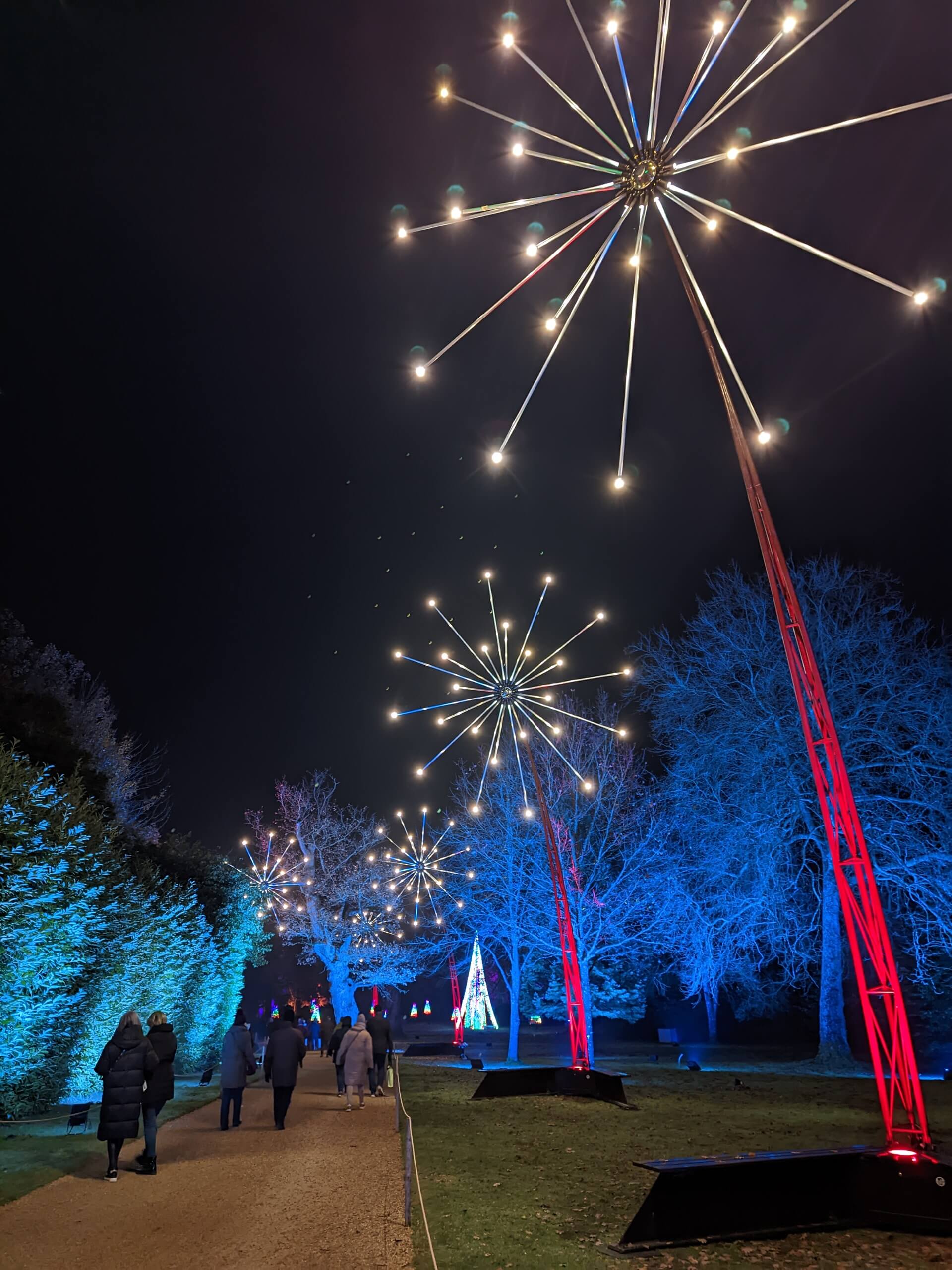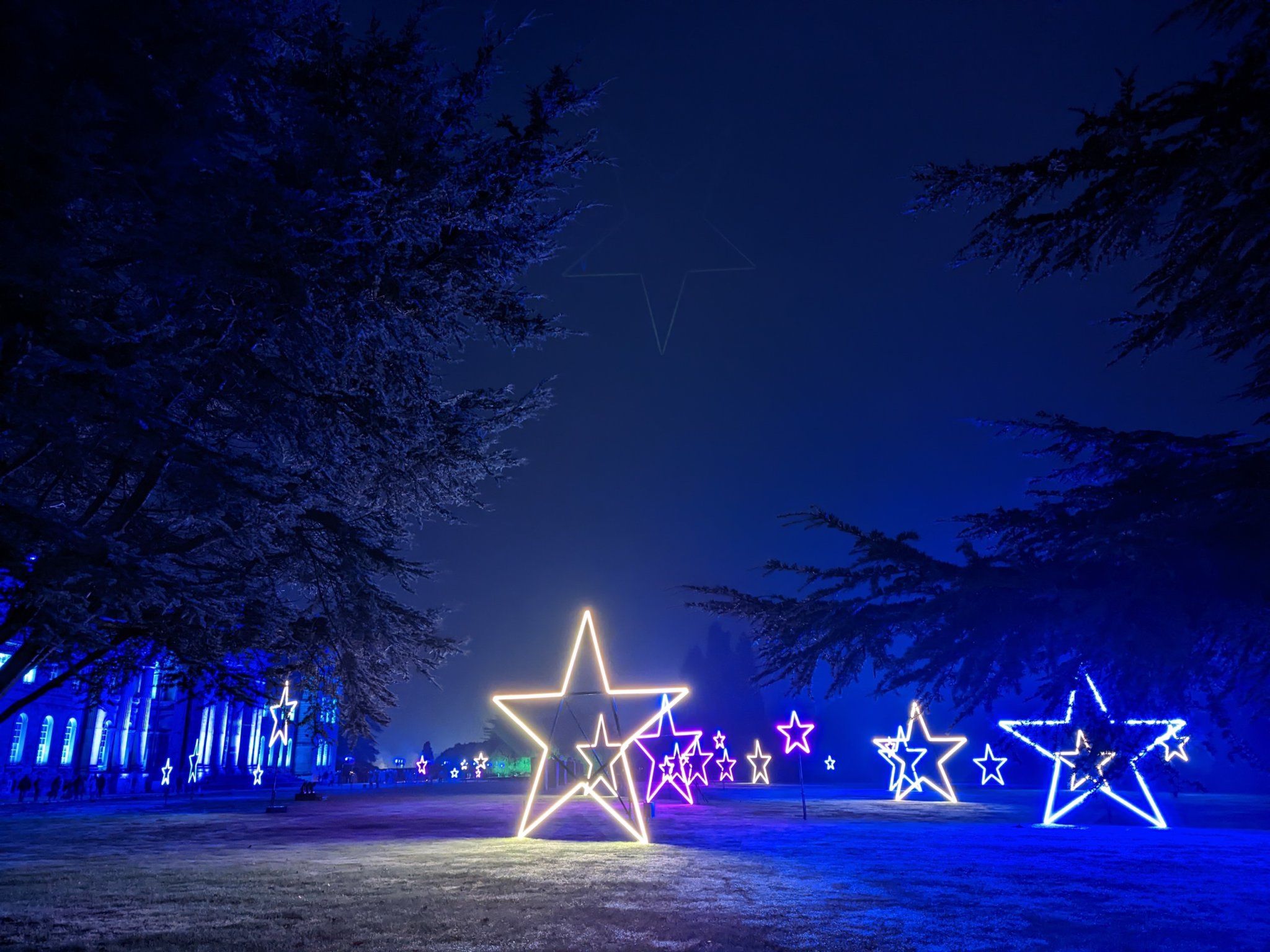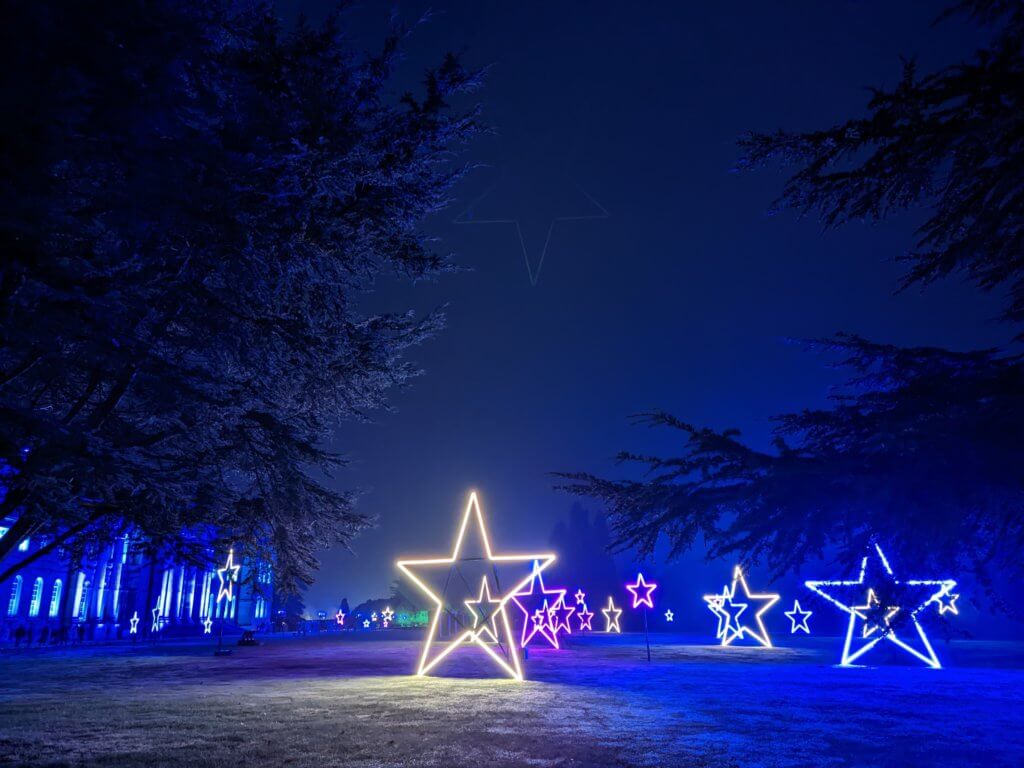 It's the illuminated light trail that really makes Blenheim Palace one of the best places to visit for Christmas in Oxfordshire. It was incredible.
Installation after installation just lit up in full Christmassy joy. It was quite a way to walk, but there are benches and even bars as you go. You could really take your time and enjoy it. One of the highlights that unfortunately we didn't have time to experience was the opportunity to toast marshmallows over a firepit to eat there and then – see pic above.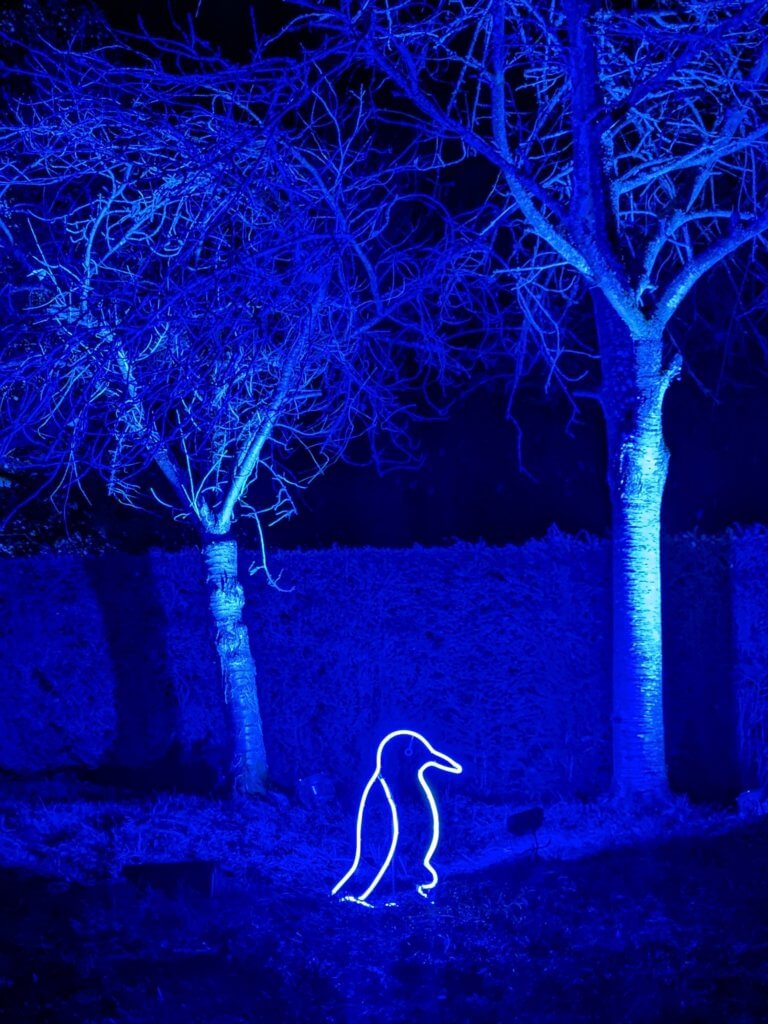 Another highlight for me was the huge ring of fire torches you could walk around, while they played Walking in the Air. So beautiful.
And there was even the opportunity to see Santa on the way round too!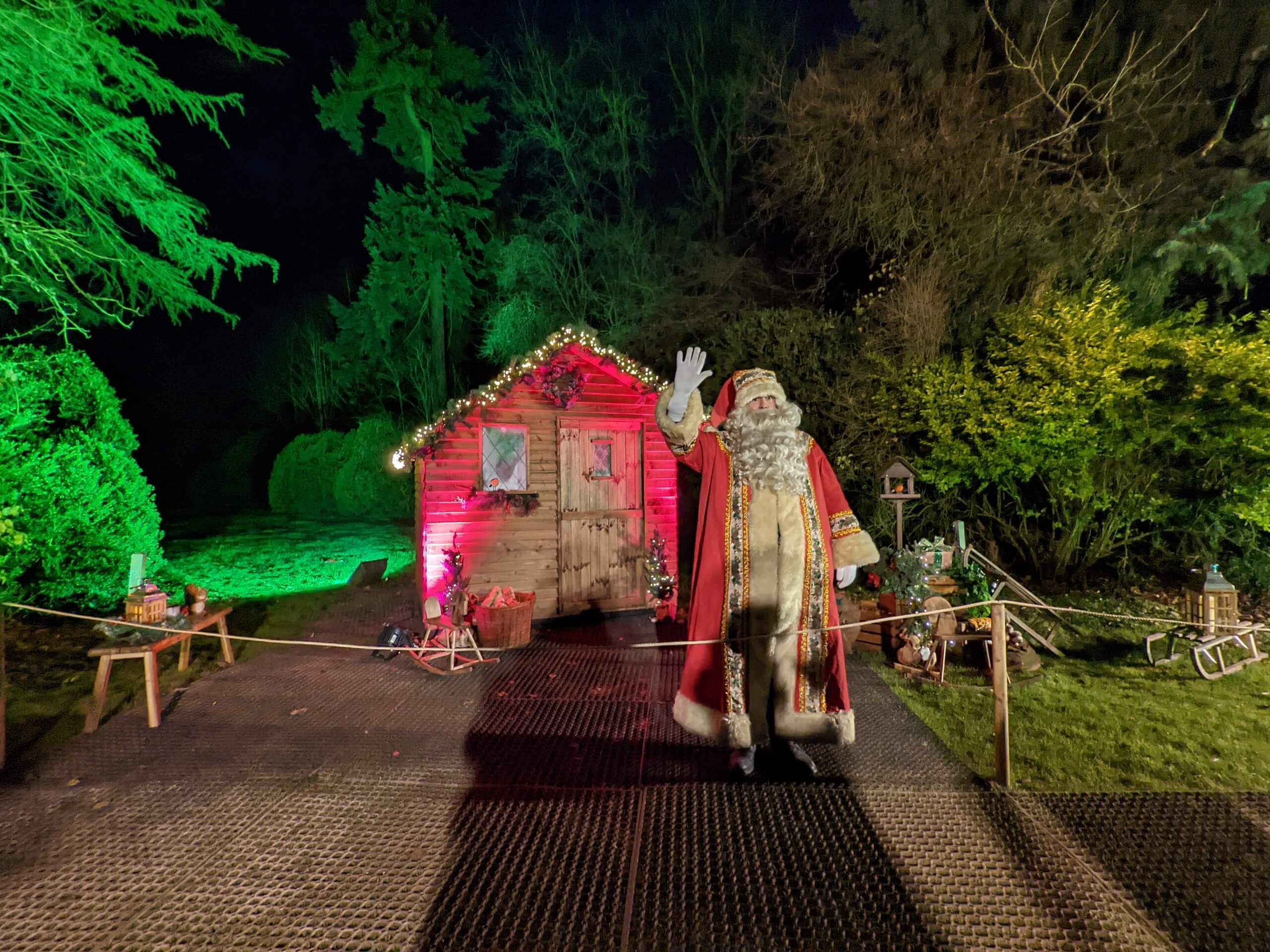 Blenheim Palace for babies
Ok, I've mentioned it a few times now, but in Blenheim Palace, in the Snow Queen's Kingdom, there was a VERY welcome baby area for them to crawl around. There was white fur on the floor, and these light up neon cubes that my 10-month old just loved climbing over.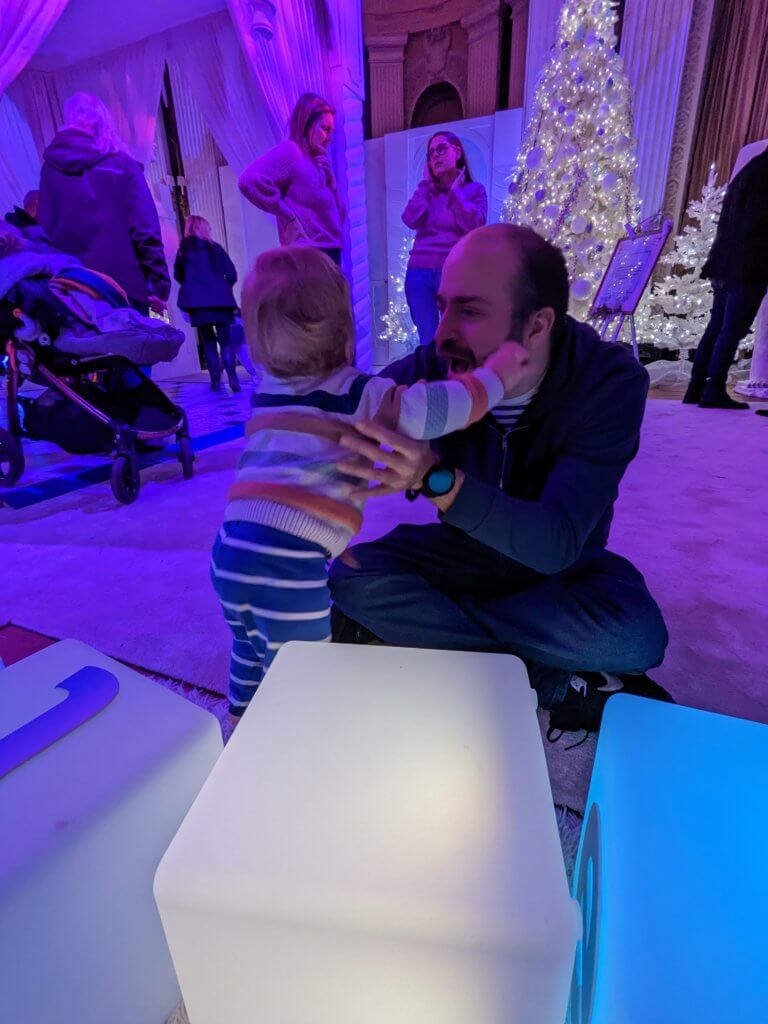 After an hour of being in our arms, or in the pushchair, following a two-hour car ride, this was very welcome for a crawler. Anyone with a baby was stopped there to give their little ones a stretch. This was SUCH a good idea, and I think made our baby all the more relaxed for another hour of the pushchair walking round the illuminated trail.
Thank you Blenheim Palace for this!
Food at Blenheim Palace at Christmas
From 18th November to 18th December 2022 there's a Christmas Market at Blenheim Palace offering all sorts of delicious and tasty treats. We got excited as soon as we arrived and I went for a Nutella and Biscoff crepe, while my partner Ben decided on a brisket on chips. It was 3:30pm and we fully intended to go in for a round two after we'd looked round, but these filled us up.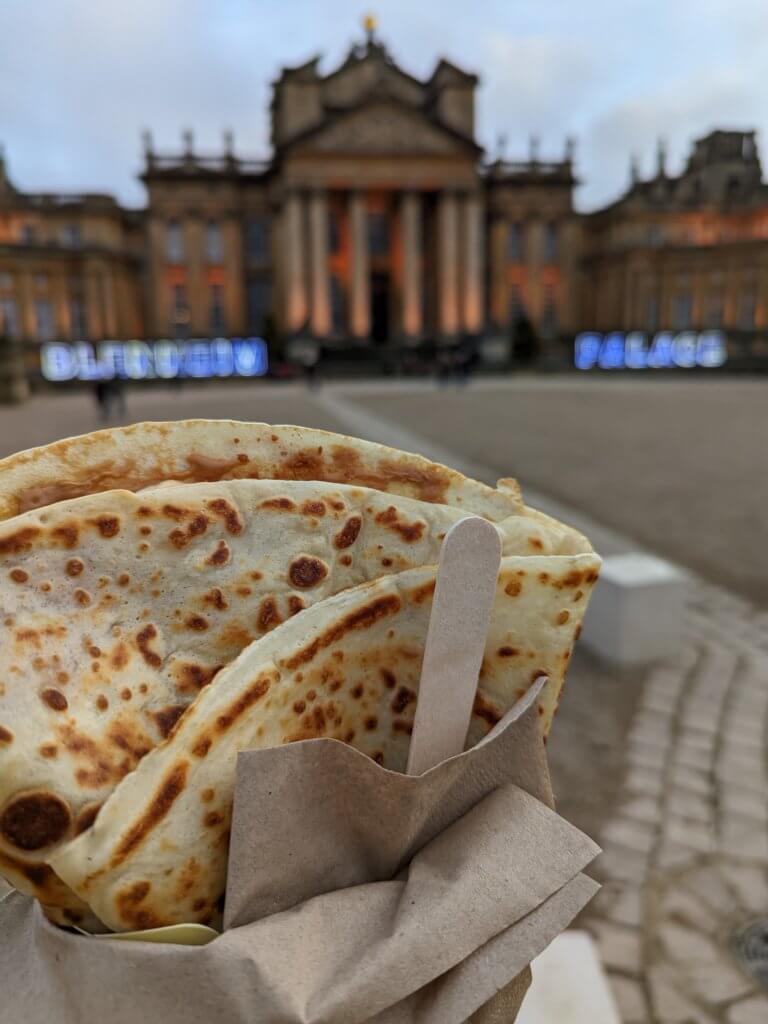 We both paid around £7 each for our dinners, and were both very happy with our choices.
There were also burger stalls, a Greek food stall, a chicken stand and plenty of bars for mulled wine.
As one of the top tourist attractions in the country, there was of course an on site cafe. We went in to feed Reggie in the warm after we'd done the trail – there was coffees, cakes, some ropey looking sandwiches and pizzas. I'd recommend you eat from the market outside, if it's there.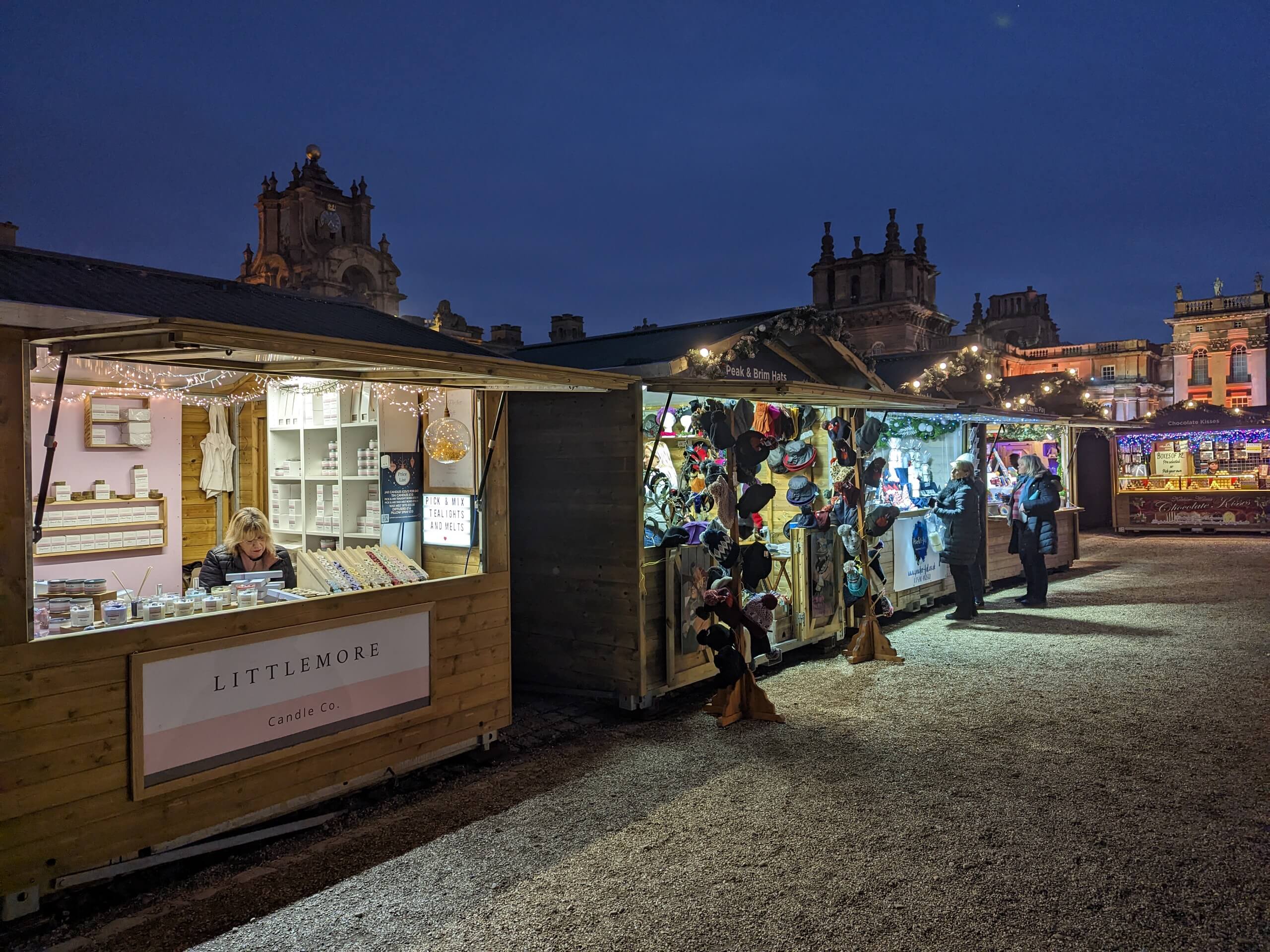 The Christmas Market at Blenheim Palace had all kinds of different stalls, from hats to trinkets to sweets to fudge and alcohol. There was a good array of local producers which made it all the more special too.
READ MORE: Looking for more palaces in England? Click here!
Top tip for Christmas at Blenheim Palace
If you donate your ticket to Blenheim Palace, you can convert it to an annual pass meaning you can visit Blenheim Palace again any time in the next year.
Christmas at Blenheim Palace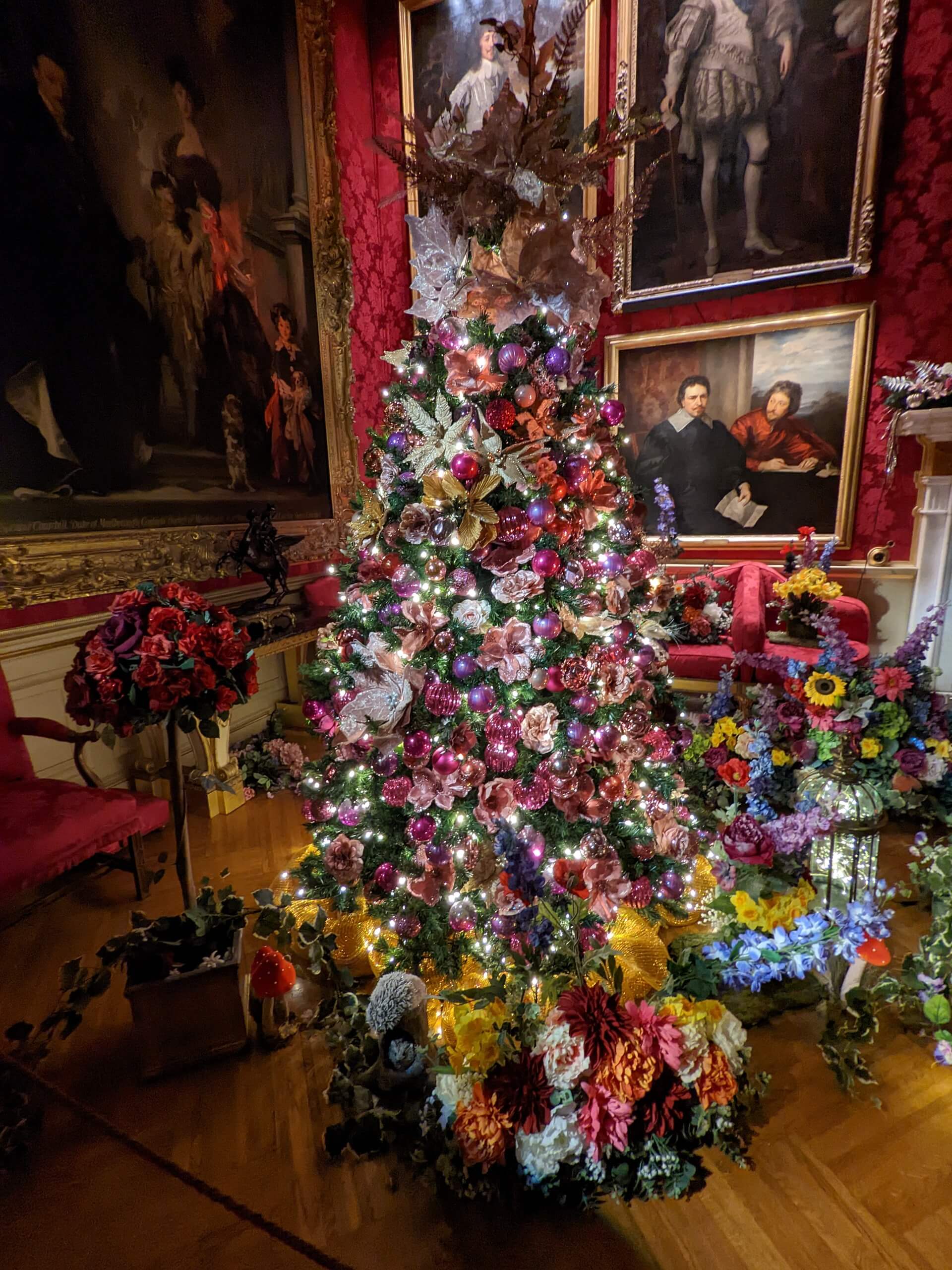 Some friends have been shocked when I've told them the price of Christmas at Blenheim Palace, but I think it was worth it. The illuminated light trail was just amazing, and lasted forever. All the small touches, like the bars as you go, the marshmallow roasting pit, and all the installations and sound design just came together so perfectly. Unfortunately experiences like these cost!
If you think it's 3-5 hours entertainment, that helps you break it down.
A day out at Blenheim Palace at Christmas might not be for every year, but I'd definitely recommend you go one year – it was incredible!
In fact, it was so impressive, there's a programme about Christmas at Blenheim Palace on Channel 4 right now. Enjoy!
---