Visiting Essex? One green space you definitely can't miss is the beautiful Epping Forest, only a short distance from London. There's lots to discover on a walk in Epping Forest , from perfectly preserved pieces of history to picturesque ponds and lakes for bird-spotting. No matter the season, you can always find a great trail to explore. Here are the best walks in Epping Forest.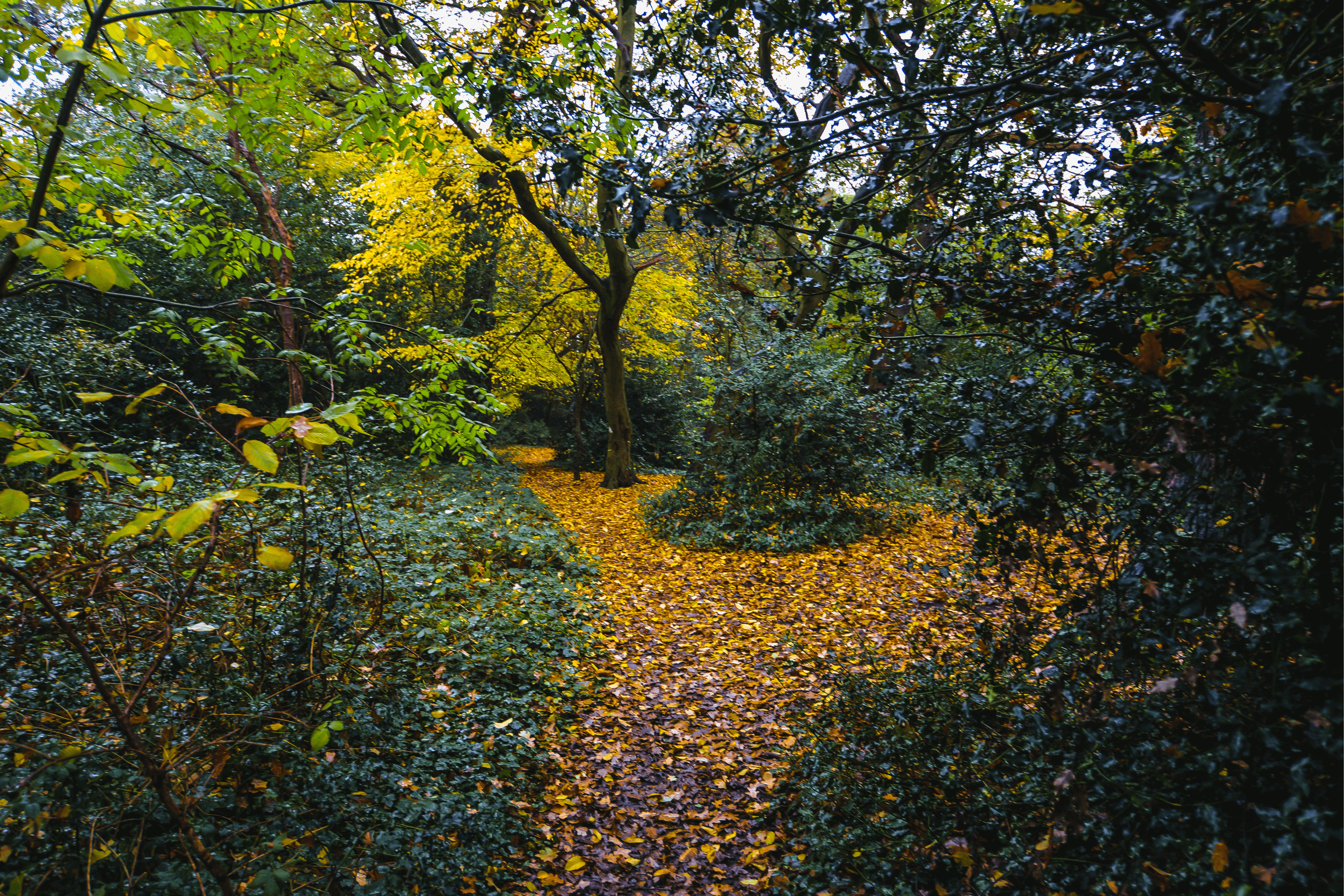 Located around the town of Epping, Epping Forest is one of the best days out in Essex, and a treasure trove of family-friendly trails just waiting to be discovered on a day when the weather's lovely — although you can often have an enjoyable day out in Epping Forest even when the weather is a little iffy!
Epping Forest is teeming with wildlife and home to many ancient trees, bodies of water, and stunning glades that offer beautiful picnic spots in summer and beyond. From Queen Elizabeth's Hunting Lodge to 'The Lost Pond', we're breaking down some of the best things you can see on your walks in Epping Forest.
There are tonnes of great ideas for free days out in England, but when it comes to nature days out, the only way is Epping!
10 of the Best Walks in Epping Forest
If you're looking for the best Epping Forest walks, here are our favourites to choose from!
1. Oak Trail, 6.6 miles
The Oak Trail in Epping Forest is a great one for a day out in the forest. It's a circular trail so you'll end back where you started, making it a brilliant choice for a long dog walk or a day out with the family. Although at 6.6 miles, it might not be a walk you'd want to do with young kids as it's a little on the long side.
The walk starts and ends at Theydon Bois tube station so it's easy to get to using the London tube, and is one of the best walks in Epping Forest to see some of the beautiful countryside in England.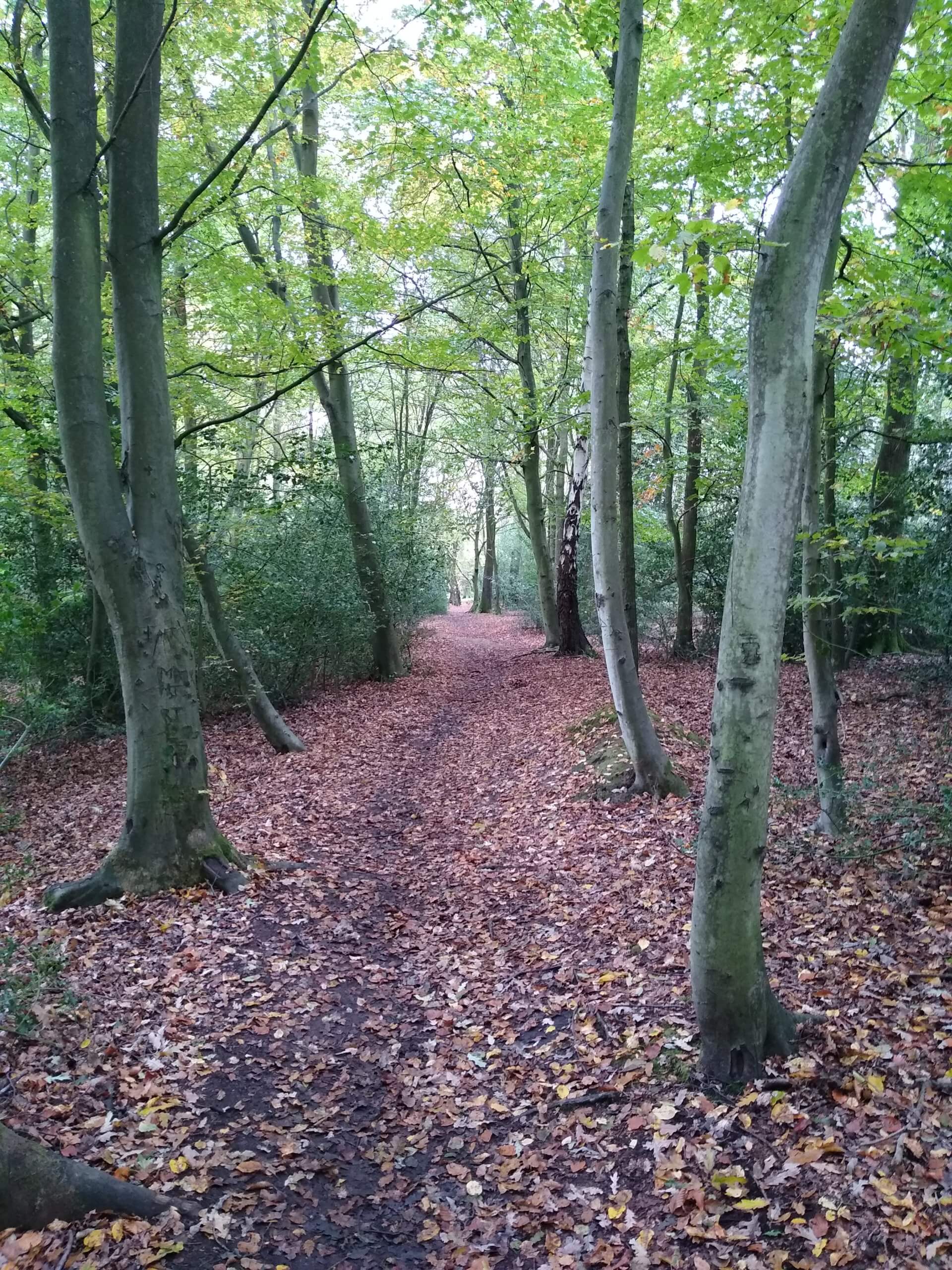 At a moderate pace, the 6.6 mile long trail can be done in around 90 minutes, but if you take your time and amble through the stunning scenery (as you should!) then it's best to give it around 2 to 3 hours to fully enjoy this walk.
Add in time to take pictures of the amazing dead tree you'll spot on this route (you'll know it when you see it!), to wave to the deer in the Deer Sanctuary, and to have a break for lunch and a pint in the beer garden at The Queen Victoria along the way. All these things and more make this one of the best walks in Epping Forest by far.
You'll find a map of Oak Trail in Epping Forest here.
2. Beech Trail, 2.5 miles
In the mood for a shorter walk? The Beech Trail in Epping Forest is a great trail for families with younger kids, where you can all take in the beautiful Beech trees, the Iron Age hill fort, and stop by the Epping Forest visitors centre for a snack.
This is one of the official forest trails so it's signposted and easy to follow, going past Loughton Camp and Debden Slade, and eventually making it back to the starting point. At only 2.5 miles it's a relatively easy walk which could take you around 40-50 minutes at a moderate pace.
Whether you're visiting in spring, summer, autumn or winter, there's something beautiful to see (although we recommend autumn because of how bright and colourful the leaves become!). It's one of the best walks in Epping Forest if you're visiting with kids, as it's short and sweet!
You'll find a map of Beech Trail in Epping Forest here. It's one of the best walks Epping Forest has to offer and is a beautiful spot if you're looking for things to do in Essex at Christmas.
3. The Lost Pond (Blackweir Pond), 5.5 miles
If you're looking for Epping Forest walks from Loughton, this is an interesting one!
Its official name is Blackweir Pond, but if you want to be like the locals, it's 'the Lost Pond'… why? No one really knows, but we suspect it could have something to do with the fact that it can be a little difficult to find!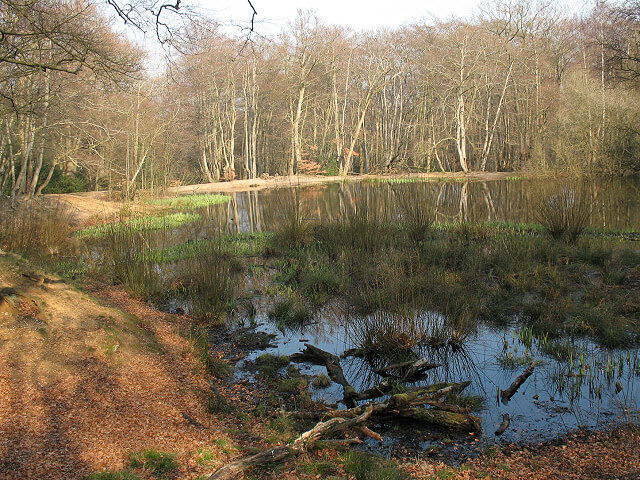 This stunning pond is surrounded by some of the oldest Beech trees in the forest, with one being an estimated 1000 years old — some serious history there!
The pond was originally an old gravel extraction pit, but over the years it's become a great example of what happens when nature is left to reclaim the land. Today, it's hard to believe it was manmade.
Want to try finding it yourself?
It's an estimated 5.5 mile circular walk from Loughton train station where you can head to Baldwins Hill, and keep going uphill past Baldwins Hill Pond. There are two routes from here; either keep walking to the top and turn right at the bridle path crossroads and make your way into the forest, or cut into the forest to the right as you head uphill and walk through Bellringers Hollow which will lead you up to The Lost Pond. Despite a few opportunities to get lost, this is certainly one of the best walks in Epping Forest with a brilliant reward at the end!
You'll find more information about The Lost Pond in Epping Forest here.
4. Willow Trail, 1.5-2.5 miles
Doesn't the name 'Willow Trail' sound inviting? This short walking route is another great one for families, which starts at Connaught Water in Chingford. It's one of the newer walking routes in Epping Forest so it's a very well signposted walk with easy paths to follow.
One confusing thing to watch out for with this trail is the map in the car park suggests you should begin the walk in a clockwise direction (to the left of the lake) but you'll soon notice the waymarkers take you in an anticlockwise direction.
Never fear!
Either way you'll do a circular route so you can go with the flow on this one — definitely one of the easiest Epping Forest walks.
While the distance on the map is said to be 1.5 miles, other people's accounts mention it being around 2.5 miles, so we'd suggest leaving 40-50 minutes at a moderate pace for a comfortable walk.
You'll find a map of Willow Trail in Epping Forest here.
5. Lime Tree Trail, 1.5 miles
Looking for an Epping Forest short walk to smash out in an afternoon? The Lime Tree Trail is a great one for families with young kids since it's so short, so little feet can take their time wandering.
Start the walk by parking up at the Harrow Road Sports Pavilion and follow the easy route across grassland and woodland for about 30 minutes. You can enjoy playing in the sports centre afterwards or visiting the nearby playground with the kids.
There's also an easy access trail here which loops around the Jubilee Pond (which has a fishing platform if you're into that sort of thing!). This is certainly one of the quickest walks in Epping Forest you can do to add a splash of nature to your lunch hour or day out with the kids.
You'll find a map of Lime Tree Trail in Epping Forest here.
6. Queen Elizabeth's Hunting Lodge, 2.4 miles
The Epping Forest circular walks are plentiful, making them easy for those travelling by car who want to start and end in the same place. One of the best ones is definitely the 2.4 mile route to Queen Elizabeth's Hunting Lodge. Start at the Epping Forest Visitor Centre in Chingford, and make your way to this historical timber-frame hunting tower which still stands today.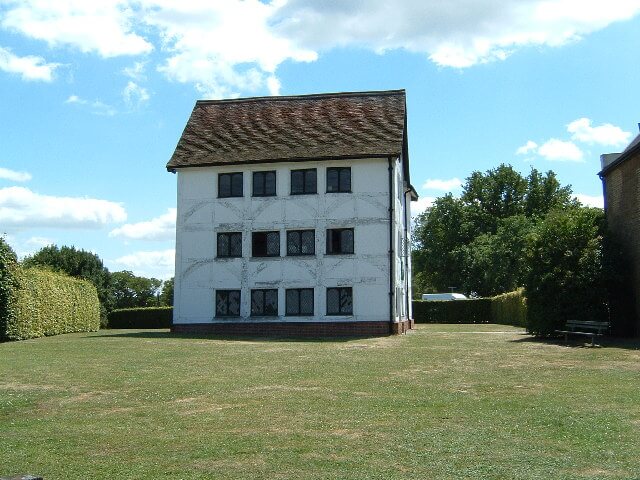 It was originally built by order of Henry VIII in 1543 and later renovated for Queen Elizabeth I in 1589. Today you can visit for a taste of the Tudor lifestyle. Inside, you'll find out more about its history and see the intricacies of how it was built. One of the most fascinating walks in Epping Forest if you want to sprinkle a little history onto your day out!
Along the trail you'll see Connaught Water, spot the local wildlife, and you can even stop for a coffee in the converted Victorian building that's now a cafe.
You'll find more information about Queen Elizabeth's Hunting Lodge here.
7. Gifford Trail, 1.25 miles
The Gifford Trail in Epping Forest offers two equally beautiful options, so if you try out one and like it you can always come back and do the other! Option one begins at Sergent's Green Lane (near the Upshire Village Hall if you're parking up or coming from one of the nearby bus stops). It's an easy route as it's well signposted, and follows the edge of Potkiln Woods.
The second route takes you to the edge of Oxleys Wood, before leading you through the middle of the forest, and it's a good one for potential deer spotting. Bring your binoculars!
Both trails are beautiful all year round, but we would recommend a visit in autumn with the kids so they can jump in piles of crunchy leaves while you admire the changing colours of the season.
You'll find a map of Gifford Trail in Epping Forest here.
8. Strawberry Hill Ponds and Earl's Path Pond, 1 mile
A quick trail, and a beautiful one!
This easy 1 mile trail can be started in Loughton, and takes around 20 minutes if you're strolling slowly. Whether you're out for a walk to stretch your legs, walking the dog or breathing in that fresh air away from the capital, this is a really great trail.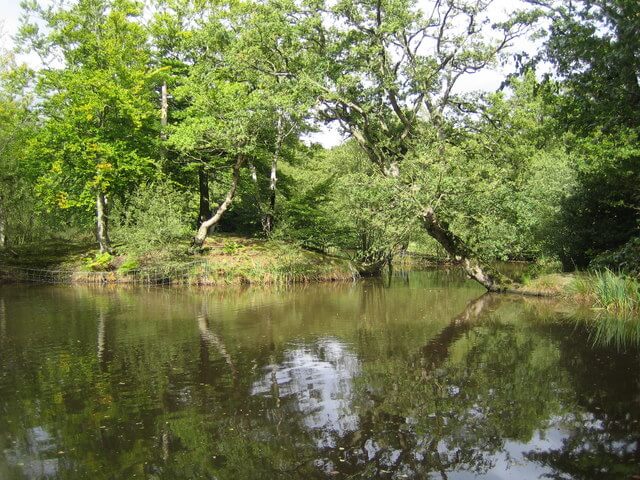 This woodland walk will lead you past Strawberry Hill Ponds and Earl's Path Pond, and at the right time of year could be filled with wildlife near the ponds. It's a stunning walk whenever you choose to go, and definitely one of the best walks in Epping Forest so remember to pack your camera as you'll love snapping pictures on this one.
You'll find more information about Strawberry Hill here.
9. Chestnut Trail, 3-5 miles
This lovely walk in Wanstead Park is a great choice for a family day out. There are varying accounts online about how long this trail actually is, which is why we've listed it as 3-5 miles depending on where you start and which route you take. Assuming you're walking at a moderate pace, this one could take anywhere from 45 minutes to 1 hour 15 minutes.
The direction arrows on this route are also said to be a little confusing, so maybe best to treat it as a bit of an adventure and go in with no timing expectations… basically, be prepared to get a little lost and have fun while you're doing it!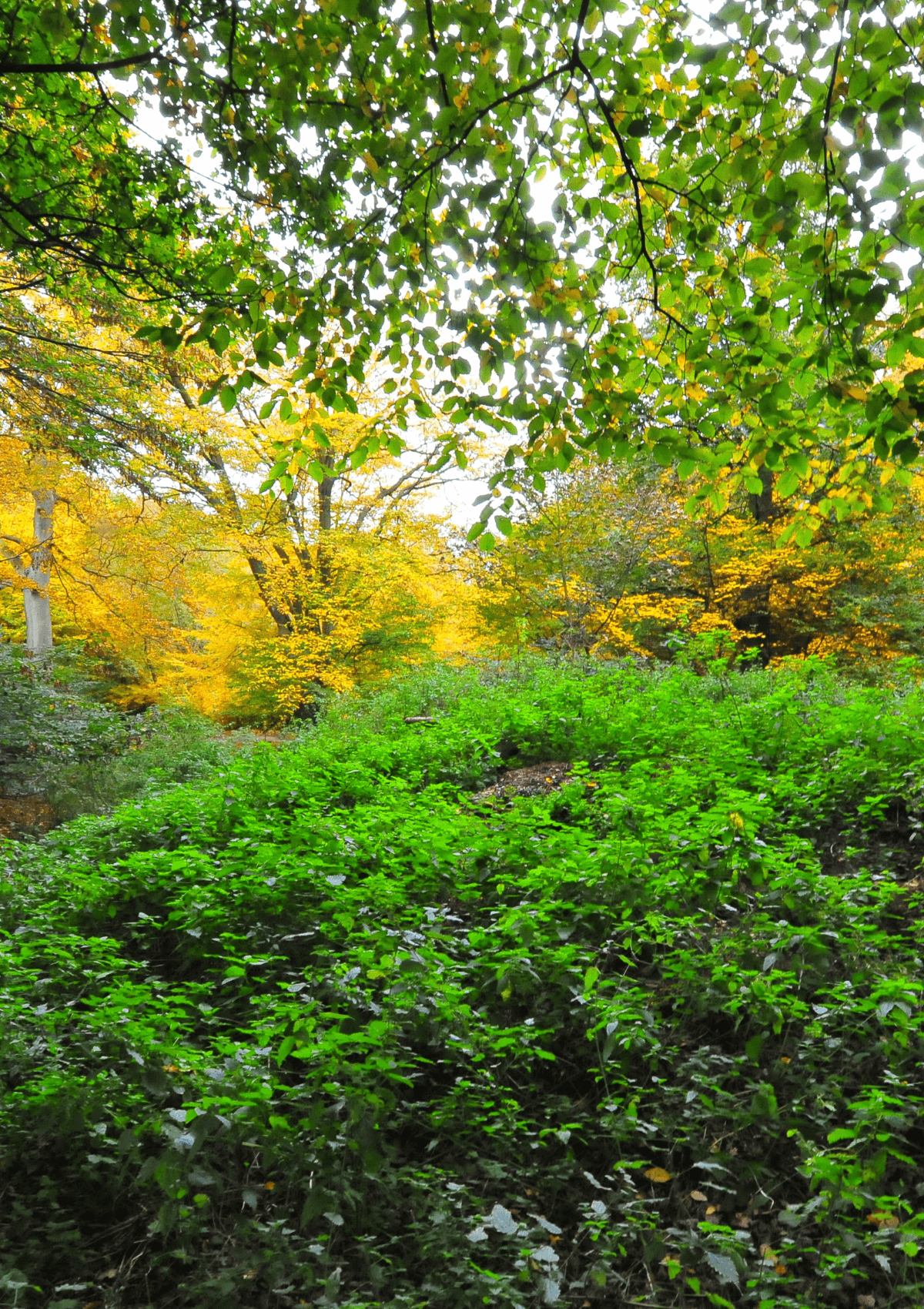 You can start this walk at the car park on Warren Road, and take the middle trail at the Epping Forest information board beside the barrier that leads to the lake, known as The Glade. The waymarkers can guide you from here, although best to check against your own map if you can. Don't forget to look out for ducks, geese and swans along the way!
This is one of the slightly confusing walks in Epping Forest, but a great one if you're keen on just jumping in with both feet and figuring it out as you go.
You'll find a map of Chestnut Trail in Epping Forest here.
10. Lee Valley Wild Fowl Walk, 6 miles
This 6 mile walk takes approximately 1 hour 30 minutes and takes you around the waters of Lee Valley, with plenty of lakes and canals to spot.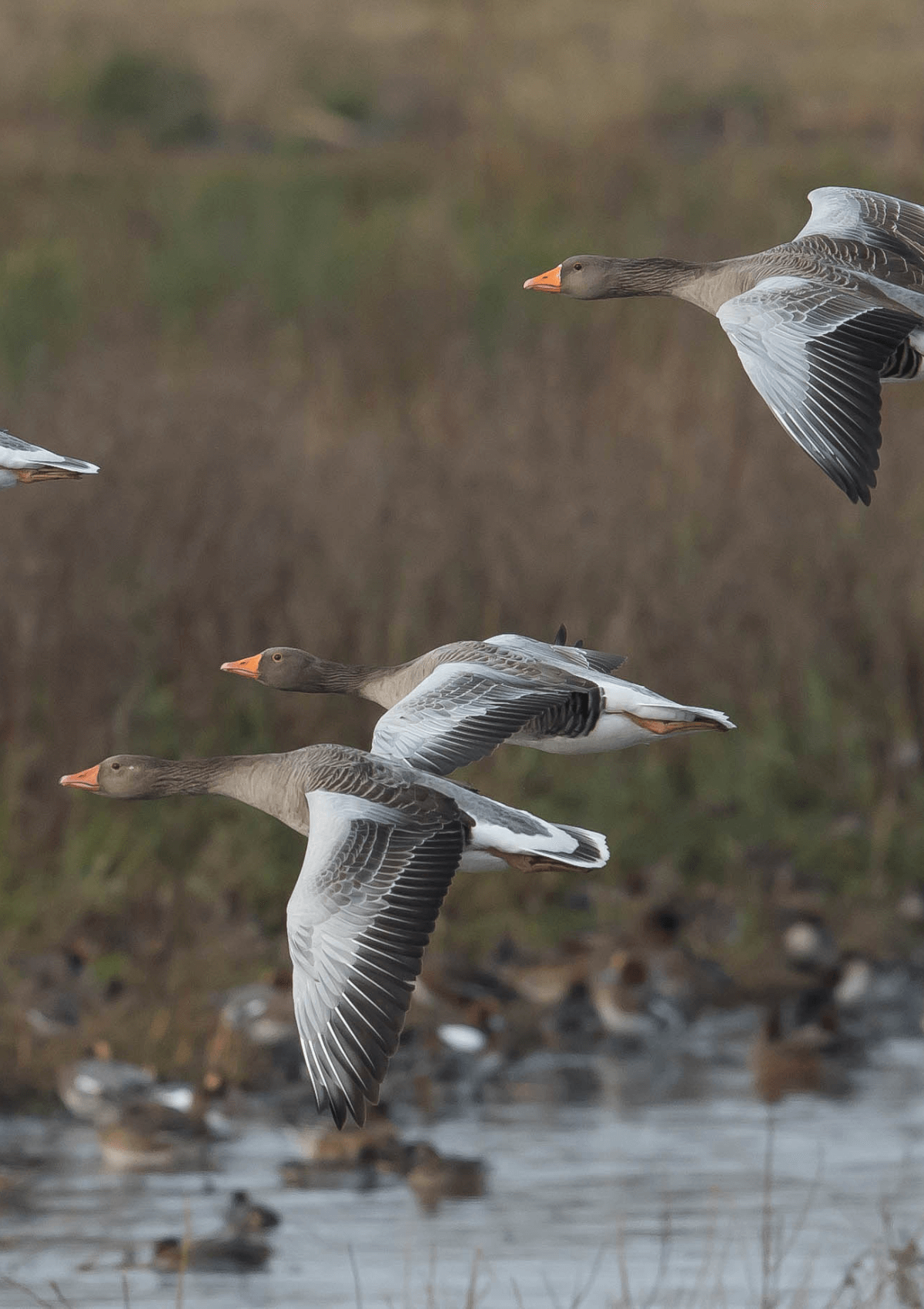 You can kick the trail off at Waltham Abbey and follow it through the park's wetlands to spot some of the waterfowl — don't forget your binoculars for this one too.
As well as birds, there's tonnes more wildlife nearby so it's a great walk for animal lovers and nature enthusiasts. Get practicing your bird calls and add this one to your list — it's definitely one of the best walks in Epping Forest.
You'll find a map of the Lee Valley Wild Fowl walk here.
10 best Epping Forest walks
Whether you're based in Essex and nearby Epping Forest anyway, you're a Londoner looking to escape the city this weekend, or you're visiting England and want to incorporate some nature walks into your trip, this list has some of the best walks available to do in Epping Forest. It's one of England's best forests to explore and from short, child-friendly strolls to longer hikes with hidden treasures, these are some of the best walks in Epping Forest to add to your bucket list.
They all make for some great hikes near London!
Quick List: 10 of the Best Walks in Epping Forest
Oak Trail, 6.6 miles
Beech Trail, 2.5 miles
The Lost Pond (Blackweir Pond), 5.5 miles
Willow Trail, 1.5-2.5 miles
Lime Tree Trail, 1.5 miles
Queen Elizabeth's Hunting Lodge, 2.4 miles
Gifford Trail, 1.25 miles
Strawberry Hill Ponds and Earl's Path Pond, 1 mile
Chestnut Trail, 3-5 miles
Lee Valley Wild Fowl Walk, 6 miles
---