Dorset is home to many amazing and beautiful National Trust properties. Whether it's historic stately homes, vast gardens, scenic beaches, or romantic ruins you're after, you'll have a fantastic selection of National Trust properties in Dorset to choose from that are waiting to be explored.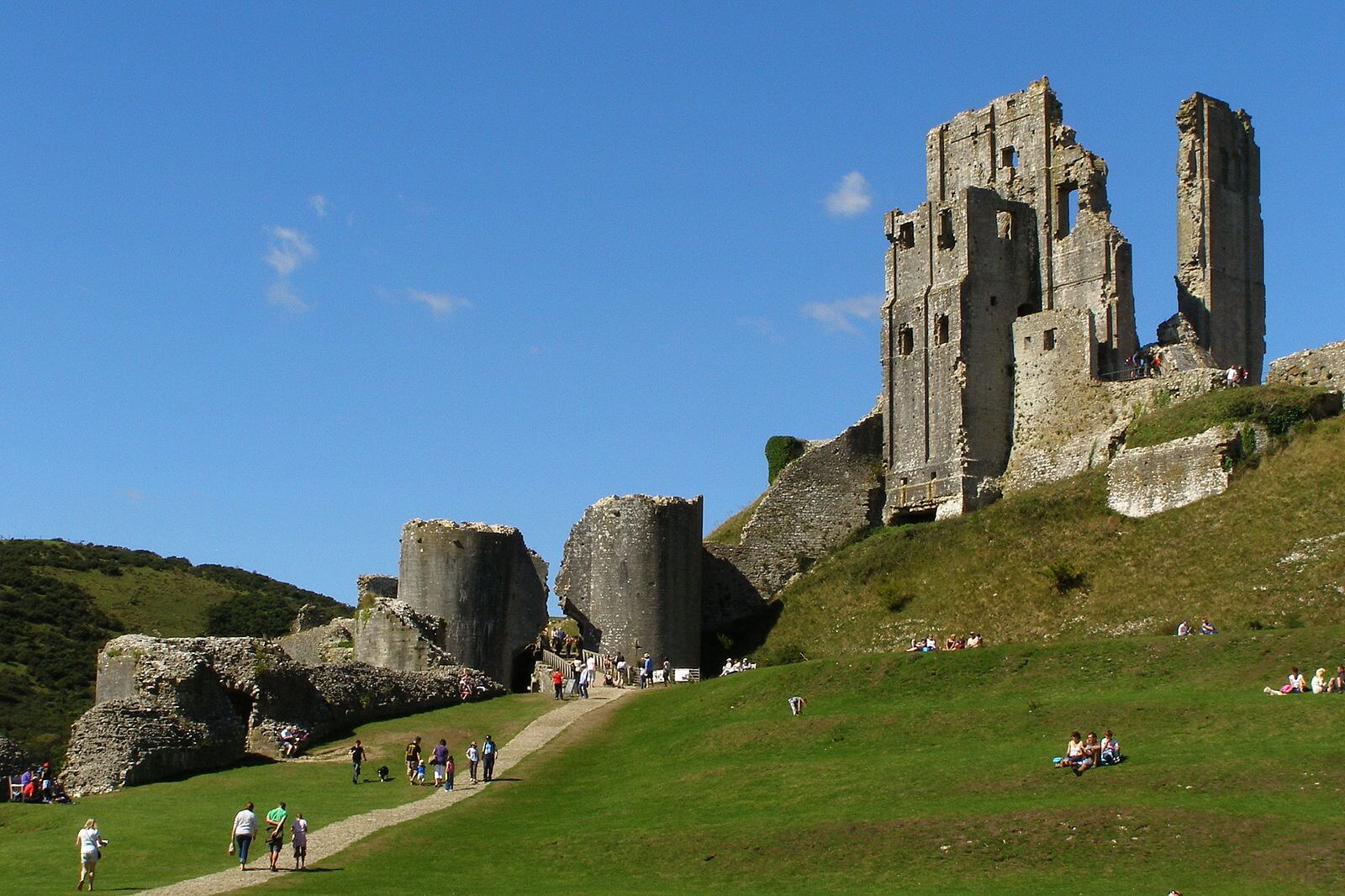 You can either become a member of the National Trust or pay each time you visit a property. Keep on reading to find out the top 7 National Trust properties to visit in Dorset.
---

Rebecca Campbell
Dorset Lover!
Rebecca is a freelance journalist-turned-blogger who enjoys writing about parenting and outdoor activities. Check out her blog RebeccaSCampbell.com to find out more.
---
1. Corfe Castle
Partially destroyed by the Parliamentarians in the English civil war in 1646, the ruined remains of Corfe Castle sit atop a rugged hill in the village of Corfe. Originally built in the 12th century by King Henry I, Corfe Castle has captivated the imagination of adults and children alike while boosting impressive views of the surrounding Dorset countryside.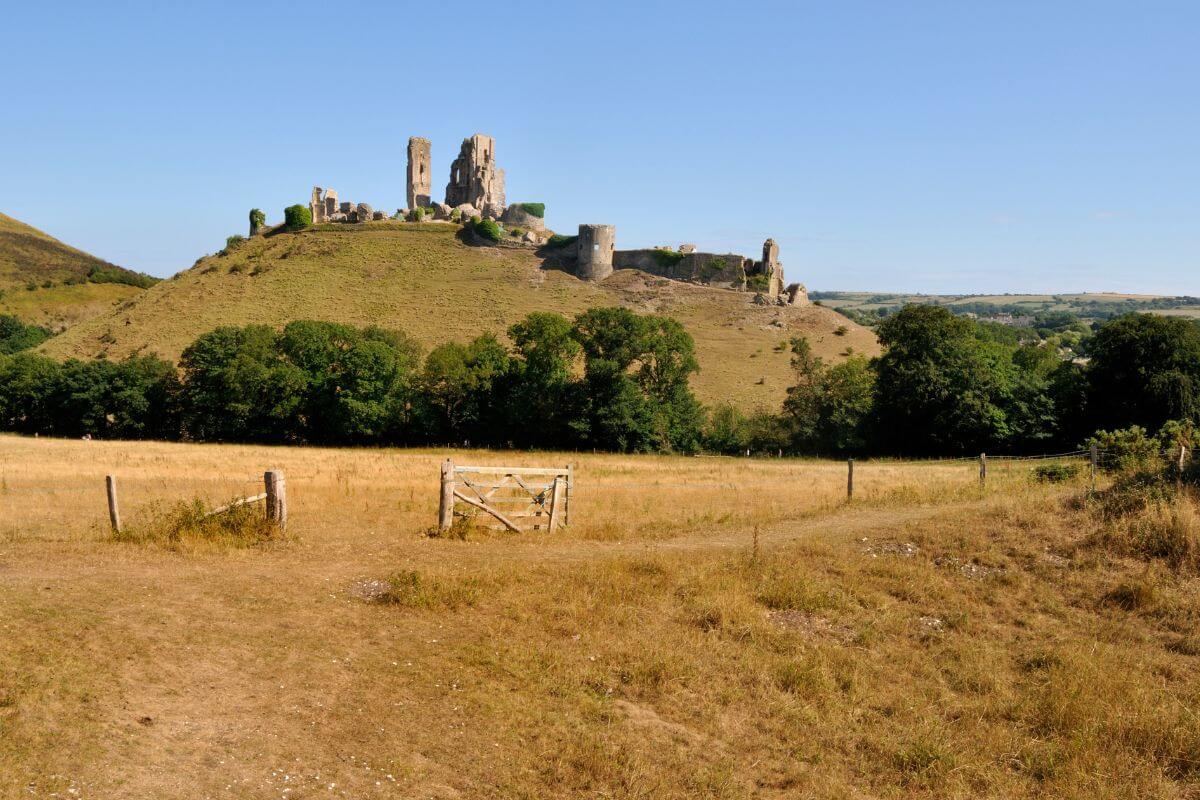 With the first stone of Corfe Castle laid over 1,000 years ago, visitors can enjoy walking around the historic castle uncovering its secrets as they can learn about the former royal palace and fortress. Step back in time to find out about its turbulent past where tales of treachery and treason abound.
Throughout the year, young and old can enjoy events and activities at Corfe Castle, whether hunting the trails for Easter egg clues or watching a mediaeval play. There's plenty to keep all entertained as history comes to life at this National Trust property.
If you're going on a day out in Dorset, Corfe Castle is a must do. It's the most visited National Trust property in Dorset.
Address: The Square, Corfe Castle, Wareham, Dorset, BH20 5EZ
Opening Times and Prices: These vary, please check the Corfe Castle National Trust website for more information
Facilities: There are steep slopes, some steps, and uneven paths. Dogs are welcome up on a short lead. Accessible toilets and designated parking is available. Shops and cafes are in the village.
READ MORE: The Top Day Spas in Dorset
2. Brownsea Island
Famous for its red squirrels, Brownsea Island is situated in the middle of Poole Harbour with stunning views of the Purbeck Hills. As the name suggests, Brownsea Island is only accessible by boat, adding to the adventure when you arrive. To get to the island, you need to catch a ferry from Poole Quay or Sandbanks.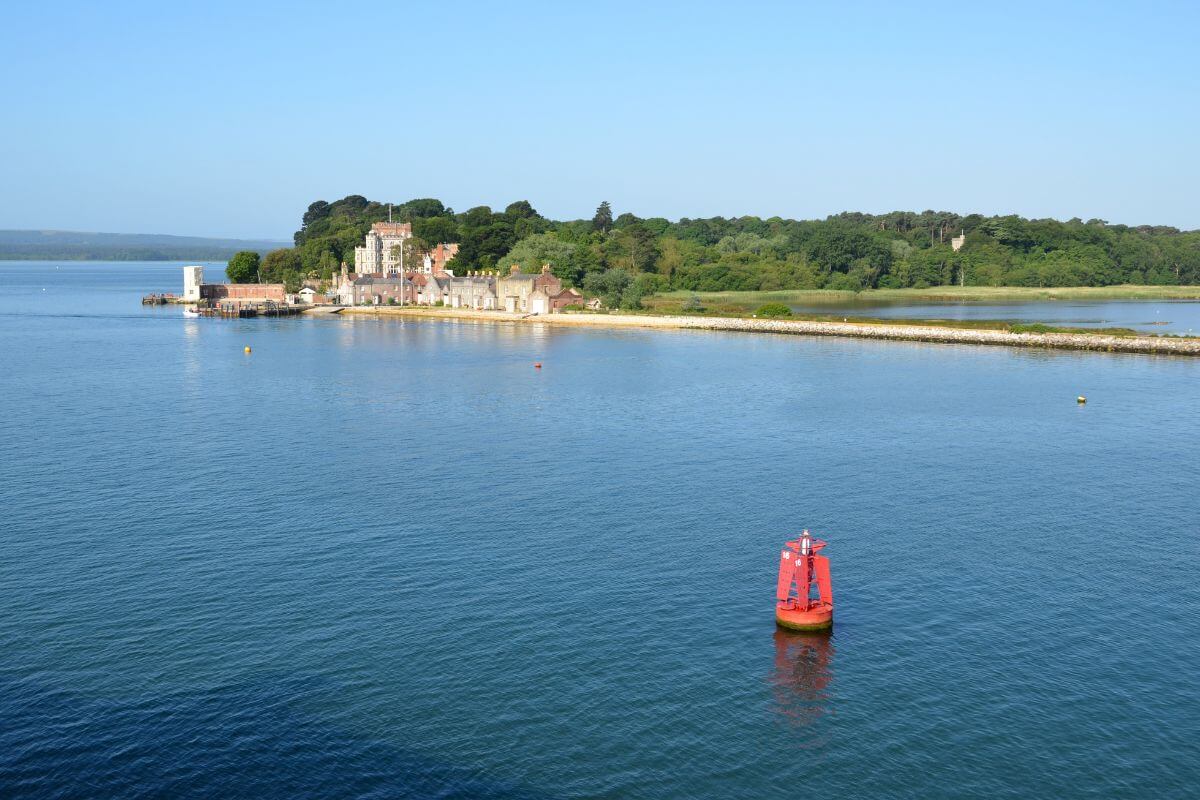 Easy to get to, Brownsea Island has an abundance of habitats including woodland, heathland, and a lagoon, making this location a wildlife haven for overwintering and summer nesting birds. As well as the elusive red squirrel, you'll also find peacocks and chickens on the island.
This National Trust location in Dorset is known as the founding place for the Scout and Guiding movement at its historic campsite and is a great place to book a bell tent or hang out in a tree tent for an overnight stay under the stars. There are also the island's holiday cottages or the South Shore lodge that visitors can rent for those wanting a bit more comfort.
Plenty of trails for families can be found to enjoy and during the school holidays, free activities are available to take part in. For the more adventurous, you can reach Brownsea Island with your own kayak or boat, landing on the South Shore beaches only. It's one of the most interesting islands on the south coast.
Address: Poole Harbour, Poole, Dorset, BH13 7EE
Opening Times and Prices: The island is now closed for the winter, but reopens to day visitors on Saturday 11th March 2023. Check the Brownsea Island National Trust website for more information.
Facilities: No dogs, apart from assistant dogs, are permitted on Brownsea Island. All-terrain wheelchairs and electric buggies are available to navigate the slopes and uneven ground. Baby changing facilities and accessible toilets can also be found. A cafe and daily tours are available.
3. Kingston Lacy
This elegant estate near Wimborne Minster was the family home of the Bankes family who owned many parts of Dorset for more than 400 years, including Corfe Castle. Spend an afternoon walking around the home and enjoy the stunning paintings and decorations. It's definitely the grandest of the National Trust properties in Dorset.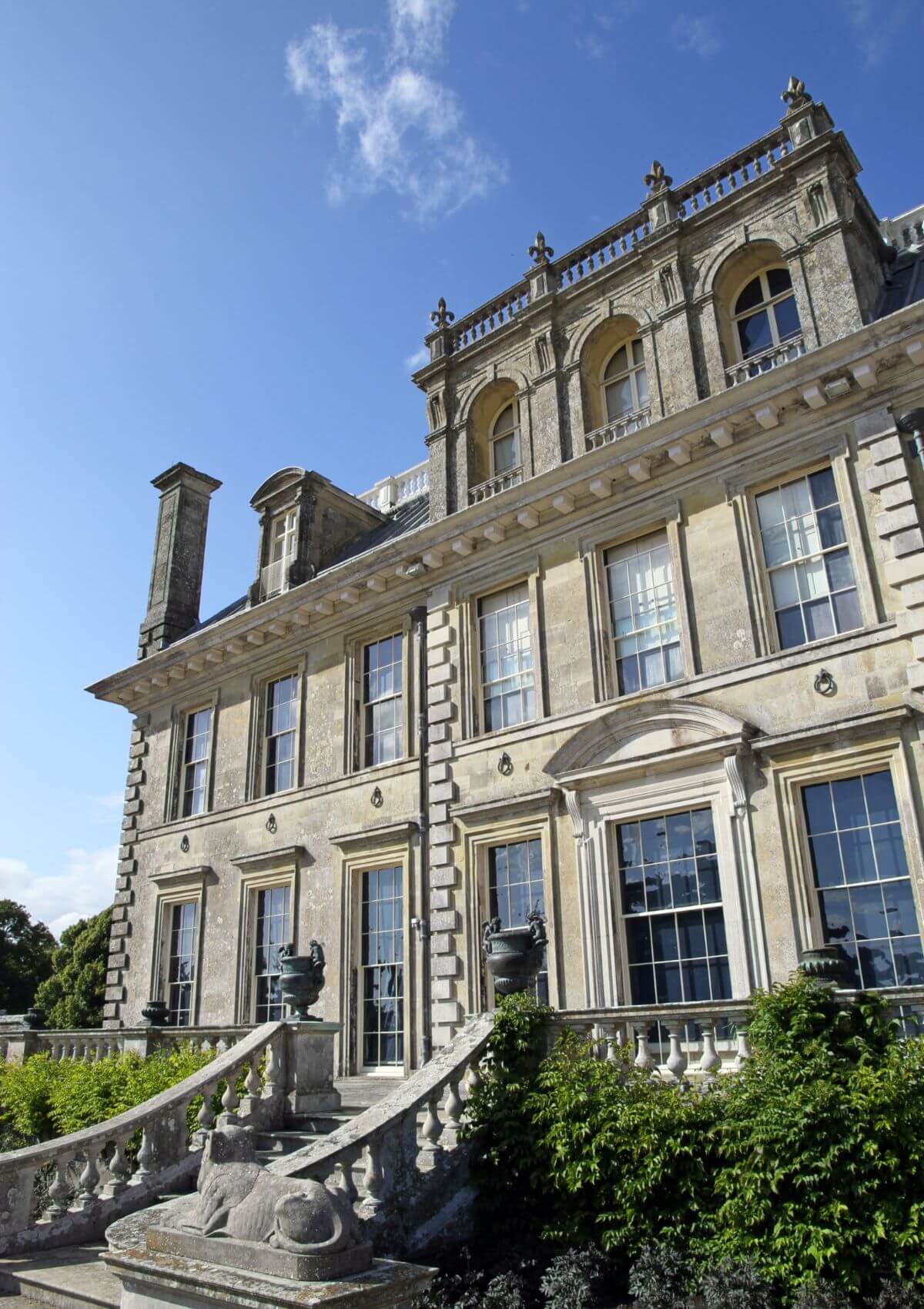 If the day is fine, talk a walk around the vast 17th-century formal grounds created by Henrietta Bankes, featuring heathland, woodland, and wildflowers. Visit the Japanese gardens on your walk or stop by the natural play area in the woodland for children to enjoy.
Bring a picnic and spend a leisurely day exploring what Kingston Lacy has to offer.
Address: Wimborne Minster, Dorset, BH21 4EA
Opening times and prices: Prices and times vary depending on the time of the year, so check the Kingston Lacy National Trust website for more information.
Facilities: Cafe, bookshop, and toilets. The garden paths are mainly gravel.
4. Hardy's Cottage
The birthplace of Thomas Hardy in 1840 is the cob and thatch cottage known as Hardy's Cottage, which was built by his great-grandfather. The English novelist and poet is known for his books such as Tess of the d'Urbervilles and Jude the Obscure, but it was his early works including Under the Greenwood Tree and Far from the Madding Crowd that he wrote at Hardy's Cottage.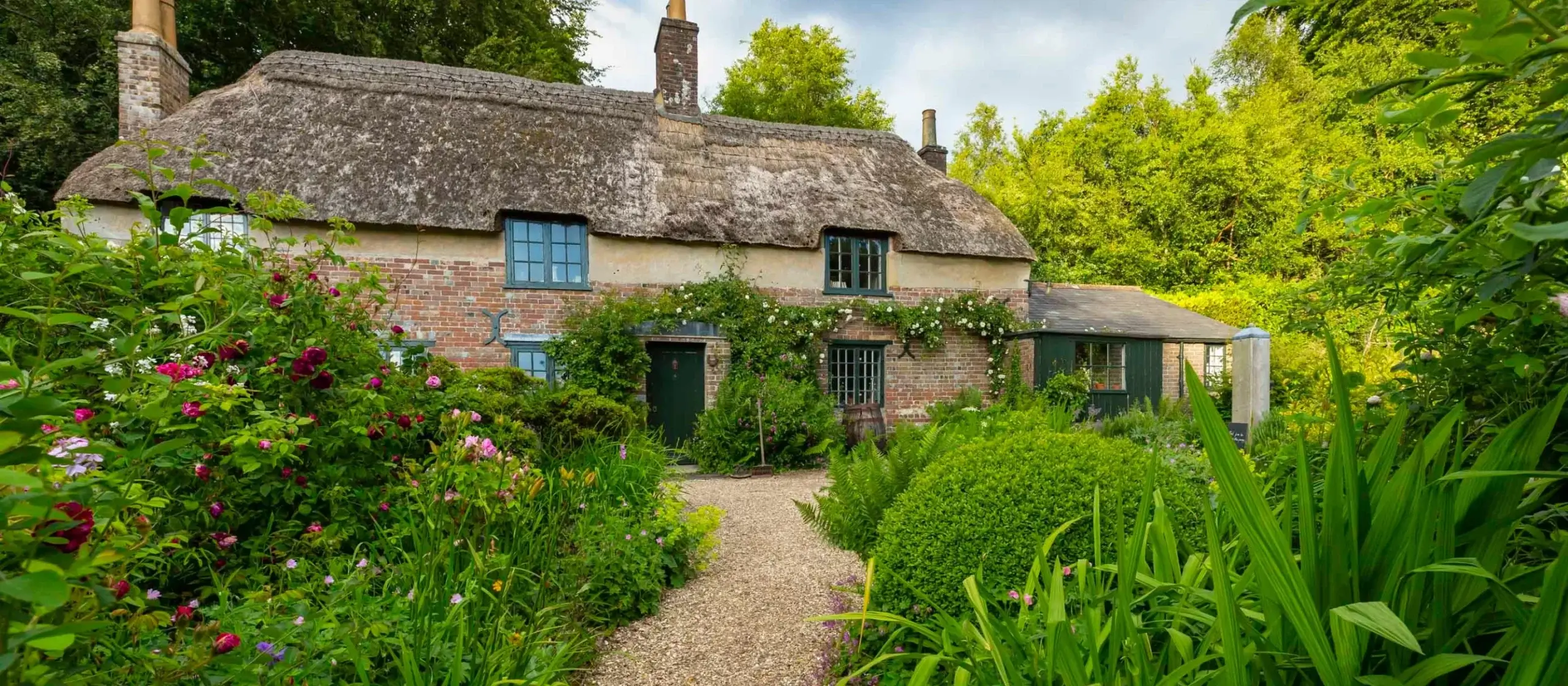 Once you've explored his former home, which has changed little since the family left, why not take a stroll around the traditional cottage garden? Walk through the apple orchard and immerse yourself in the sights and sounds whatever the season. If you're into your English literature, and want to walk in a few footsteps of the greats, then this is the National Trust Property in Dorset for you.
Address: Higher Bockhampton, Near Dorchester, Dorset, DT2 8QJ
Opening times and prices: Hardy's Cottage is currently closed during the winter and will reopen Tuesday 7th March 2023. Check Hardy's Cottage National Trust website for more information.
Facilities: Access to Hardy's Cottage is unsurfaced and can be muddy and uneven. The nearest parking is Hardy's Birthplace parking; however, it's not National Trust and pay and display charges apply.
5. Spyway
If you've got any dinosaur loves in your family, then head to Spyway where you'll find more than 100 fossilised dinosaur footprints. The tracks, which were probably made by sauropods such as Brachiosaurus, date back to 140 million years ago. Young and old will enjoy seeing these footprints where they can walk in the footsteps of dinosaurs.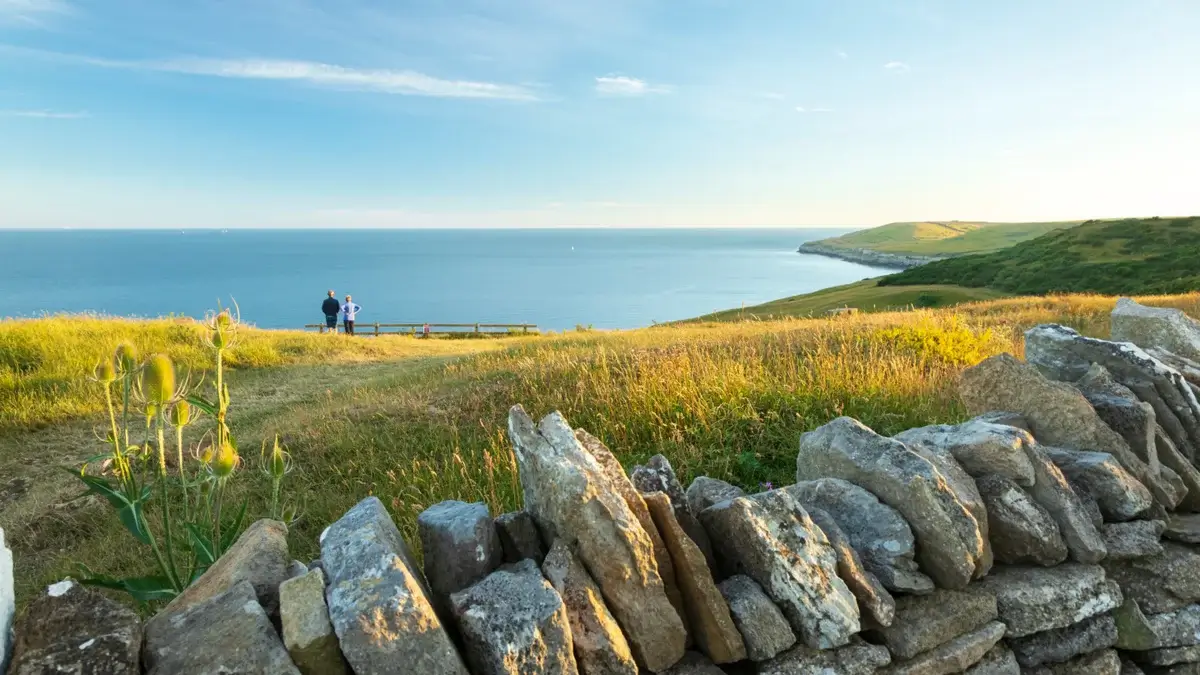 For bird lovers, Spyway offers an opportunity to see a small colony of nesting puffins during spring. And for those who enjoy a scenic walk, the South West Coast Path runs along Spyway, giving people amazing views of Dorset's Jurassic Coast as far as Portland and out to the impressive Dorset beaches. Head to Dancing Ledge with a picnic, enjoy a swim in the natural pool, or simply watch the many rock climbers who head to this popular spot.
Address: Langton Matravers, Near Swanage, Dorset, BH19 3HG
Opening times and prices: Spyway is open whatever the weather and is free as well. Check the Spyway National Trust website for more information.
Facilities: The car park is accessed via a track and may not be suitable for all vehicles and is limited.
6. Old Harry Rocks
For breathtaking views and amazing walks, Old Harry is a popular route for walkers and cyclists at the southern point of Studland Bay. Head to the top of Handfast Point where you can see the chalk formations known as Old Harry Rocks; however, it's actually the single stack of chalk standing furthest out to sea that's called Old Harry.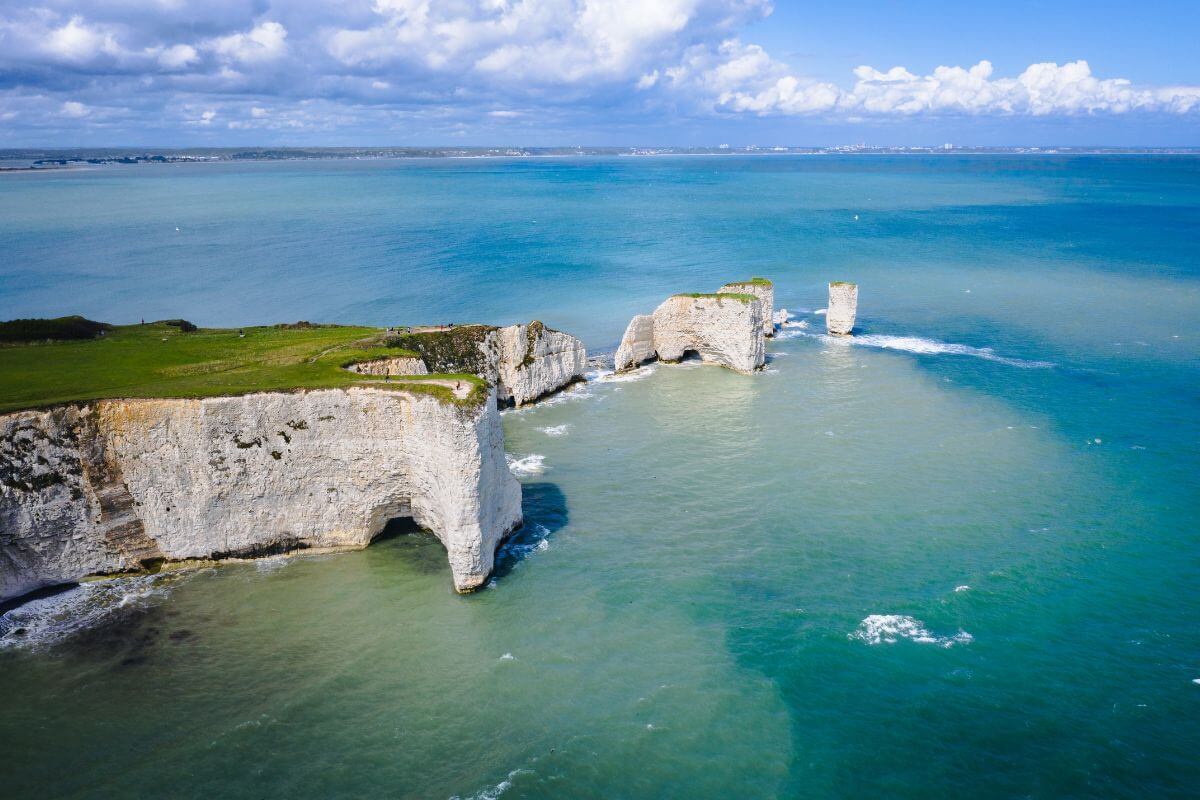 The name itself is thought to be named after a famous pirate (Harry Paye) or the devil. There was also a stack known as Old Harry's Wife until 1896, which eroded into the sea, leaving only a stump. If you want a closer look at the rocks, head out on a kayak or take a boat trip, passing the rock formations on the way to Swanage.
On a warm day, grab a picnic and find a spot to enjoy the views or go to one of the nearby places to grab something to eat and drink.
This is a fun place for paddleboarding in Dorset, but be careful!
Address: Handfast Point, Studland, Dorset, BH19 3AX
Opening times and prices: Open whatever the weather. Parking is free to National Trust members.
Facilities: Dogs are allowed, but they should be kept on a short lead due to the high cliffs. Cafe, toilets, and parking can be found near Studland Bay.
7. Clouds Hill
Clouds Hill was the rural retreat of T.E. Lawrence, better known as Lawrence of Arabia. Located outside of Wareham, Clouds Hill is a popular National Trust attraction that's been left as Lawrence furnished it. Take a look inside the Book Room, which is where T.E. Lawrence would read on the leather-covered bed rather than use it for sleeping.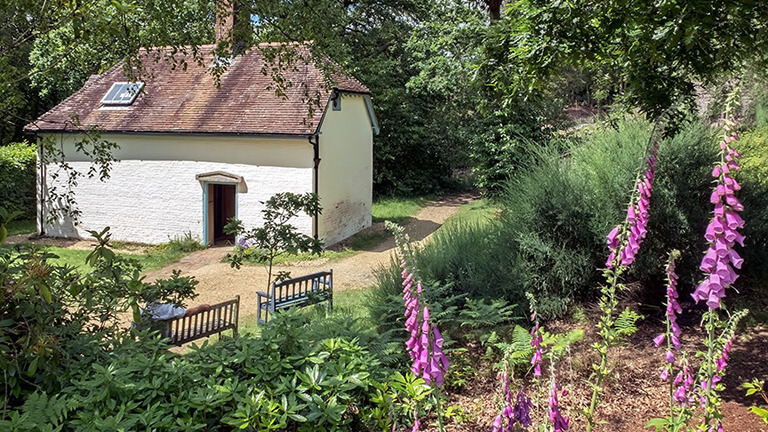 For those who want to learn more about him, a special exhibition is in the garage, which contains a display of his life. Explore this isolated cottage to learn about the archaeological scholar, military strategist, and author and see what his home life was like in this compact cottage away from his army life at Bovington Camp.
Overlooking the cottage is a small hill that T.E. Lawrence enjoyed climbing. Visitors to Clouds Hill can do the same and rest at the top on the picnic bench. For those who want to immerse themselves in the life of T.E. Lawrence, who enjoyed brass rubbing, they can do their own set of rubbings from zinc plaques.
Address: King George V Road, Bovington, Near Wareham, Dorset, BH20 7NQ
Opening times and prices: Clouds Hill is closed for winter, but will reopen on Wednesday, 15th March 2023. Check Clouds Hill National Trust website for more information.
Facilities: Free parking is available for up to one hour. Toilets are on site.
7 of the Top National Trust Properties to Visit in Dorset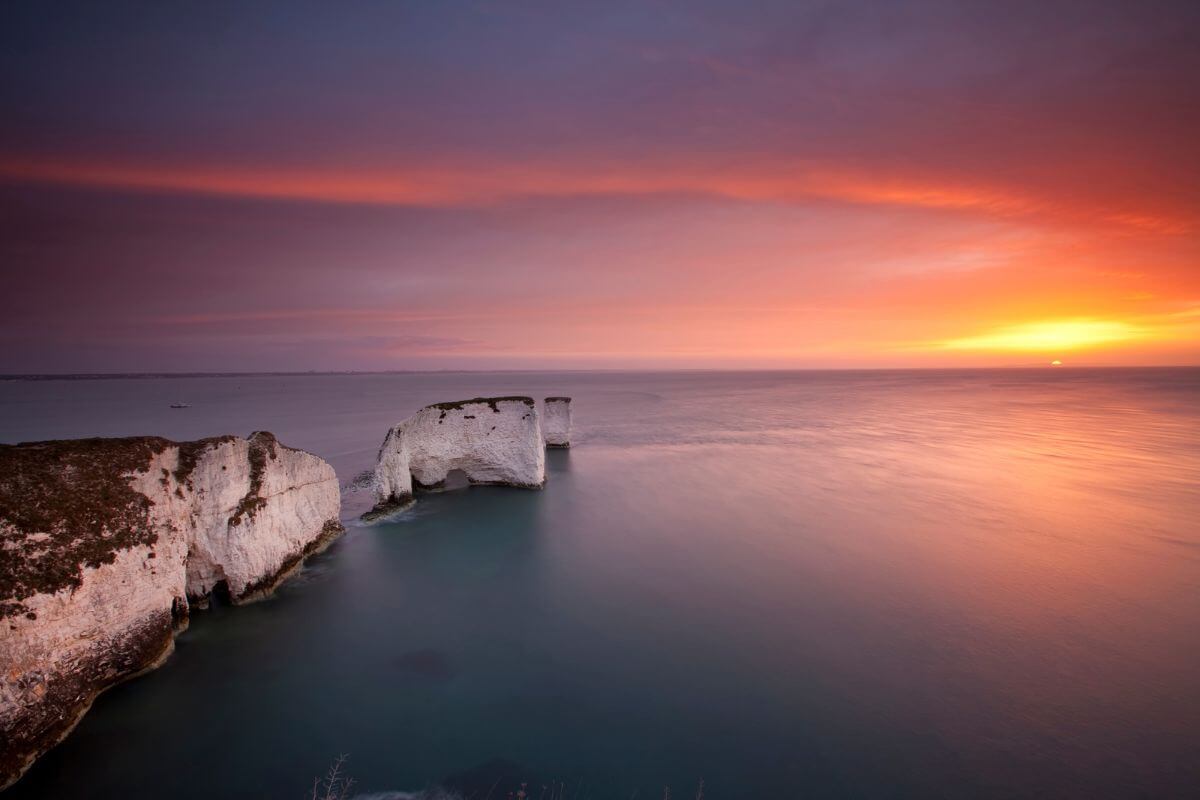 Dorset has some stunning National Trust properties to explore around the Dorset countryside, so you're bound to find something to see whatever the weather. Whether you're making a day trip or live locally, for your next outdoor adventure, visit one of these locations for a great day out.
Quick List of the Top National Trust Properties to Visit in Dorset
Corfe Castle
Brownsea Island
Kingston Lacy
Hardy's Cottage
Spyway
Old Harry Rocks
Clouds Hill
---