The best spots for a narrowboat in England include Industrial Revolution-era waterways that traverse vibrant cities, historic towns and stunning countryside settings. Here's our guide to England's best canals for narrowboats.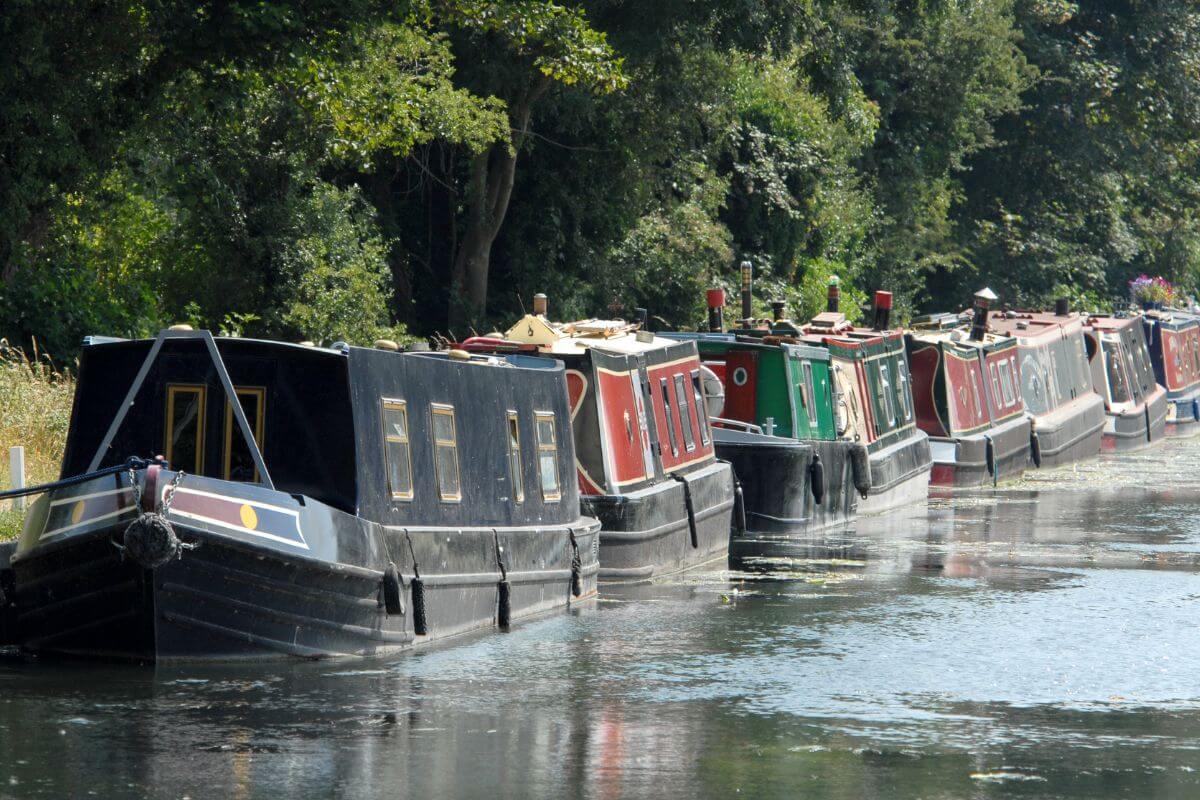 Nowadays, it's almost unheard of to explore England by boat, but this beautiful nation boasts over 2,000 miles of canals and rivers that flow through cities and countryside vistas.
By hiring a narrowboat, you can discover cities like Leeds, Liverpool and Oxford, national parks like the South Downs and the Peak District, and historic towns like Stratford-upon-Avon – all at a leisurely pace that'll allow you to really soak everything in.
So, if you want to see the best of Britain without having to drive along busy roads or jostle with crowds, read about our favourite spots for a narrowboat in England.
Best Spots for a Narrowboat in England
Looking for the best spots for a narrowboat in England? These waterways will take you to famous cities, historic towns and stunning countryside settings.
1. Oxford Canal
Oxford Canal is easily one of the best spots for England canal trips. The canal has a length of 77 miles and connects Oxford to Coventry, passing by charming towns and country estates that have retained their impressive 18th-century looks.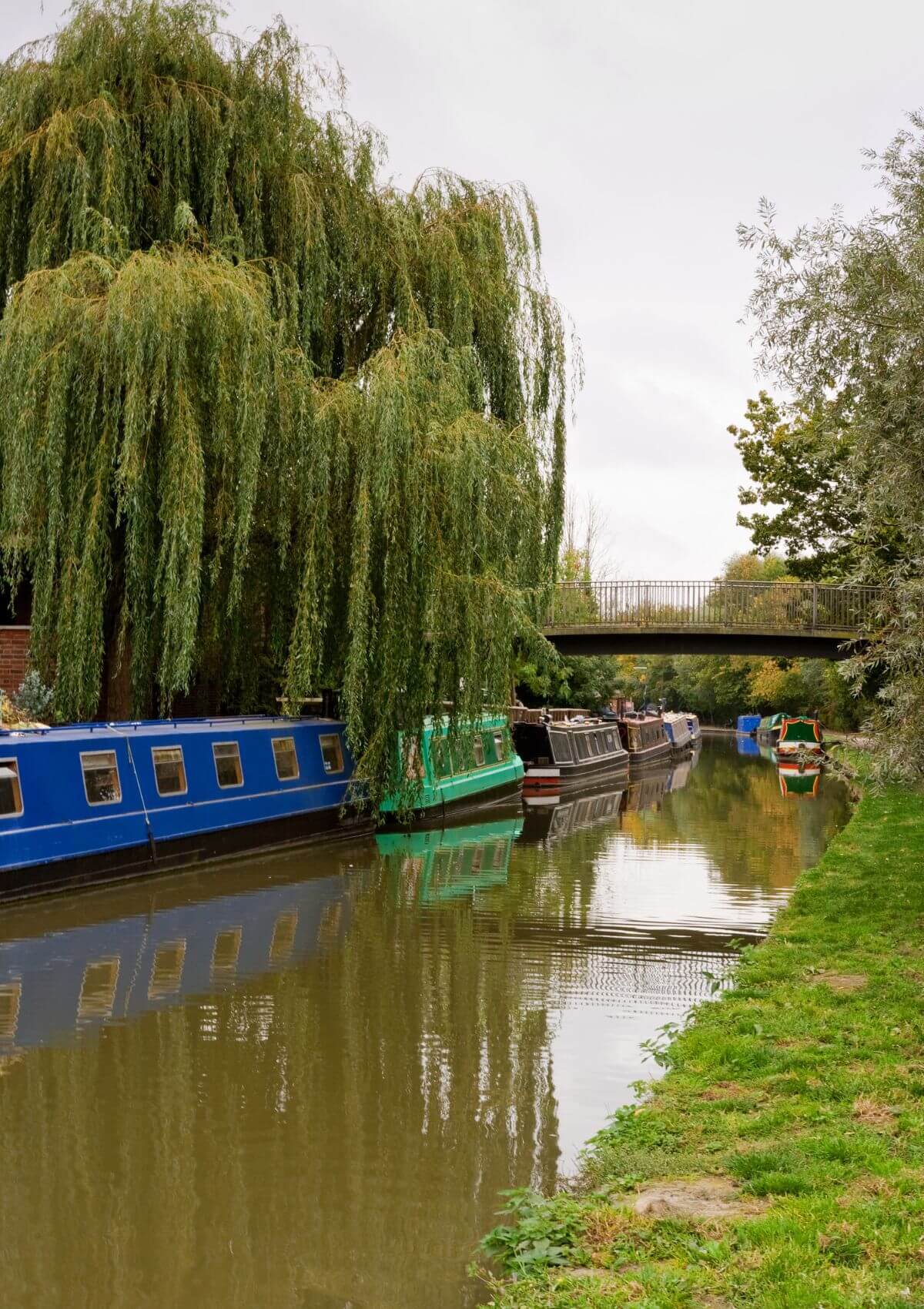 Some of the prettiest villages to visit along the Oxford Canal include Shipton-on-Cherwell, Lower Heyford and Thrupp. And it goes without saying that you simply need to explore the city of Oxford, home to a prestigious university, Britain's oldest Botanic Gardens and the Ashmolean Museum.
We recommend sailing from Coventry to Oxford, which was an important route for transporting coal during the 18th century. Consider spending some time on dry land in Oxford. There's so much to do in the city and many amazing days out in Oxfordshire.
If you decide to sail from Oxford to Coventry, read about some of the best things to do during your visit to the West Midlands.
READ MORE: How to Enjoy the Best Oxford Day Out for Tourists
2. Regent's Canal
One of the best spots for a narrowboat in England has to be Regent's Canal simply because it's an oasis of serenity in the heart of London.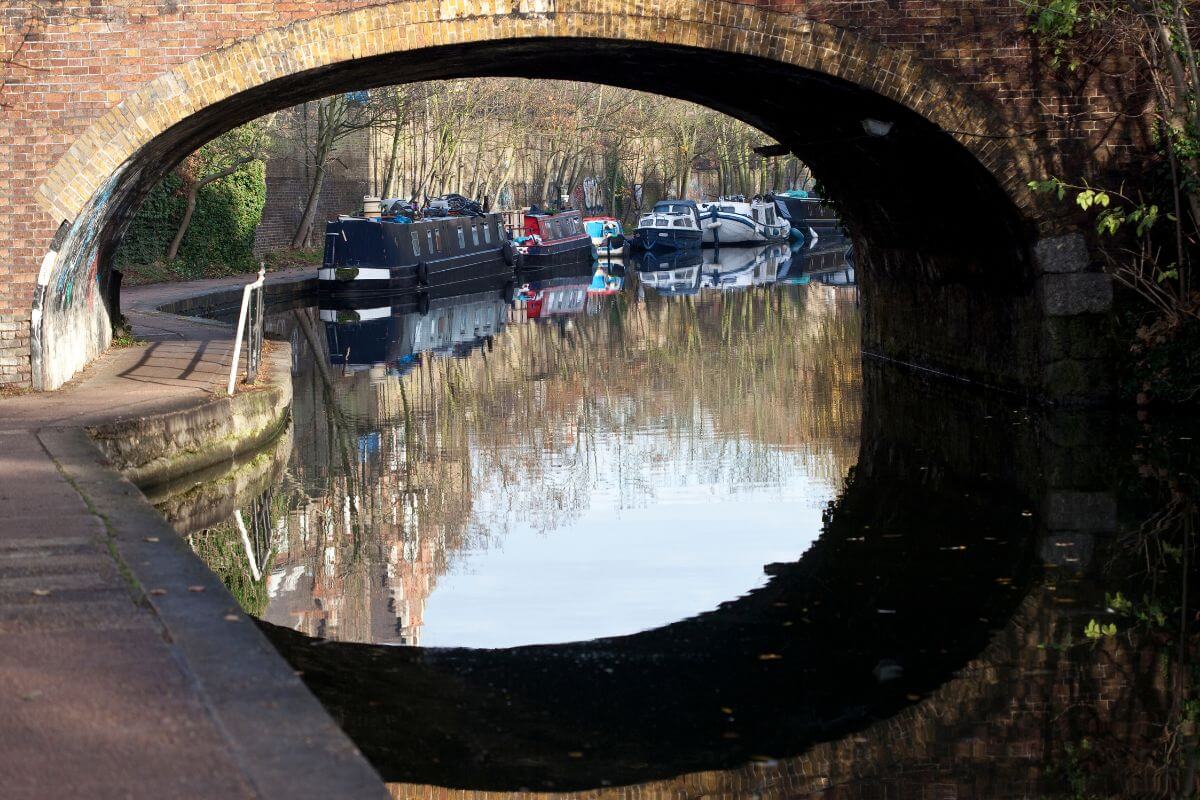 If want to explore London, you might want to dock your narrowboat alongside the colourful vessels at Little Venice. More interested in soaking up the Capital from the water? You'll catch a glimpse of Regent's Park, Lord's Cricket Ground and London Zoo's aviary while navigating Regent's Canal. You'll also pass the quirky clothing and craft stalls of Camden Town's famous market.
It's worth stepping onto dry land to visit attractions such as Little Venice and London Zoo, one of England's best zoos. Even if you remain in the comfort of your barge, you'll be able to take in views of some of London's most iconic landmarks along Regent's Canal.
Whether you're renting a narrowboat, or you have one of your own, make sure you sort your narrowboat insurance before you get started. The average cost of a new narrowboat is £100,000 – you want to make sure you're covered for all eventualities!
3. The Grand Union Canal
The Grand Union Canal is another one of our favourite waterways in London for narrowboats, and it leads all the way to Birmingham. You can actually join the Grand Union Canal by following Regent's Canal. It's one of the most impressive canals in England for sure.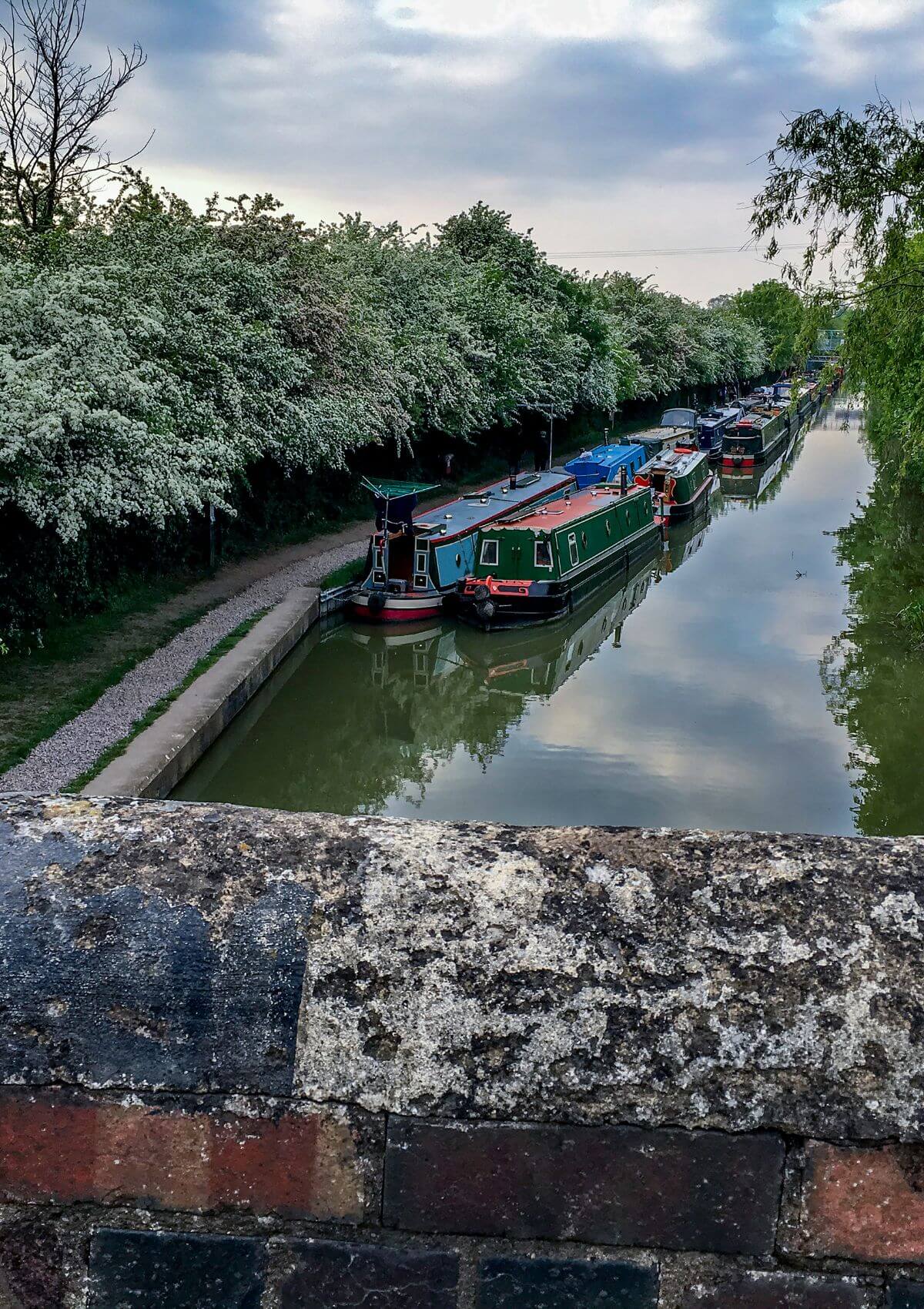 You'll see natural vistas such as the Chiltern Hills plus lots of vibrant urban areas while floating along the Grand Union Canal. You'll also sail through Blisworth Tunnel, which is one of Europe's longest freely navigable tunnels at a length of 2,811 metres.
If you're up for an epic narrowboat sailing trip through London and the Home Counties, we recommend following the 245-mile-long Thames Ring, which includes both the Grand Union Canal and Regent's Canal – plus a total of 176 locks.
When you need a break from sailing along the Grand Union Canal, find somewhere to dock and embark on a free day out in London. You don't need a penny to roam the streets of Little Venice or greenspaces like Hyde Park.
4. Leeds and Liverpool Canal
At 127 miles long, the Leeds and Liverpool Canal is the longest canal in England to be built as a single waterway. If you continue on from the canal along the Calder and Aire, you can cross England from coast to coast.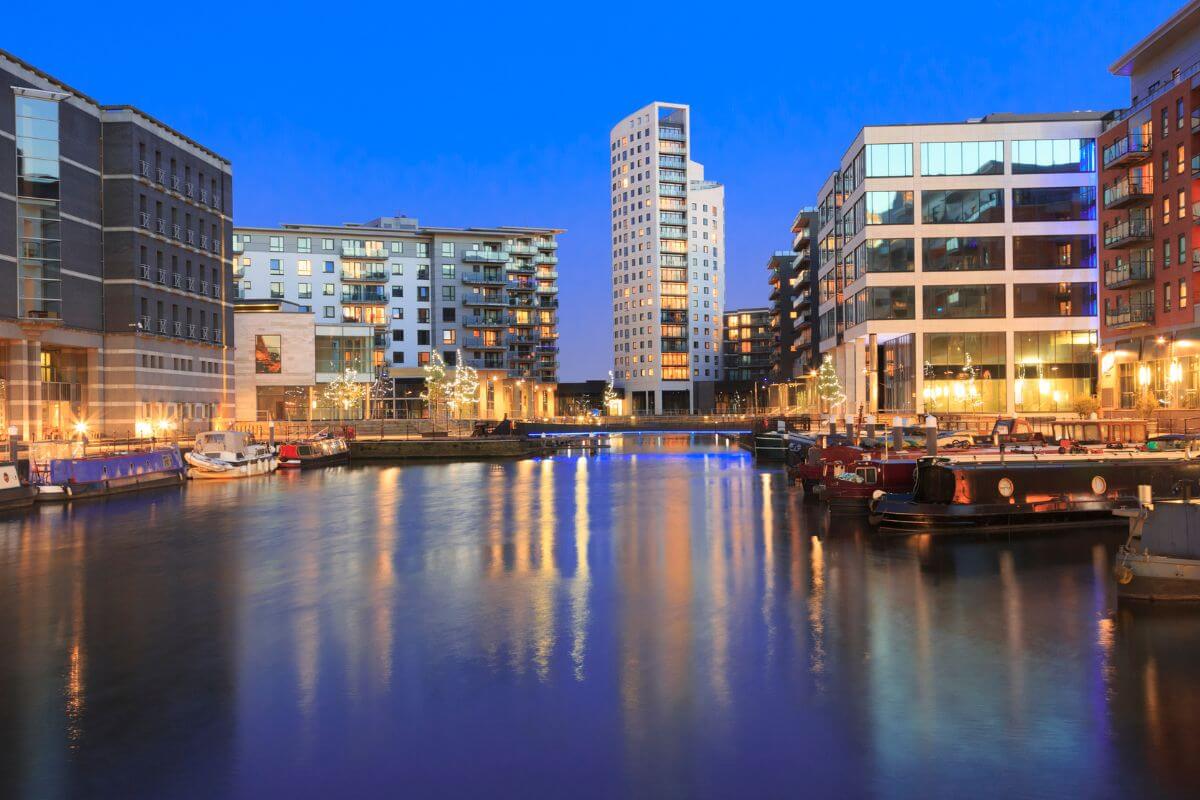 The route of the Leeds and Liverpool Canal navigates the contours of the stunning landscape. It also passes historic manufacturing towns such as Wigan, where a series of 21 locks carries narrowboats 200 feet into the Pennines. Views of unspoiled moorland await.
It doesn't matter which end of the canal you decide to set sail from. From the Royal Armouries Museum to Roundhay Park, there are plenty of things to do in Leeds if you're staying in the city before setting sail, and there are just as many places to visit in West Yorkshire and beyond on day trips from Leeds.
If you're starting from the western terminus of the canal, we highly recommend visiting attractions including the Royal Albert Dock and the Cavern Club on a day out in Liverpool. On day trips from Liverpool, you can head to Manchester, the Lake District and even London. There are also countless amazing things to do in Merseyside.
5. The Norfolk Broads
One of the best spots for a narrowboat in England has to be the Norfolk Broads, which is home to the largest protect wetland habitats in England.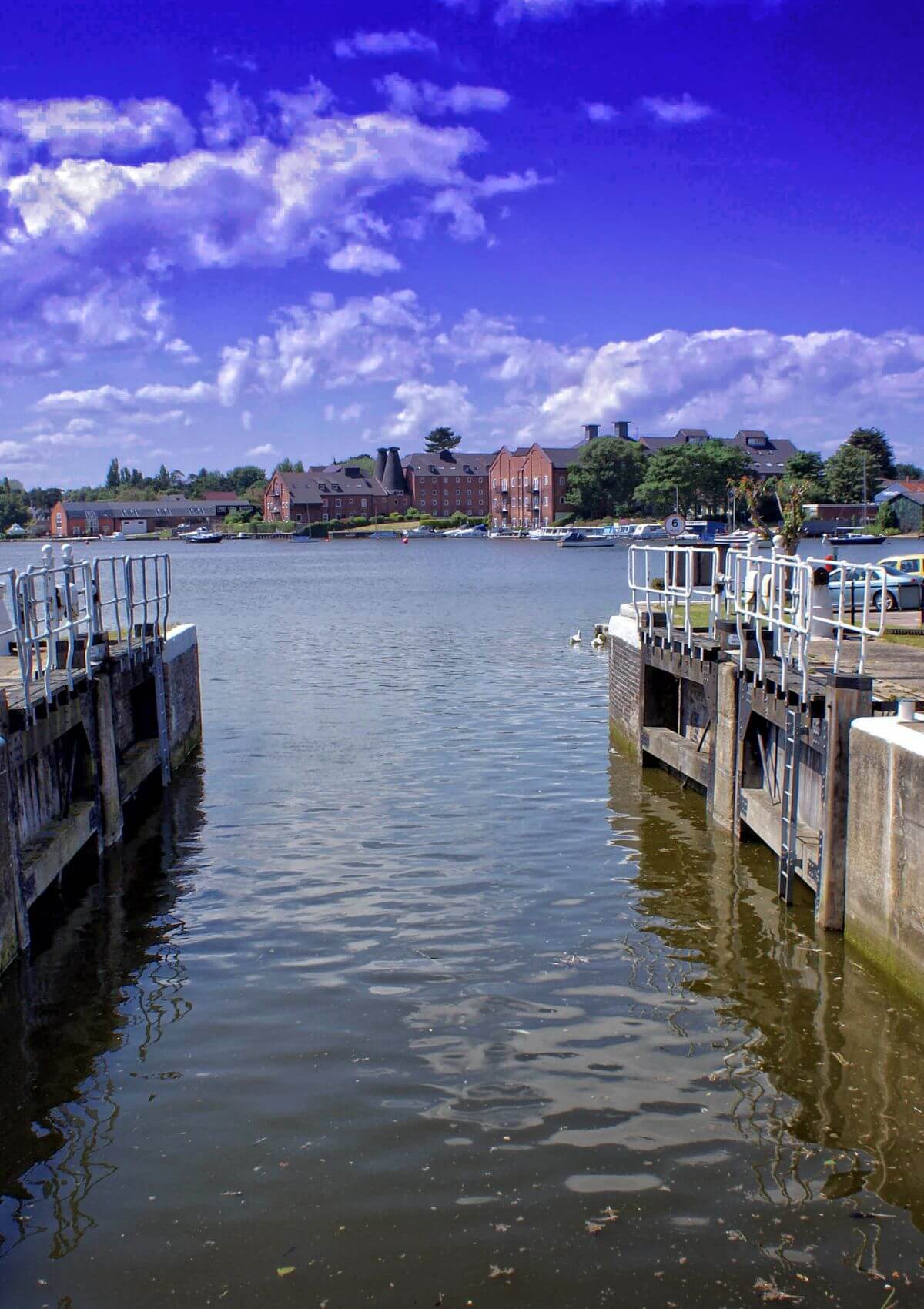 A slow-paced sailing adventure through the Norfolk Broads gives you the chance to look out for wildlife including voles, butterflies, deer and otter. You'll also see quaint villages and market towns scattered among natural landscapes of rare and beautiful plants. Plenty of waterside pubs have mooring facilities, perfect for a well-deserved bite and a break.
If you're staying in the area, you might want to find out about some of the best days out in Norfolk on dry land, which include the Blakely Nature Reserve and the Norwich Castle Museum. You might also want to check out some of Norfolk's best paddle boarding spots for when you want to try other water activities besides sailing. 
READ MORE: The Best Days Out from Norwich
6. Avon Ring
If you're a fan of the legendary playwright and author, William Shakespeare (one of the most famous English writers of all time), then the Avon Ring has to be one of the best spots for a narrowboat in England for you.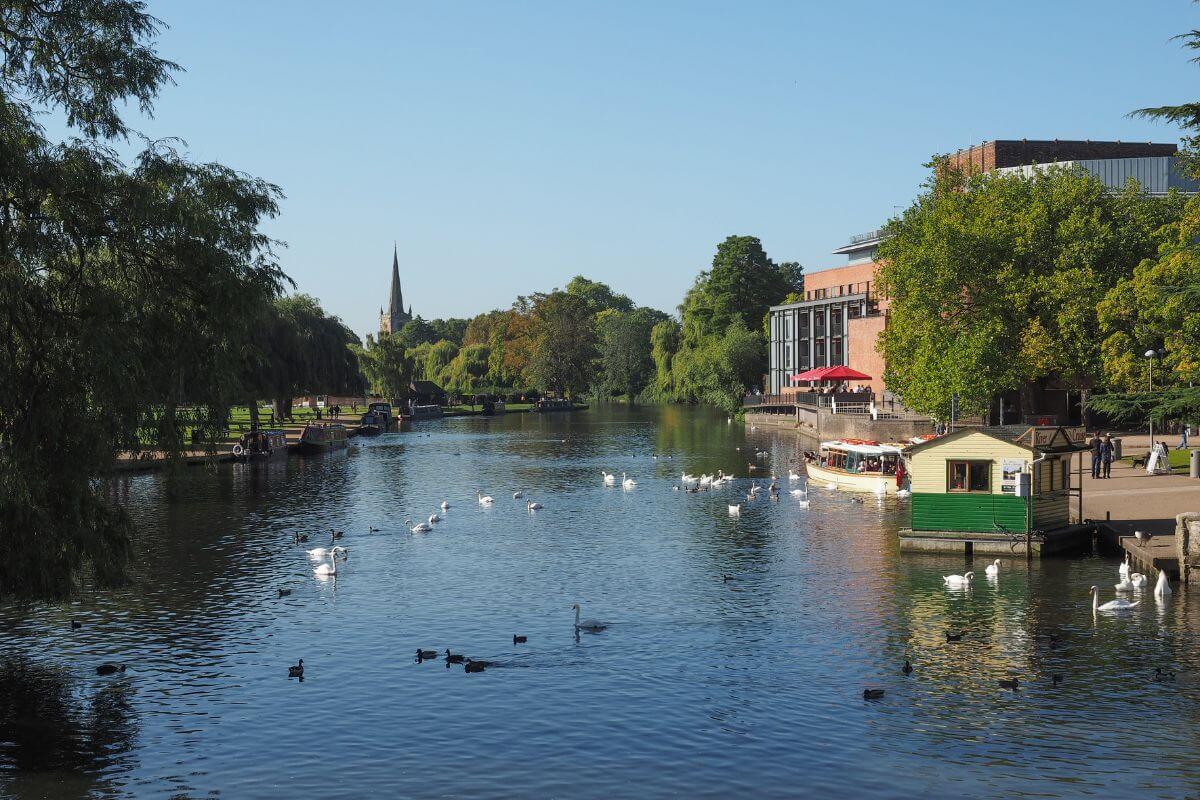 By navigating the Avon Ring, which usually starts in Worcestershire, you can pay a visit to Stratford-upon-Avon, which is the birthplace of William Shakespeare. Here, you can visit what many would agree are some of England's most important cultural and historic attractions, such as Shakespeare's former home and the Royal Shakespeare Theatre.
Why not hop on out and take a guided walking tour of beautiful Stratford-upon-Avon while you're there?
7. Trent and Mersey Canal
Constructed during the 1770s under the leadership of renowned engineer James Brindley, the Trent and Mersey Canal was the first long-distance canal in England – a true relic of the Industrial Revolution.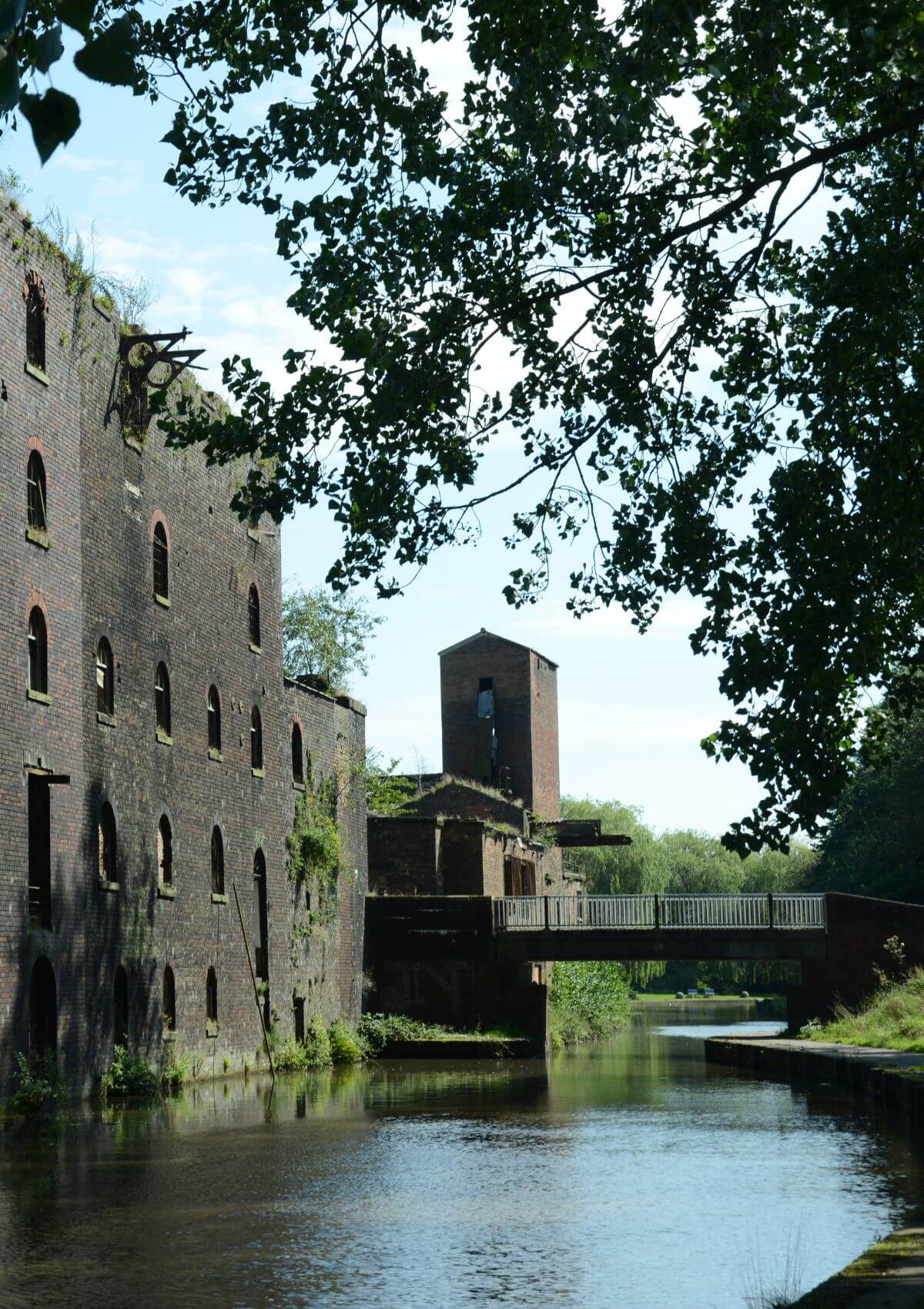 Highlights of the Trent and Mersey Canal include Heartbreak Hill, where you'll find 21 locks squeezed into just two miles, and the 1.5-mile-long tunnel at Harecastle that's said to be haunted. You'll also take in the scenic views of the village of Preston Brook, the Derwent Mouth section of the River Trent (one of England's most interesting rivers), and the vistas of Derbyshire.
Stay in Preston Brook for a night or two if you fancy a couple of days out in Cheshire before sailing. At the end of your trip, we recommend checking out some of the best things to do in Derbyshire.
8. River Wey
If you want to hit one of the best spots for a narrowboat in England on a day out in Surrey, we implore you to sail along the tranquil River Wey.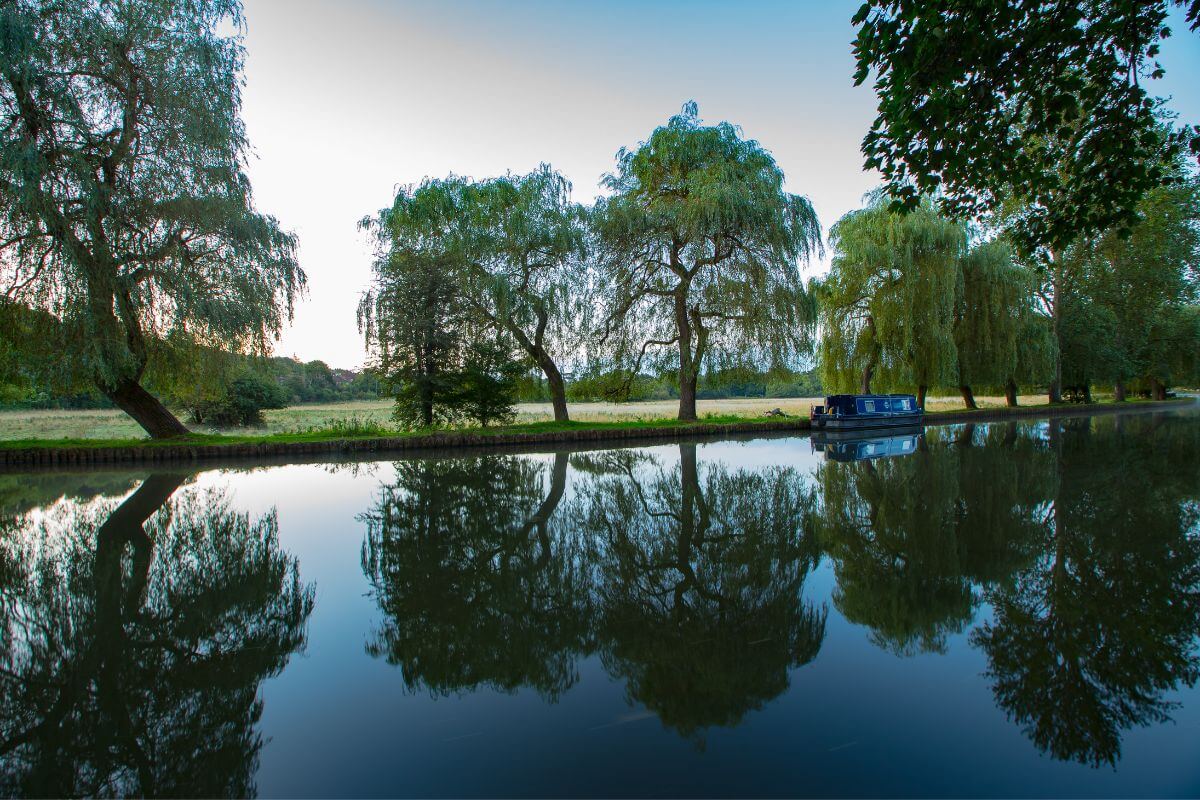 The River Wey starts as two branches, with one beginning at Alton in Hampshire and the other at Haslemere in West Sussex. These branches join at Tilford in Surrey and eventually lead to the Thames.
While following this scenic waterway, you'll catch glimpses of natural wonders like the National Trust Witley and Milford Commons as well as the South Downs National Parks, one of England's best National Parks.
9. Lancaster Canal
If you'd rather not have to maneuver your narrowboat through a series of locks, you might want to float along the Lancaster Canal from the city of Preston to the hamlet of Tewitfield. The entire journey covers a distance of about 41 miles.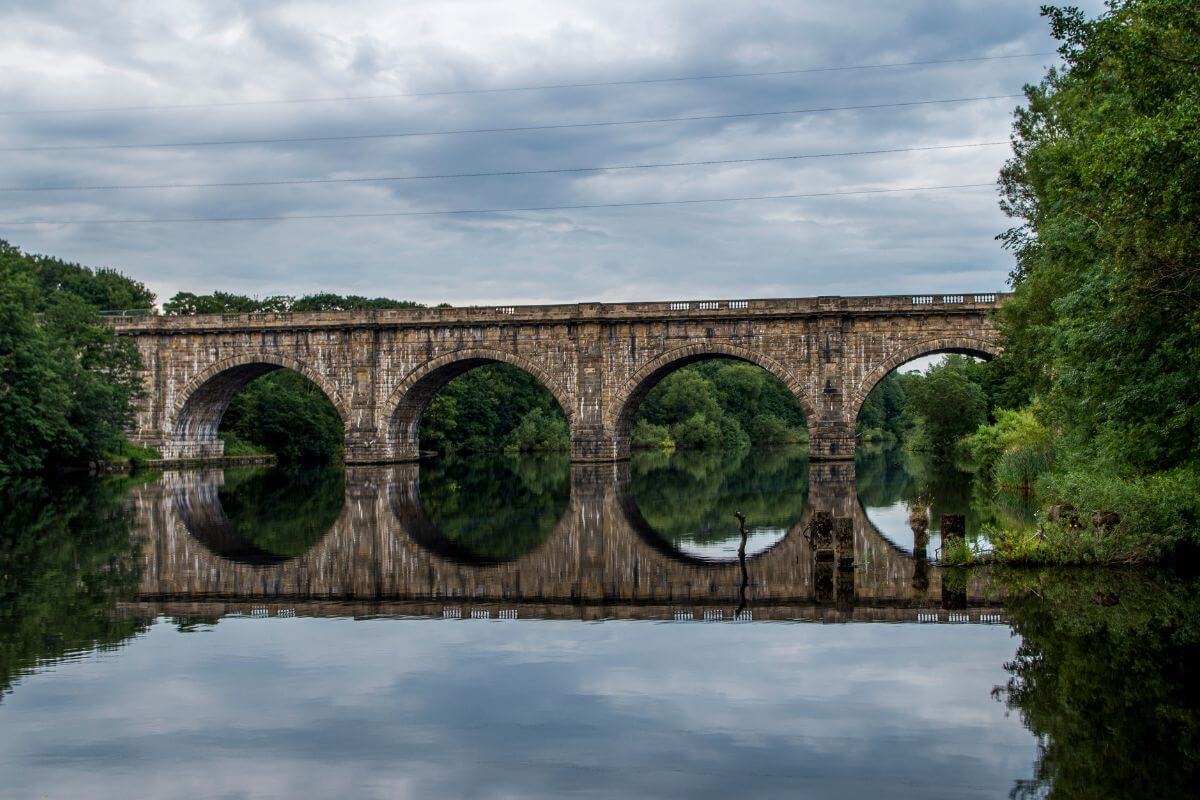 During your sailing trip, you'll take in views of the Forest of Bowland, the Silverdale coast and the foothills of the Pennines. You'll also sail along the River Lune Aqueduct, one of Lancaster Canal's most impressive engineering features.
Stop at Hest Bank, and you'll be just a few hundred yards from a beach with views of Morecambe Bay. Or, spend some time visiting the best attractions in Lancashire, such as the 1,000-year-old Lancaster Castle.
10. Caldon Canal
Opened way back in 1779, the Caldon Canal is a stretch of the Trent and Mersey Canal that runs from Froghall to the Etruria suburb of Stoke-on-Trent.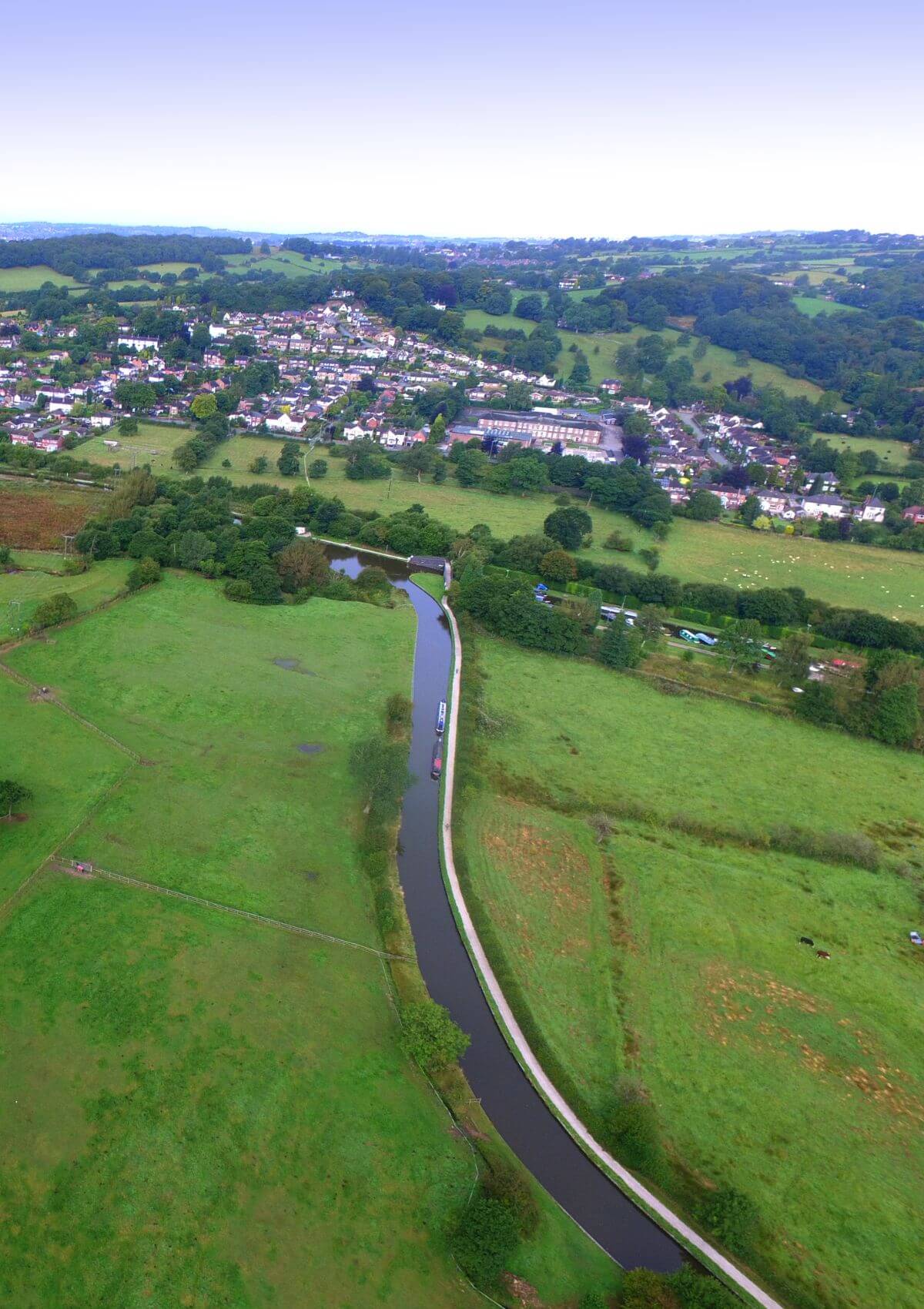 Despite being just 18 miles long, the Caldon Canal boasts an impressive 17 locks and the 70-metre Froghall Tunnel. This waterway is one of the UK's quietest, perfect for soaking up England's traditional countryside and industrial heritage.
While you're in the area, you might want to stick around for a night or two to spend a couple of days out in Staffordshire. The town of Leek is located just to the southwestern edge of the Peak District.
Where are your favourite spots for a narrowboat in England?
With so many amazing waterways to explore on a narrowboat, deciding on just ten of the best has proven difficult, but we hope we've given you a bit of inspiration for your next getaway along England's beautiful and historic canals.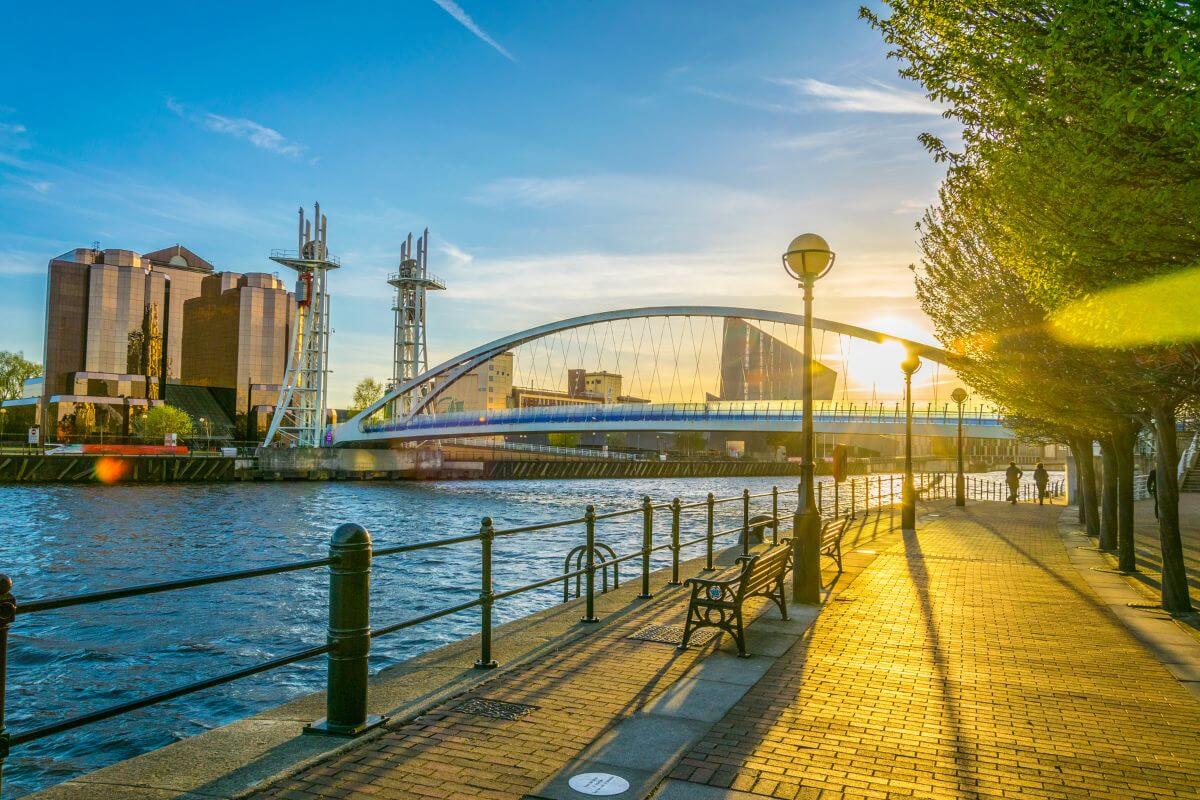 If we've missed any excellent spots for a narrowboat in England, please let us know in the comments below.
Quick list of the best spots for a narrowboat in England
Oxford Canal
Regent's Canal
The Grand Union Canal
Leeds and Liverpool Canal
The Norfolk Broads
Avon Ring
Trent and Mersey Canal
River Wey
Lancaster Canal
Caldon Canal
---