Norwich is a picturesque city in the county of Norfolk in England, with lots to do and see. But if you fancy getting away for the day and exploring nearby areas on a day trip, we've rounded up the 10 best day trips from Norwich, all within an hour…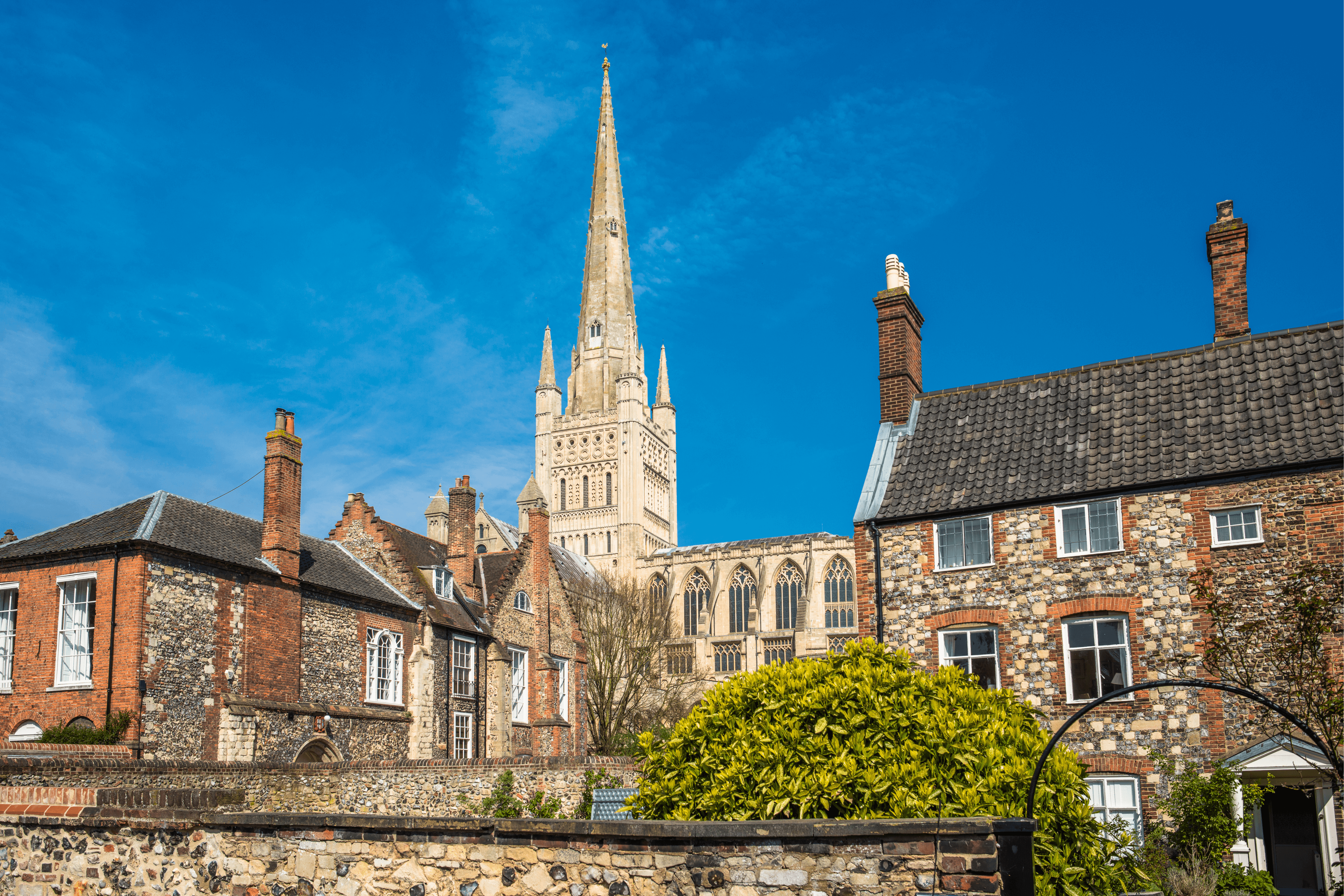 Norwich has tonnes to do for the whole family, from historic Norwich Cathedral and Norwich Castle, to lovely walks round Eaton Park or Whitlington Country Park, to lots of great restaurants and bars if you're interested in the nightlife.
But if you want to check out some other places on your next day out from Norwich, there are great spots not too far (within an hour) from the city offering a variety of activities that will suit all.
We've got the low-down on where to travel from Norwich, with everything close enough so you're not travelling 2 hours from Norwich with exciteable toddlers in the back seat (or current life stage equivalent)… a recipe for an exhausting day out! No, all of the day trips on this list keep you within an hour's drive of the city so you can pop home in a jiffy if you need to. Here are the 10 best day trips from Norwich.
Best Days Out from Norwich
All the best things to do within an hour of Norwich.
1. Explore Thetford Forest
Distance: 45 minutes by car
If getting away from the city crowds is on the agenda, a visit to the natural, calming woodland of Thetford Forest could be just the ticket. This is the perfect day out with plenty of plant life around (18,730 hectares of land, to be exact!) and animals to spot if you're lucky.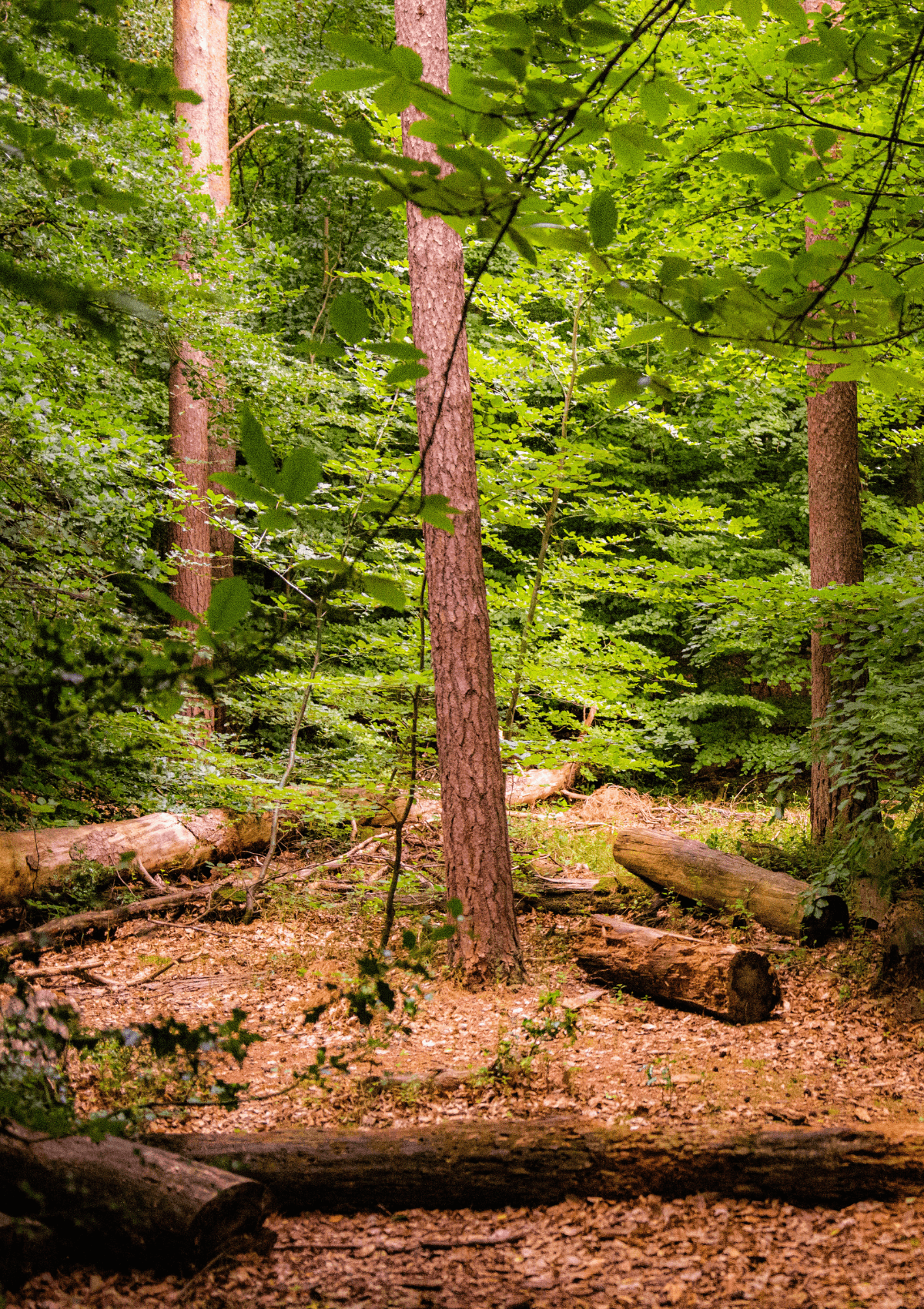 The forest is massive for walking around in, with an excellent outdoor playground at High Lodge, and lots of history and heritage to take in at Mildenhall Warren and Lynford Arboretum. Thetford Forest puts on lots of events throughout the year, so it's worth checking their website before you visit to see if there's anything on.
The tranquil surroundings at Thetford Forest make this one of the best day trips from Norwich for some time away from the city, and you know we love England's forests here at Day Out in England HQ!
2. See the sea at Great Yarmouth
Distance: Around 40 minutes by car and by train
Norwich isn't too far from the coast, so it's perfectly situated for day trips to see the sea. Great Yarmouth offers everything you could want from an English seaside town, and it's accessible by rail, making it one of the best day trips from Norwich by train.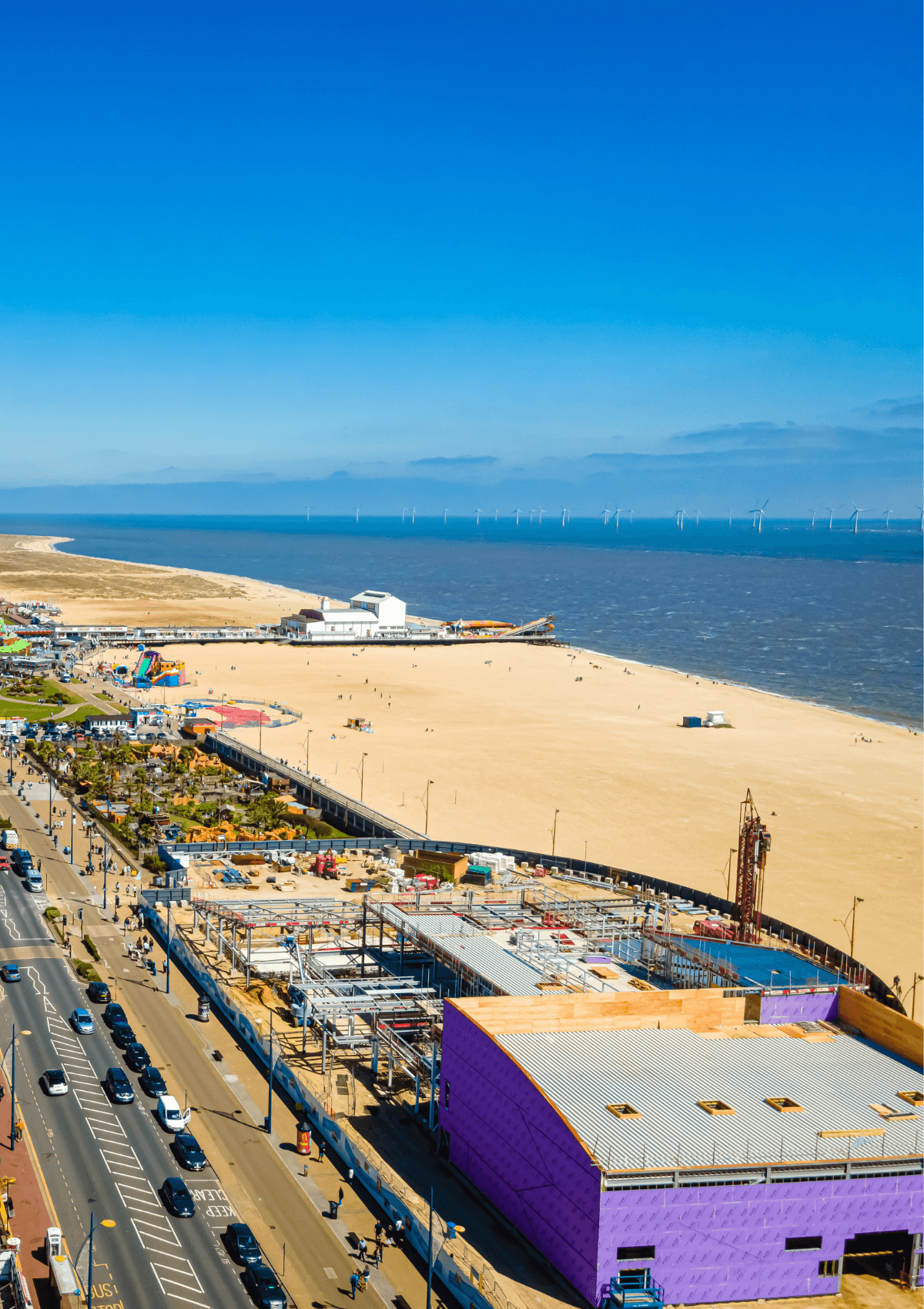 There's the Great Yarmouth Pleasure Beach, the Britannia Pier, Joyland for the kids, and for something a bit more cultural, the Elizabethan House Museum is a lovely visit. Merrivale Model Village is a fascinating place to explore. It has a model village, garden railway, penny arcade and mini-golf course – fun for all the family.
The SeaLife Centre in Great Yarmouth is a brilliant addition to any day out in the area, where you'll see lots of sea creatures including penguins, crocodiles and turtles. Easily one of the best day trips from Norwich that'll have the little ones talking about it for days after. You can book your tickets to the SeaLife Centre in Great Yarmouth here.
3. Walk around Wymondham
Distance: 25 minutes by car
Wymondham is a small market town in the south of Norfolk with plenty of charm that makes it one of the most picturesque day trips from Norwich.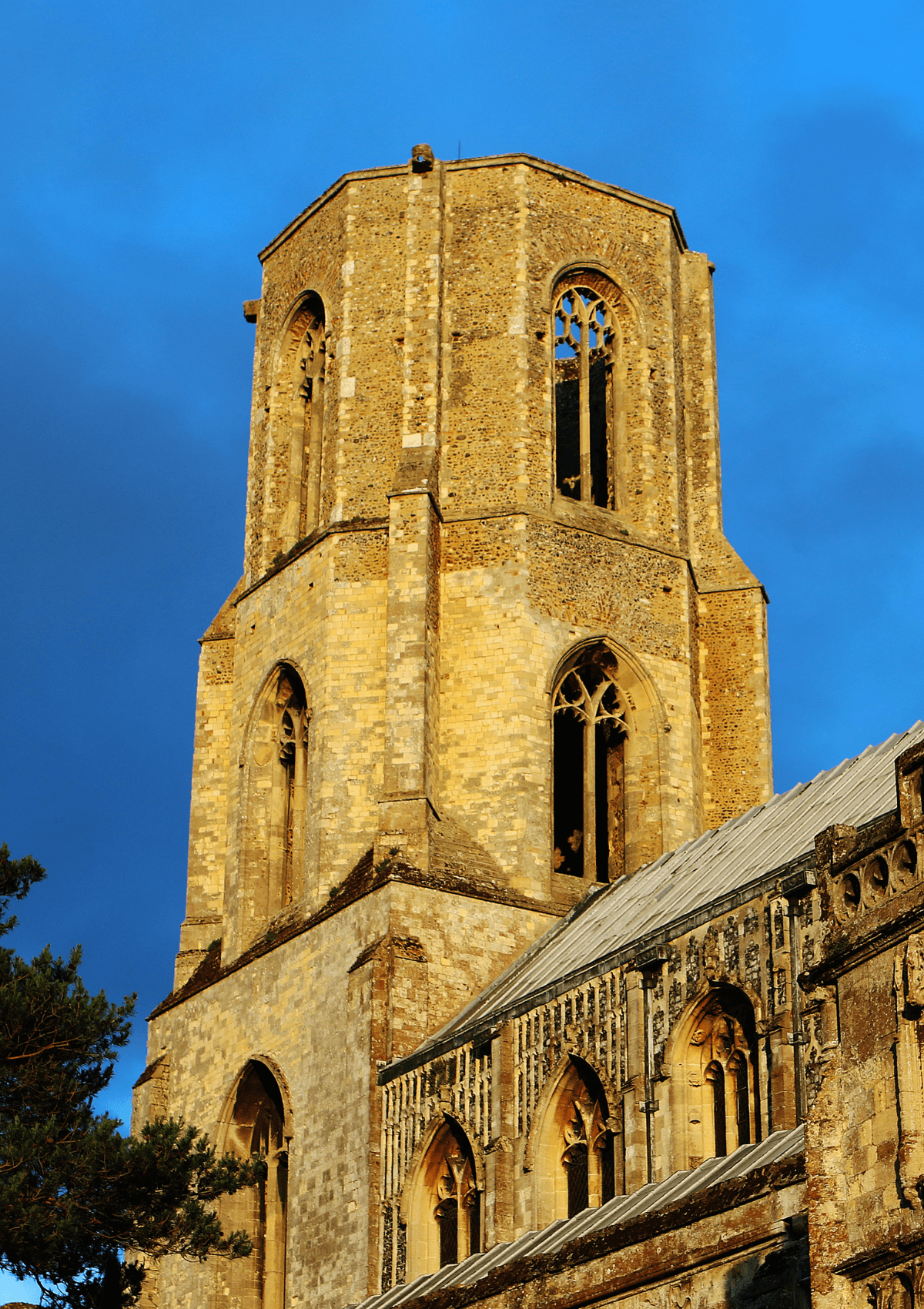 Walking around the town is lovely, but you could also stop into the Wymondham Heritage Museum which has a rich history, having once been the local prison from as early as 1619, and later the police station and courthouse. Today, it's a grade II listed building.
Wymondham Abbey is a magnificent building worth seeing too, and if you want to involve some cute animals in your day out, Wymondham Alpacas are nearby where you can visit the resident alpacas, walk around the grounds with them, and even take part in feeding time. If you like cute, fluffy things, you'll love this.
4. Take a boat around The Broads
Distance: Around 25 minutes by car
The Broads National Park is a well-known holiday spot around the country, and you're in luck because you can reach it from Norwich with just a 25 minute drive.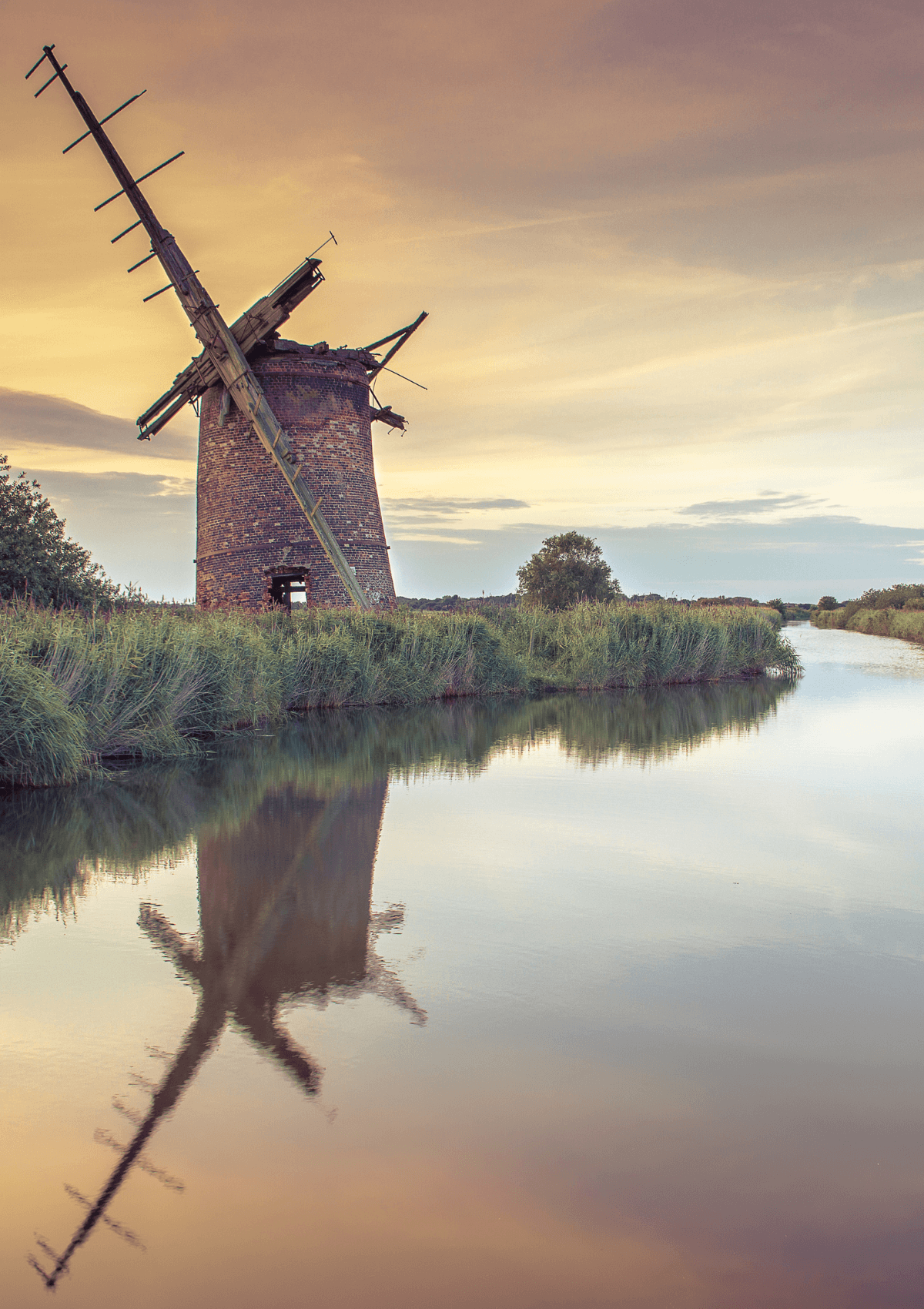 There are over 125 miles of waterways throughout the Broads, so hiring a boat is always the best way to see it. There's tonnes to do even if you don't sail though, so it's one of the best day trips from Norwich with something for everyone.
You'll find lots of opportunities for wildlife spotting, lovely walks and cycle routes, great restaurants offering local produce, and a number of attractions, from playparks to zoos to theatre shows and more. There are many reasons why this is on our list of the 10 most beautiful National Parks in England.
5. Go crabbing in Cromer
Distance: Around 50 minutes by car
If you want a traditional seaside day trip to remember, you have to visit Cromer as it's perfect for couples, families or even a solo day out adventure.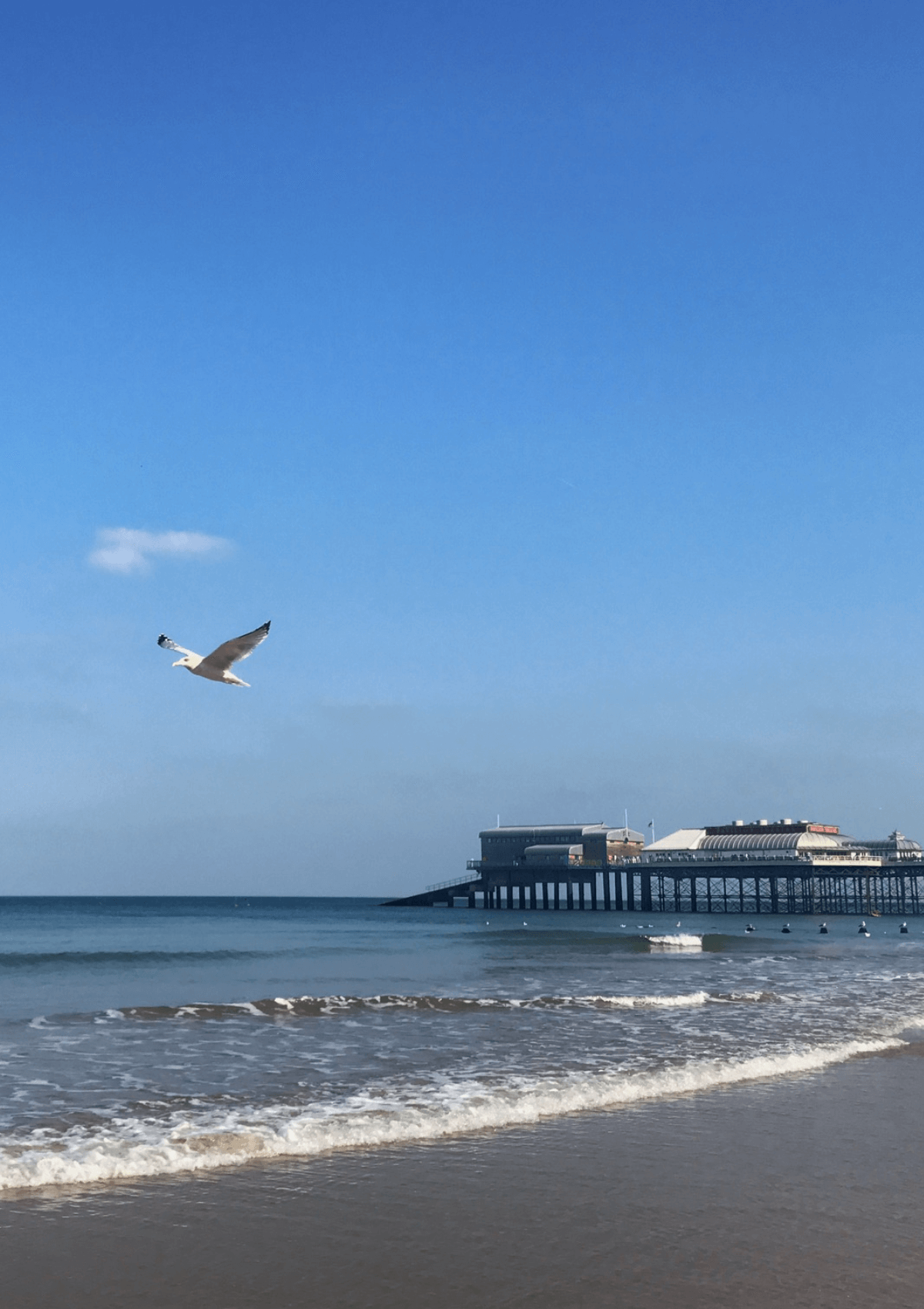 There you'll find a beautiful sand beach for surfing or laying out if the weather's nice, the Cromer Museum and other cultural attractions, plus stunning walks along the Norfolk Coastal Path. (If you like it, here are some other great days out along the Norfolk Coastal Path you may be interested in.)
Cromer Pier is a must, where you'll find a lifeboat station and the Pavilion Theatre with regular variety shows. The pier has been a fixture in Cromer since the Victorian ages, and is said to have survived many storms, tidal surges and, fun fact: an attempt by the Government to blow it up so it couldn't be used as a landing strip for the enemy! Well worth seeing, and definitely one of the best day trips from Norwich if you want to be beside the seaside.
If you're taking little ones, why not try crabbing off the pier? You'll need some fishing wire, a bit of bait, a weight to keep it down, and a bucket to keep anything you catch. A fun activity that'll have them smiling!
6. Spot wildlife at the Mid-Yare National Nature Reserve
Distance: Just under 30 minutes by car
Mid-Yare National Nature Reserve offers something a bit more wild for your day trip adventures, and is best for outdoorsy folks.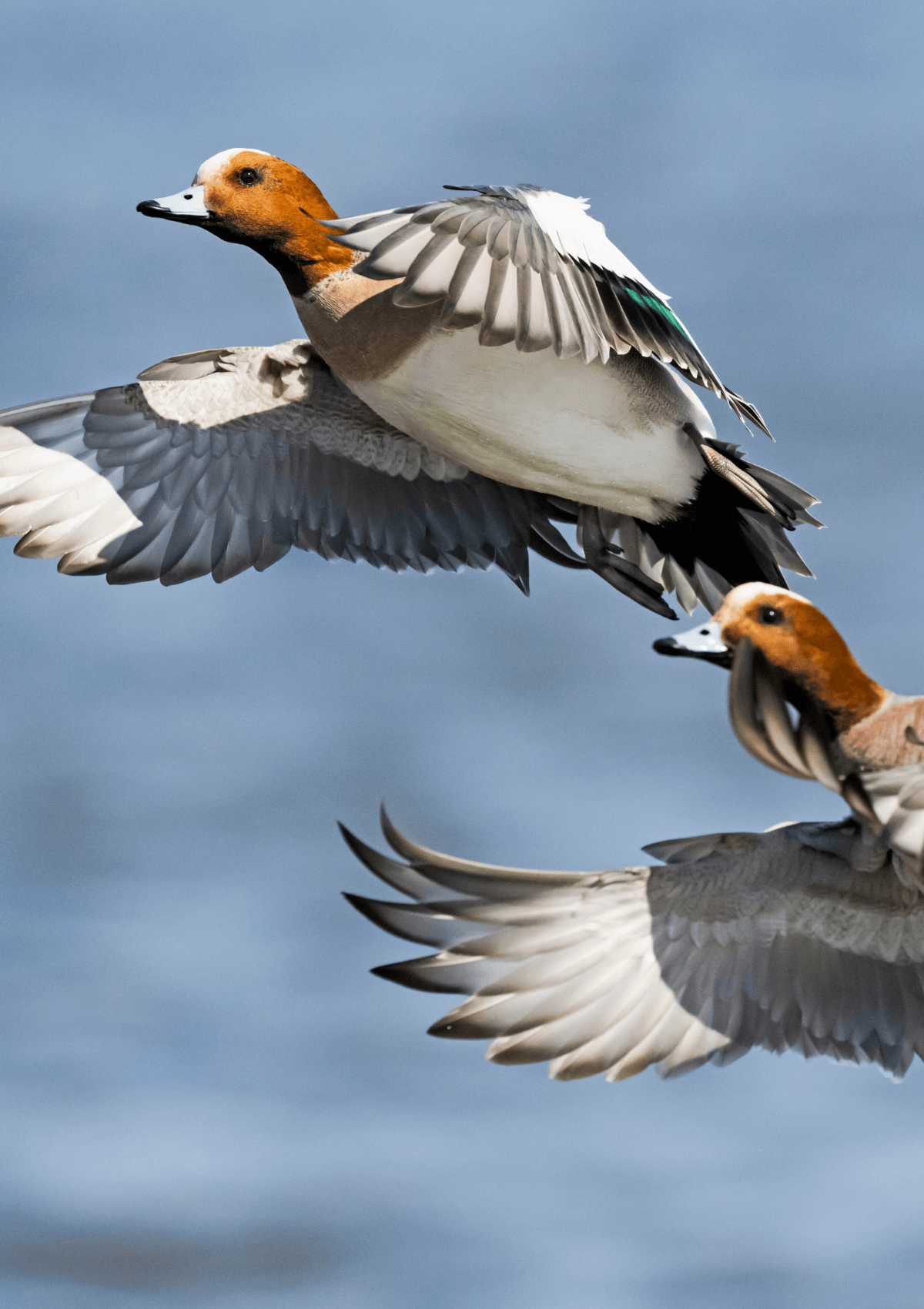 Located around a half hour drive east of Norwich, this reserve is managed by the Royal Society for the Protection of Birds (RSPB), and is made up of 4 different reserves; Strumpshaw Fen, Buckenham Marshes, Cantley Marshes and Surlingham Church Marsh.
It sits along the River Yare, and you might spot local wildlife there such as the swallowtail butterfly, the Norfolk hawker dragonfly, the marsh harrier, the Eurasian wigeon, the European white-fronted goose, Britain's largest flock of bean goose, and much more. If you like looking for wildlife this is the place, and it's one of the best day trips from Norwich if you love to be out in nature.
7. Visit Felbrigg Hall, Gardens & Estate
Distance: Around 50 minutes by car
Visiting the National Trust site Felbrigg Hall, Gardens and Estate is definitely one of the best day trips from Norwich by car, as it offers the chance to discover the history of this elegant 17th-century English country house, with its many rooms.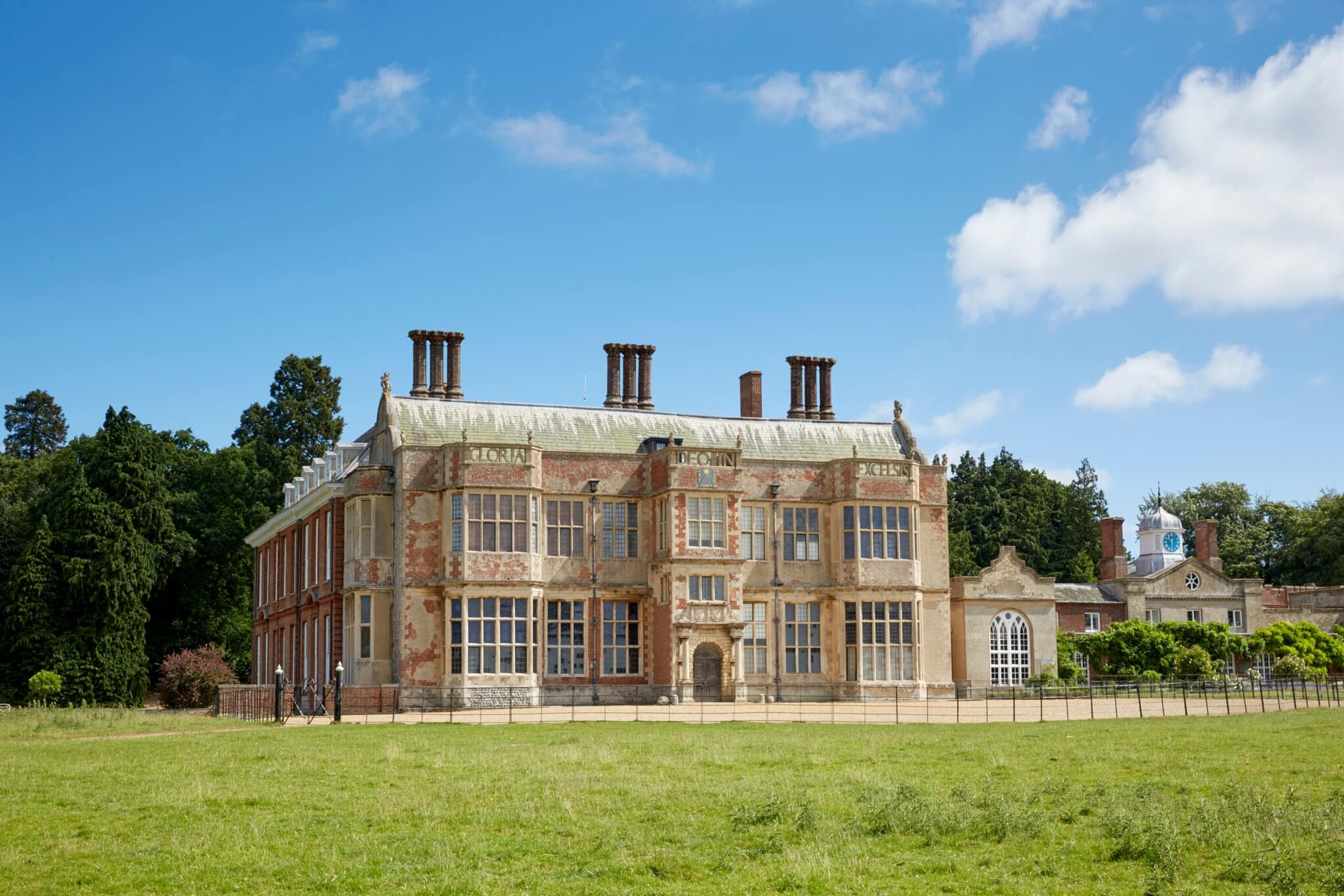 By touring the site, you'll learn lots of interesting little titbits about what went on there back in the day. With family rooms, the Great Hall, the dining room, kitchens and much more all on show, there's lots to discover, including several stained-glass windows in the Great Hall from the 15th century which were reinstalled from St Peter Mancroft Church in Norwich.
If you love history, or you love walking around beautiful gardens, this is one of the best day trips from Norwich you could do.
8. See the sunrise at Lowestoft
Distance: Around 55 minutes by car
Lowestoft is another lively coastal town that's less than an hour away from Norwich, and begging to be visited. It's probably most known for being the most easterly town in the UK, and therefore the first place to see the sunrise in the whole of the country. Fancy getting up before sunrise to get ahead of everyone else??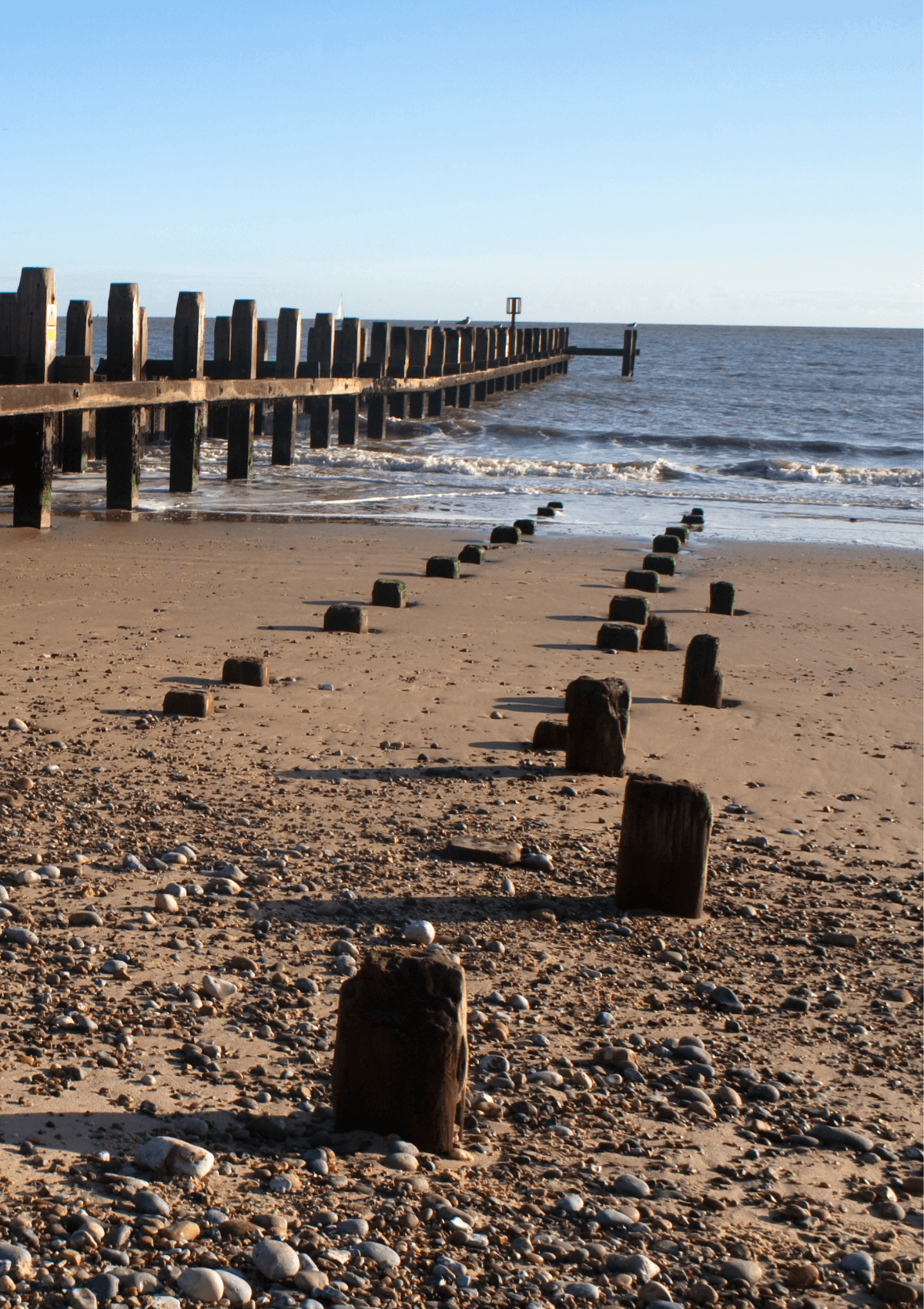 There's lots to do there, even if you don't make it in time for sunrise. Walk along the two piers, visit the award-winning theme park, pop into some of the many museums, and stay for a show at the theatre (home to the Royal Philhamonic Orchestra, so you know it's good!)
Zoological park Africa Alive is nearby too, so any animal lovers in your party will love visiting this wide open space with around 80 different species to discover. It's one of our 10 best safari parks in England, so it's definitely one to add on to your day trips from Norwich.
9. Marvel at East Ruston Old Vicarage Garden
Distance: Around 35 minutes by car
East Ruston Old Vicarage Garden is really something to behold, whether you're into gardening or not. If you are though, it's definitely a must-see.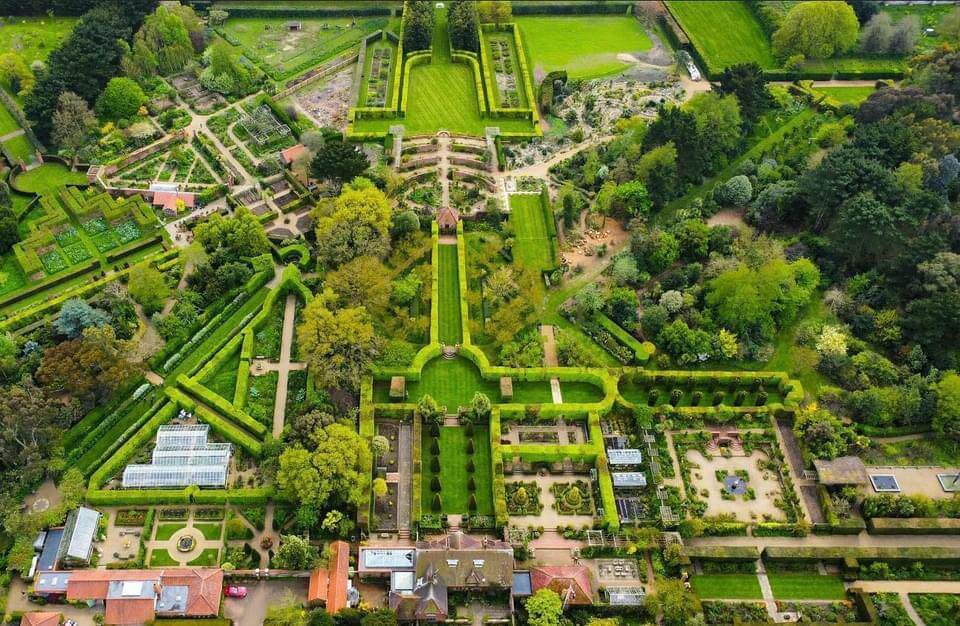 This exotic garden exists in an exposed prairie landscape around 35 minutes from Norwich, and stretches for 32 acres. Every single acre will wow you.
There, you'll find gravel gardens, sub-tropical gardens, a sunken rose garden, a Mediterranean garden, a large woodland garden, and much more. With so much to explore there, it's hard to leave without finding a spot that makes you smile. Bring your camera to this one, because it's one of the most picture-perfect day trips from Norwich.
10. Take the kids to BeWILDerwood Norfolk
Distance: Around 25 minutes by car
Whether or not your kids are fans of the books, there's something at BeWILDerwood to have them giggling.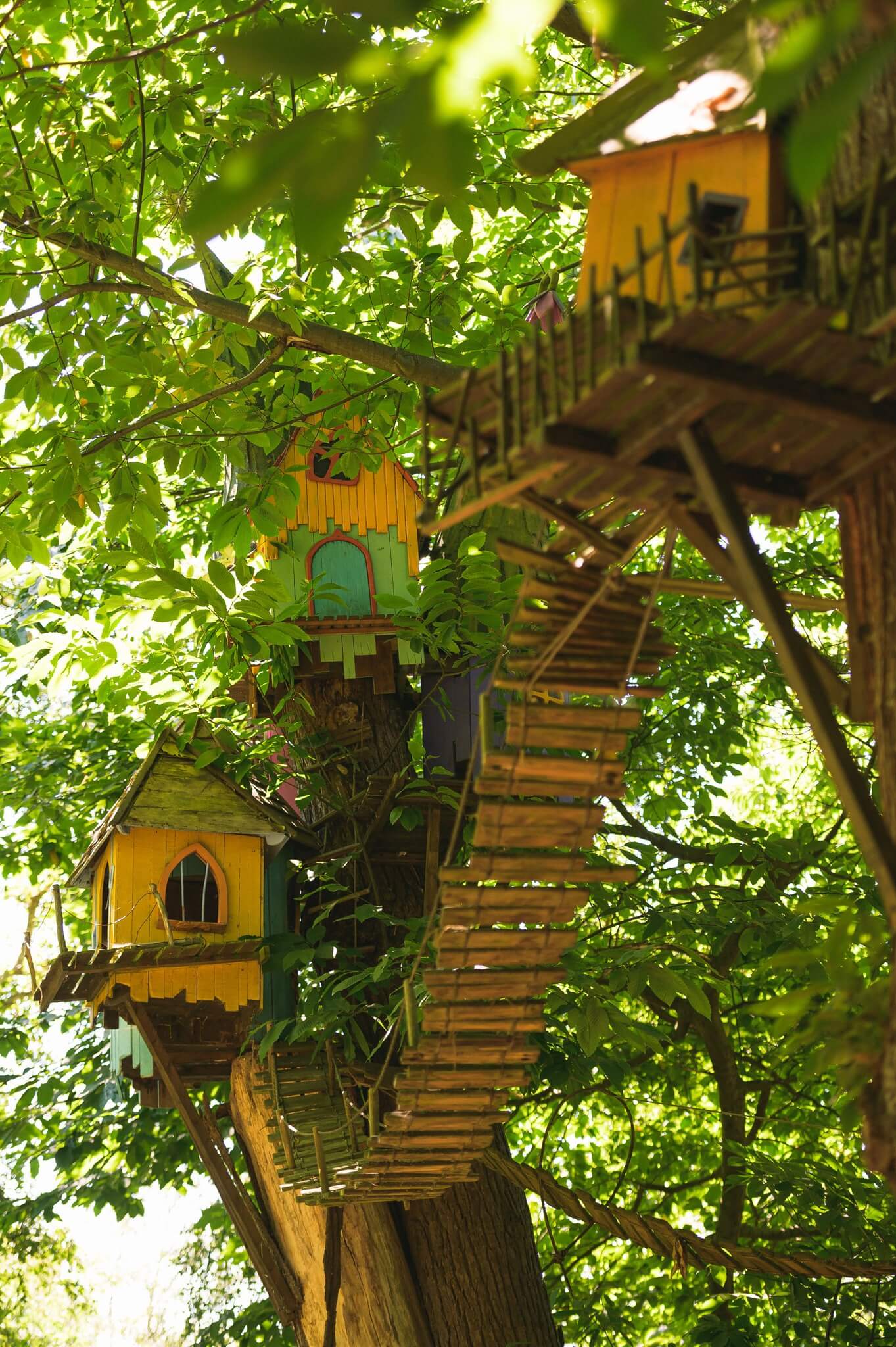 BeWILDerwood Norfolk is a massive, award-winning forest attraction offering tonnes of family-friendly fun and outdoor adventures such as treehouses, wobbly wires, storytelling experiences, boat rides, marsh walks, and more.
You can make a day of it by enjoying lunch or dinner there as they have lots of great food options. You'll love making the kids' day at this magical outdoor spot that's one of the best day trips from Norwich for little ones.
10 Best Day Trips from Norwich (All Within an Hour)
If you're looking for ideas for upcoming day trips from Norwich, this list has something for the littlest members of your party, to adventurous grandparents and much more. Whatever your interests, you're sure to enjoy a great day out near Norwich.
Know of another brilliant day trip from Norwich you think should be included? Let us know in the comments so we can keep adding to the list!
Quick List: 10 of the Best Day Trips from Norwich (All Within an Hour)
Explore Thetford Forest
See the sea at Great Yarmouth
Walk around Wymondham
Take a boat around The Broads
Go crabbing in Cromer
Spot wildlife at the Mid-Yare National Nature Reserve
Visit Felbrigg Hall, Gardens & Estate
See the sunrise at Lowestoft
Marvel at East Ruston Old Vicarage Garden
Take the kids to BeWILDerwood Norfolk
---