There are some great places for digital nomads in England. Our cities bring together a unique blend of old and new, where ancient castles coexist with cutting-edge tech startups, and traditional tea rooms sit beside eclectic coworking spaces. But which cities are best equipped to cater to the needs of digital nomads – those looking for reliable internet, an inspiring atmosphere, and a high quality of life?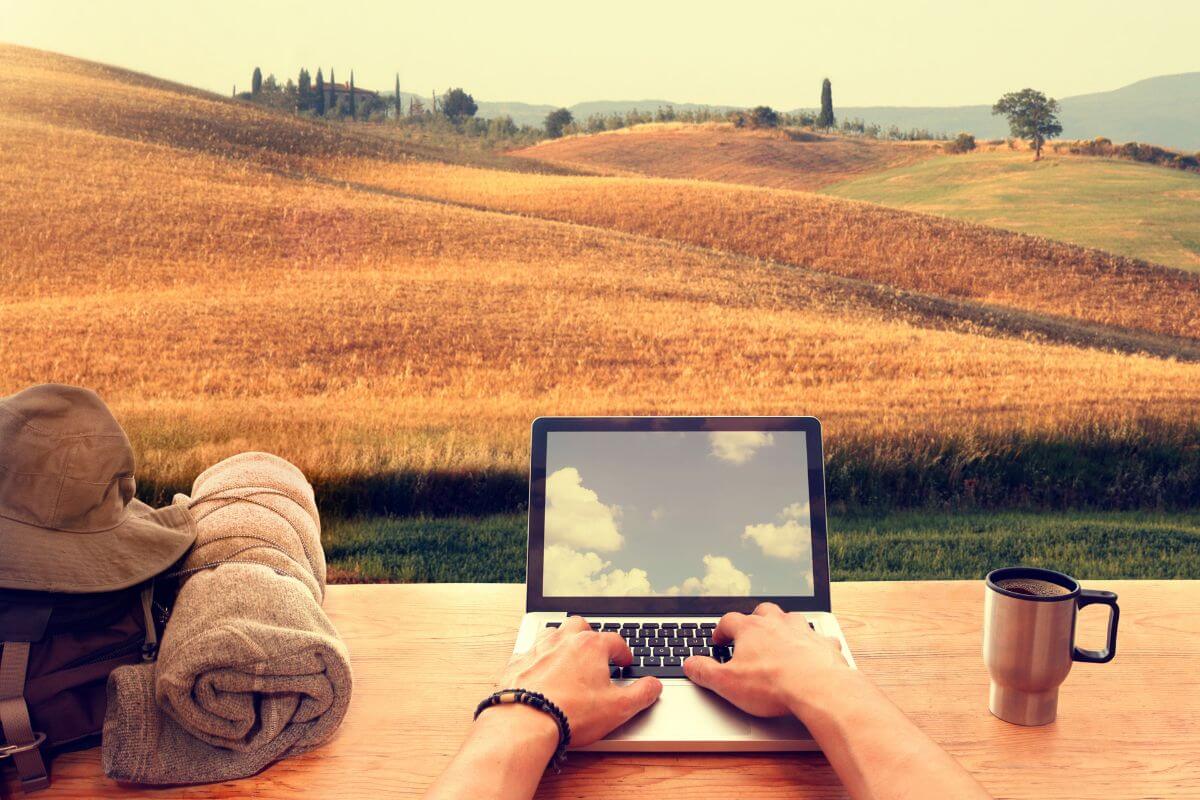 Whether you live in England, or are visiting to work in England as a digital nomad for a short period of time, we've rounded up our favourite cities for different aspects of digital nomad life.
Read on to discover cities that not only offer the digital facilities to keep you professionally productive but also provide enriching experiences for your off-the-clock adventures. Welcome to the land of the Beatles, Shakespeare, and the English Premier League; your new remote office awaits!
Is England good for digital nomads?
England has a lot of positives for digital nomads, as there are plenty of busy cities with lots of coworking spaces, cafés, and other establishments offering inviting spaces to set up in, as well as lots of business opportunities. The country is very forward-thinking when it comes to technology, so digital nomads can usually find whatever they need, including fast internet wherever they go.
The biggest downsides of England for digital nomads have to be the temperamental weather (not much working from the beach here!) and the cost of living, which is almost certainly higher than popular digital nomad countries like Thailand and Spain, no matter which English city you are in.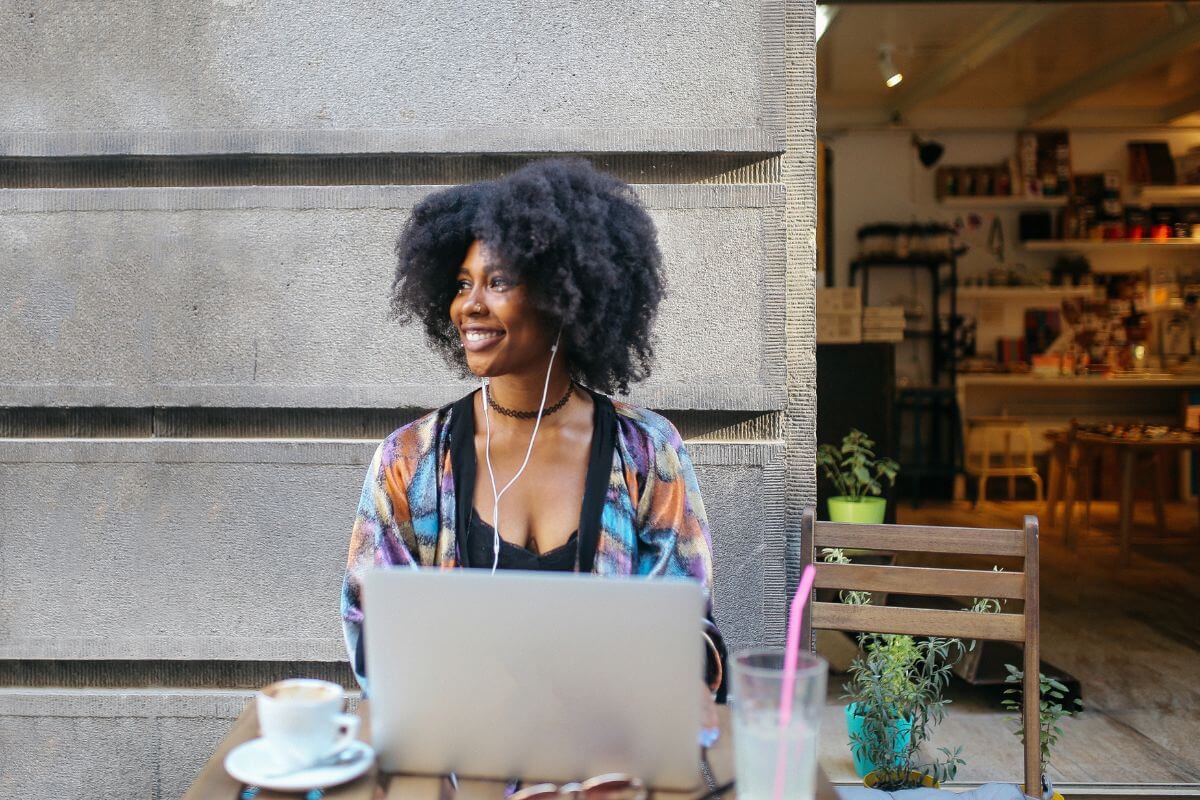 Does England have a digital nomad visa?
England is part of the UK, and the UK does not have a specific digital nomad visa. Anyone who wants to live in the UK as a digital nomad can apply for either a standard visitor visa or an Innovator Founder visa, which allows digital nomads with a unique business idea to start up in the UK and stay for up to 3 years.
You should always check the latest updates and requirements when it comes to visas. You can do this on the UK's .gov website.
Do digital nomads pay tax in England?
Setting up as a digital nomad in England may not mean that you are exempt (even temporarily) from your home country's tax regulations, and it may mean you need to pay income tax in England too, depending on what visa you are visiting on. Always check the visa requirements for your specific case.
Can digital nomads drive in England?
If you hold a licence from outside Europe, or an International Driving Permit, digital nomads can drive in England for up to 12 months. If you hold a licence from a designated country you can apply to exchange this for a GB licence. You need to do this within five years of moving here though.
Best Cities for Digital Nomads in England
York, Yorkshire
York is a beautiful, historic city in the north of England with links to the Romans and the Vikings. There are tons of great businesses based in York, as well as cafés and accommodation options to suit digital nomads. There are also plenty of events and festivals throughout the year. Plus you won't be far away from the famous Yorkshire Dales for walking, and there are plenty of other options for great days out from York.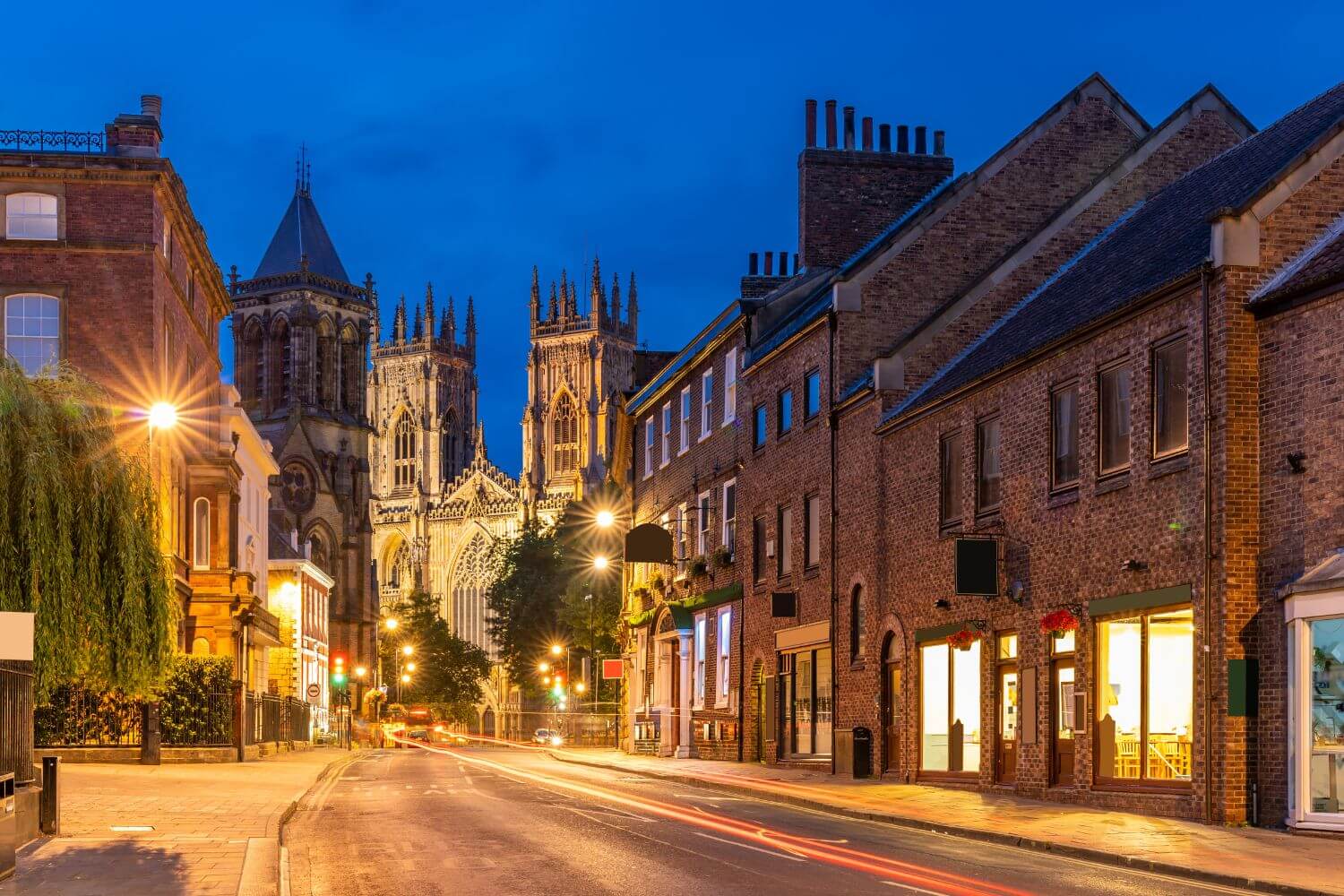 Digital nomad community: York doesn't have the biggest nomad community but you'll find lots of great laptop-friendly cafés to work in, such as Gatehouse Coffee and Cafe 42. It's also a good place for small businesses where you'll find groups to join and network with.
Things to do in York:
Check out York Minster cathedral while you're living there, go on a hike in the Yorkshire Dales, walk down the Shambles, go to one of the many museums, and don't leave without tasting a Yorkshire Pudding. If you want a full guide to the best day out in York, click here!
Truro, Cornwall
Truro is located in the county of Cornwall, and although it's one of the quieter cities with perhaps not as much going on, it's worth mentioning for its affordability and its southern English sun. Cornwall is known as a holiday destination, so if you're looking for somewhere cheap with nice weather, it's certainly worth a look, especially in summer.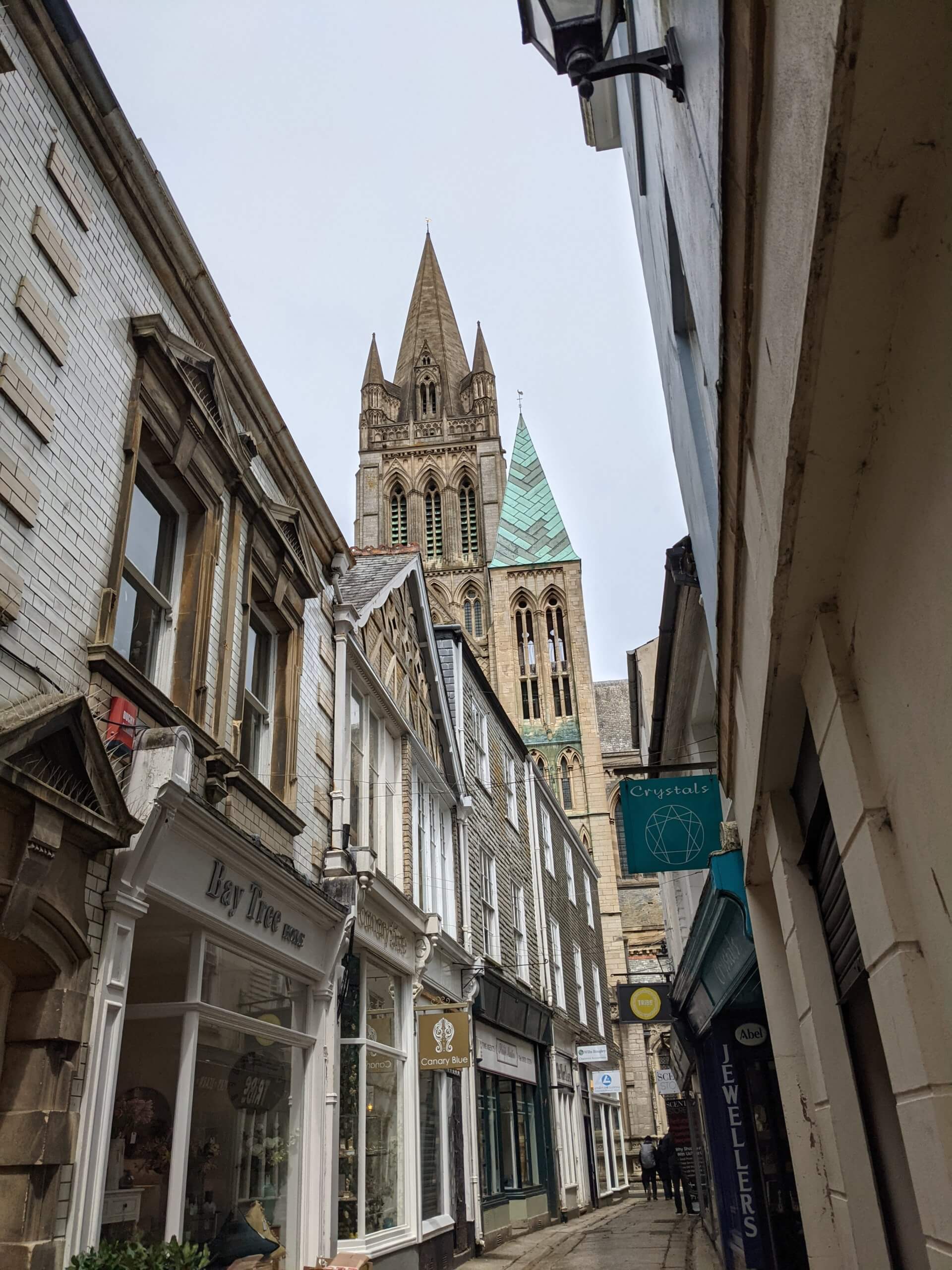 Digital nomad community: Truro isn't known for its digital nomad community, but it is an affordable place to live in England in close proximity to the seaside and in the area that's likely to provide you with the best weather. If you do some research, you'll find plenty of opportunities to connect, like meetups for startups in Truro, and groups for freelancers and digital nomads in Cornwall.
Things to do:
Check out the cathedral, head to the beach, go on a boat trip, and take your laptop to Fig Cafe or Café Uneeka to get some work done.
Brighton, East Sussex
Brighton is another city on the coast that you'll fall in love with for its quirkiness – it's a super creative city with lots going on. Plus it has tons of independent cafés, restaurants and places to set up your laptop for the day. It perfectly blends an English seaside town vibe with a bustling city atmosphere further inland.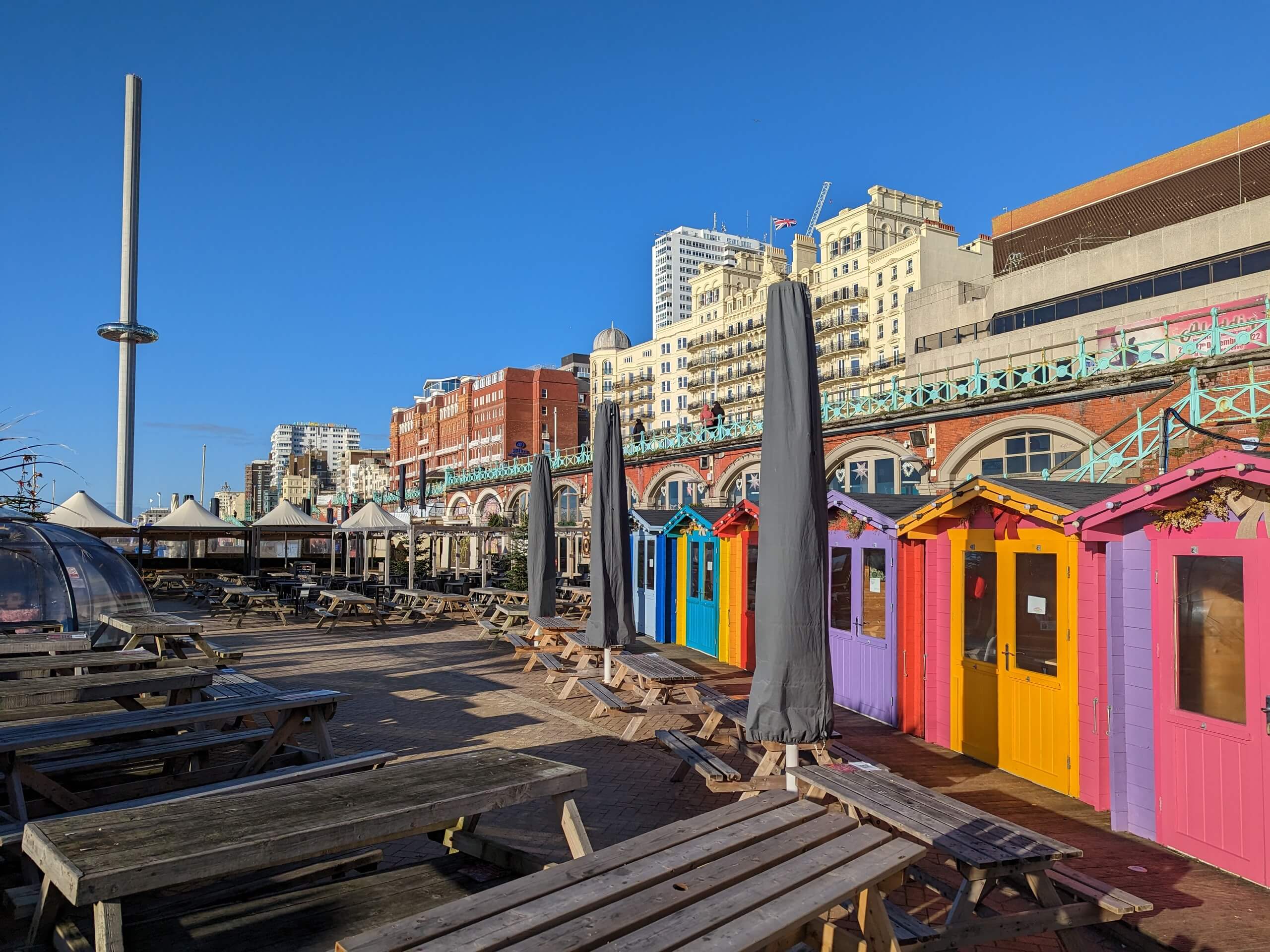 Digital nomad community: Brighton is a popular tourist destination, and it's known for its quirky creative-ness. Though it's not a well-known digital nomad spot around the world, it's a top contender for inclusive community events. Check out local groups to find fellow freelancers or founders.
Things to do:
Go to Trading Post Coffee Roasters for great coffee and coworking vibes, or if the weather's nice you could work from Lucky Beach Cafe on the seafront. When you're done with work for the day, Brighton has amazing restaurants, lots of which are in Shelter Hall. Plus you can do beach zip-lining, see the old pier, and much more.
Liverpool, Merseyside
Liverpool is easily one of the most creative, cultural cities in England, so it's a brilliant place to base yourself if you're digital nomad-ing in the north. With a rich history and a thriving music and arts scene, there's lots going on there if you're in these fields (and also if you're not).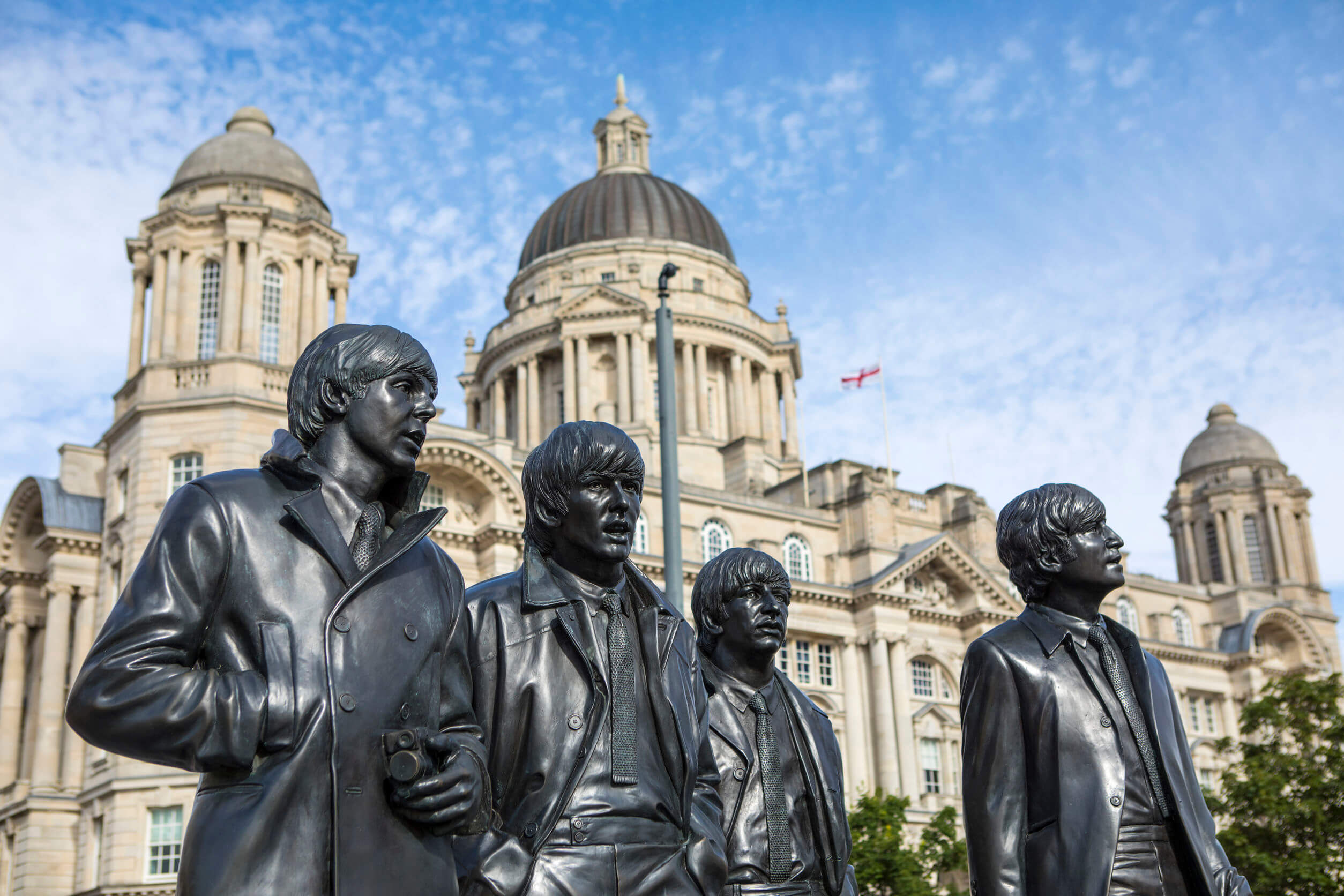 Digital nomad community: Liverpool is a vibrant city and one that creatives and digital nomads are bound to feel welcome in. Jelly Liverpool is a freelance meetup group and pop up office you might want to check out to make connections.
Things to do:
Take your laptop to Lucy In The Sky Coffee Shop, followed by visiting some of Liverpool's many Beatles themed attractions. If you're not a Beatles fan, the Titanic museum is a fascinating activity, and if you're vegan or veggie you'll LOVE Down The Hatch for dinner.
Cambridge, Cambridgeshire
For academics, it doesn't get much better than Cambridge. Home to lots of universities, Cambridge is a vibrant city with a growing student population, but it's also a hub for some of the brightest minds in business. The architecture of Cambridge alone will make you want to stay, and it has an all-round great atmosphere. Check out all the great days out in Cambridgeshire you could experience here.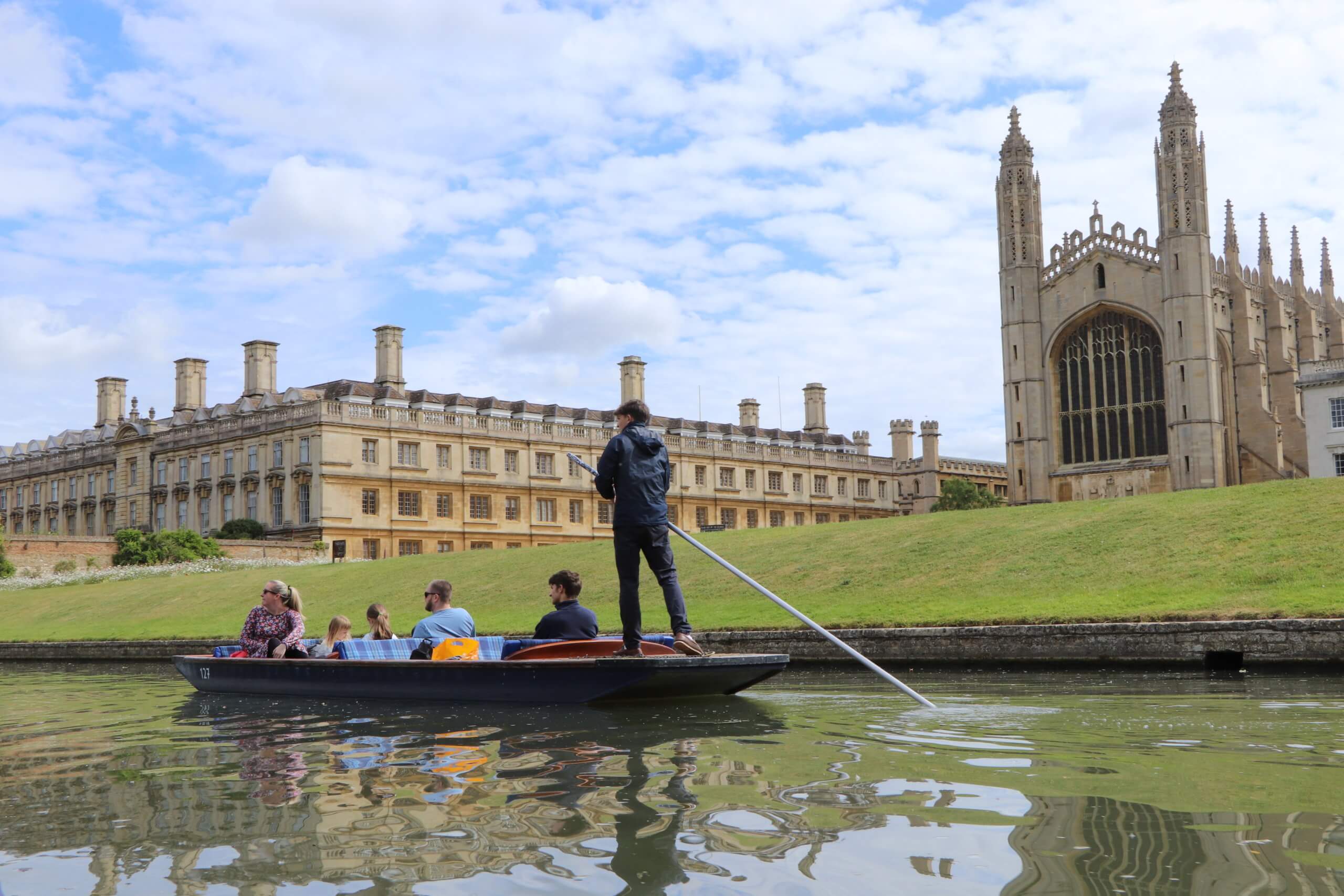 Digital nomad community: Cambridge has tons of great coffee shops and coworking spaces to work from, like Urban Larder and The Bradfield Centre.
Things to do:
The city is packed with things to do, from tours of the famous university campuses to punting on the River Cam, to visiting one of the many museums. You'll never get bored here. 
READ MORE: The Best Day Trips from Cambridge
Bristol
Bristol is known as one of the best cities to live in in England, as there is so much to do and see. It was once voted the best place to live outside of London if you are under 26 years old, and it continues to top lists of best places to visit for all ages. World class arts and culture bring people to the city (the home of Banksy), and many people choose to stay for its commitment to the environment.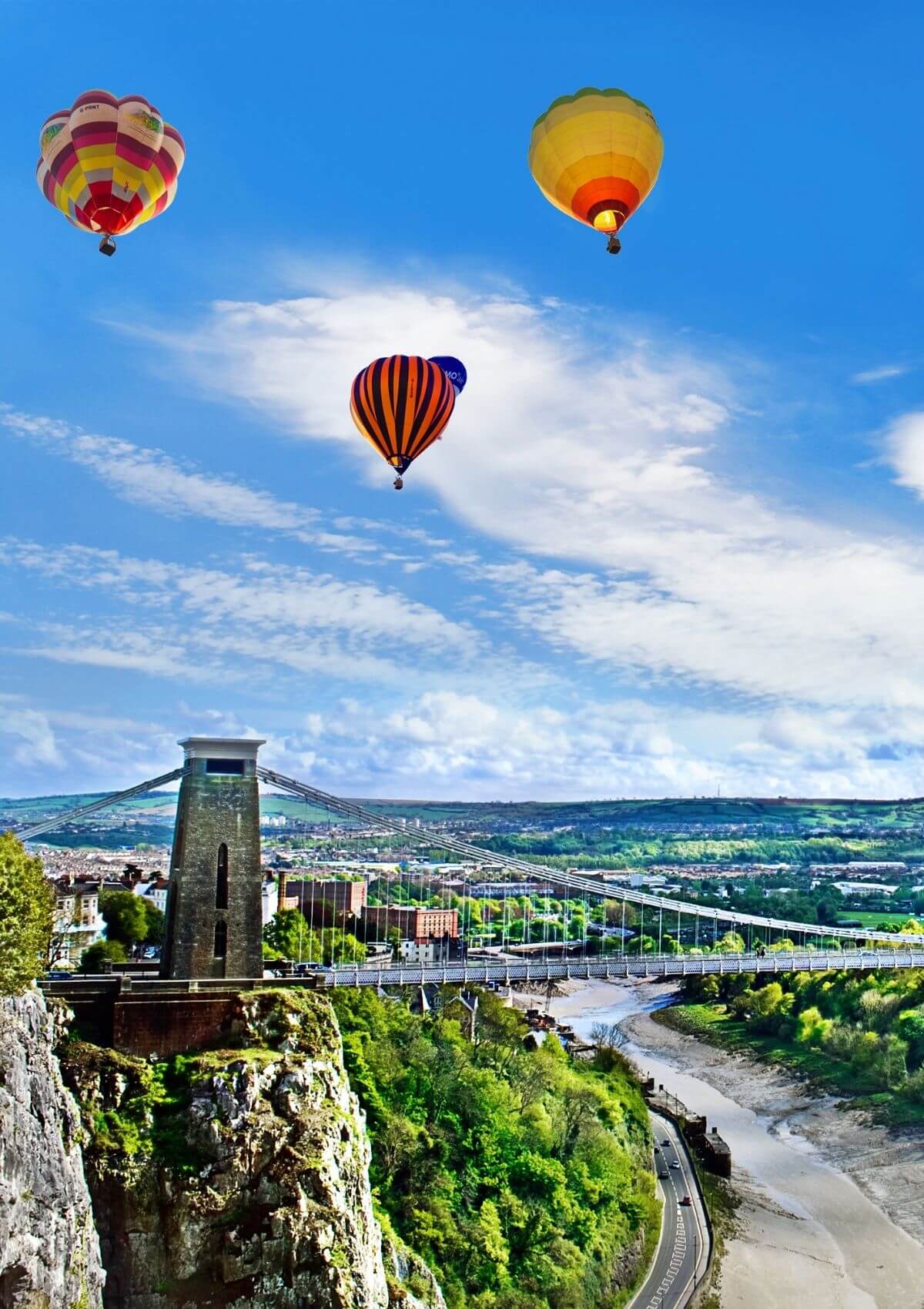 Digital nomad community: Bristol is a great place for anyone running a creative business or working remotely for a creative company. You'll find lots of community groups like Bristol Creative Network.
While in Bristol, you can walk across the Clifton Suspension Bridge, climb up Cabot Tower for a great view, and if you go in August, you might catch Bristol International Balloon Fiesta which is something to behold!
London
No list of the best places in England would be complete without London, and for digital nomads London is a no-brainer. There is SO much to do and see there, and although it's an expensive city to live in, if you are looking to make connections it has a thriving start-up scene in Old Street and beyond.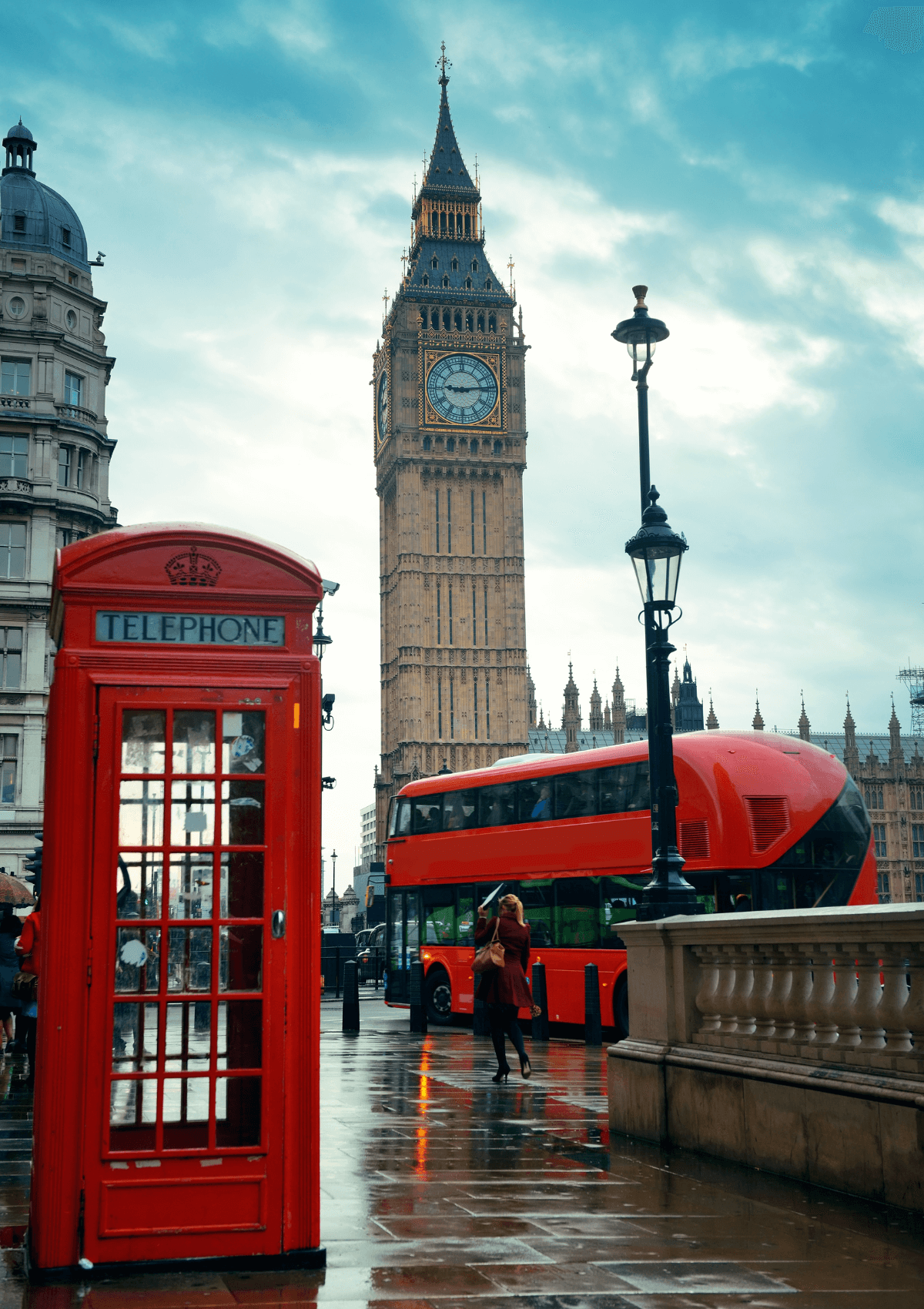 Digital nomad community: London is full of people living and working in the city on a temporary basis. You'll find lots of communities online such as Digital Nomads London and London Digital Nomads.
You could stay in London for years and never run out of things to do. Once you have ticked off all the tourist attractions you want to see, take your laptop to The British Library Reading Rooms for some head-down working, or the café inside Foyles Bookshop in Charing Cross. Or about a million other cafés and coworking spaces in the city — you'll be spoilt for choice!
More digital nomad cities in England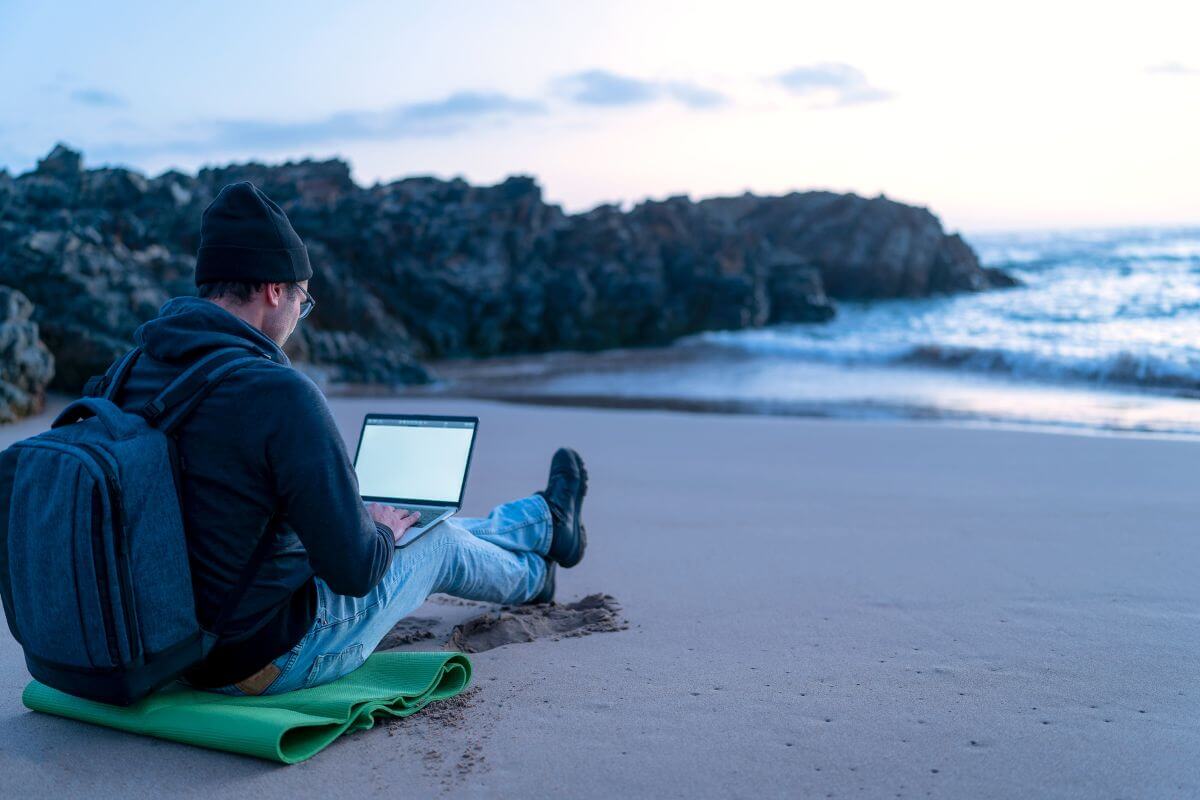 You can check out even more cities in England here, many of which would be a great place to add to your list while in the country. Many English cities offer an excellent mix of history and culture with a modern, business-friendly feel, so you are sure to find a place here that suits your digital nomad lifestyle.
---