If you're looking for some interesting small towns near Manchester for a fun day out from the city, take a look at our tried and tested suggestions below…
If you need to escape from Manchester to somewhere a little less hectic, you're in luck. Dozens of fantastic small towns across the North, North West and the Midlands are within easy reach of the city, and with a fair wind, you can be in any of the ones below inside an hour.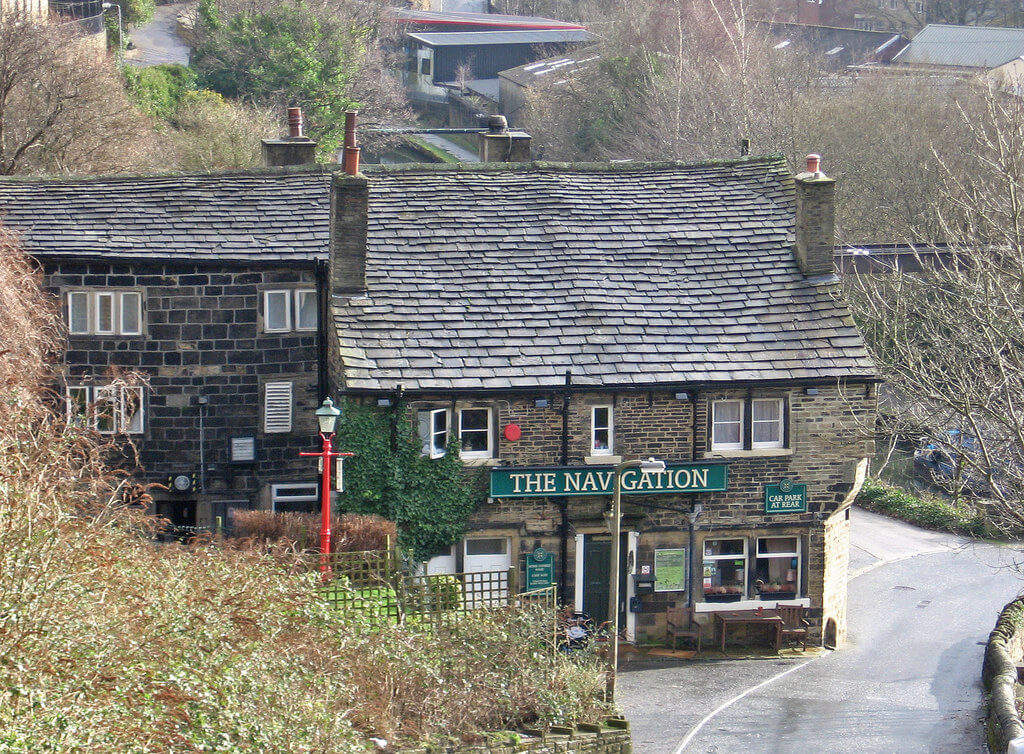 Small doesn't mean boring, and our list compiles some of the region's lesser-known hangouts where you'll be sharing space with locals rather than tourists.
---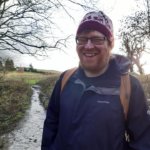 Ian Burke
Writer of all things travel, music and sport
Ian Burke is a journalist, copywriter and broadcaster from Manchester. Cursed to support Hyde United for all eternity, he cheers himself up by playing Scrabble and listening to obscure bands.
---
7 Great Small Towns Near Manchester
These are our top recommendations for interesting small towns near Manchester for a great day out.
1. Bollington
Bollington was once voted the 'Best Place to Live in North West England' in the Sunday Times – you know it's going to be worth a visit.
The symbol you'll see all over Bollington that looks like a squashed witch's hat is White Nancy. Peering from the top of Kerridge Hill – a moderate slog straight up from the town centre, although there's an easier long route – the folly commands views of the Cheshire Plain to the west, with smooth green fields stretching all the way to Wales and Merseyside.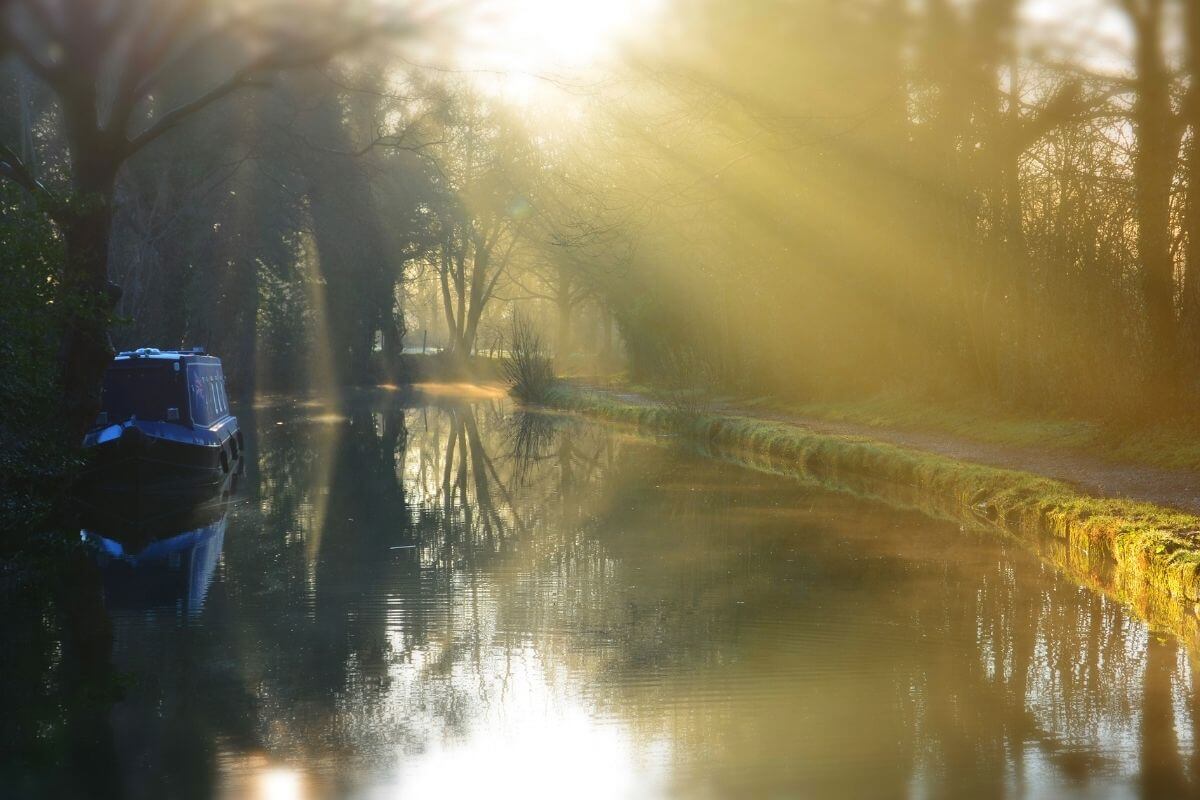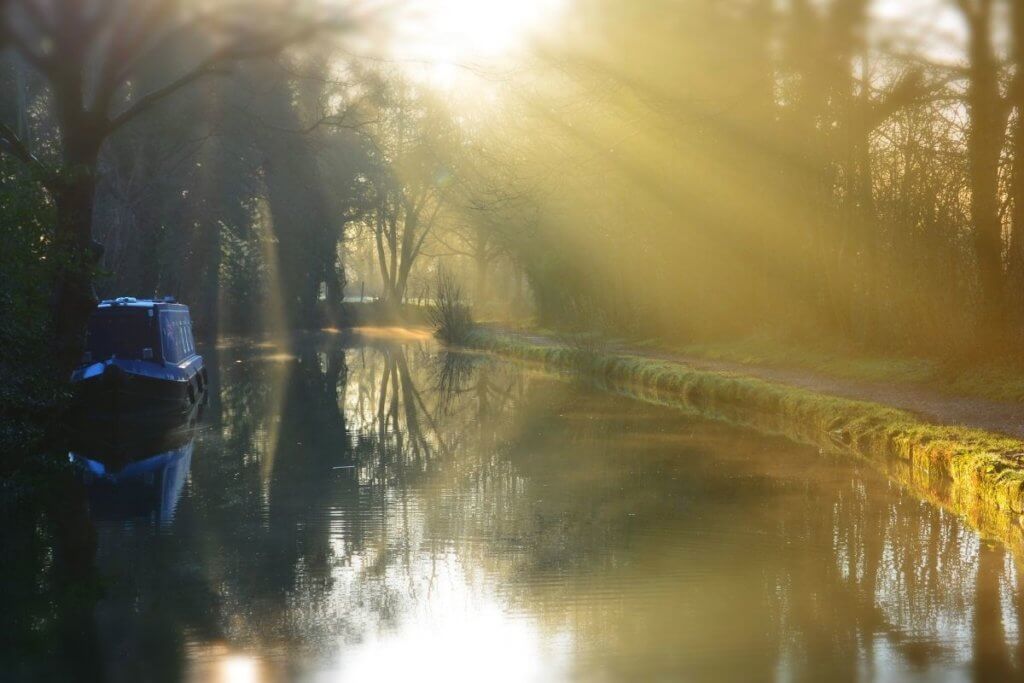 Swivel your head a few degrees clockwise and Greater Manchester lies ahead, the skyscrapers of the city centre shimmering in the haze of those treasured hot and clear days.
By far the two best ways to reach Bollington are along the Middlewood Way or the Macclesfield Canal, which run almost parallel to each other on the eight miles from Marple on the outskirts of Stockport.
Once in town, The Rec is a scenic expanse of grass that doubles up as the town's football and cricket pitches, while there's no better place to watch a few overs than from The Vale Inn's triumph of a beer garden.
Getting to Bollington
Train: Rose Hill Marple (8 miles), Middlewood (6 miles), Macclesfield (3 miles).
Bus: 391/392 from Stockport to Macclesfield, hourly Mon-Sat. Get off at the Boars Head in Higher Poynton for a 5 mile walk along the Middlewood Way or Macclesfield Canal, otherwise the bus drops you off in the centre of town.
Where to eat in Bollington
The Lime Tree, 18-20 High Street, SK10 5PH
TAPA, 22 High Street, SK10 5PH
The Indian Goat (a permanent street food van), Bollington Recreation Ground, SK10 5JT
Drinking in Bollington
The Vale Inn, Adlington Road, SK10 5JT
The Poachers Inn, 95 Ingersley Road, SK10 5RE
The Bulls Head, 2 Oak Lane, SK10 5BD
---
2. Glossop
Just across the Derbyshire border, but only half an hour from Manchester Piccadilly, Glossop acts as a gateway to the Peak District and the Pennines as a whole. Anything not nailed down will roll away in this hilly town, which has seen a renaissance over the past decade.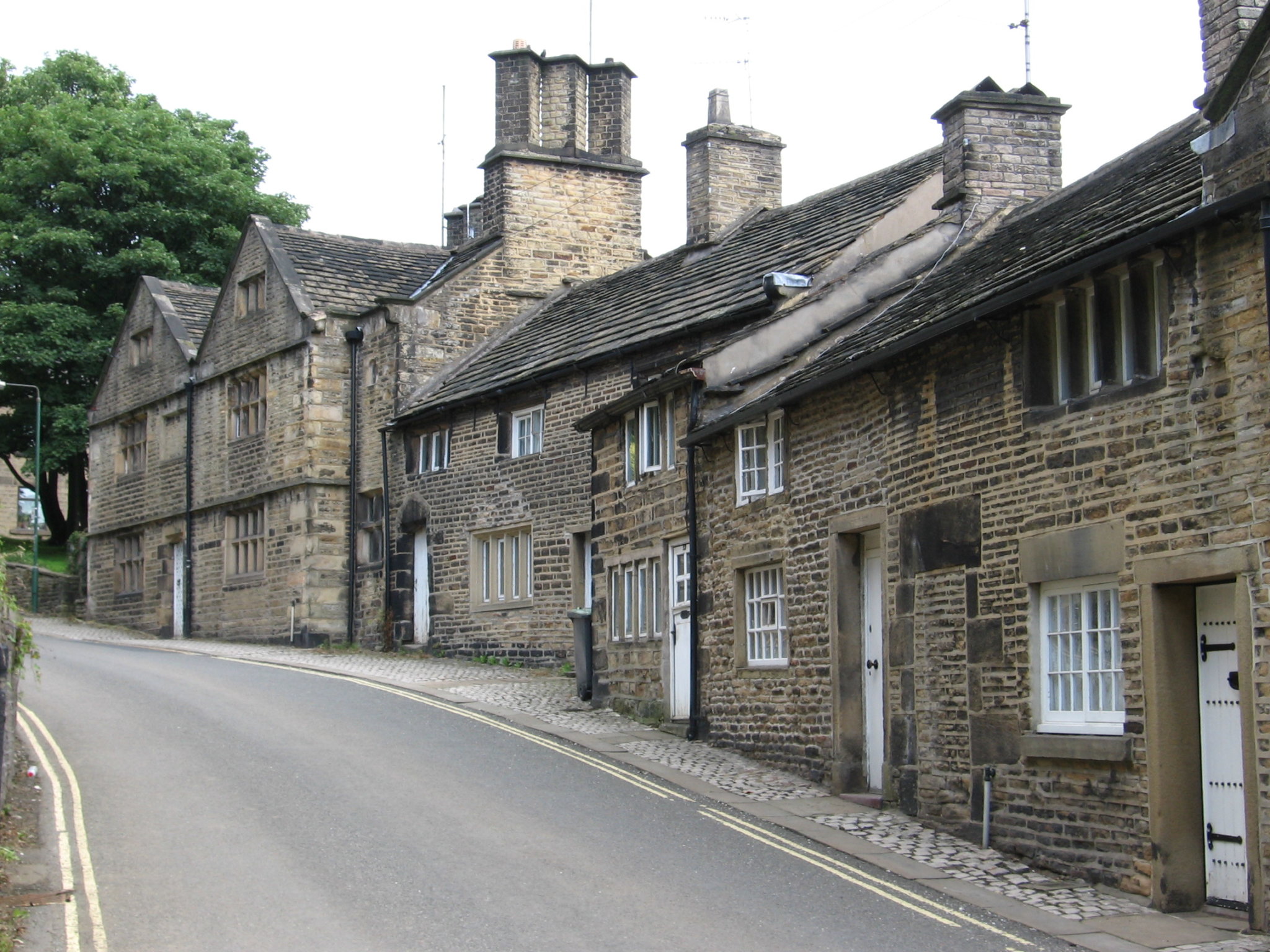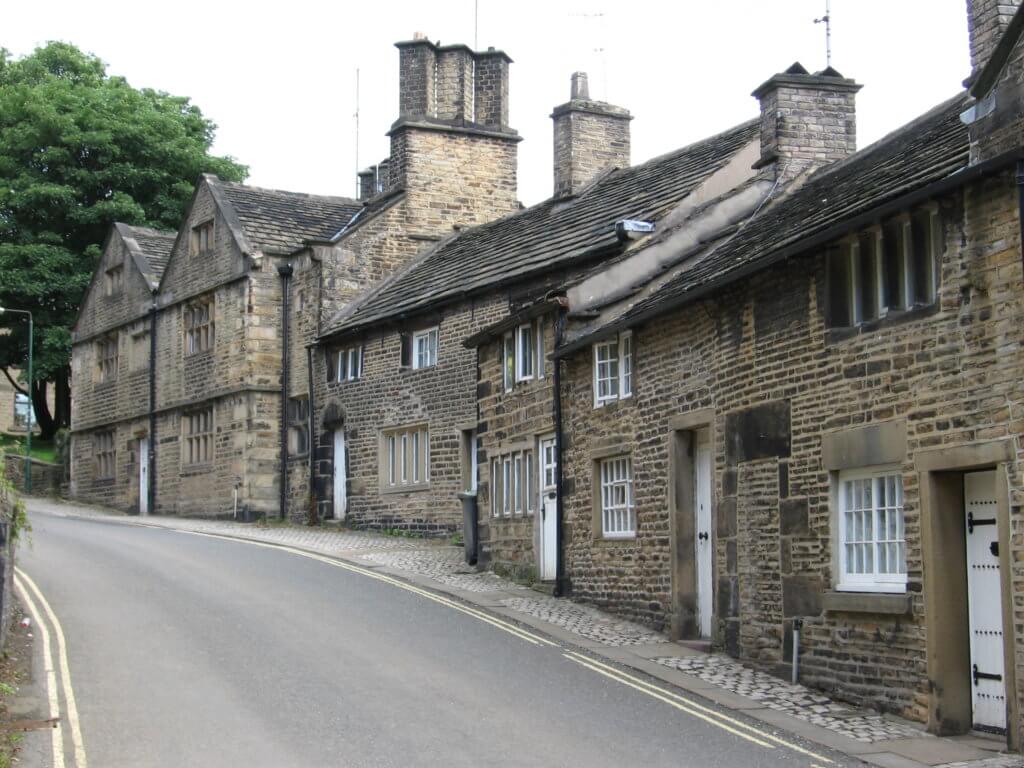 It's not often you can say a butcher has proven to be a catalyst, but the multi award-winning Mettrick's has helped to up Glossop's game and reputation, no matter your view on their squirrel pies. The High Street still has its fair share of traditional shops, which are now interspersed with an array of bars of both the micro and noodle varieties.
Of course, with the famous Kinder Scout and the Pennine Way National Trail being nearby, Glossop is a hiker's hub for those willing to tackle its tough moorland walks. The scattered remains of a 1948 plane crash have become a mawkish attraction, while the routes around the five reservoirs by the Woodhead Pass provide much gentler, family-friendly terrain to explore.
The short, Saturday-only bus over Holme Moss to Holmfirth is an essential trip, too. The zig-zagging descent isn't for the nervous, but it's also a classic cycling route, which is a regular on the Tour de Yorkshire and even featured in the 2014 Tour de France.
Getting to Glossop
Train: 2 per hour from Manchester Piccadilly; 30 minutes
Bus: The X57 runs every 2 hours from Chorlton Street to Sheffield; 40 minutes
Great Restaurants in Glossop
Mettrick's Butchers, 20-22 High Street West, SK13 8BH
The Globe, 144 High Street West, SK13 8HJ
Ayubowan, 46-50 High Street West, SK13 8BH
Drinking in Glossop
The Star, 2 Howard Street, SK13 7DD
The Oakwood, 67 High Street West, SK13 8AZ
Harvey Leonard's, 22 Norfolk Street, SK13 8BS
---
3. Leek
Isolated in a dell of the Staffordshire Moorlands, Leek has grown away from the sphere of influence of major cities. With no train station linking it to the wider world, Stoke-on-Trent is its nearest large neighbour, a 45-minute bus ride away. This has left the locals to develop an accent fired in the Potteries, but with vowels mangled into barely recognisable contortions. It's as close to Kiwi as it is to Mancunian.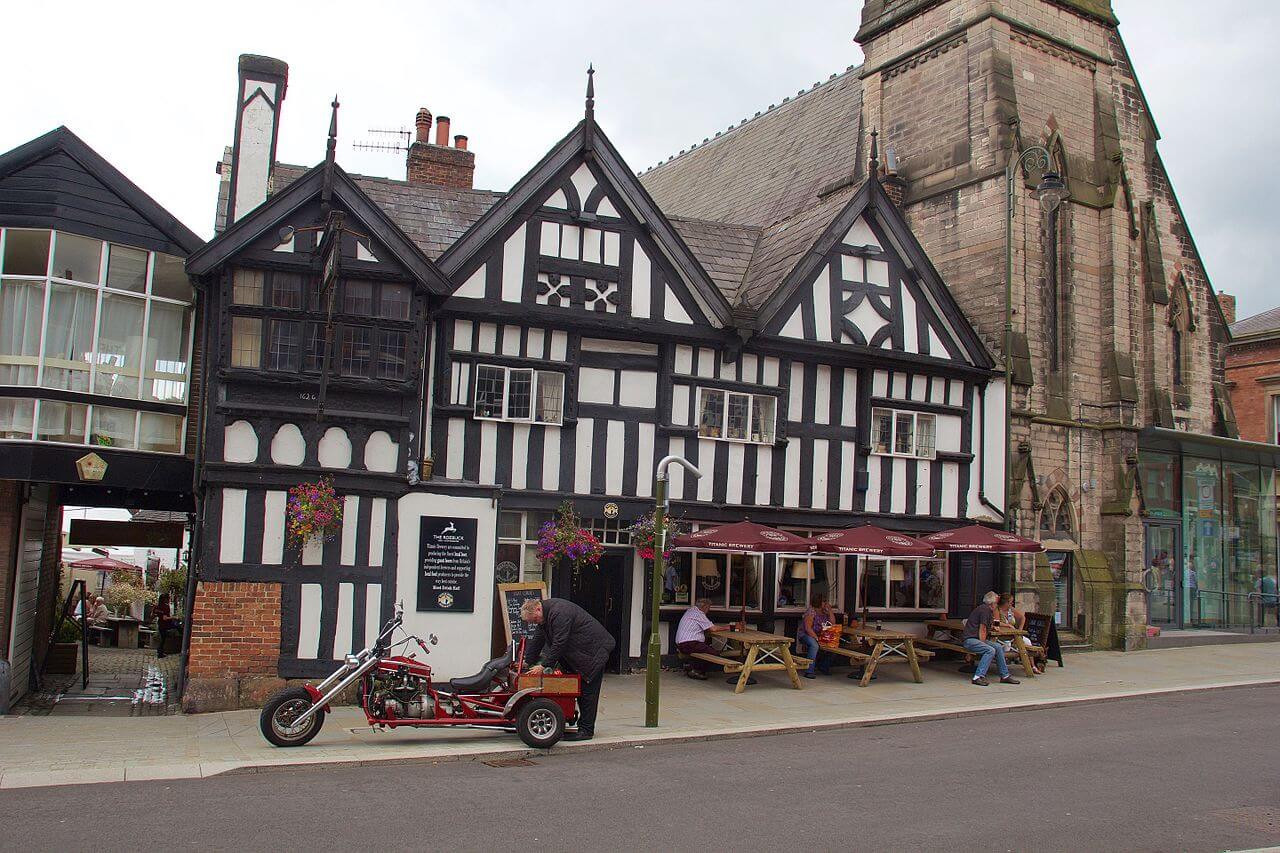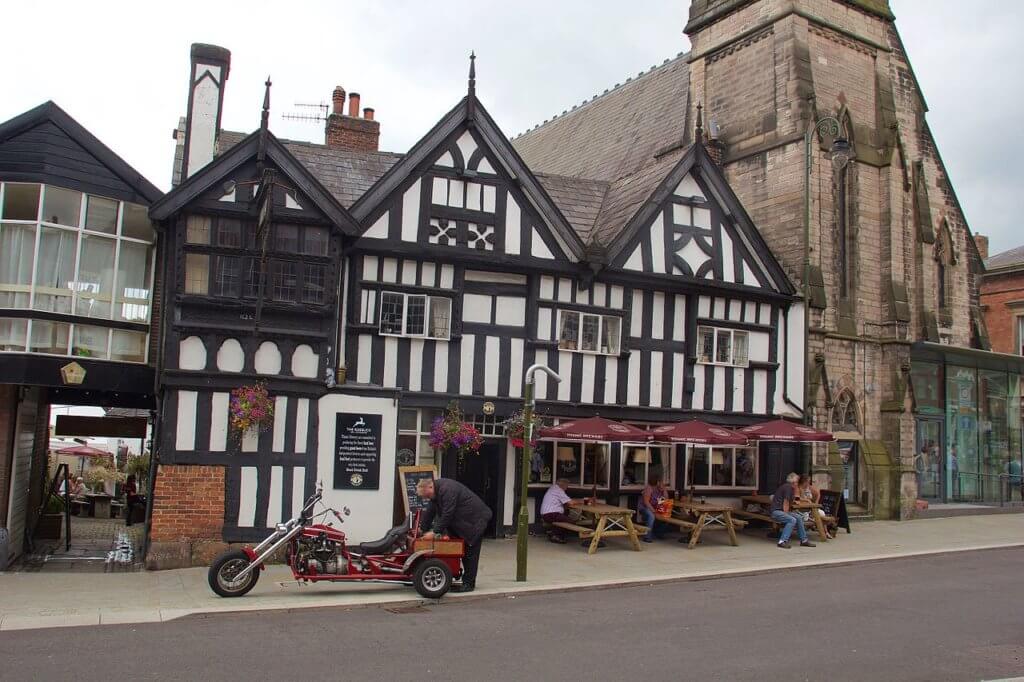 While its most famous attractions are out of town – The Roaches escarpment a dizzying climb out of town, the eerie Lud's Church stone formation high on the moors, and Rudyard Lake, which inspired Kipling's first name – there's still enough to make Leek more than just an unexpectedly attractive base.
It's a great town for idling in cafes, Spout being the pick of the bunch. It even holds an outdoor wedding licence. The Buttermarket is always good for a rummage, too, especially The Spice Shop, where the owner's father will almost certainly try to persuade you of the powers of beetroot powder.
Leek's tour de force, though, are its pubs. From knowledgeable craft beer dens to retro time-warp classics, including the that somehow wears both hats with panache, it's a brilliant town to sink a few jars.
Getting to Leek
Bus: The frequent 16 & 18 from Hanley (Stoke's city centre), or the 2-hourly 108 from Macclesfield are the most obvious public transport options.
Great restaurants in Leek
Leek Oatcake Shop, 2 Haywood Street, ST13 5JX
Live Love Loaf, 3 Bath Street, ST13 6JQ
Spout Brew House, 70 St Edward Street, ST13 5DL
Drinking in Leek
The Blue Mugge, 17 Osborne Street, ST13 6LJ
Earl Grey Inn, 38 Ashbourne Road, ST13 5AT
The Hideout, 5-6 Market Place, ST13 5HH
---
4. Nantwich
A slither of green space separates Nantwich from its gritty neighbour, Crewe, but despite their proximity to each other, they feel like completely different worlds. Crewe's town centre is in a constant state of flux as it ricochets from one design scheme to the next, whereas parts of Nantwich look like a Tudor theme park. Albeit with less mud.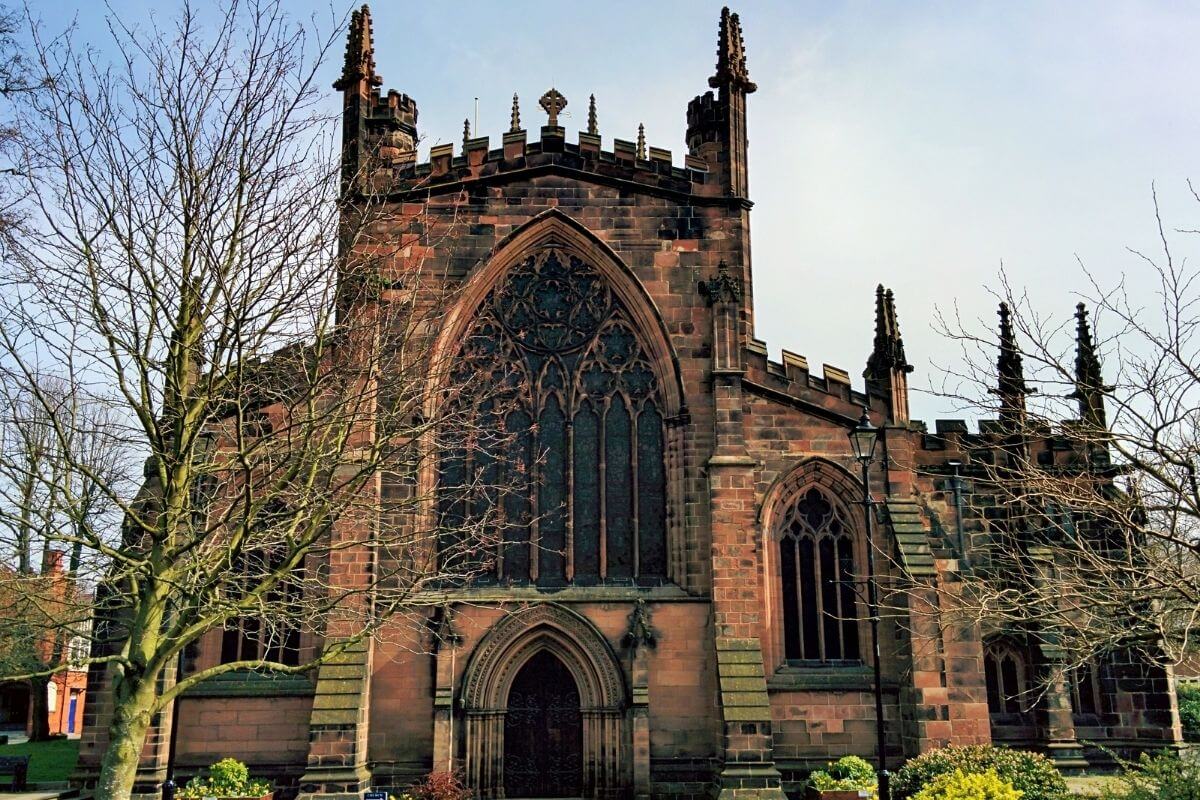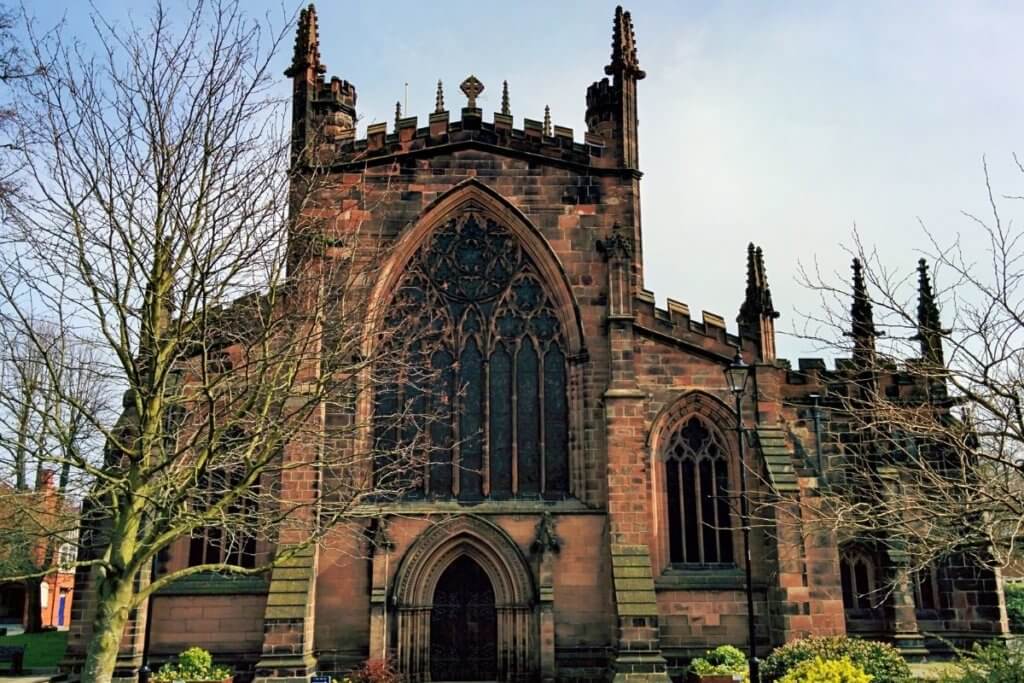 This is never more so than during the closest weekend to January 25th, when the town commemorates the 1644 Battle of Nantwich. Parliamentarians defeated the Royalists, a result that is replayed each year by The Sealed Knot re-enactment group.
Flat for the most part, the countryside around Nantwich is criss-crossed by easy walks, including beside the River Weaver, or a short saunter along the Shropshire Union Canal to the Hack Green Secret Nuclear Bunker.
The town itself is easy to get along with and has an air of Oxford in miniature, especially the beautiful areas around St Mary's Church and Welsh Row, which as the name suggests, points to the border with Wales around fifteen miles west.
Getting to Nantwich
Train: Hourly from Manchester Piccadilly, taking between 45-60 minutes. Every other train needs a change at Crewe, otherwise they are direct.
Restaurants in Nantwich
Icon Thai, 17 Welsh Row, CW5 5ED
The Leopard, 33 London Road, CW5 5LJ
A.T. Welch Delicatessen & Coffee Shoppe, 45 Hospital Street, CW5 5RL
Drinking in Nantwich
Ebenezer's, 2 Castle Street, CW5 5BA
The Black Lion, 29 Welsh Row, CW5 5ED
The Wickstead Arms, 5 Mill Street, CW5 5ST
---
5. Ramsbottom
It's rare that the most serene part of a town is a football terrace. The main stand at Ramsbottom United's ground is the exception. The River Irwell is in full picturesque flush behind you as it burbles over rocky shallows; a forested hillside is away to the right, the local cricket club straight ahead. If you crane your neck, you might make out the Peel Monument high above the East Lancashire Railway, which chugs away behind the goal to the left.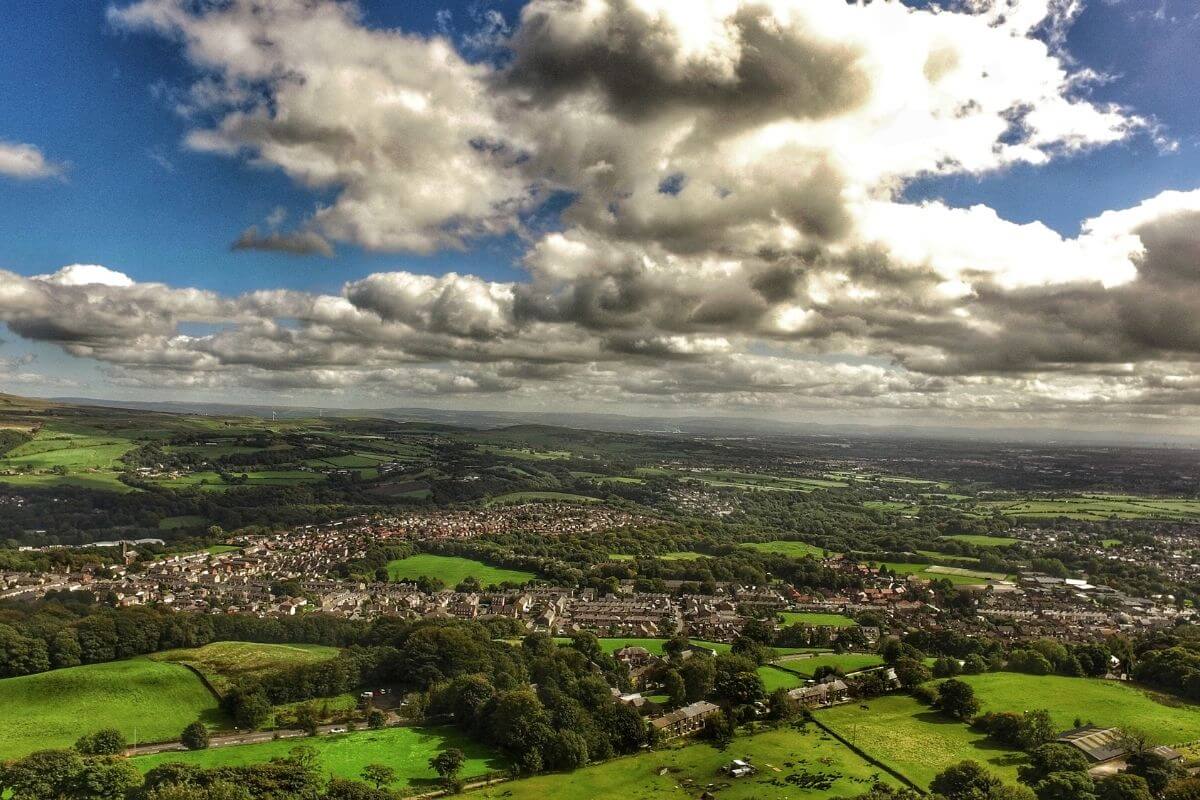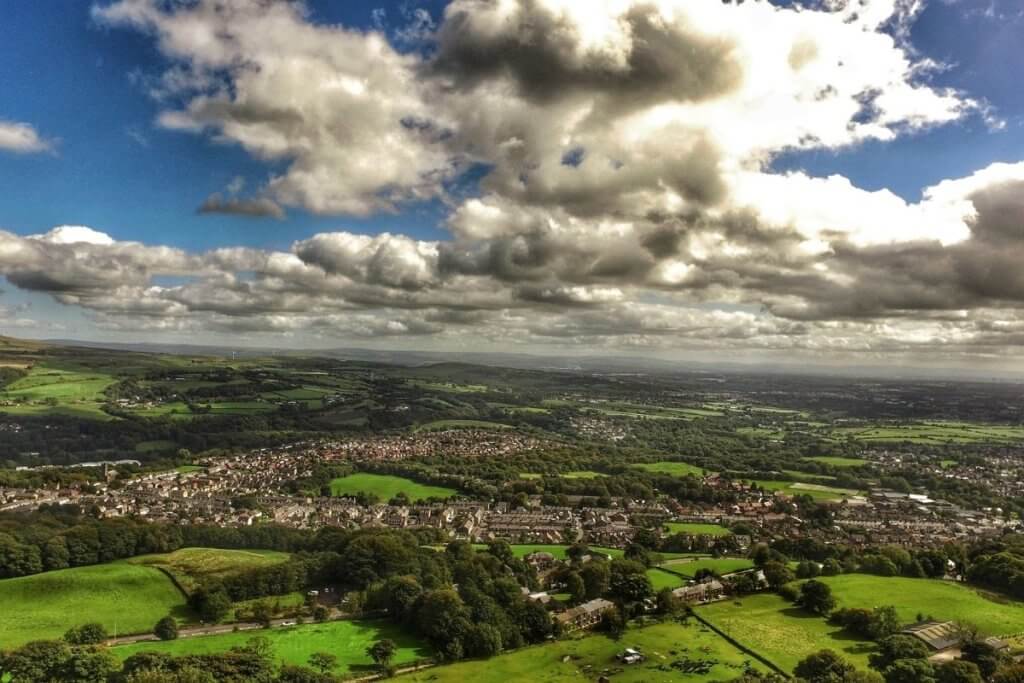 This heritage line is our preferred way to reach Ramsbottom, arriving in style in restored wooden carriages hauled by a steam loco from Bury, five miles to the south.
Something of a foodie refuge, the town's culinary reputation precedes it. From the modern Northern cuisine of The Hungry Duck to Frank's dirty burgers and waffles, you won't need to look too hard for a memorable meal.
Rammy is also home to the annual World Black Pudding Throwing Championships, where each September competitors aim to topple stacks of Yorkshire puddings from a lofty plinth.
Getting to Ramsbottom
Bus: The hourly X41 to Accrington from Manchester Chorlton Street stops at Market Place
Train: The East Lancashire Railway delivers passengers on an old steam train. It runs from Heywood to Rawtenstall.
Restaurants in Ramsbottom
The Hungry Duck, 76 Bridge Street, BL0 9DG
Baratxuri, 1 Smithy Street, BL0 9AT
Frank's Burgers, 9 Bolton Road West, BL0 9NA
Drinking in Ramsbottom
Northern Whisper, 2 Market Place, BL0 9HT
Holcombe Tap, 13 Bolton Road West, BL0 9NA
Tap and Cork, 43 Bolton Street, BL0 9HU
---
Check out these free things to do in Manchester!
Ready for more towns? Check out some of the best towns in England to get you started.
---
6. Sowerby Bridge
You know a road is steep when there are handrails riveted onto walls to help pedestrians haul themselves upwards, and you'll need strong calves if you leave Sowerby Bridge's main drag (the 'we' in Sowerby is silent). Those looking for an impromptu workout could do worse than tackling Tuel Lane to its brutal summit.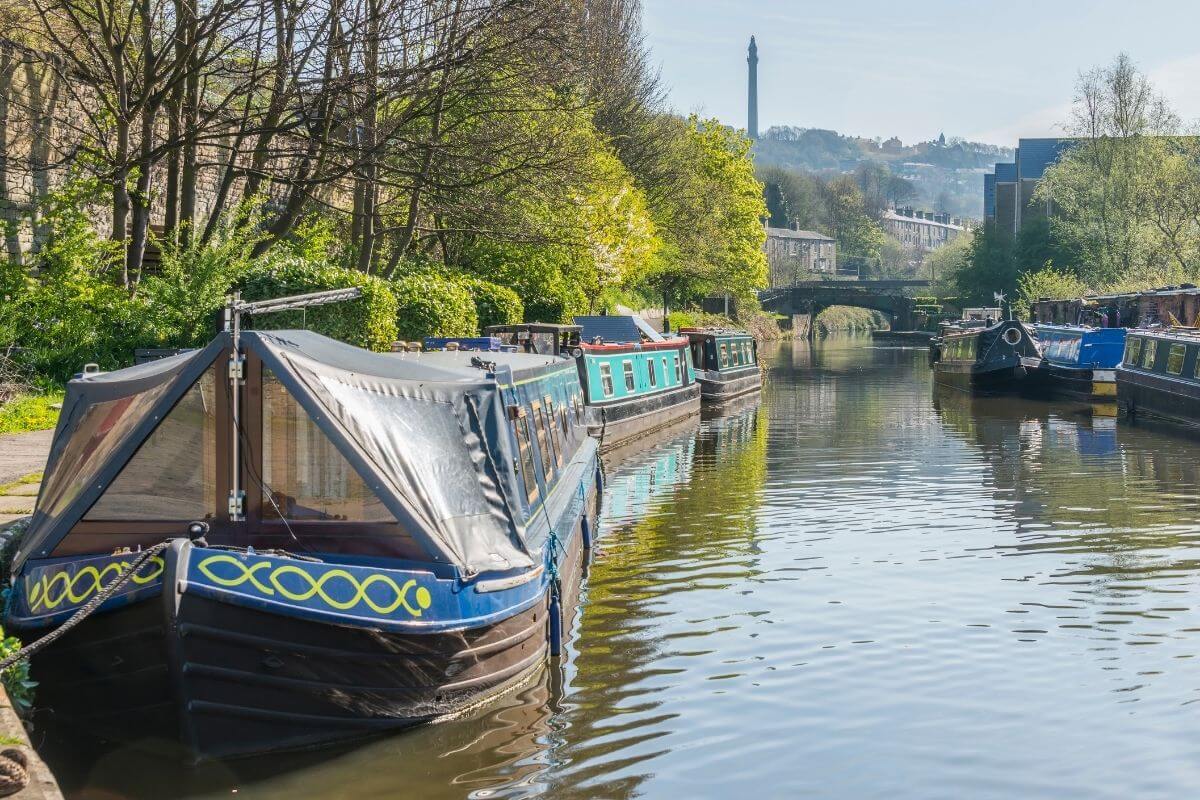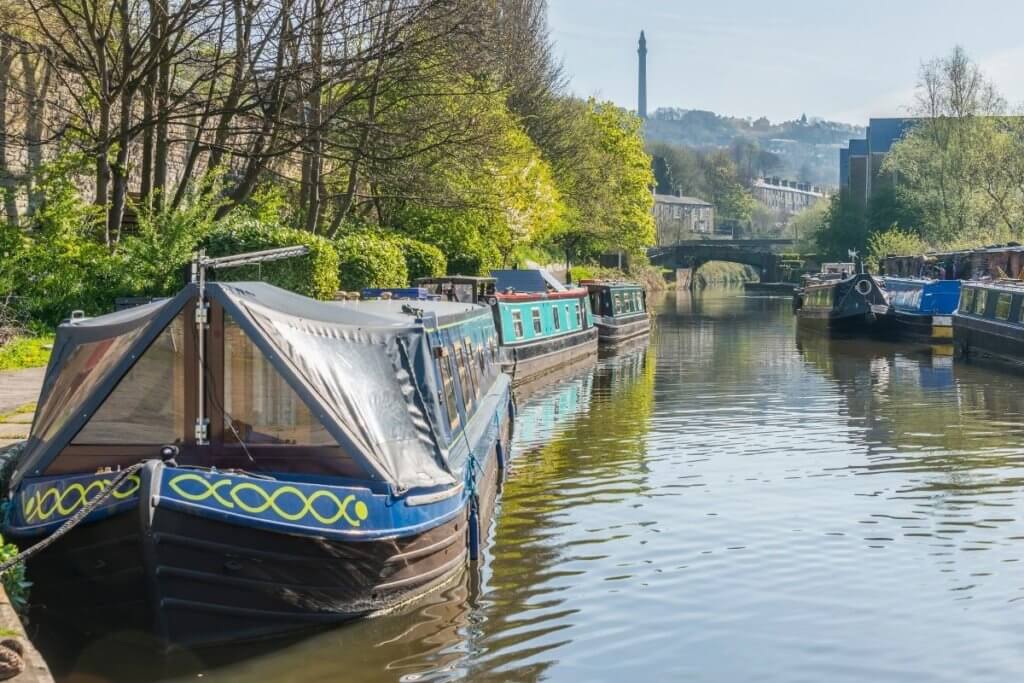 If visiting on a day trip from Manchester, though, you're more likely to stick close to the floor of the Calder Valley. This is the terminus of the Rochdale Canal, and you can hire a boat to sail along it towards Mytholmroyd, Hebden Bridge, Todmorden, or even take a leisurely cruise back to the city.
We can also recommend the woodland walk along the River Ryburn to picturesque Ripponden around three miles south.
The area around the regenerated wharf buzzes with independent businesses, and community spirit is alive and well in Sowerby Bridge, too. Efforts to revive the Puzzle Hall Inn have made headlines, with more than two hundred people crowdfunding £170,000 to save it from dilapidation.
Getting to Sowerby Bridge
Train: 2 per hour from Manchester Victoria, which also stop at Todmorden (see below), 35-50 minutes.
Best restaurants in Sowerby Bridge
Syhiba, 57 Wharf Street, HX6 2AF
Engine, 72 Wharf Street, HX6 2AF
Temujin, 1 Canal Basin, HX6 2AG
Drinking in Sowerby Bridge
Puzzle Hall Inn, 21 Hollins Mill Lane, HX6 2RF
Hollins Mill, 12 Hollins Mill Lane, HX6 2QG
Hogs Head Brew House, Stanley Street, HX6 2AH
---
7. Todmorden
Soldiers from Todmorden went off to the First World War as Lancastrians, with those lucky enough to make it back home discovering they were Yorkshiremen on their return. Quite how the parliament of the day found time for boundary changes is anybody's guess.
Hemmed into the spot where the roads from Rochdale, Burnley and Halifax meet, Tod has a healthy eccentric streak running through it. It's become a retreat for artsy self-exiled Mancunians who still want easy access to the big city (it's just half an hour from Manchester Victoria), but appreciate having an abundance of nature yards from their doorstep.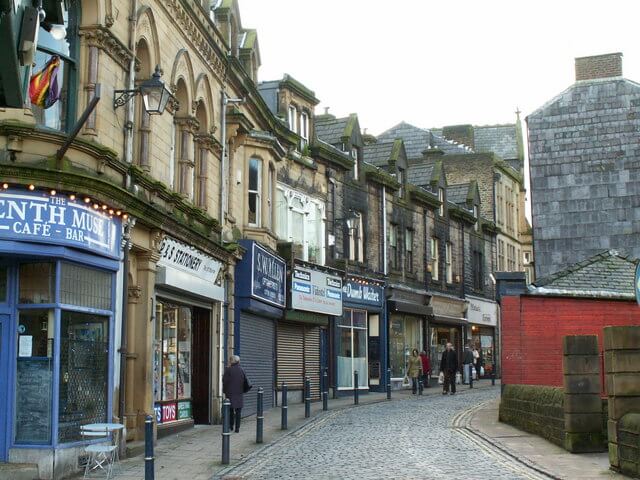 The town still has a traditional core, though, and this collision of cultures is best seen in the Market Hall, where stalls selling haberdashery and granny's bloomers mingle with a plush coffee bar.
You don't need to go into Manchester for nightlife, though. The Golden Lion is at the heart of the local action. If its Thai menu and array of craft beers and real ales doesn't convince you, its musical pedigree will. It has hosted gigs and DJ sets by everybody from Jarvis Cocker to Steve Davis and Irvine Welsh. There really is nowhere else like it.
Getting to Todmorden
Train: Trains run from Manchester Victoria to Todmorden 3-4 times per hour, taking around 30 minutes
Best Restaurants in Todmorden
Yakumama, 29 Rochdale Road, OL14 7LA
The White Rabbit, 1 White Hart Fold, OL14 7BD
Baked, 2 Longfield Road, OL14 6LX
Drinking in Todmorden
The Golden Lion, Fielden Square, OL14 6LZ
Nan Moor's Bar, 18 Rochdale Road, OL14 7LD
The Alehouse, 52 Burnley Road, OL14 5EY
---
Quicklist of the best towns near Manchester
Bollington
Glossop
Leek
Nantwich
Ramsbottom
Sowerby Bridge
Todmorden
---