Wondering what to wear paddle boarding? If you've got the right kit then paddle boarding will be a lot more fun, trust us. Let us show you the best paddle boarding clothing and accessories so you can have the best day out possible.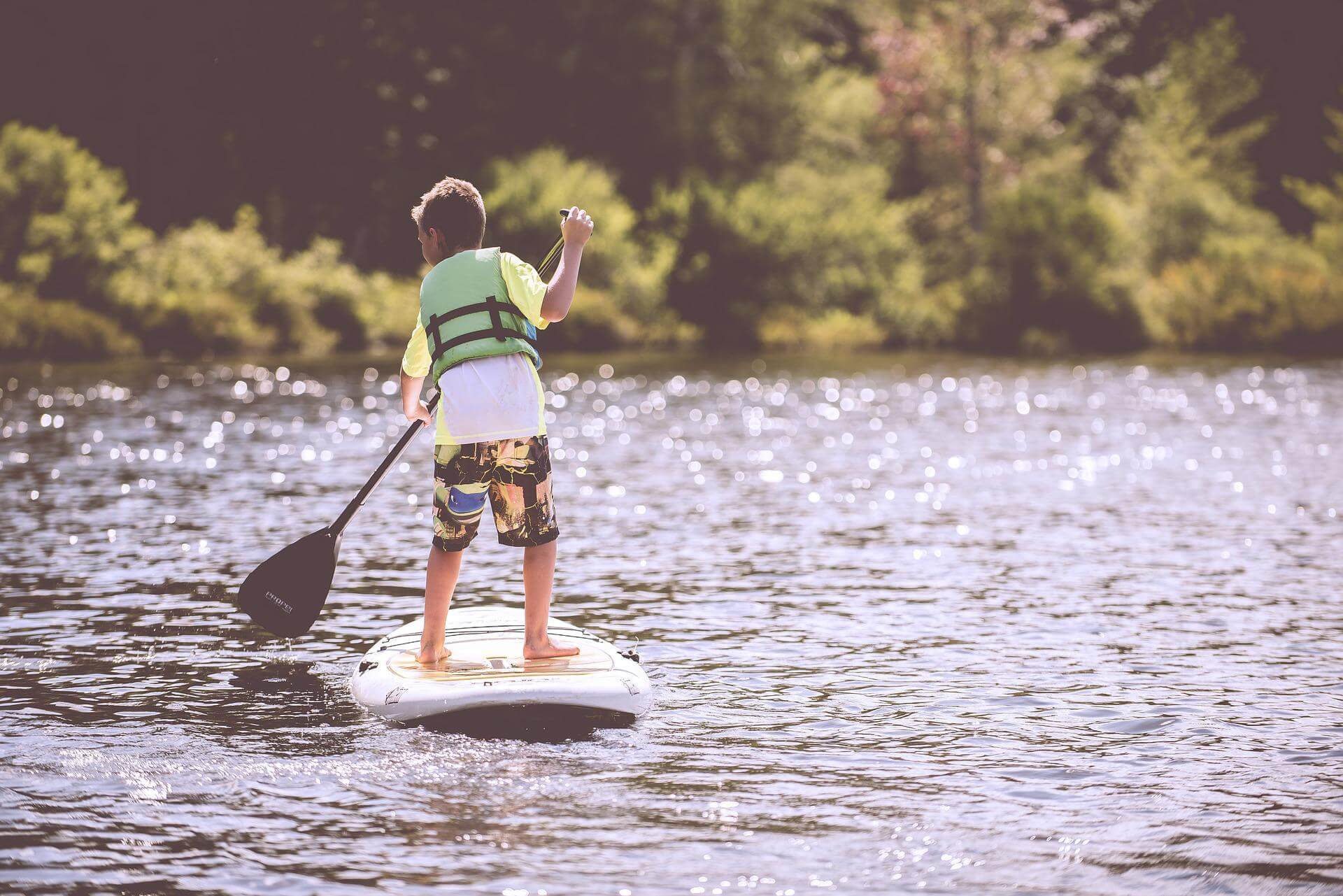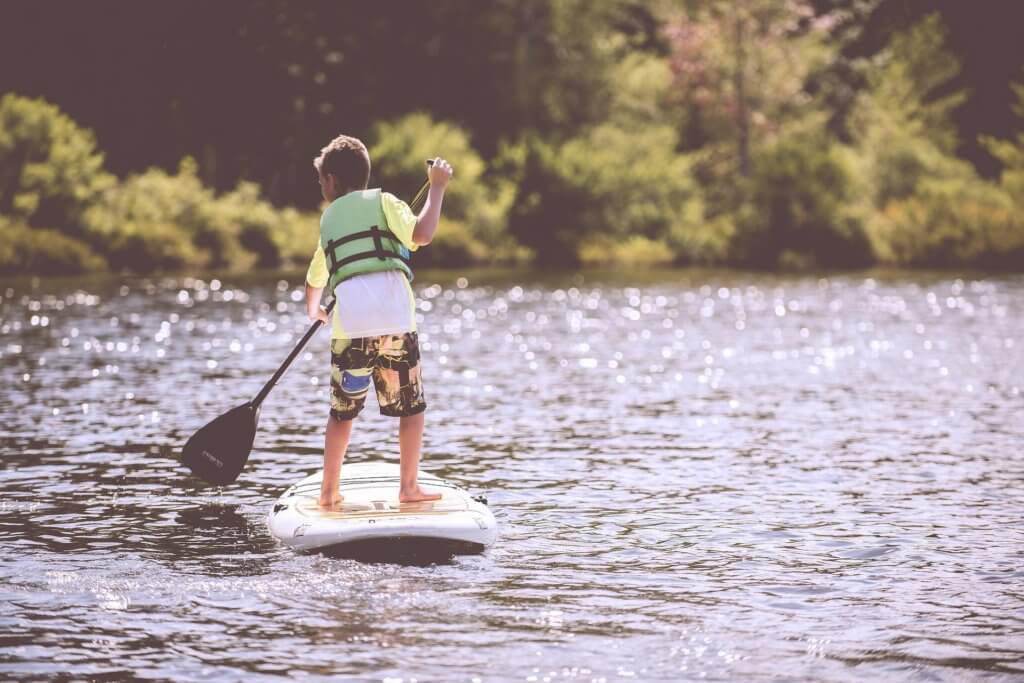 What to wear paddleboarding can differ from person to person, but let us show you the best paddle boarding gear to get you started, and then you can adapt and swap in and out as you see fit.
Paddle boarding is great fun for all ages. From stroking across calm, placid lakes to riding currents, you get to decide how adventurous you feel that day and choose the body of water for you.
Like all sports and outdoor activities, you want to dress the part though. Wondering what to wear to paddle boarding? Rest easy knowing no specialist, technical clothing is required but you do have to consider location and climate. Layering your clothes right will let you paddle board all year round.
Here's a quick guide on what to wear paddle boarding, so you can keep that SUP out year round.
What to Wear for Paddle Boarding
Read on for all the best paddleboarding gear out there.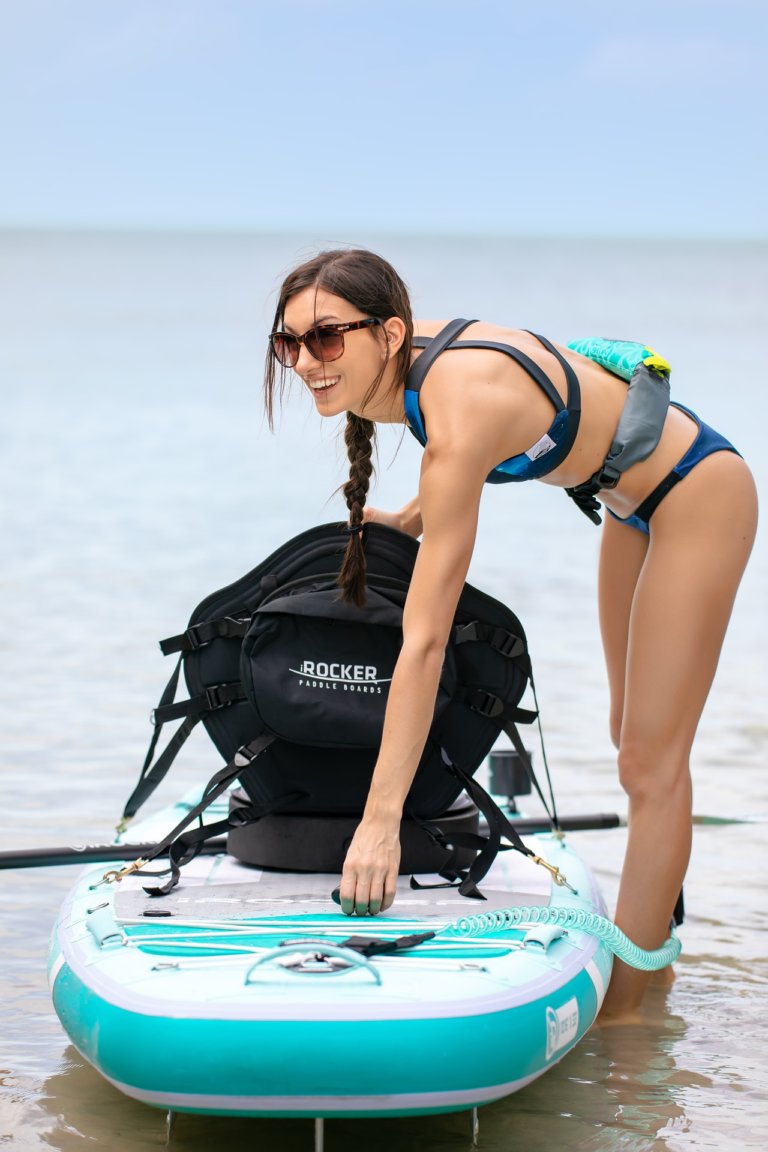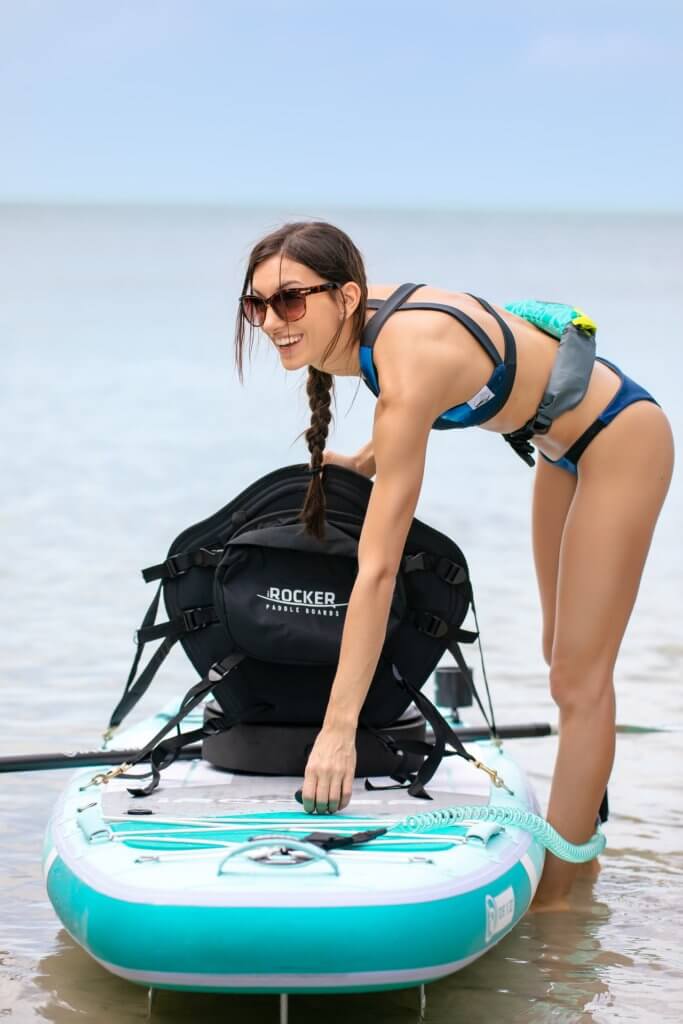 General paddle boarding gear
Before we dive into the paddle boarding clothing appropriate for each season, let's go over the basic gear that every paddle boarder should have. Here are all the essentials when it comes to what to wear paddle boarding.
Personal floatation device (PFD)
The most important thing to wear paddle boarding is safety gear – specifically, a personal flotation device (PFD). Whether you're a pro swimmer or not, life jackets and PFDs act as safety nets against stray currents, deep water and unexpected medical emergencies (like falling unconscious).
Paddle boarding shoes
We suggest going barefoot in the summer as paddle boards are actually deigned with grip for bare feet. Of course, if you're launching your board from a rocky or debris-filled spot, make sure to protect your feet! Regular water sport shoes do well in those scenarios as they've well-ventilated and fast-draining.
Paddle boarding shoes are definitely necessary for colder months. Neoprene shoes or booties are a good call. Some like to go for simple slip-on water shoes that are fit snug for ultimate flexibility. For better grip, glove-like shoes that wrap around each toe are the better choice.
Paddle boarding hat
Essential whenever you're on water for more than 10 to 15 minutes, paddle boarding hats or caps keep the harshest sun rays off your head during summer. In the winter, beanies and hoods reduce heat loss.
Rash guard
UV-protected rash guards and long-sleeves go a long way in protecting your skin. They guard against the wind and saltwater exposure too. You can get rash guards made from different materials:
Nylon/Spandex: Perfect for summer as they're highly breathable and dry quickly.
Polyester: While it's the most breathable, it's not very stretchy. A good compromise if you're paddling in calm waters.
Lycra: Extremely stretchy, it'll mould tightly to your figure. Best for SUP yoga.
Neoprene: Best for cold weather conditions as it is stretchy and insulated.
Leash
To keep your board from slipping away and leaving you stranded when you fall off, leashes are a must. Note that different leashes cater to different paddling conditions; straight leashes are best for surfing, coiled leashes for flatwater paddling, quick release leashes for moving water… you get the idea.
Helmet
If you're paddle boarding on whitewater rivers, local regulations may require you to wear a helmet. This is to prevent head injuries on rocks and debris.
Dry Bag
You'll need a safe and dry place to keep your wallet, phone, keys, and other valuables. You'll want it on you in case of emergencies. Bring along dry bags with straps to wear as a backpack. You can also keep them secured to the board using cargo bungees and clips. If you're wondering what to wear paddle boarding to keep all your essentials dry, this is it.
Other paddle boarding essentials
Sunscreen and water are a must! Sun protection and hydration are key for your comfort and health.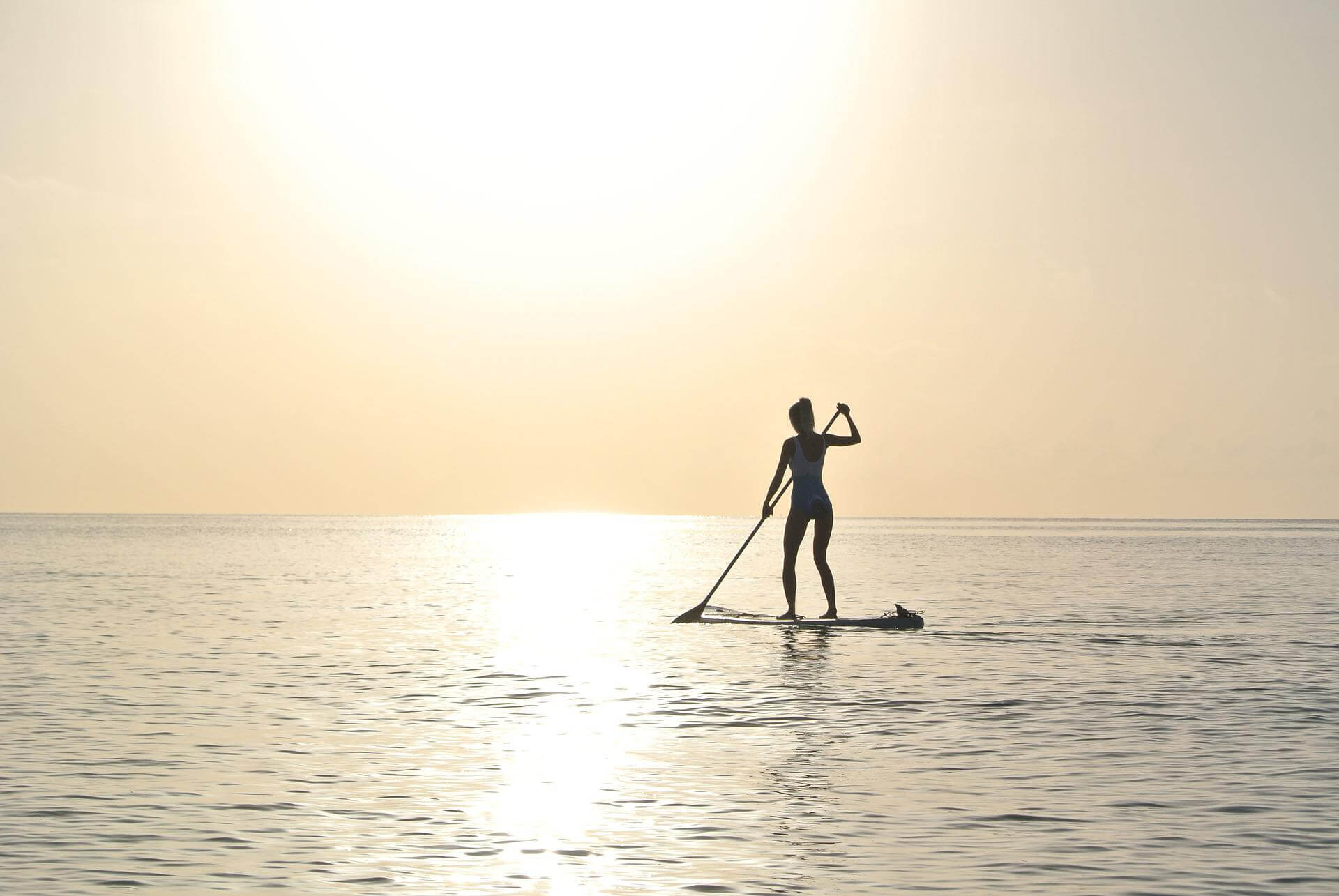 What to wear paddle boarding in spring
Spring is a fun time to go paddle boarding in England – less crowds at the popular spots. You get to enjoy warmer temperatures and bring short sleeves into play; without baking under the sun if you're out the whole day. That being said, spring temperatures can fluctuate dramatically throughout the day, throwing up a cool breeze or dropping a few degrees as the day cools off.
Build your base layer with comfortable clothes: loose shorts and a t-shirt. Those sensitive to the cold may want to stick to thin long-sleeved shirts. Pack an extra layer into your dry-bag or tie it around your waist; wind breakers, thin flannels and light button-ups function well.
If you're out paddling on a lake or paddling off the coast, remember that wind chill will increase. Comparatively, rivers and enclosed waters aren't as windy. Pack according to the location and consult the weather forecast beforehand as well.
What to wear paddle boarding in summer
Paddle board clothing in the summer is pretty straightforward. Overall warmer weather means no fuss is required.
Swimsuits and bikinis are the perfect base layer if you're planning on an occasional dip. But in terms of functionality, board shorts and a t-shirt are best for summer paddle boarding. Think yoga or gym clothes. You want clothes that are light and easy to dry, but keep you relatively covered.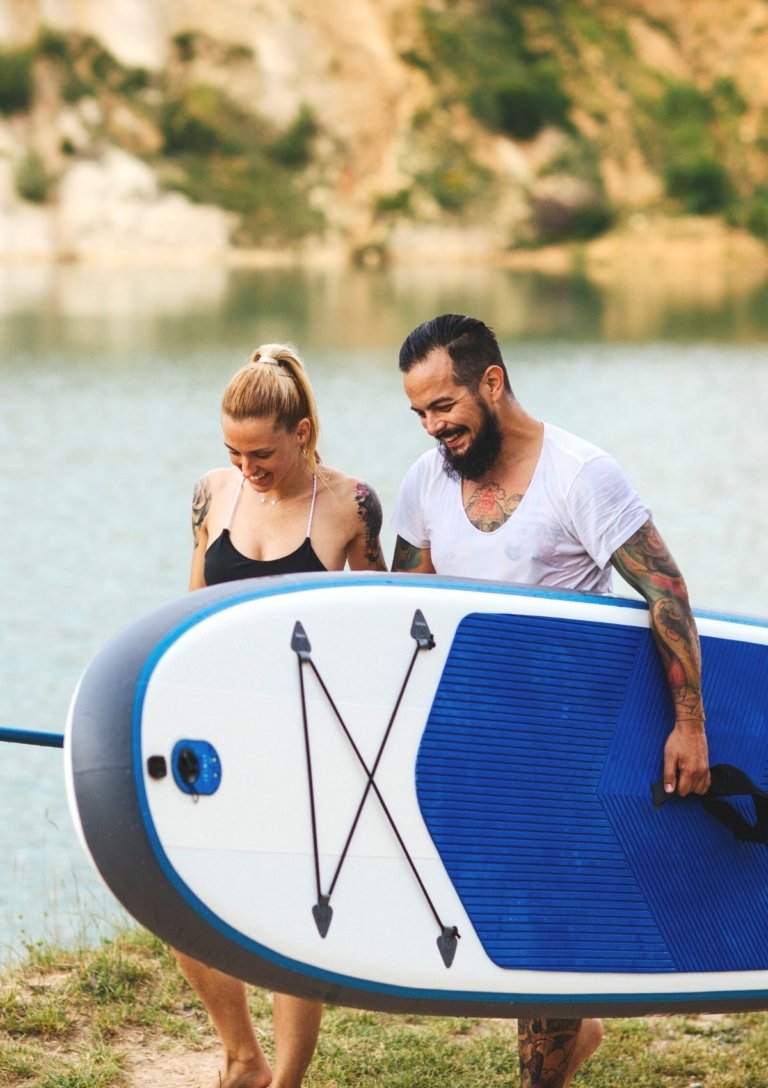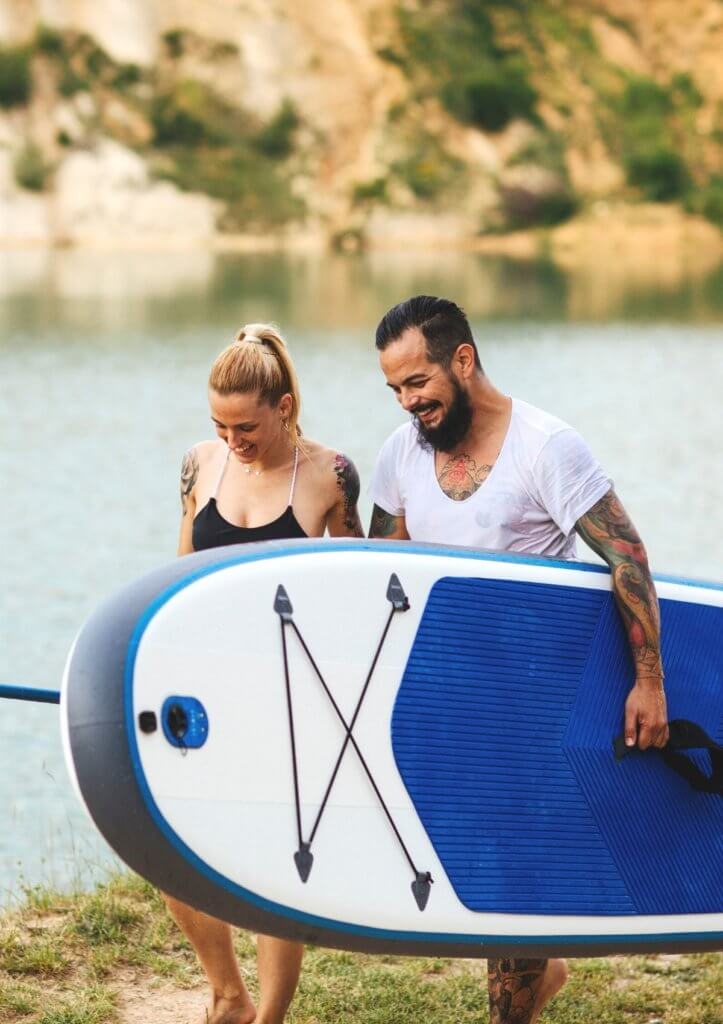 While paddling does make you sweat, the strength of the sun is a real threat! The reflective nature of water means higher risk of sunburns and sun strokes. Slip on a rash guard to protect your skin for UV rays and wind exposure, even if you think it's fairly temperate.
Make sure to wear sunscreen (the most important 'layer') and a paddle boarding hat as well, especially if your paddle grounds have little to no shade. Sunglasses are a necessity for protecting your eyes from the water-reflective glare.
What to wear paddle boarding in autumn
Like spring, autumn is a transitional season that calls for layers. You can still wear your summer paddle boarding clothes as a base, but layer up with a long-sleeve or waterproof jacket. Those who get cold easily can wear a fitted long-sleeve for the base, layer on a t-shirt over it, and then a final light layer on top.
My advice is to choose clothes that dry quick. Even the slightest combo of wet clothes and cold breeze can hit you hard!
What to wear paddle boarding in winter
Paddle boarding in the winter is all about preparation. I suggest getting more experience before going winter paddle boarding so that you're less likely to fall overboard. But as long as the water isn't so cold where you are; you're good to go.
To stay comfortable on cold days, wetsuits and dry suits come highly recommended – in fact, don't go out without one!
– Wetsuits for paddleboarding
The go-to garment for cold water protection, wetsuits trap an already body-warmed layer of water to act as insulation against the colder water outside. For this reason, your wetsuit has to fit snugly against your skin. If your skin irritates easily, wear a rash guard underneath.
Neoprene wetsuits are great; they're lightweight and stretchy enough for you to move comfortably in. Nowadays, wetsuits come in short-sleeves and long-sleeves with varying thickness of material – choose what's appropriate for your paddling location.
– Dry suit for paddleboarding
Dry suits are an alternative to the wetsuit, but tend to be expensive. They create a layer of air against your body instead of trapping water; toasty but not as comfortable. Dry suits are overkill for paddle boarding in England really, although you may appreciate one if paddling in frigid environments.
Trying to avoid spending too much? You can stick to the old-fashioned layering route. Put on a thick, long-sleeve shirt with a waterproof winter jacket on top. For bottoms, leggings under a pair of quick-dry pants work well to insulate.
Finish off your winter ensemble by covering up the limbs. Winter paddle boarding hats and neoprene hoods are a must, as they protect you from cold shock if you fall overboard. Knit your feet out with thick neoprene booties or winter-friendly water sport shoes. You may also want gloves if wind conditions are harsh.
What to wear for SUP yoga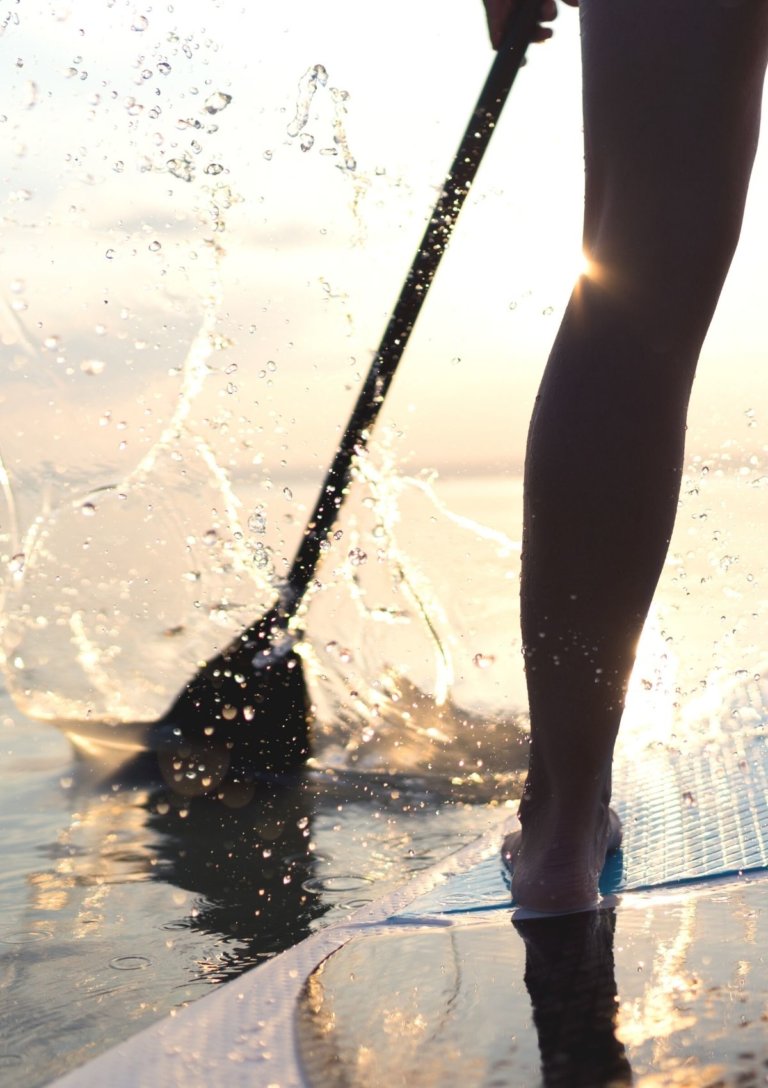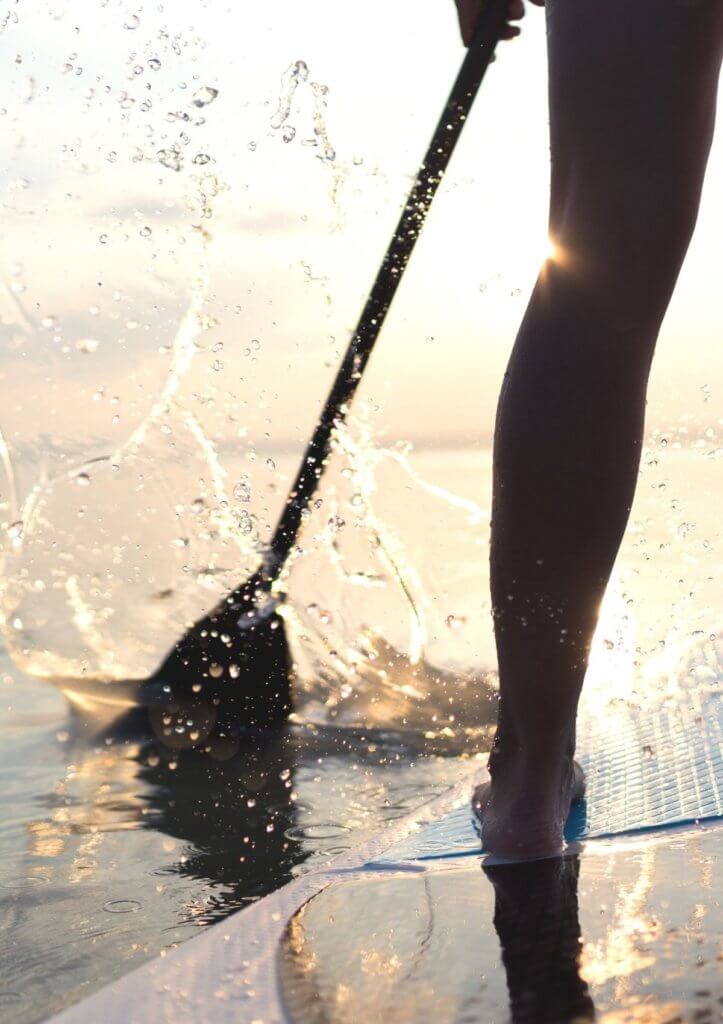 Those challenging paddle board yoga should prioritise movement and flexibility. You want clothes that can handle everything between the warrior pose and tree pose. Many people practice SUP yoga in their swimsuits, but regular yoga or workout clothes are fine as well. You may want to wear a rash guard over your yoga clothes to protect them from sun damage.
What to wear for whitewater paddle boarding
When dealing with rough water, dress to fall into water. Fitted and lightweight clothing is best, so that you won't experience extra drag in the currents. In fact, loose clothing can become dangerous when snagged in something. Thin wetsuits are ideal as they protect against the cold river water and rocky surfaces at the same time.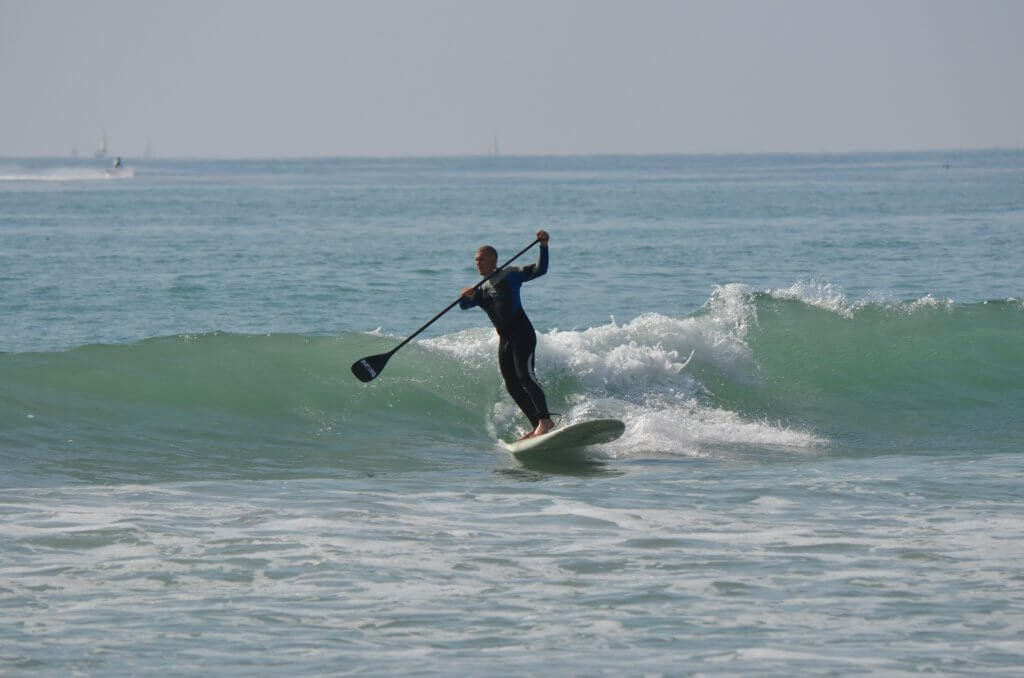 Paddle boarding shoes also come into play here. Make sure your footwear has traction for better grip. Never go barefoot since rocks beneath the water surface can hurt your feet.
What to wear when paddle boarding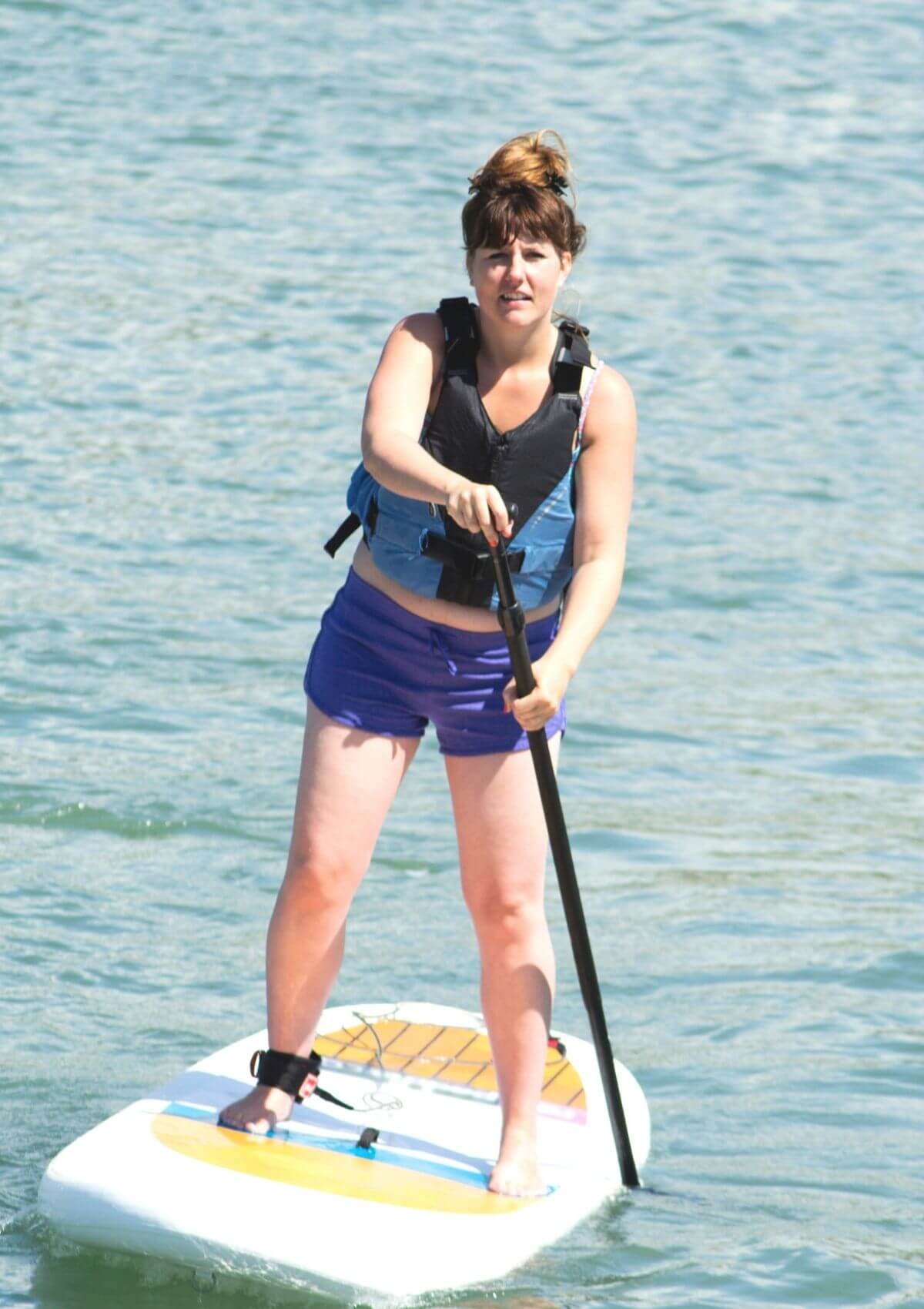 Don't stress too much over what to wear paddle boarding! The key is to dress in clothes that fit snug on your body while allowing high range of movement. Work in layers for your paddleboarding clothing and you'll be able to paddle under any climate conditions. Have fun!
---