Welcome to our guide to the best places to go paddle boarding in the West Midlands. There are plenty of reservoirs and lakes in the Midlands for you to enjoy…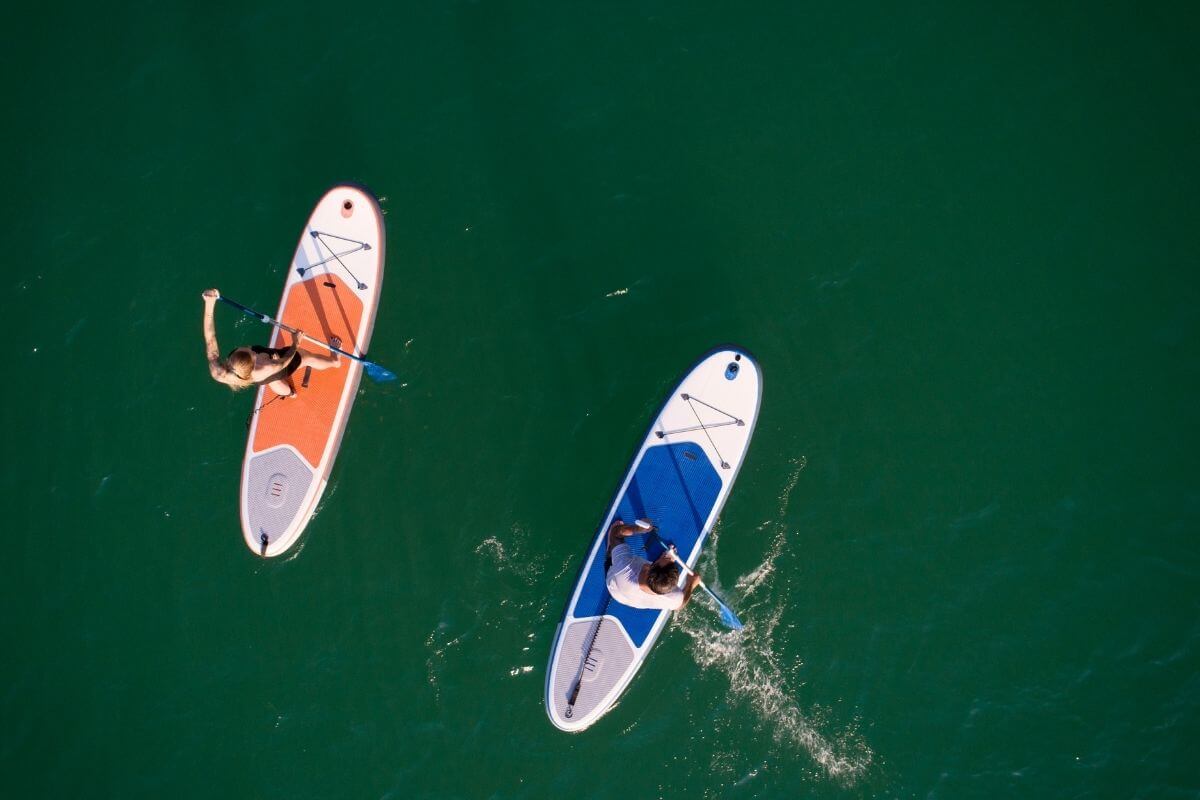 Paddle boarding has become increasingly popular in recent years, with more and more people taking to the water each year. And it's easy to see why. Paddle boarding is an exciting and adventurous full-body workout. It's fun for people of all ages, making it a great day out for all the family. You're probably wondering however, where can I go paddle boarding in the West Midlands?
Well, look no further. Here are the best places in the West Midlands to jump on that paddleboard.
Best places to go paddle boarding in the West Midlands
The premium spots for anyone looking for some West Midlands paddle boarding action.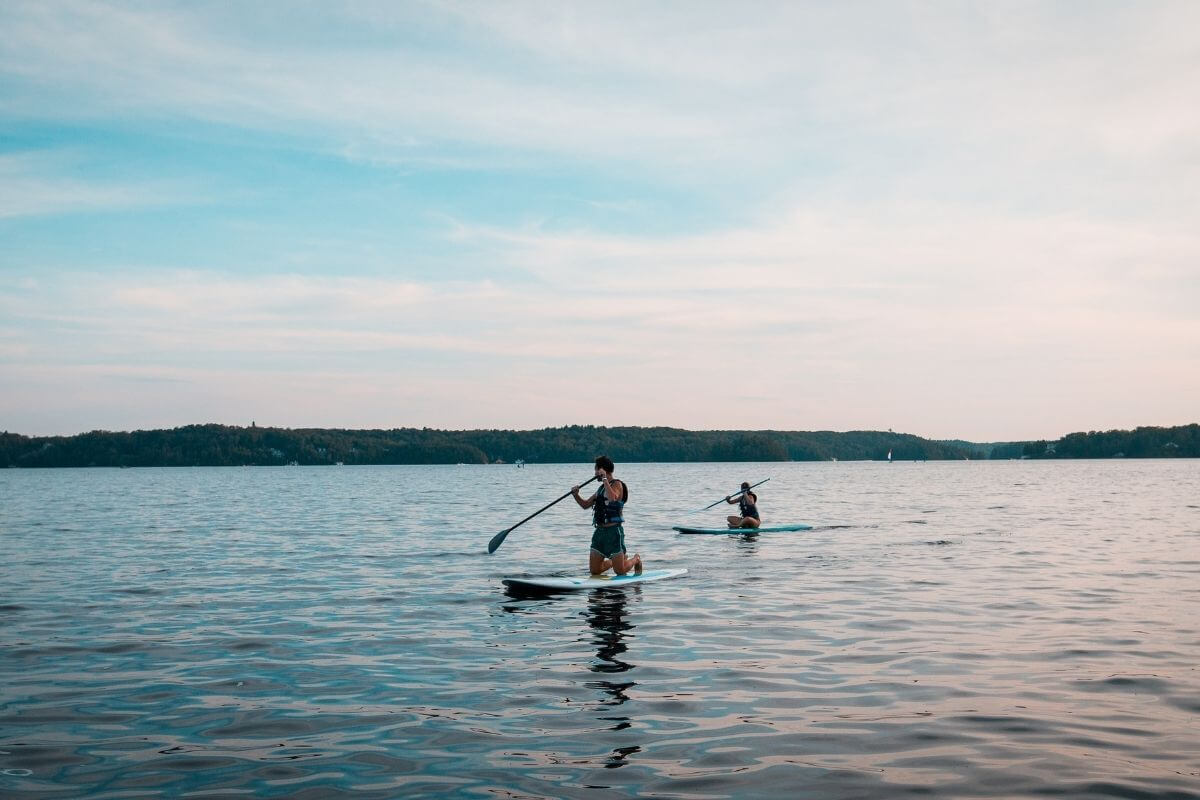 1. Paddle boarding in Whitchurch
Alderford Lake
One of the most beautiful places to go paddle boarding in the West Midlands is Alderford Lake. With over 14 acres of water, Alderford Lake is perfect for wild swimming, kayaking and, of course, paddle boarding.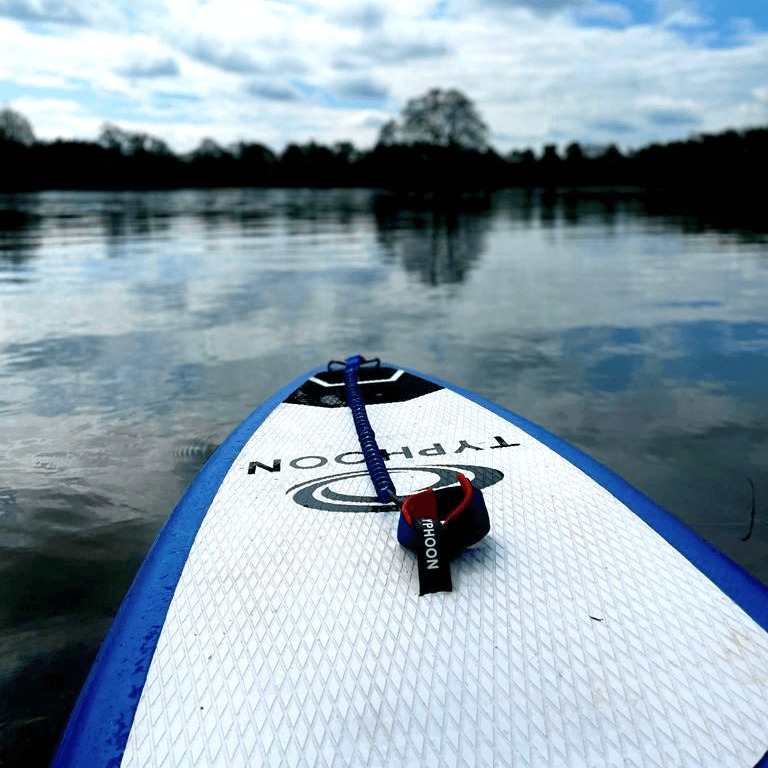 Alderford Lake is ideal for both experienced paddle boarders and complete beginners. Visitors are welcome to use their own paddle boarding equipment on the lake, and equipment is available to hire every weekend between April and September, and during the week throughout the school holidays.
Either book your West Midlands paddle boarding session online and in advance or turn up on the day and pay at the gate. The 'All Day Self Launch' pass costs just £8 per adult and £6.15 for children aged 13 to 17 years. Paddle board rental prices start at £20 per person, and lessons from ASI qualified instructors are available from £30.
All paddle boarding passes include full-day lake admission, allowing you to explore the lake's surrounds once your paddle boarding session is over.
If you're spending the weekend in the area, read about more things to do on a day out in Shropshire.
2. Paddle boarding in Ironbridge
Shropshire Raft Tours
Perfect for big groups, Shropshire Raft Tours offers mega paddle boards that can fit five to eight people. These mega paddle boards are an excellent choice for families, groups of friends, or school days out.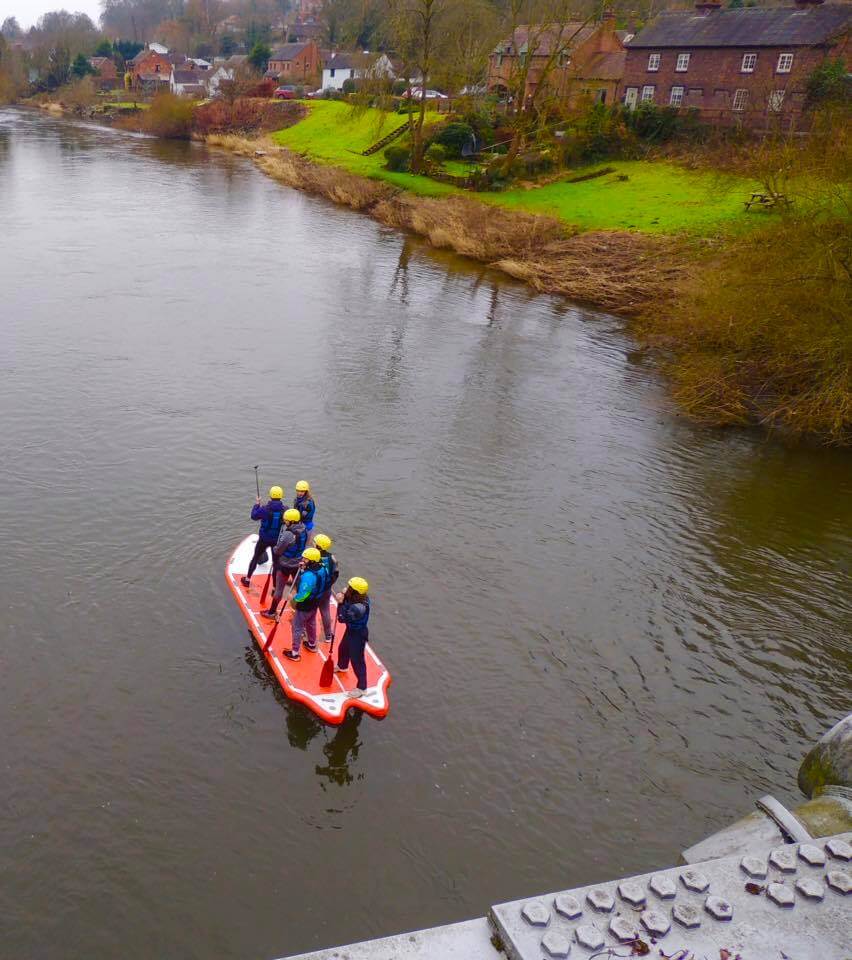 The route is eight and a half miles along the River Severn, one of the most interesting rivers in England. Starting up river and finishing in Ironbridge, this route takes between three and four hours to paddle.
Mega paddle board rental prices for 2023 range from £149 to £179, depending on the number of people in your group. All equipment is provided, including paddles, helmets, buoyancy aids and dry bags. However, you must wear appropriate clothing or bring your own wetsuit for the trip.
3. Paddle Boarding in Shrewsbury
Hire a Canoe
Whether you want to admire the town centre or beautiful countryside of Shrewsbury, this one- or two-hour paddle boarding session is suitable for everyone aged ten and above. This is the perfect session for beginners, and all experience levels are welcome. However, it is recommended that all participants be relatively confident swimmers.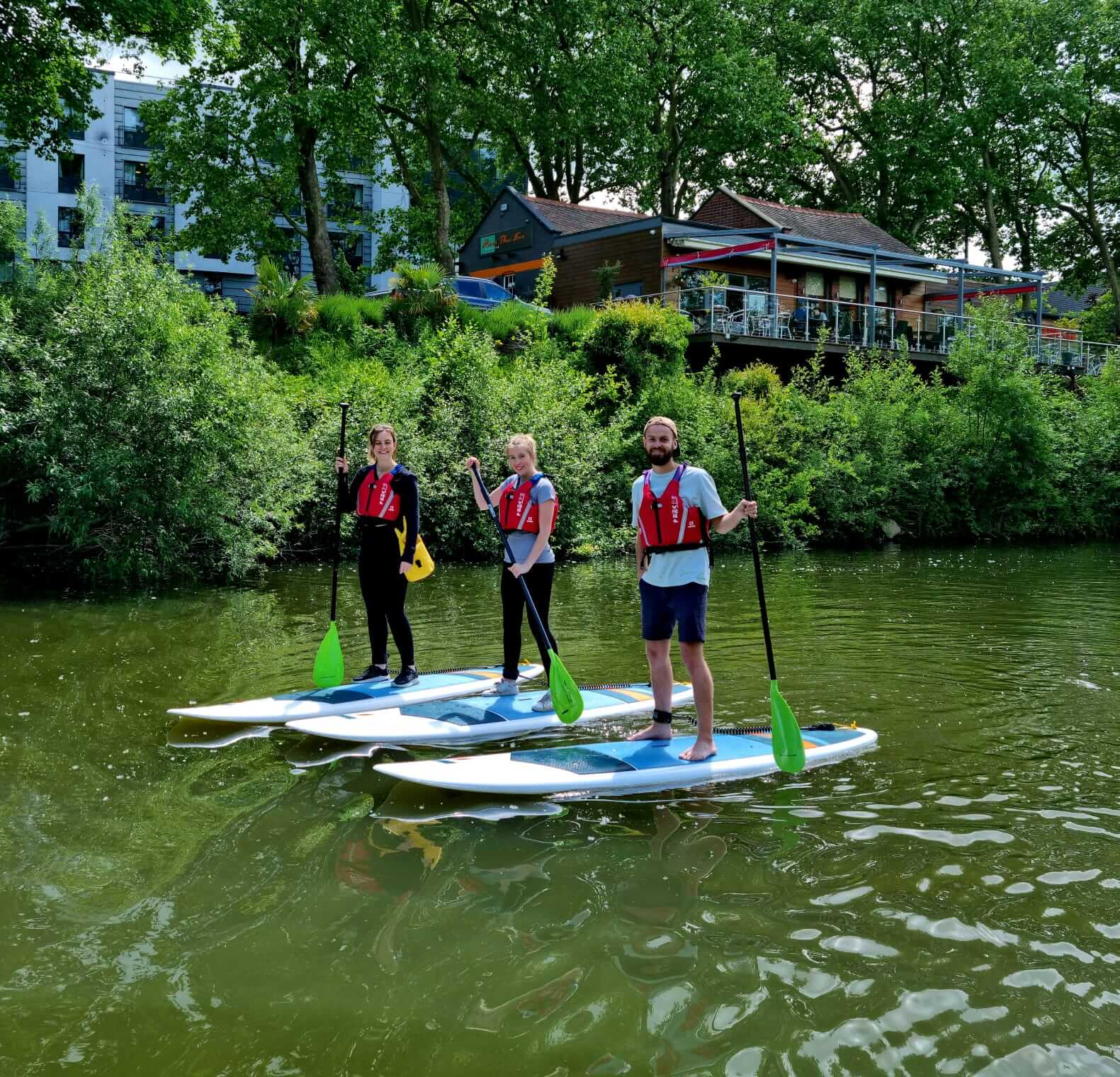 Hire a Canoe offers three different paddle board sizes to suit people of all ages, and wetsuits are free of charge. However, participants must bring footwear that they don't mind getting wet.
If you prefer something longer, however, choose their twelve-mile trip instead. You'll be picked up from Frankwell, Shrewsbury, and driven to Montford Bridge. From here, you'll paddle downstream back into Shrewsbury town.
A one-hour paddle boarding session costs as little as £18 per person, while two hours costs £24. For £96 per person, you can combine a 12-mile paddle boarding session with an overnight stay at a campsite on the river banks. If you're new to paddle boarding, you can book a lesson for £36.
After paddle boarding, you might want to check out the nearby Attingham Park, where you'll find one of the best stately homes in England.
READ MORE:
The Best Places to Go Paddleboarding in Cornwall
Best SUP spots in the Lake District
4. Paddle boarding in Birmingham
Edgbaston Watersports
Edgbaston Reservoir is a beautiful, 70-acre site of open water surrounded by woods and grassland. It's an amazing place to try paddle boarding in the West Midlands, plus water sports such as canoeing, kayaking and windsurfing.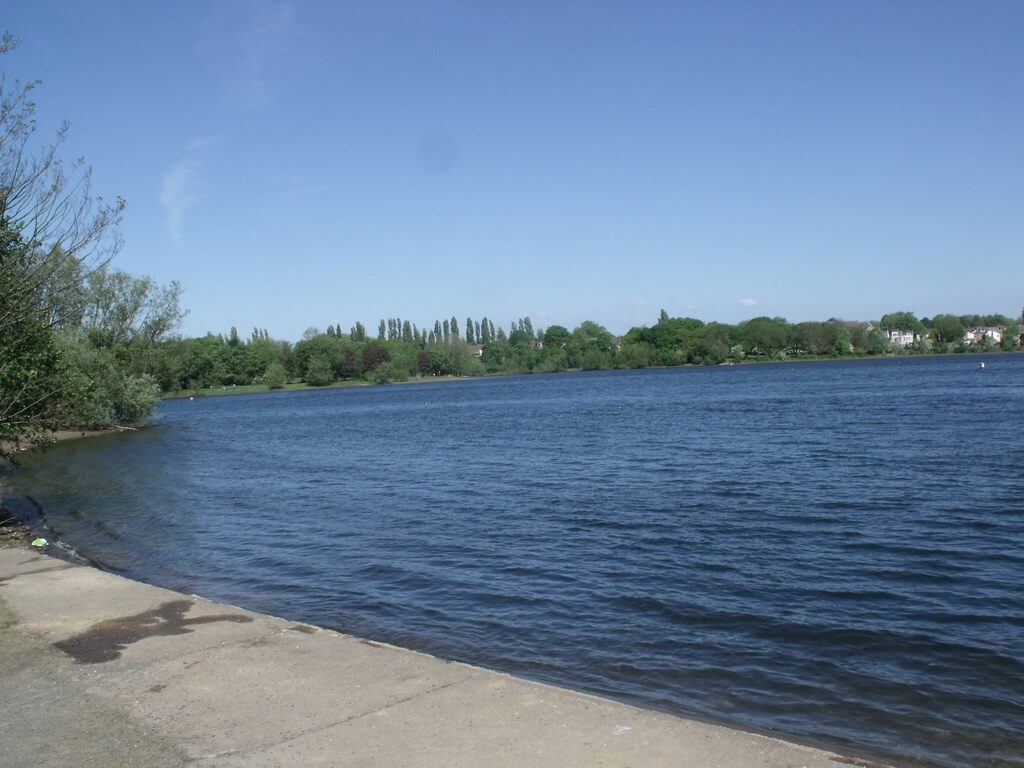 Having only recently added paddle boarding to their list of available activities, Edgbaston Watersports offers equipment hire on an hourly basis. They also provide wetsuits, spray tops and buoyancy aids. However, they recommend that people bring a towel, swimsuit and suitable footwear for their activities.
Sail Birmingham offers a 'Monday Night Paddle Club'. Between 5-6 pm on Monday nights, when anyone over the age of 16 can book to go paddle boarding at Edgbaston Reservoir for a reduced rate of £10. And those who have their own equipment can simply turn up and pay a reduced access charge of £5.
5. Paddle Boarding in Dudley
Dudley Water Ski Wakeboard & SUP Club
Netherton Reservoir, also known as Lodge Farm Reservoir or simply 'The Rezza', is a reservoir located in Dudley. It's a 14-acre, beautiful reservoir surrounded by trees and greenery.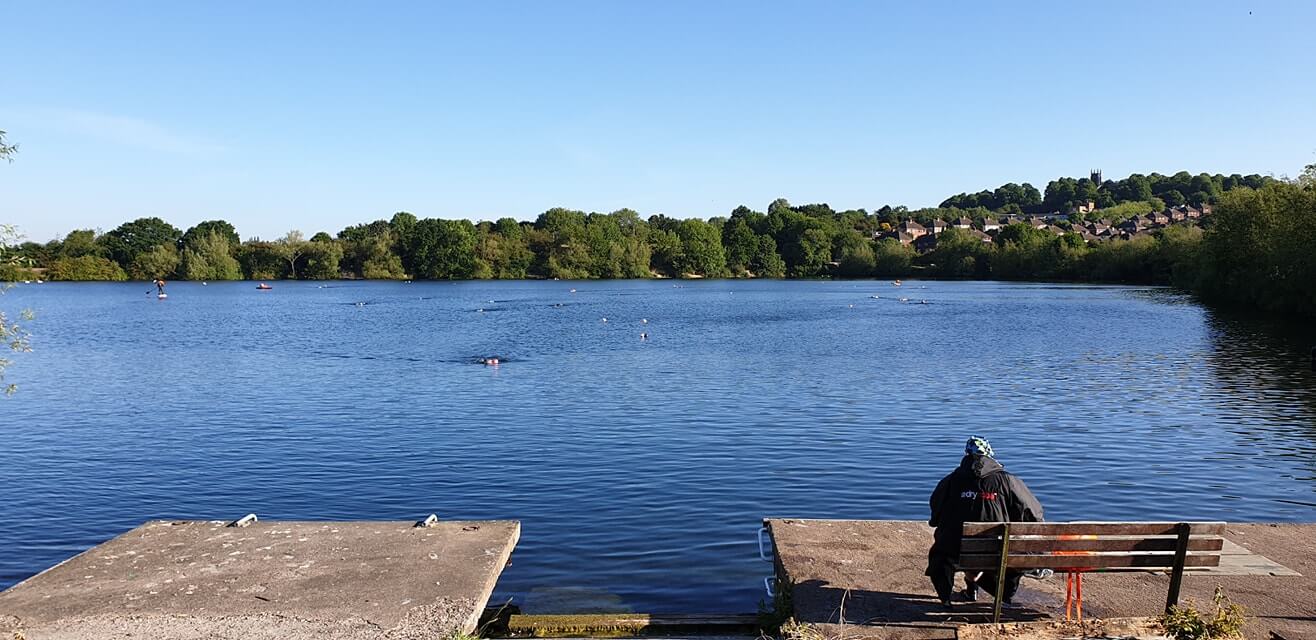 Originally opened in 1838, the reservoir is now a haven for watersports like wakeboarding, water skiing and paddle boarding in the West Midlands. Dudley Water Ski Wakeboard & SUP Club offers a variety of activities on Netherton Reservoir for people of all ages and ability levels.
You can book individual or group paddle boarding sessions for as little as £15 per person. Lessons cost £25 each. All equipment is provided, including boards, paddles, wetsuits and buoyancy aids.
6. Paddle Boarding in Walsall
Aldridge SUP School
Aldridge Sailing Club hosts many water activities on a lake commonly referred to as 'The Swag'. Situated in Barns Lane, Walsall, The Swag is a scenic, 14-acre lake surrounded by grass and green land. It's also the lake that Aldridge SUP School uses for many of its water activities.
Aldridge SUP School is a great option for beginners as they offer both lessons and a paddle boarding club. Their lessons include both individual and group lessons, so you can choose which suits you best. All of the equipment is provided, including the board, paddle and buoyancy aid.
If you're an experienced paddle boarder and just want to get out on the water, you can pay a £15 launch fee for the day or join as a member for just £90 a year. Once you're a member, you can enjoy paddle boarding whenever you like, at no extra cost. Members are also given a 20% discount when hiring boards. Otherwise, board hire costs £20 for half a day and £30 for the full day.
7. Paddle boarding in Burntwood
Pier 52
Pier 52 hosts a range of water sports and activities on the 270-acre Chasewater Reservoir, which was constructed in the late 18th century to supply and maintain the water levels of the Birmingham Canal Network.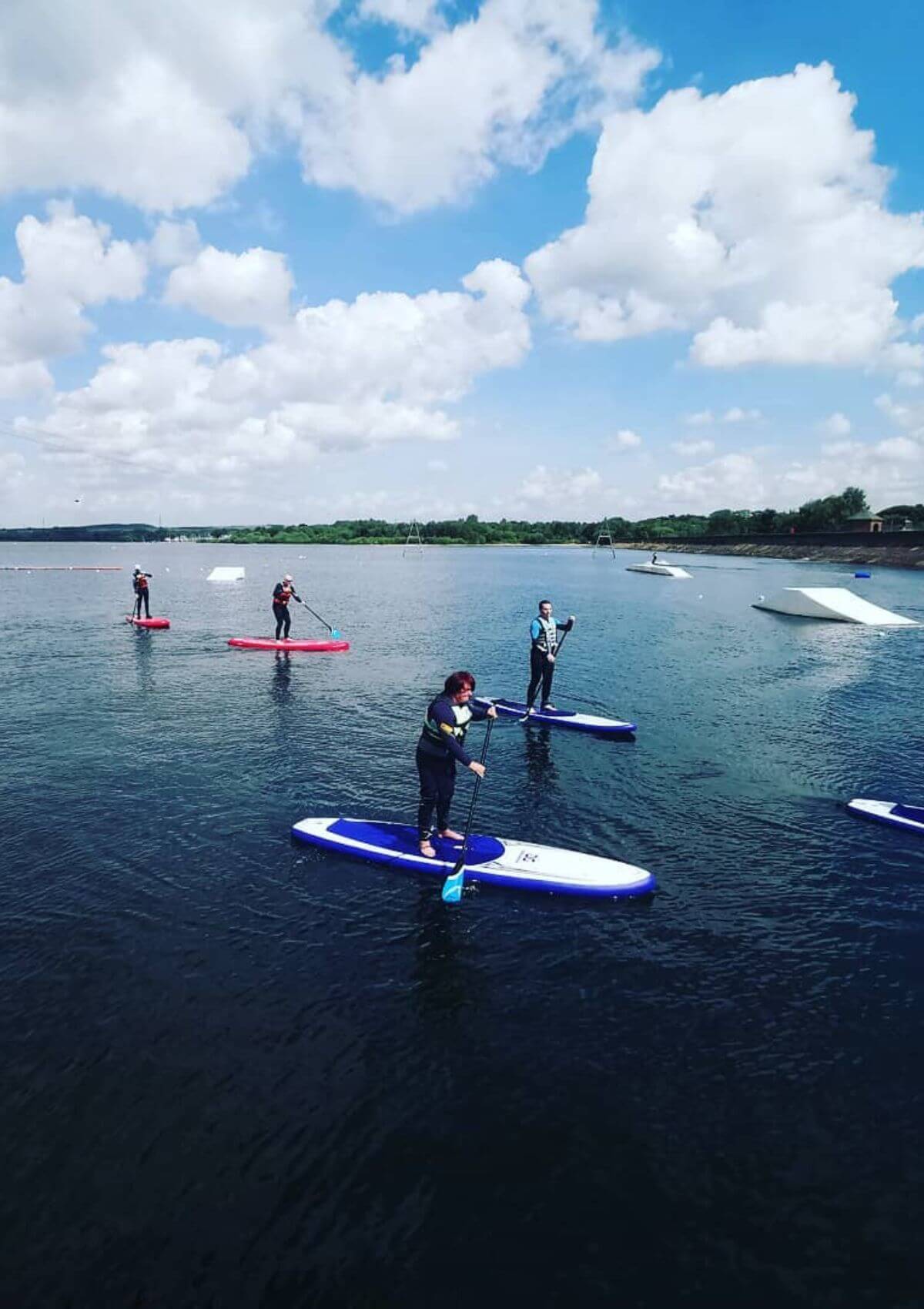 While the Chasewater Reservoir is well known for its cable wakeboarding facilities, it's quickly becoming one of the best places to go paddle boarding in the West Midlands.
If you have your own paddleboard, you can access the reservoir for up to two hours for just £10. Need to hire a board? That'll cost as little as £12 for over an hour. A 15-minute lesson followed by an hour of free time on the reservoir costs £25 per person.
As it's only 30 minutes away by car, Chasewater Reservoir is a brilliant place to visit on a day out from Birmingham. While you're in the area, you might want to find out what else there is to do on a day out in Staffordshire.
Best places to go paddle boarding in the West Midlands
So, there you have it. The best places to go paddle boarding in the West Midlands. Paddle boarding has recently become one of the fastest growing water activities in the world. It's fun, easy and a fantastic workout. Beyond the West Midlands, there are loads of great places to go paddleboarding in England.
Enjoyable both on your own or with a group, paddle boarding is a fun, exciting and exhilarating activity to enjoy.
---