Looking for the best places to go paddle boarding in Essex? Let our local writer show you round the best SUP spots the county has to offer. All you need to know about Essex paddleboarding is here…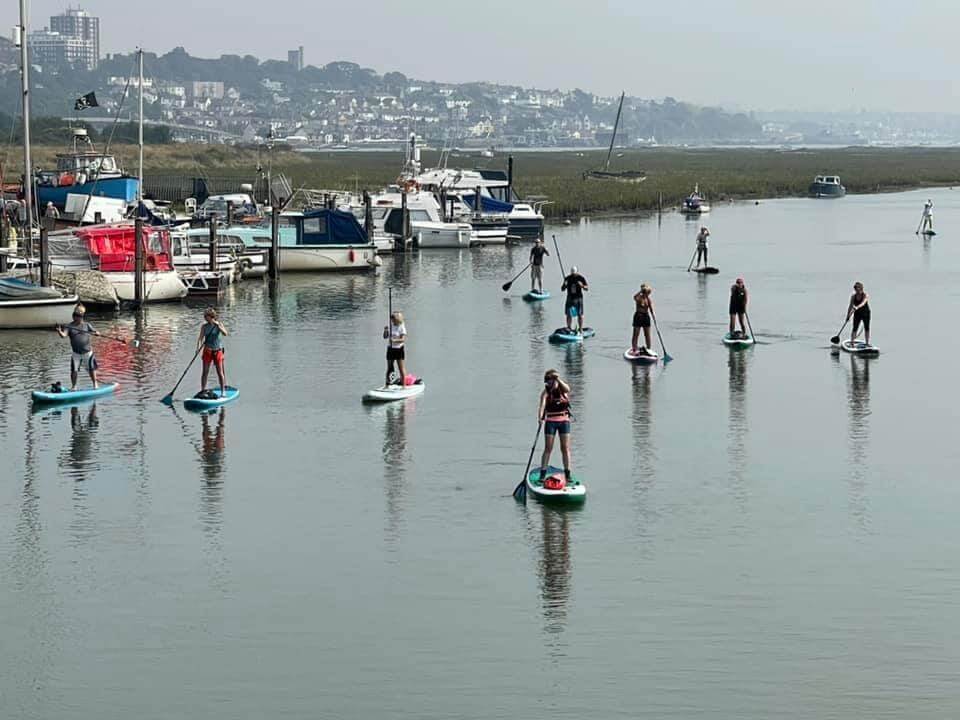 With more than 68 miles of Coastline stretching from Benfleet Creek all the way round Battlesbridge & Hullbridge, not including all the inlets and creeks there for you to explore, our little corner of Essex offers up a vast array of exceptional paddle experiences.
Take yourself a little further afield and the opportunities for places to paddle board in Essex are endless. We are truly spoilt with how many amazing waterways are within an easy commute, with the Thames Estuary, the largest body of water, right on our doorstep.
Over the five or so years since I began paddling I've watched the growth of people taking up SUP, increase exponentially, as more and more take to the water to enjoy what is one of the fastest growing sports in the country, and here in the county of Essex, is no exception.
---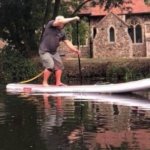 Del Christie
Essex Paddle boarding expert!
I've spent a little over 5 years now paddle boarding all across Essex and around the UK. Most of my spare time is spent in, on or near the waters edge, be that with Blue Therapy Active, a venture I co own and run with my partner Sarah, or as part of the Southend Coastguard Search & Rescue Team. 

---
You would be hard pushed to take to the water on any given day here in Essex and not cross paths with a fellow paddler. Anything from a quick hello to a full-on conversation, more often than not is time to garner some intel for what may lay ahead, especially if you've never paddled that stretch of water. If you go paddle boarding in Essex, expect to make a few friends along the way!
Time your paddle right and you may just find a stretch of water all to yourself, taking in the Essex countryside and it's wildlife as you meander along the river. And if sunsets or sunrises are on your to do list, then the Estuary is perfect to capture either, or if you're feeling energetic you may want to try both in the same day.
1. Two Tree Island
Arriving in the free car park at Two Tree, we are met with the dulcet tones of electric pumps everywhere, a welcoming sound so familiar to many. Throughout the summer this is a haven for many a SUP enthusiast in search of those amazing sunset paddles, to which are in abundance and not just during the warmer months.
As we catch the outgoing tide enabling us a to cheat using it to our advantage to pull us out to the ray, along the way enjoying the now visible creek surrounded by mud banks on either side, we could almost be on another planet. As the sounds of the city slowly disappear replaced by the all too familiar song of seagulls.
We moor up on a sandbank opposite Westcliff Beach approximately 800m from shore, time to stretch our legs and feel the sand between our toes. As the sun begins to sink changing the colours of the water we commence our return journey, the sky changing from orange, to red and purple, phones emerge to capture the next social media profile picture.
We could be anywhere in the world right now, a tropical temperature country, hard to believe we are in Essex, appreciative of where I live. Paddle boarding in Essex really is a beautiful way to pass the time.
READ MORE: Where to Go Paddleboarding in Hampshire
2. Two Tree Loop
My high tide paddle brings with it a countryside inland feel to a sea paddle, as I head out on a safari, starting on the sea, heading round to Old Leigh catching some of the live music and sounds of chatter and laughter. So many people enjoying the local restaurants and bars, eyeing us enviously as we saunter past into what we have aptly coined as the boat graveyard alley. Here there are a myriad of half sunk and abandoned vessels bringing about an almost eerie but quiet spell of respect as we float on by, it's almost like a set from a movie, with just the familiar three infamous notes and a shark fin all but missing.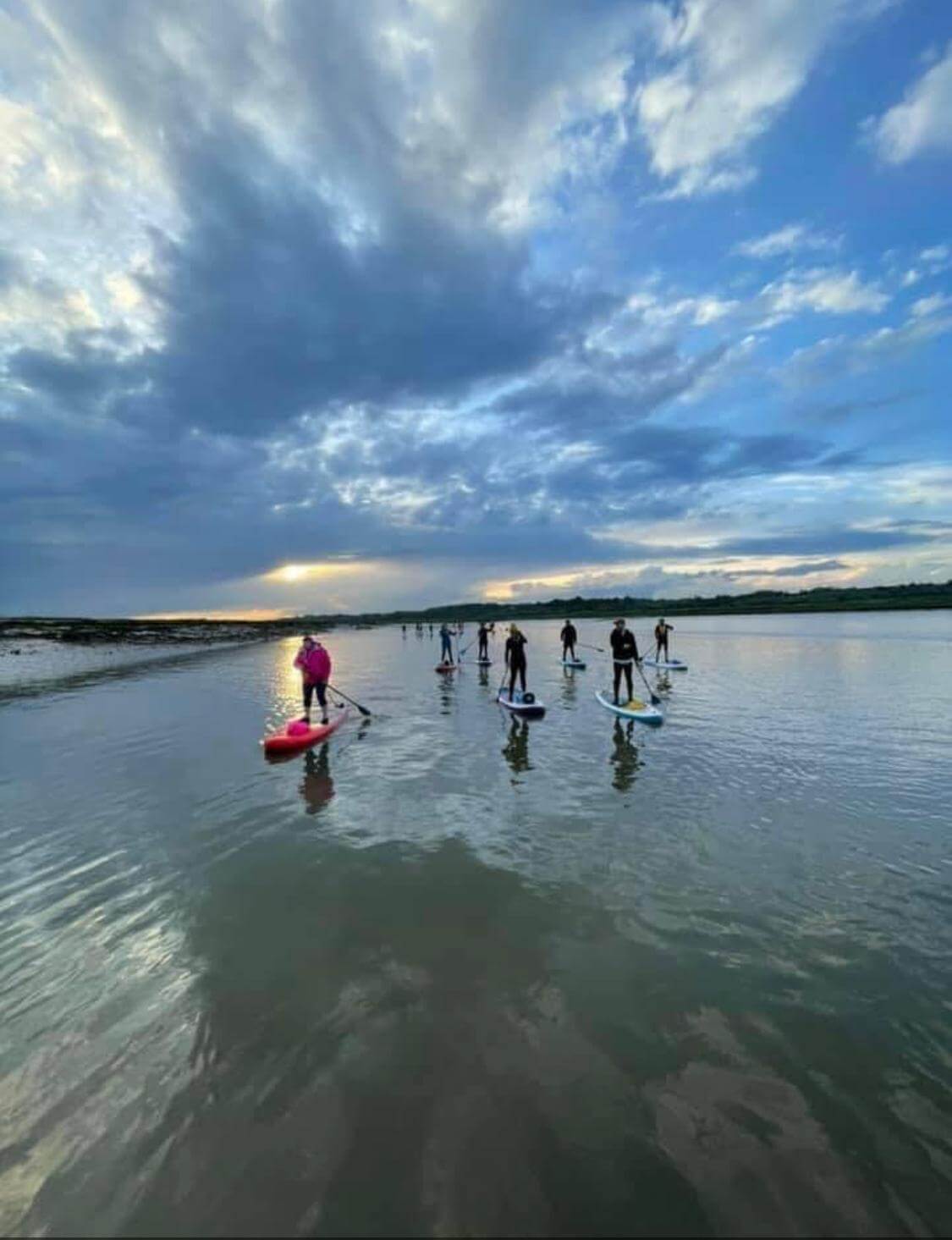 From here it is round and under the bridge and into the smaller creeks of the north side of the island. I begin to feel like I'm on a real adventure surrounded by the salt marshes next to the wild bird nature reserve, that escape feeling washes over me as I navigate the creek before popping out the other side close to and with broken pier in my sights to the west. It's but a short paddle back to my launch position and completion of a 6km or so journey paddle boarding Essex.
READ MORE: Things to Do in Southend-on-Sea
Best Days Out for Christmas in Essex
3. Benfleet Creek
Next up for where to go paddle boarding in Essex, a lazy paddle if timed correctly. Who doesn't appreciate a lazy paddle now and then?
Setting off from the slipway at Two Tree Island as the tide is flooding, we hop on the boards and take advantage of the flow to push us down the creek towards Benfleet. Just a little stirring is required as we admire the scenery on offer, passing the broken pier with local landmarks including Hadleigh Castle on one side and Canvey Island and the Smallgains Marina on the other.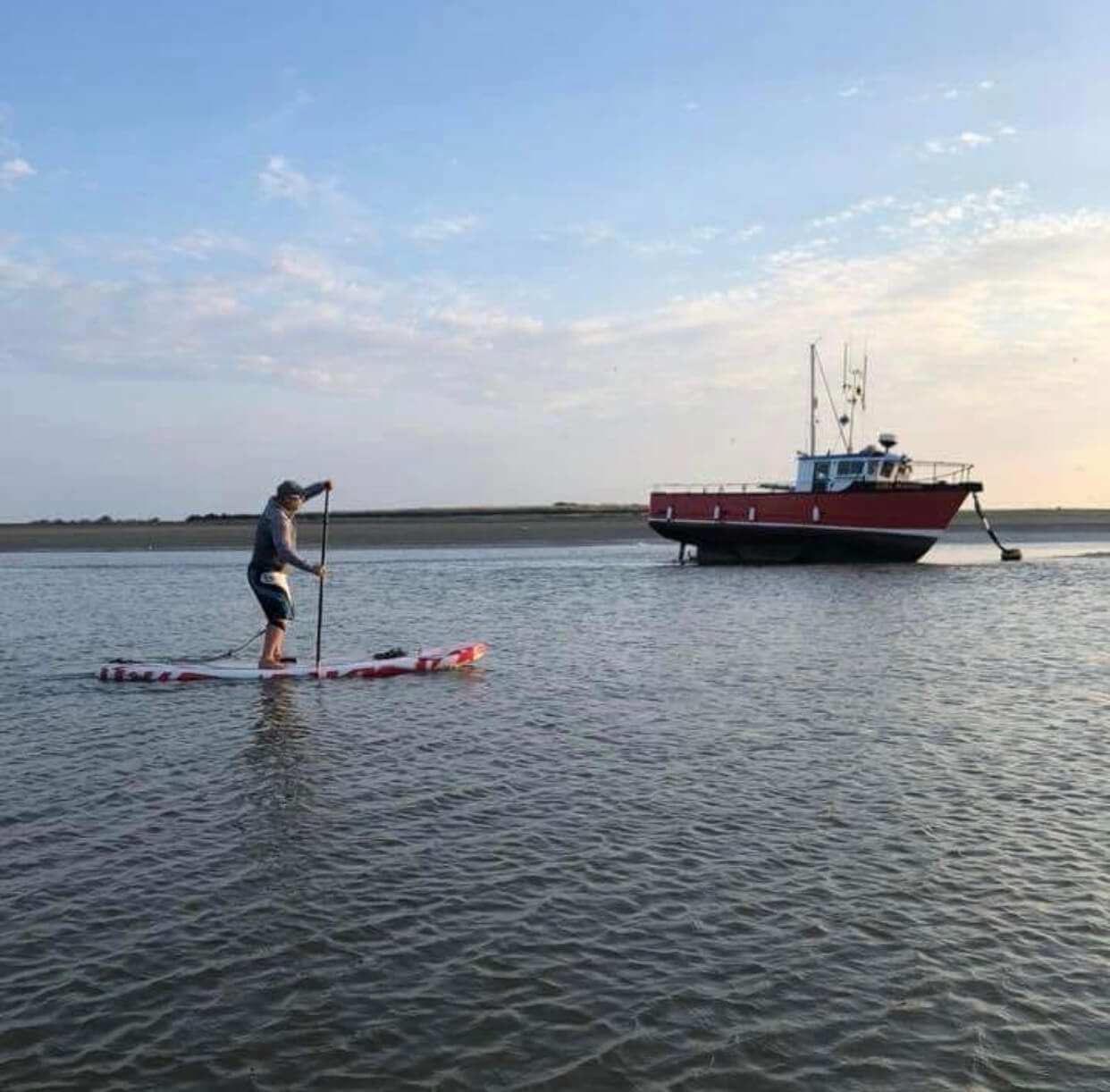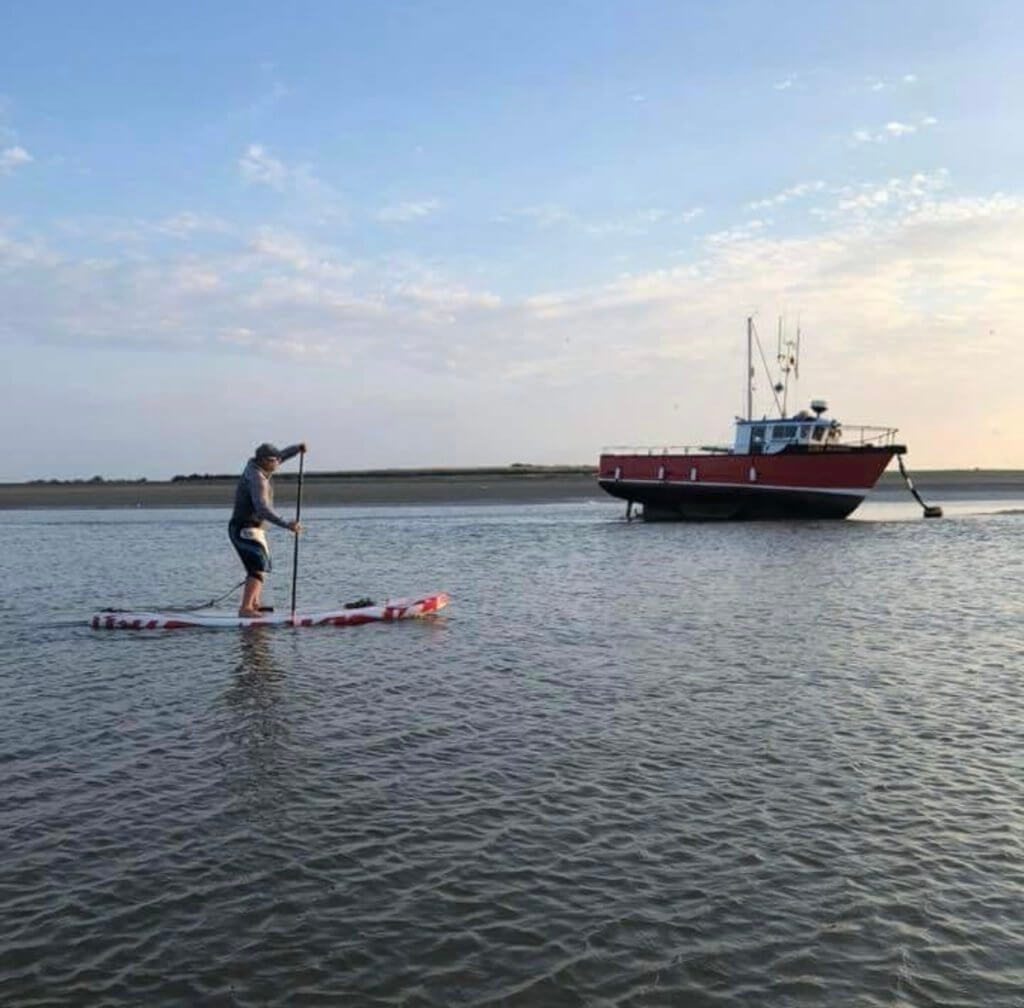 We pause for a short pit stop on the saltmarsh to enjoy a picnic we prepared earlier. Time spare to chat catch up as we await the turning of the tide to aid us on the return leg. The turning of the boats signalling its time to pack up and set off back to the slipway. We arrive back in plenty of time, a quick rinse down of our boards and paddles from the local tap courtesy of the local pier and foreshore before packing away.
We exchange small talk with other paddlers offering up any useful information to help better their experience before heading home.
4. Paddle boarding on the River Chelmer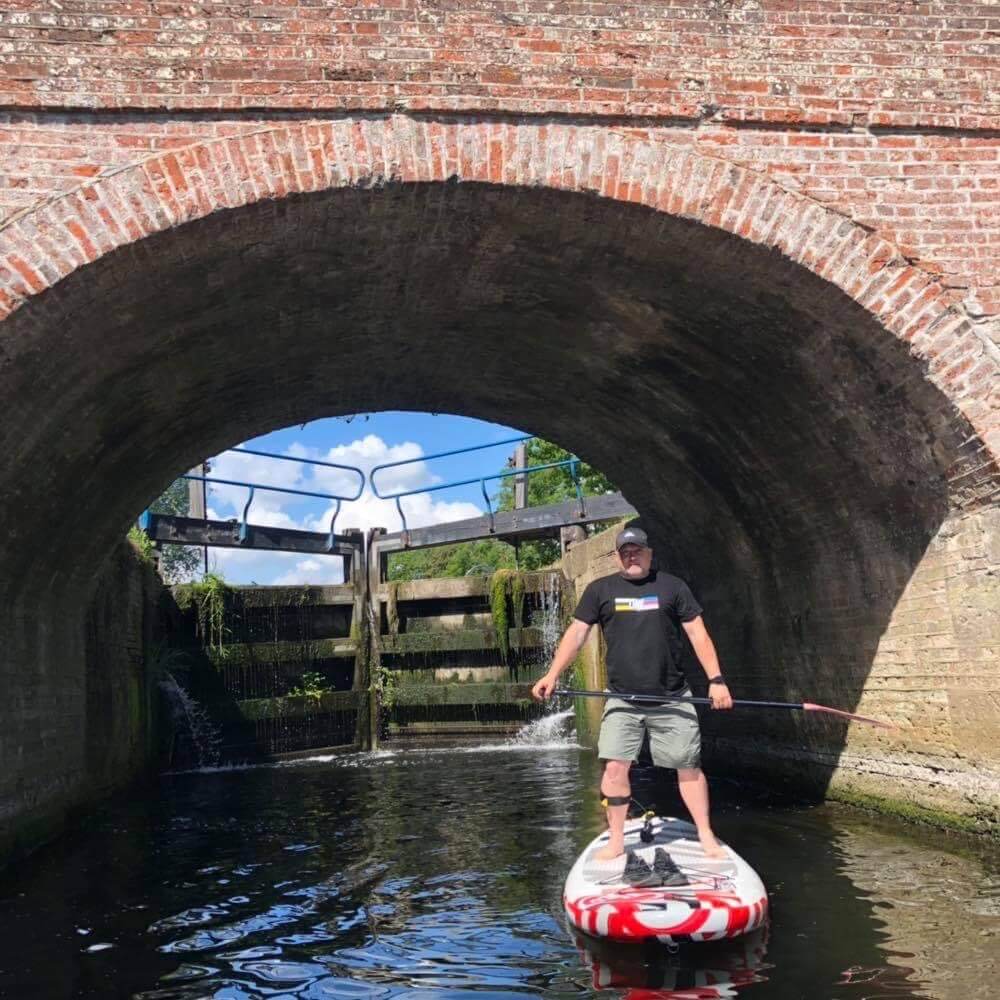 When I want a break from the coast and to experience the beauty of the Essex countryside I head inland to the tranquil and calm waters of the River Chelmer. With around 21km of river to explore and a multitude of locks and portages along the way, the river has so much to offer and see.
5. Paper Mill Lock
Paper Mill Lock is my go-to launch place as it's at the heart of the Chelmer with parking and space to inflate our boards. Decisions on which way to head out when on the water, east or west can be decided over a refreshment and or cake at the popular paper Mill Lock Tearooms. Heading east will take us back towards and through Chelmsford City Centre while west will lead us all the way down to Heybridge Basin where the Chelmer meets the River Blackwater.
We launch from the pontoon and decide to head west under the bridge and immediately feel the stresses pour away as we chat and catch up on the water. As we float down what feels like into the deep countryside, no sounds of traffic, just the birds and the sound of our paddles entering the water. A favourite landmark arrives as we approach Utling lock, a quaint church next to the waters edge, a sight that wouldn't look out of place in a painting.
READ MORE: Where to Go Paddleboarding in Dorset
6. Utling Lock and Hoe Mill Lock
The first of many portages is Utling Lock where we exit the river then drop in again the other side we remember the cake purchased earlier in our bag and begin to make plans for a pit stop stop for lunch. Hoe Mill Lock is our agreed place of choice, it's only 2.5km away – the average distance between locks on the river.
A great distance for paddle boarding in Essex.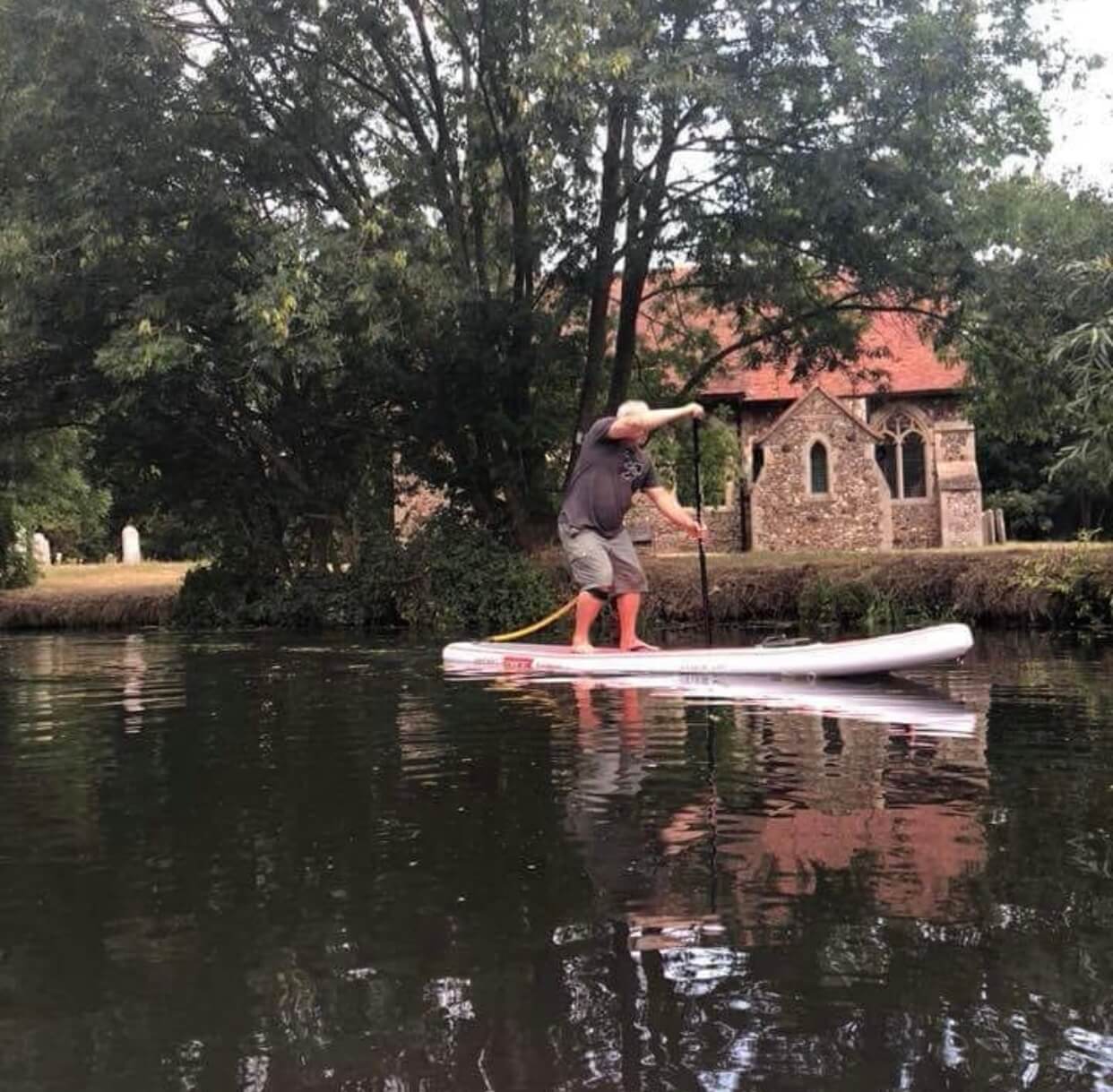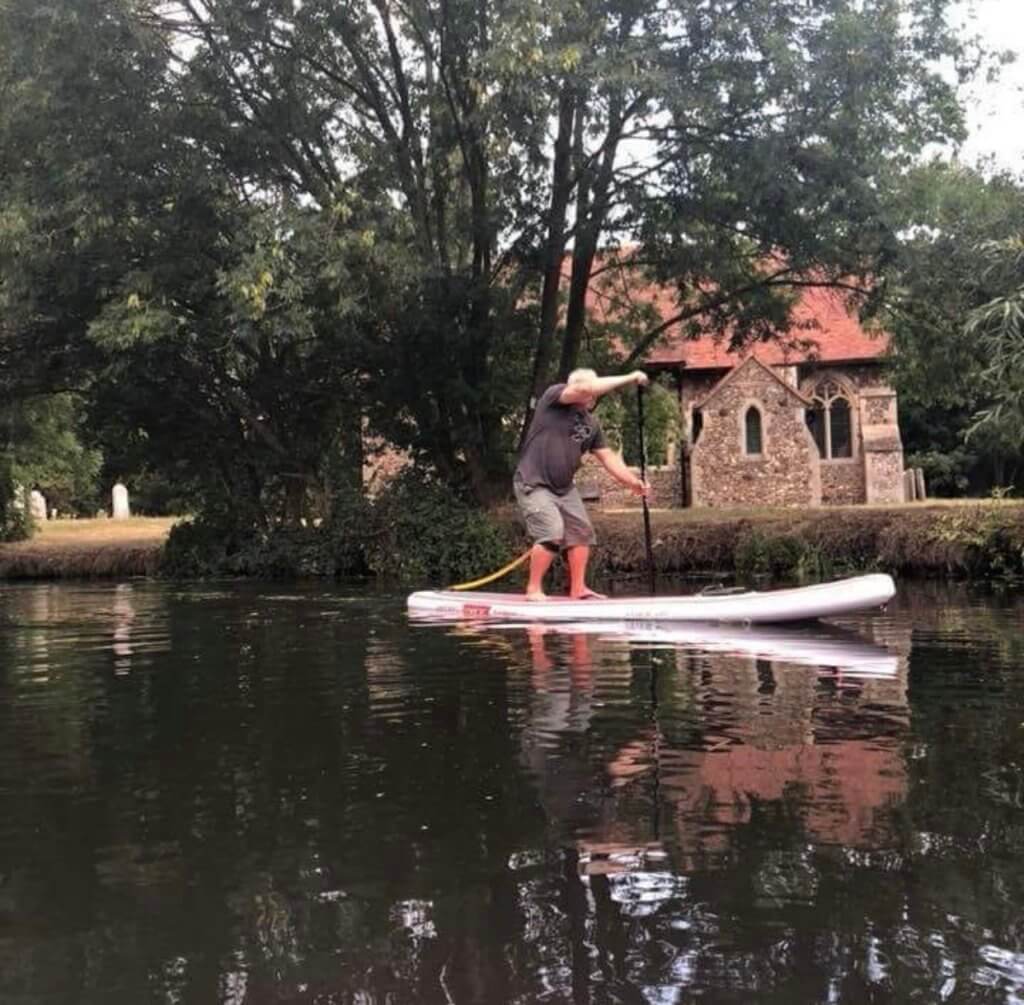 Coming alongside the river boats moored up on one side and the footpath on the other, today is a little busier with dog walkers and cyclists out for their daily exercise. We are greeted by other paddlers clearly out with the same intentions as ourselves. We portage at Hoe Mill Lock for lunch and sit watching families with their picnics, kids playing and fellow paddlers preparing to start their journey on the river, it's time for some of that cake.
Pleasantly full our river journey continues passing horses and cows grazing by the water's edge, saying hi to some of the fisherman while careful to avoid their floats and lines, we come across some open water swimmers, you would be surprised how much wake they create, for a moment it is easy to forget just how still the water has been.
7. Ricketts Lock
Away from urban life it truly feels as if we are deep in the Essex countryside, the only sounds now are that of the local wildlife. Not long before we have our next portage in sight, Ricketts Lock. Time here for a photo opportunity on the bridge before dropping back into the water again. As we glide and wind our way down the river, the sound of the weir ahead and our next destination, Beeleigh Falls.
We drop back onto the water for the final stretch that will take us to Heybridge Basin, passing the golf course, the resident swans, friendly most of the times when not with their young. Just a last push and we arrive at the basin. The Old Ship Pub sits right on the bank of the river, a cold beer and take in the views from the sea wall before our return.
Paddle boarding Essex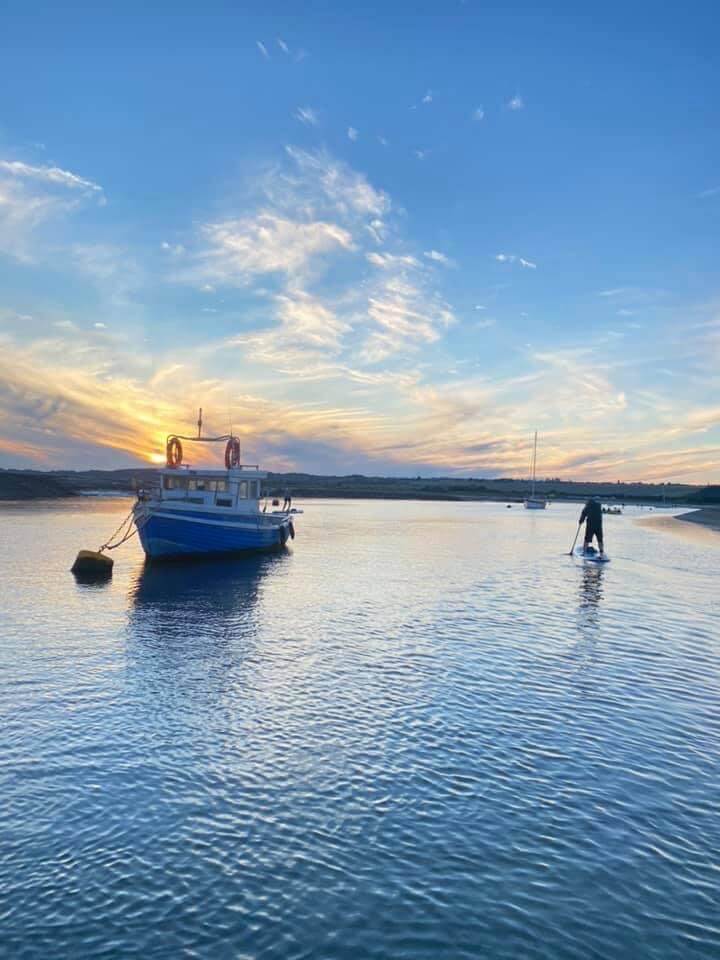 Essex has an abundance of paddle locations to choose from including the River Blackwater, River Crouch, River Roach, Woodrolfe Creek, Lyons Creek, River Colne to name just a few. I use the app Go Paddling which provides launch sites, parking and amenities and launch fee prices. A useful tool to help plan your paddle with tips and hints for your trip.
Essex is one of the best counties to go paddleboarding in England.
Best places to hire a paddle board in Essex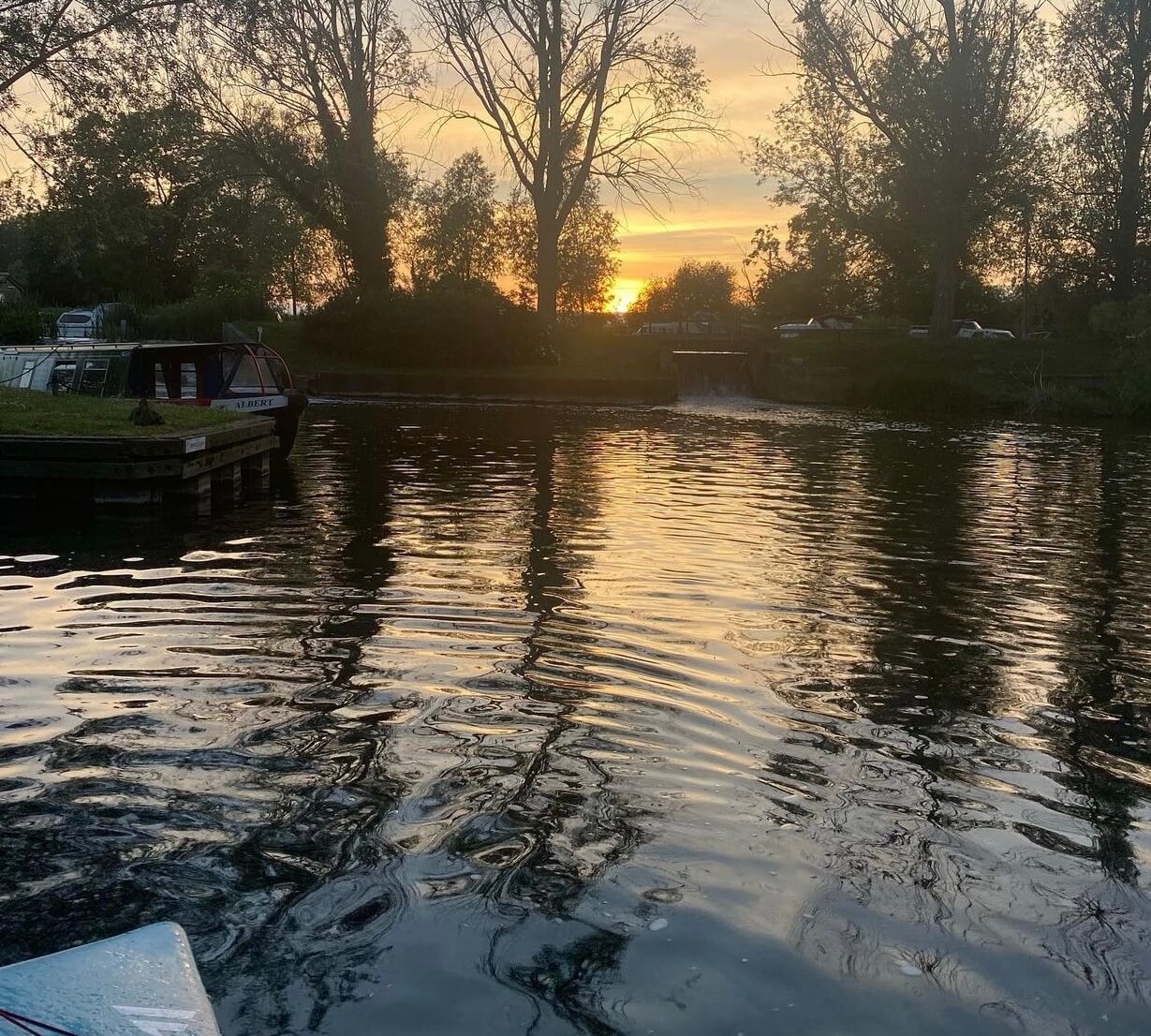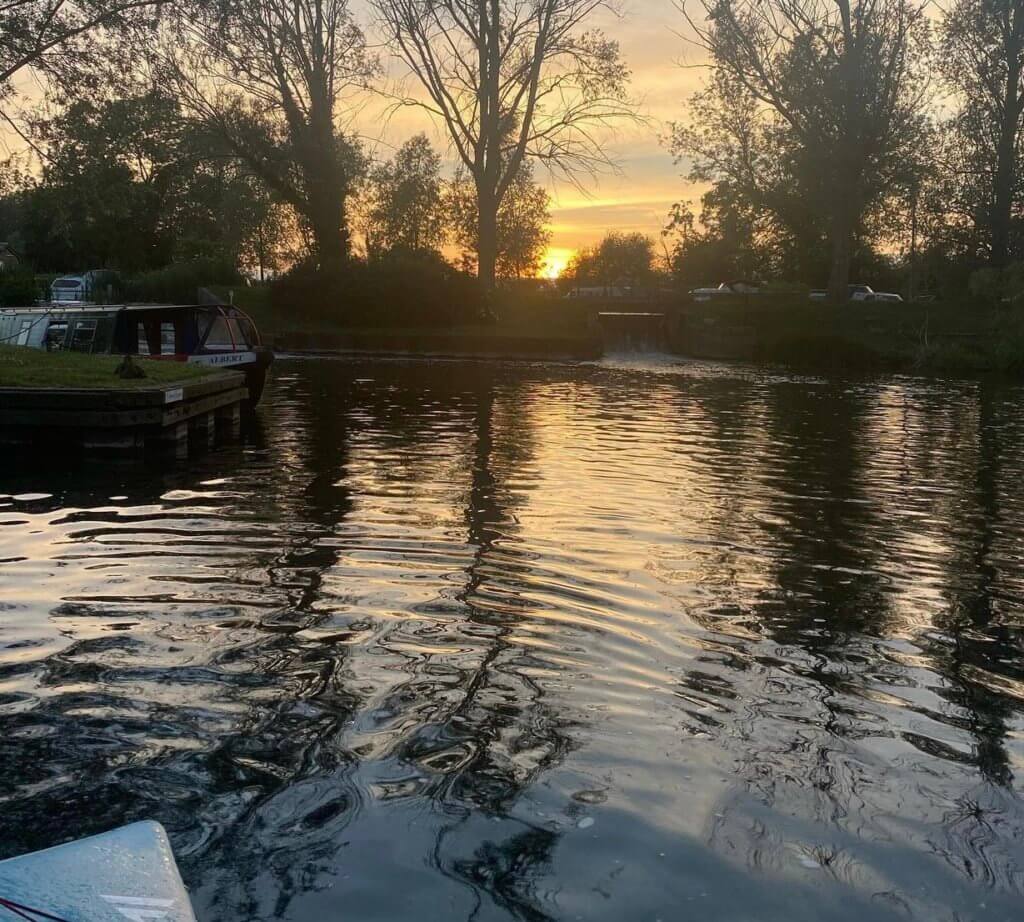 Schools are plentiful if you are thinking of hiring a board or looking for lessons, SUP Socials or led excursions. Preparation is the key ahead of your paddle to ensure your kit is up to standard and you are ready for any eventuality. Check the weather and tides and look for local area-based information on where you are heading, you will be amazed at how much is shared from those who have ventured before you.
---