11 Best Beaches in the New Forest (and Around!)
Here are the best beaches in the New Forest for you to wander along the glorious coastline, with an ice cream. These New Forest beaches are perfect for watersports too!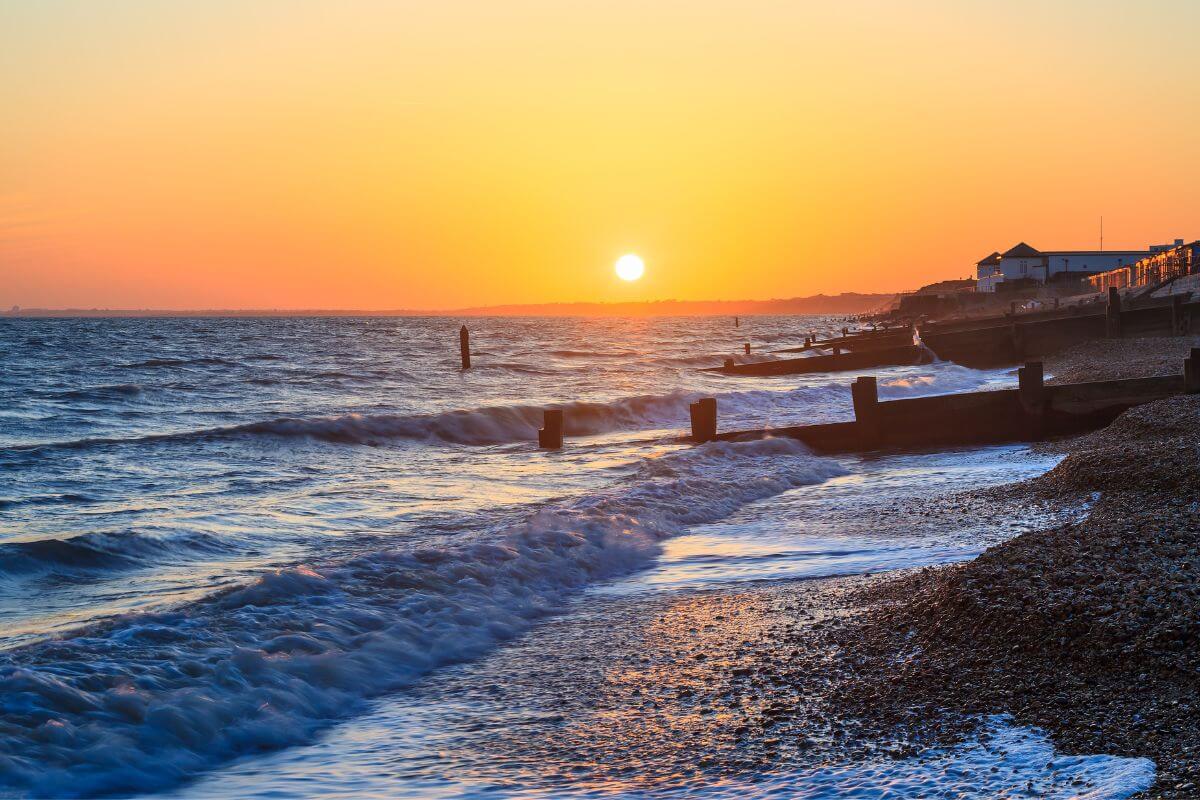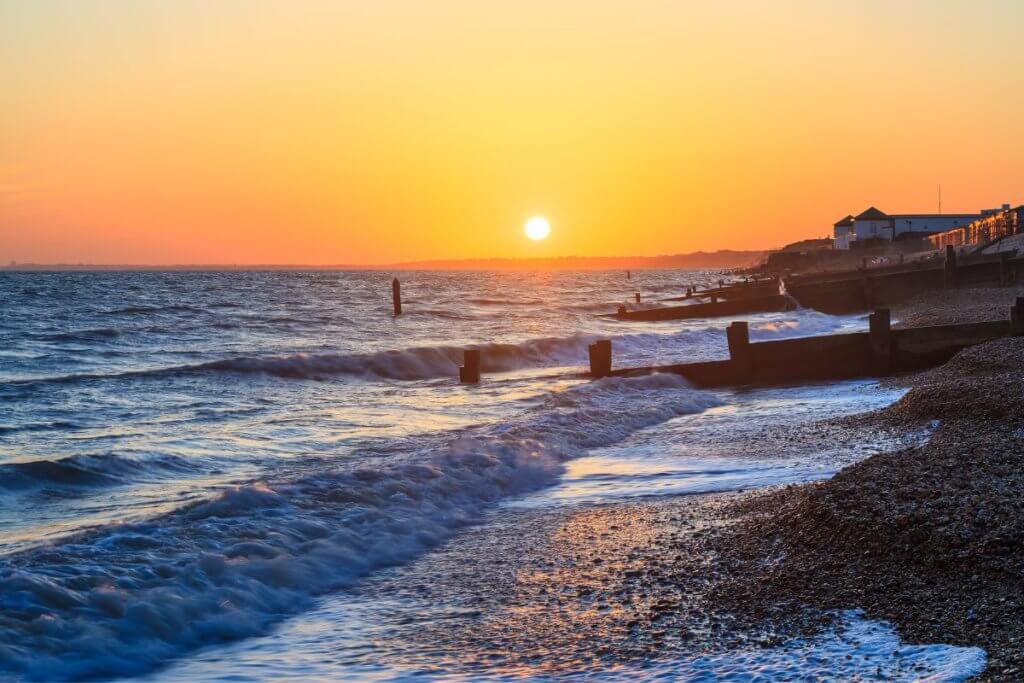 The New Forest holds a special place in the hearts of people nationwide given its steep history and its magical touch, the New Forest's area of Lowland Heath is the largest remaining in the UK and in Western Europe.
Home to wild ponies, rare wildlife and pretty English villages and cosy pubs, the New Forest's often forgotten highlights is its beaches. With some outstanding areas of natural beauty, the New Forests beaches offer versatility, for even the most experienced travellers. Whether you look to escape the crowds in a quaint beachfront day trip or go on a more upbeat coastal adventure, the New Forest has plenty of amazing choices.
Best New Forest Beaches
The best beaches in the New Forest for you.
1. Lepe Country Park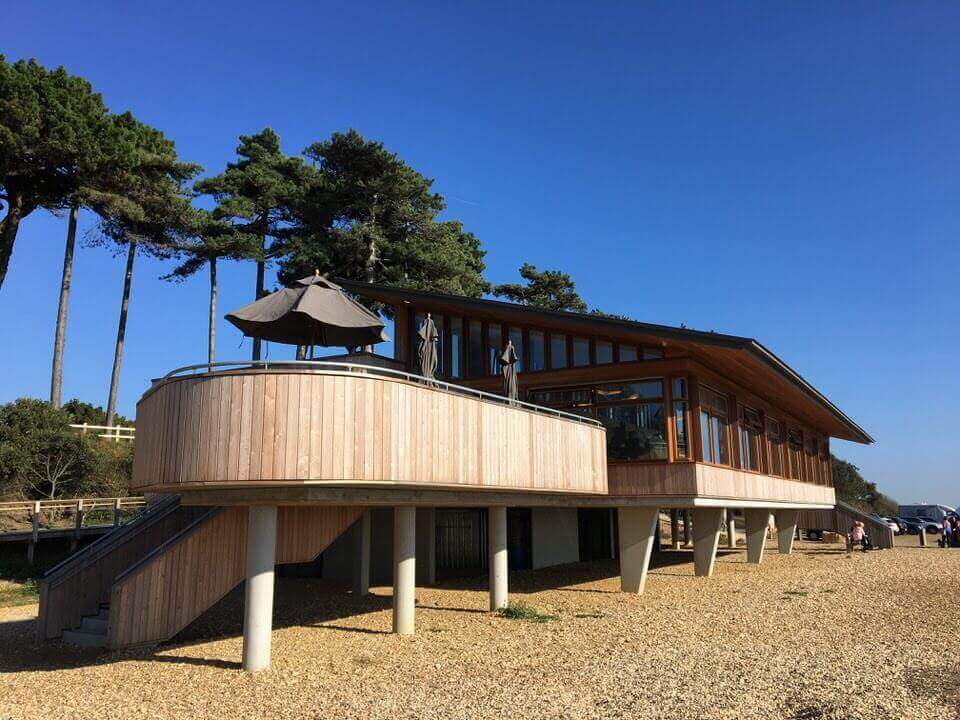 Located a short few miles from Calshot, Lepe Country Park has meadows, woodland, a nature reserve and of course a cracking beach. It's shingle, but it's still one of the best beaches in the New Forest. The park also has a pretty cafe located within a ten-metre walk from the beachfront as well as a nearby campsite and play area for all the family. This is a great beach day out for the dogs too!
2. Barton On Sea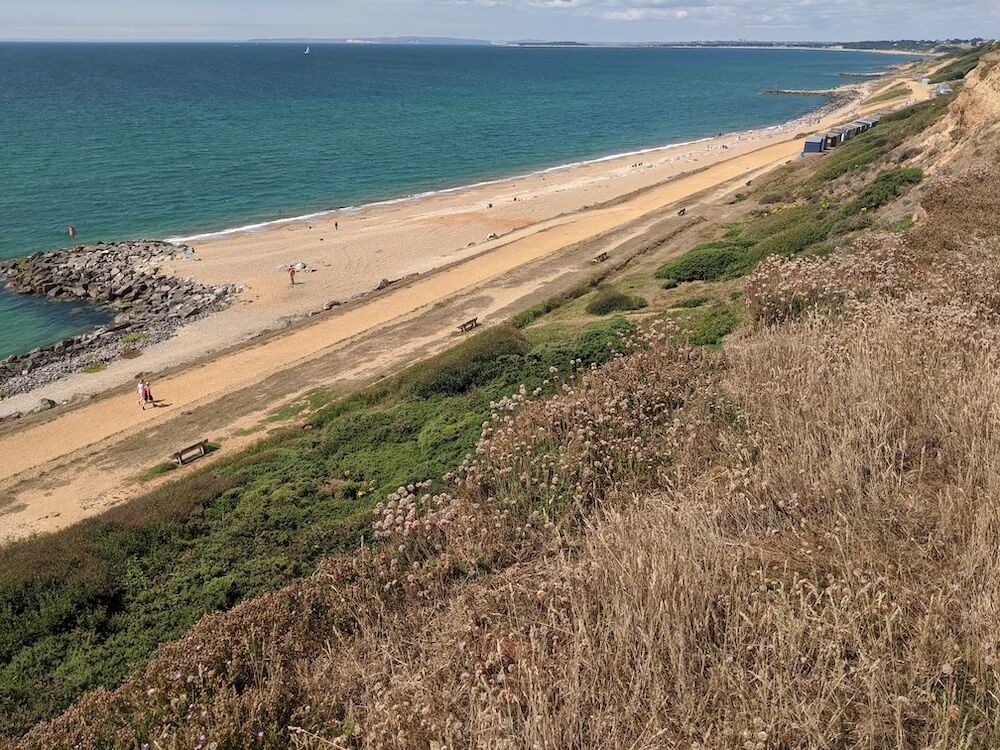 Known for its magical fossil cliffs, Barton On Sea is a delightful small beach within the friendly town of New Milton, filled with independent shops and pretty family owned cafes. Barton On Sea makes for a wonderful day trip as you can easily follow the beach to walk from Barton on Sea to Milford on Sea, and back again. It's one of the best coastal walks in Hampshire.
---
Map of New Forest beaches
Check out this map of beaches in the New Forest for context.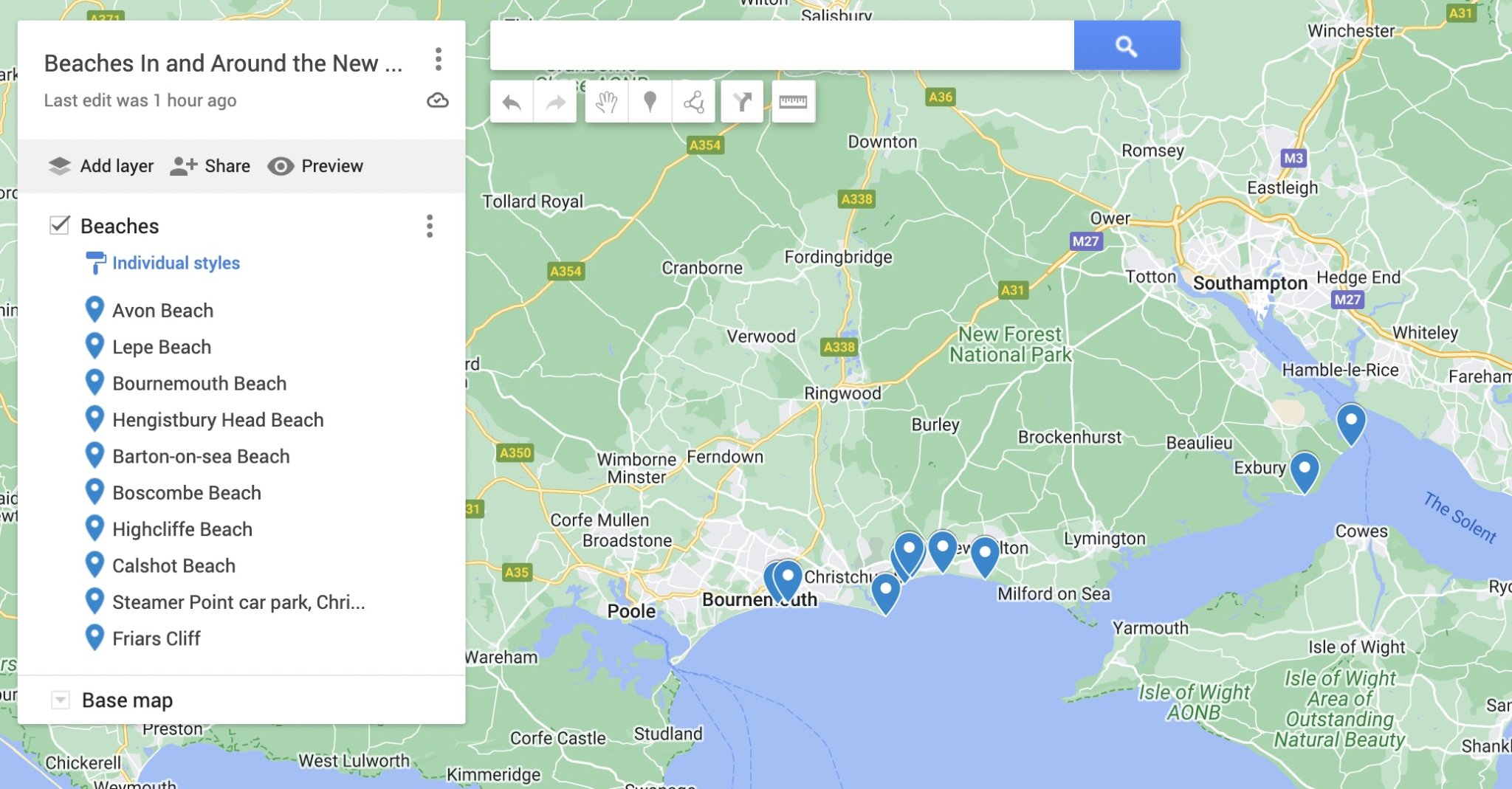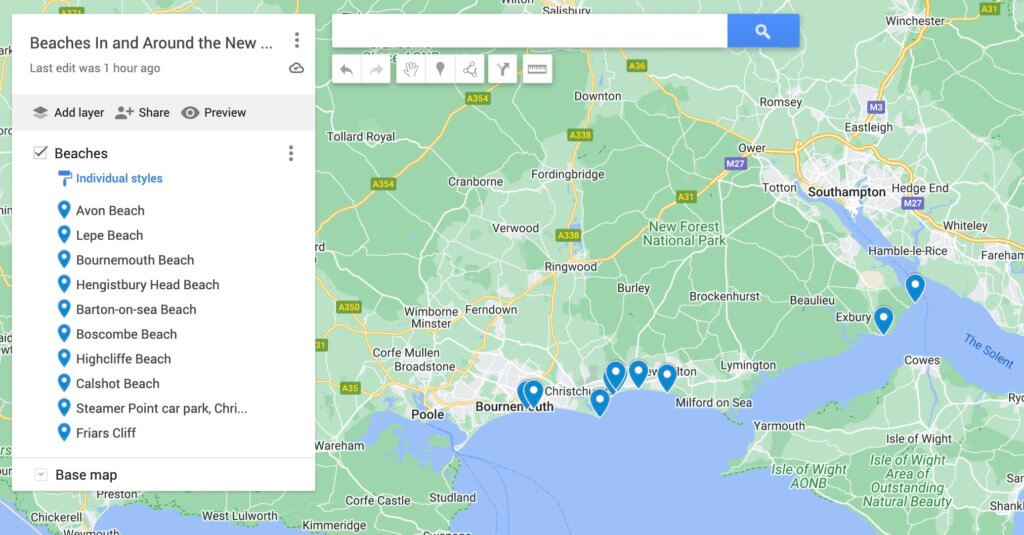 ---
3. Milford On Sea
Milford on Sea is a popular one for watersports – there's even a watersports company in town offering out hire. There's a huge car park here making it easily accessible, and the perfect spot to eat some fish and chips in the car as you watch the sun go down. You can get an ice cream here from the beach shop, there's also a fantastic Greek restaurant a bit further up, and this is the start of the walk along the spit to Hurst Castle too.
4. Calshot Beach
Calshot Beach is known for it's beautiful sunset, claimed for one of the best beach sunsets in the area and even in the Hampshire county. Calshot Beach has a number of tea rooms, cafes and pop up shops nearby.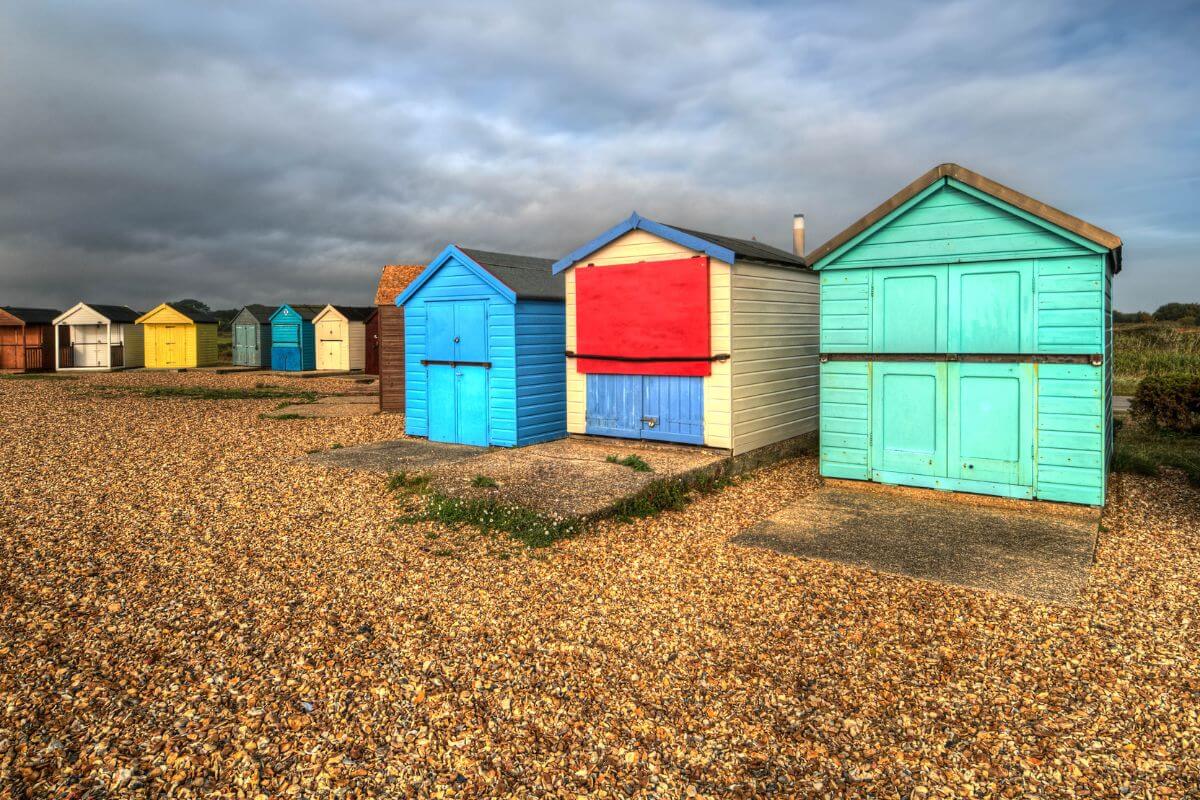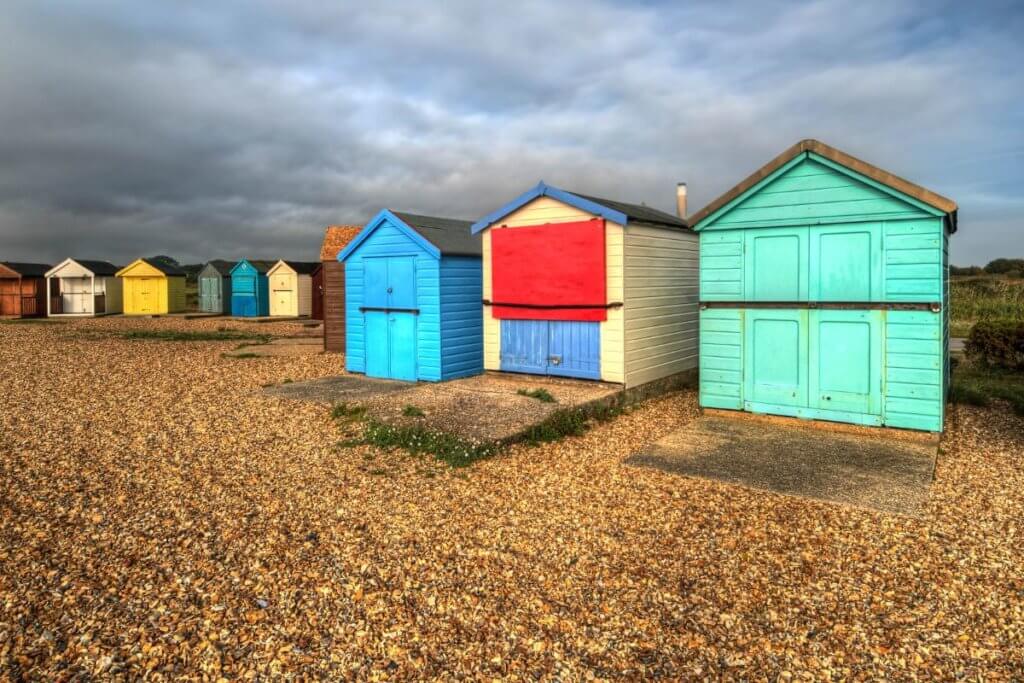 The shingle beach here is great for a swim, but if you wander out onto Calshot Spit you'll find all kinds of watersports at the watersports centre – from windsurfing and kayaking, to sailing and paddleboarding. Calshot Activities Centre is the UK's biggest activity centre – you can also enjoy climbing and even skiing in England too!
As one of the best beaches in the New Forest, you'll have a great view across the Solent towards Cowes on the Isle of Wight from here too.
5. Highcliffe Beach
BLUE FLAG BEACH: Highcliffe Beach has a Blue Flag award, and the season runs from 15th May to 30th September.
Only a five-minute drive from the New Forest border, Highcliffe Beach is home to stunning water, high-cliffs and shallow sand flats.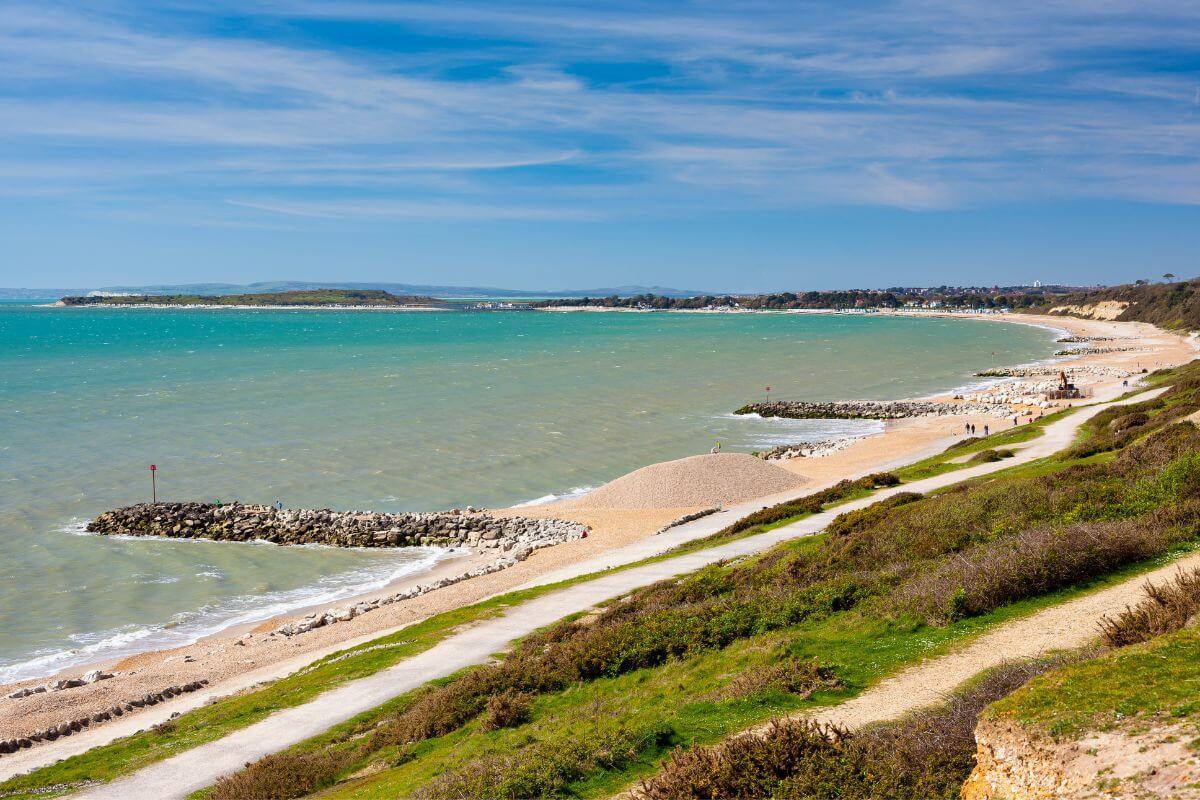 The beach is as picturesque as they come and is far less crowded during peak season compared to other beaches nearby. While it's not the biggest beach, it has plenty of space for walkers, sun lovers and families. Ideally located close to Highcliffe Castle the beach and the castle make for a great day out in Dorset.
Beaches near the New Forest
If these New Forest beaches don't quite scratch that beachy itch, then check out these beaches near the New Forest, in Dorset.
6. Steamer Point
Just below Steamer Point Nature Reserve is Steamer Point Beach, a quiet beach with idyllic views nestled amongst nature. The beach is also all soft sand making it a great choice for beach lovers.
7. Friars Cliff Beach
BLUE FLAG BEACH: Friars Cliff Beach has a Blue Flag award, and the season runs from 15th May to 30th September.
Friars Cliff Beach is all pebbles and gritty natural landscape. The beach has some of the best views of the Isle of Wight while being a firm favourite of local walkers who can be seen making the one mile track towards Steamer Point nature reserve as they admire the dramatic landscape.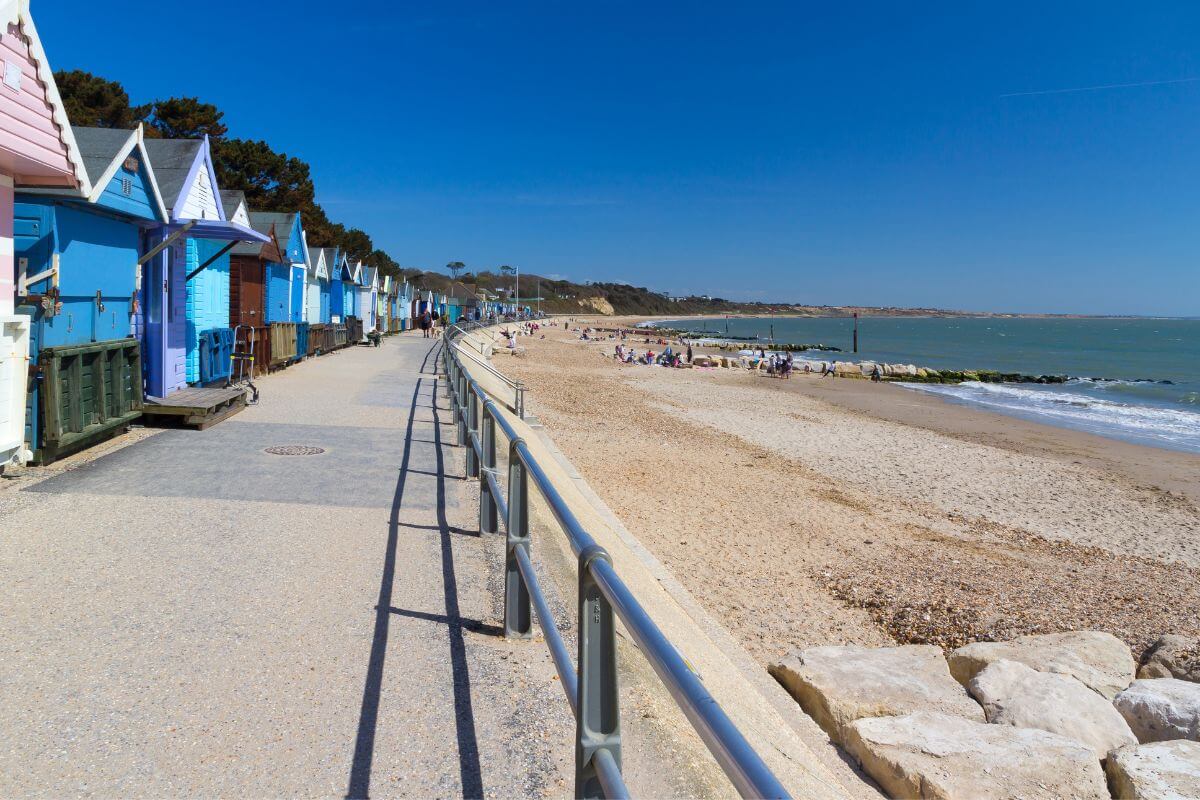 Parking is available here on site – a huge advantage for those looking to make the visit a full day out. Showering and toilet facilities are also available along with the many number of cafes and convenience shops.
8. Hengistbury Head
Popular among hikers, Hengistbury Head attracts walkers and tourists nationwide. Surrounded by stunning countryside, Hengistbury Head is also home to a variety of heathland, grassland as well as wetland and coastline.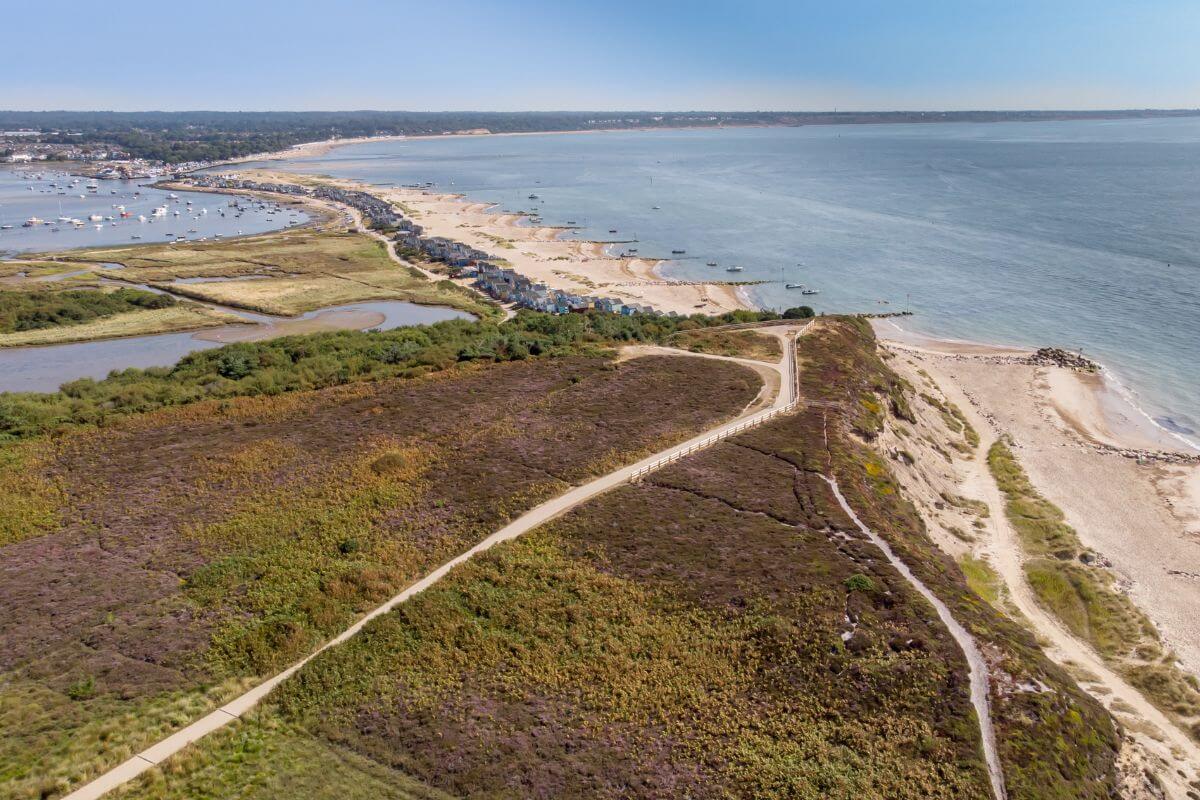 For nature lovers the area is home to a range of rare birds and wildlife. Of course if beaches are more your thing, then you won't be disappointed, it gets busier here during peak season so set out early if your looking to pitch up on the beachfront for the day.
9. Avon Beach
BLUE FLAG BEACH: Avon Beach has a Blue Flag award, and the season runs from 15th May to 30th September.
One of the most popular beaches near the New Forest, Avon is a sandy stretch beach with stunning view of the Isle of Wight on a clear day. Avon Beach has a designated area of the beach specifically for water sports. Beach huts are also available for hire on site as well as range of cafes along and around the beach.
10. Bournemouth Beach
Probably the most well known beach in Hampshire and just a short drive west of the New Forest, Bournemouth Beach is a summer favourite for families of all ages. Bournemouth Beach has plenty of sand and clear blue water and the pier has great views for photography enthusiasts. The New Forest is a great day out from Bournemouth, and vice versa.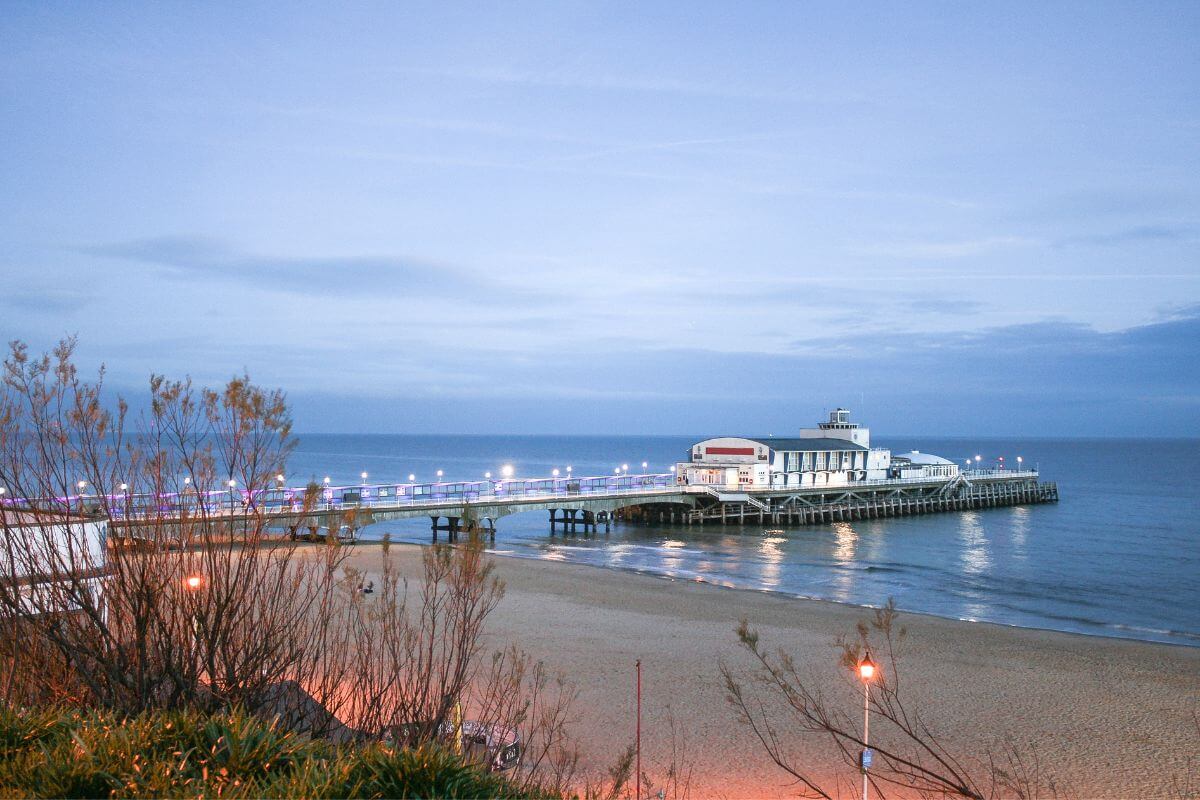 Bournemouth town centre is just a short walk away, and home to retail shops, cafes and a number of restaurants. It's also worth noting that Bournemouth tends to be slightly warmer than other beaches and towns on the south coast given its own micro climate, making it a great bet for travelling out of season too. Don't discount a winter's day out in Bournemouth for those stunning moody skies and a reason to stay in the shops and bars.
It's one of the best beaches in the south of England!
11. Boscombe Beach
BLUE FLAG BEACH: Boscombe Beach has a Blue Flag award, and the season runs from 15th May to 30th September.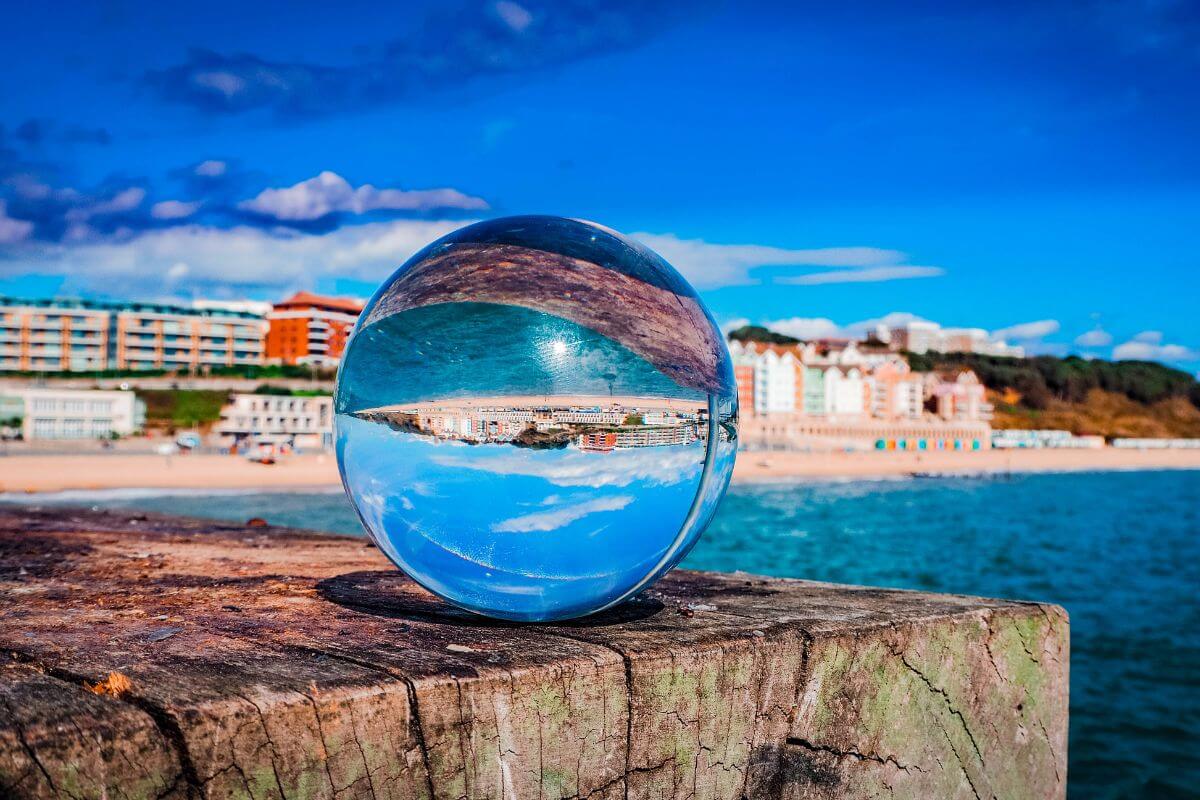 A little less well known than it's bold neighbour Bournemouth Beach, Boscombe has far less crowds and more of a traditional feel. For those looking for a more family orientated beach visit this is the place for you. Only a few short miles down Bournemouth's coastline the beach is close to local amenities and restaurants. It's definitely one of the best beaches near the New Forest.
Beaches in the New Forest
Wherever you decide to go on your journey, all of the beaches in the New Forest above – or near the New Forest – offer something uniquely and truly special.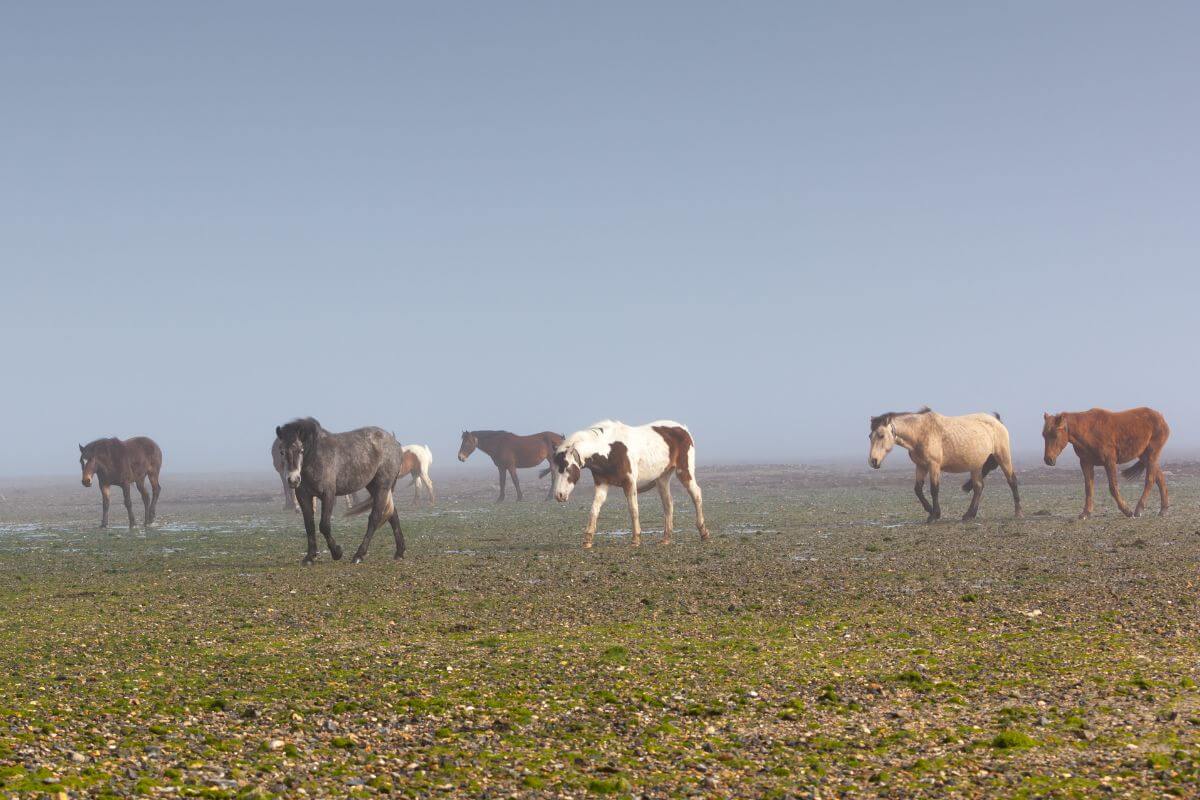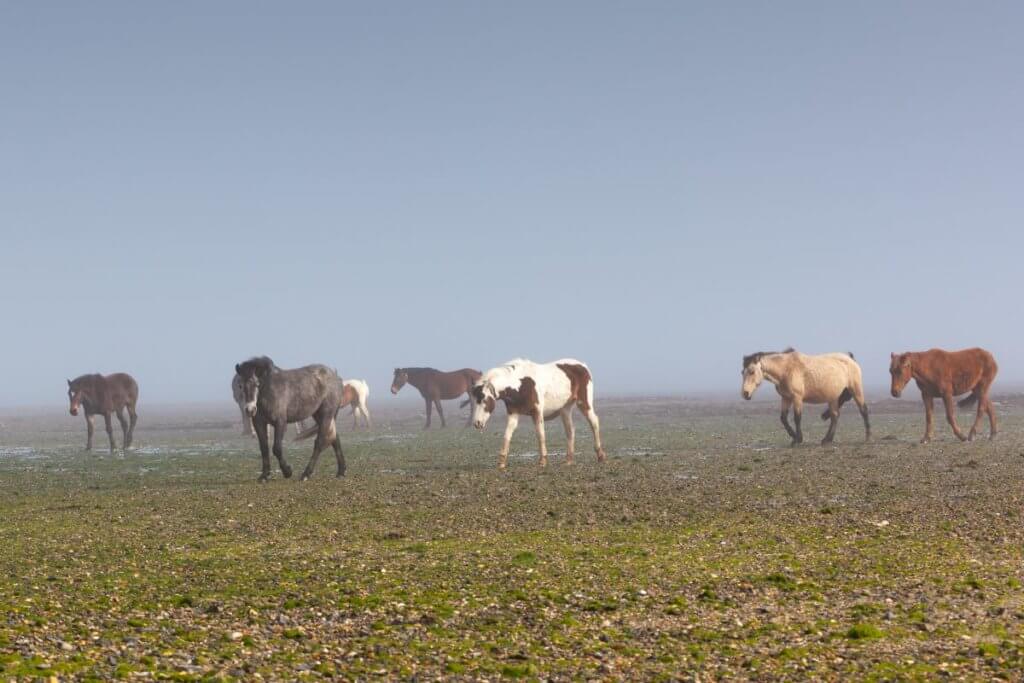 While all part of the stunning south coast, each beach offers a pleasant contrast and feel of individuality. We hope that you get out to some of the best beaches in the New Forest listed here and take advantage of all the spectacular sights the National Park has to offer. Whether it be in the height of English summer time or during those darker winter days, the New Forest and its beaches continue to remain a special place.
---