24 Beautiful Thatched Cottages in England + 5 You Can Stay in!
So British aren't they? Thatched cottages. Just the words bring up a cosy scene, complete with wintry jumpers and an open fire. Here are some of the best thatched cottages in England for you to peruse.
You've got to love the thatched cottages in England in Bridget Jones, in The Holiday and every other American film depicting the English countryside. The thing is though, they are just so pretty. You can see why people want to travel to see them.
Thatched cottages might be a bit of a nightmare for their owners to look after, and to insure, but for us, they're just lovely to look at. I'd take any of these English thatched cottages for a weekend!
I thought I'd take a look at some of the most famous and best thatched cottages in England to take me out of my little terraced house for a while.
Some of these thatched cottages you can even stay in!
Thatched Cottages in England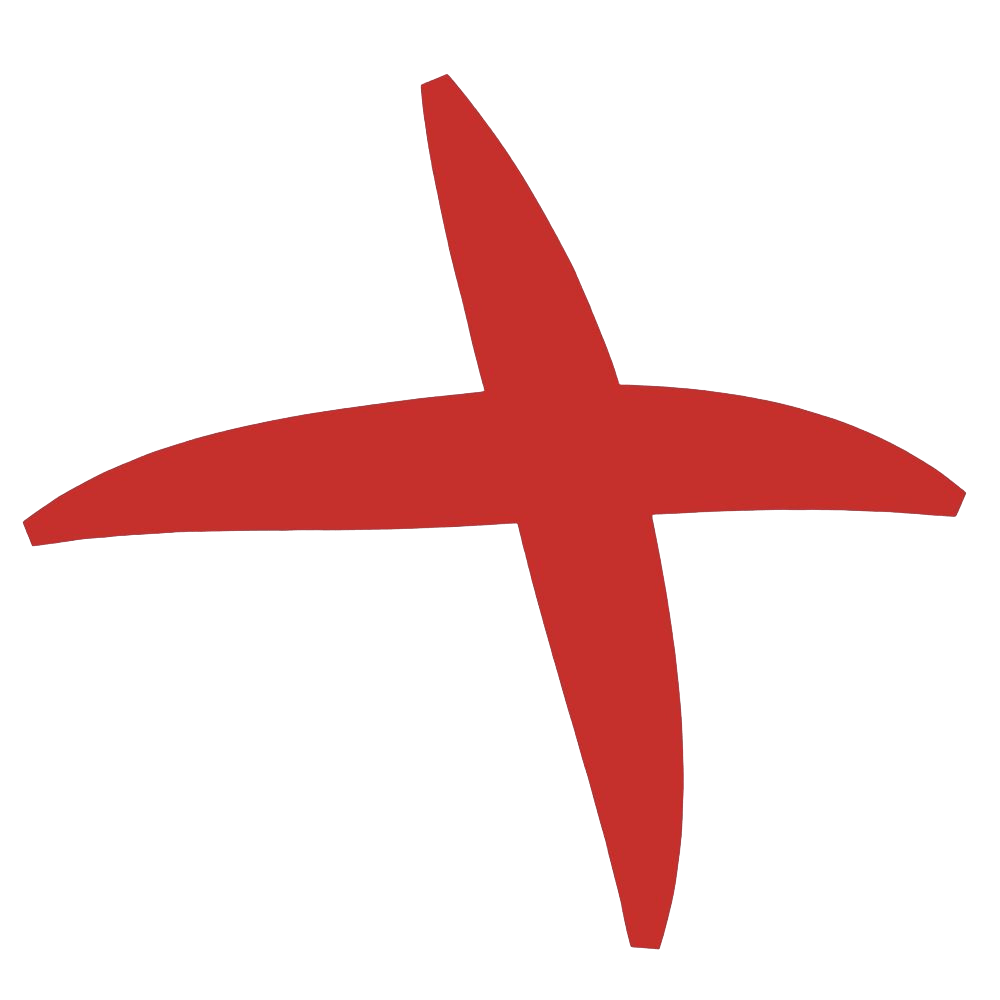 1. Georgeham, North Devon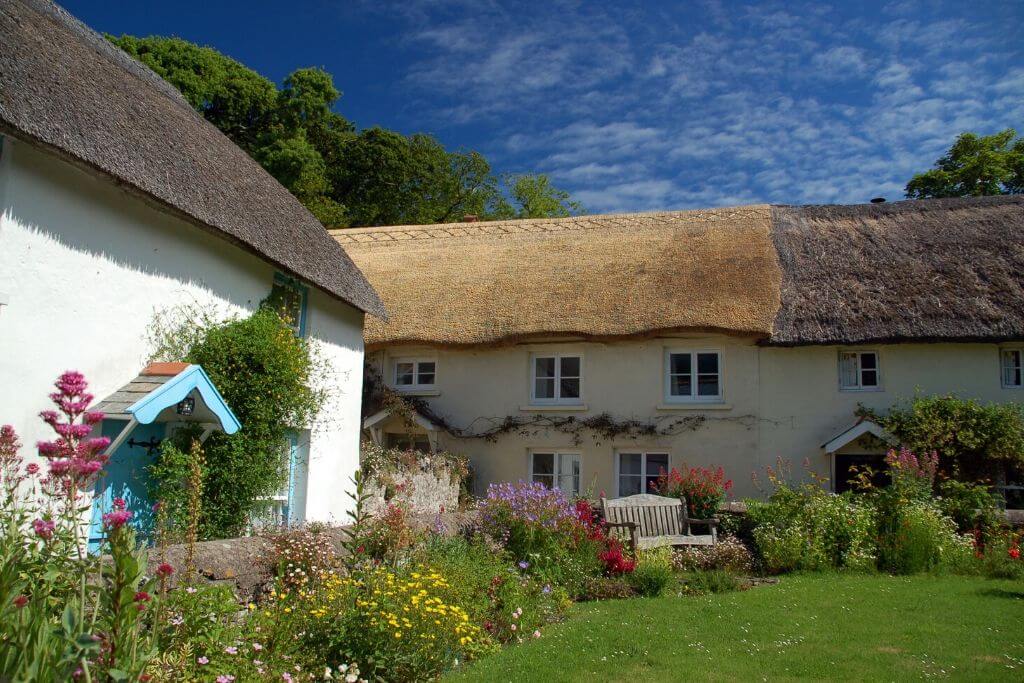 Visit Devon for a day out and you're sure to see some thatched cottages. There are lots of cute villages and towns here, which means quaint and cute houses galore!
2. Seaside town of St Mawes, Falmouth, Cornwall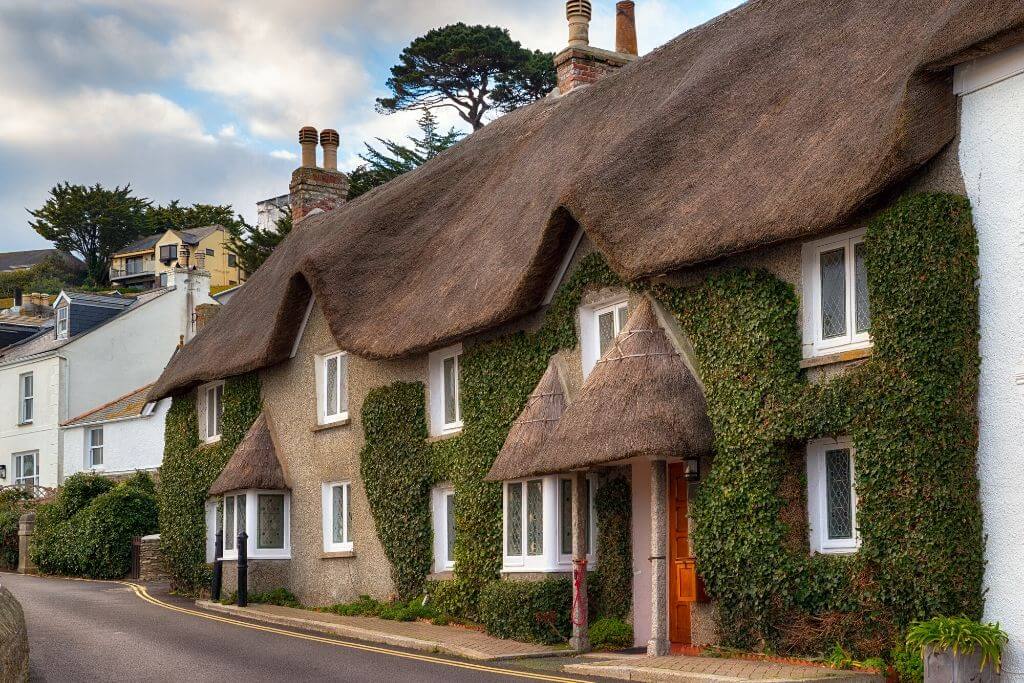 And if Devon doesn't quite fit the bill, then a day out in Cornwall definitely will. Cornwall is one of the most popular places for English people to go on holiday – mainly thanks to the stunning coastline, but also due to the unique houses and things to do there.
Go to Cornwall and I guarantee you'll see a thatched cottage while you're there. If you're visiting this one, you can check out all the best things to do in Falmouth while you're there too.
3. Micheldever, Hampshire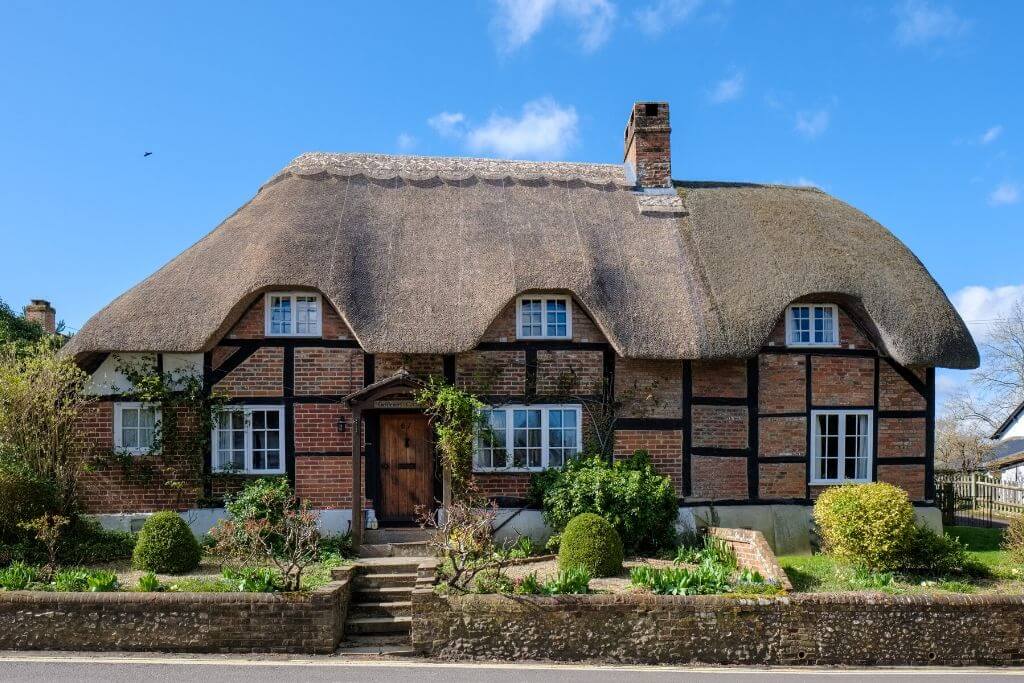 Hampshire is my current home county and a totally underrated county in my opinions. Days out in Hampshire usually centre around the coastline, the beautiful New Forest, or Jane Austen.
And as you'd expect from somewhere that Jane Austen lived, there are thatched cottages galore. If you want to see the cutest New Forest pubs while you're there, check out this blog post.
4. Treasure, somewhere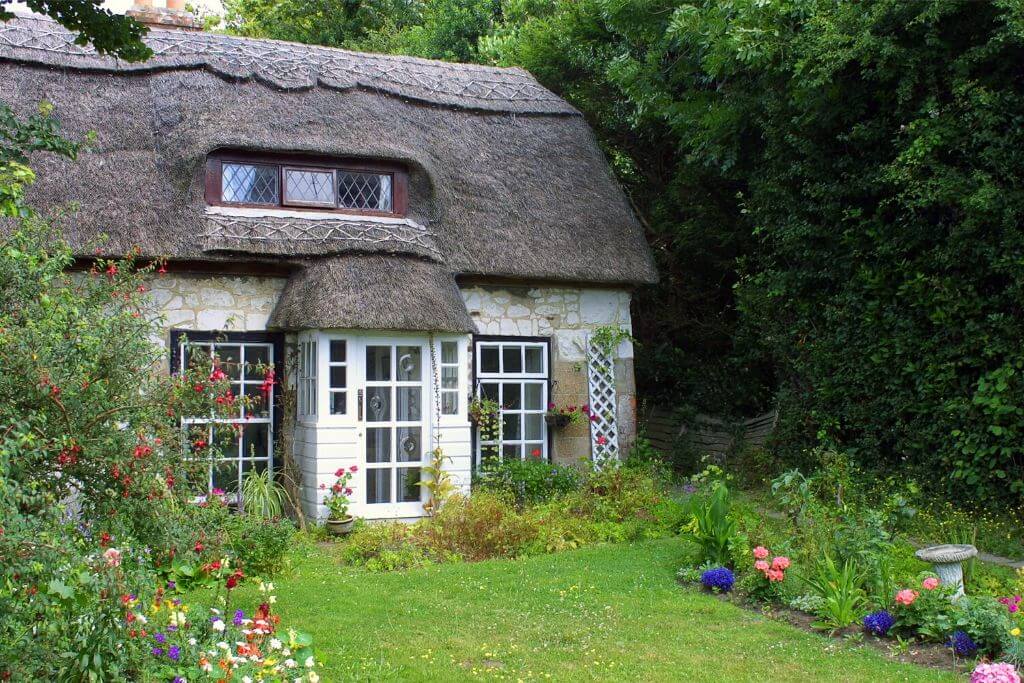 Unfortunately I couldn't actually find where this thatched cottage is, but isn't it magical? I needed to include it in this round up, sorry I have no further info but this can be a lucky treasure hunt for you.
Let me know if you find it!
---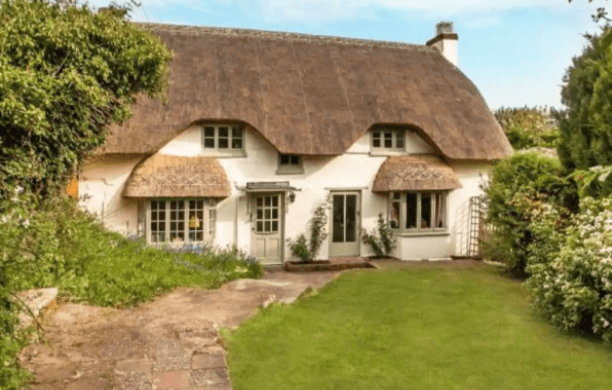 "Three double bedrooms, one with en suite. We will put extra beds if required. Large fully equipped kitchen and large dining table. French windows onto large enclosed garden. Large cozy lounge with fireplace and plenty of games for the family, Flat screen TV and high speed Broadband.

Close to River Test and a stones throw from the River Anton.

The Crook and Shears thatched village pub serves home made food. A great place for corporates, contractors, family's and fishing parties."

Airbnb
---
6. Broadhembury, East Devon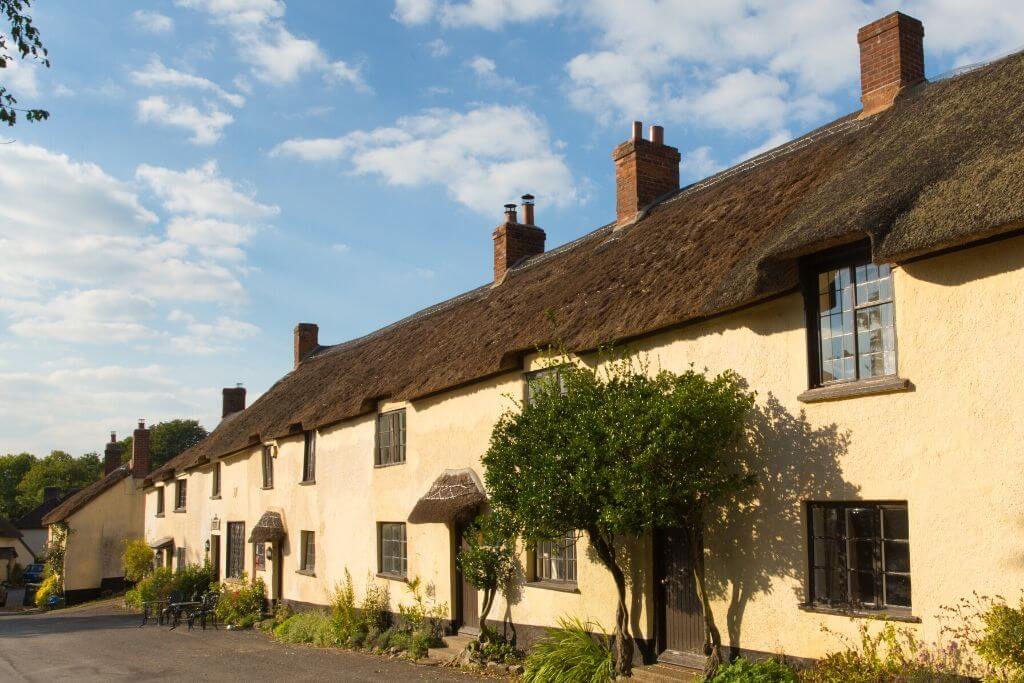 See, told you Devon had some of the best thatched cottages in England. Imagine living in one of these!
7. Inner Hope Cove, Devon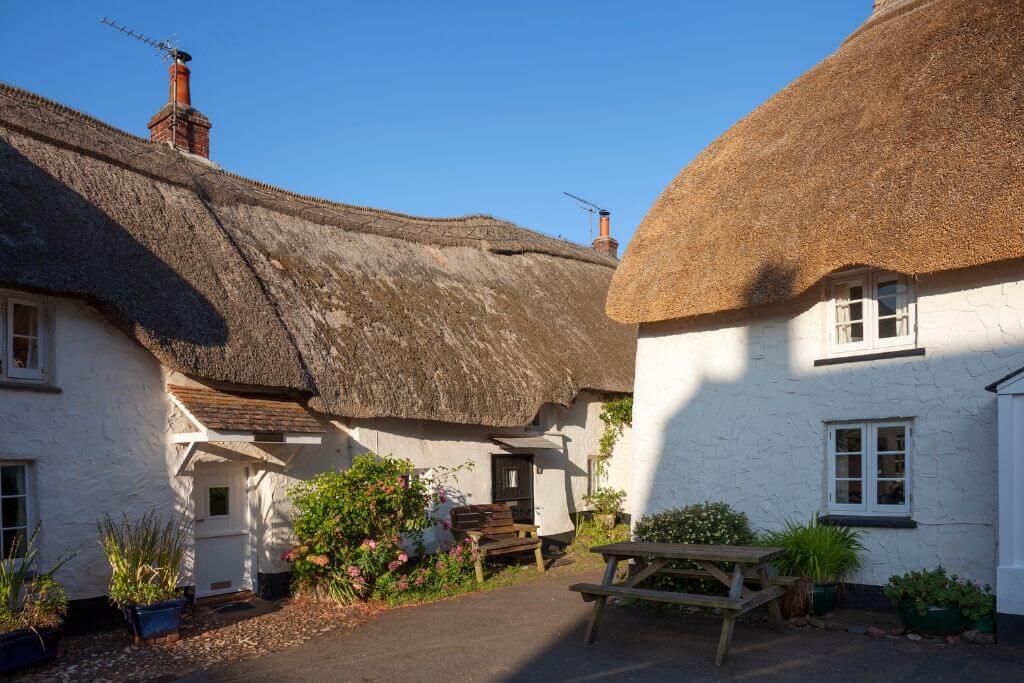 Oh, there goes Devon again.
Honestly, the people who own these houses must get annoyed with people queueing up to take photos, but they're just so pretty!
9. Lucky dip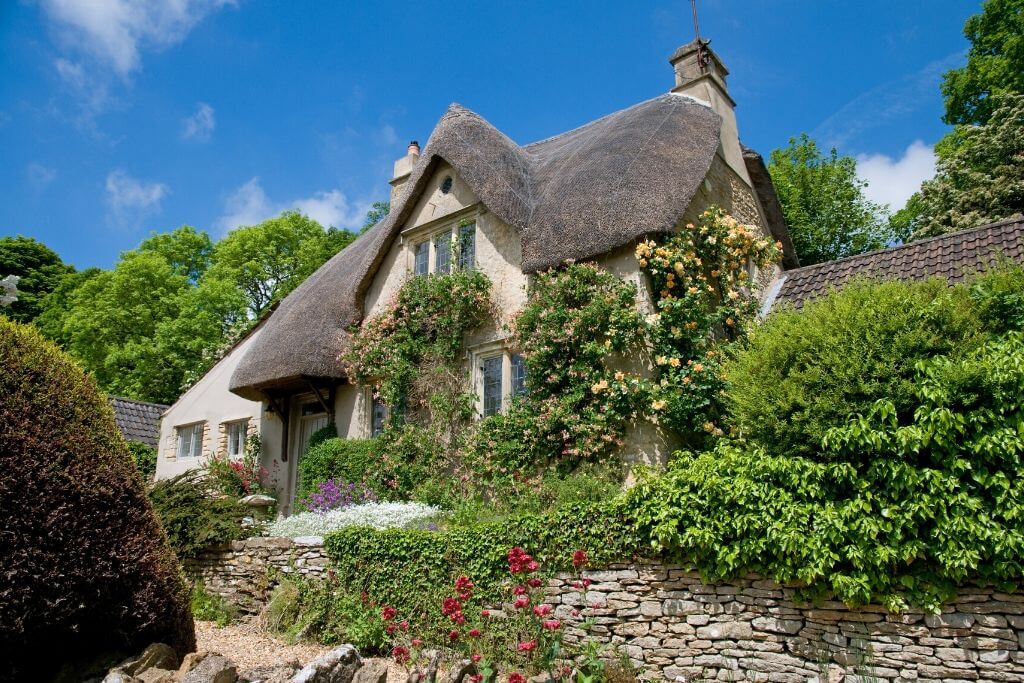 If you manage to find this thatched cottage in England, you win a prize. Not actually quite sure what yet though…
---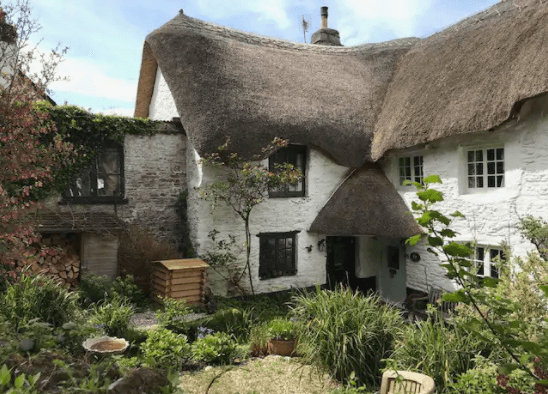 A 16th century thatched cottage for 2 to 4 guests in Ringmore – a coastal village next to Bigbury-on-sea in the South Hams.

The cottage is a 10 minute walk to 2 beaches and next door to the excellent village pub which does amazing food!

The cottage is therefore ideal for those who want to enjoy the beach, walks along the South West Coastal path and all the other amenities in the South Hams.

Airbnb
---
11. Selworthy, Somerset, Exmoor National Park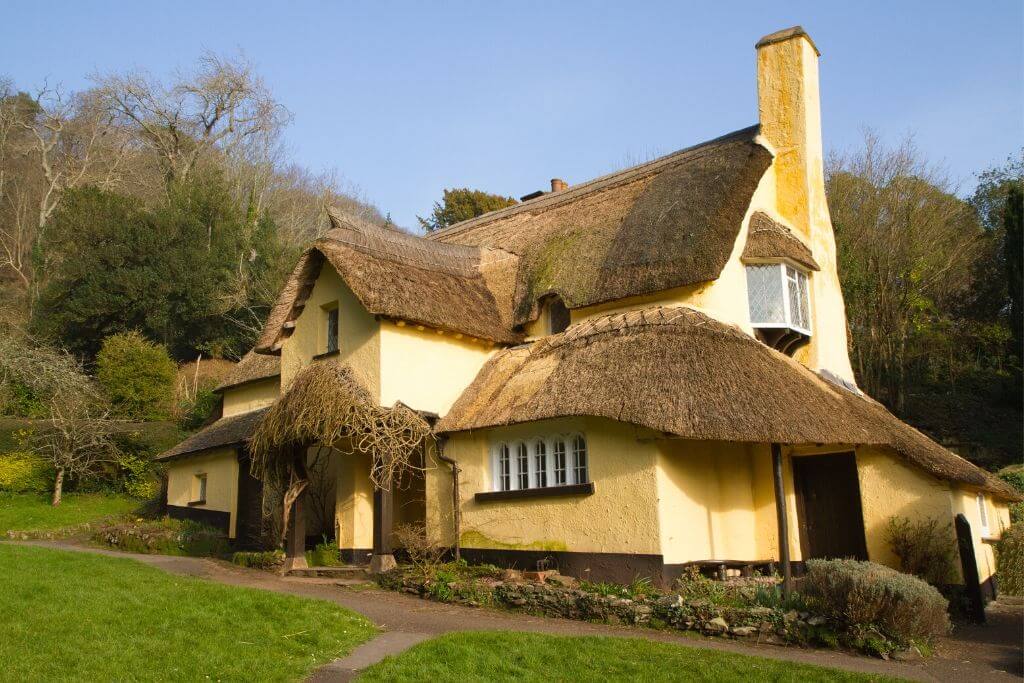 Here we go, new places, with a bit more information. You should be able to find this thatched cottage in England, nestled in the Somerset countryside.
I'm not sure this is quite a 'cottage' – maybe more a fully fledged house. Either way the yellowy hues, unique windows and cool porch way make it an absolute gem in the thatched cottage world.
Also, it's in the stunning Exmoor National Park, making it all the more appealing.
12. Kingham, Oxfordshire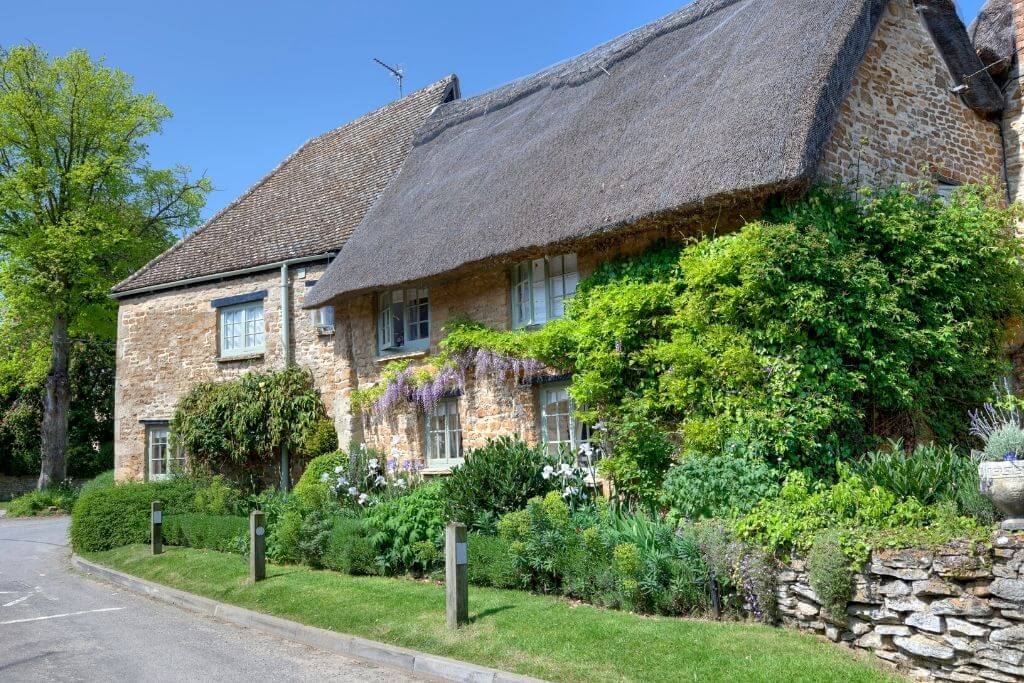 Visting Oxfordshire is a great shout if you're looking for thatched cottages in England. The county is full of them. Visit Kingham to see this gem, or, I was in Oxford the other day, in a place called Godstow – and it was street to street thatched cottages.
Try there!
13. Dorset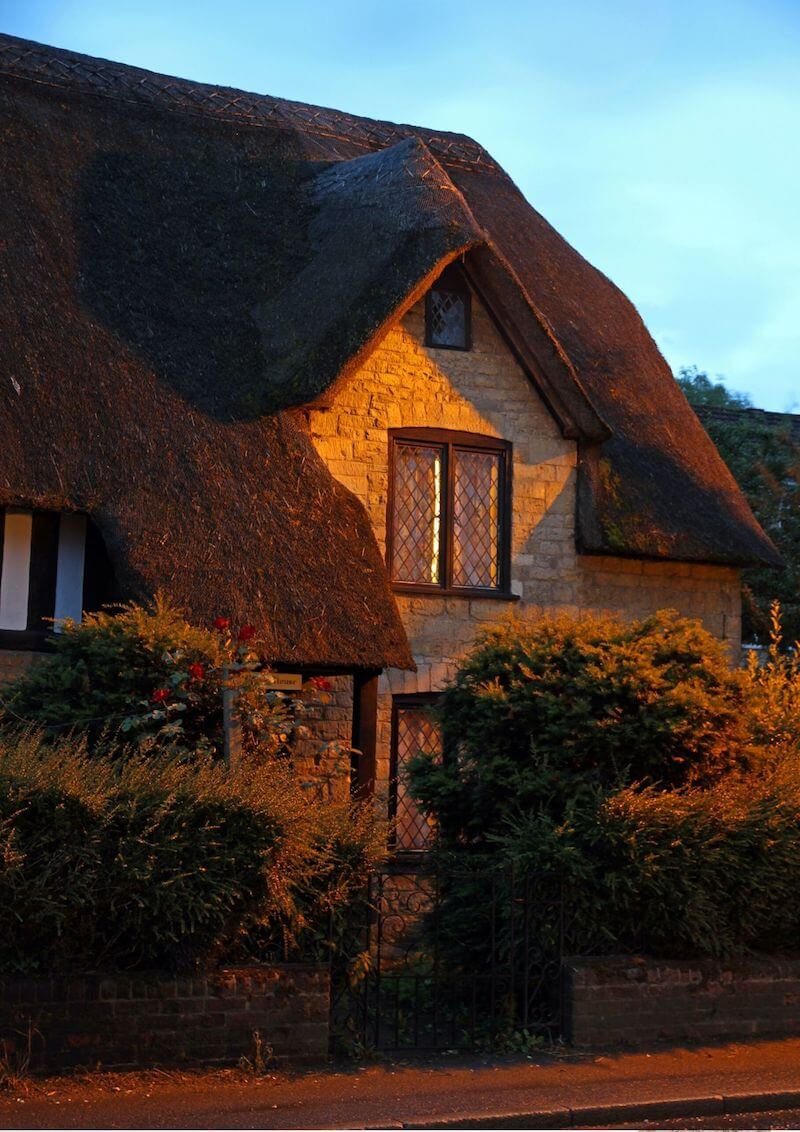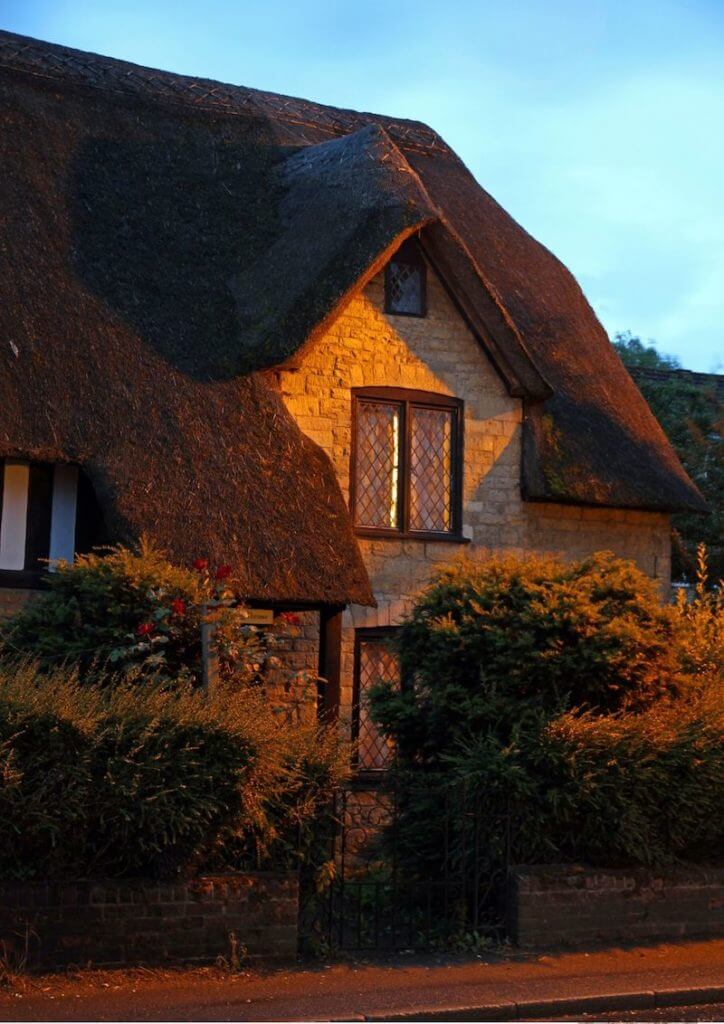 Enjoy a day out in Dorset and you'll come across even more thatched cottages. This one is a particular beauty in that soft, golden light.
As you can see from the suggestions so far, a lot of the thatched cottages in England are based in the coastal counties of England. I'm sure there's some historical reason for that, but errr, I'll have to look it up.
14. Shottery, Stratford Upon Avon, Warwickshire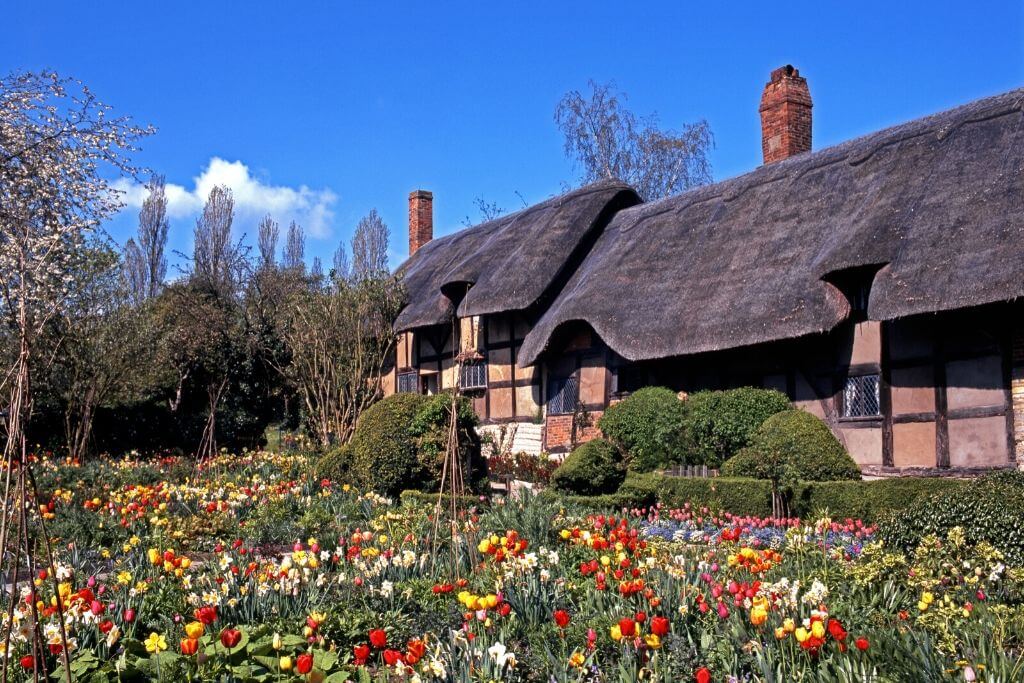 Here we go! A Midlands-based thatched cottage – this time, in Warwickshire. In Shottery, Stratford Upon Avon to be precise.
Stratford Upon Avon is Shakespeare County (not to be confused with Stratford in London – very different). This is where you'll find the biggest concentration of thatched cottages in the Midlands. I can totally recommend a day out here – it's fab and only a few miles from where I grew up!
---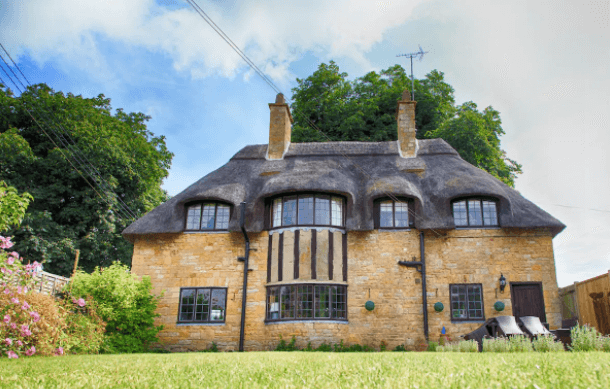 Beautiful Cotswolds thatched cottage with private garden and parking. Stylishly furnished. Rural views, sheep in fields, horses trot by yet walk to pubs & shops. Lovely character features offers a real getaway in a special place called Broadway, The Cotswolds.

Private parking, fenced garden with outdoor seating and BBQ.

Walk to pubs, shops and cafe's. Broadway also has a golf club, bowling green, cricket club, day spa. Cycle hire, horse riding, steam train & castles are near by.

Airbnb
---
16. Hope Cove, Devon, England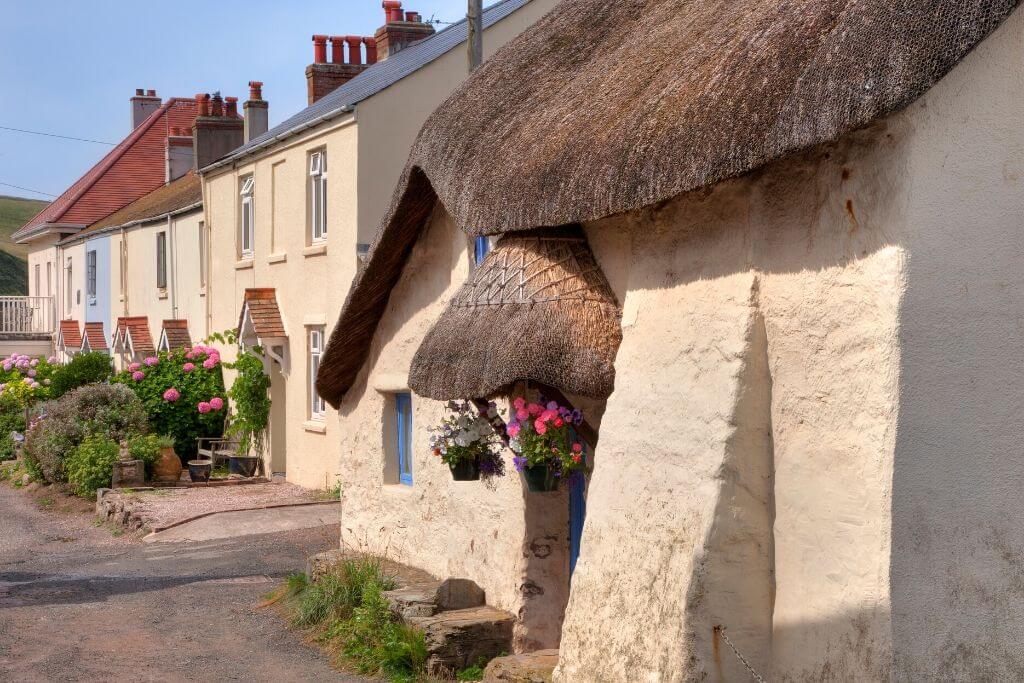 Back to Devon again!
Seriously, you need to visit. Get a cream tea and some fudge while you're there. Yum.
READ MORE: The Most Beautiful Villages in Devon
17. Stone built thatched cottage, Warwickshire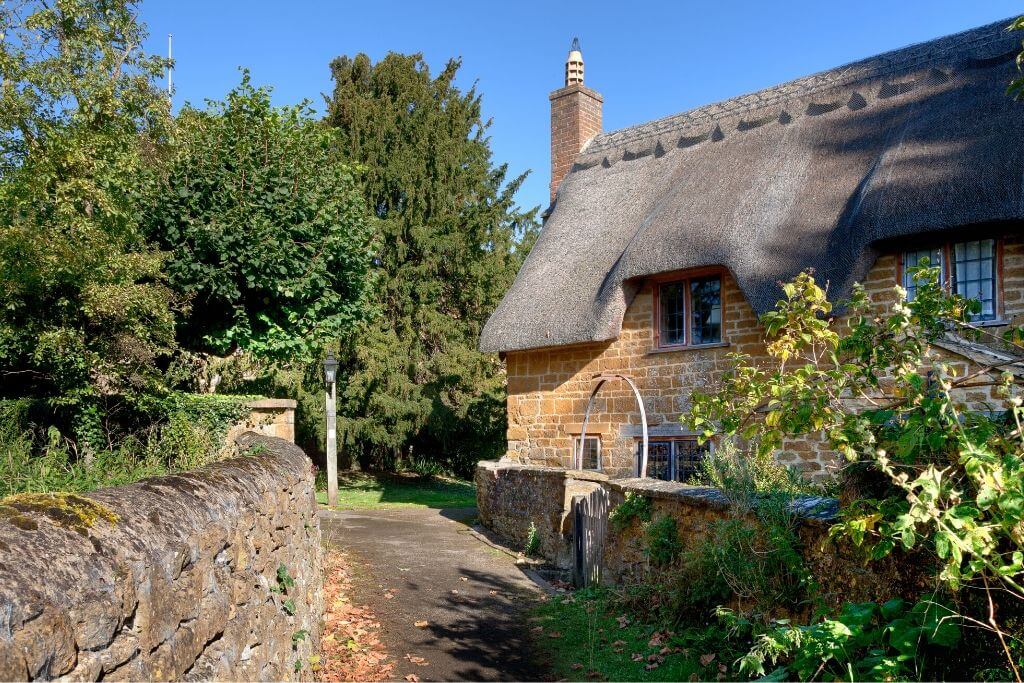 Gawd, imagine walking down that walkway into your OWN thatched cottage every day. Be nice wouldn't it?
So quaint!
18. Beer, East Devon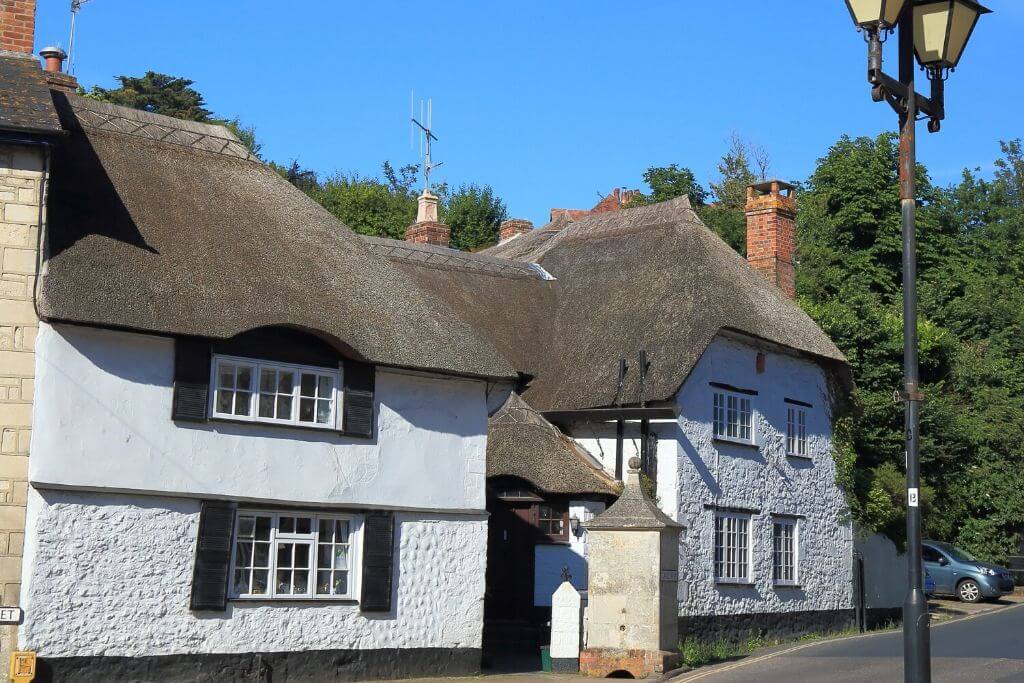 #Devon – again.
---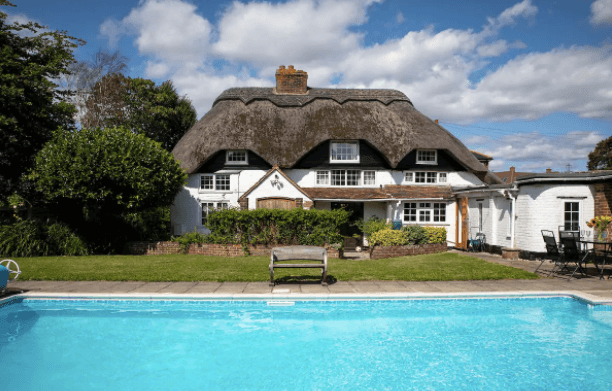 "The Old Thatch is a grade II listed thatched cottage in the beautiful seaside village of Bosham. The property, built in 1653, has been sympathetically renovated to provide a beautiful holiday home.

Benefitting from pleasant grounds, a heated swimming pool and off road parking it provides the perfect spot from which to explore all that West Sussex has to offer."

Airbnb
---
20. Hill in Kent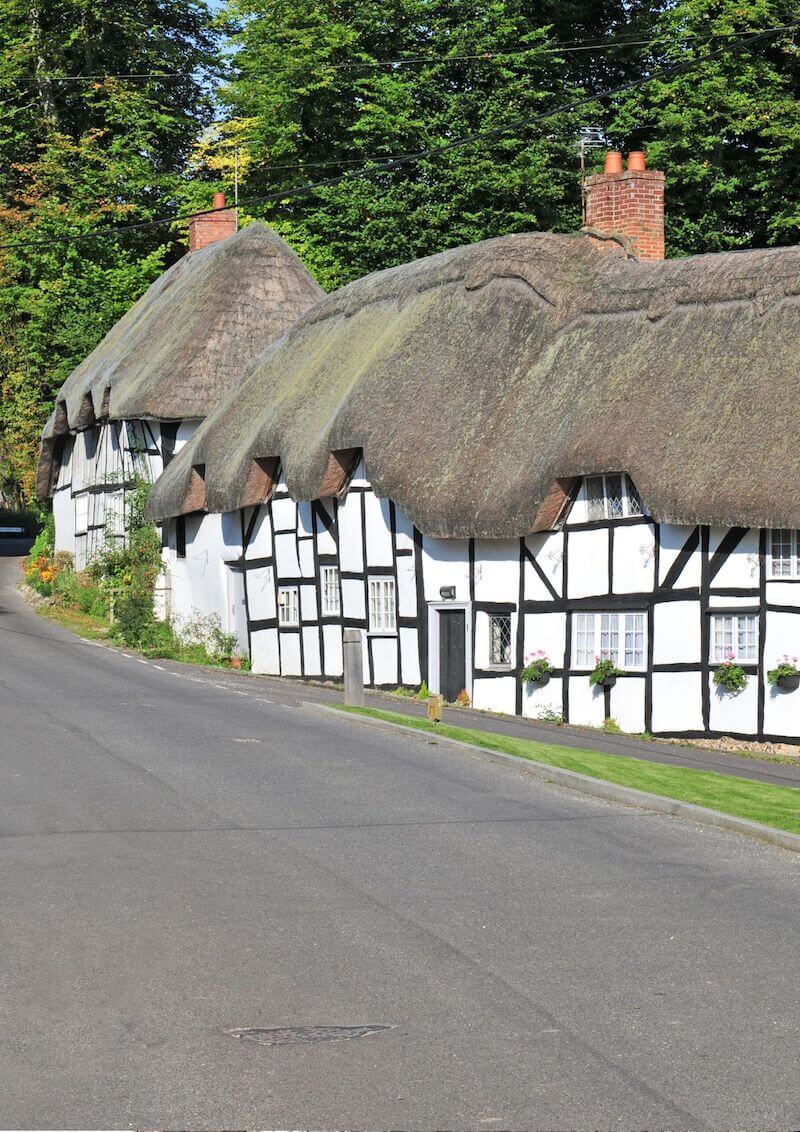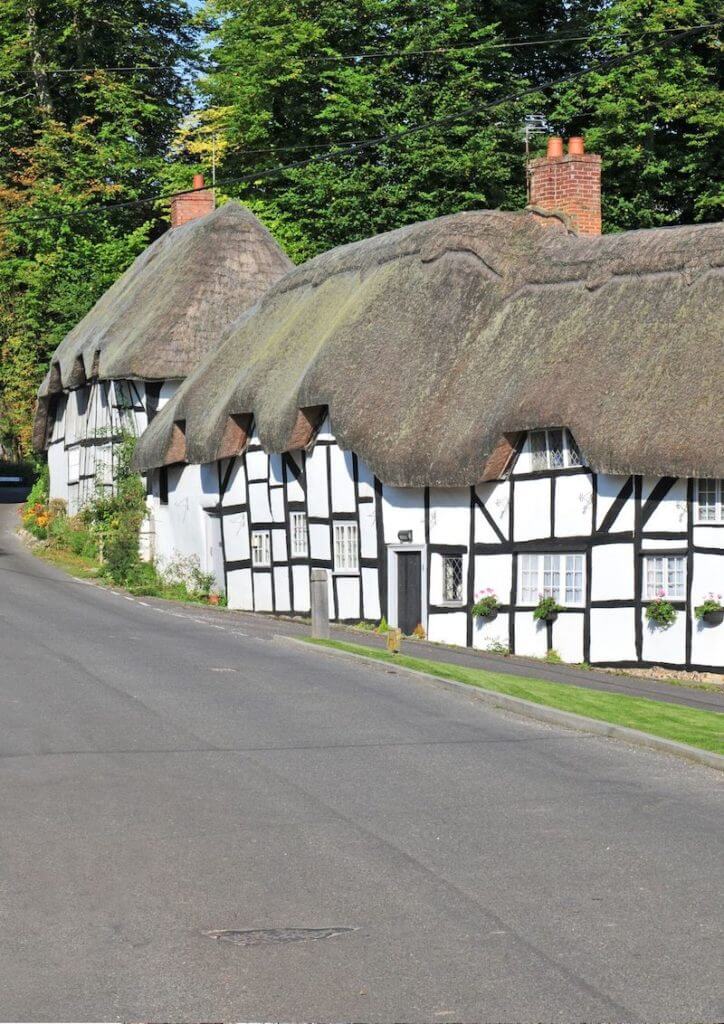 Be a nice photo you just stood outside that run of thatched cottages in Kent, wouldn't it?
Kent is a great day out – you can go to the beach, visit the Port Lympne Reserve and hang out with the giraffes and check out Canterbury Cathedral too. Also, keep your eyes peeled for thatched cottages.
21. Chipping Campden, Gloucestershire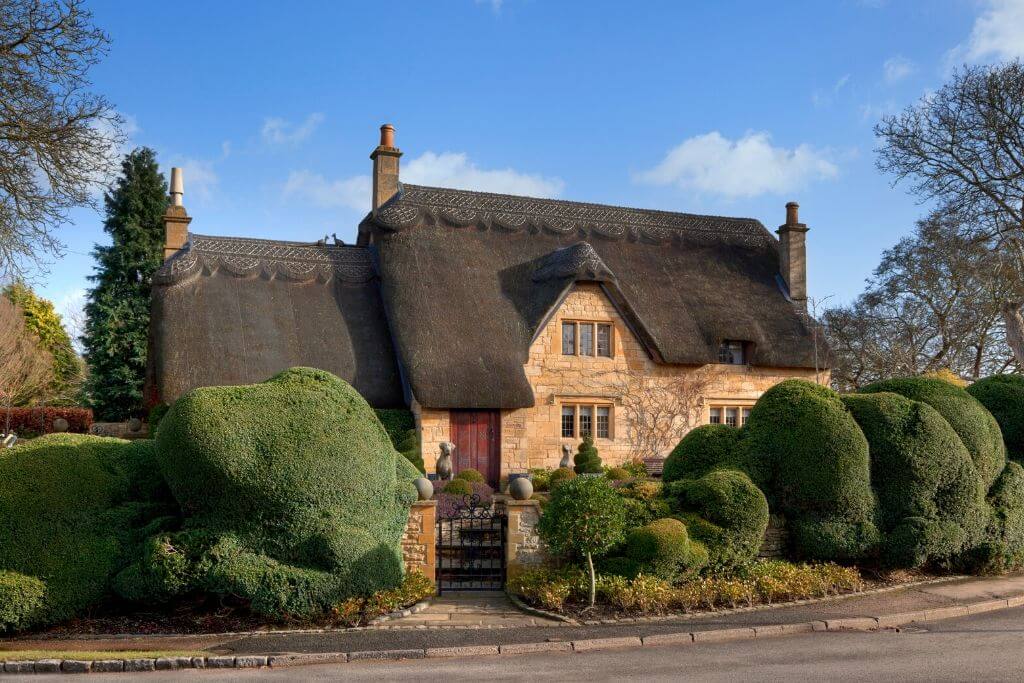 Another one for the Cotswolds here – I mean, that is picture perfect, isn't it?
Took me a second to realise that was a stone dog and not a real Fido looking out at me.
SO MANY THATCHED COTTAGES in the Cotswolds in Gloucestershire. Had to shout that to truly enforce how many there are. Go for a day out in the Cotswolds and if you love your thatched roofs, you are gong to have a wonderful day.
22. Devon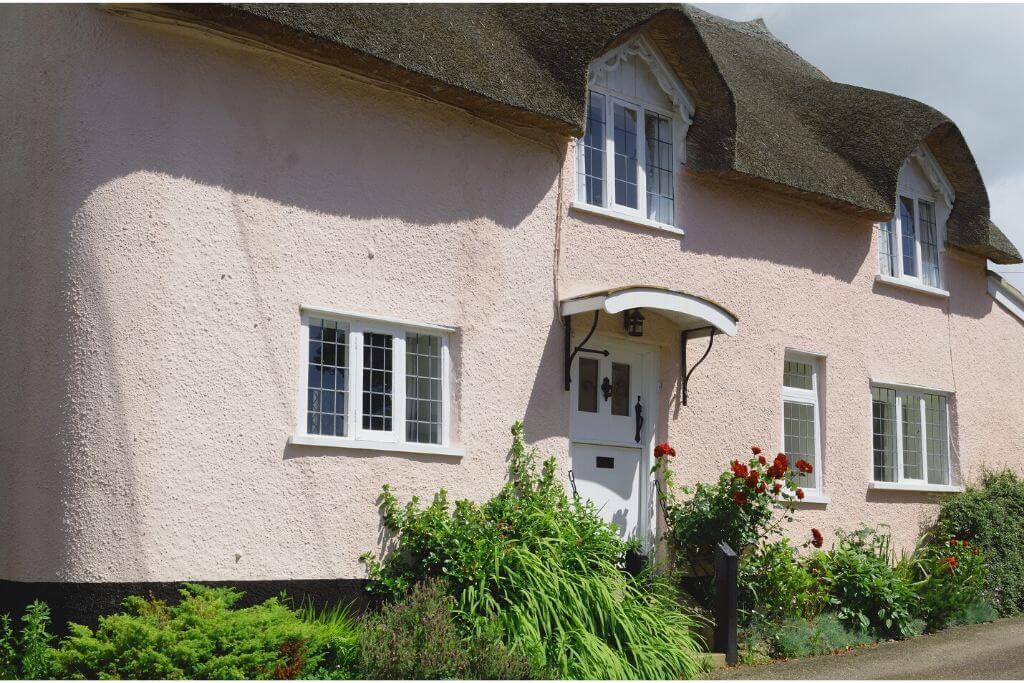 Pink walls and a thatched roof, what's not to love?
23. Isle of Wight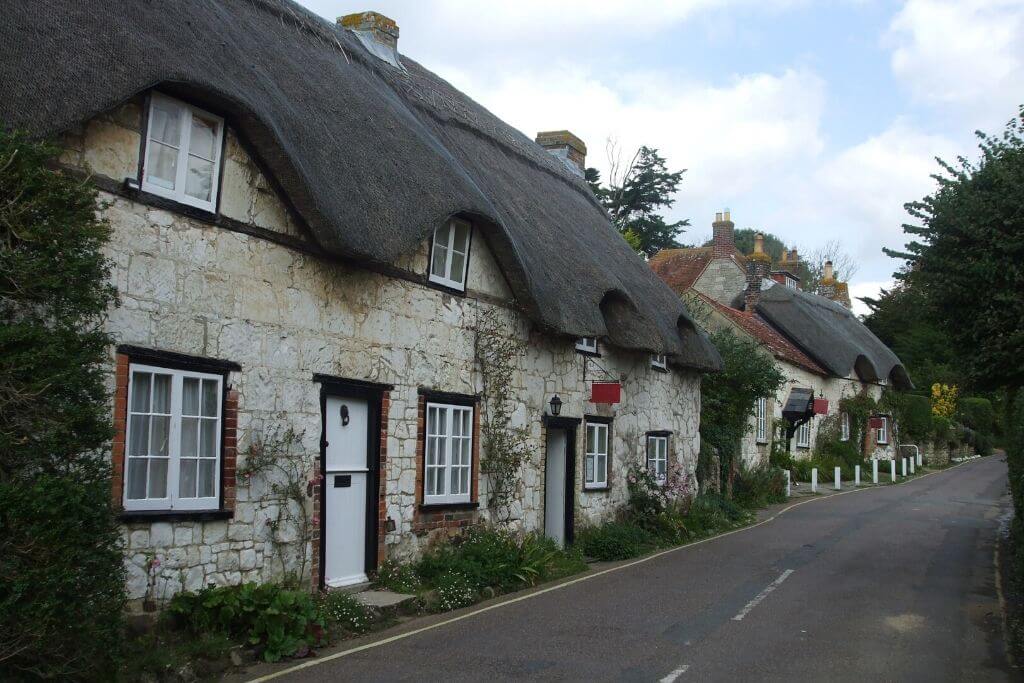 You NEED to have a day out on the Isle of Wight if you're looking for thatched cottages in England. These aren't even the best ones, trust me.
You need to head for Shanklin for that. Don't forget to take your camera!
---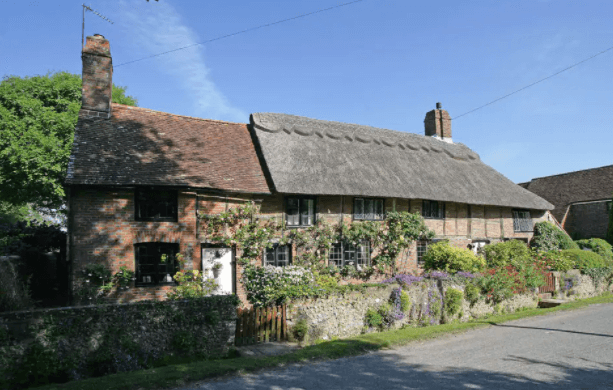 "Quintessentially English, this beautiful cottage sits in the heart of the little village of Wilmington. A tumble of beams and cosy corners, it boasts two Inglenook fire places with wood burning stoves, and an Aga in the kitchen.


Just 3 minutes stroll to the village pub – or a 15 minute stroll across the fields the other way, you can visit the beautiful village of Milton
St or Alfriston – with its fine array of tea rooms, village shops – and lovely local hotels."

Airbnb
---
25. Buckinghamshire
This looks like I'd imagine the Weasleys house to look out of Harry Potter – having not seen the films.
I actually just looked up the image and it doesn't really, but it would make a great retirement home for Mr and Mrs Weasley in Buckinghamshire when they don't need that big house anymore.
Isn't it just the perfect thatched cottage with those flowers and gate?
26. Chipping Campden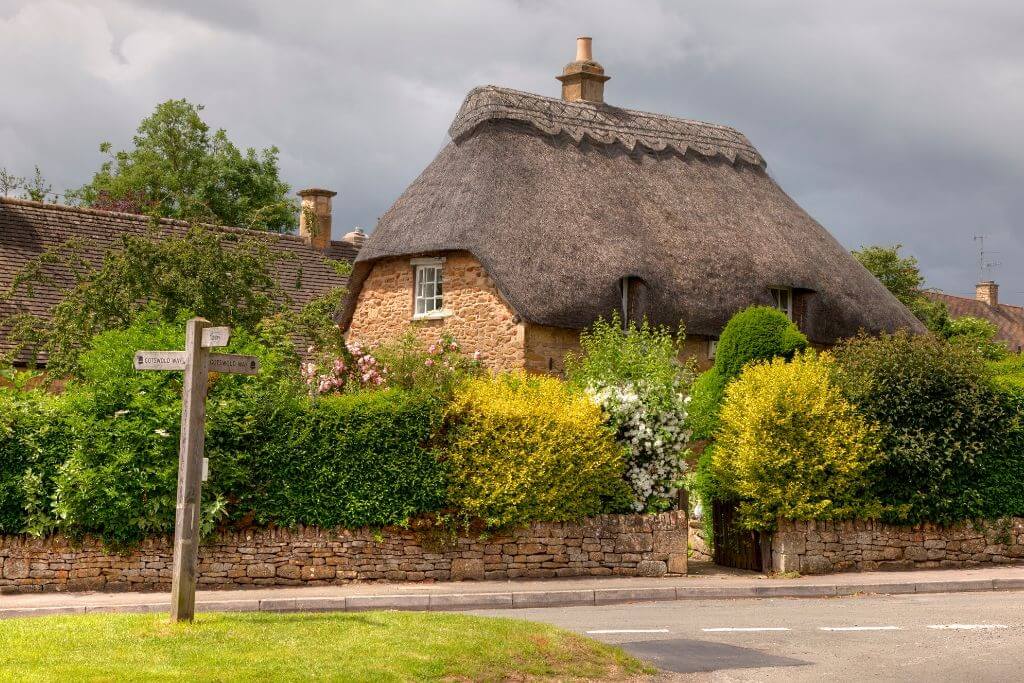 Chipping Campden is in the Cotswolds. Told you it had amazing thatched cottages didn't I?
27. Lucky dip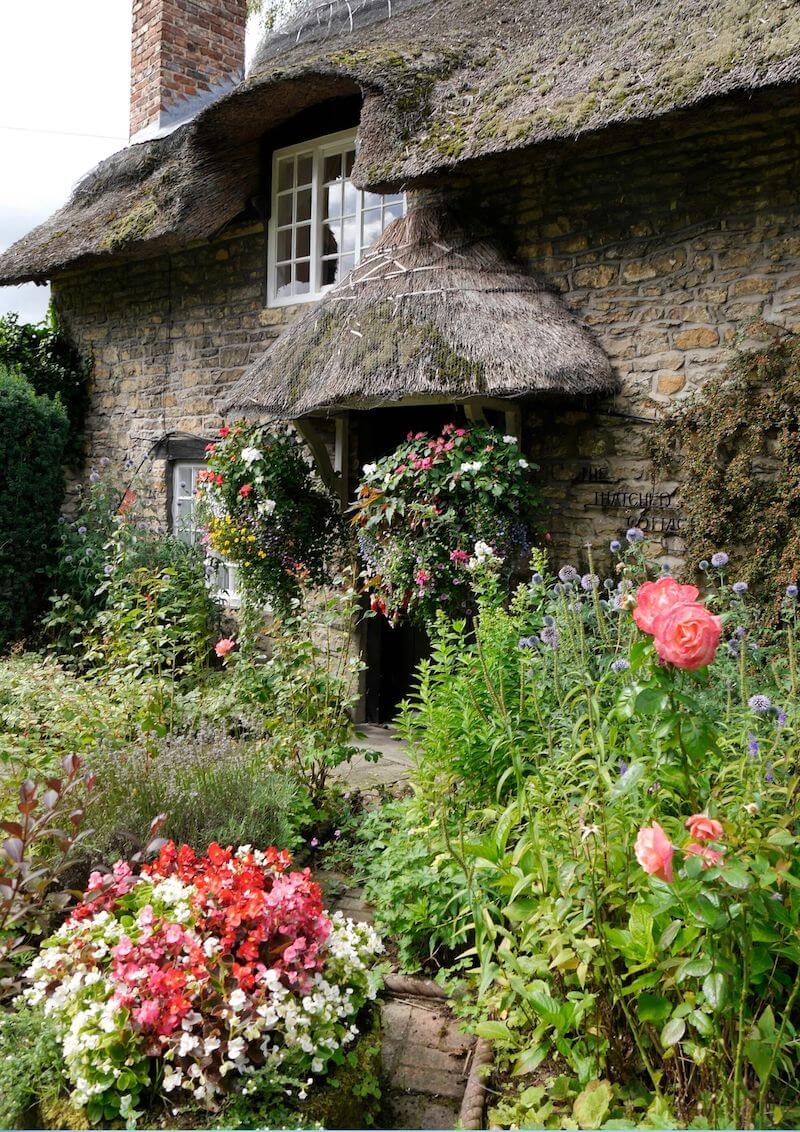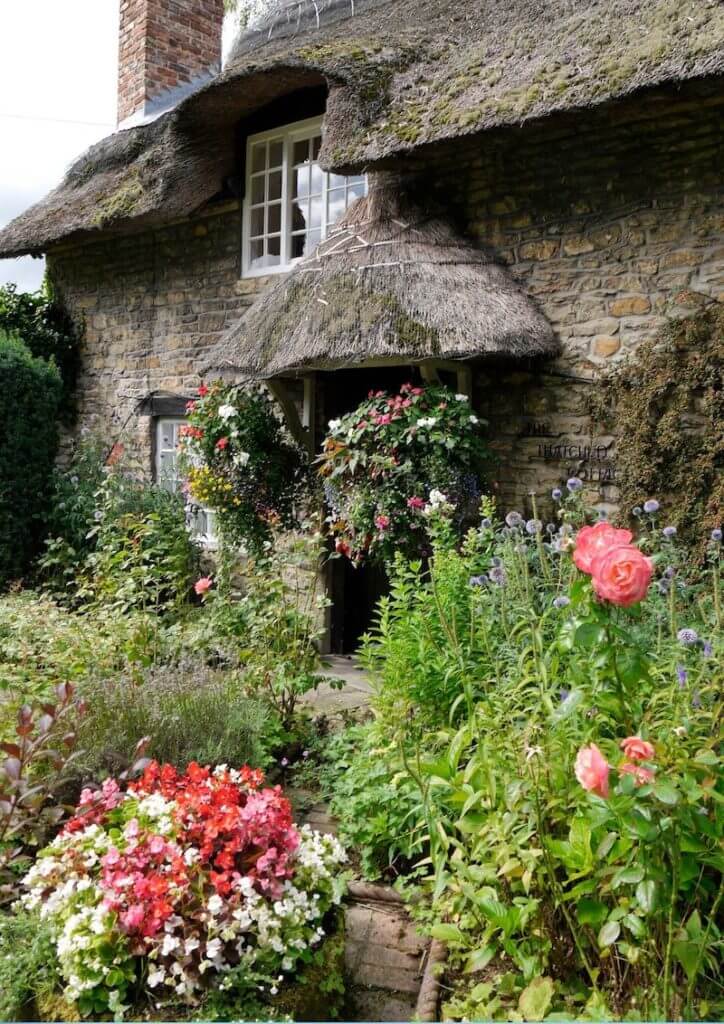 Here's another wild card thatched cottage in England for you – see if you can find it!
28. Devon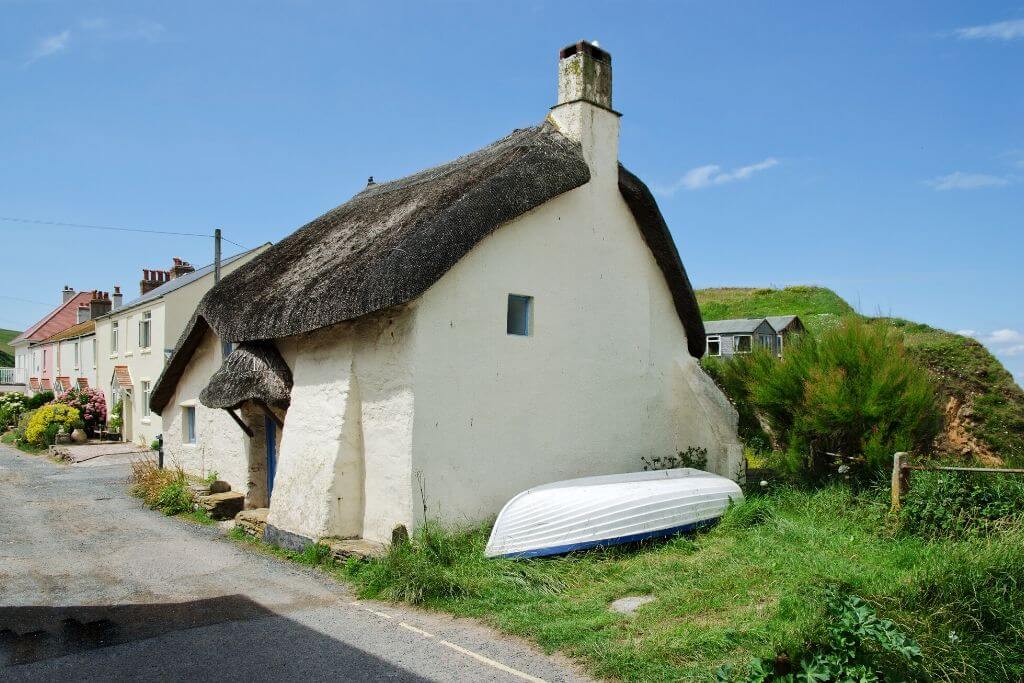 Gotta have another one in Devon while we're here, don't we?
I love how great this one looks with those 'normal' houses in the background.
29. Alfriston, East Sussex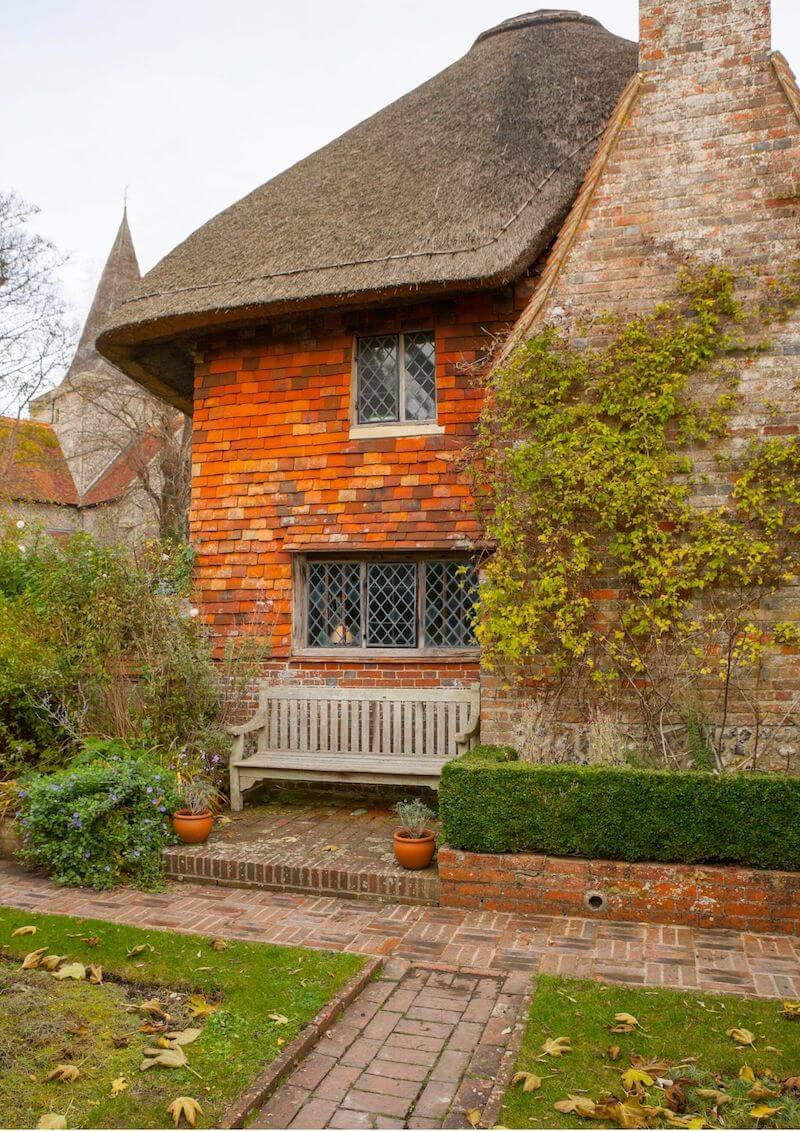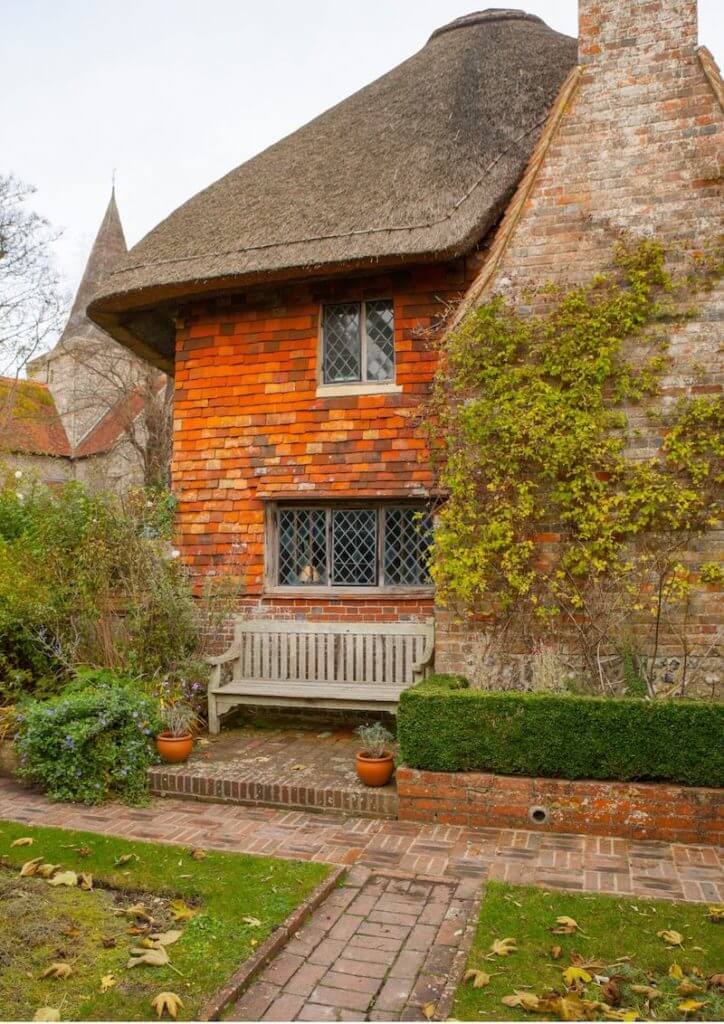 I should be going past this in a few weeks when I tackle the South Downs Way Cycle Route. Excited.
Loving those orange bricks on this cute thatched cottage in East Sussex!
Thatched cottages in England
Enough thatched cottages for you?
I think what we've learned from this is that the Cotswolds and Devon should be highest up your want to see list if you're into your thatched roofs, with Cornwall, Stratford Upon Avon and Kent not too far behind. There are also some great thatched cottages in the villages in the Lake District, take a look!
Hope you've enjoyed this post – I'm off to the New Forest to hunt out even more thatched cottages for a part 2!
---