Looking to visit one of the most iconic landmarks in the world, Stonehenge, from the charming city of Bath? From cars and trains to coaches and guided tours, here's how to get from Bath to Stonehenge.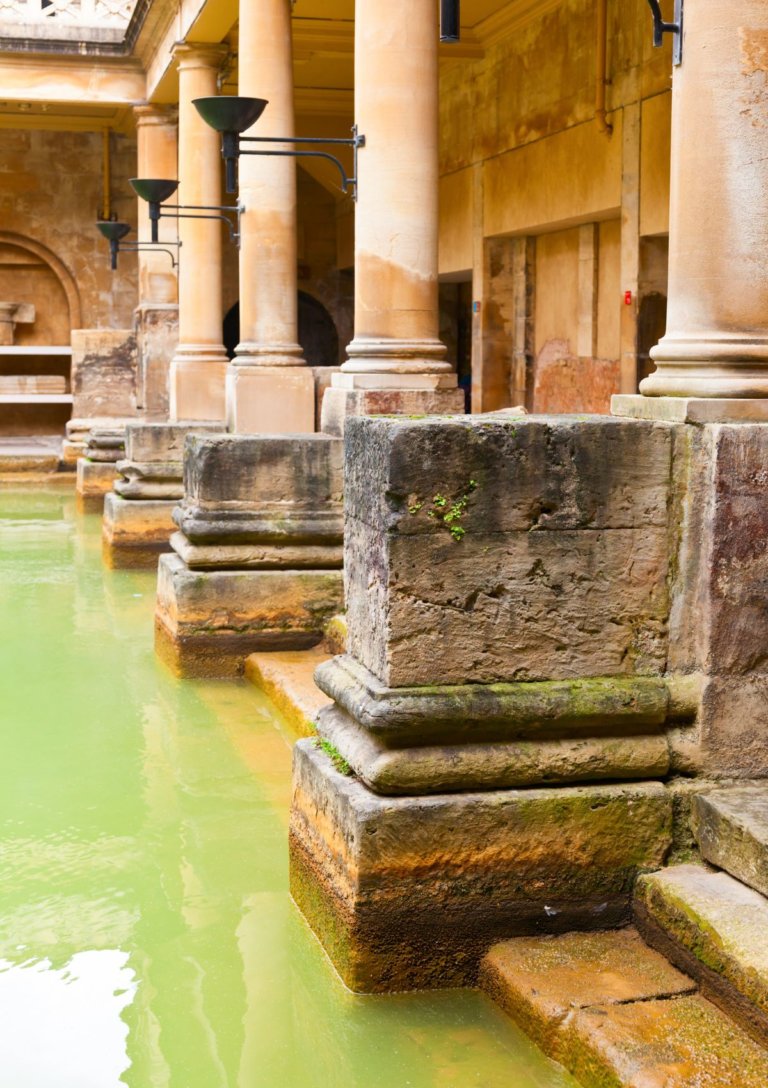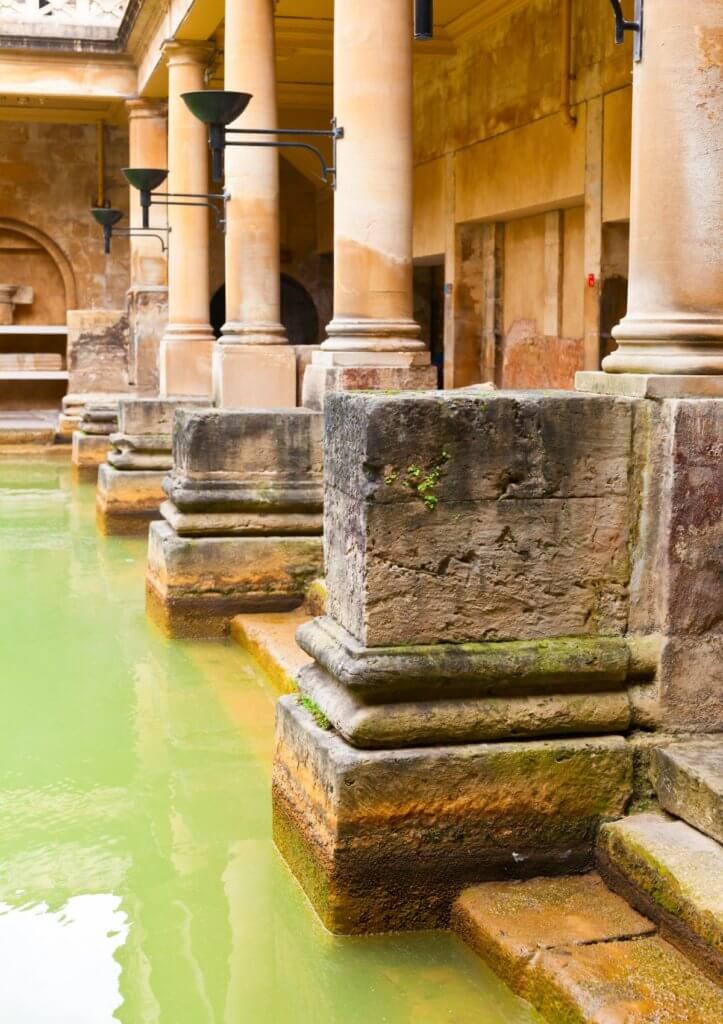 From the beautiful beaches of Devon and Cornwall to the legend of King Arthur, cream teas and cider, the West Country has an awful lot going for it. If you're planning a visit, you'd be well advised to take in two jewels in its crown; the historic city of Bath, known for its stunning Georgian architecture and thermal springs, and Stonehenge, the world-famous, prehistoric monument that's shrouded in mystery and legend.
Happily, the attractions are within easy reach of each other so it's possible to tick both off your bucket list in a single day. And in this article, we'll explore the best ways to get from Bath to Stonehenge. Whether you want to travel by car, train, coach, or join a guided tour, there are plenty of options.
So pack your bags and buckle up as we set off on an exciting adventure to one of the world's most iconic landmarks.
Where is Bath?
Bath, located approximately 115 miles (185 km) west of London and around 13 miles (21km) east of Bristol, is, without doubt, one of the most beautiful cities in the country. It boasts stunning Georgian architecture, charming cobbled streets, and, of course, the famous Roman baths.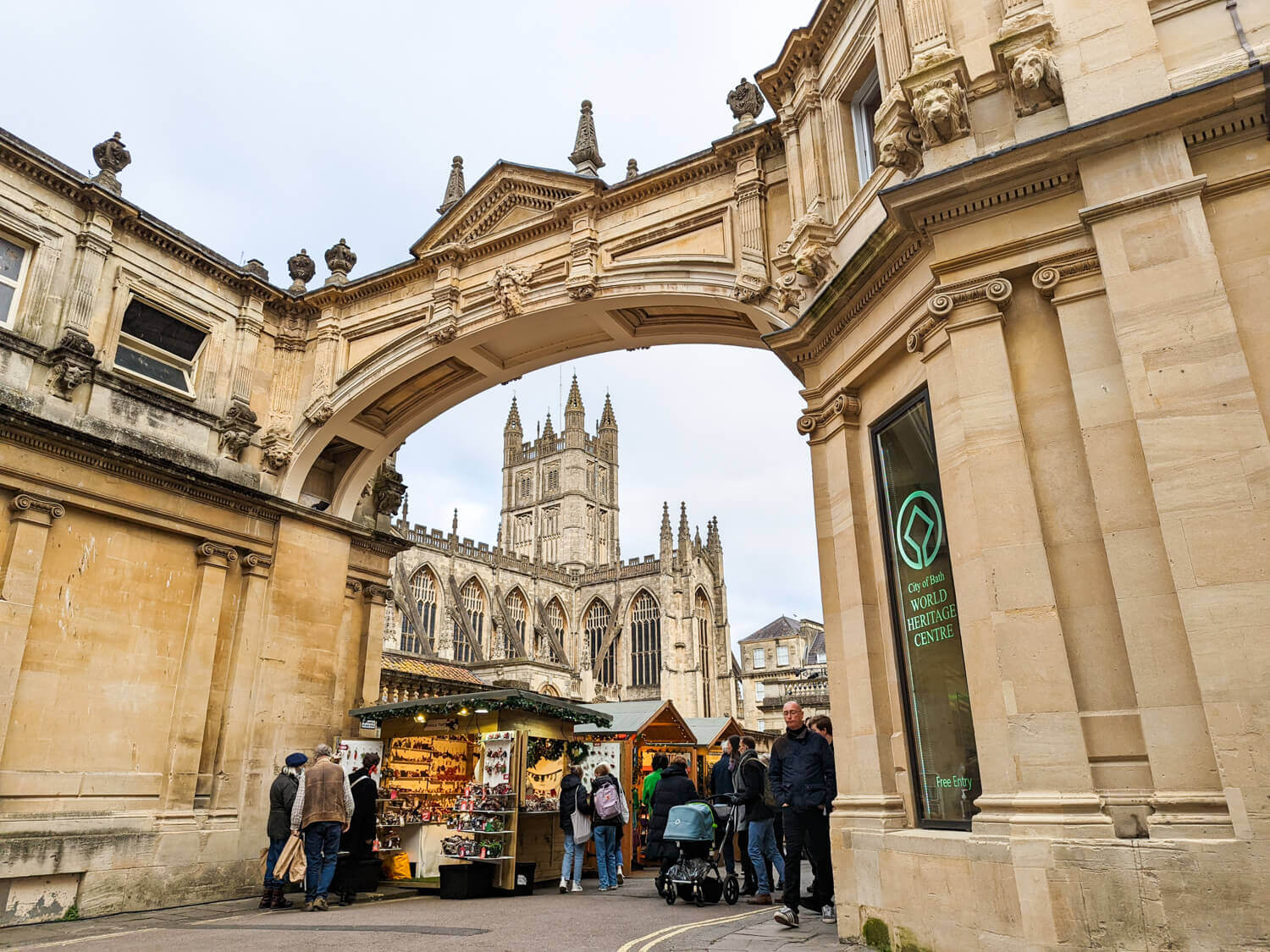 A compact city with amazing scenery, it's perfect for a stroll. Plus, Bath is home to some excellent museums, galleries, and restaurants — not to mention its popular Christmas market.
Where is Stonehenge?
Stonehenge, one of the most famous prehistoric monuments in the world, is 25 miles (40 km) south of Bath. The site is renowned for its mysterious circle of standing stones, which were erected some 4,000 years ago.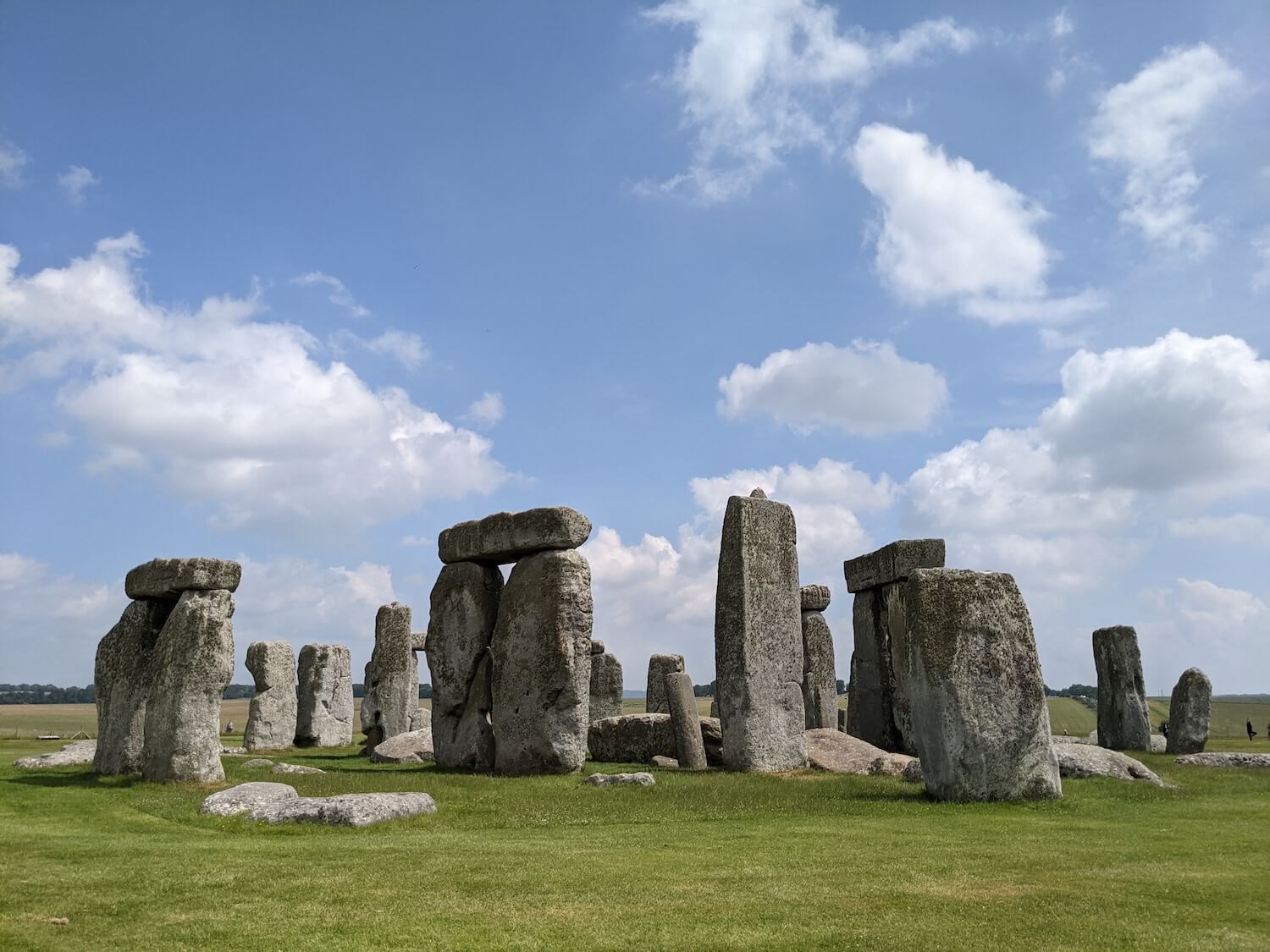 More than 800,000 tourists travel to the iconic landmark each year to marvel at the stones and speculate about their origins and purpose. Some believe the stones were used for astronomical observations, while others think they were used in ancient religious rituals. Whatever the truth may be, there's no denying that Stonehenge is a must-see destination for anyone interested in history and archaeology. But what's the best way to get there?
Make sure to read our article covering our top tips for visiting Stonehenge here.
How to get from Bath to Stonehenge
It's easy to take in both Bath and Stonehenge in a single day. Here are 5 of the best ways to travel between Bath and Stonehenge with ease. Stonehenge is definitely one of the best day trips from Bath there is.
Bath to Stonehenge by car
If you're planning a trip from Bath to Stonehenge, travelling by car can be a convenient and flexible option. You'll have the freedom to explore the beautiful countryside and small towns along the way, and you can set your own pace for the journey, which takes around 45-60 minutes (depending on traffic). There are several routes to choose from, but going via the A36 and B390 is usually the quickest.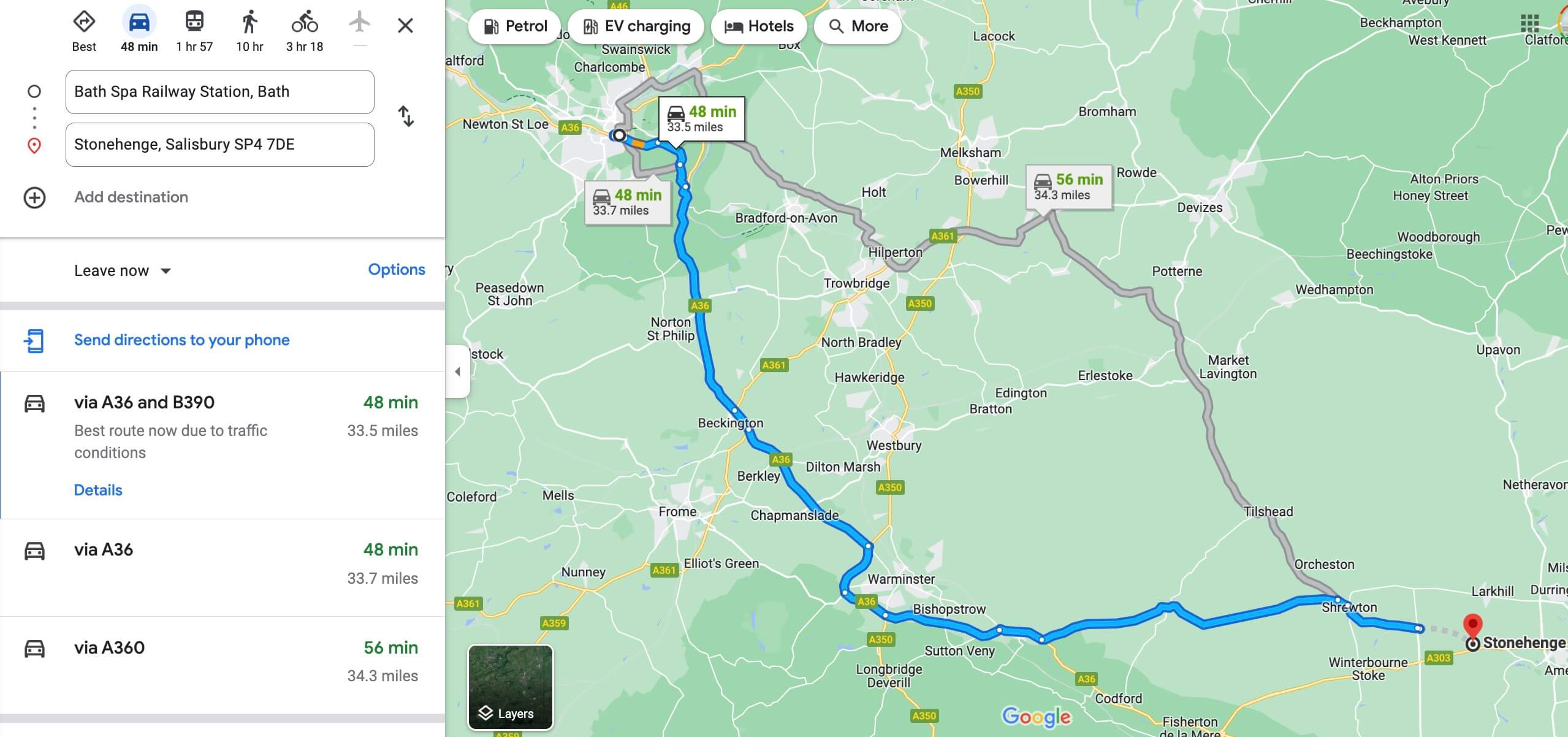 On the downside, driving can be stressful, especially if you're unfamiliar with the local roads. There's also the cost of fuel to consider (in January 2023, the RAC found the average price of a litre of petrol was 148.73p) and supply chain issues mean that hiring a car is very expensive. There is parking on site — it's included in the price of the ticket. However, at peak times you may have to sit in a queue to get inside.
Bath to Stonehenge by train
No car?
No problem!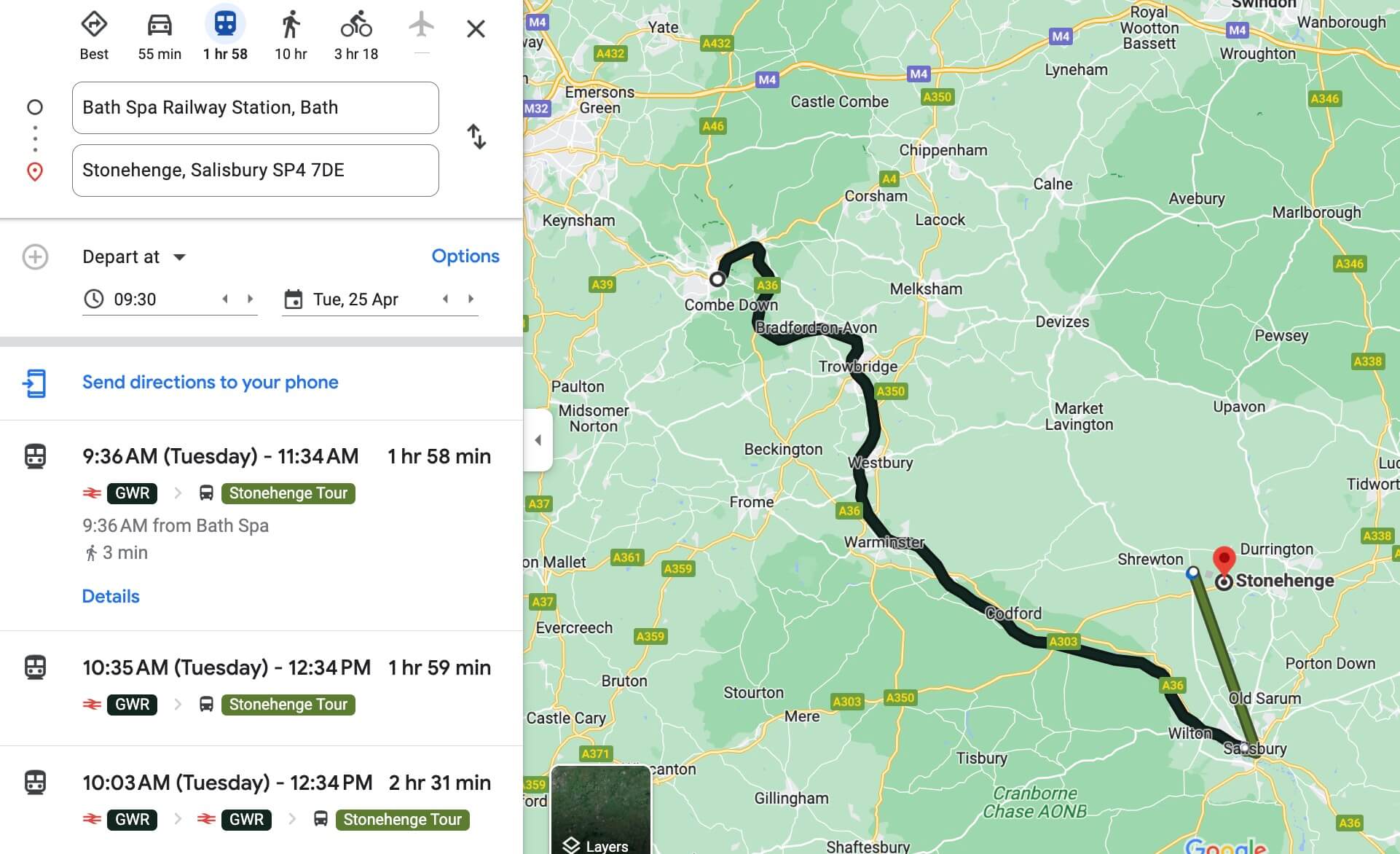 It's relatively straightforward to make the trip by public transport. You'll begin your journey with a scenic train ride from Bath to Salisbury railway station, which takes about an hour. From there, hop on the Stonehenge Tour Bus for a ride to the monument. Operated by Salisbury Reds, it takes a route that includes a stop-off at the Roman ruins of Old Sarum. Or, for a speedier alternative, take a taxi from Salisbury station, which takes around 15 minutes and costs less than £30.
READ MORE: How to Travel England by Train
Bath to Stonehenge by Coach Tour
If you're looking for a more relaxed way to get from Bath to Stonehenge, travelling by coach tour is the way forward. Not only is it affordable, but it's also a hassle-free way to enjoy the journey as you won't have to worry about parking or navigating unfamiliar roads. Plus, you'll get to enjoy scenic views and commentary about the sights going past your window.
There are several coach operators that run regular services between Bath and Stonehenge, including Scarper Tours, Mad Max Tours, and Stonehenge Tours.
Bath is definitely one of the best places to see in the West of England.
Bath to Stonehenge with Get Your Guide
For anyone planning a trip from Bath to Stonehenge, it's worth checking out the Bath to Stonehenge day trips on Get Your Guide. The travel and experiences site offers a wide range of trips and tours between the two attractions, as well as other popular destinations around the UK and Europe.
There's plenty of inspiration for day trips and adventures; packages often include skip-the-line tickets for visitor hotspots and cultural experiences such as food tours, museum visits and walking tours.
It's also user-friendly, so it's easy to search for and book your perfect travel experience. Plus, the site features plenty of reviews and ratings from other travellers, giving you peace of mind before you book.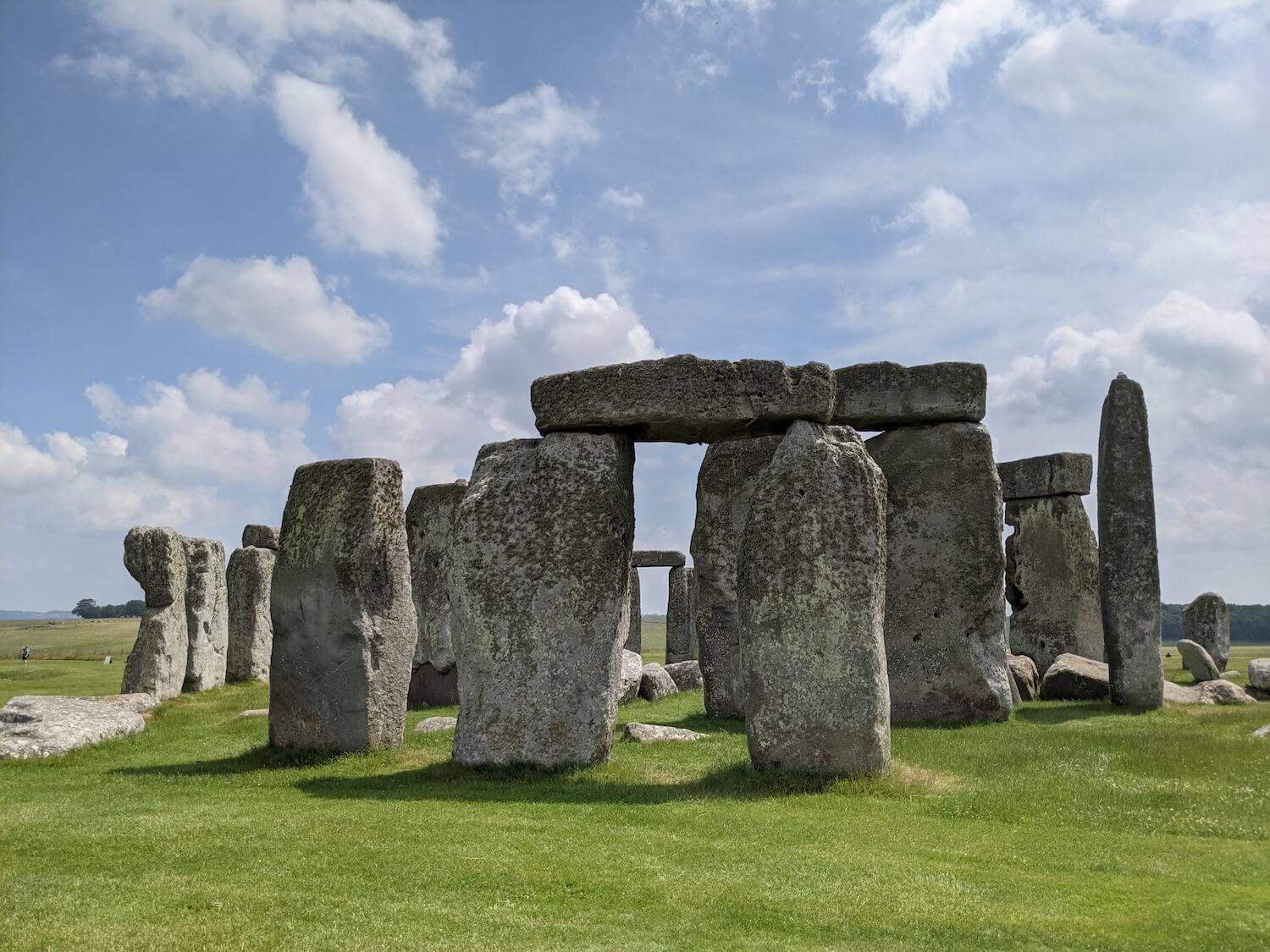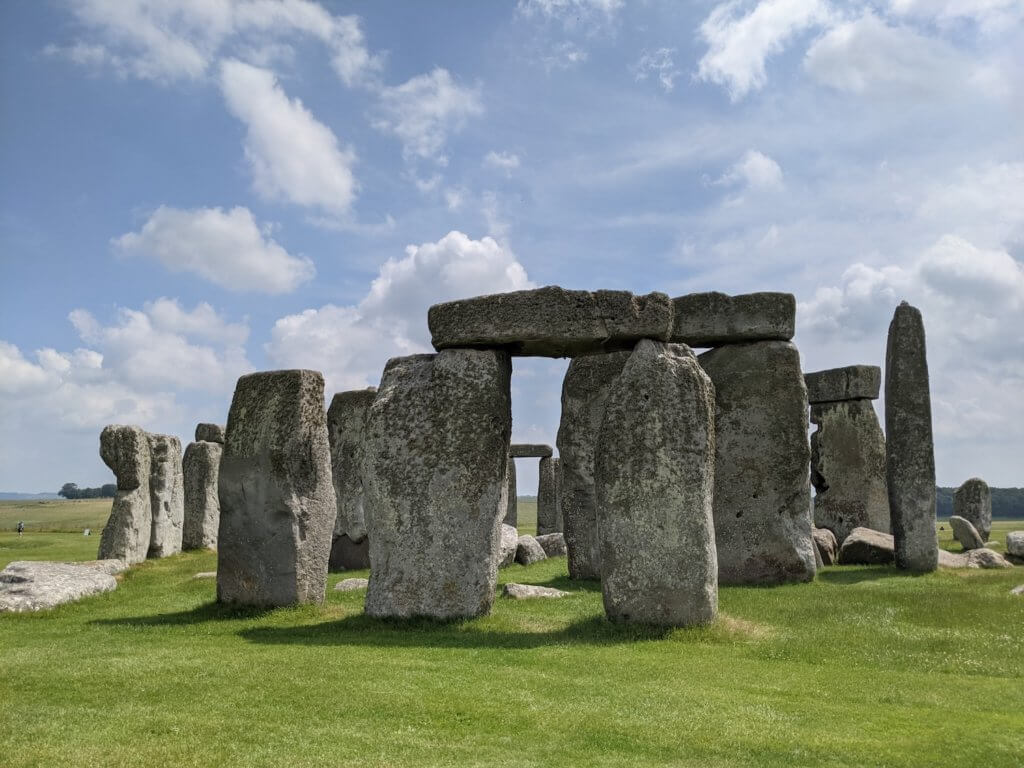 Bath to Stonehenge with Buy a Gift
Another website that's worth checking for anyone looking to get from Bath to Stonehenge is Buy a Gift, which offers a variety of gift experiences for people of all ages and interests. The offerings change, but at the time of writing you can book a luxury coach tour that visits both attractions — as well as other scenic parts of the West Country, including the Cotswolds. They're even throwing in a couple of glasses of champagne and a cream tea for two — don't mind if we do!
You'll find plenty of other fun things to do on the site too, from pampering spa days to high-speed driving experiences. And if you're looking to treat someone, Buy a Gift has gift options including traditional gift cards, e-gift vouchers and experience boxes.
How to get from Bath to Stonehenge
Visiting Stonehenge from the beautiful city of Bath is a must for anyone visiting the West Country — especially history buffs. With plenty of options available to suit different preferences and budgets, you can take your pick from the car, train, or coach. And if you're looking for more inspiration, why not check out Get Your Guide or Buy a Gift for excellent package deals that include skip-the-line passes and cultural experiences?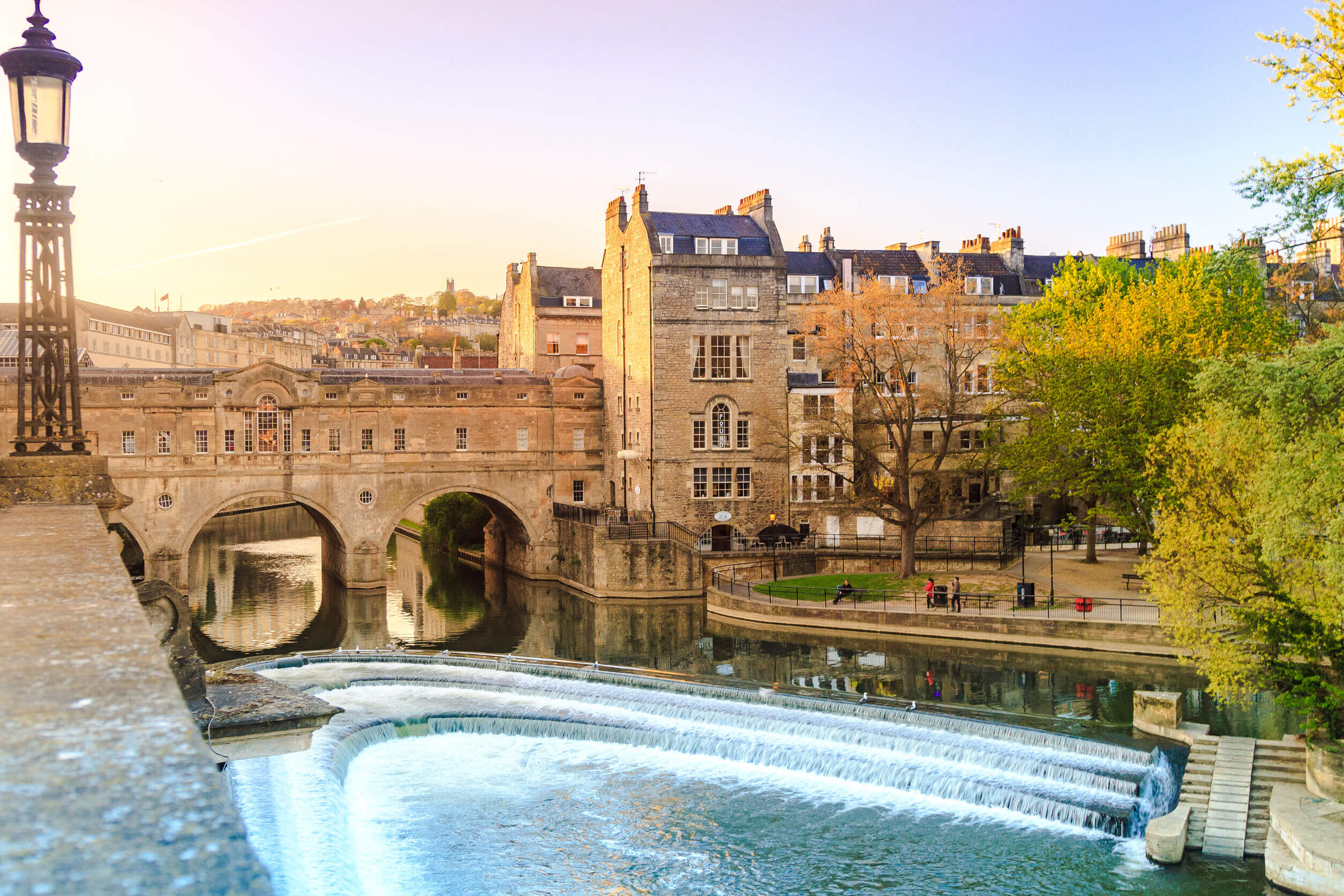 Whichever way you choose to travel, make sure you leave time to explore the stunning city of Bath, with its charming Georgian architecture, thermal springs, and delicious cream teas.
Of course, there are plenty of other places worth visiting in the region too. For starters, check out our guide to the 10 Best Towns to Visit in Somerset in 2023.
---