Searching for unusual places to stay in Yorkshire? Glamping sites in the Dales, private castles, former windmills and houseboats are just some of Yorkshire's quirkiest accommodation options.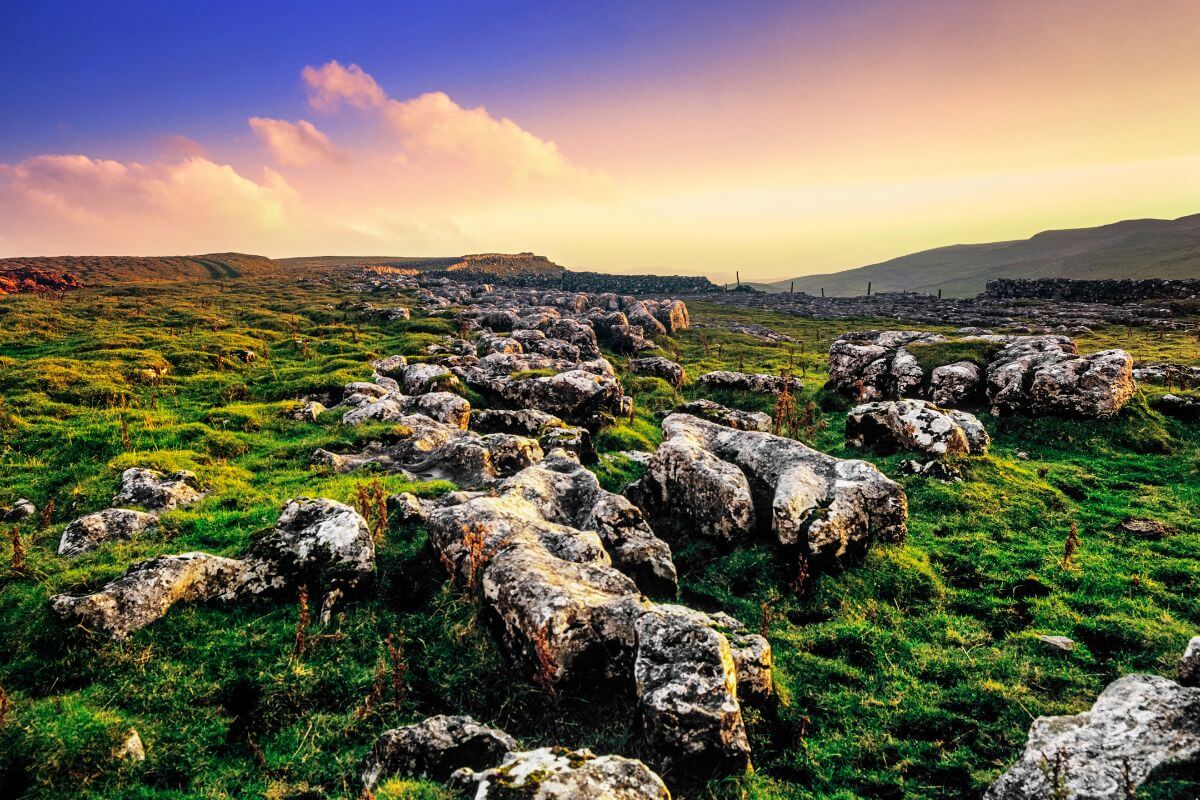 From charming villages in the countryside to historic seaside resorts and ultra-modern metropolises, Yorkshire is full of destinations that deserve a visit for all the usual reasons.
But if you fancy a getaway in 'God's Own Country' with a difference, you might want to choose one of the more unusual places to stay in Yorkshire over the more typical brick-and-mortar options.
Whether you want to stay in a luxurious treehouse surrounded by woodland, a yurt in the Yorkshire Dales or a renovated houseboat in the city centre of Sheffield, one of these cool places to stay in Yorkshire is perfect for you.
So, let's dive into a few of our favourite quirky Yorkshire accommodation options to give you a bit of inspiration for your next weekend away.
Unusual Places to Stay in Yorkshire
From eco-friendly glamping sites to converted chapels and restored castles, there are plenty of options when it comes to choosing an unusual place to stay in Yorkshire.
1. Wolds Edge Treehouse, Bishop Wilton
If you're looking for quirky places to stay in Yorkshire with a view, we suggest reserving a Wolds Edge Treehouse in the heart of the Yorkshire Wolds.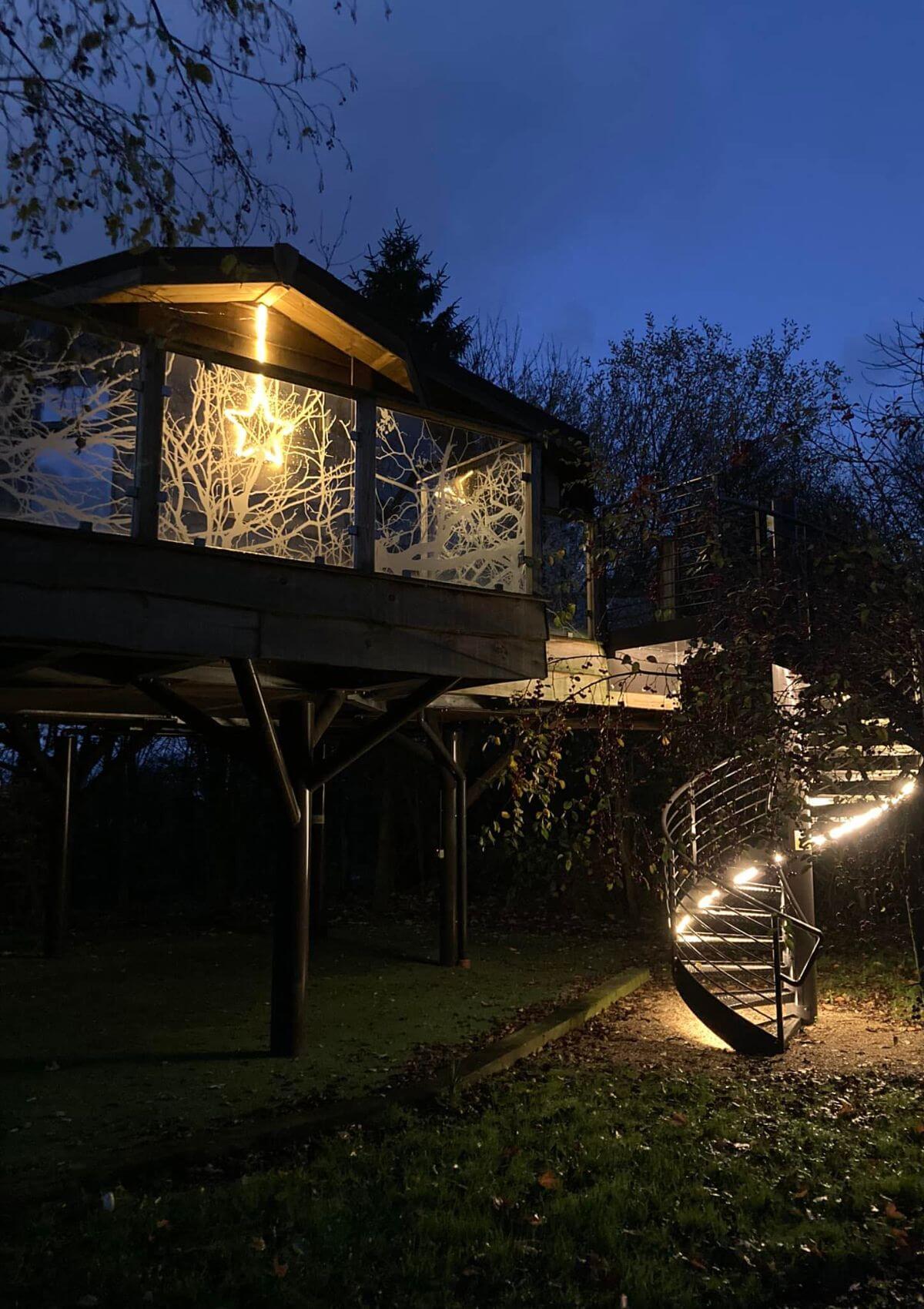 Besides sprawling views of Yorkshire's countryside, the treehouse's deck is fitted with a private hot tub and plenty of space to relax. Inside, you'll see a contemporary interior complete with a king-sized bed, a gadget-filled living space and floor-to-ceiling windows that flood the treehouse with natural light.
The Wolds Edge Treehouse provides the perfect getaway for couples looking for a bit of romance. Made from locally sourced materials, this accommodation is also suitable for eco-conscious travellers.
Prices at the Wolds Edge Treehouse average around £285 per night. Located in Bishop Wilton, it's one of our favourite destinations within easy reach of York and the east coast of Yorkshire.
While you're here, you might want to learn about the best things to do in East Yorkshire.
2. Yurtshire, Ripon
For a chic bohemian glamping experience, spend the night in a luxurious yurt at Yurtshire on the doorstep of the Nidderdale Area of Outstanding Natural Beauty (which is an amazing place to visit on days out from Bradford).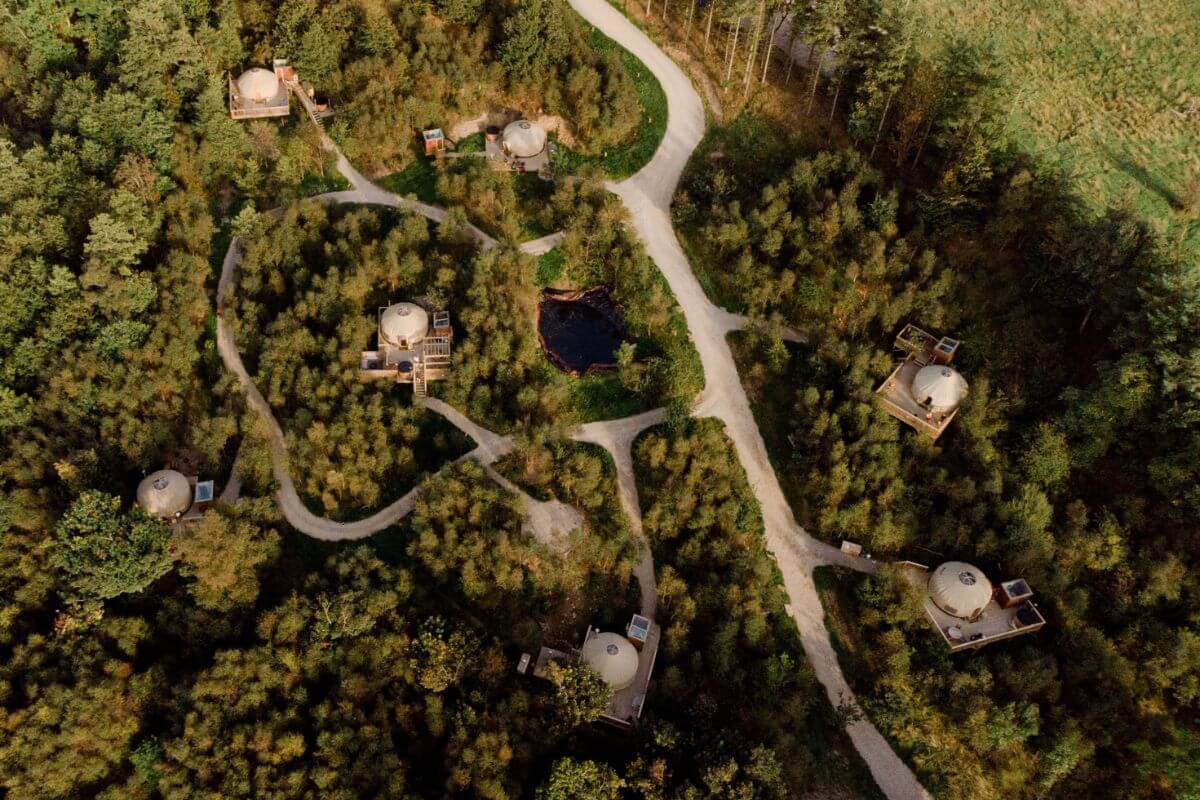 Each yurt at Yurtshire features its own kitchenette and a small bathroom, plus comfortable sleeping quarters for up to five people. In the centre of these canvas-topped yurts are log burners that you can cosy up to on cool nights. When the weather allows, nothing beats feasting on barbecue delights on your own private deck surrounded by meadows.
You can expect to pay around £160 per night to stay at Yurtshire. While you're here, find out about the best days out in North Yorkshire.
3. Camp Kátur Glamping, Kirklington
Situated inside the 300-acre Camp Hill Estate, Camp Kátur Glamping is ideal for those looking for unusual places to stay in Yorkshire among wildlife and nature.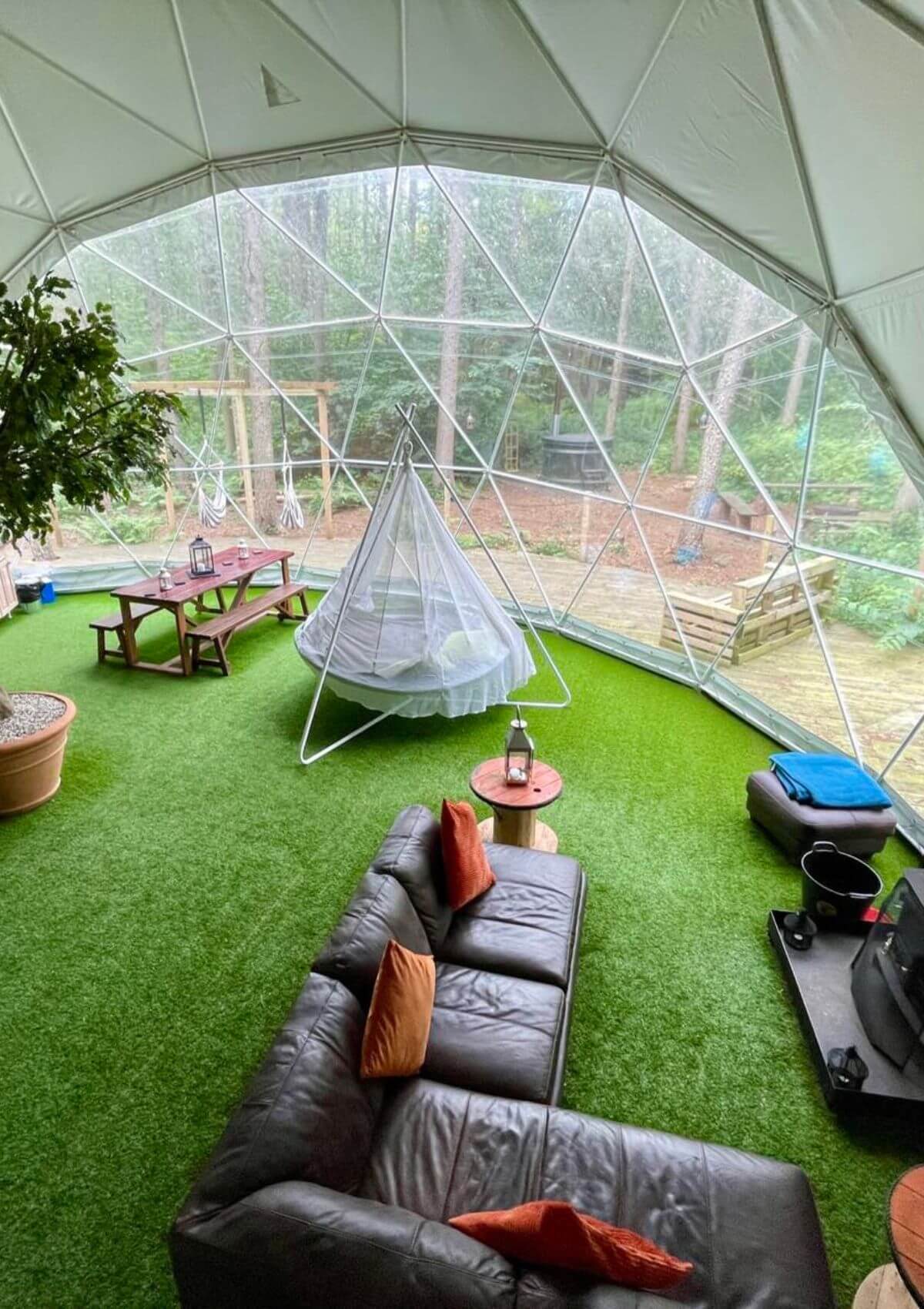 Camp Kátur Glamping is home to a series of eco-friendly geodomes surrounded by lush woodland. These geodomes are completely transparent, offering amazing views of the stars. If you'd prefer a bit more privacy, accommodation options also include bell tents, gnome huts and even hobbit huts.
All accommodation options at Camp Kátur Glamping come with heating, and most feature private decks with solar-powered fairy lights. The site's facilities include a campfire, sauna hut and outdoor hot tub.
It usually costs around £100 to spend the night at Camp Kátur Glamping. Two of England's most beautiful National Parks – the Yorkshire Dales and the North York Moors – are just a short drive away.
If you're here to hike through Yorkshire's stunning countryside, read about some of the most scenic walks across the Yorkshire Dales.
4. Evening Star Holiday Cottage, Whitby
The Evening Star Holiday Cottage occupies a Grade II listed former railway building, right next to Whitby's heritage steam railway.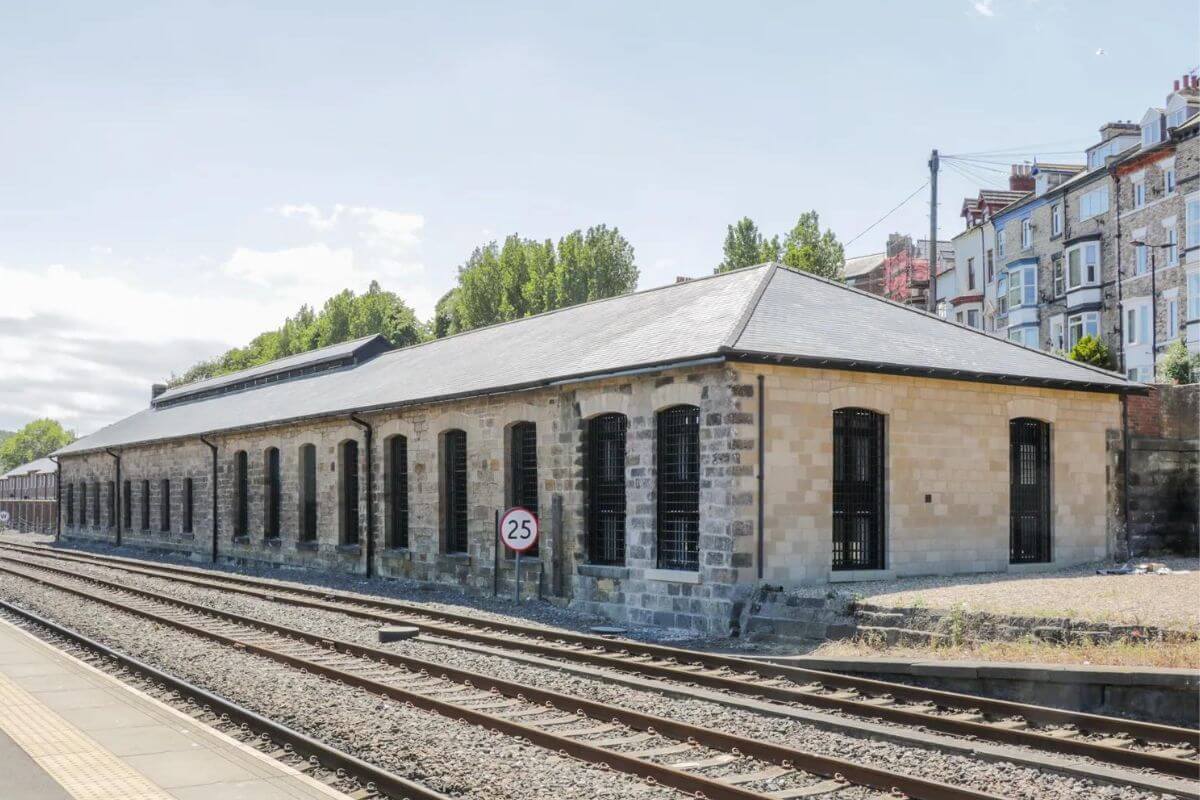 The property boasts a modern interior with two double bedrooms and first-floor views of the magnificent Whitby Abbey and the steam railway. It's also just a stone's throw from the centre of Whitby, one of England's most interesting towns that's home to one of the best beaches in Yorkshire.
Whitby is one of the crown jewels of North Yorkshire, one of the most beautiful regions in the UK. A stay in Whitby at the Evening Star Holiday Cottage can cost as little as £250 per night – not bad for one of the most unusual places to stay in Yorkshire.
5. The Low Lodge, Hunmanby
At The Low Lodge in the charming coastal village of Hunmanby, you'll find two detached gatehouses that have been purpose-built to retain the charm and appearance of the site's original incarnation – a stone ruin that dates back to 1825.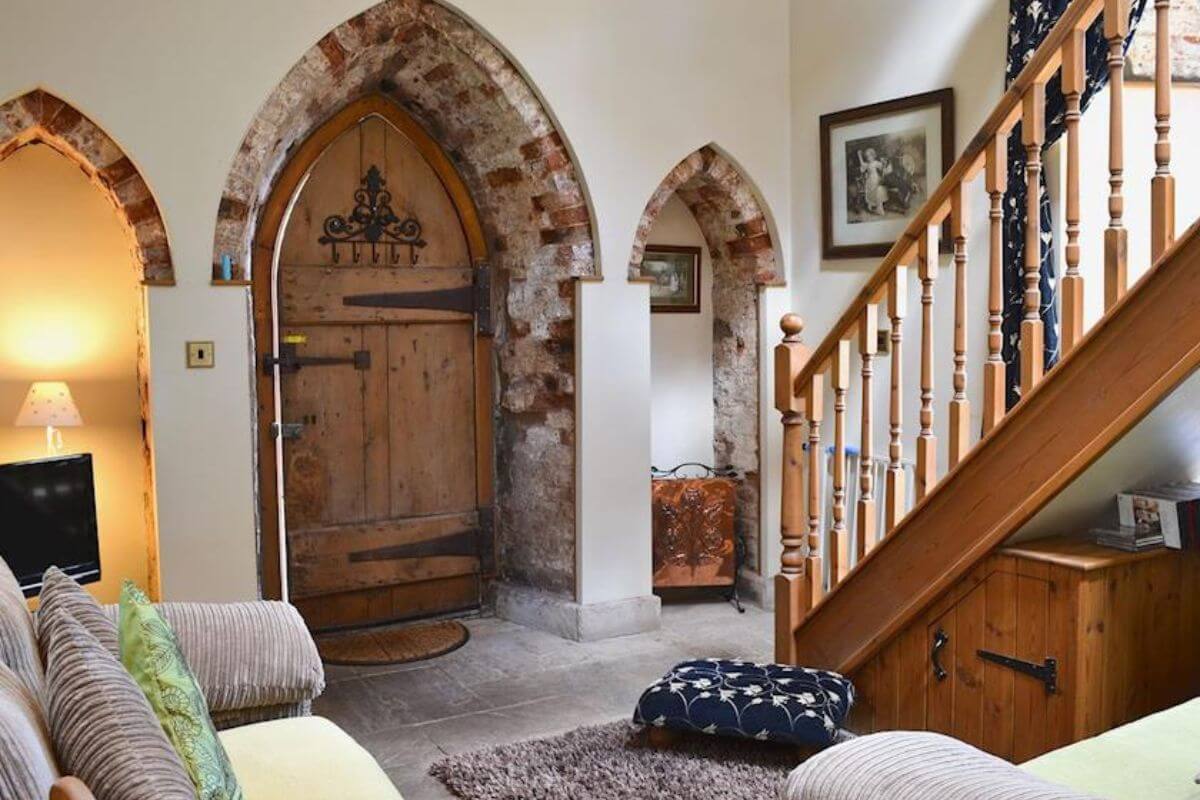 After walking through the arched Gothic entrance of The Low Lodge, you'll see elegant touches such as vaulted low ceilings, stone floors and arched windows. Surrounding the accommodation are nearly an acre's worth of lush country grounds that are teeming with adorable wildlife, including owls, squirrels and rabbits.
Prices at The Low Lodge usually range from £165 to £280 per night, which we think is a good deal when you're so close to Yorkshire seaside towns including Scarborough, Bridlington and Filey.
6. The Round House, Middleham
Situated in the beautiful Yorkshire Dales town of Middleham, The Round House is a circular, stone-built holiday home that sits beneath the ruins of the 12th-century Middleham Castle (learn more about England's best castles).
Inside The Round House, you'll see a combination of new and traditional decorative features, including wooden ceiling beams, turreted windows and a woodburning stove. There's also an open-plan living area, fully equipped kitchen and a separate dining area. Upstairs, you'll find a galleried double bedroom that offers amazing views of the surrounding unspoiled landscapes. Outside, you can enjoy a glass or two of wine in your own private walled garden.
Prices at The Round House usually average at around £100 per night. If you're looking for unusual places to stay in Yorkshire that make you feel like royalty, The Round House is the obvious choice.
7. Scargill Castle, Scargill
Located in the North Pennines Area of Outstanding Natural Beauty, Scargill Castle was built in the 15th century on the site of a medieval castle. It's one of the best places to stay in Yorkshire if you want to admire the spectacular Teesdale landscape.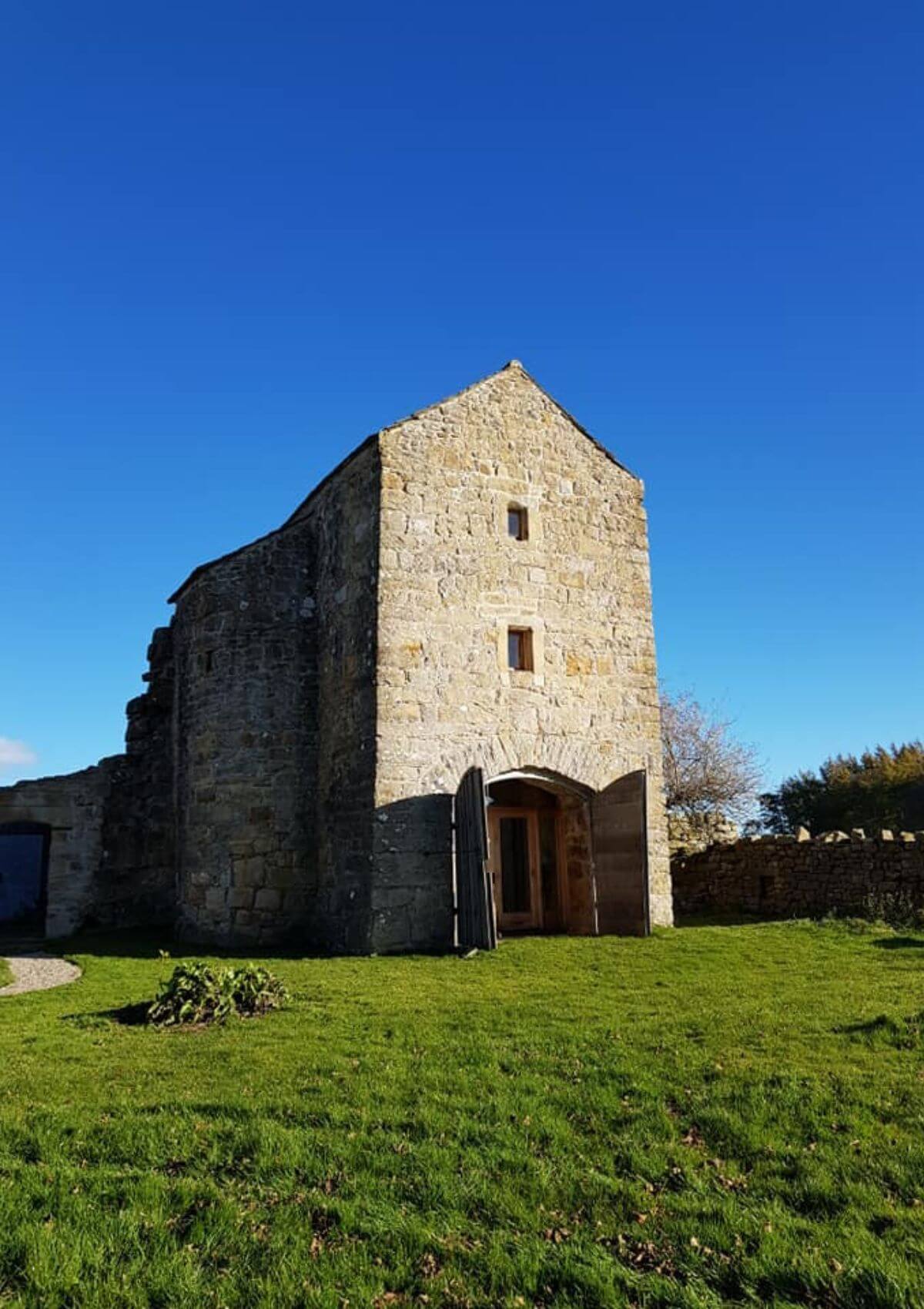 Perfect for couples, Scargill Castle features its own courtyard garden that takes inspiration from the site's former Tudor Manor House. Inside your private castle escape, you'll see ornate furnishings such as an oak table, wooden roof beams and an arched entrance hall. Head up the spiral stairs to reach the living room, which is fitted with antique furniture, oak floors and an authentic Tudor fireplace.
You can expect to pay around £180 per night to stay at Scargill Castle. We recommend booking your getaway as far in advance as possible.
8. Rock Chapel, Shaw Mills
The Rock Chapel is a luxurious chapel conversion that takes on the theme of rock music – which makes it more-than-deserving of a position on our list of most unusual places to stay in Yorkshire.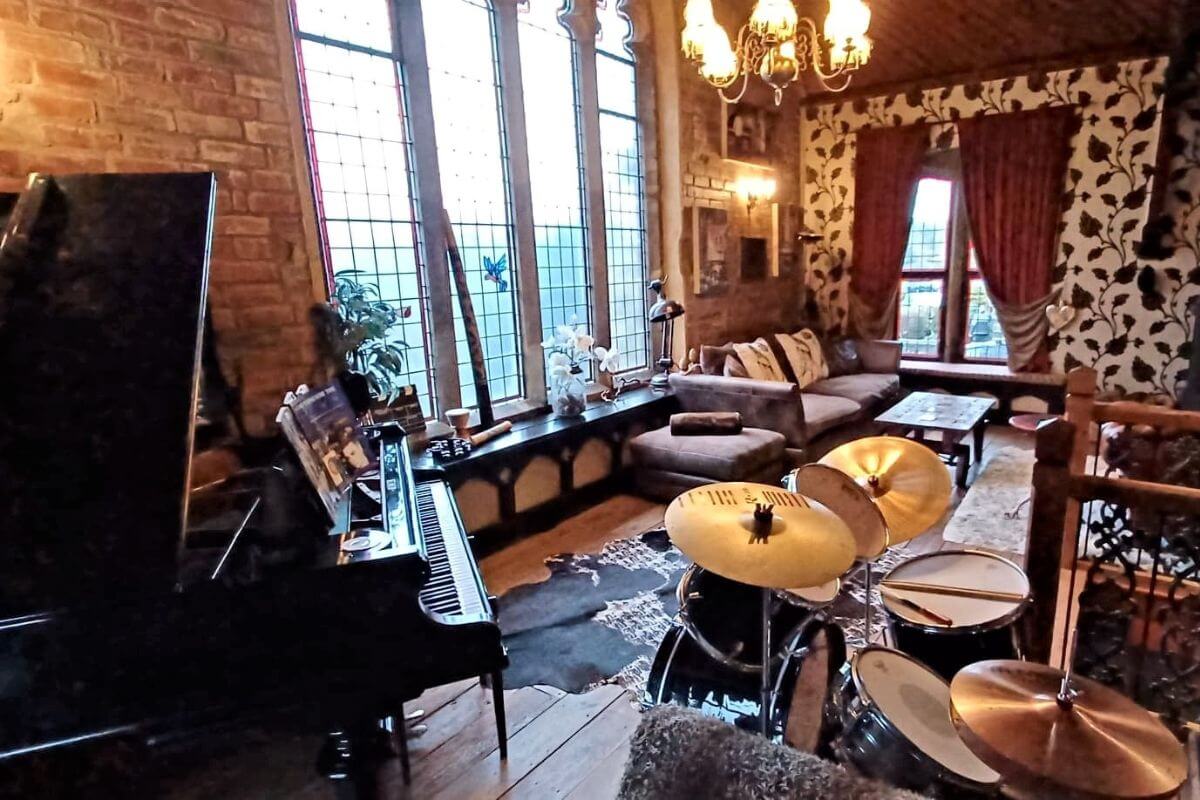 Inside this collector and music-lover's paradise, you'll see vintage metal signs on the walls, shelves brimming with artefacts and rock paraphernalia, and many quirky items of furniture. For a bit of added character, the Rock Chapel has retained many original features, such as stained-glass windows and panelled walls.
The Rock Chapel is located in the hamlet of Shaw Mills, which is just a few miles from Nidderdale and the beautiful spa town of Harrogate. It's the perfect accommodation in Yorkshire for family and friend reunions. Prices usually start at £700 per night.
 READ MORE: The Best Day Spas in Yorkshire
9. The Windmill, Scarborough
One of the most quirky places to stay in Yorkshire has to be The Windmill, which – as you may have guessed – occupies a former windmill overlooking the coast of Scarborough.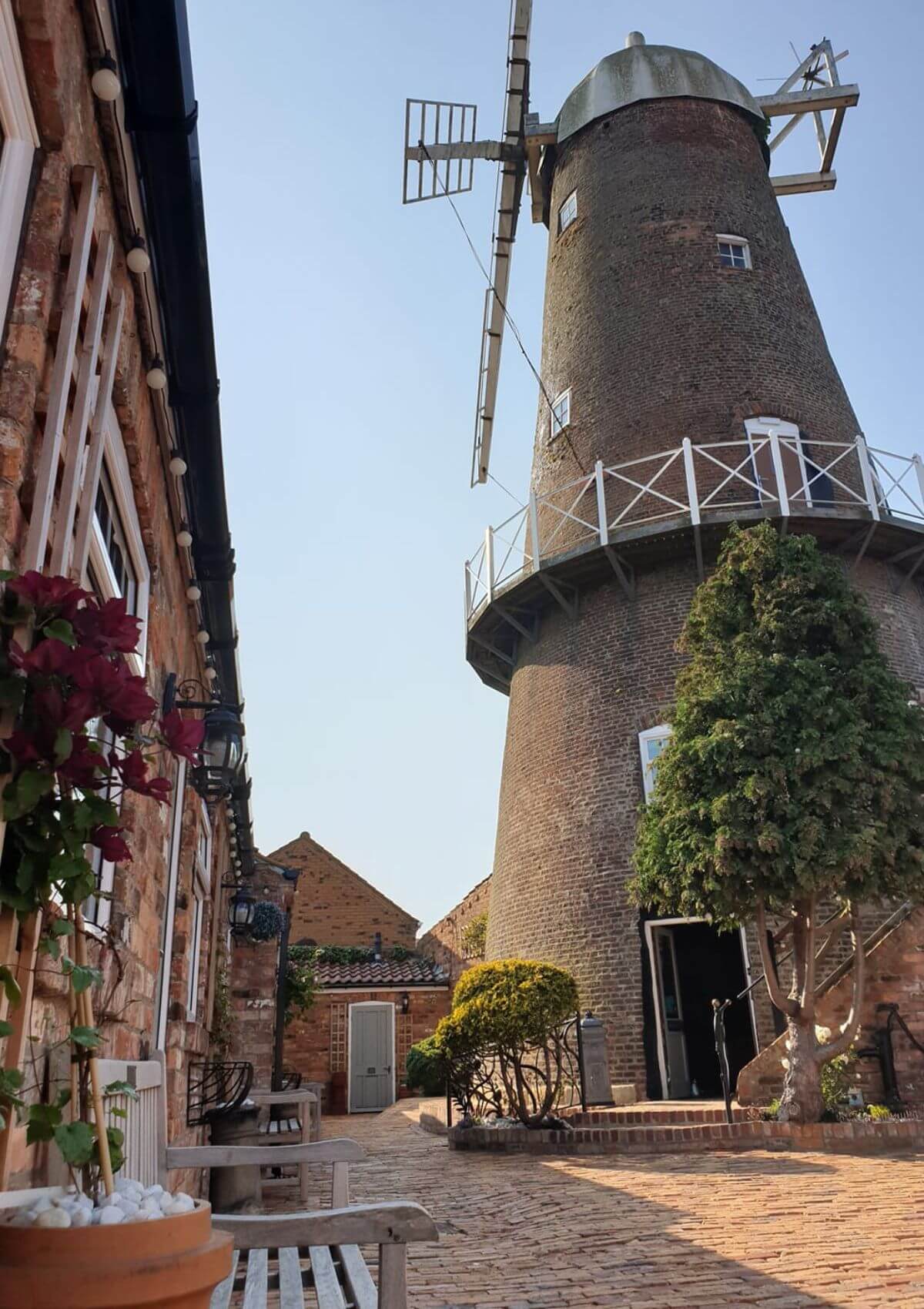 This Grade II listed, 230-year-old windmill is home to two self-catering cottages as well as two apartments within the windmill itself.
Prices at The Windmill usually range from £75 to £150 per night, depending on demand. It's worth booking your getaway in advance to secure the best price.
10. Houseboat Hotels, Sheffield
If you want to stay in one of the most unusual places in Yorkshire, you might want to choose accommodation that's removed from dry land!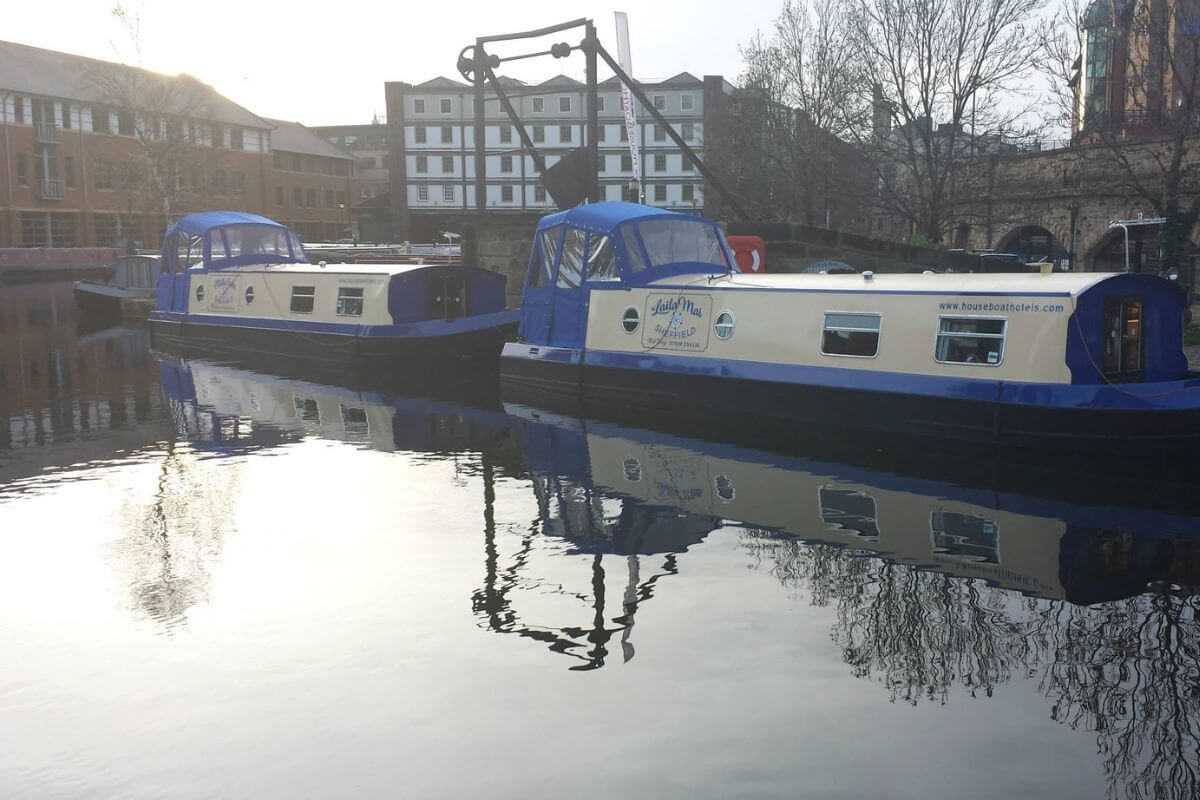 The Houseboat Hotels of Sheffield are moored in the city's Victoria Quays, which was constructed early in the 19th century and remains surrounded by historic architecture. Inside your static houseboat, you'll find all the home comforts you need to holiday in style, plus cosy sleeping areas for up to four guests.
You can expect to pay £130 – £150 per night at the Houseboat Hotels, though you can secure a houseboat for as little as £95 by booking in advance.
While you're here, you'll have plenty of things to do on your days out in South Yorkshire. When you want to get away from the city, you're spoiled for choice when it comes to day trips from Sheffield.
Any more unusual places to stay in Yorkshire that we should know about?
As you can see, there's no shortage of quirky places to stay in Yorkshire, whether you fancy a night or two in a private castle, a houseboat or a transparent geodome in the countryside. You can also stay in accommodations that take on themes ranging from rock music to hobbits.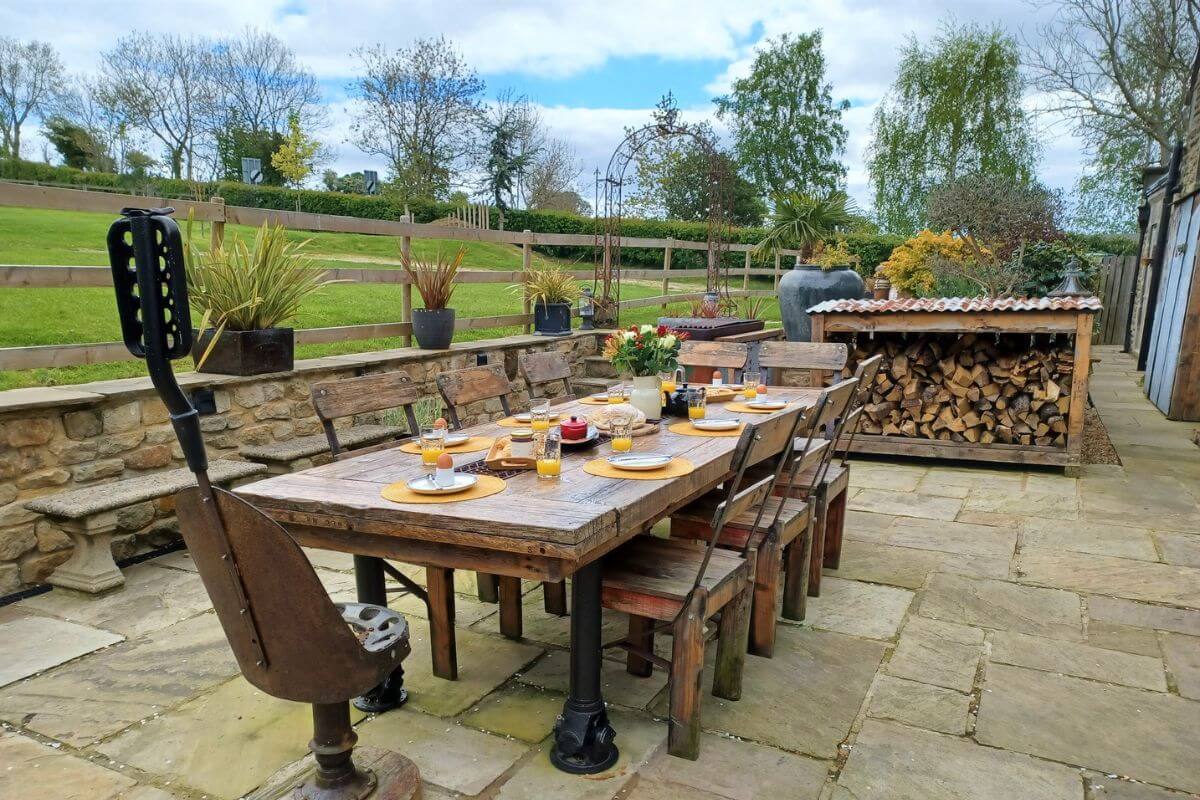 Do you know of any unique places to stay in Yorkshire that our readers would love to know about? Let us know in the comments below. Need a bigger fill of 'unusual'? Read these incredible facts about Yorkshire.
Quick list of the most unusual places to stay in Yorkshire
---